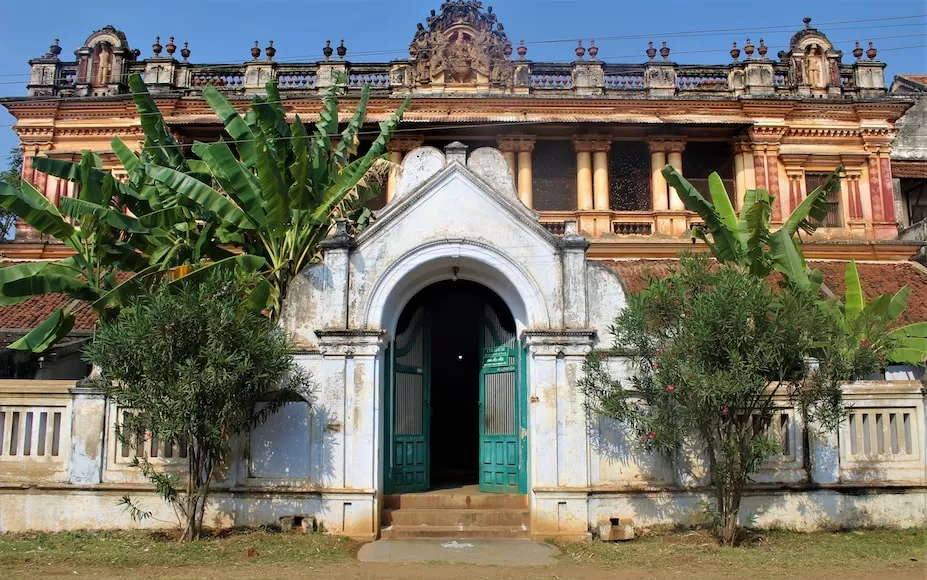 Nestled within the embrace of rich history, delectable local South-Indian cuisine, and exquisite architectural gems lays a rapidly flourishing town, Karaikudi.
It's the perfect weekend getaway for those seeking a culturally-rich trip. Known as a mecca for South Indian filmmakers, this destination boasts numerous theatres on almost every street, paying homage to its filmy influence. The town's well-connected road and rail networks make travelling a breeze, offering an opportunity to explore the many beautiful temples that call this place home. So why not immerse yourself in the top five fastest-growing vacation spots in India and experience the allure of this charming town for yourself?
HOW TO REACH?
By Air - The closest airport to Karaikudi is in Tiruchirapalli or Trichy, a 90-kilometer-distance international airport. Moreover, Karaikudi is 90 km away from the Madural Airport.
By Train - This town has train services that operate to various destinations including Sivagangai, Manamadurai, Paramakudi, Ramanathapuram, Mandapam, Rameshwaram, Aruppukottai, Virudhunagar, Rajapalayam, Kollam, Tiruchirappallai, Tanjore, Velankanni, Nagoor, and Chennai. Additionally, from the Manamadurai Junction which is located 65 km away, one can also avail train services to Madurai, Dindigul, Palani, Coimbatore, and Palakkadu.
By Road - The town has a well-established transportation network, with frequent bus services connecting to all major cities across Tamil Nadu.
WHERE TO STAY IN KARAIKUDI?
Looking for an authentic stay in the heart of Tamil Nadu's cultural hub? Look no further! Karaikudi is a charming town known for its rich heritage and stunning architecture. From heritage bungalows to boutique hotels, Karaikudi offers a variety of unique and comfortable accommodations for all budgets.
Check them out!
1) Chola Heritage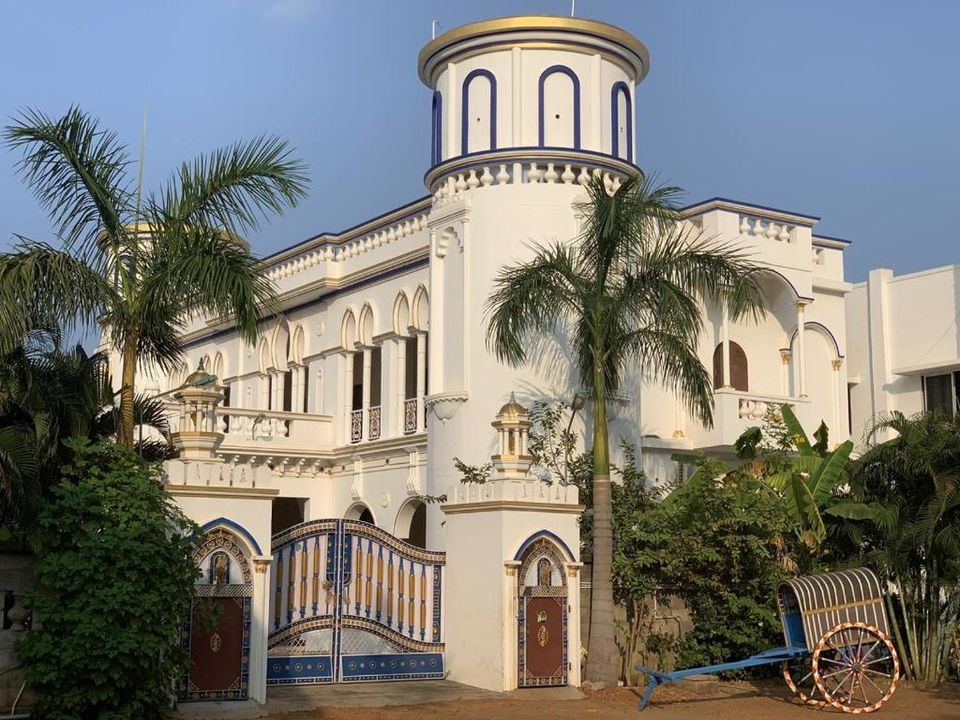 Chola Heritage, located in Kāraikkudi, provides guests a 3-star accommodation option featuring a terrace and an on-site restaurant. The property boasts air-conditioned rooms with a private bathroom and complimentary WiFi. Also, guests can enjoy the hotel's lovely garden area.
Average Nightly Tariff For Two: INR 4,200 onwards
2) Subhalakshmi Palace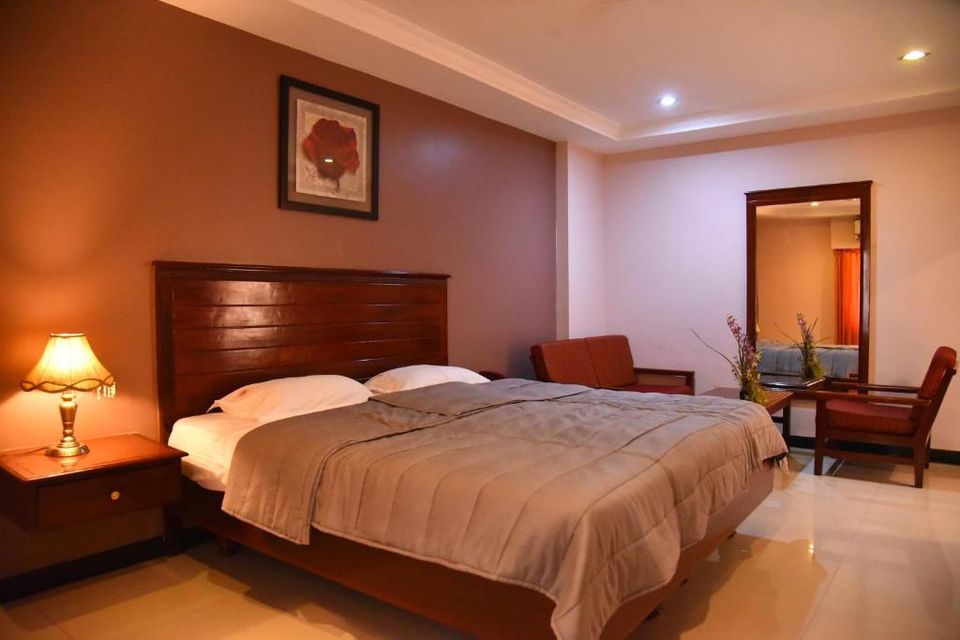 The 2-star Hotel Subhalakshmi Palace in Kāraikkudi offers guests a comfortable stay, complete with a terrace and bar. Air-conditioned rooms, each equipped with a private bathroom and complimentary WiFi, are available at the property, which also features a shared lounge. Visitors can take advantage of the free on-site parking, and paid airport shuttle services are offered for convenience.
Average Nightly Tariff For Two: INR 2,500 onwards
3) Chidambaram Vilas Karaikudi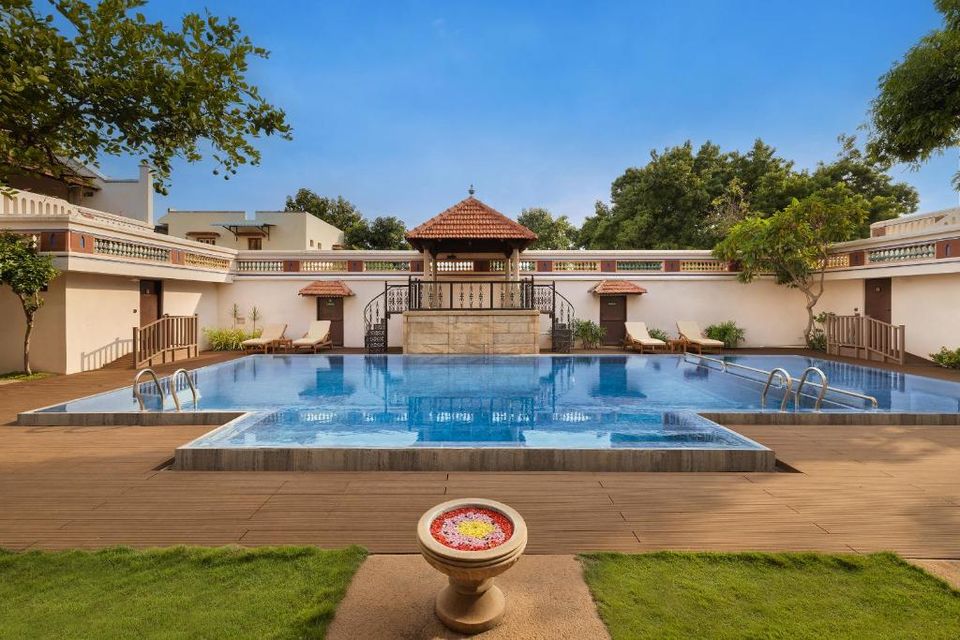 Chidambaram Villas: A Luxury Heritage Resort is situated in Chettinad, offering convenient access to Thirumayam Fort and Thirumayam Railway Station within a 5 km radius. Guests can relish in a daily breakfast spread and delectable Indian cuisine at Live Kitchen Restaurant and savour mouthwatering pool-side barbecue dinners. The tour desk can assist with organizing day trips and car rentals.
Average Nightly Tariff For Two: INR 9,000 onwards
4) Chettinadu Mansion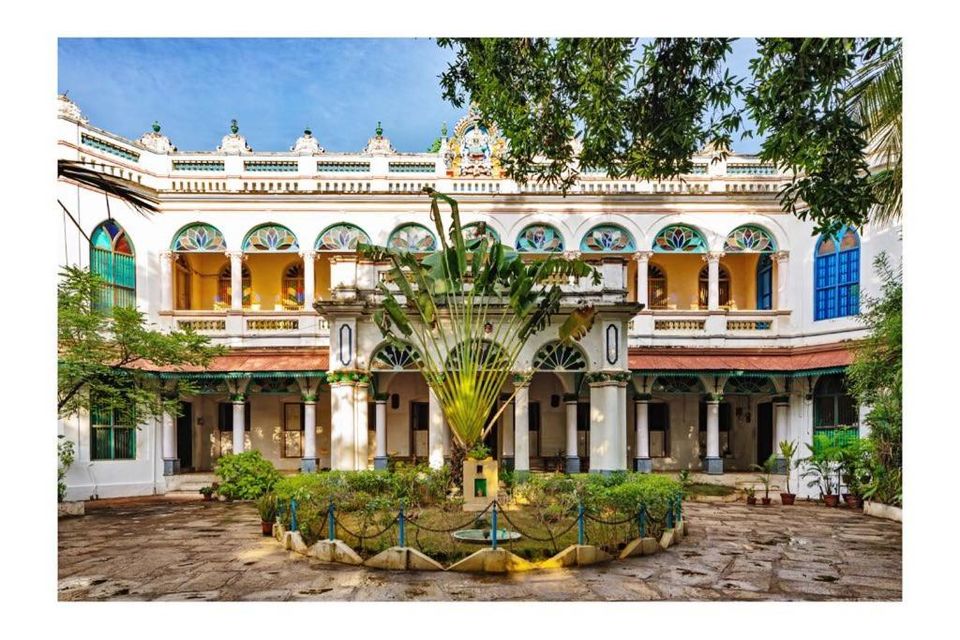 Kāraikkudi's Chettinadu Mansion, constructed in 1902, showcases breathtaking architecture, exquisite Italian marble flooring, and intricate wooden furnishings. Located approximately 10 km from Thirumayam and 1.5 km from Chettinad, the property features an outdoor pool and complimentary internet access. Visitors can indulge in a leisurely bullock cart ride around the neighbouring villages or rejuvenate with Ayurvedic treatments offered on-site. Additionally, guests can savour authentic Chettinadu cuisine for lunch in the expansive Bojana Dining Hall.
Average Nightly Tariff For Two: INR 5,000 onwards
5) Visalam Chettinad Palace – CGH Earth
Visalam, a palatial home over a century old, has been carefully restored and is situated in Kanadukathan village within Tamil Nadu's Chettinad region. The property is only 10 km from the Thirumayam Fort, a historical relic of the Chettinad dynasty. Guests can enjoy round-the-clock front desk assistance, complimentary on-site parking, and a swimming pool.
Average Nightly Tariff For Two: INR 7,950 onwards
Things To Do In Karaikudi:
The Chettinad region is a treasure trove of attractions, including awe-inspiring mansions, intricately designed temples, delectable traditional cuisine, and stunning antiques and handicrafts. These are just a few examples of the wonders that await visitors in this fascinating area.
1. Explore The Kanadukathan Palace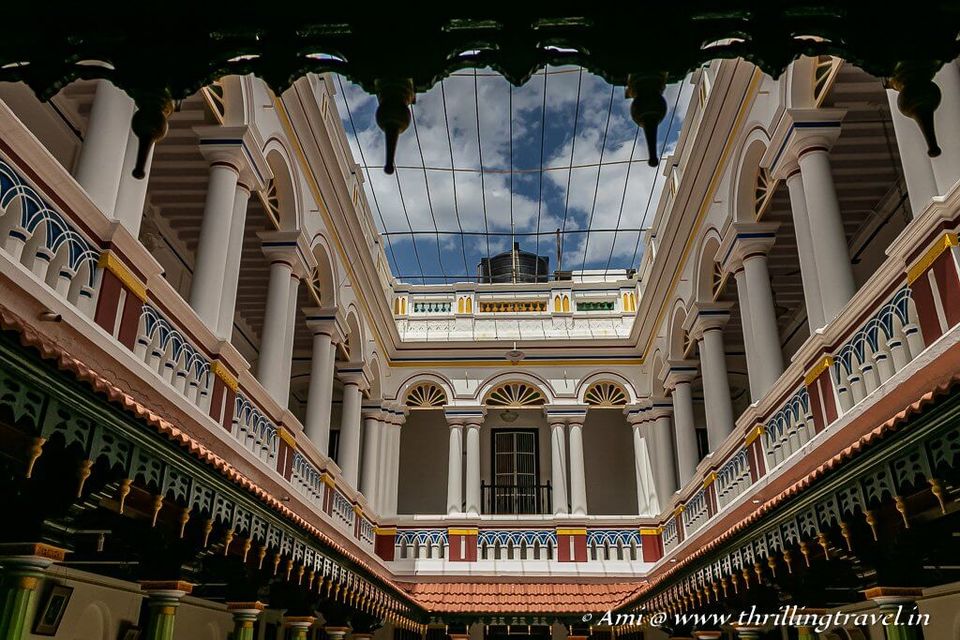 The Kanadukathan Palace is the most famous of the Chettinad mansions, belonging to the Annamalai family. This regal residence will leave you in awe with its vibrant blue and green pillars, colourful stained glass windows, and white exterior walls. It's impossible not to wonder about the stunning interiors that must complement such a breathtaking exterior. Unfortunately, the palace is not accessible to the public without permission from its owners.
2. Go Out On A Chettinad Culinary Adventure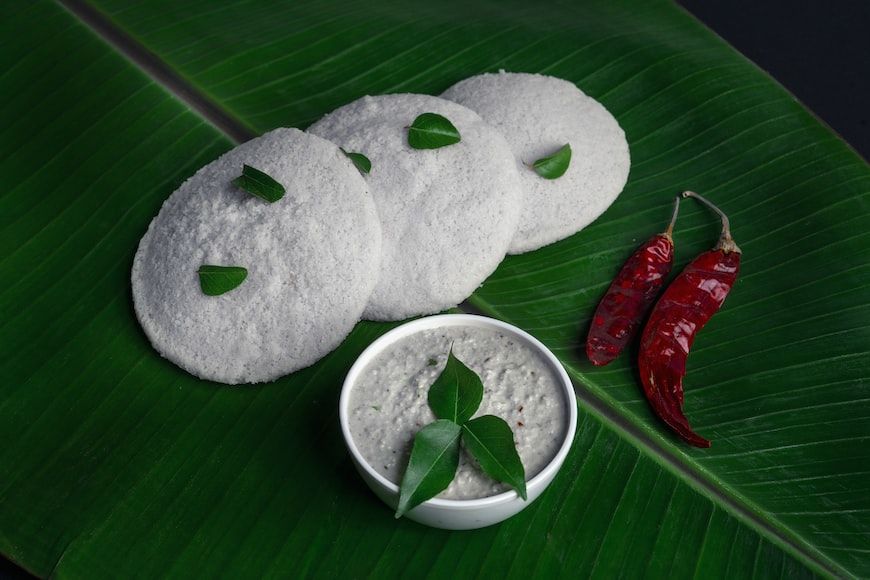 When one thinks of Chettinad, the first thing that usually comes to mind is its world-renowned cuisine. Known for its zesty and flavorful dishes, Chettinad food has gained popularity worldwide, and personally, it has turned me into a food enthusiast. The best part is that vegetarians have plenty to choose from as well. Breakfast in alongside the streets of Karaikkudi is an absolute delight, with a range of freshly made Dosai, Appams, Iddiappams, and Idlis served alongside an array of chutneys and pickles.
3. Discover The Athangudi Tile Factory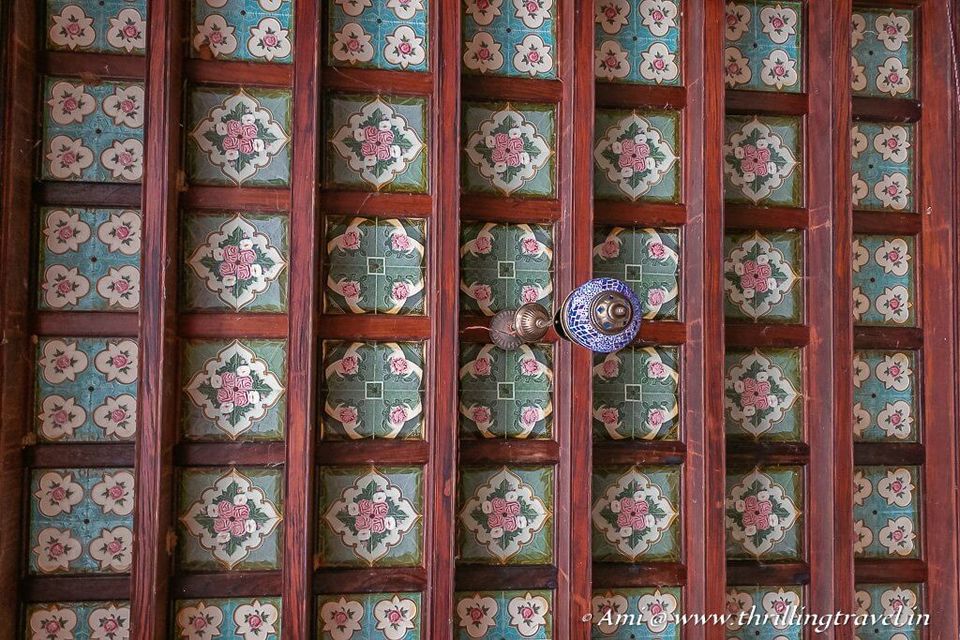 Chettinad's Athangudi tiles have made their way to the world map and are a must-see for anyone visiting the region. These unique handmade tiles are even used in popular resorts and hotels, and visiting the factories where they are made is a fascinating experience. You'll witness the incredible amount of labour that goes into crafting just one tile and discover the raw materials used, such as rice husks and mineral oxides. Not only that, but these tiles are also eco-friendly! Located close to the Athangudi Palace, a visit to the factories can be easily combined with a trip to the palace, making it a two-for-one attraction in Karaikudi.
4. Indulge In A Retail Therapy At Karaikkudi Antique Market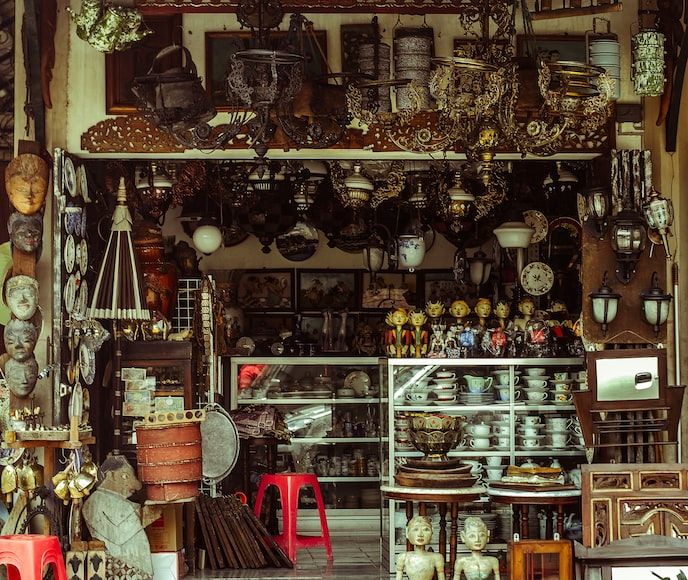 Even if you're not a shopaholic, visiting the Karaikudi Antique Market is a must. This narrow lane is packed with artefacts from the abandoned homes of Chettinad and feels like a living museum. Here, you'll find rare and original Ravi Varma paintings and bronze sculptures from a bygone era. For collectors, countless coins and old black-and-white photographs are available for purchase.
Bookmark & share this ultimate guide to Chettinad with your travel buddies and let me know which Karaikudi tourist attractions you would explore on your next visit to Tamil Nadu!
You can also read about Sushantika's experience here.
Ready to travel for free? Earn credits and redeem them on Tripoto's weekend getaways, hotel stays and vacation packages!
Think we missed out on something? Tell us about it in the comments below. Or write about it here on Tripoto and earn Tripoto Credits!