Tanzania is a dream -- green and fertile with an awe-inspiring mixture of waterfalls, warm ocean, and lush vegetation. I'd wanted to go for as long as I can remember, so when I got the chance to visit the country—one long international flight from Atlanta, a taxi from the airport to an overnight couch at a friend's place, then an interminable bus ride from Dar es Salaam to Moshi—I jumped at it.
I'd recently developed an obsession with seeing Mount Kilimanjaro, which is why I'd made my way to Moshi; although once I got to the town, I find out that some days it's too cloudy to actually see the mountain. And the best place to see it is apparently from Kenya.
But Moshi is still breathtaking. Determined to rescue my journey to the small town, I wrangle a guide for a hike up to the waterfalls. I'm not as ready as I think, though. On the steep climb to the falls, I nearly pass out, every step after a certain altitude a challenge I'm not certain I'm up for. My guide, a backpack wearing college-aged kid with a bright and ready smile, seems determined to soothe my ego despite the fact that a literal four-year old passes us going up the hill. The kid is on his way to school.
It feels like forever, but we finally arrive at our destination: a beautiful and tumbling waterfall, over two hundred feet high. The sky is spectacular. It's clear blue with wisps of clouds floating low, dark birds flying above the falls and sometimes diving down into the water. Absolutely amazing.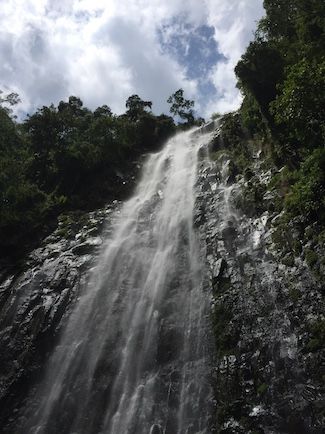 So amazing that I sit in wonder on a rock at the edge of the fall's basin. I zone out for so long that the guide who's been playing on his phone, tosses a rock into the water near me, splashing my skin with cold water, which snaps me back to the present.
"We can camp out here tonight if you want," he says, phone still in hand.
I shiver and wipe drops of the frigid but refreshing water from my back. "It's amazing, isn't it?"
He looks at me then at the waterfall, up and up to where the sky is already beginning to darken and the birds have mostly disappeared. Something shifts in his face and he puts his phone away. "Yes. It is." He looks at me again. "We can camp out here tonight, if you'd like."
It's getting dark we agree we need to make a fire.
I'm chronically over-prepared, so I happen to have a backpack with the most random things. Chapstick, snacks for more than a week, a can opener, and a small trail axe I'd picked up earlier in my trip.
We gather sticks, rocks, and dried leaves to make a fire in a nearby clearing. I take my axe and chop the large branches we'd found into manageable pieces for our fire. By the time we finish, it's properly dark. The waterfall rushes on. Night birds squawk, and we sit before the fire, not yet ready to bed down on the soft grass.
"Tell me," he says, his phone out of sight as he sits on the opposite side of the fire with the flickering golden light from our little blaze moving over his face. "What else do you find beautiful about Moshi and the rest of Tanzania?"
I laugh because I think he's teasing me -- the tourist who can't stop talking about how he'd love to live in such a scenic place. But his face in the light is serious, and I'm filled with so much love for the place where we currently sit.
"Really," he insists. "I live here. I enjoy my life. But I think I've forgotten what's so good about the things that bring people like you here. So, yes, please. Tell me. Remind me."
And over the fire, with the water rushing near us, and the breeze moving through the shadowy trees, I tell him.