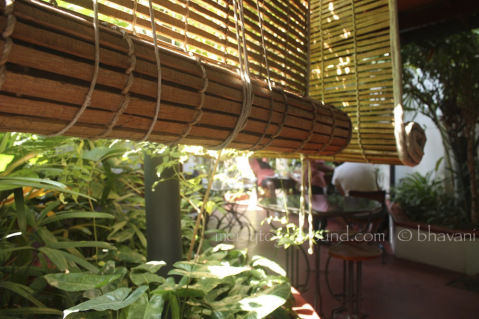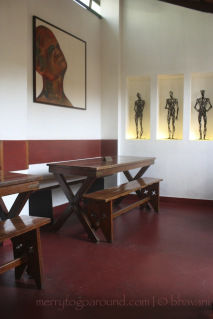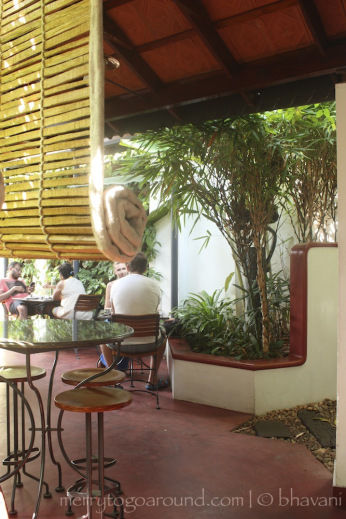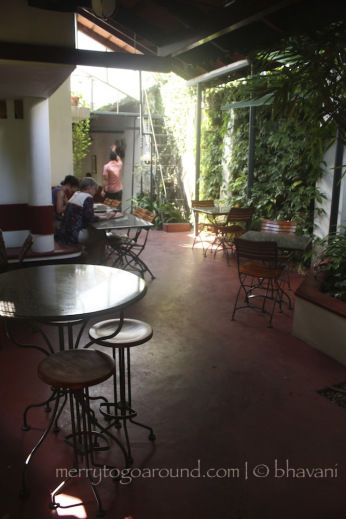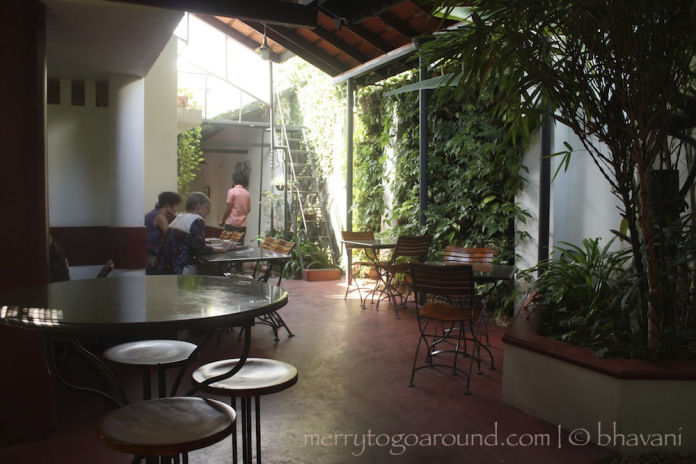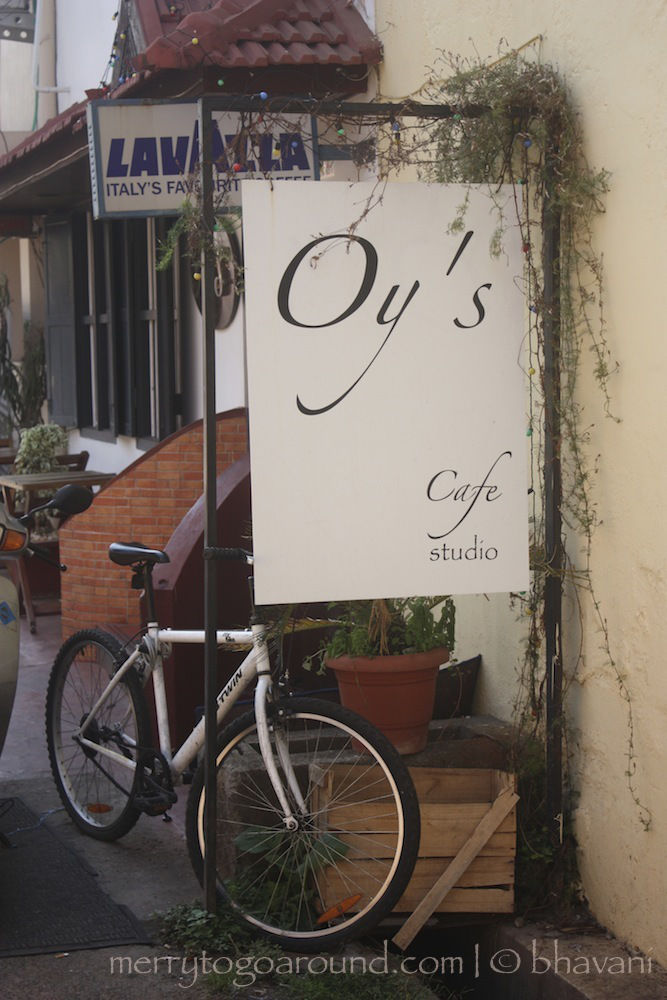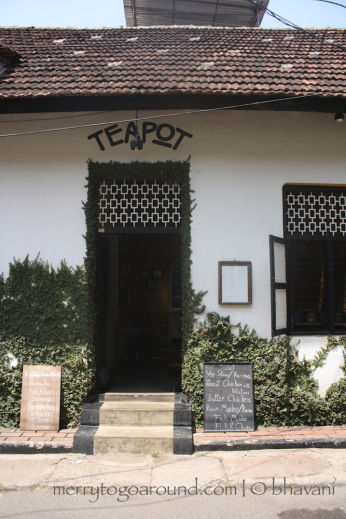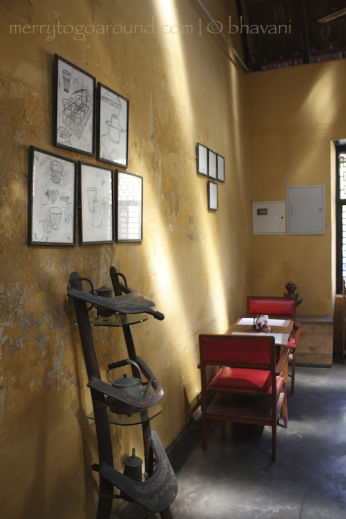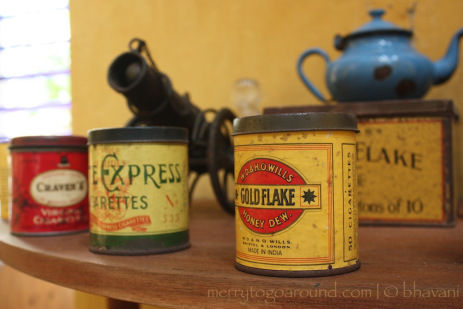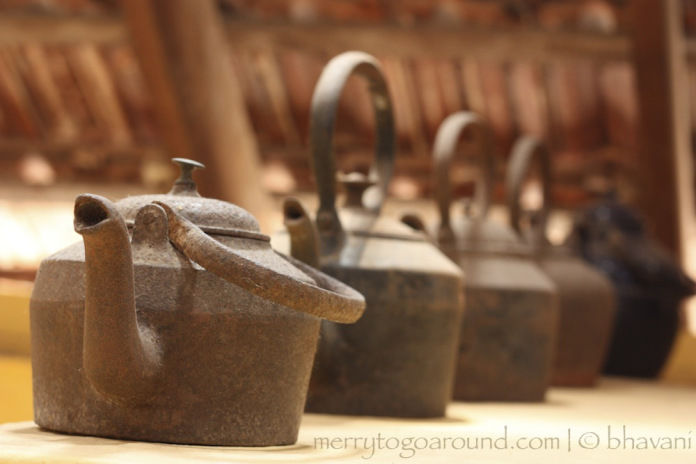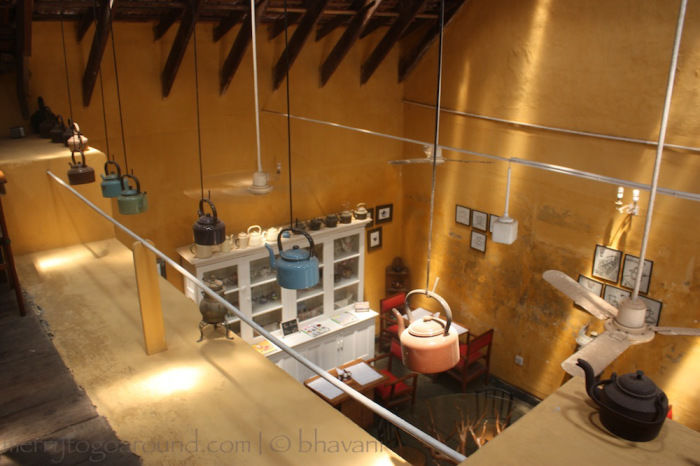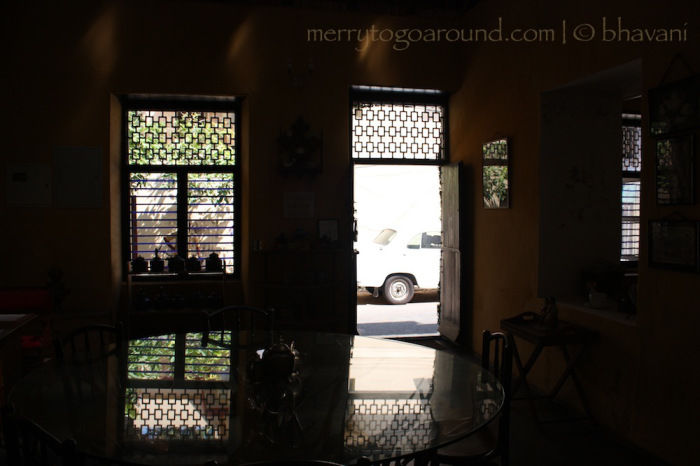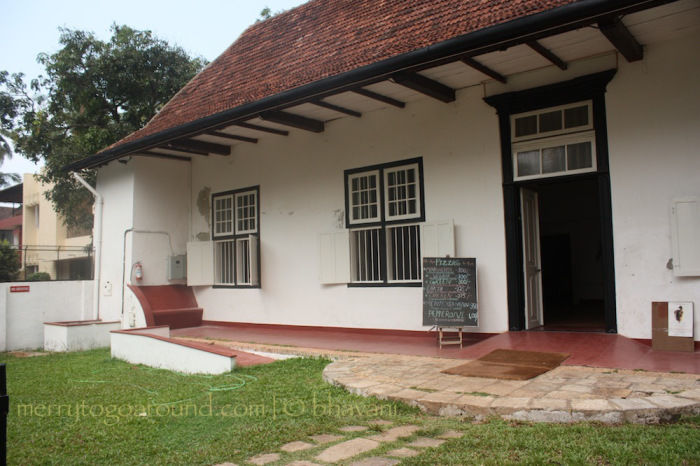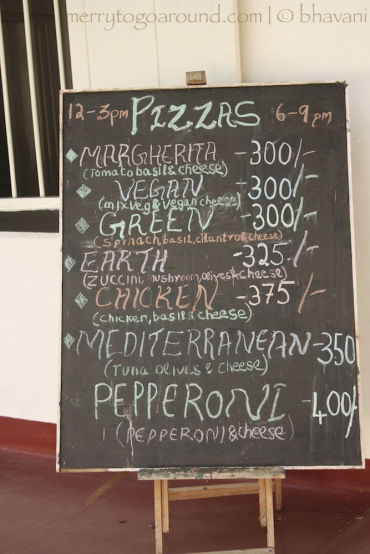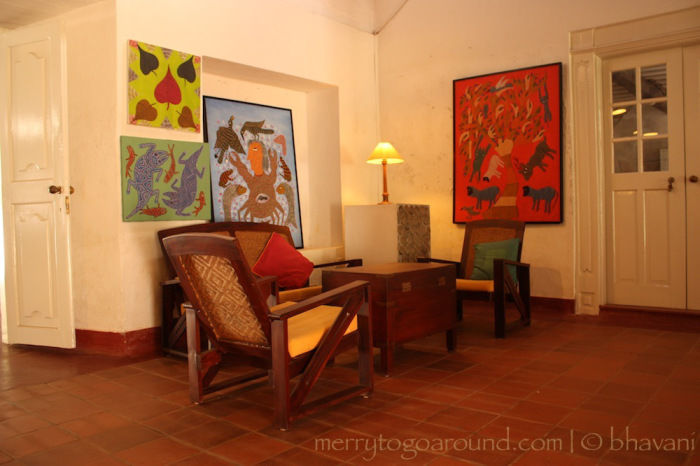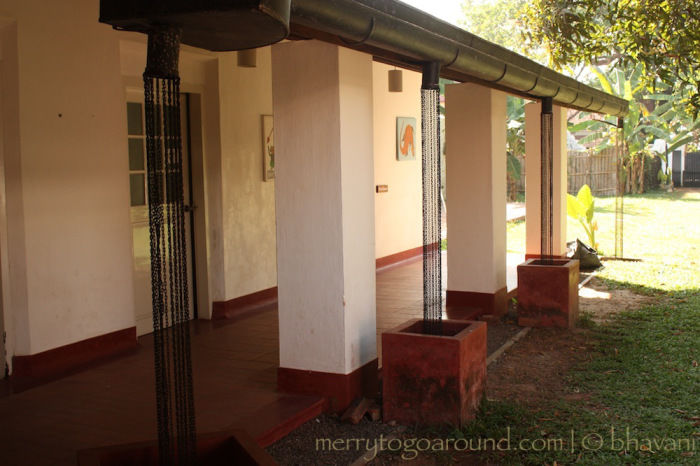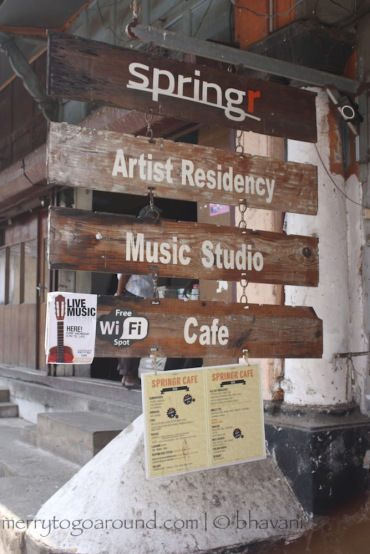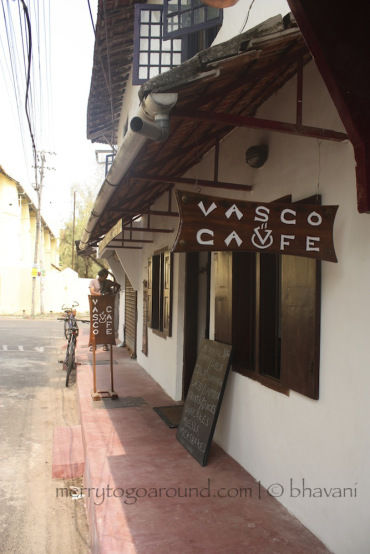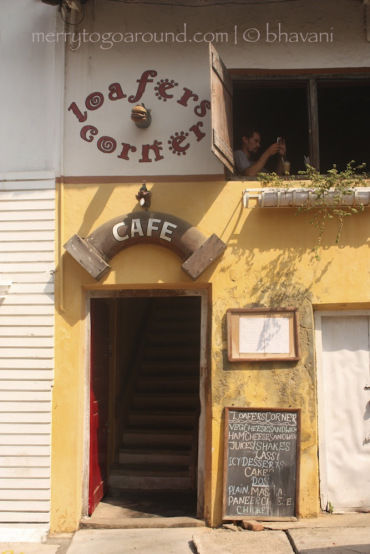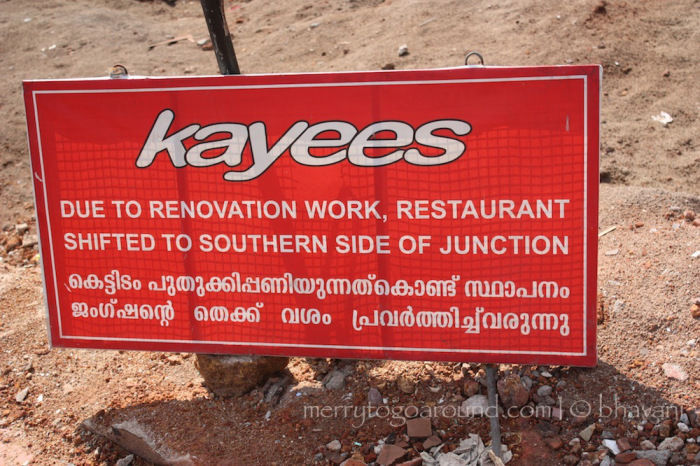 "You're a vegetarian? Oh…ok, yeah there are nice places for that too",the homestay owner said in a rather disinterested voice.
I understand. After years of being a vegetarian traveller, I know when people are flustered and a vegetarian in Kerala is always looked at as a weirdo. Why come here and eat if you can't eat the fish? That's the general feeling. For all you vegetarians out there: there are a lot of lovely cafes, restaurants that cook up some good vegetarian fare. Iwalked around for 3 days, eating every meal in a different place, at times splitting tea into two meals. That's why I am 'halthy', as the punju aunties would call me. I have a few favourites and if you are a vegetarian and planning a visit to fort Kochi anytime soon, don't miss out on these places. If you are a fish-a-tarian, there are other famous options for you and everyone will be most willing to tell you those options.
Kashi Art Cafe, Burghar Road: I'd pick this as my favourite cafe:
The sky comes in and brings along with it sunlight, birds calls and tall bamboo out-stretched. You enter the cafe through an art gallery – simple and sparse. The cafe itself is rather long in the way it's laid out and mid-way there is a tiny garden open to the skies. The bamboo curtains, dark red flooring, wooden furniture and green set a warm and cosy colour-scheme to the place. It's mature, peaceful and yet rather hip! Then again, this is a traditional looking place even though it's called a cafe. You can sit in the corner in your own world and no one will big you. Or choose to sit in the centre and in the midst of the crowds. For those who've visited grandparents houses down South with that shimmering red oxide flooring, this will just take you home. There is decent food too. You could check that out. I had salad, cake with chocolate sauce, lime juice and a long conversation with the waiter about my job as a travel writer.
Oy's Cafe, Burghar Road: Hippie cool, colourful and friendly:
Kashi Art Cafe and Oy's Cafe are neighbours, a little distant, but neighbours all the same. They live just down the road from each other, offer rather similar food options – simple neutral cafe fare with a few meals thrown in for safety. But that is where the similarity ends. You might say what's left, but I think ambience is a huge part of the charm of a restaurant especially when food is not the main draw. Oy's is a little more hippie as it is loud and everyone seemed to know everyone else. There were cafe regulars and the waiter just knew their orders and the owner was sitting with some of the customers and chatting. It had a very relaxed and peaceful atmosphere amd it felt almost like that best friend's house you've grown to know like your own. At least when I went it was louder, people were talking across the room and there was music that I could hear.Iit's happy and cheerful and everyone seems like a friend you just got to know!
Cafe Teapot: Quirky, non-kochi but worth a visit:
True to its name this place has a lot, a LOT of teapots. designed for modern sensibilities. It probably is the least bit local whether in food or decor. but then again, sometimes you want that lovely cafe that takes you back to your metropolitan city. What I mean is this cafe could be in Mumbai, when I sit inside, I didn't feel like I was in kochi at all. So, in a way, at least for me, that works against this cafe. I enjoy places that offer me something local, something I do not get back home. The decor is quirky; there are antique cigarette boxes arranged in one corner, teapots placed and hanging from the ceiling and unfinished furniture, walls and tables. You can choose to sit downstairs or climb the narrow steps and sit upstairs. The light filters in and out, the fans whirr on and on in that monotonous way I love. Life settles down in the corner with a book and coffee (or slice of cake). I really like the entrance with the creeper crawling slowly- threatening to take over the facade. Drop by for a coffee, a quick sandwich or even that comforting tea-cake.
Fusion Bay, near Santacruz Basilica: Go for a hearty meal. this is a loud, cheerful place – overall a fun night:
Good food- Simple and sufficient and has vegetarian options too. Try the local stuff!
Basic and clean ambience.
Value for money- Portion sizes are big. I couldn't finish my dish!
Outdoor seating area too- I am a sucker for outdoor alfresco dining.
Crowded- I read this as a sign of their great food. You have to wait for a turn to sit! Come on now, I'm indian. If it's not crowded then it's not good. Isn't that your rule too?
Ask the waiters for the best local food, but specify whether you want spicy or non-spicy. Be clear and firm about it. While I was there, a foreigner got a 'non-spicy' dish, according to the waiter, but it burnt his mouth. So specify. I was so busy eating that I forgot to click pictures- so just go visit.
Cafe at David Hall: Go for a long dinner:
Don't we all go to fort kochi for some good wood-fire oven pizza? Well, if you don't, you might just start doing that. David Hall is an old heritage house, and at that point itself I was sold on the cafe. I cannot say it's bad anymore. You enter through the art gallery and walk to the yard at the back. The tables and chairs are to one side and there are corridors that run along the entire sides,  all circling this huge tree standing in the middle of a tiny garden. It's romantic and peaceful – a great place to spend the evening after a busy day checking out Fort Kochi and all the sites. The ambience is warm and cosy, yet because the open air there is refreshing feel to it and they manage to marry both. I went during the off-season, but I was told that this place always has some exhibition, event, live concert, talk etc. going on in the evenings. so do check if you like that sort of thing. The pizza is great, the crust thin enough and the toppings are sufficient, they aren't stingy. What impressed me about David Hall is this place also lends itself to long conversations, most of which can be done in soft undertones.
This trip was originally published on Merry to go around.