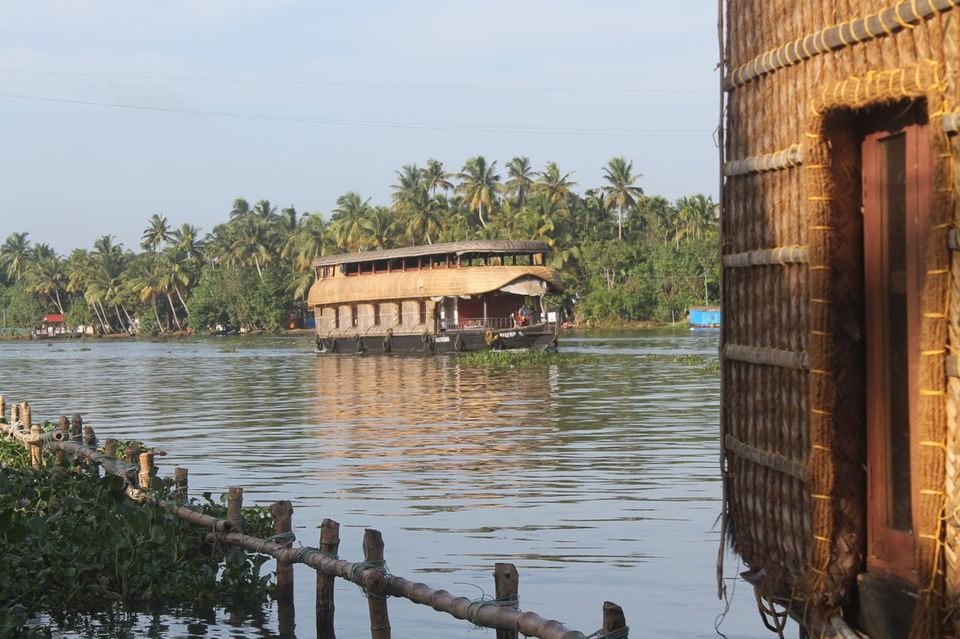 Alapuzha (Allappey) is home to some of the most beautiful waterfront places and backwaters in the world. The traditional houseboats, endless backwaters, rich flora and fauna, vast green carpets rolled out between waving coconut trees and magical sunsets make Alapuzha a traveller's paradise. An added trip to Vagamon takes you from the tropical backwaters right to the cold and misty tea plantations and pine forests. Can this get any better? :)
Day 1
Houseboats in Alapuzha are famous for its traditional way of living in a boat, sleeping and cooking included. I would recommend to take a 1 day 1 night stay on a house boat as anything less would be too less and anything more would be too much.
1 Day and 1 night in Houseboat
​We arrived in Alapuzha by morning to have an authentic Kerala breakfast (Puttu & Kadala curry, Dosa & chutney, Idiyappam and Stew, etc) and hopped on the house boat (pre-booked to avoid last minute over priced deals and uncomfortable journeys) by around 11am. We settled down and have a delicious backwater lunch of fresh fish fry, fish curry, tapioca or Kerala rice cooked on board by the boat chef. We spent our time watching around for some stunning views of the Kerala backwaters with a glimpse into the local life strongly woven with the Vembanad lake and the surrounding eco-system. The boat anchored for the night and that's when you can have a glass of toddy (alcoholic Kerala palm wine) in one of the local toddy shops.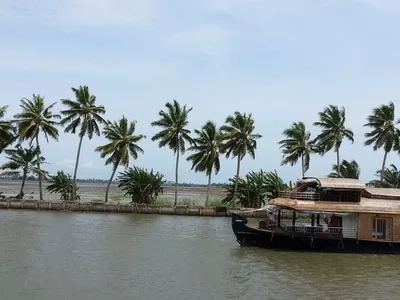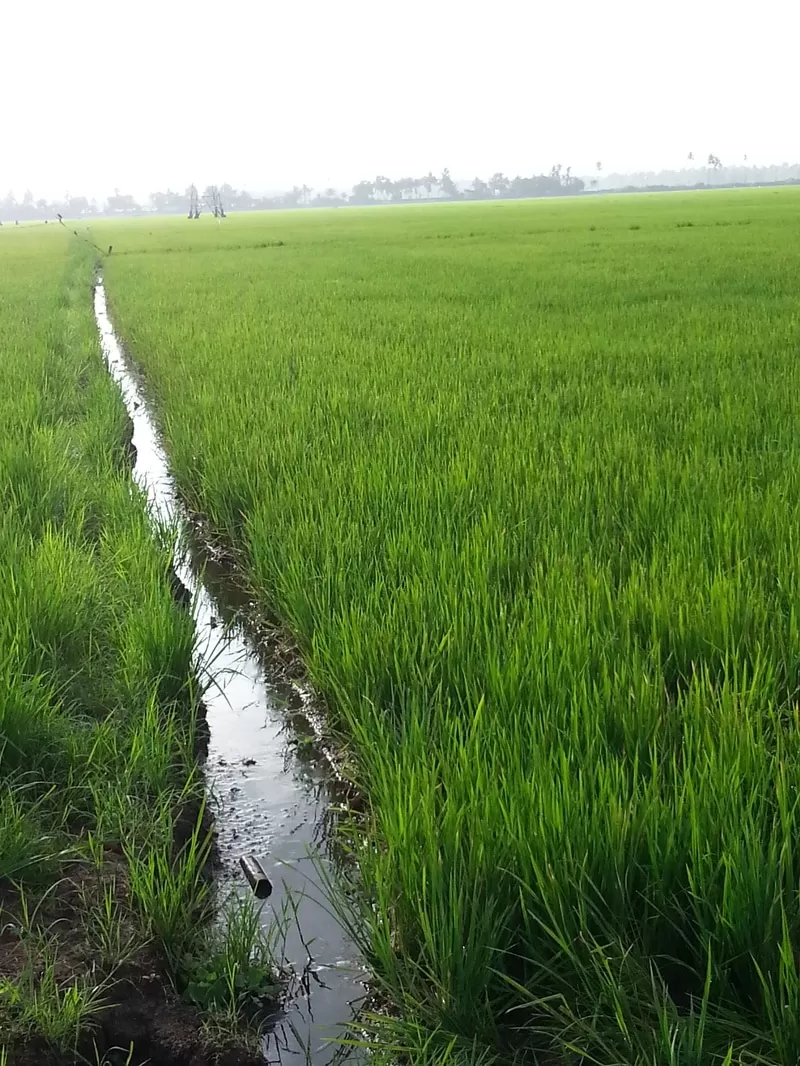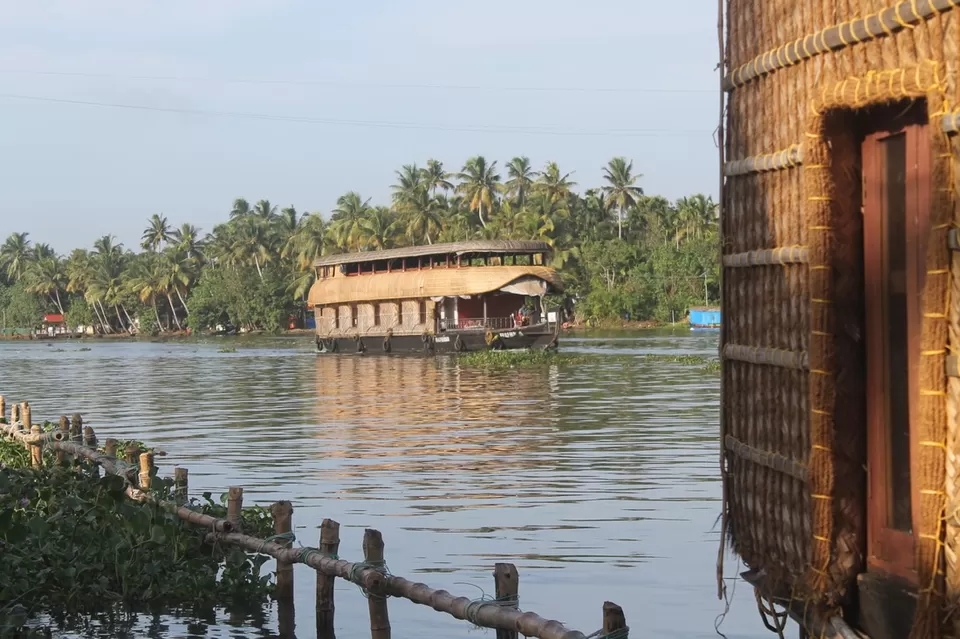 Day 2
Next day morning is nothing less of a beauty as the boat took us again through the Vembanad lake to view the morning glow of Alapuzha and its residents. The journey ended before noon when we headed to the city.
Deep into the Alapuzha life- Kayaking
A definite must do when in Alapuzha is kayaking in the narrow water canals that branches from the Vembanad lake housing numerous families on both sides of it which is unseen from a typical house boat. I found a suitable one for me and my brother via Tripadvisor which is the Kerala kayaking. If you are unfamiliar with the sport or cannot swim, you can very well ask for a 3 seater and the guide joins you to help move along. We kayaked through few of the hundreds of canals despite the blocking water weed, fallen coconut trees to witness houses that own their own small and large boats, boys boating to the next canal to buy household goods and much more. This definitely is the way to see Alapuzha!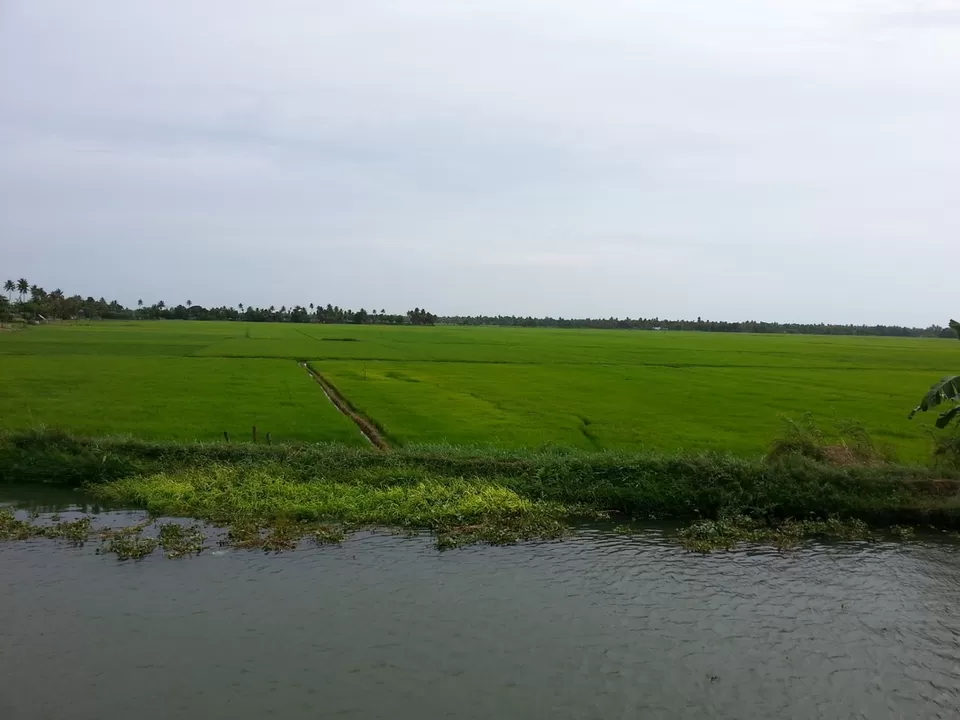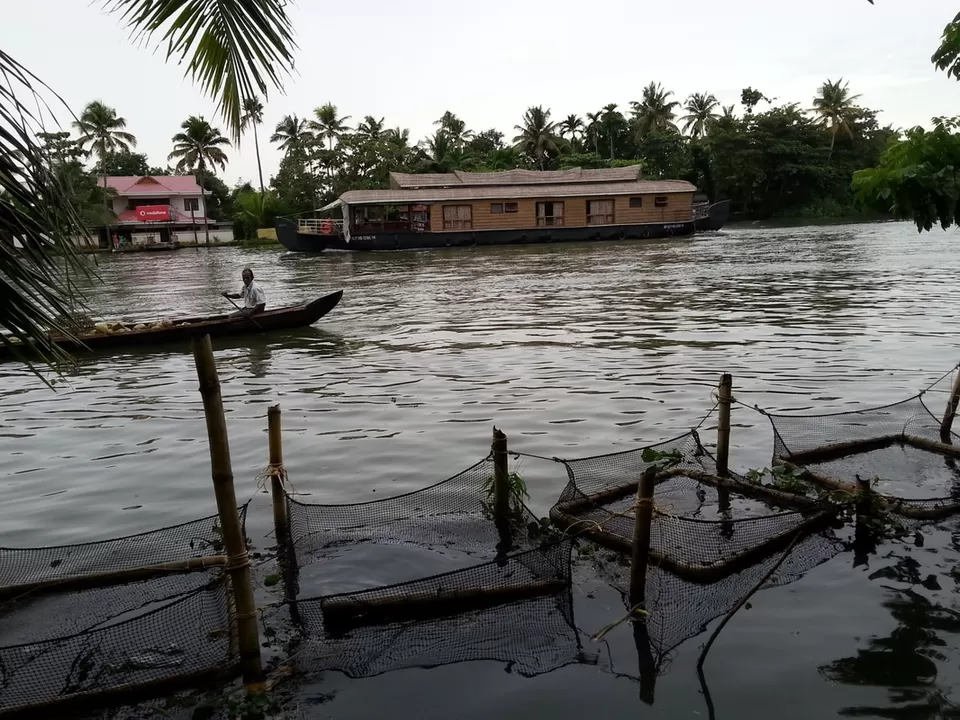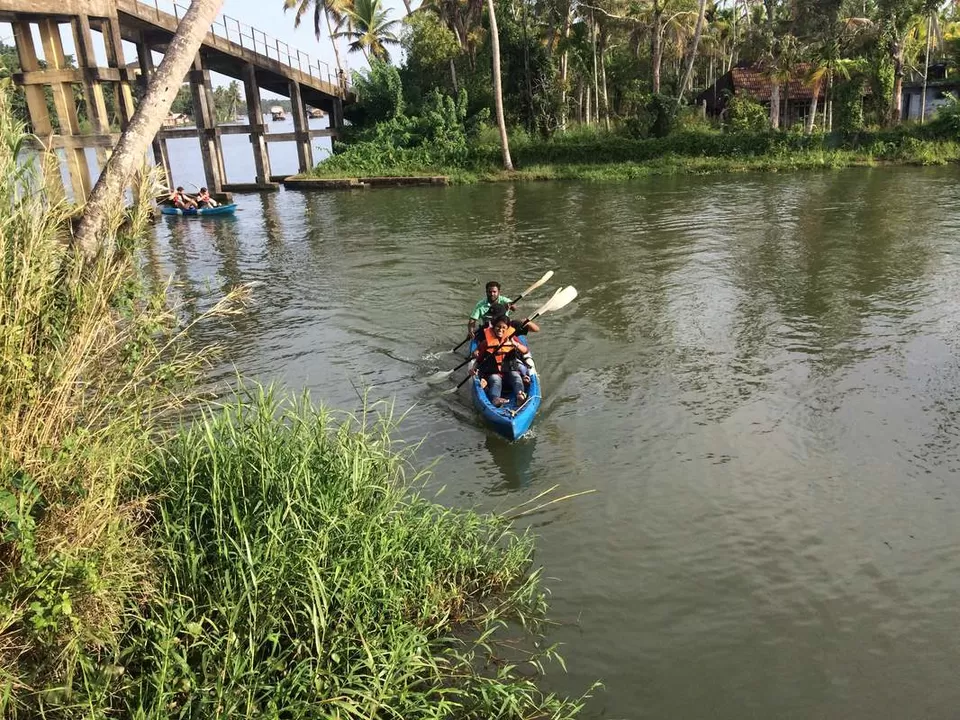 Missing Kerala beaches? Marari beach!
After the tiring kayaking, we drove through the city to reach Marari beach or Mararikulam, one of the least commercially touched beaches in Kerala. If you have booked a stay in a nearby resort, you could get into the private beach as well. The beach has a long stretch of coconut trees and beautifully scattered shells. We took a dip in this clean beach and walked along the shade of the coconut trees. Remember to take a sunshade/hat/umbrella and refreshments to beat the scorching sun in this relatively less crowded beach.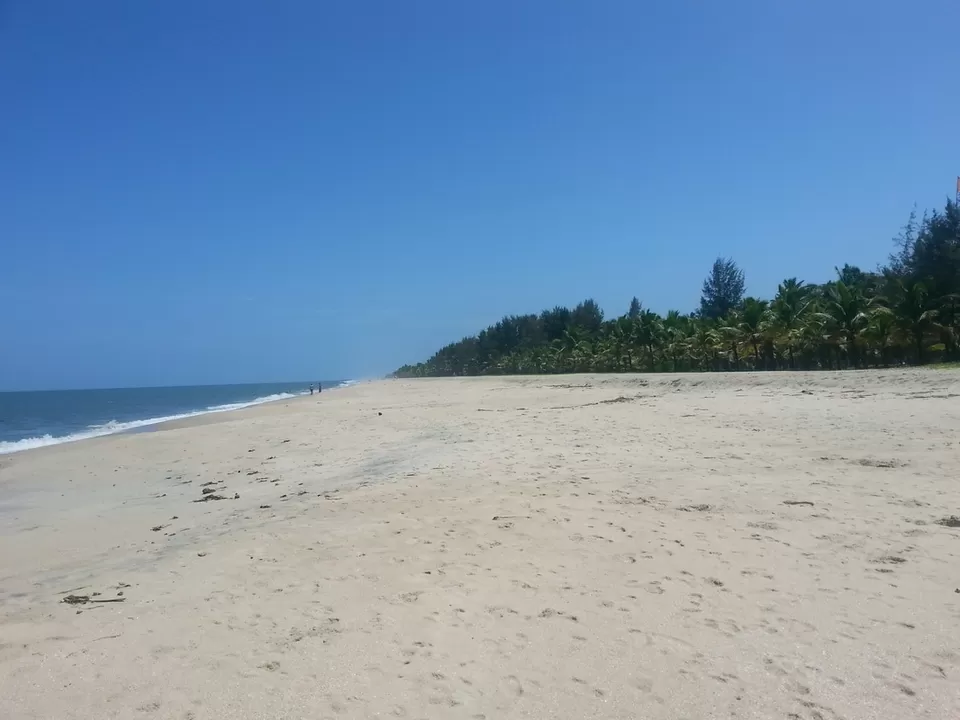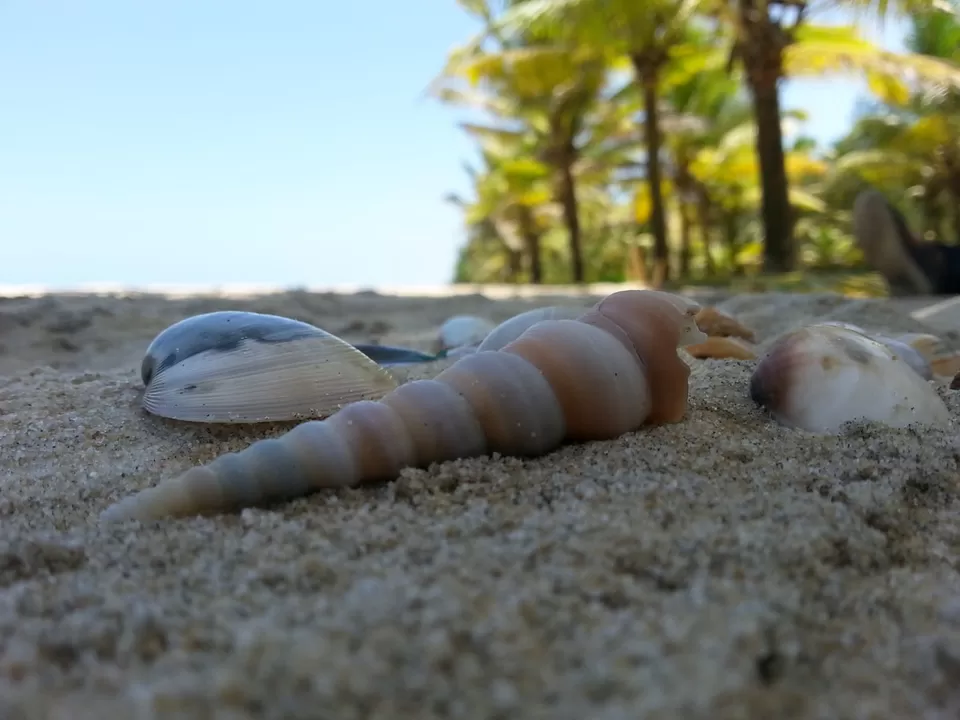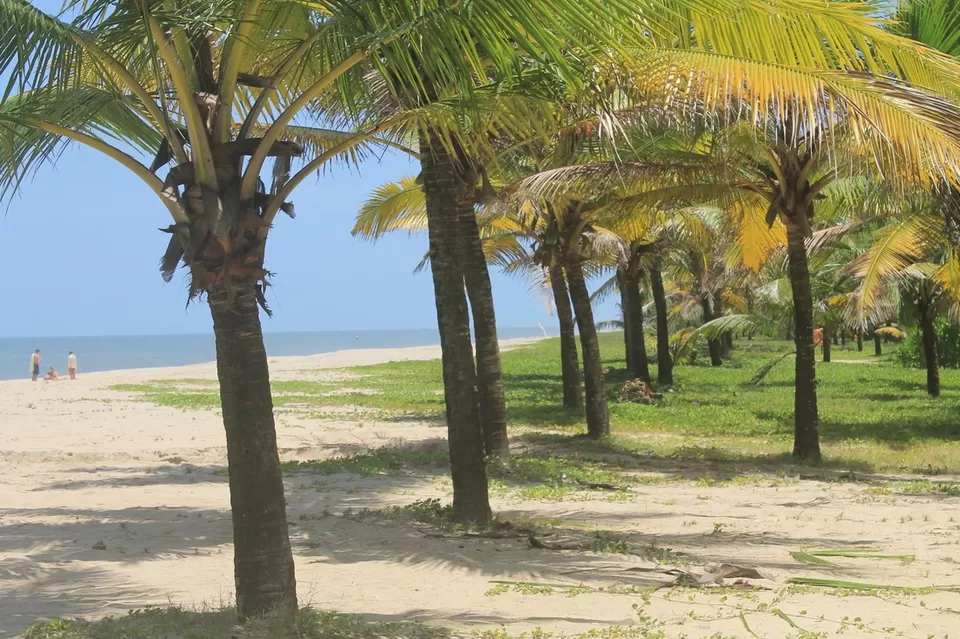 Other attractions
Allappey beach, Pathiramanal beach and Vemabanad lake are other destinations you could include in your itinerary. St.Xaviers church, Ambalapuzha Sri Krishna swamy temple and Mannarasala temple are some of the nearby religious sites. Walk around the city to shop some traditional Kerala saree or a snake boat shaped souvenir and to take some photos of numerous canals preserved in the middle of the city.
Day 3
Bid farewell to the city of Alapuzha to discover more different sights, smell and essence of Kerala. Start your drive early morning to avoid the city traffic of Alapuzha and Kottayam to reach Vagamon.
Vagamon tea plantations
We could see the surroundings change drastically within a few kilometers while we climb up to Vagamon through misty U-pin curved roads with hill and valleys at a distance to bright green slopes of tea plantations lively with road side tea shops.
We parked our car on a wider side and walked into one of the tea plantations to see how the workers pick the leaves. One of those smiling faces and a rearing cow in front of the sumptuous tea plantations is worth a high resolution photograph. The different shades of green on the hills is quite visible according to the age of tea leaves. If you cannot afford a Munnar trip, Vagamon is a trailer of what you're missing out there.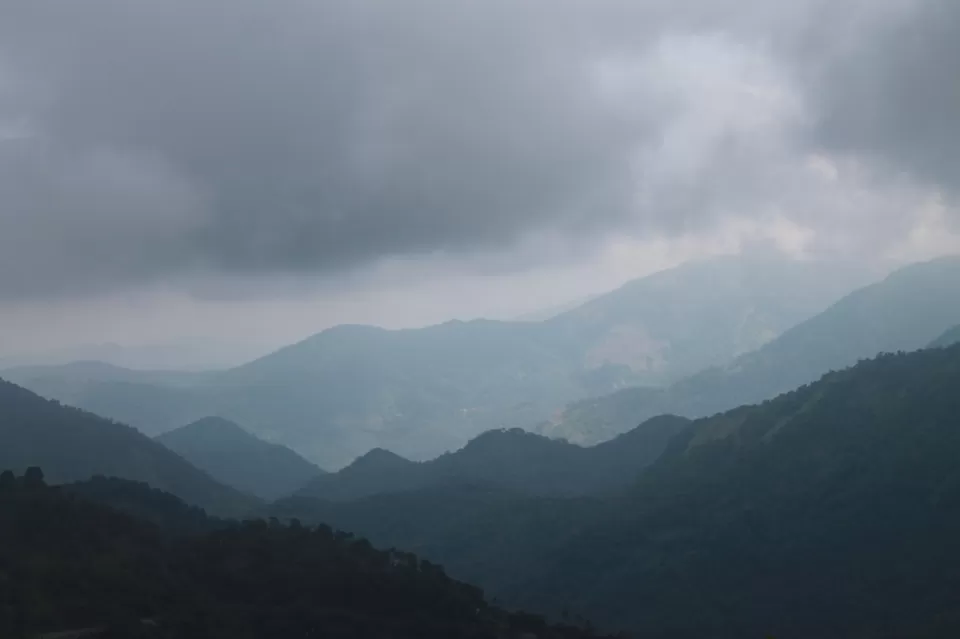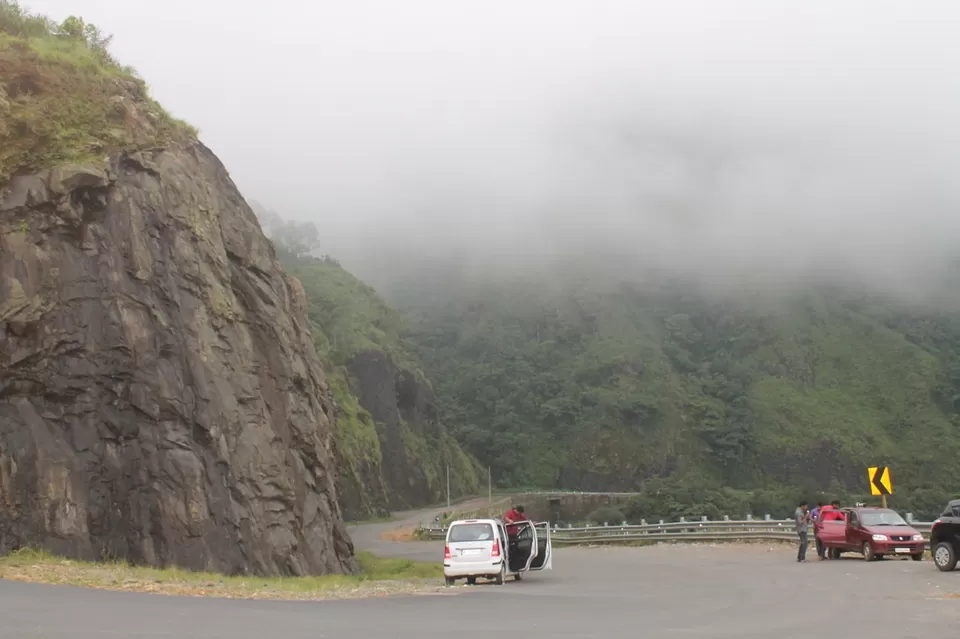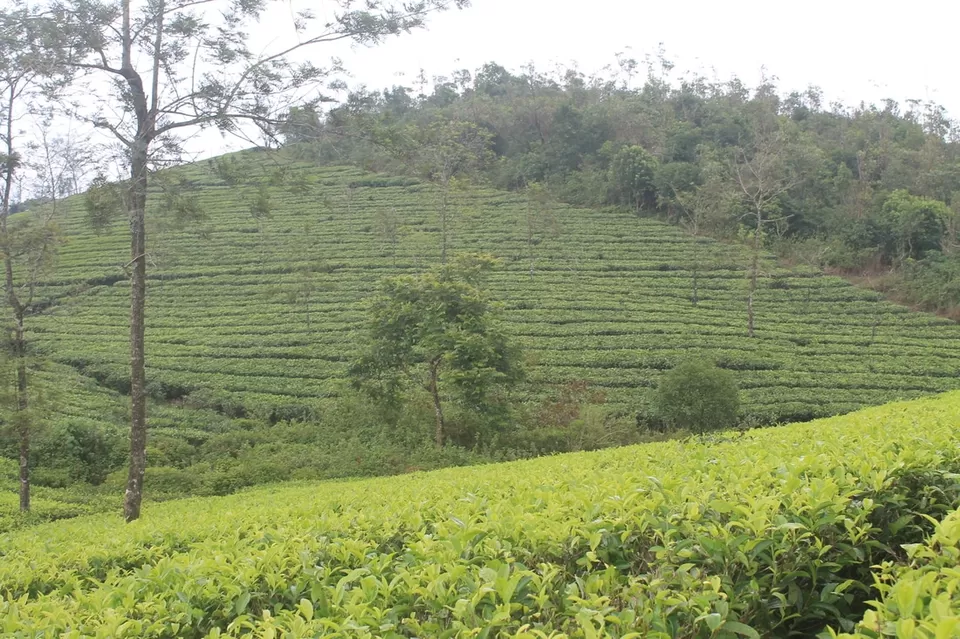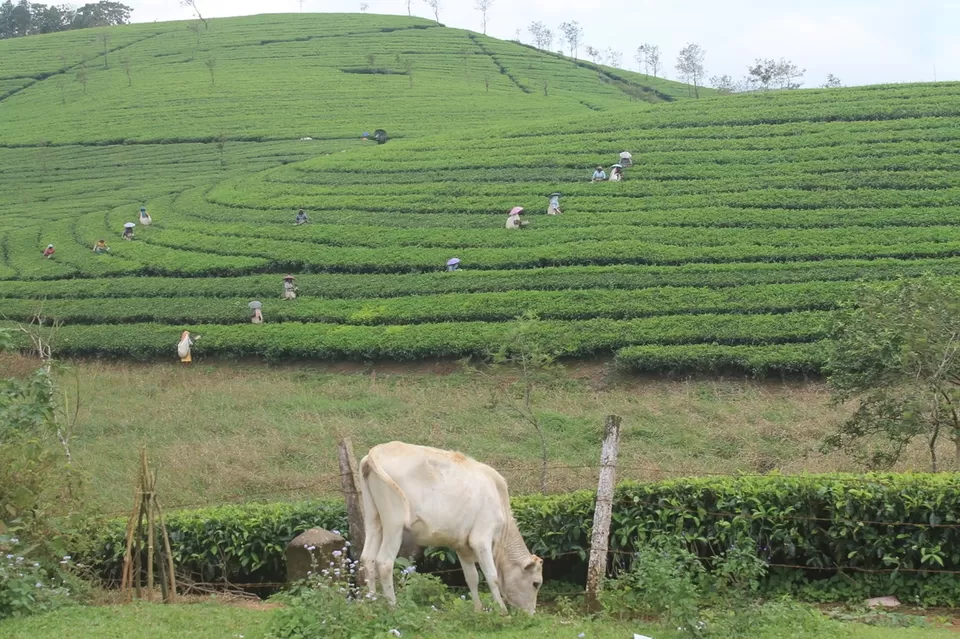 Pine forest
Pine forest in Vagamon was our next destination. Parking facility is available near the Pine forest and local products are also be available for sale at the entrance. We walked through the pine forest and climbed up the hills to see the sunlight cracking through the tall pine trees. Did you notice how the topography just changed from the backwaters to the pine forest on a hill station in a matter of few hours? God's own country.. eh?
We spent around 1 hour here running up and down the hills and purchasing some authentic honey from the stalls nearby.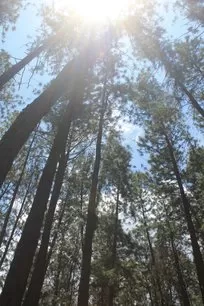 Green meadows and other attractions
Green meadows, as the name suggests is a series of barren hills that takes you to a small lake. Bring in a ball for your kids to play around while you watch rearing cows on a distance and countless hills on the back drop. You could also visit Kurisumala or Thangalpara for some hiking and more sightseeing. A stay in any one of the resorts on the hill is worth it for the excellent views of the valleys.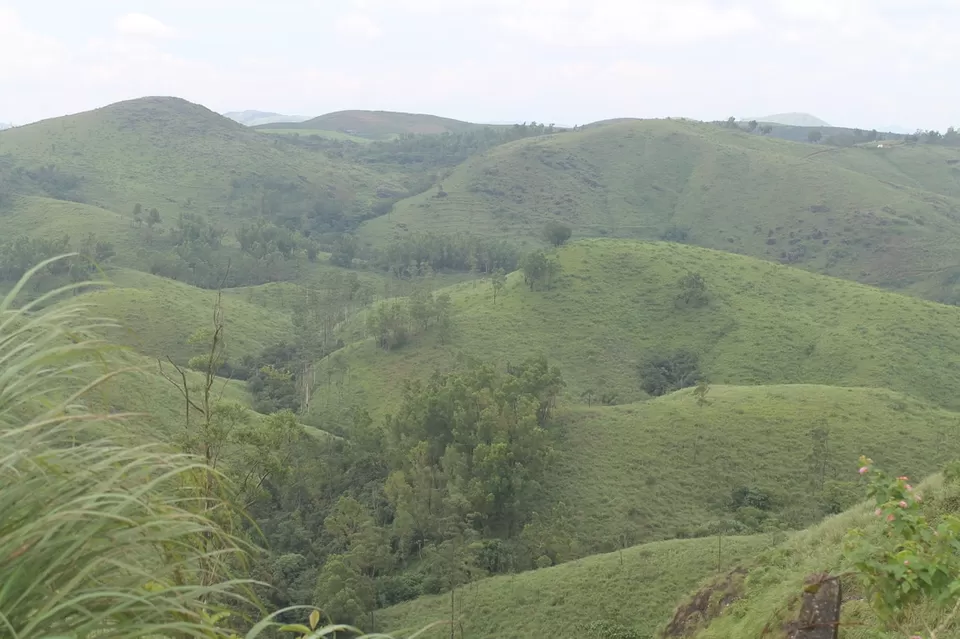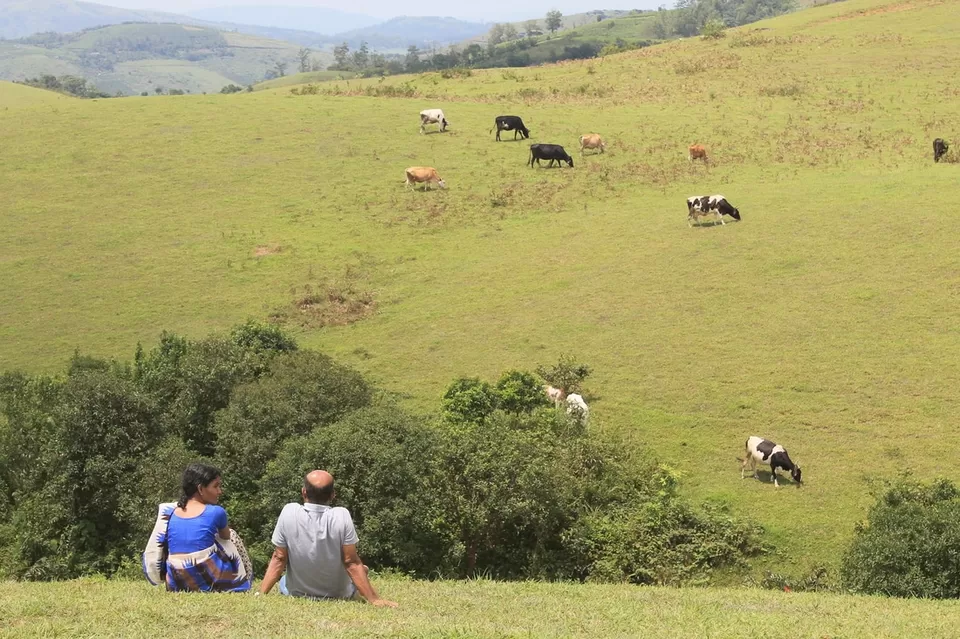 Travelling along the state of Kerala always surprises one, at points with its changing backdrop and weather. A visit to Alapuzha and Vagamon is nothing short of the biggest surprise of them all. Namaste from the land of coconuts!