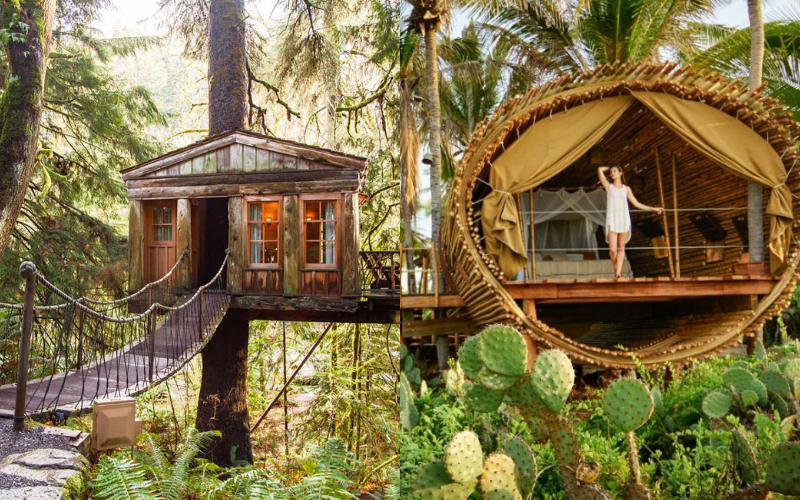 If you were frowning or fuming over your bank balance which is just not letting you make the much coveted Bali trip, here's some good news!
So what if you can't travel to the "Island of Gods" take a detour to "God's own country", with similar climate, scenic vistas, lush greenery, Kerala will blow your mind!
And, here's a list of super Instagram-y tree-houses!
Eco-logically sustainable, traditional old-school, in the middle of the jungle, boho with a dash of luxury or going all out with lavish interiors and top-notch contemporary services – Take your pick for the perfect "Erumadam" (tree house in the local language).
Nearest Railway Station: Ernakulam Railway Station
1. Nature Zone Jungle Resort
Perched atop a foothill in the hill-station of Munnar, 6000 m above the sea level, this tree-house offers sweeping views of the surrounding tea-gardens and lush forests.
Snuggle in this tree house in the middle of the woods, listen to the rhythmic chants of the beetles and wake up to the morning alarm set by the birds as the sun-rays peep through the branches! Sounds surreal, doesn't it?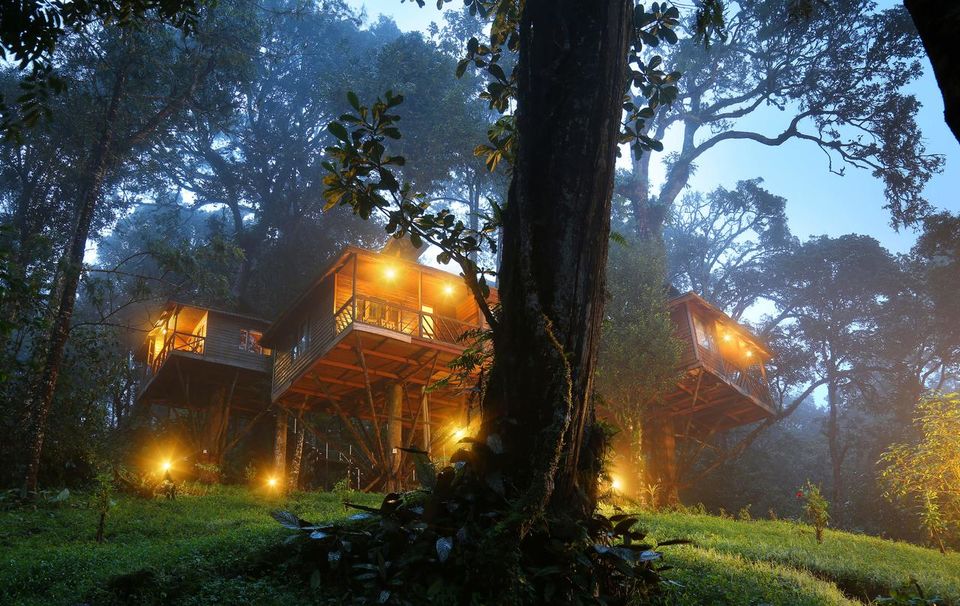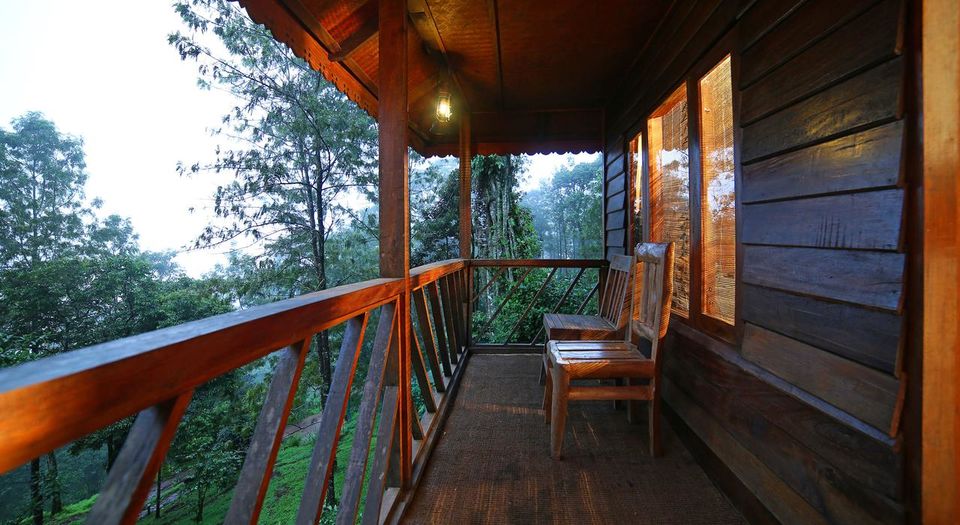 Every tree is carefully selected by a tribal and then the tree houses are constructed with minimum impact to the tree. The rooms are spacious, with airy bathrooms and balconies that offer spell-binding views, even a tree trunk passes through the room to add a real grove vibe.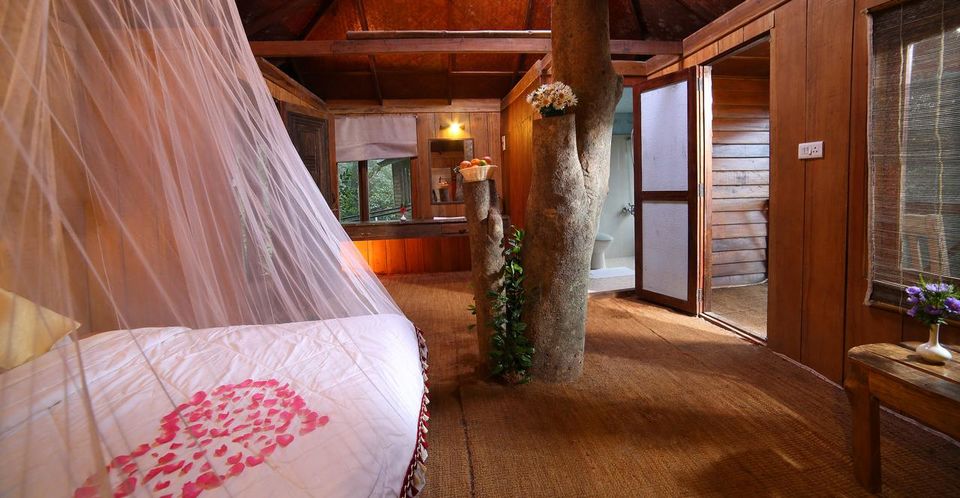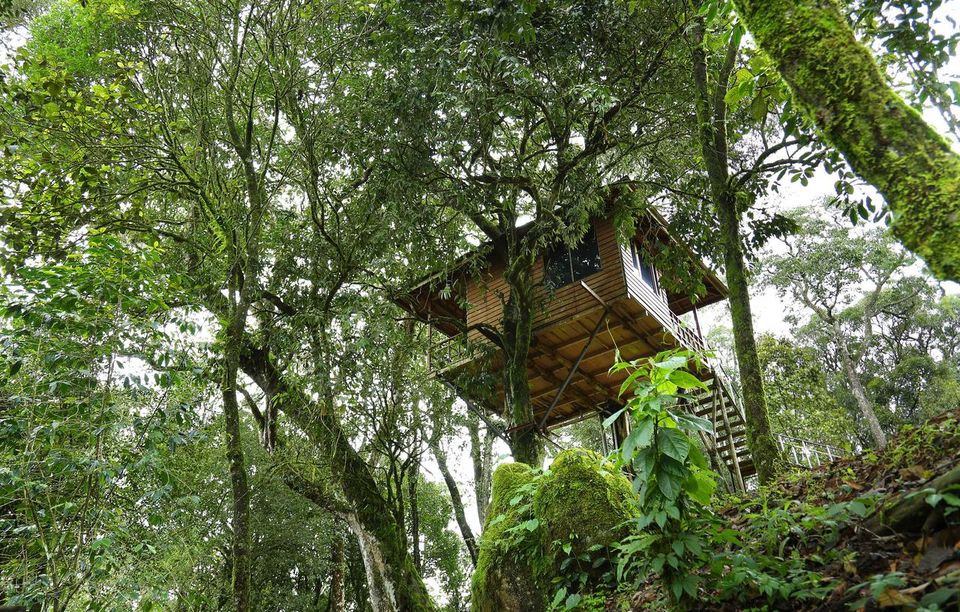 Where: Pullipara, Munnar.
Cost: 14,800 INR (including breakfast and dinner)
2. Ela Ecoland Nature Retreat
Cut off from every possible connection to our world of hustle-bustle this property is for adventurers and nature lovers who want a detox! There is literally no network reception here except BSNL and the tree houses are located smack in the middle of coffee and cardamom plantations.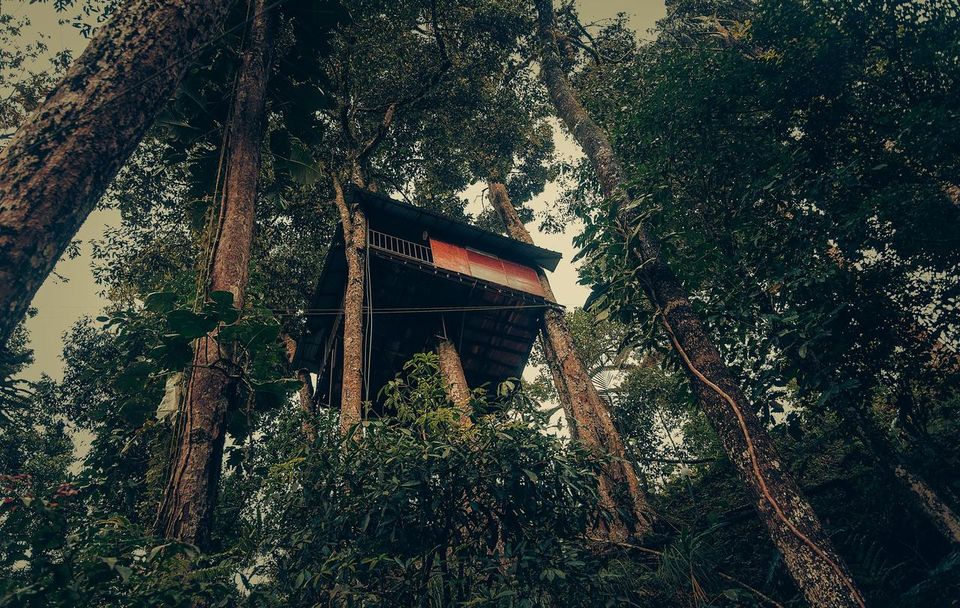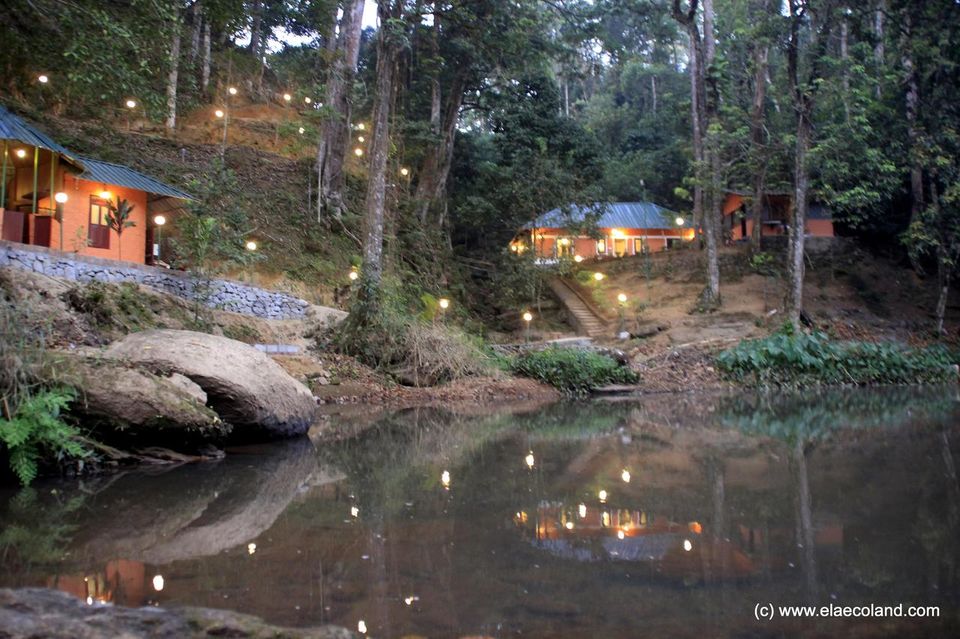 Once you reach this wonderland, you'll forget all your worries as you witness the enchanting views of the surrounding forestation, and the therapeutic gurgling sound of the Kallar-Nallathani river which flows through this property in the form of a beautiful waterfall, is a natural de-stress.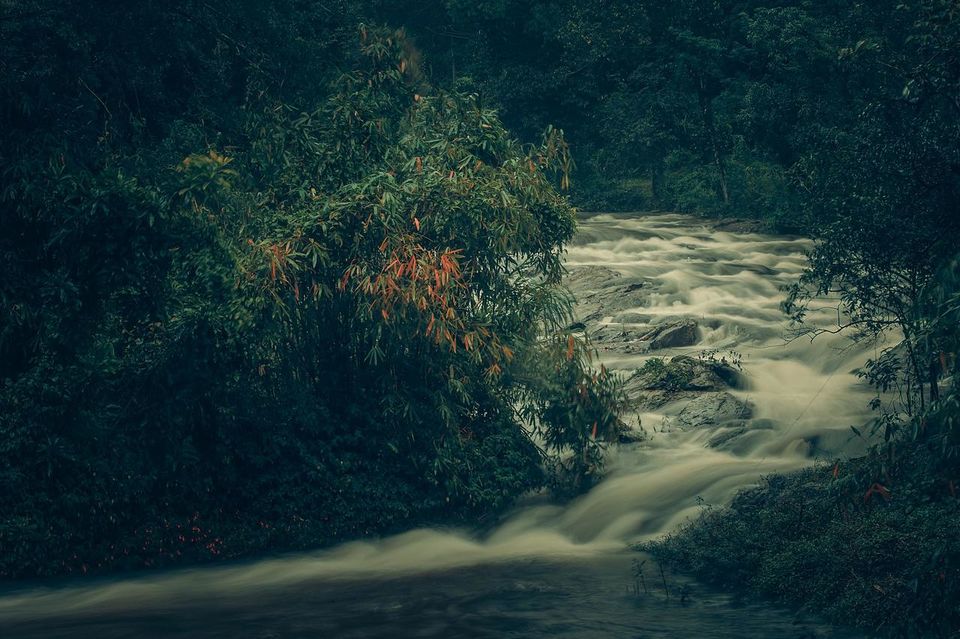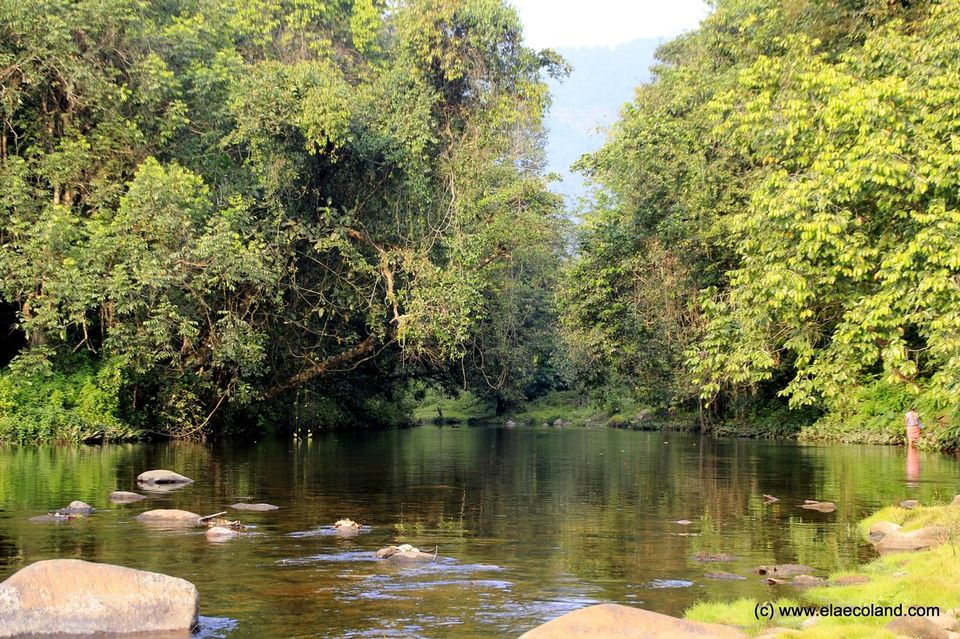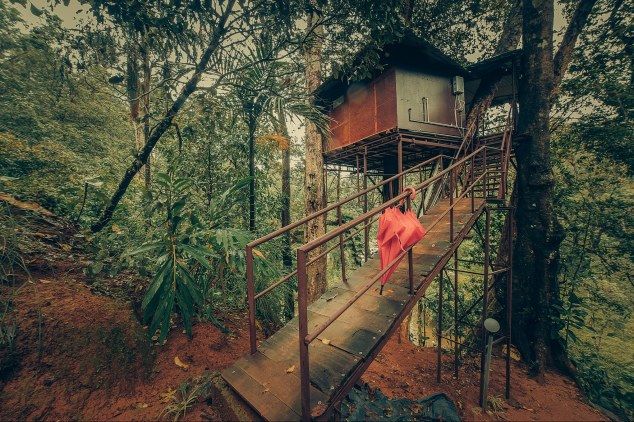 Pro-Tip: This property is pet-friendly.
Cost: 10,000 INR (includes taxes, breakfast and dinner)
Where: Vattiyar PO, Kallar, Munnar.
Nearest Railway Station: Kottayam
3. Vanya Tree House
Watch the mist play hide and seek in the hills of from the balcony of your 'Erumadam' at this resort. The aim of this accommodation is to transform you back to the days of yore, where things were simpler and humans were much closer to nature.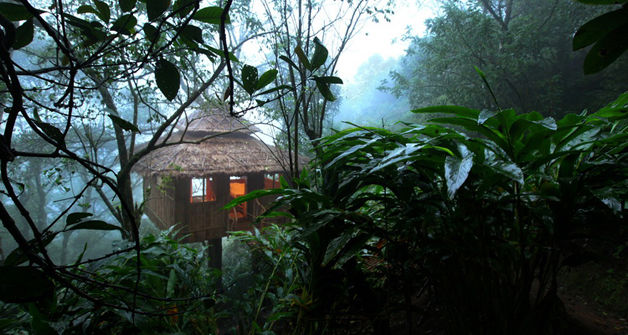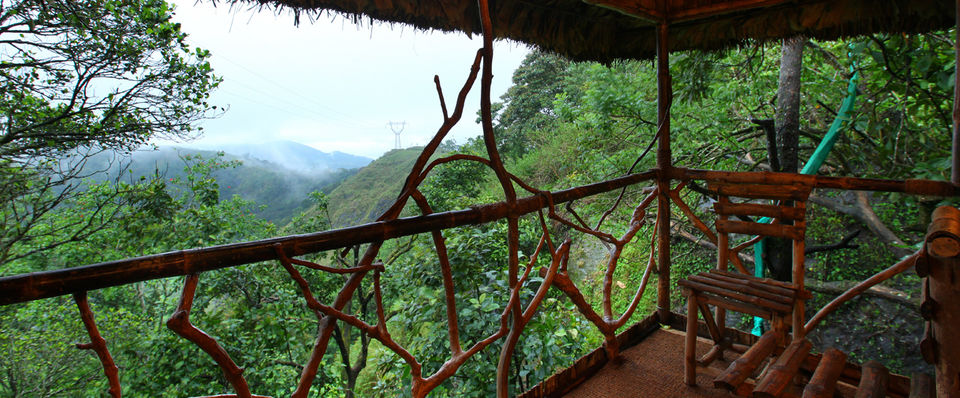 This entire property is powered by solar and wind energy, only freshly prepared traditional vegetarian meals and snacks are served in coconut leaves and local 'Randhal' (lantern lamp) is used to light up the dining area. Even toiletries given to the guests are old-school and traditional in nature, for bathing they give 'Payarpodi' (ground peas paste) and 'Inja' (natural scrubber), the drinking water is stored in a 'Kooja' (earthen clay pot) and for brushing teeth you will be provided with 'Ummikiri' a traditional tooth powder and twigs from Neem or mango trees. All this combined with the woodland ambiance makes for a completely unique and authentic vintage tree-house experience.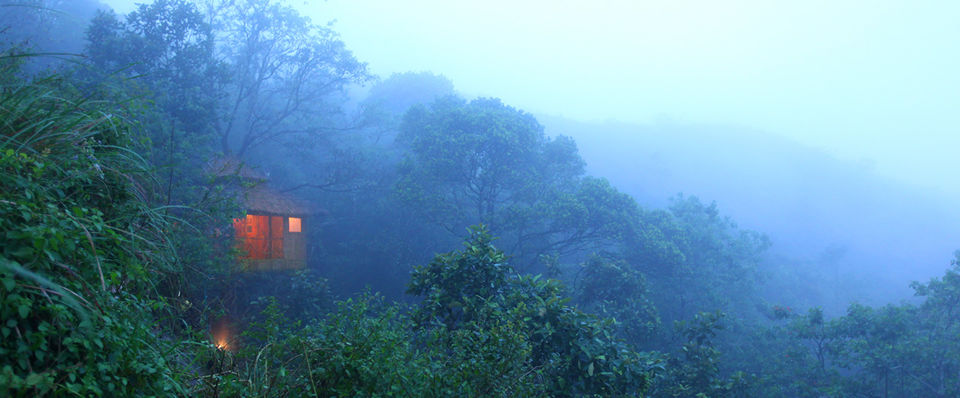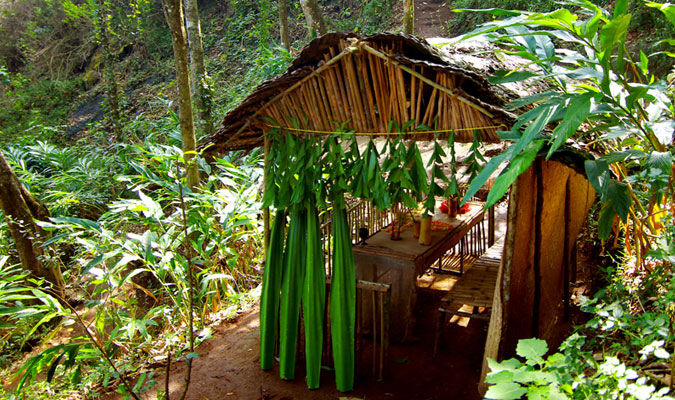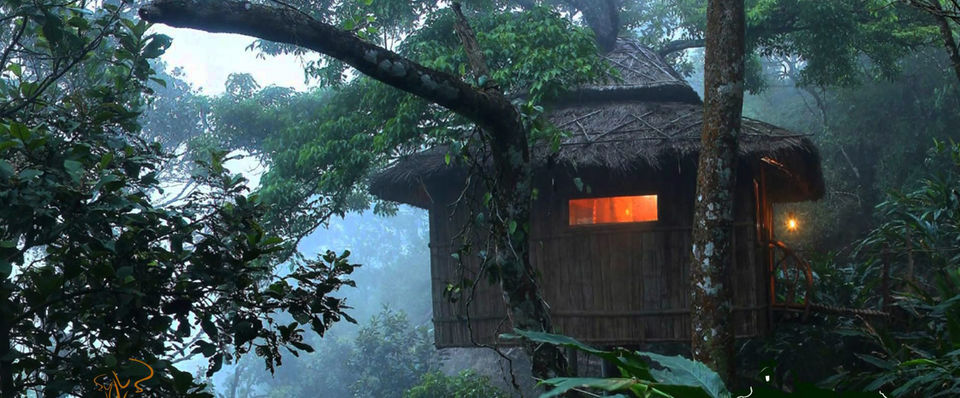 Nearest railway station: Calicut (Kozhikode)
4. Tranquil Resort
Much like the others this resort too is enclosed by coffee, pepper, areca nut, and fruit plantations. However, in contrast to the others that give an earthlier vibe, these tree-houses or villas have more tastefully done up interiors with lavish bathrooms and a large veranda!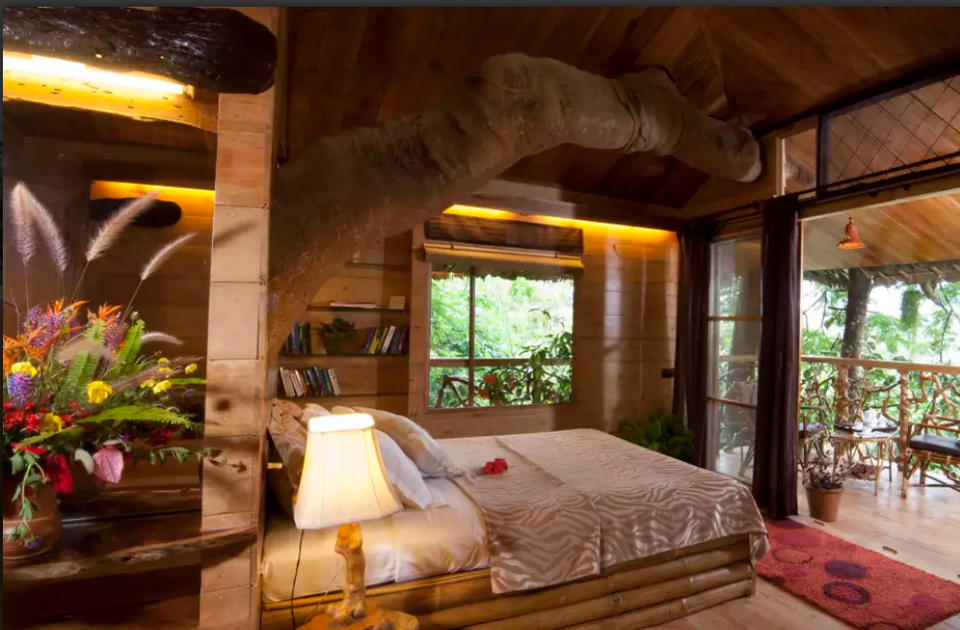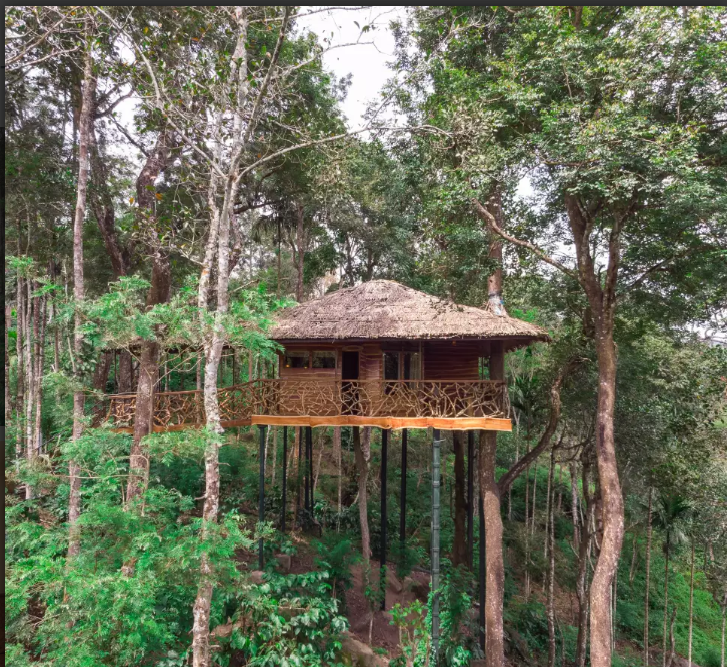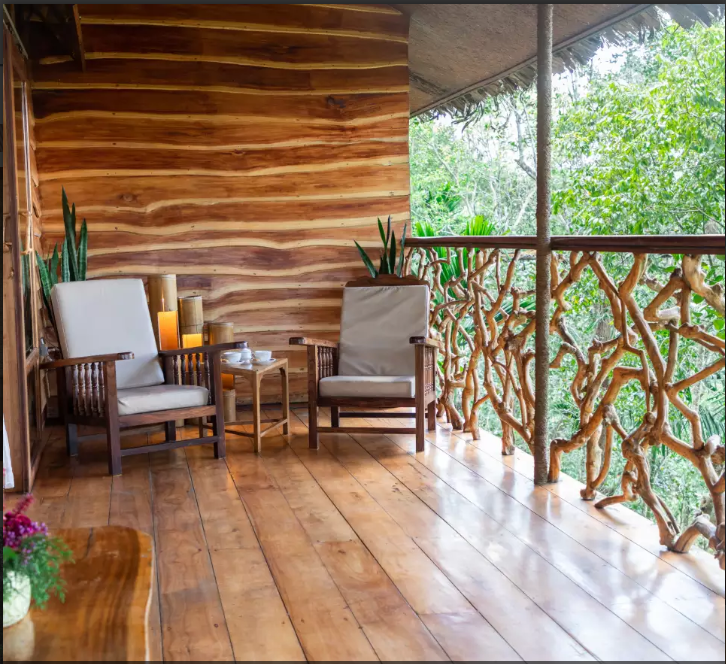 Along with a swimming pool on-site, a restaurant serving multiple cuisines, they also have modern amenities like LCD TV, satellite receiver, mini-fridge, hairdryer, toiletries, tea/coffee maker, electronic safe, board games and books in the tree-houses.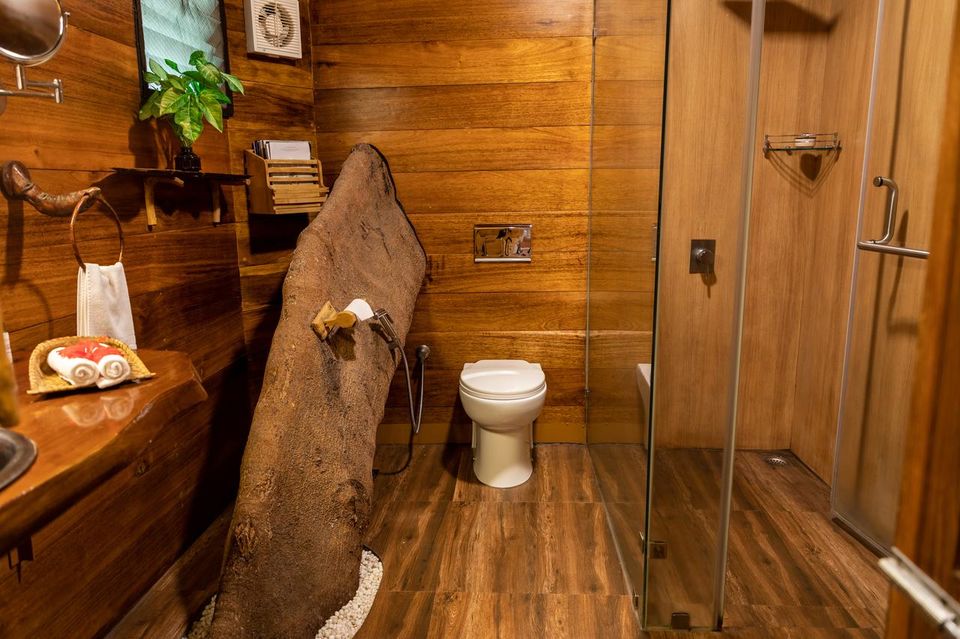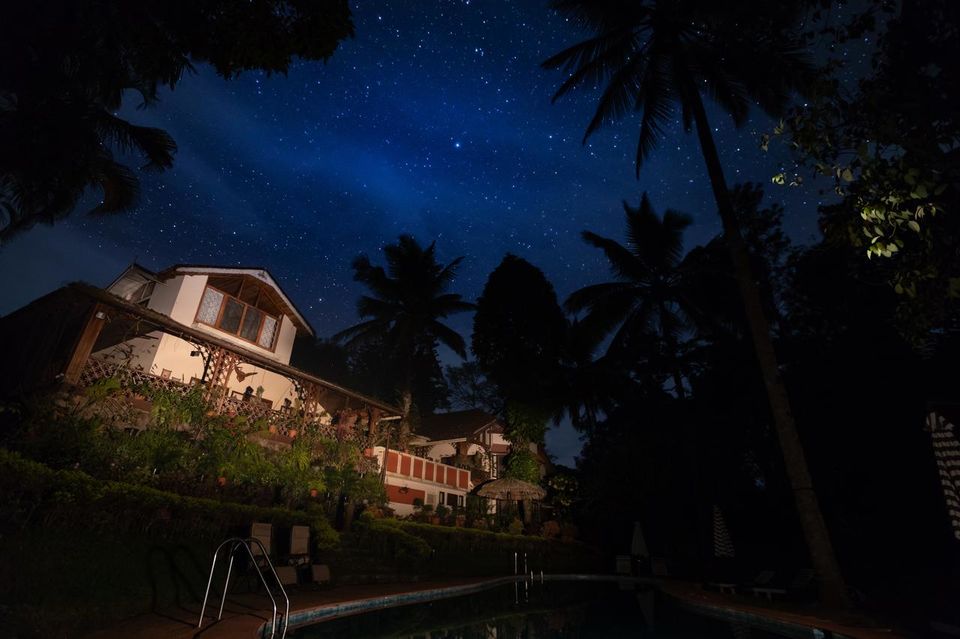 Pro-Tip: This property is pet-friendly.
Where: 16, Kolagappara-Ambalavayal Rd, Rock Valley Housing Colony, Kolagapaara, Wayanad.
Cost: 10,800 INR for the Tree House, 12,800 INR for a Tree Villa (including taxes and breakfast)
5. Vythiri Resort
A tree-house that has a Jacuzzi, means childhood dreams plus adult fantasies come true together. This resort's rustic-themed tree-cottages, by the jungle stream, are an epitome of a romantic setup atop a tree!
Situated beneath an enormous canopy of greenery in tropical Vythiri rainforest, these rooms contain all domestic comforts like mini fridge, toiletries, a cool balcony, and a Jacuzzi!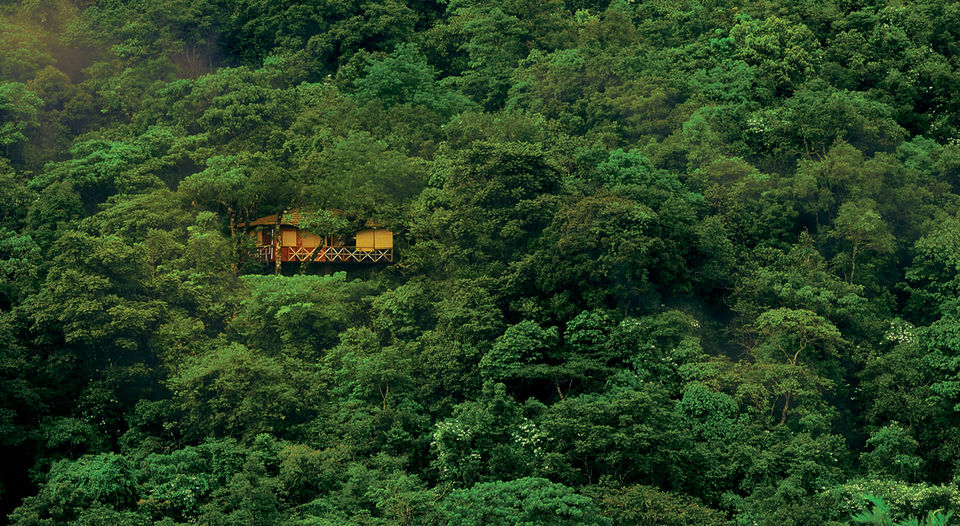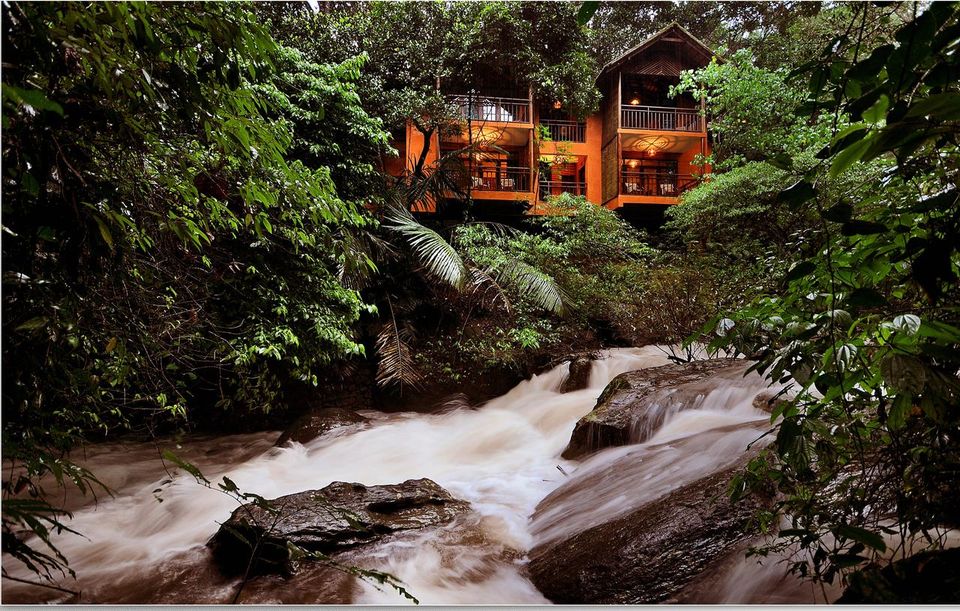 These houses are designed to utilize natural spring water that flows down from the surroundings hills and use solar energy as a power source. They also have an Ayurvedic center, spa and a natural and man-made swimming pool on-site.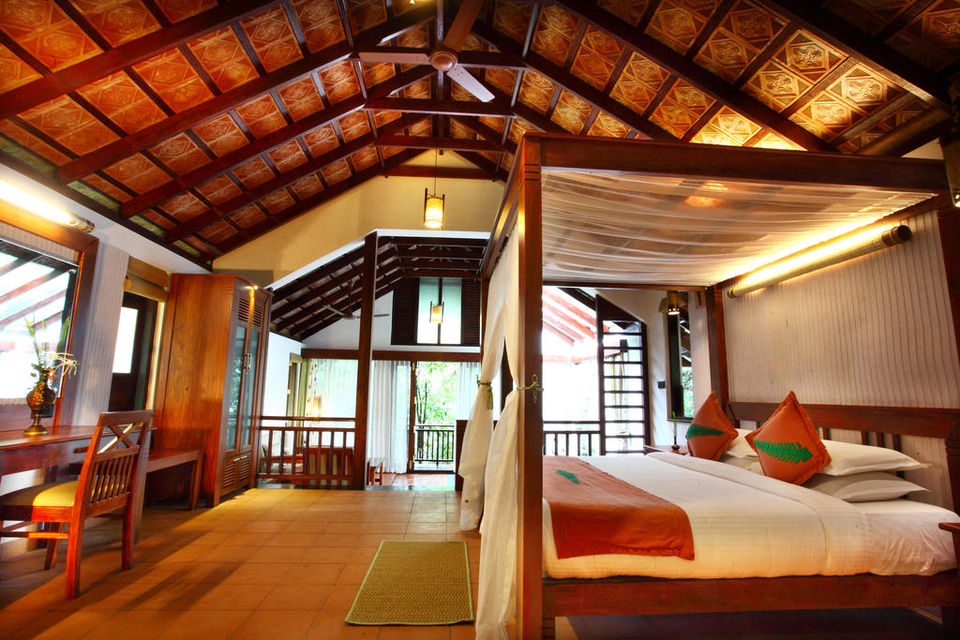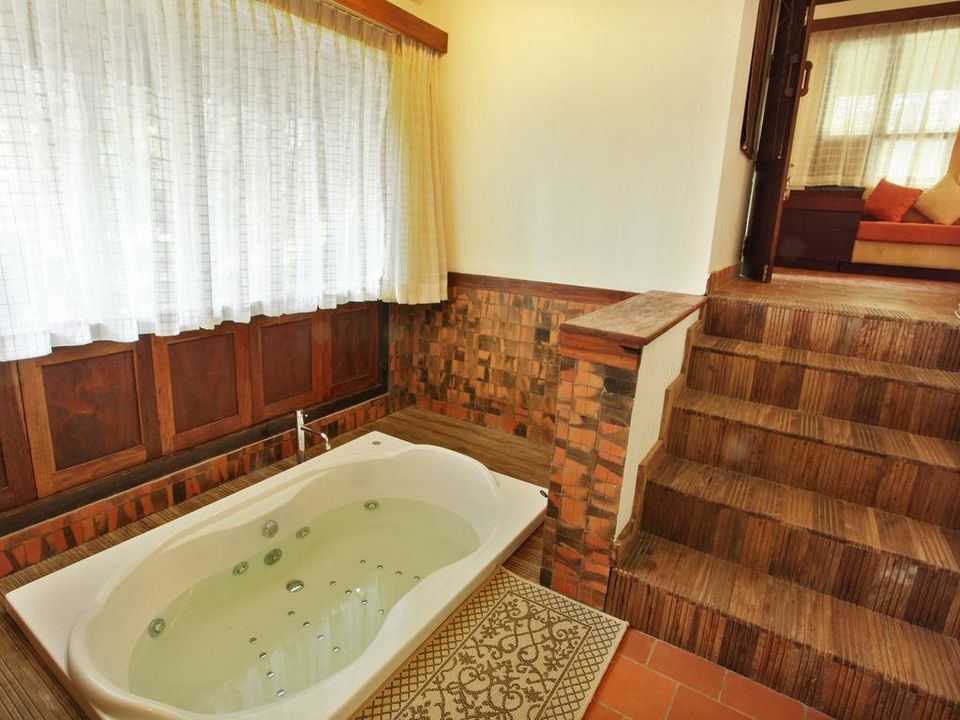 Where: Lakkidi P.O, Wayanad.
Cost: 20,005 INR (including taxes, breakfast, lunch, dinner and welcome drinks)
6. Green Magic Resort
You can get up to this tree-house by an elevator! Yes, a water-lift to the tree house is operated by a man, who helps the guest to get up to the tree house. Thrilling, right?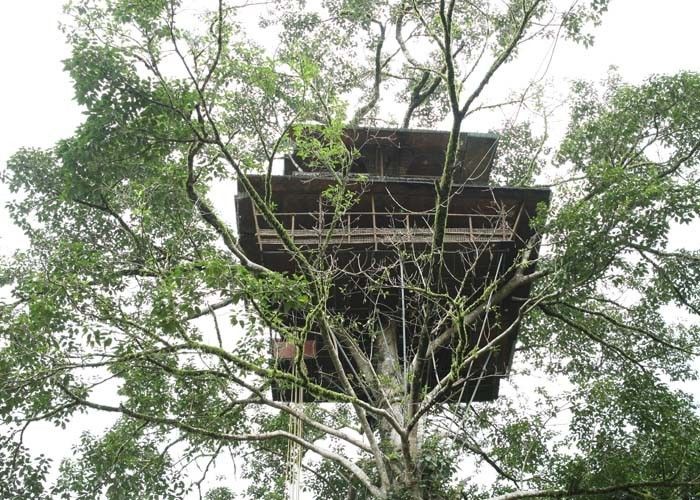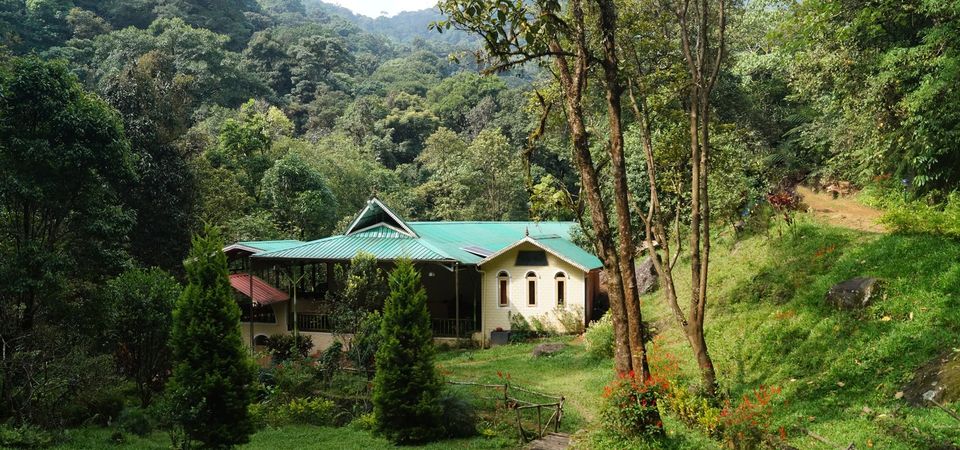 They have three houses and all of them are designed using bamboo poles and coir mats. While one of them has the unique water lift facility, the other is at a height of 70 feet and it is accessible through a slanting rope-way (brace yourselves for the Tarzan experience!) and the third one is the tallest tree-house ever made at a height of 115 feet above the ground!! There are two rooms in this tallest tree-house with separate entrances using two hanging bridges.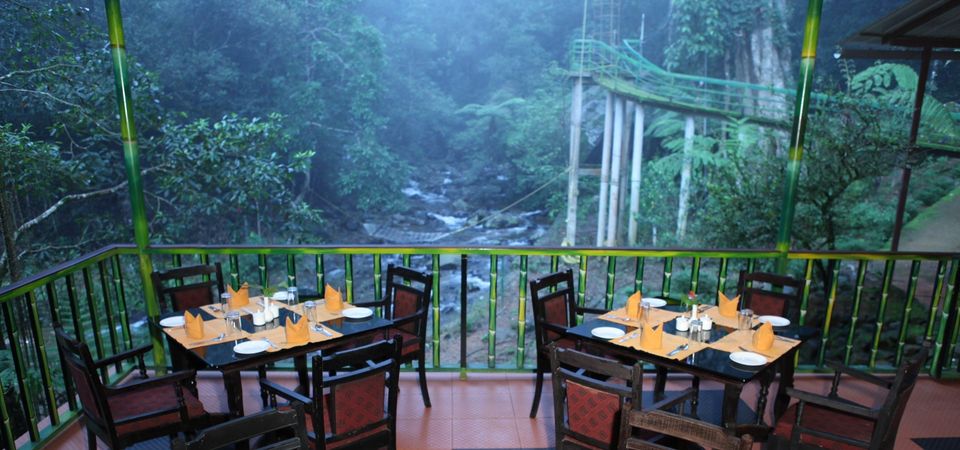 One can try various activities such as campfire, night safari, archery, trekking to the nearby streams which are all arranged by the resort.
Where: Lakkidi P. O, Vythiri, Wayanad.
Cost: 12,500 INR for two (including taxes)
Book here.
Nearest Railway Station: Chalakudi Railway Station.
7. Rainforest Tree House
Sit back in your tree-house with a cup of freshly brewed filter-kaapi and check out the top of the trees and while listening to the thundering waterfall at this resort.
Oh yes! This famous tree-house is situated by the thundering Athirappilly Fall, which is the largest waterfall in Kerala. (Hint: These are the ones featured in the movie Baahubali: The Beginning)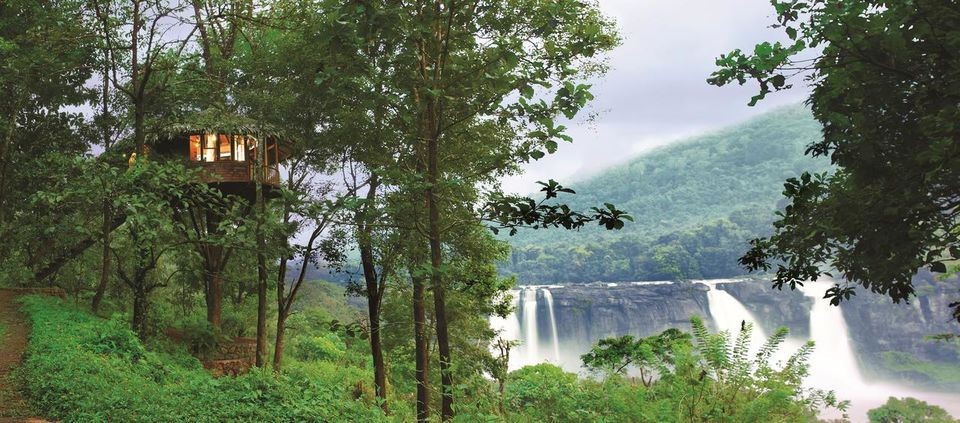 Rainforest is a renowned boutique resort, so besides the soft mist from the water-falls you are sure to get drenched in luxury, slip into the welcoming warmth of silky quilts or down a delicious drink as you lounge in your private cottage atop the woods.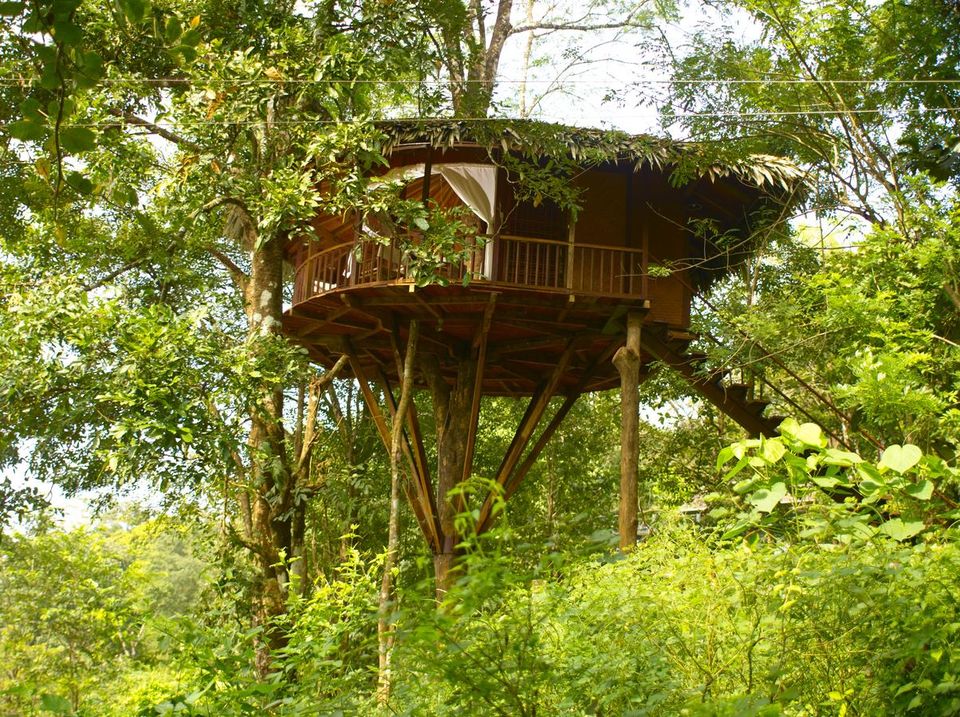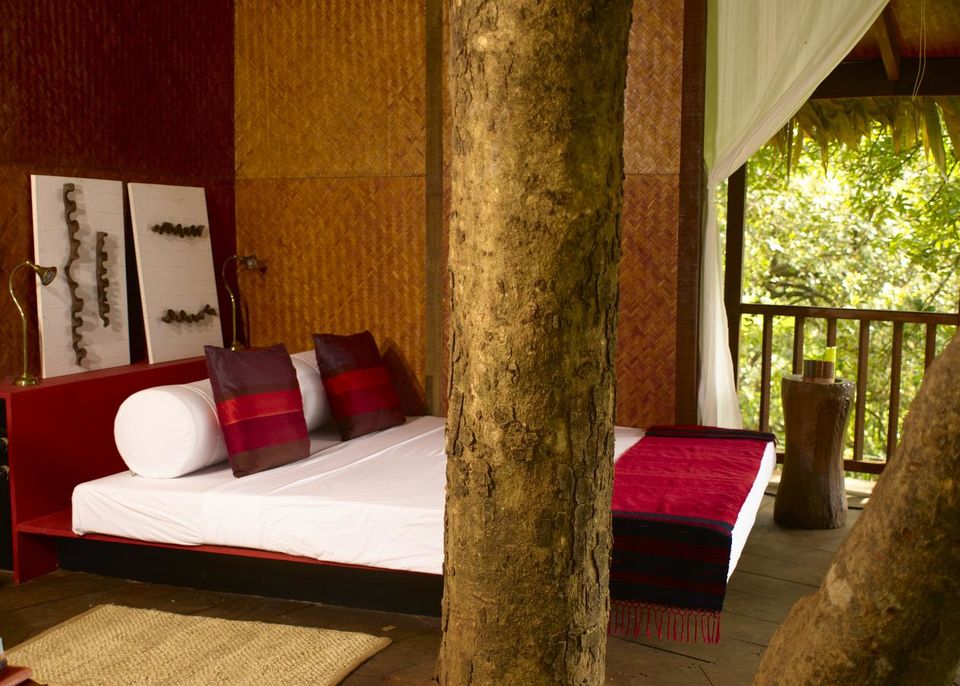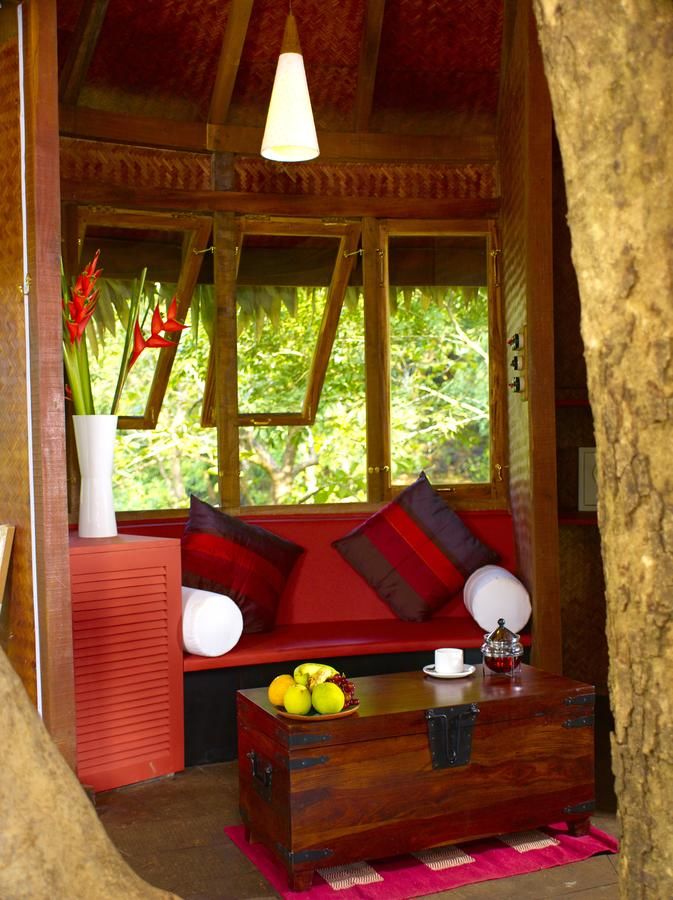 Designed by a Swiss architect, it is ensured that the tree is unharmed with the construction while the tree house remains a safe abode. The tree-house is #BalconyGoals, as the veranda provides a beautiful vista of greenery and the mighty waterfalls.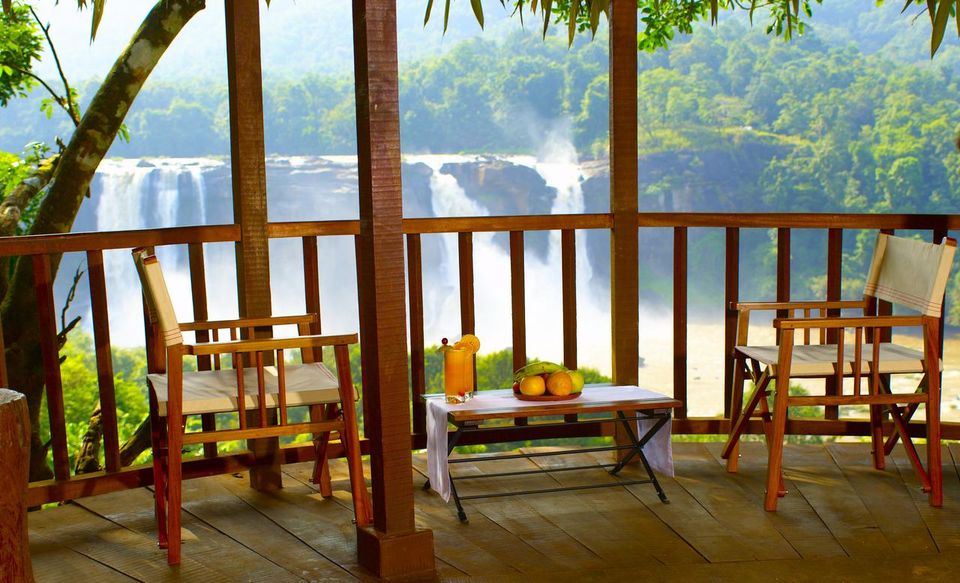 Inside the rooms are a mini-bar, tea/coffee maker, dressing gowns, in-room safe and the works, the resort also has a massive on-site infinity swimming pool with relaxing views of the waterfalls.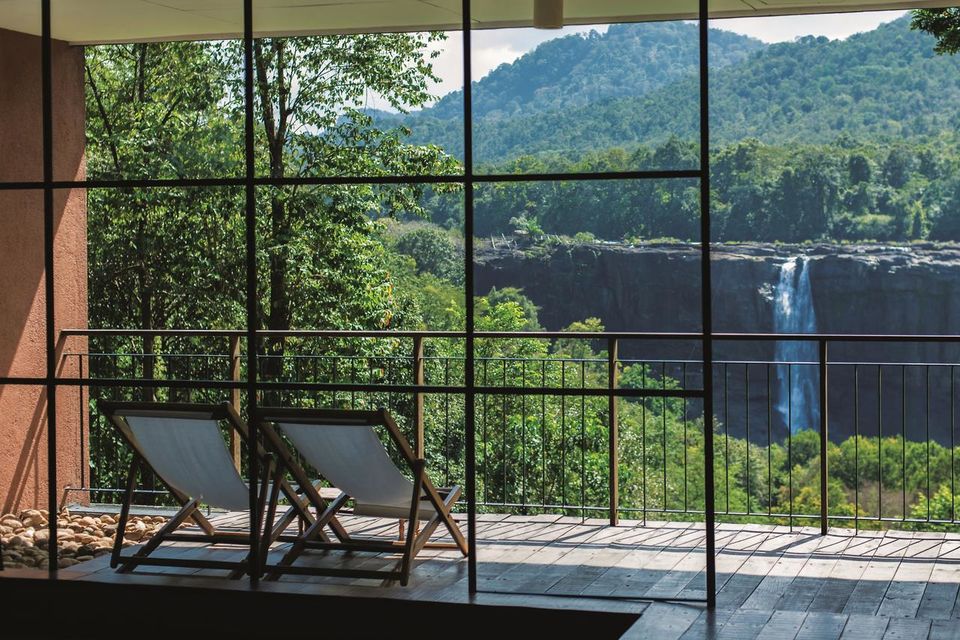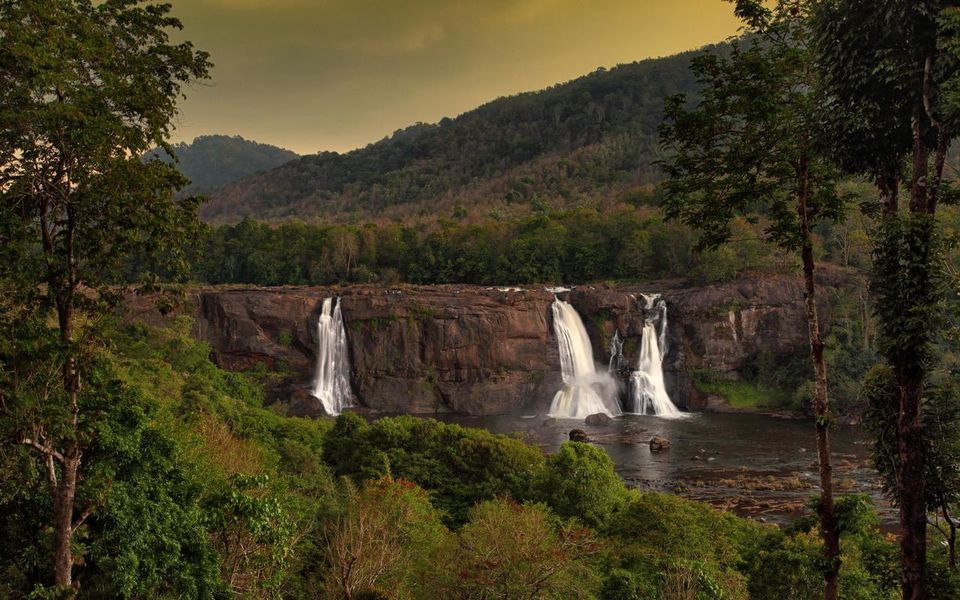 Where: PVI/93A, Kannamkuzhy PO, Athirapally.
Nearest Railway Station: Chalakudi Railway Station
Cost: 17,280 INR for two (this includes all taxes, breakfast, and hi-tea)
Book here.
Know of any other place that deserves a spot on this list? Click here to share your magical travel tales with the Tripoto Community right away! Get travel inspiration from us daily! Save and send a message at 9599147110 on Whatsapp to start.
Frequent searches leading to this page:-
top Kerala holiday family packages with price, top Kerala holiday couple packages with price, Kerala honeymoon trip plan, Kerala honeymoon packages 4 nights, Kerala holiday vacation packages price, Kerala budget travel packages