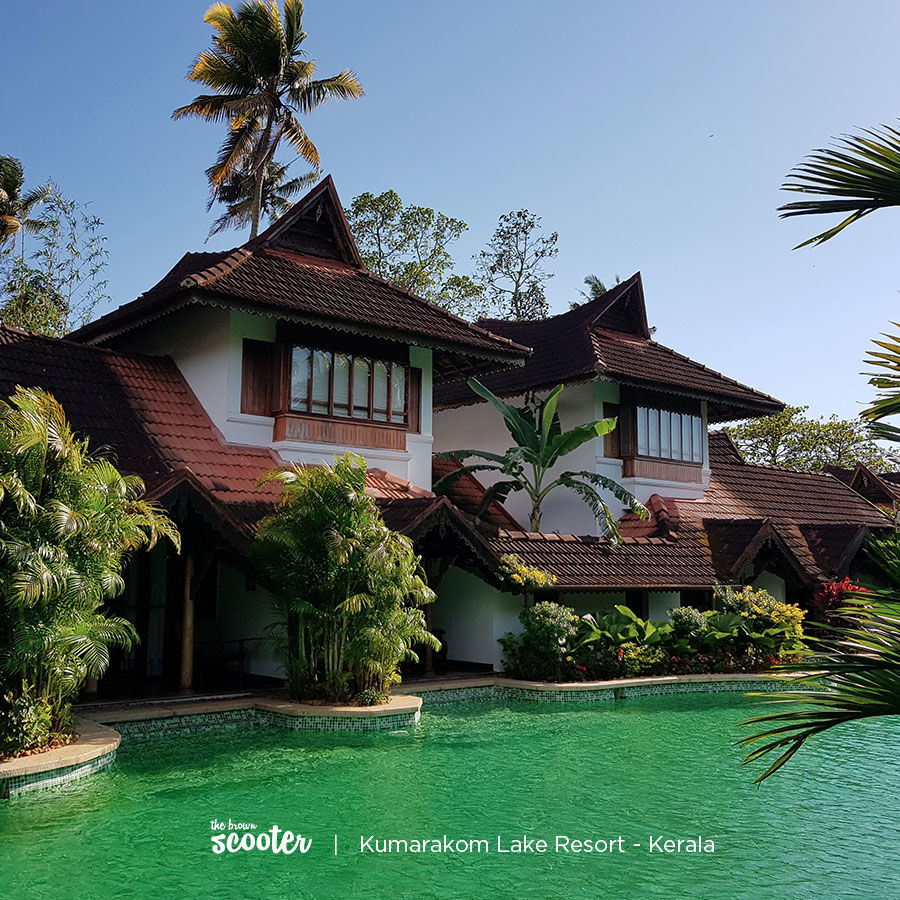 Overlooking the mighty lake of Vembanad is an uber luxurious Resort in Kerala – the Kumarakom Lake Resort. One of the best luxury hotels in Kerala, Kumarakom Resort oozes exquisite experience and luxury in every moment you spend there.
Few months back, we got an opportunity to explore Kerala's beauty, heritage, culture and architecture on a media tour by the Kerala Tourism Body as a part of Kerala Travel Mart 2018. And it was a once in a lifetime experience.
A 90 minutes' drive from the state's capital Kochi, Kumarakom Lake Resort is well accessible. Spread across 25 acres of greenery, amidst picturesque waterways, paved paths, out-of-a-movie-like bridges – the resort offers a tempting views of the God's own country.
From the moment you enter the resort – right from the lobby to the distant view of the lake to the pathways and restaurant, souvenir shop to the open traditional tea shop – every bit of the resort is a piece of art with fresh flowers, lamps suspended from the ceiling, swings ready to welcome you. We were greeted with sweet tender coconut water and fresh garland of flowers while the check-in process was taken care of.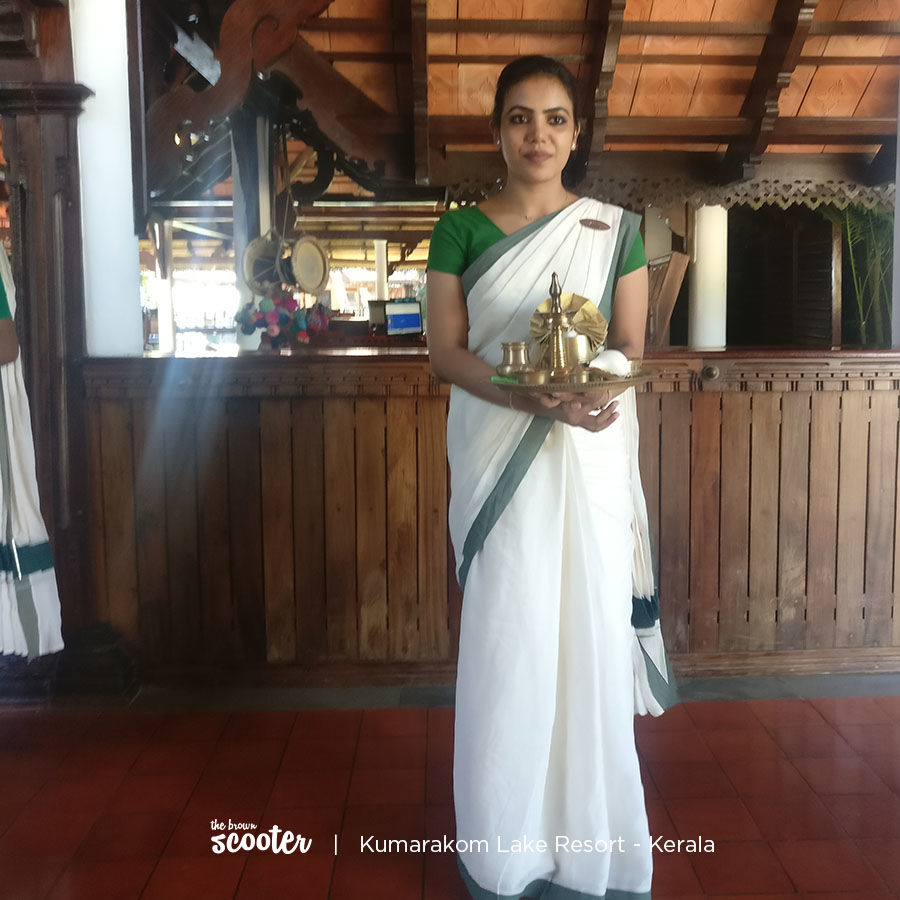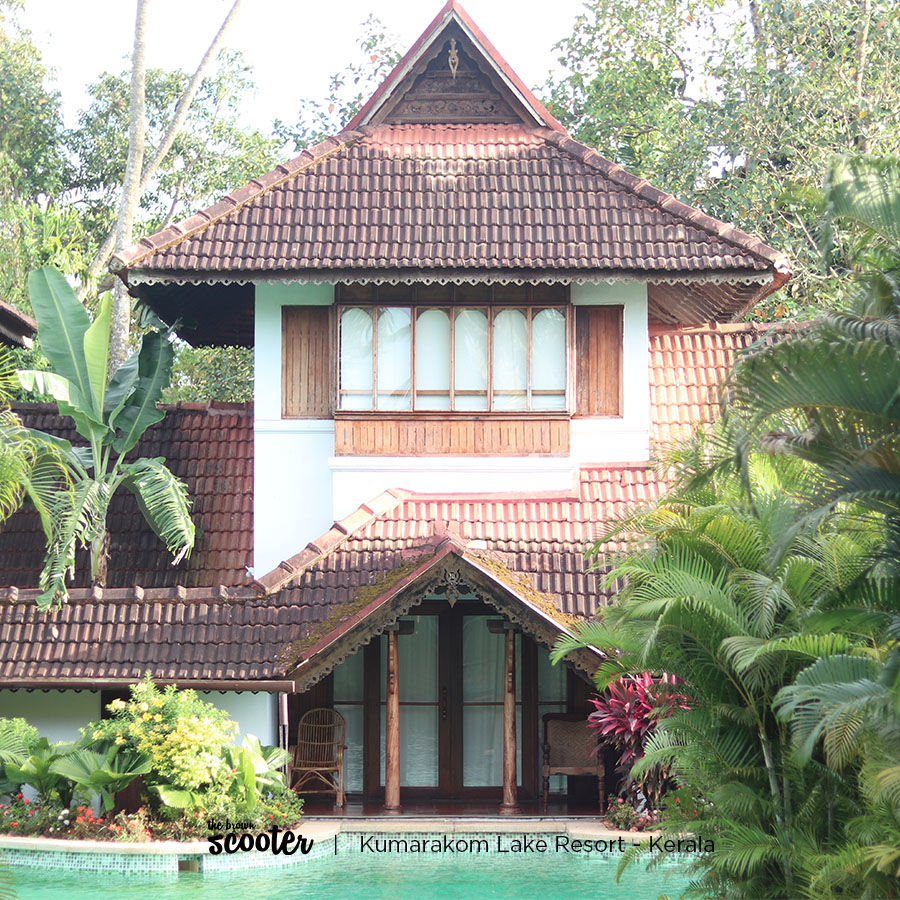 Which room to opt for?
When the welcome is so beautiful you must be wondering how astonishing the stay would be. Well, it indeed was. A perfect blend of Kerala's architectural charm with modern comfort, there are a total 42 stay options at Kumarakom – the choice ranges from Presidential Suites to Heritage Lake Villas with Private Pools to Heritage Villas, Meandering Pool Villas, Luxury Pavilion rooms and state's famous – Houseboats too!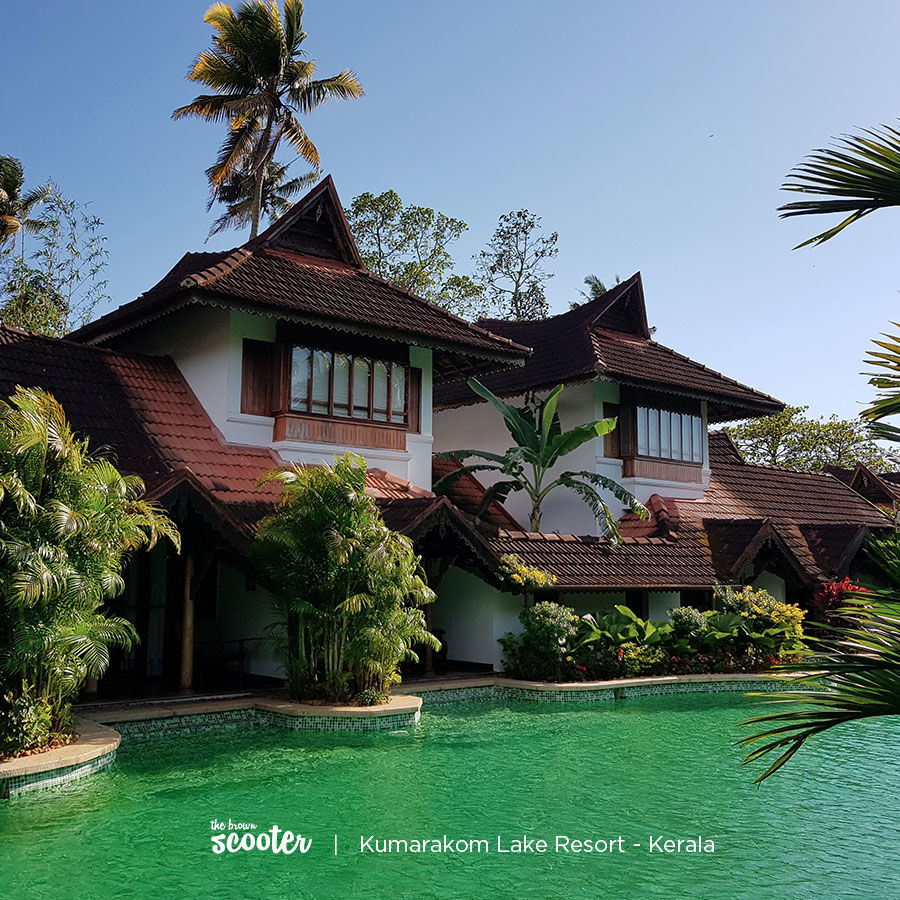 We stayed in one of the meandering pool villas in the comfort of a huge bed, wooden ceiling to look up to, open shower and bathroom area, private access to the 250m long pool with a cosy sit-out. Each villa is a careful reconstruction of the 16th century traditional homesteads of Kerala which creates a luxurious abode – made painstakingly by hand, plank by plank, tile by tile for the comfort of the guests.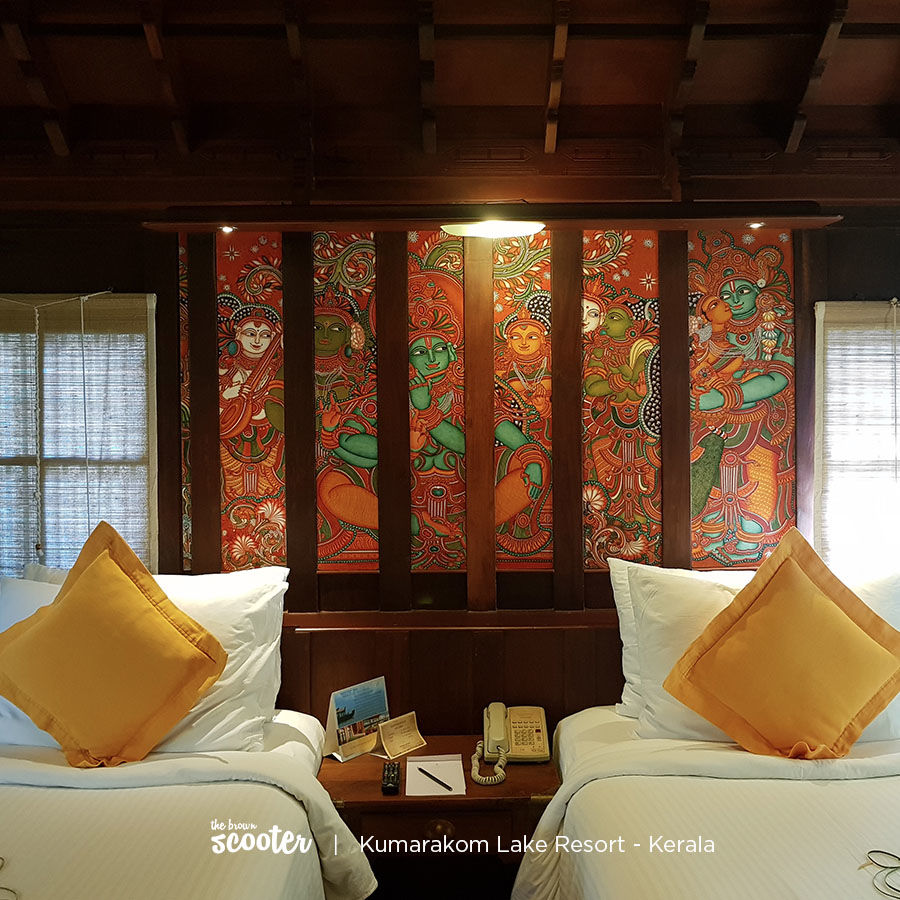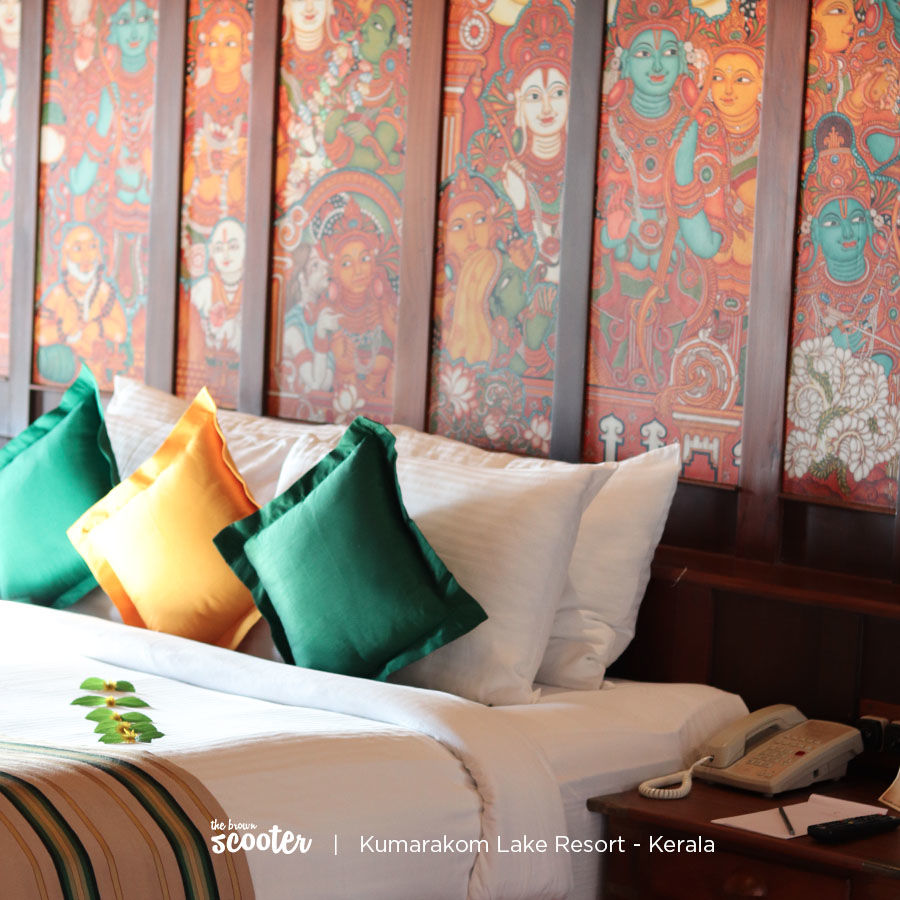 After a good afternoon rest, I decided to have a walk across the resort, exploring the nooks and corners for every bit had something different to offer. First stop: the souvenir shop which offered wallets, scarves, jewellery, wooden sculptures, perfumes and more! I bought these easy to carry miniature bottles of perfume for my fam which smell heavenly even though I wanted to buy almost the whole store, look how beautiful it looks!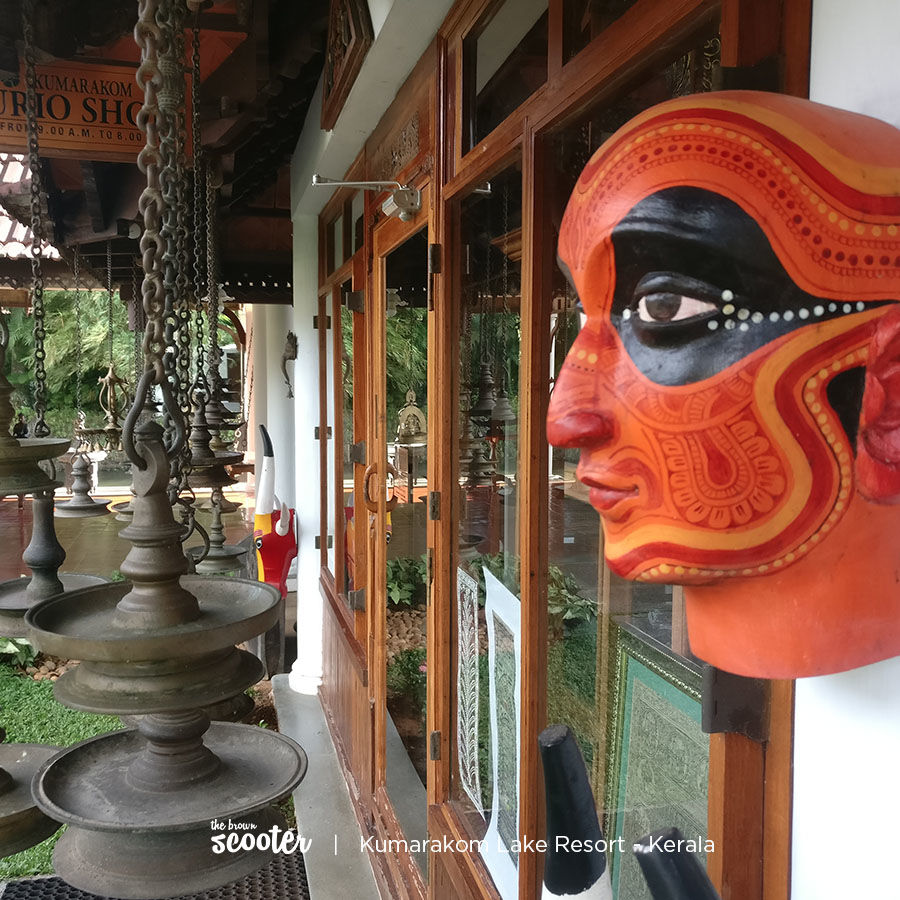 After the little shopping, I went on to 'make' my own souvenirs – yes, you read that right. Sanjeev Mehta, the resort's manager mentioned how we definitely should make some to take home and I readily obliged considering my utmost love for souvenirs. I started with a private pottery workshop by Arun who spoke about how he has grown up seeing his family create and sell beautiful pieces of art and the past 12 years he has spent in mastering it himself. We decided to make a vase which took only 10-15 minutes! Quite happy with how it turned out to be, what do you think?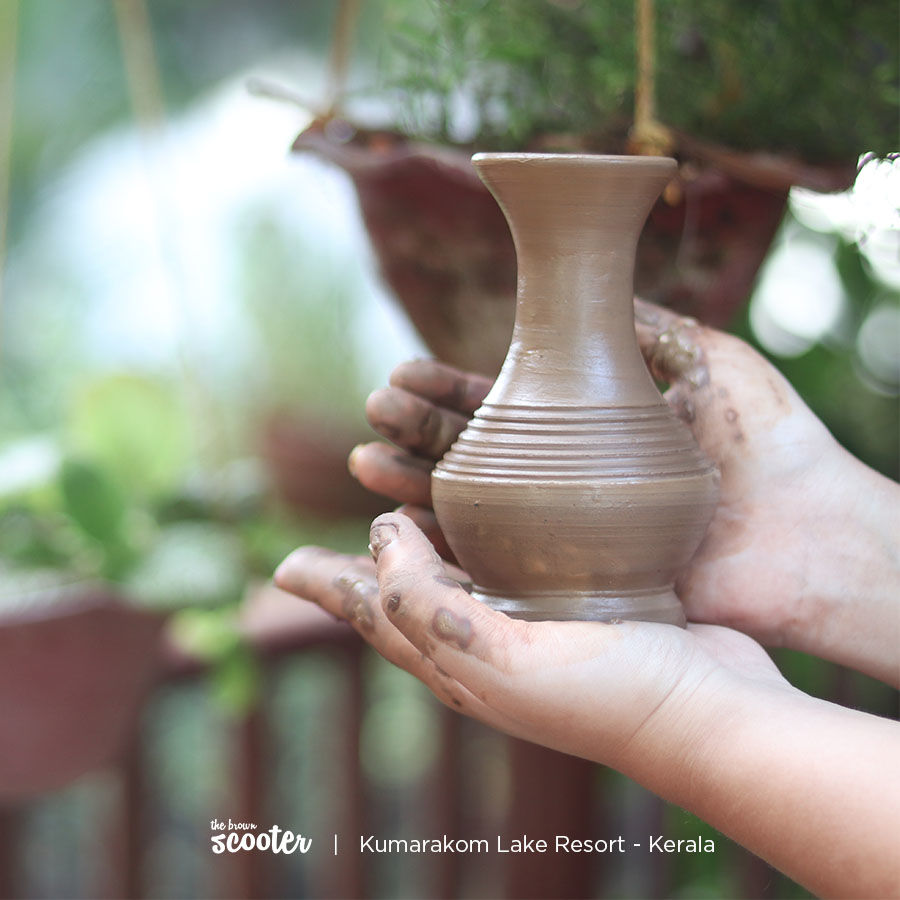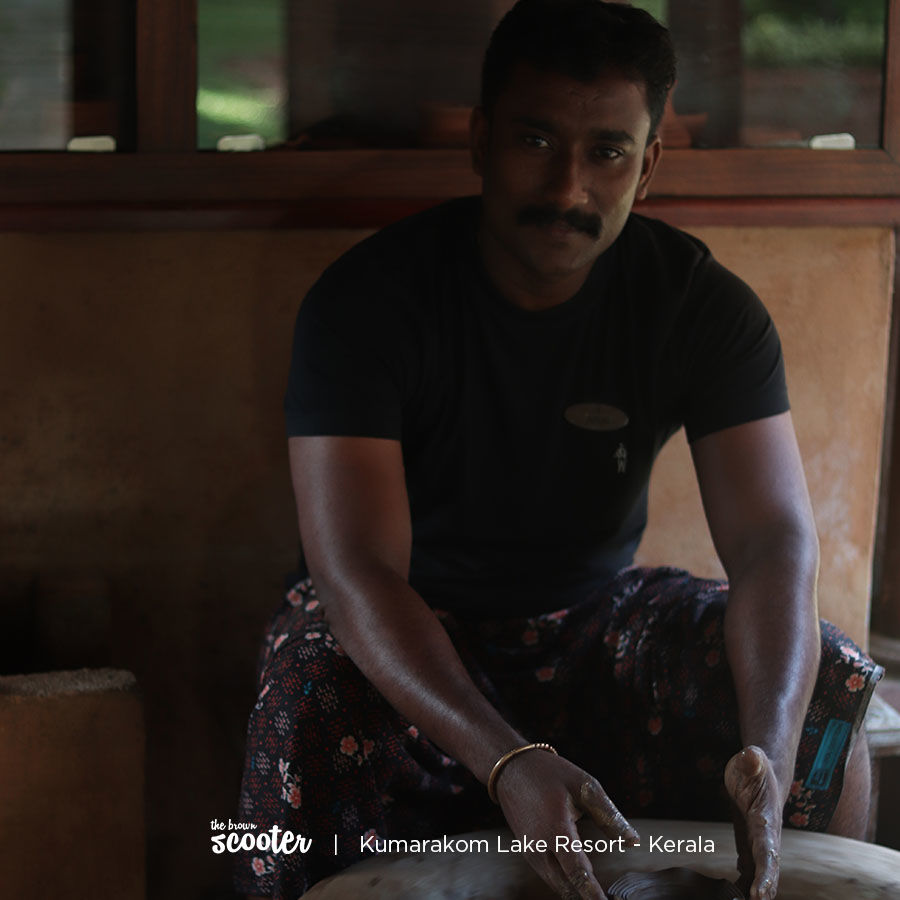 Post this, we sat with Sudha to learn weaving using the local grass. Right from baskets, to wallets and more, it sure was a great experience making my own coaster with the help of the expert.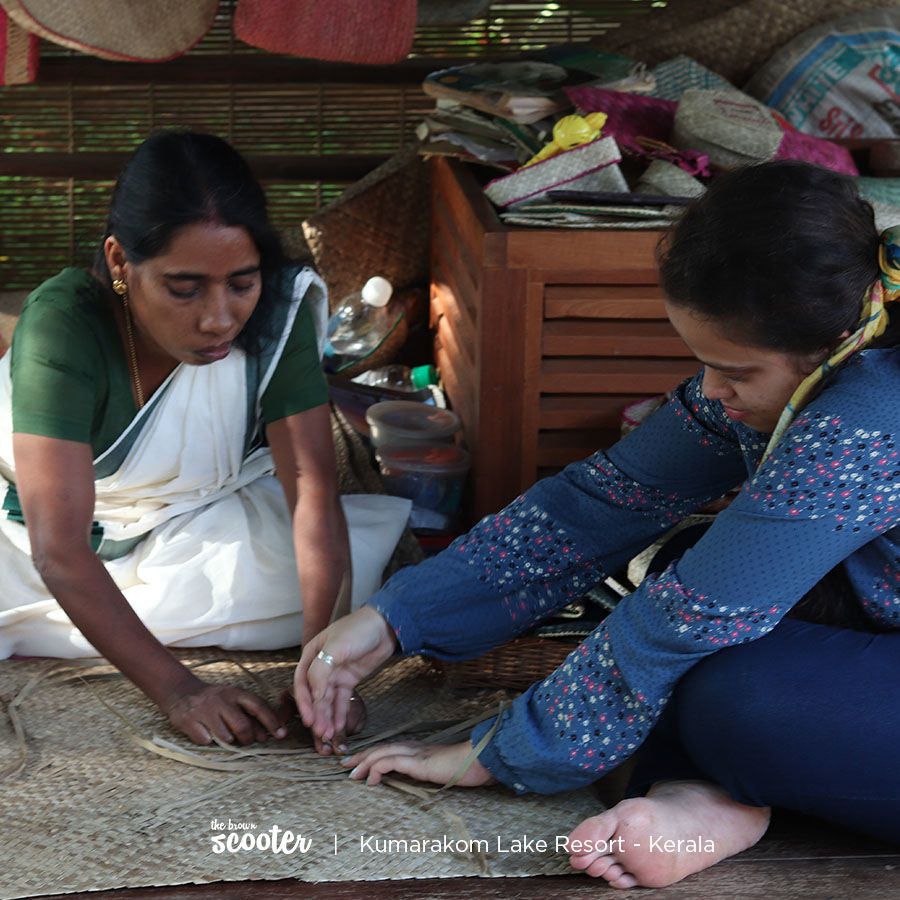 Post the activities, we went for some tea and snacks served in the garden recreated in the form of a traditional Thattukada which is a typical street side tea stall of Kerala. What started with a demonstration of the 'meter' long Chai also welcomed delectable snacks such as the Onion fritters and Pazham Pori – batter fried Nendra Banana which I tried for the very first time. Oh boy! It was delicious.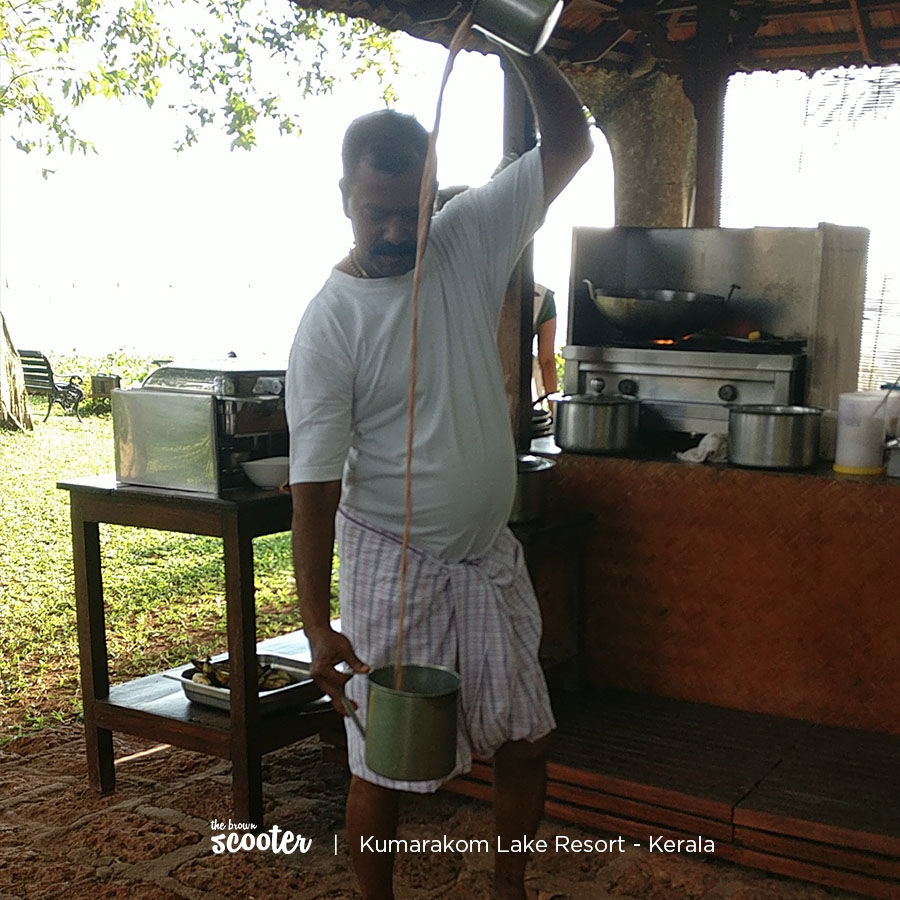 After a hearty evening meal, we were ready for the highlight of the day – the Sunset Cruise offered by the resort in the Vembanad Lake. Passing houseboats, golden hour, breeze, soothing music by talented musicians on board and great company made for an entertaining evening on water. We spent an hour looking at the enchanting scenery, the changing colours of the sky & the sun dipping below the horizon. I still have the memory of that evening fresh in my mind!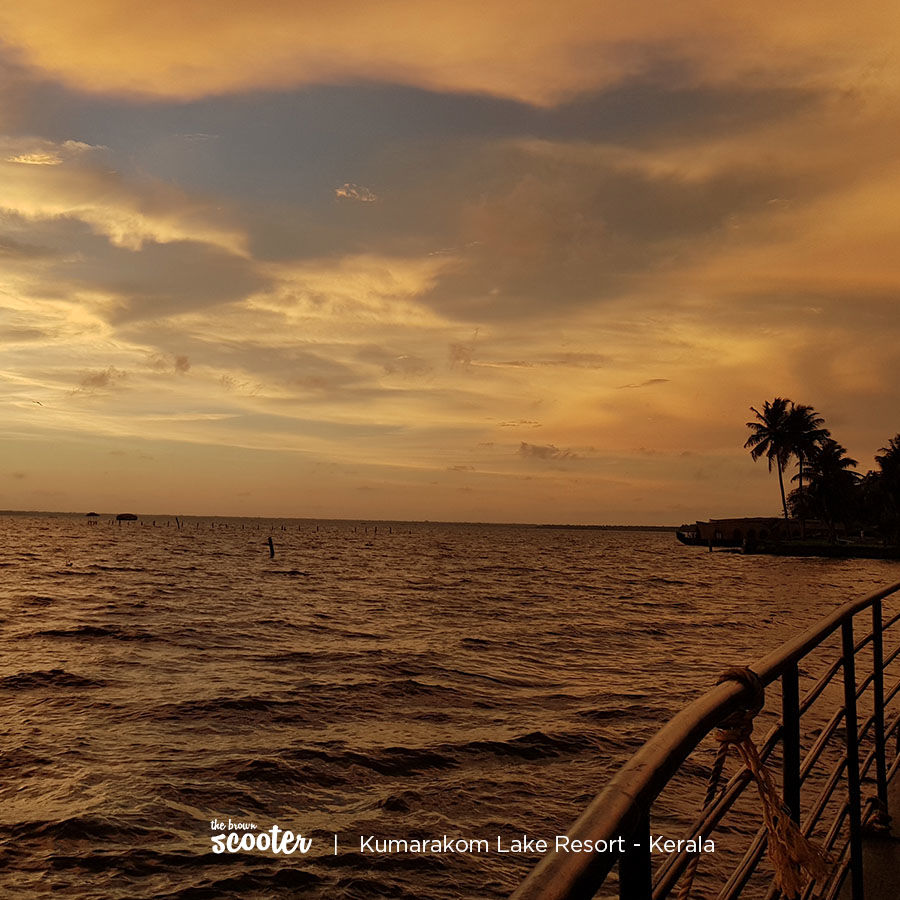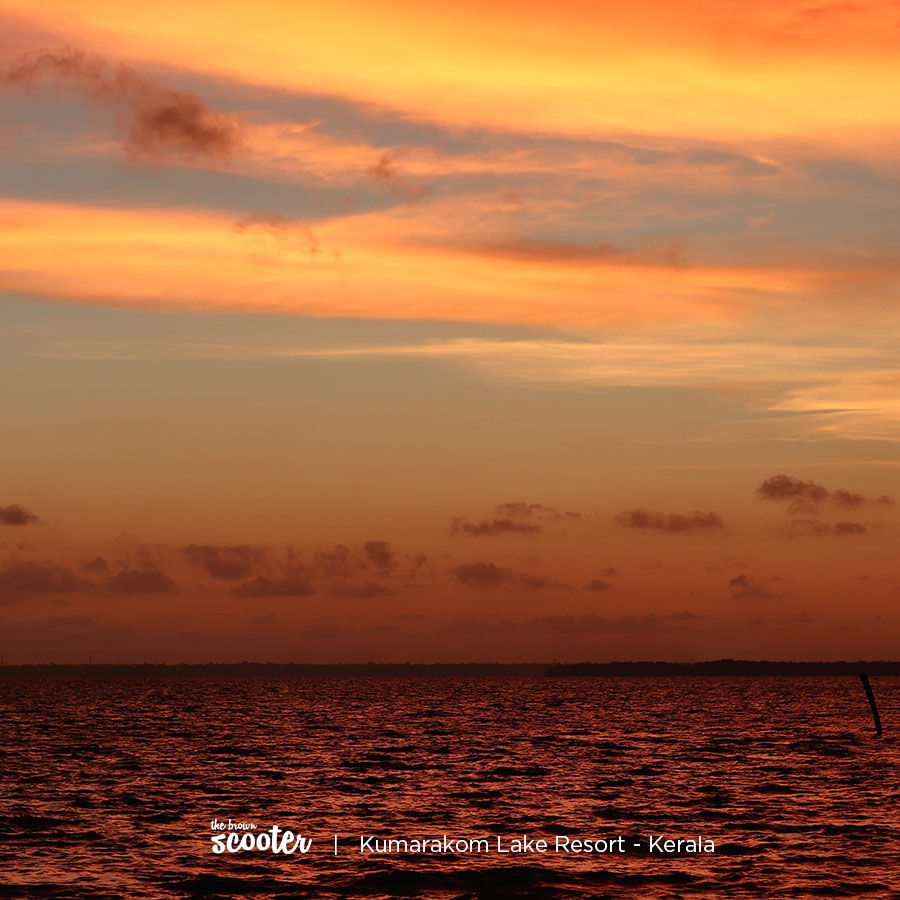 The Restaurant:
Ettukettu at Kumarakom was once a mansion which is now the main restaurant of the resort. Dinner for the night comprised of local cuisine plus options of various other cuisines to choose from. What stood out for us during the meal was an array of pickles and the cultural dance organised for all the guests. Classical performance of Bharathnatyam by two graceful girls with their beautiful movements and facial expressions made for a great night.
We also had our breakfast at the same restaurant which offered a wide spread of delicacies.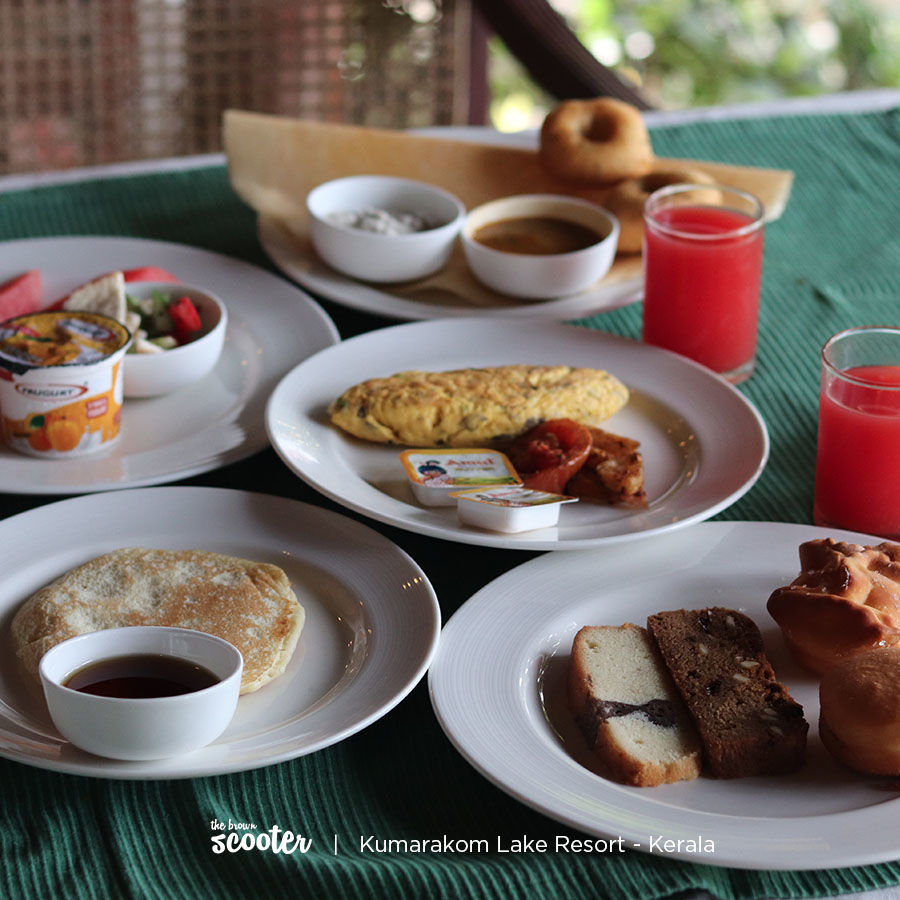 What else can you do at the resort?
The resort offers several facilities like gym and health club, spa and ayurvedic treatments, yoga and meditation centre to name a few. There are activities like weaving, pottery, fishing, cycling, village walks etc. to indulge in + indoor games like pool, carrom and chess.
Last but not the least, you can spend your mornings or evenings at the infinity pool, overlooking the lake and changing hues of the sky with a company by your side. Simply sit by it or take a dip for a serene time and innumerable pictures. After all, the resort does make for the perfect location for pre-wedding shoots and a vacation with family or your better half!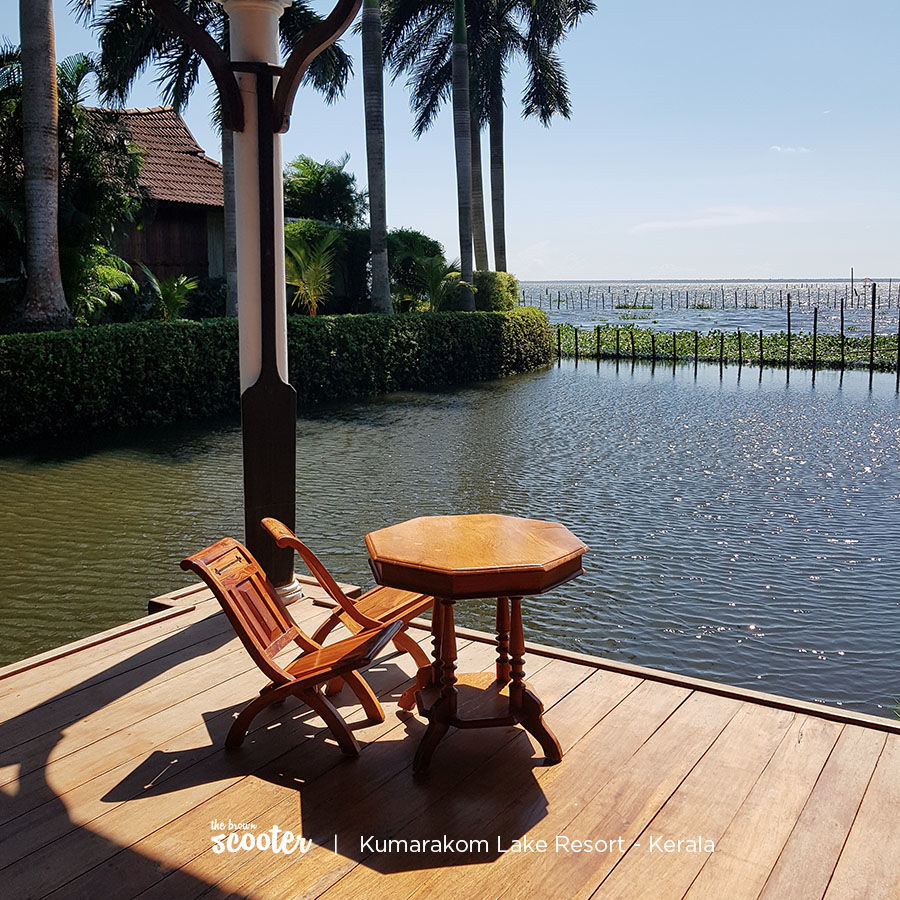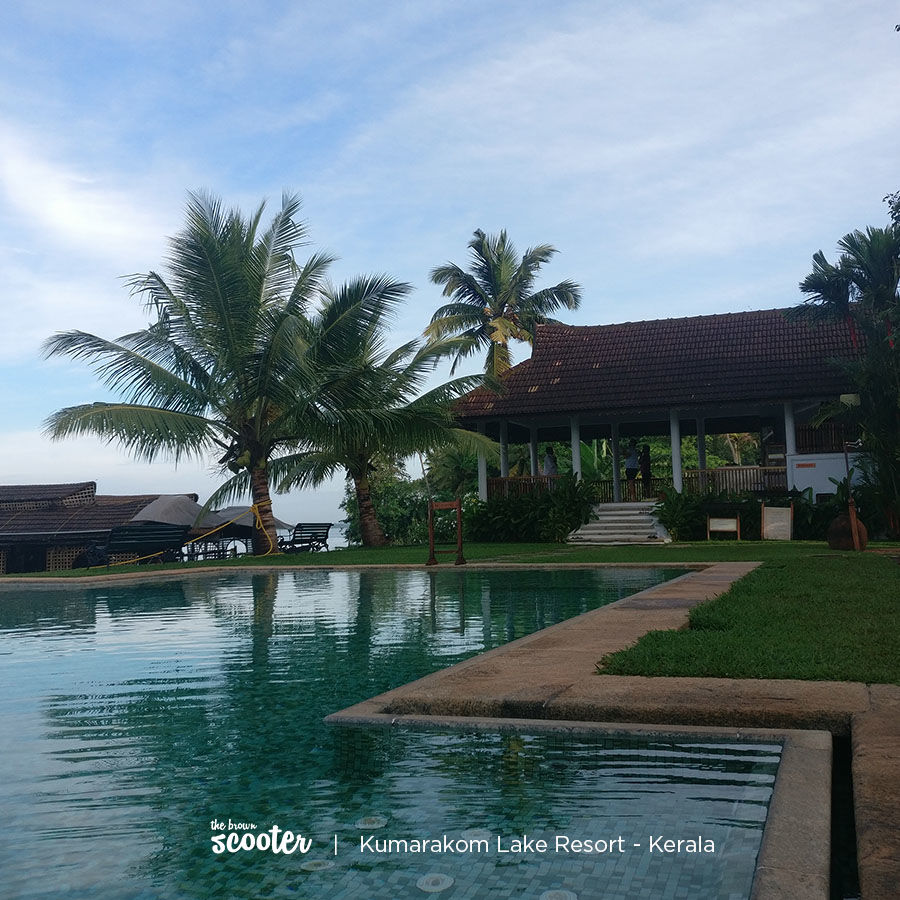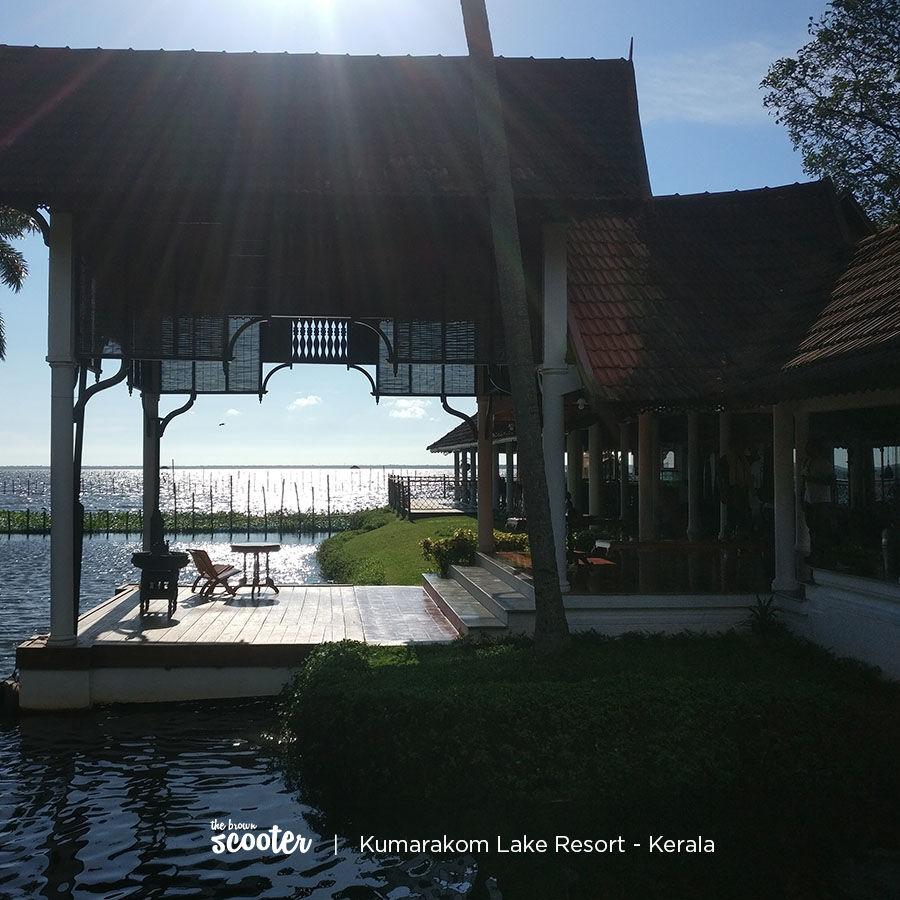 How to reach:
The nearest airport is that of Cochi International which is 70 kms away from the resort, an approx. 1 hour 45-minute drive by road. You can even access it via the nearest railway station and bus stand in Kottayam which is 14 kms away.
If you are looking for great warmth and ecstasy by the backwaters, Kumarakom lake Resort is your best bet.
Do share your thoughts in the comments section below.
Until next time,Keep Traveling!
The blog originally appeared on The Brown Scooter.