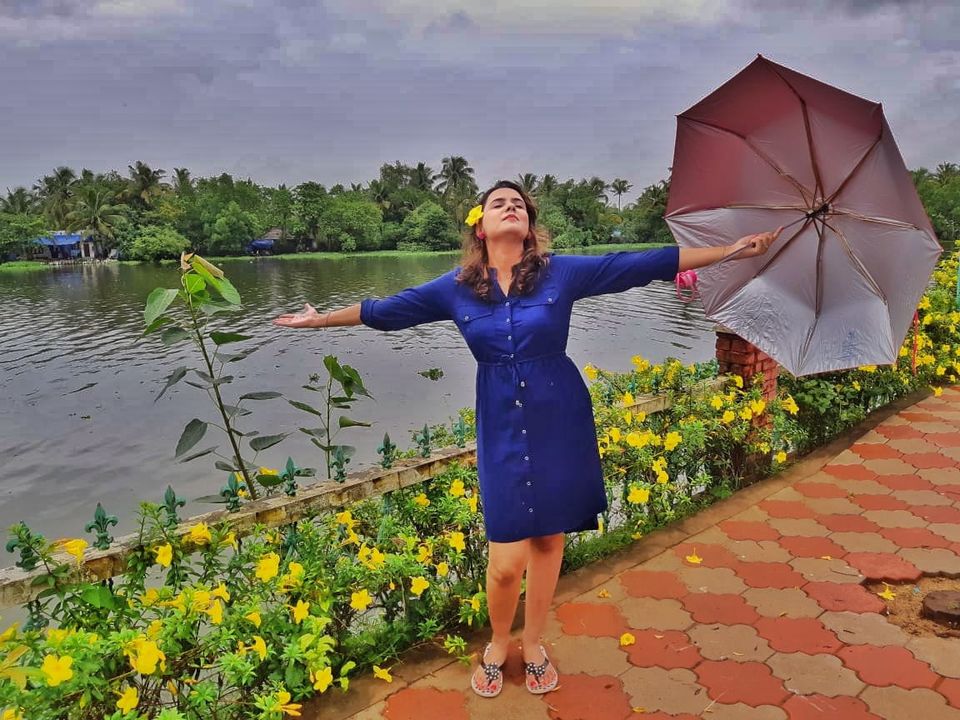 What comes to your mind when you think of Kerala? Coconut trees? Houseboats? Incessant monsoon rains? Kathakali dance form, or the world famous Ayurvedic body spa? Frankly these were the only things that used to come to my mind when I used to think of Kerala. But let me tell you, having covered some of the famous parts of Kerala, I can tell you, Kerala is much beyond what we get to hear or see.
So one fine cloudy Thursday morning, we landed at Kochi, and were received by Mr. Subeesh, who was going to be our driver for the next 3 days. Little did we know that this guy was going to be our guide/ photographer/ companion for the upcoming days in Kerala. With a warm and cheerful disposition, he informed us a lot about the places we were going to visit and added that he hails from Thekkady. When we had reached Kochi, there were light drizzles, but as we progressed further in our journey, it rained cats & dogs. We experienced monsoons in Kerala sooner than expected. Pure bliss it was! Kumarakom is a popular tourism destination famous for its backwater tourism. It is set in the backdrop of the Vembanad Lake, the largest lake in the state of Kerala. Our home for the night was Kalathil Lake Resort. Kalathil is a serene and scenic lake resort. Covered by lakes and streams all around, this place could be called a mini Kerala in itself.
Staycation at Kalathil Lake Resort
Set on the shores of Vembanad Lake and within the Kumarakom Bird Sanctuary, this laid-back resort lies at 7 km from Vaikom Temple. On the eastern, western, and northern sides and lagoon on the southern side, the resort gives a spectacular view to the visitors. The villas are erected on pillars in water. Interspersed with meandering canals and paved walkways, the resort is a soothing experience with its sheltered Aquatic Spa, Fresh Water Pond, manicured lawns, and swaying coconut palms. I was taken aback by the beauty of the place, as soon as we entered the resort. Our suite was on the surface of a lake and the view from the balcony was serenity at its best. That lake resembled the backwaters and our suite seemed like a houseboat. Thankfully the weather was pleasant at Kumarakom and we had a lot to explore that day, so we had a quick lunch, a scrumptious plate of prawns biriyani, which was undoubtedly the best prawn biriyani, I've ever had!
Kumarakom is home to a wide variety of flora and fauna. Kumarakom Bird Sanctuary is a noted bird sanctuary where many species of migratory birds visit. The Vembanad Lake, the largest backwater in Kerala, is habitat for many marine and freshwater fish species. As we started off with our shikara ride, we could spot a lot of plastic bottles floating on the surface of the lake. Subeesh told us how the lake used to be in the past, and how the face of the lake has changed over the years.
As we were returning to our resort, light drizzles had started. We settled down at our balcony looking at the light downpour, creating ripples on the lake. We had some piping hot onion pakoras with filter coffee, which perfectly complemented the weather. The intensity of rains increased by the evening. We spent the whole evening at leisure and got dinner served into our room.
The next morning we woke up early to catch a glimpse of the splendid sunrise by the lake. But due to cloud cover, sun was nowhere to be seen, so we enjoyed the various offerings of the resort instead. There are hammocks, boat rides across the resort, swimming pool, streams and bridges in between cottages, Ayurvedic spa center, open air gym, and lush greenery everywhere! Nature lovers will definitely connect more with nature here & find it blissfully beautiful.
We spent quite some time exploring the resort, then headed to the dining hall for breakfast. After an appetizing authentic South Indian breakfast, it was time to bid goodbye to Kumarakom & embark on the journey to our next port of call i.e. Munnar. This brings us to an end to our amazing staycation at Kalathil & also to my blog. Thanks for reading.