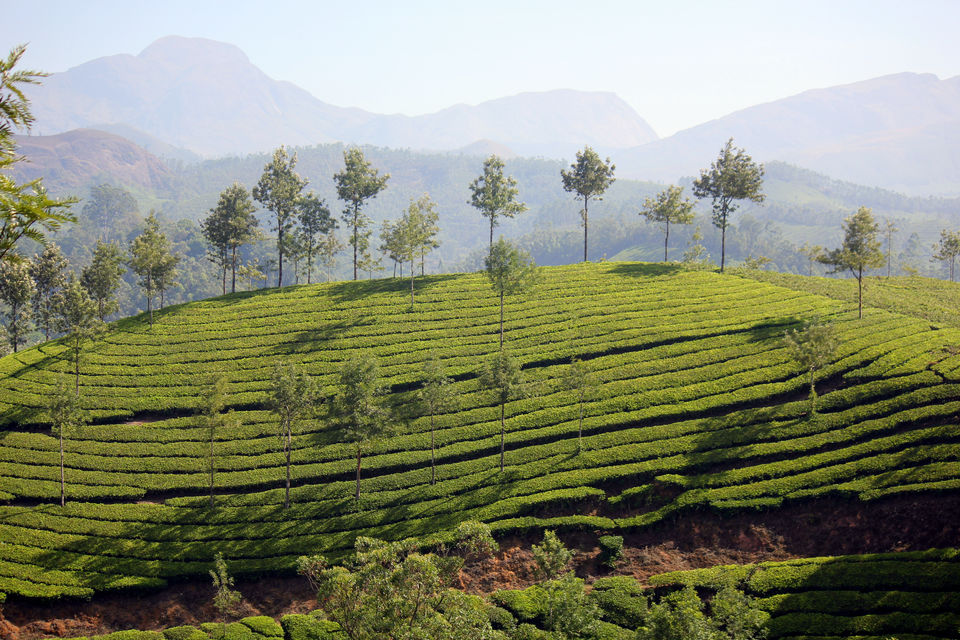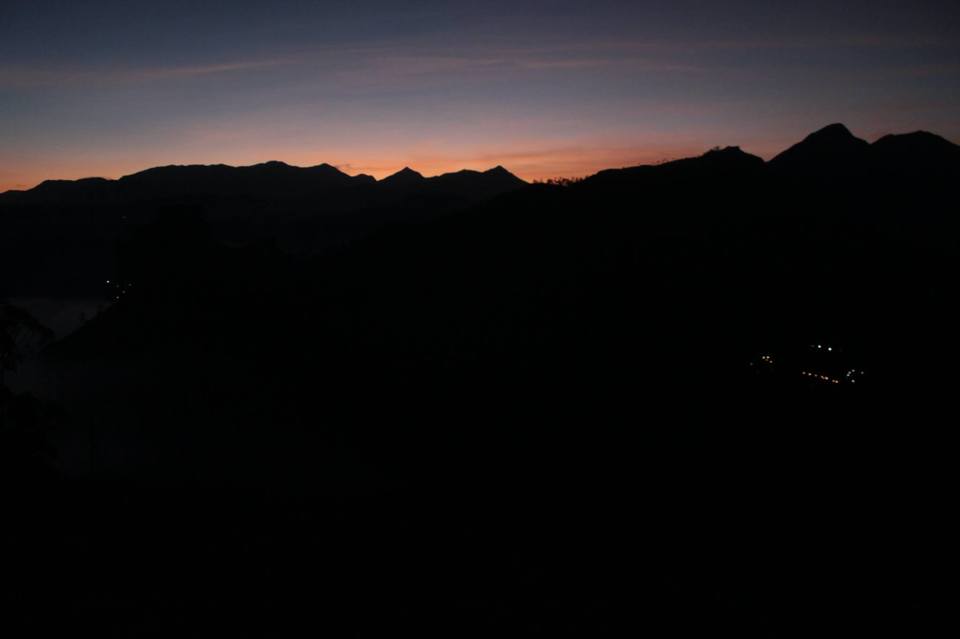 This vacation was a long due to me, as the amount of stress and work-life balance had thrown me towards such an imbalance that one fine day, I committed to myself that I'm heading to Kerala. Of course like a few previous expeditions, I had absolutely no plan, searched through the web for the best route out of Bengaluru & choiced Munnar over Kodai, Ooty and Thekkady, found a good place to stay, and unlike previous expeditions, I decided to spend around a week in one place to give full attention to the vacation. You may think its boring not to visit Thekkady & Backwaters in one shot, but I realize that the true essence of a place can be felt, only when one has given "quality time and attention" to it, be that a partner or, perhaps, the nascent nature.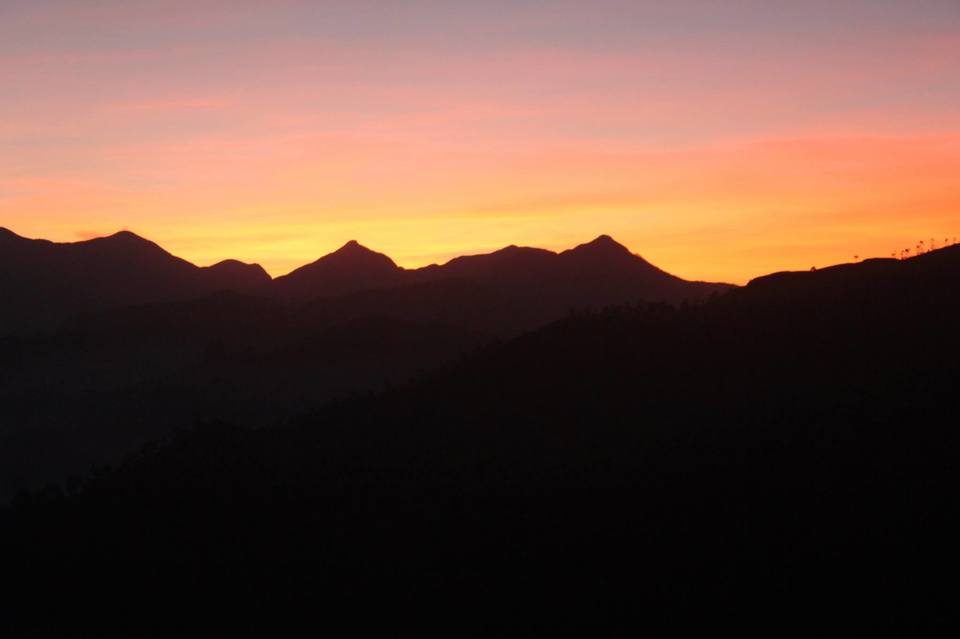 Day 0: I started with a redbus (KPN) around 9pm and, within an overnight journey, landed at Munnar at around 10.30am. It's a beautiful journey ... as I woke up in the morning to enter the Chinnar National Park, the Western Ghats welcomed me with its lovely blueish mountain layers. This followed by the Marayoor Sandalwood way to finally reach Munnar. I absolutely had no plan for the day (although I had researched well about common tourist places, like Mattupetty, Deviculum and Rajamalai) & decided to visit the Kerala Tourism Development (KTD) office for their recommendations - to start with my improvised expeditions to yield, perhaps, results beyond a Google search. The receptionist at the table was displaying some beautiful sunrise hike pictures taken in that morning to foreigners & seeing that, I at once told to myself that, 'I'm gonna do that, doesn't matter how hard or expensive it is". The desk person said that its only Rs.850/- for a guided hike, and what a beautiful fortune that Munnar had a strike in the very next day, so the guide said that we can spend a good time up in the mountain throughout the morning, without an urge to rush back to Munnar. So, after having my reservation for the trek, I went to find my hotel in the KTDC tea county.
The hotel was in beautiful location up above in the hills, and the receptionist, Mr. Knightson, was very kind to me, because it was off-season (end of March is usually a year-ending for the office crowd and kids are busy with exams), and there were absolutely no visitors other than me - how fortunate I was!! I booked online a room for around Rs.860/night and without any extra cost, he gave me an executive suite with a bigger luxurious room, TV, balcony facing the tea county and what not. I was so tired that I went straight inside the blanket and had a tight sleep till the afternoon.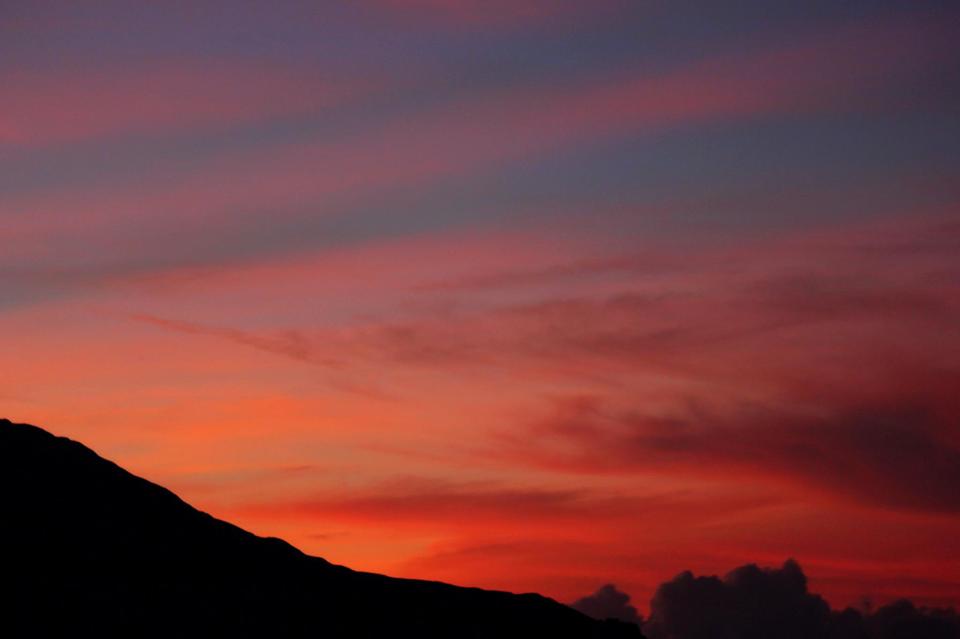 Day 1: The next morning sharp at 4.45am in the dark, I started my walk back to Munnar KTD office while it was still a twinkling starry night. I had a fear of wild animals enroute, but there were absolutely nothing, not even a barking dog. At 5.10am, I met the guide and my cohikers, 2 young girls from Germany, & we headed towards the starting point at Reshmi Hills with a rickshaw. Around 5.30am, we actually started the hike uphill by walking through a tea-estate. The guide's role is crucial, because he knows very well the unmarked route, which can be dangerous to roam alone (especially there are wild elephants & you won't be alive to share that expedition if you happen to meet one). We saw the crystal clear sky with millions of stars, milky-way and got introduced to each other, socializing and a bit of cross-culture diffusion while heading uphill. Slowly, the sky started to get its natural colours and the landscape changed dramatically, before we embarked at a point to watch the pleasing sunrise. Whole of the Munnar valley was under the clouds, & it started to flow like a waterfall through the same route that we hiked past.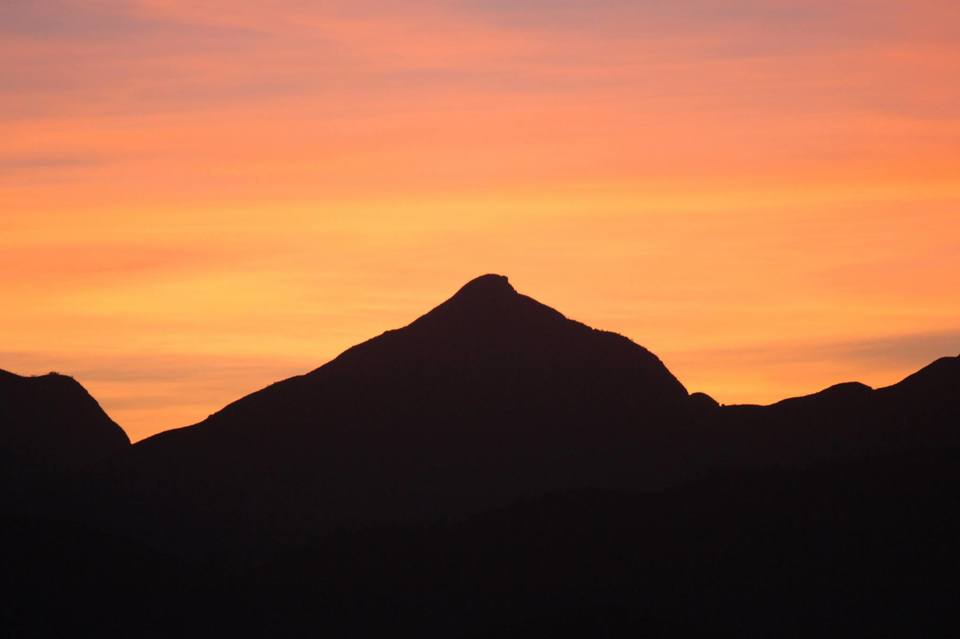 The beautiful part is that, one can see the "Anaimudi" peak, the highest in Western Ghats clearly & I observed how the first sunrays kissed the peak. The guide was prepared with tea and some fruits, biscuits and I was not really expecting a sip of tea while watching the sunrise with a full-sweated body. After some photo-sessions (just to make everyone in social media envy of us), we started to hike more uphill - towards the peak of Reshmi Hill. It took roughly an-hour to reach the top and we crossed another group of faculties from the Dept. of Dentistry at UCLA, who climbed the hill from the other side.
Atop the hill we rested for may be an-hour, while the view in different direction were exceptional. We could see far-reached places from Munnar, lush-green tea-estates, distant Chingula lake, Tippada peak and Kolukkumalai region, almost like a Sangri-La- the mythical mountain with passing clouds. The view of zigzag roads with buses/cars way much below were splendid. The crepscular rays coming through the edges of the hills were spectacular, & the guide explained to us about his own hiking expeditions at Anaimudi, encounter of elephants at Rashmi hills, the local politics of tea-estate (& the reason behind the strike), offered passion fruits, local tomatoes (!!), juices and so forth.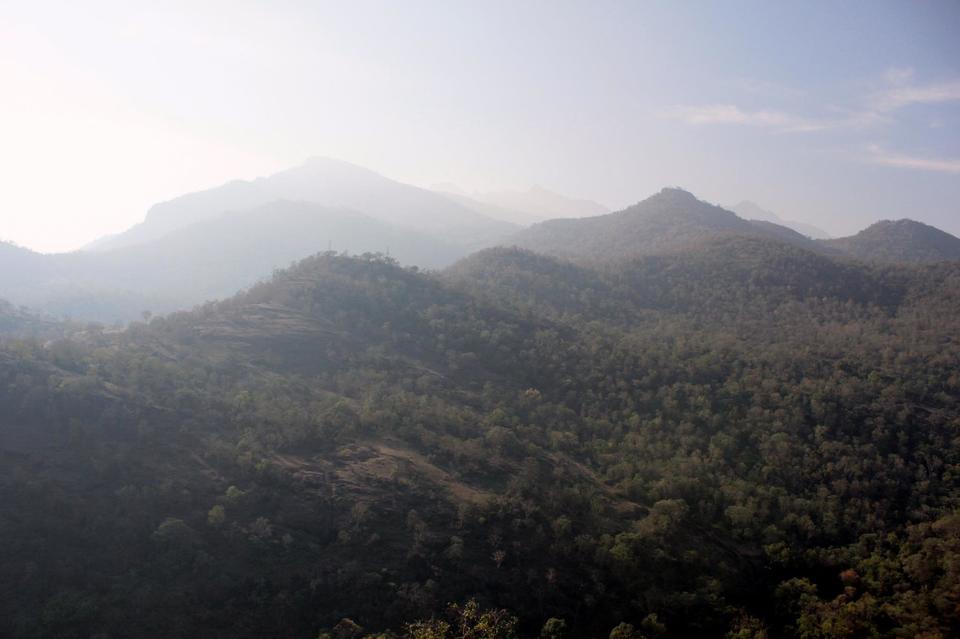 The next part was a slow and enjoyable descend, passing through the rain-forests, where we searched vigorously for giant squirrel, Nilgiri Tahr, Nilgiri flycatcher and other birds. I found the last one.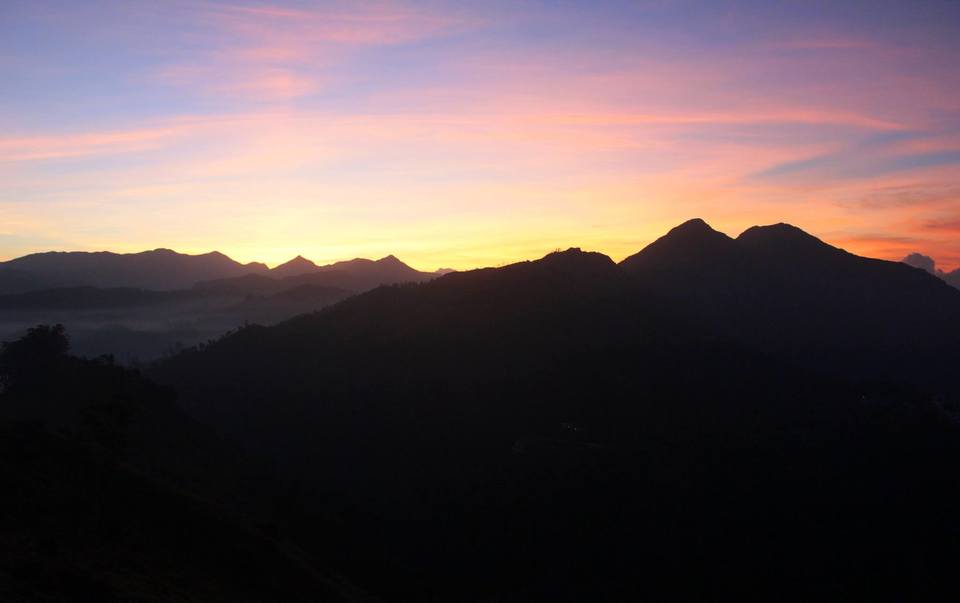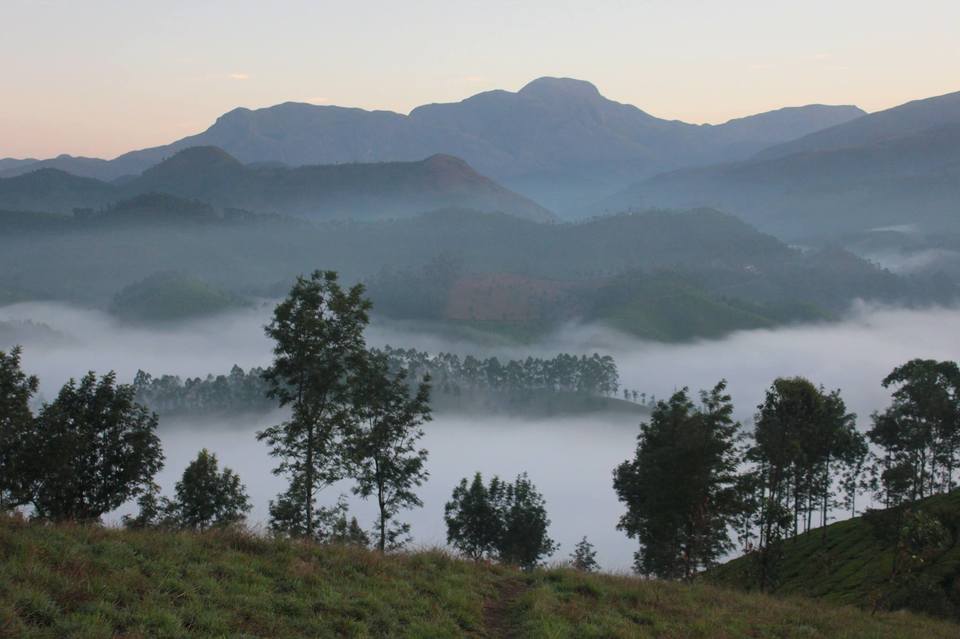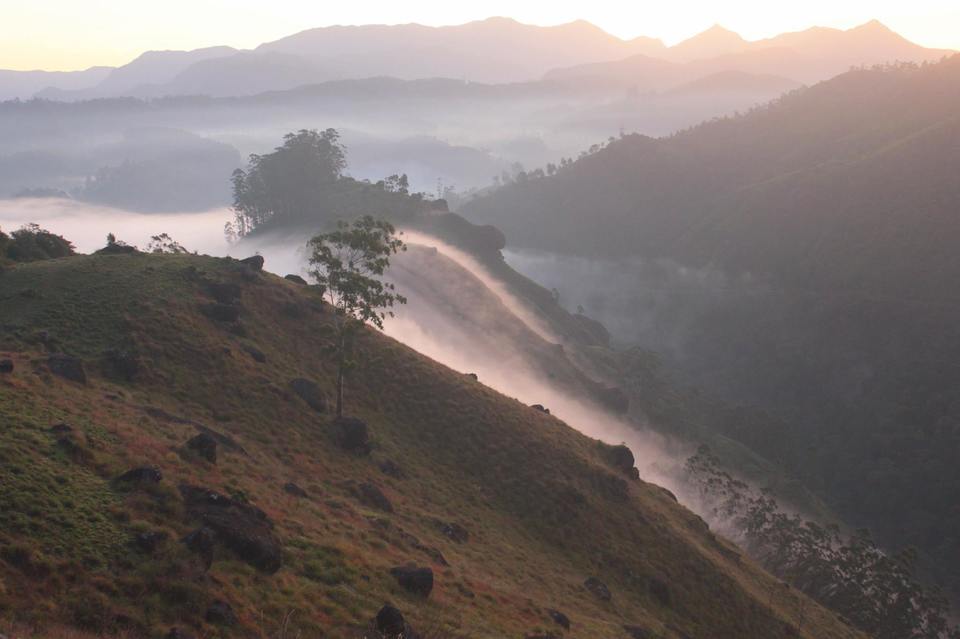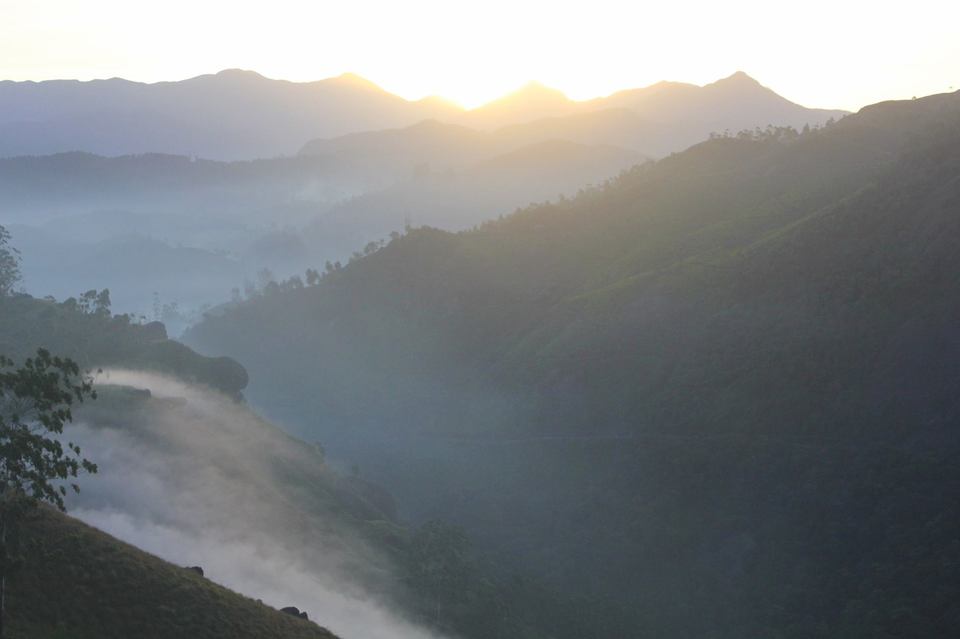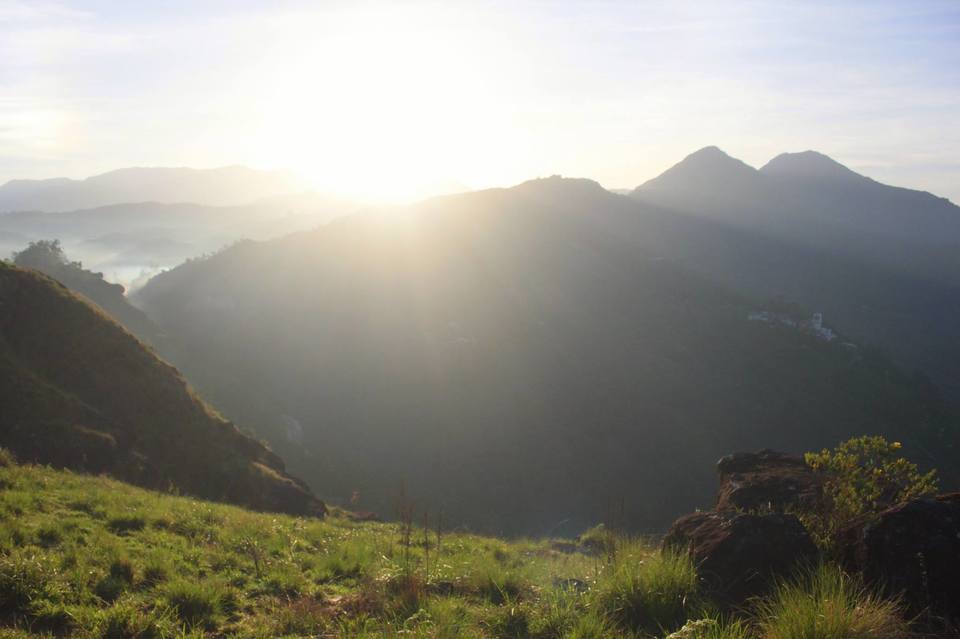 We finally entered into the tea-estates and had a beautiful walk past the estate. We watched the Cardamom and Bayleaf tree, lemongrass, lights and shades of sun on the green pastures of tea, and of course the smell ..... one just can't resist!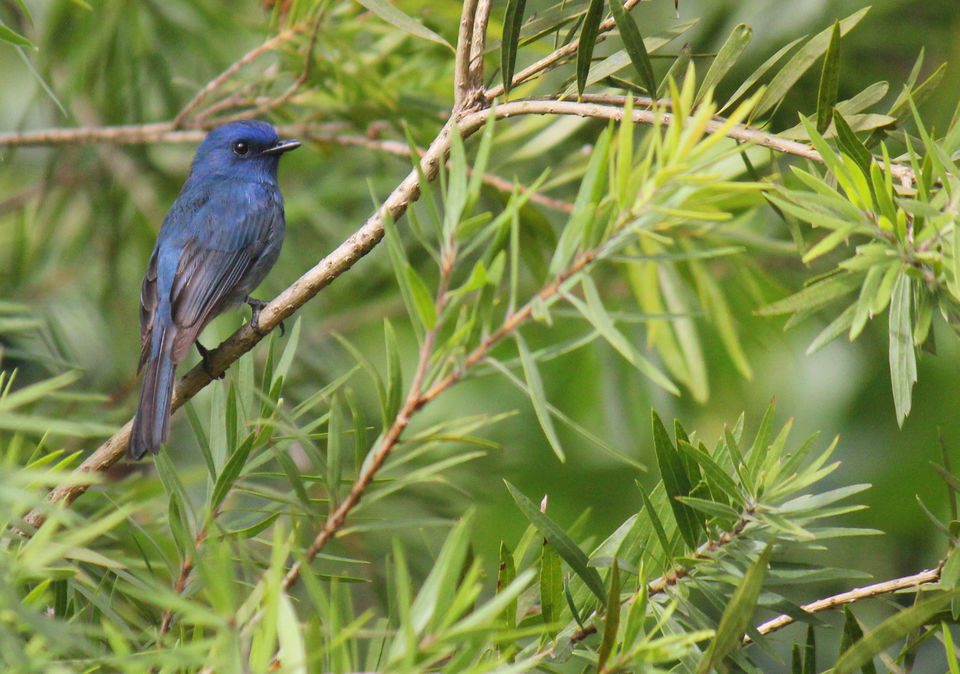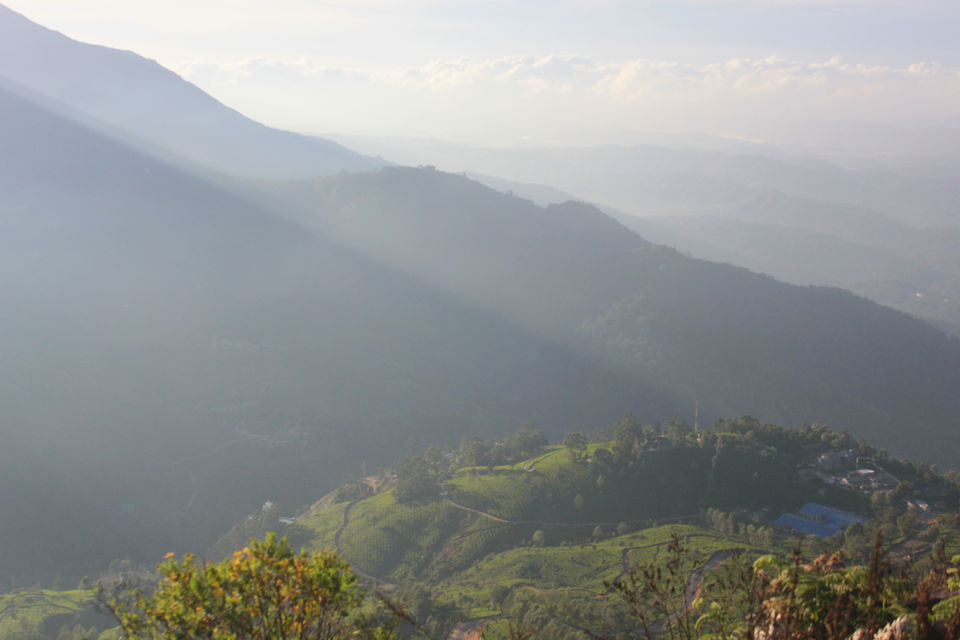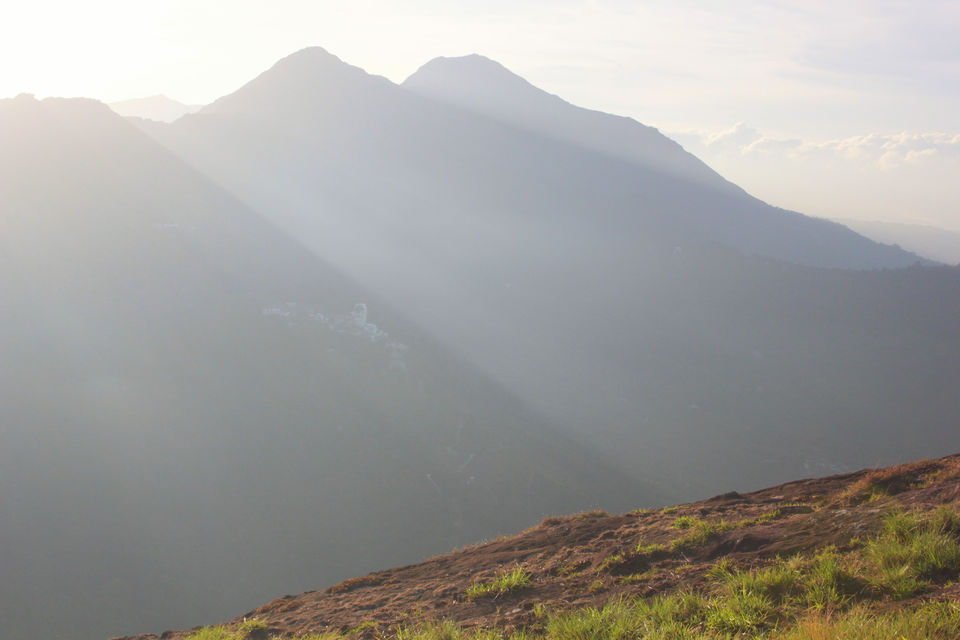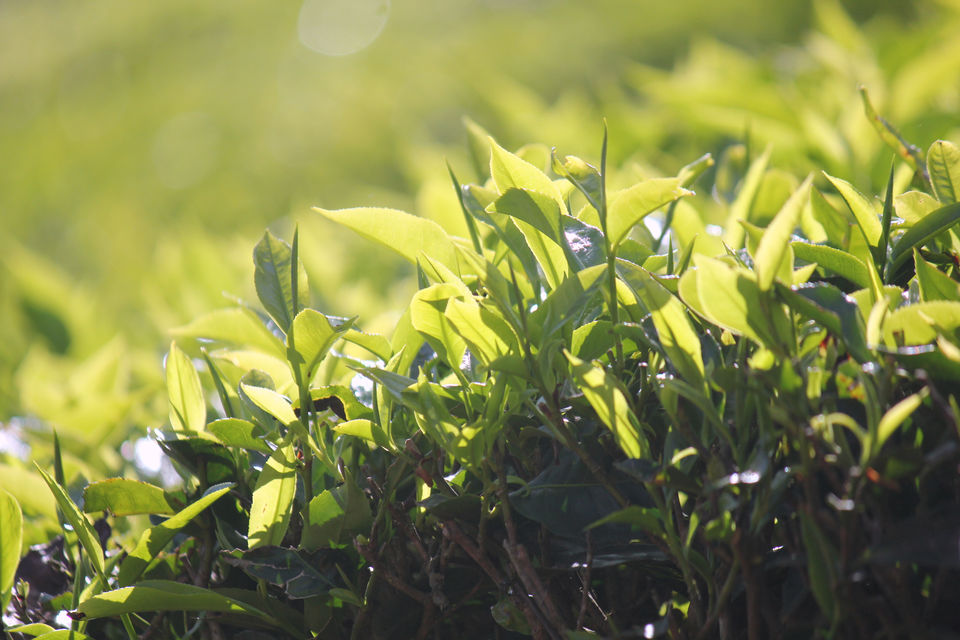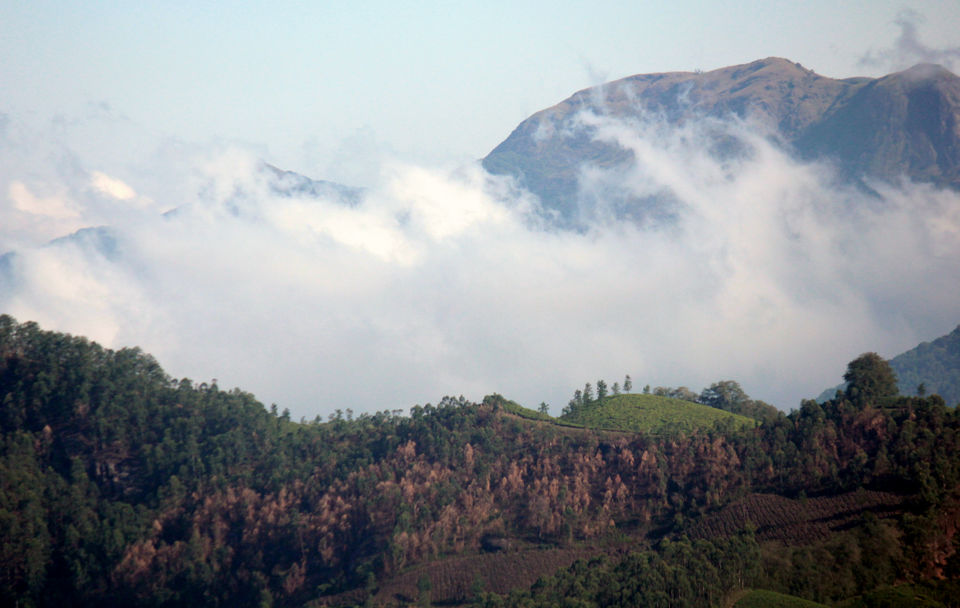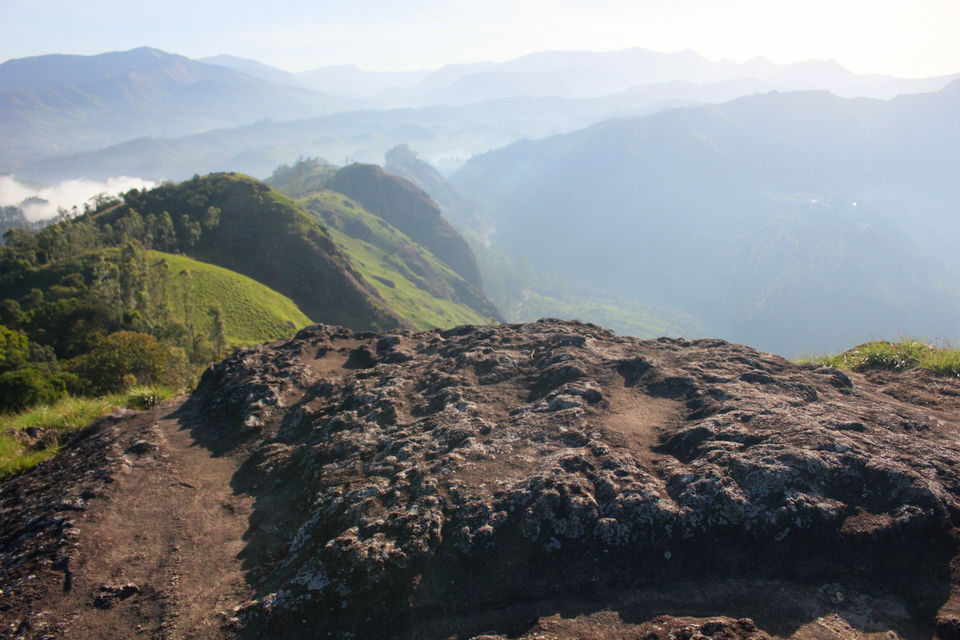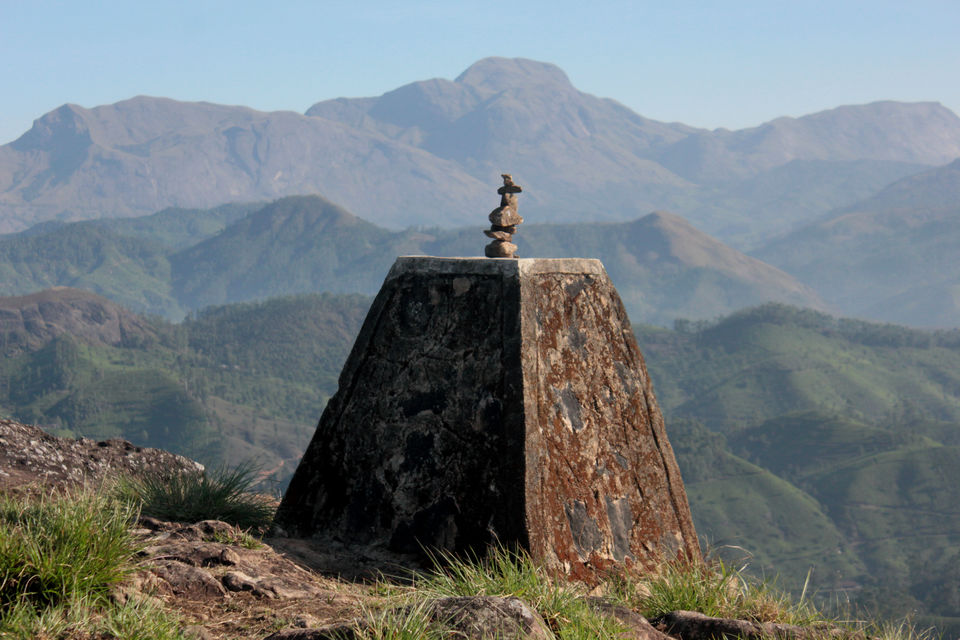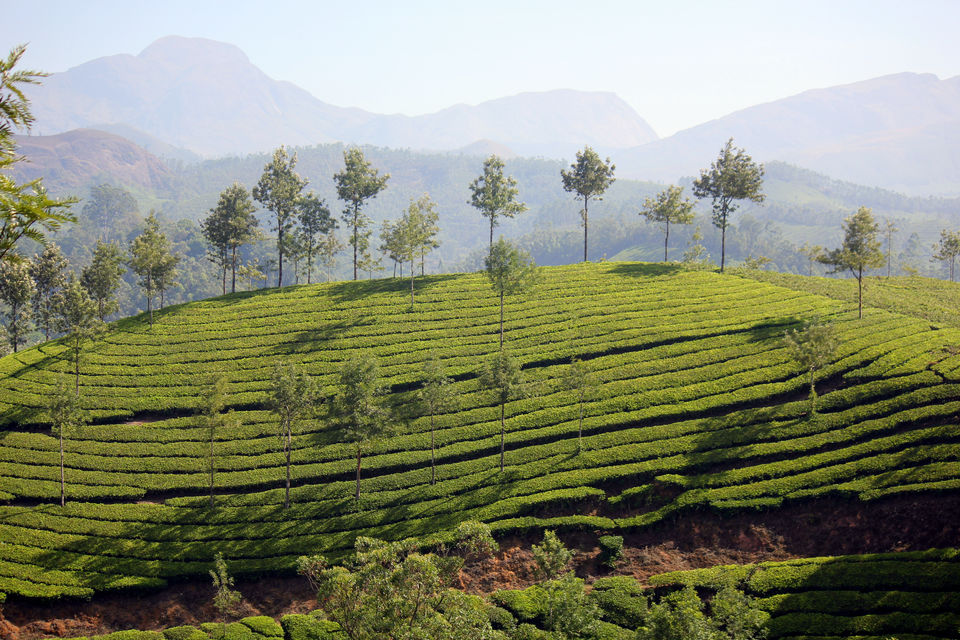 We walked around 16kms to reach the road from where we had another rickshaw to drop us back at Munnar. I was totally exhausted, however I went for a decent Keralian food to enjoy the delicacy and fresh home-made chocolates. I spent the afternoon sitting at the balcony gazing at the tea-county, finally before the sunset made up my mind & went for an afternoon troll, only to find an amazing sunset with Bishop's ring at the backdrop of KTDC tea-county ... what a spectacular natural phenomena. It was indeed a blessed day. As it was a day of strike, all restaurants were closed & I walked to Munnar to have my dinner in a small roadside eatery, came back and slept like a log.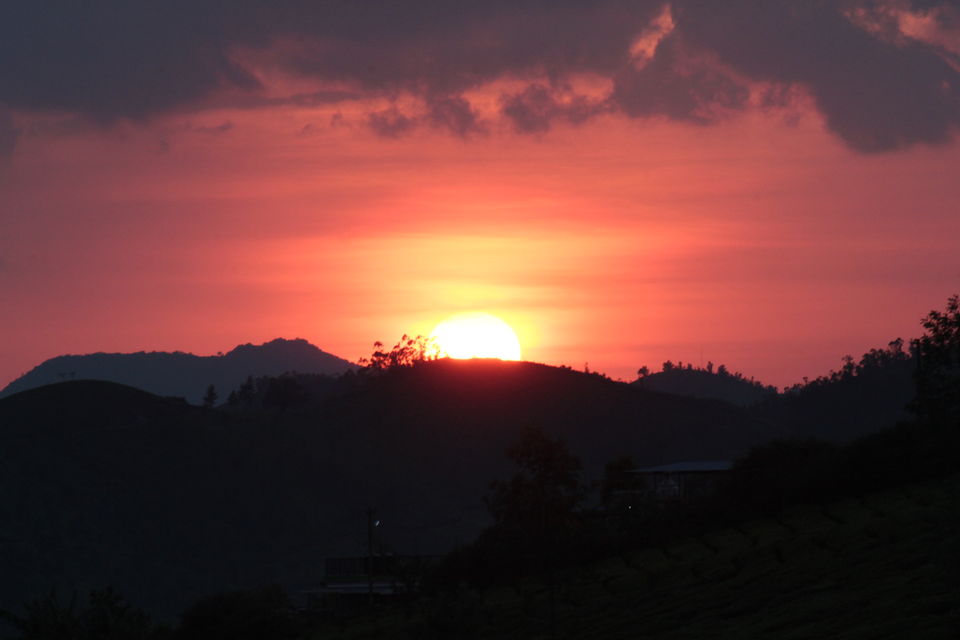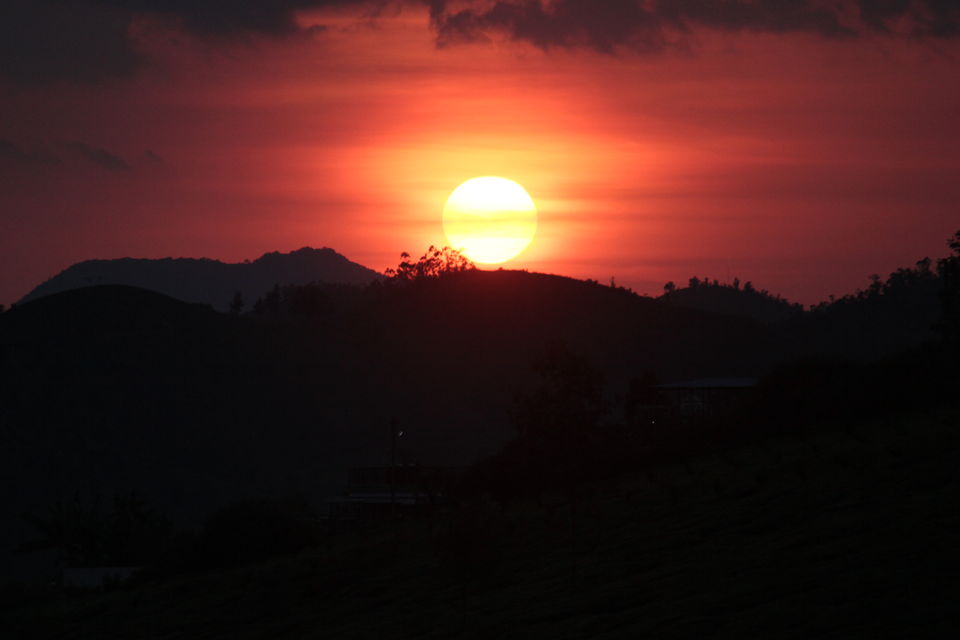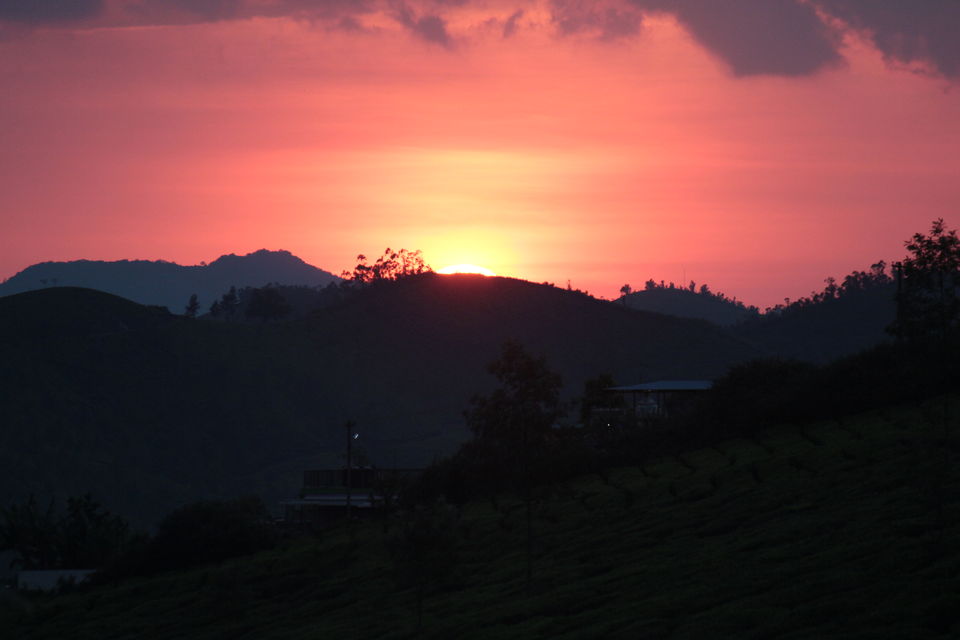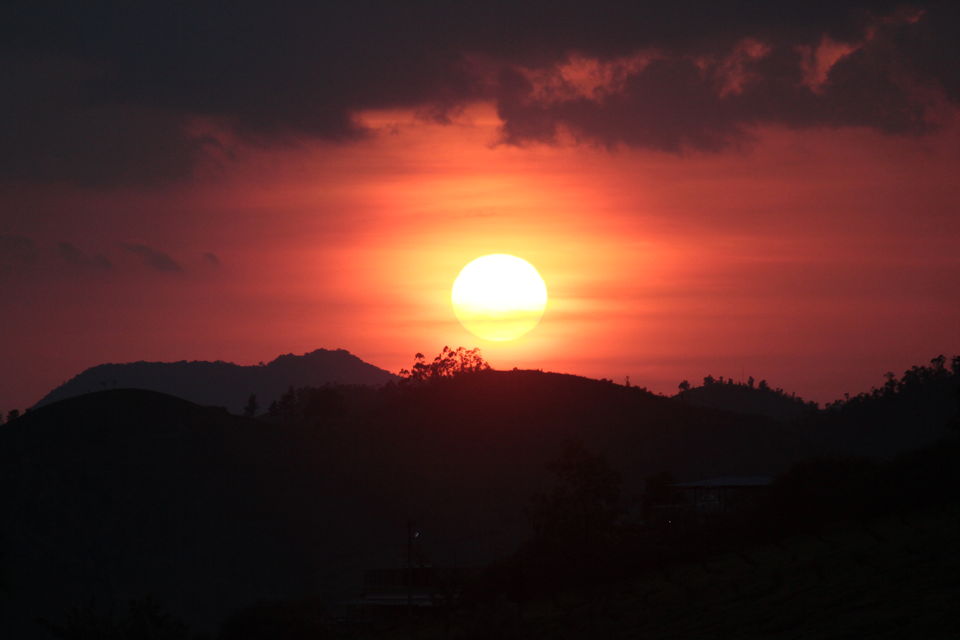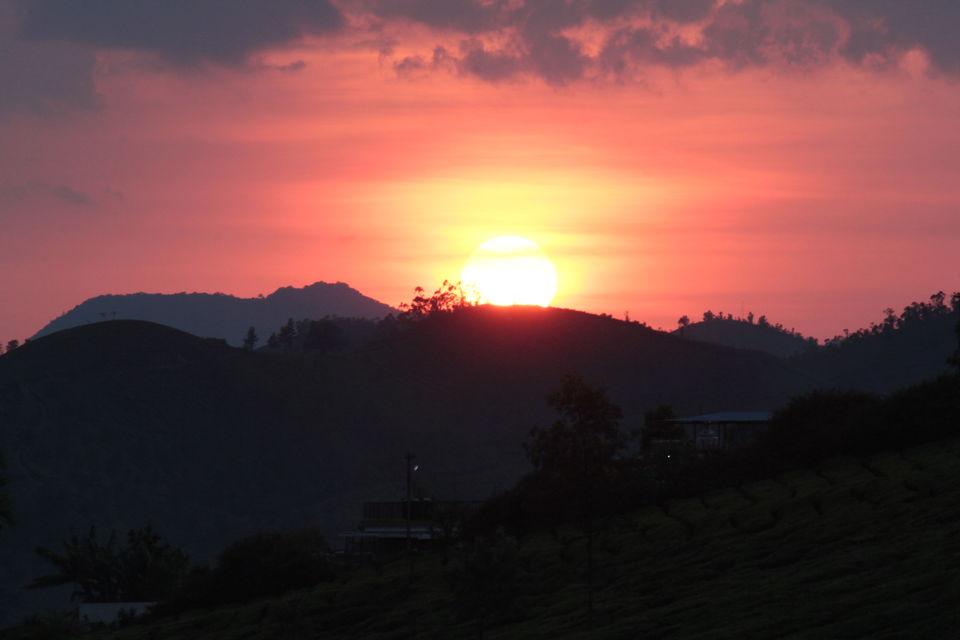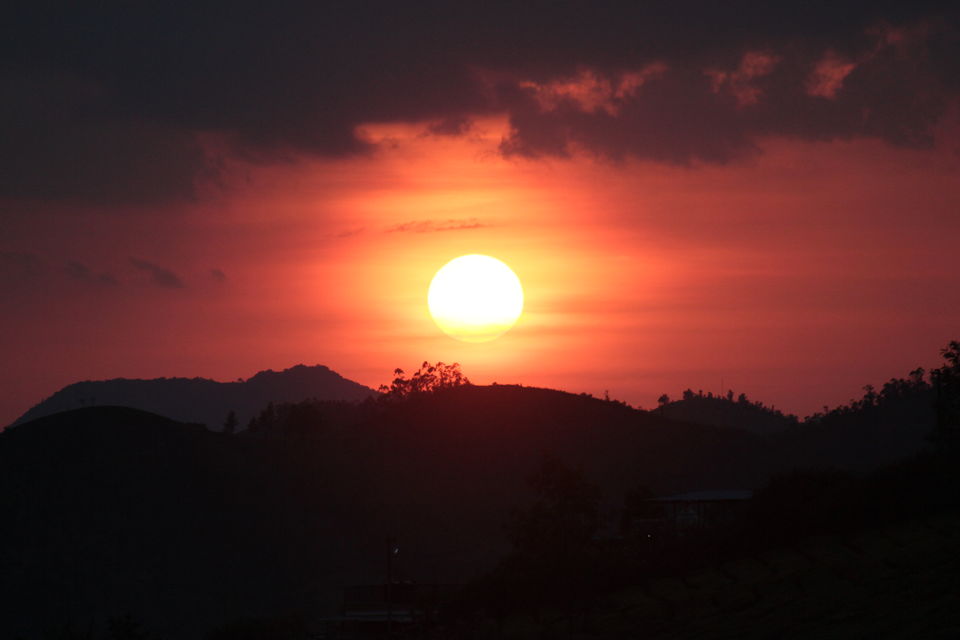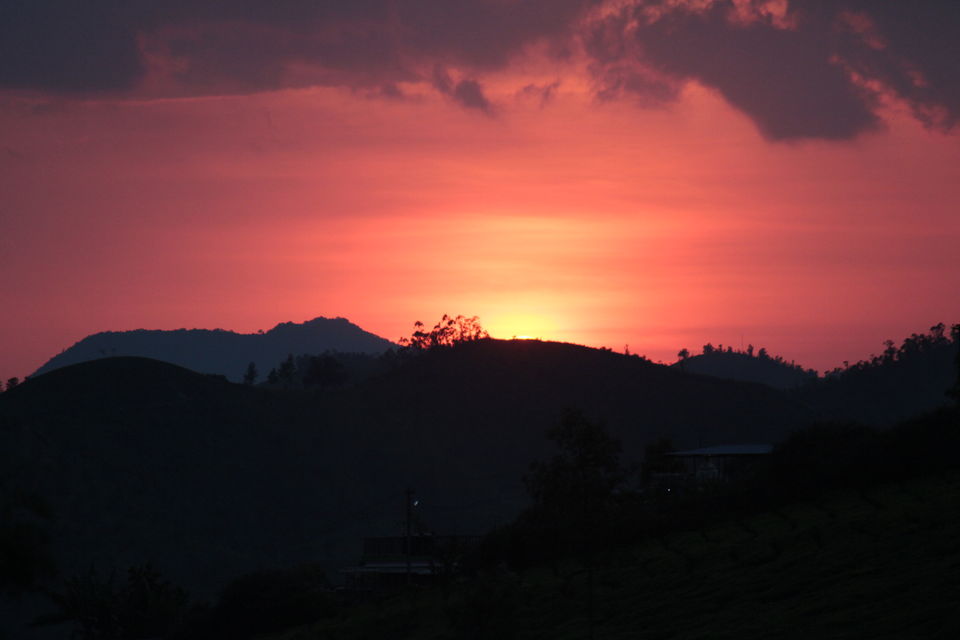 Day 2: When planning for the trip, I had a pointer that, visit to Kolukkumalai is a definitive destination, as the views atop the Tamilnadu (Theni district) and Kerala (Idukki district) in the two sides are mind-blowing, added on top is the fresh organic tea from World's highest grown tea-estate is definitely worth it. What I knew beforehand that the road is a disaster, and one has to take a jeep safari ride for that, which for a solo-traveler is costly! When inquiring to the guide at Munnar, he said that I can hike to the Kolukkumalai and that's really nice & challenging, but later I found that its forbidden now. Inquiry to the hotel also yielded a jeep ride estimate of around 4000 bucks, so what I did was, again, ask the localites about an economic way to reach, without getting ripped off.
So, the most cost-effective way is to take the bus towards Theni and get down at Power house stoppage after passing through the lovely village of Devikulam. The bus ride is itself so scenic that I was succumbed to the beauty of the lush-green estates and wavy hilly background. From power house, a shared rickshaw brought me to Suryanelli via Chinnakanal. Enroute I could see the Anayirankal Dam much down in the valley at TN side. From Suryanelli KTD office, I hired a jeep for Rs.1800/- and went up to the Kolukkumalai.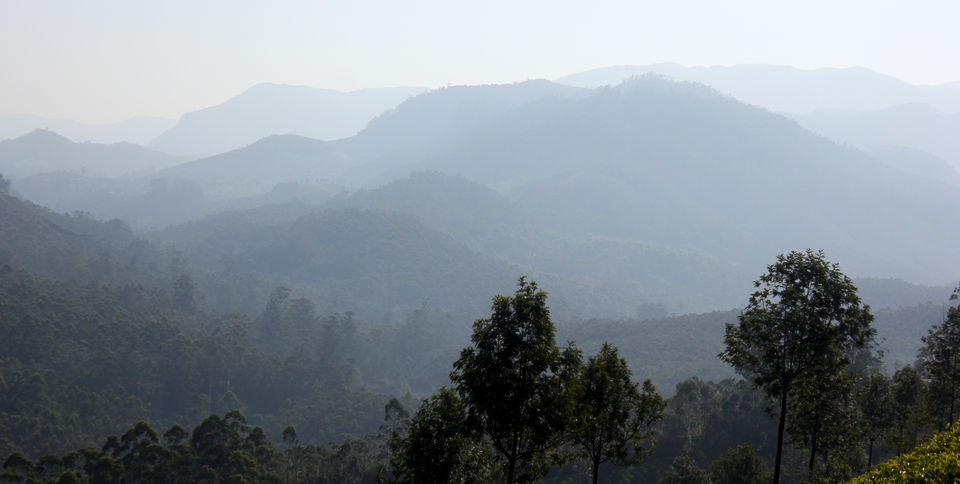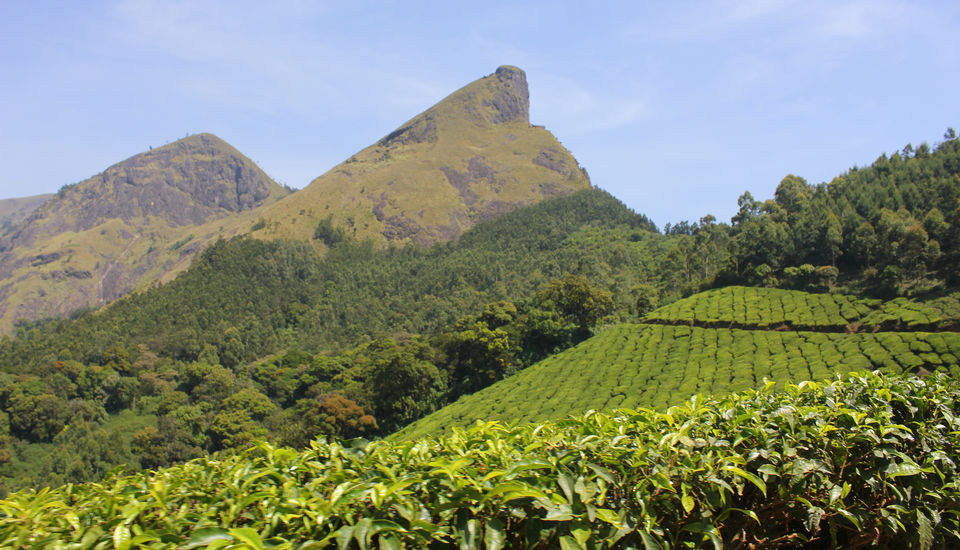 The view up from the top-point is absolutely worth viewing, as the far reached Theni, Top-station of Munnar, Anayirankal dam, Goenka & Amma's daughter's tea estates were the common attraction up in there. There is a small walking trail, kind of a knife edge, on top of which the walk makes the day more interesting.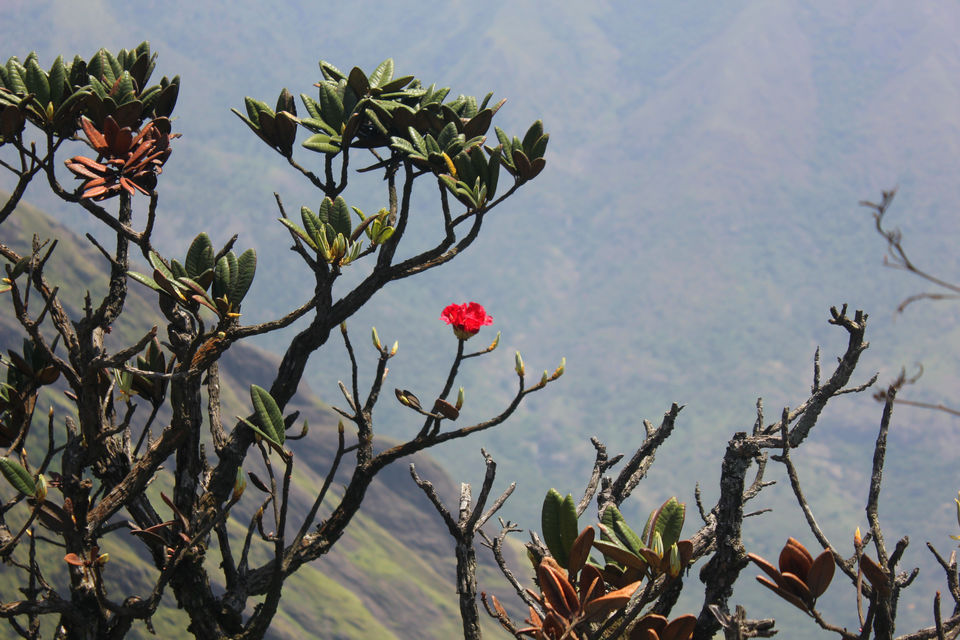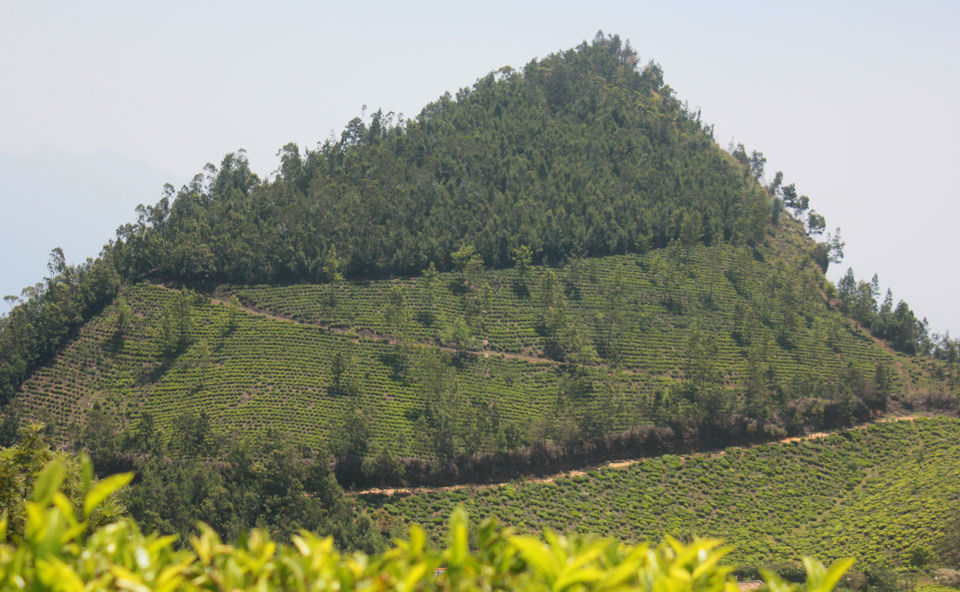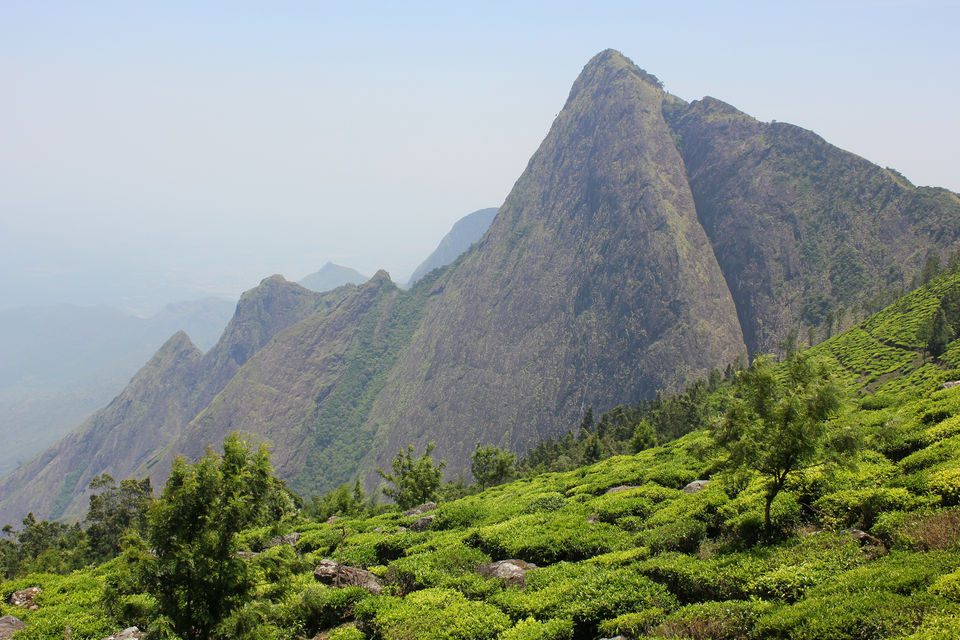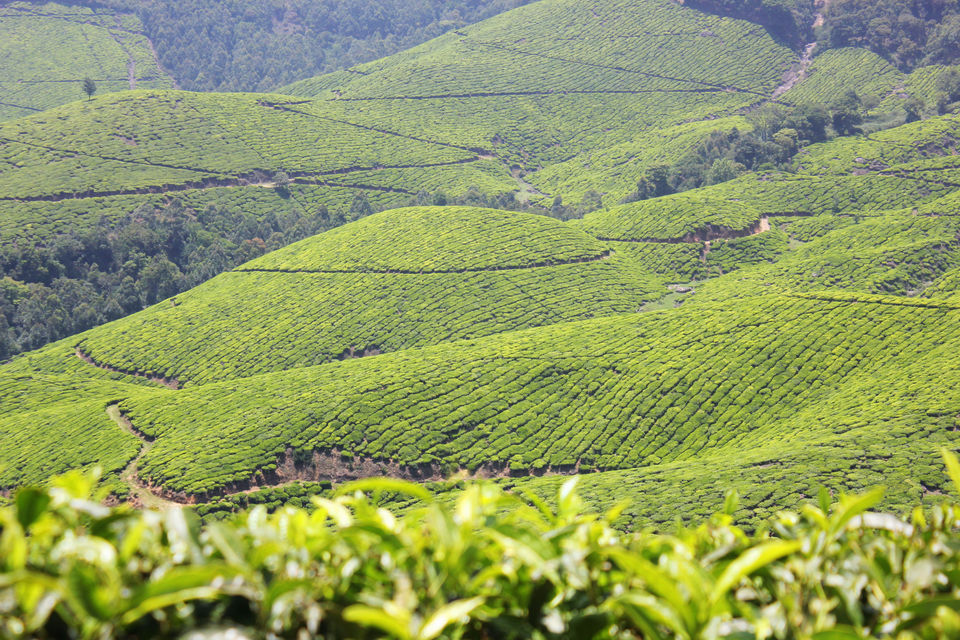 There is a hiking trail up to the top of the hill that takes 6 hours to-n-fro (so if I go next time, that'll be my to-do list) which I had to skip and instead with the jeep, I headed towards the Kolukkumalai tea factory. This is world's highest grown organic tea (not ctc) made in orthodox procedure to yield a very different taste. I got a demonstration about the process of tea making, from green tea, to white tea and to black tea.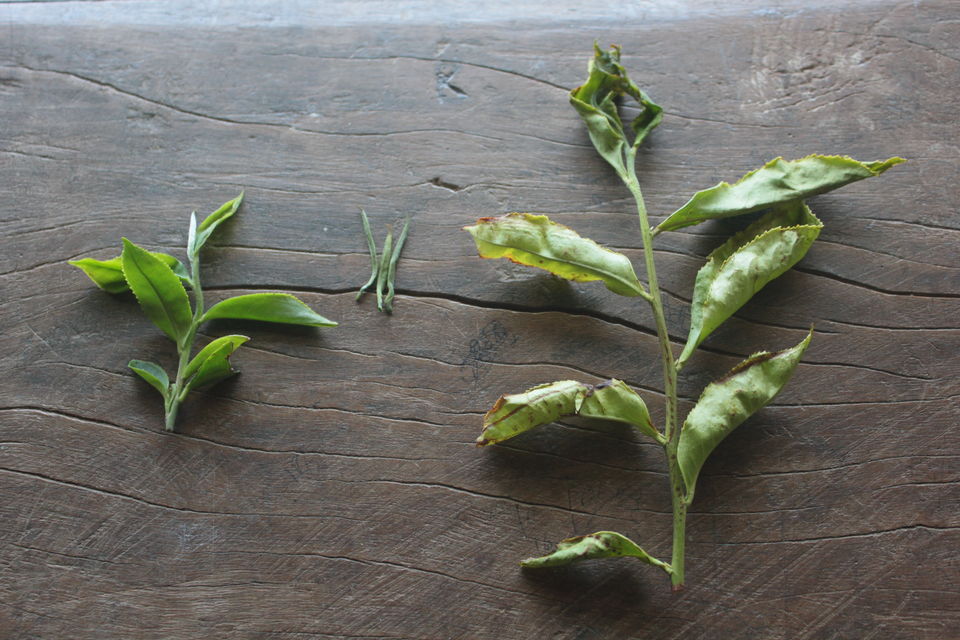 I also had chance to taste a few samples of tea up in there and bought a packet of Kolukkumalai Tea from the adjacent strore :) This part was in Tamilnadu, and the estate belongs to the daughter of Amma. The other side of the hill, which is in Kerala, belongs to the Goenka group. Forgot to say that Tata owns much of the estates in Munnar. And because these estates are private, there seems like a "samjhauta" between Goenka, TN forestry and Kerala forestry for not to develop the road for anyone (other than off course their own private smooth roads for which you need a special permission beforehand).
After descend at around 1.30pm and having a lunch at Suryanelli, I decided to head towards the Anayirankal Dam which I saw from atop and asked the driver how to reach. To my surprise, its the same Theni bus that I had to take from power house now to Anayirankal. This lake is like finger (very similar to Finger lakes at Rochester, NY) and the views are awesome. Actually from power house when seeing Kolukkumalai reminded me of Hoher Kasten in Appenzeller Alps, the green mountains are really something to soak into. You can get garden fresh oranges for almost free of cost (like 20 bucks or so).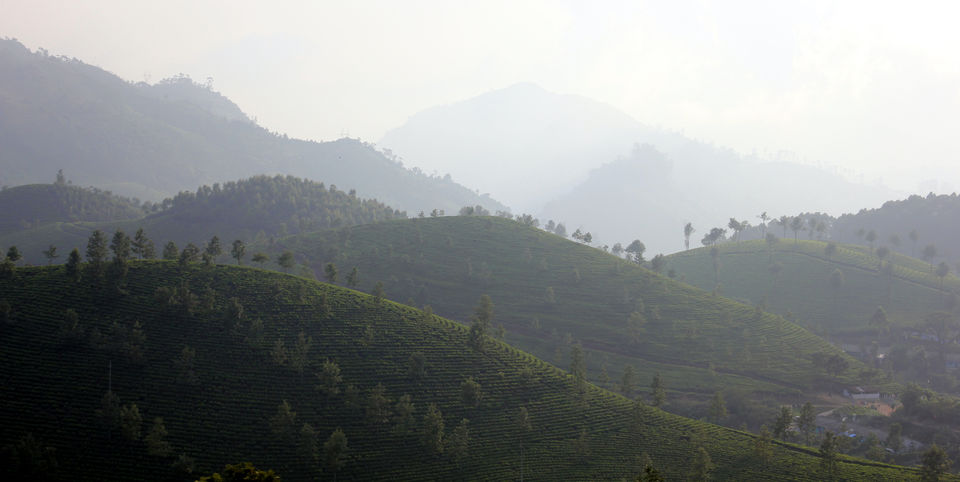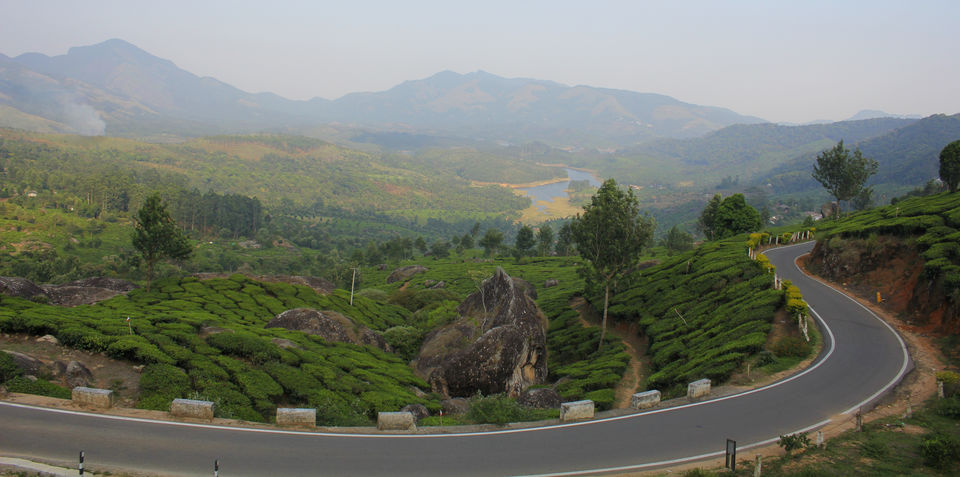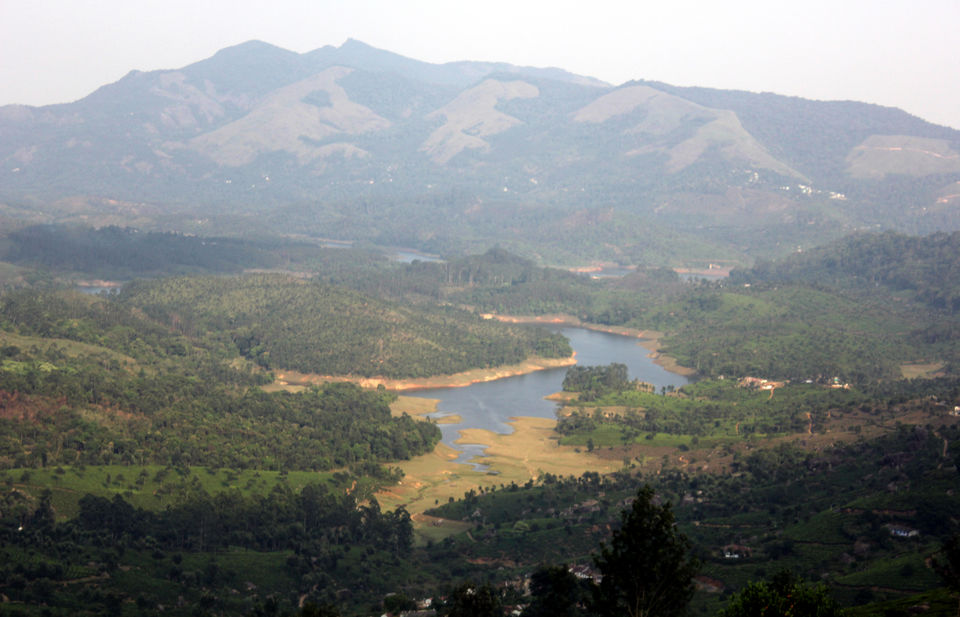 I spent an hour or two in walking along the small island amidst the beautiful water and hills in the background. Later, from there I headed towards Munnar. It was a terrific day, having discoveries of many new places and something that I could actually sublime into. Thankfully this day was a normal working day with all shop opened, so I had a very good dinner at night and had a very good sleep.
Day 3: This day I was really really desperate for a cheap commute to the local viewpoints like Top station, Kundala Lake and Mattupetty dam. Both KTD and hotel told me to hire a autorickshaw or preferably an activa, but I was desperate to find a public transport, and guess what, its infrequent but there is a bus, yoohoo :) So just only 35 bucks and I've reached top-station!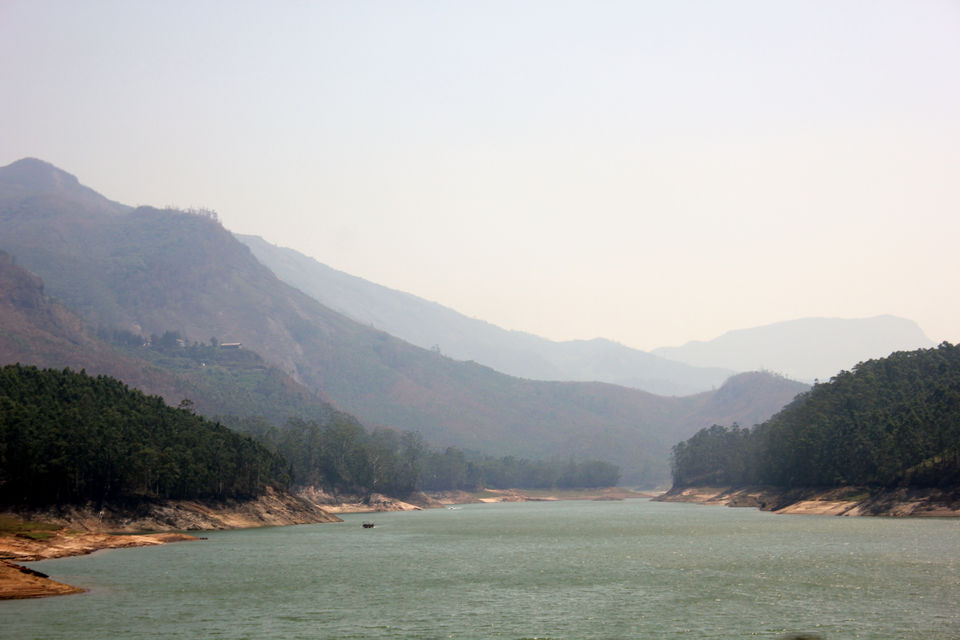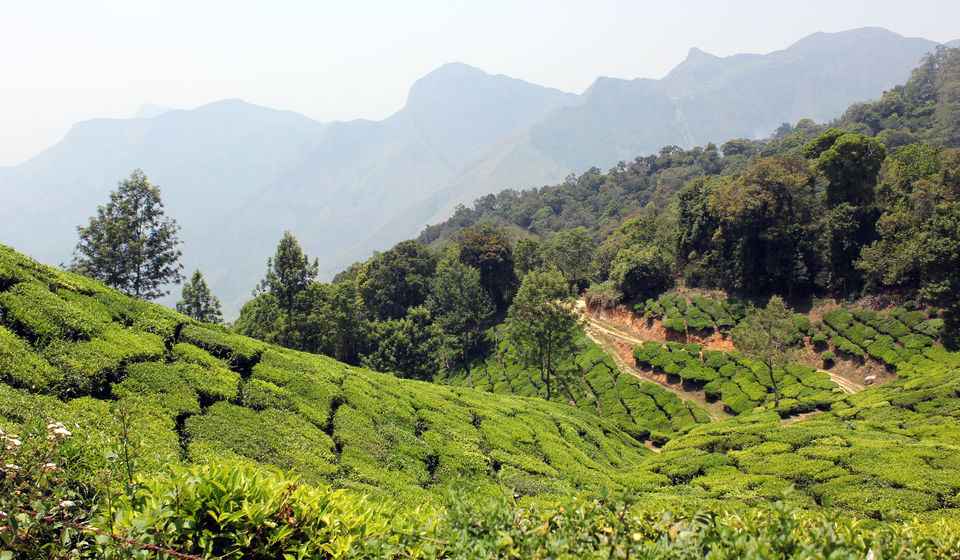 This day, I was more relaxed, was having a faith that nothing great will be coming out because the surprises are already taken. Indeed, it was ok-ish to visit the place viewing similar sort-of outlook of Theni & TN district. I faced problem to commuting back due to no service bus, but thanks to another cotraveler, we got a ride by a group of college students to Kundala lake.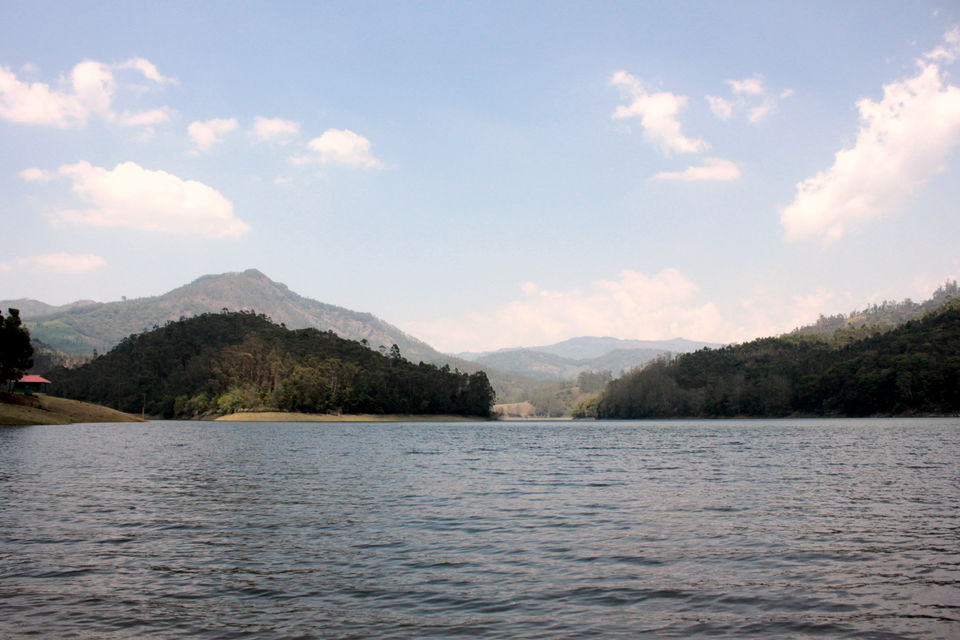 The Kundala lake and the dam is supposed to be most serene, free from tourists, cheap boating and a possibility of watching wild elephants - but it was full of tourists and spoilt expectations. However, the lakeside was beautiful to relax. From Kundala, we got a bus to Matupetty dam. The dam gates weren't open at that time, but the views are totally breathtaking. We thought for a boating expedition, but sad to hear that all tickets are booked. From Mattupetty, we took another bus to Elephant's ride, took some pictures without the ride and finally to end the day, went to Pothamedu viewpoint for a glimpse of sunset. I guess the day wasn't that stunning, even clouds from all over the place stole the sunset. I came home with a bit of sadness that despite of paying the autowalas, bus conductors and so on, it wasn't a very happening and surprising day in all together.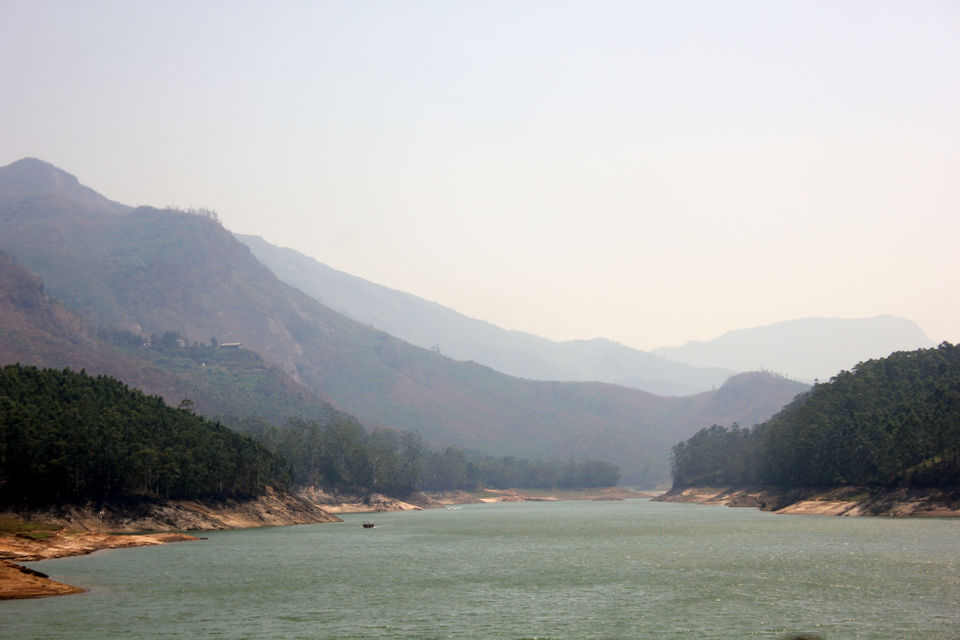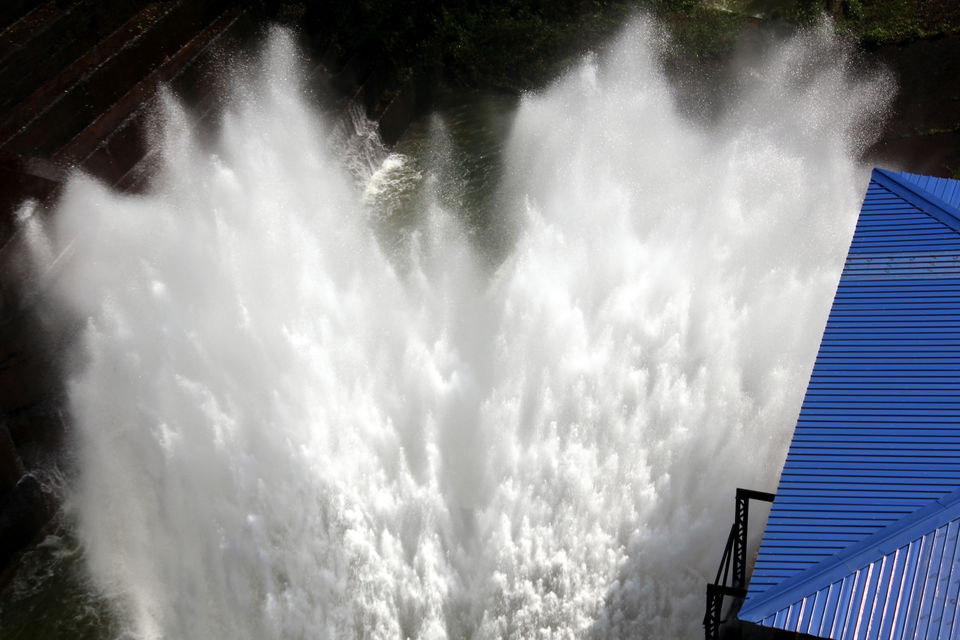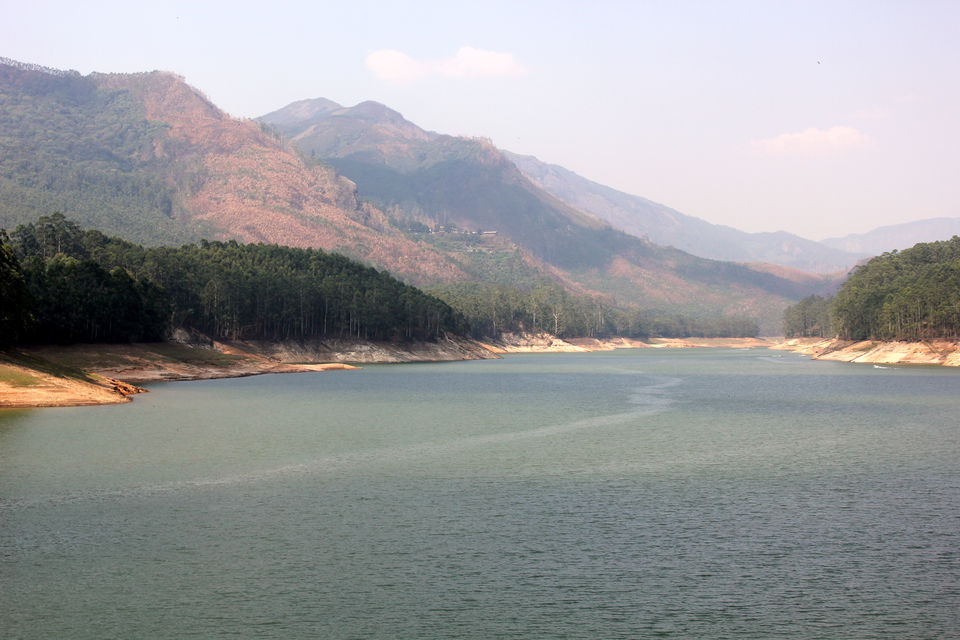 Day 4: This day was the final day and I was rather on a relaxing mode on the executive room to sip tea and do nothing. I thought having the sunrise hike & kolukkumalai tour has actually offered whatever Munnar had to offer. However at the morning, I thought to visit the Tea Museum without knowing that Monday is holiday for them. Unfortunately, the day started with a failed attempt, sigh :( So after I got back to the hotel, I was thinking to go to Kundala lake once again with a hope that the tourists are gone & I can relax for a couple of hours near the lake, then the hotel's manager told me to go to Echo point at Mattupetty.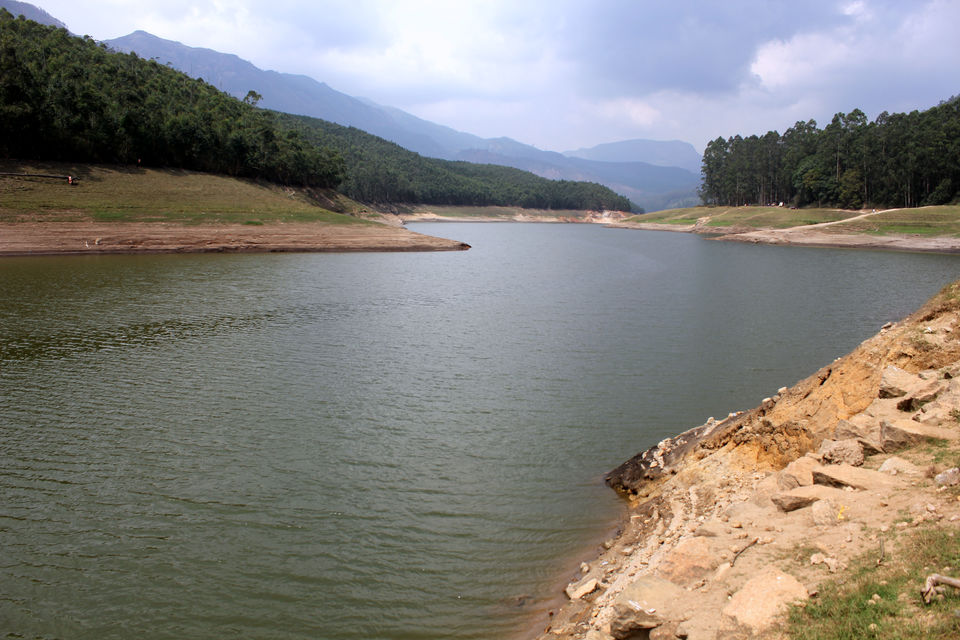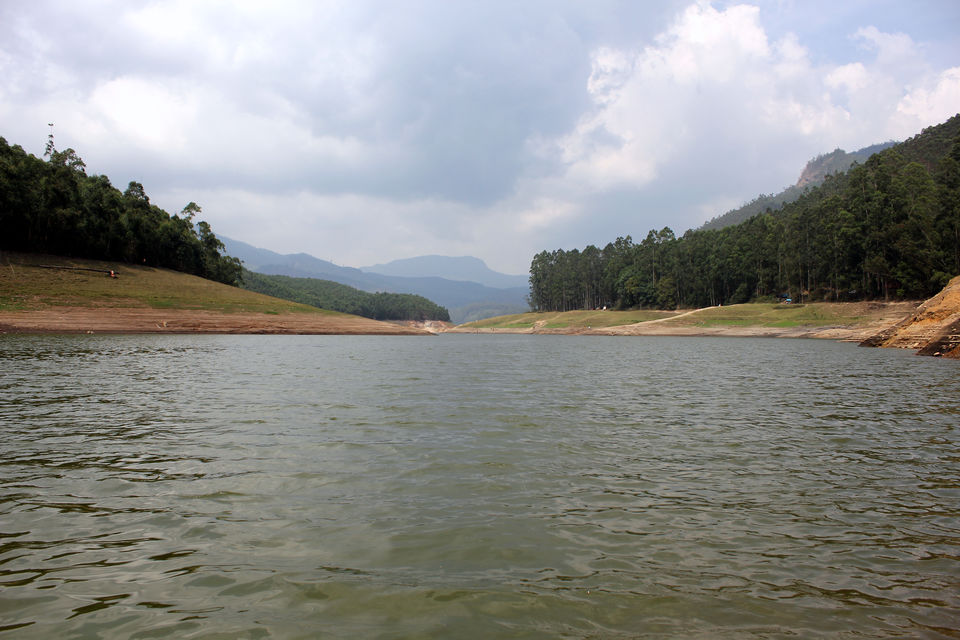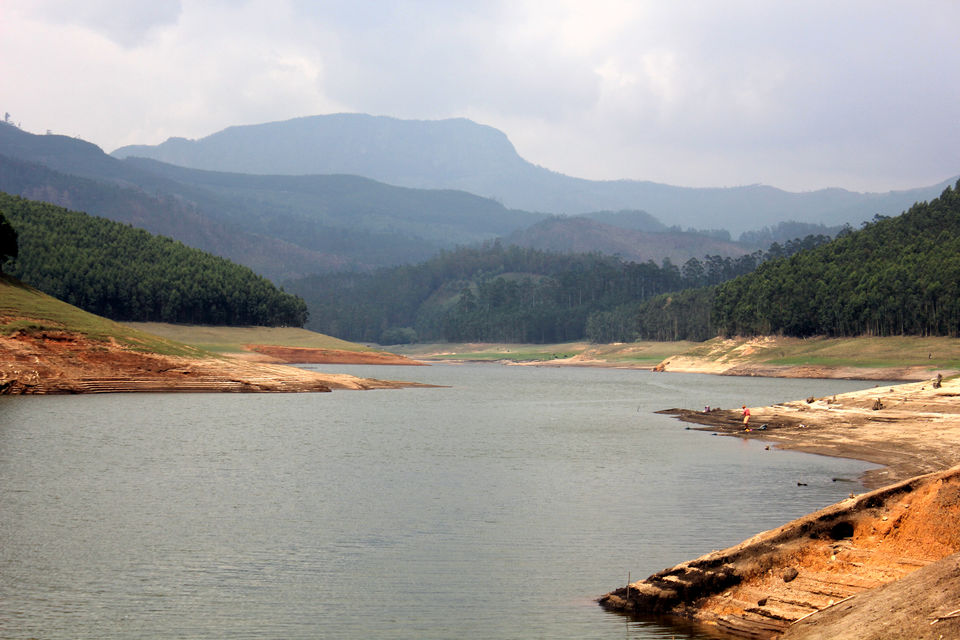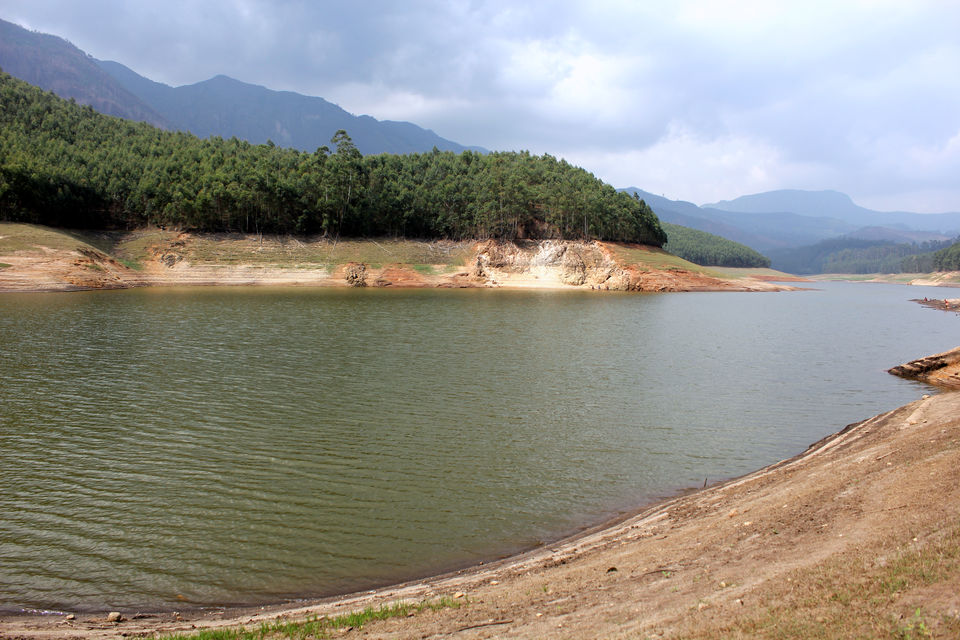 I never repented being in this place, while the views and the echo were something definitely to cherish. I went for a bit of walk around this lake, sat for a few hours beside it, watched very distant elephants and fishermen. Being totally recharged, I went for the final attraction that I wanted - the Kathakali show at Munnar.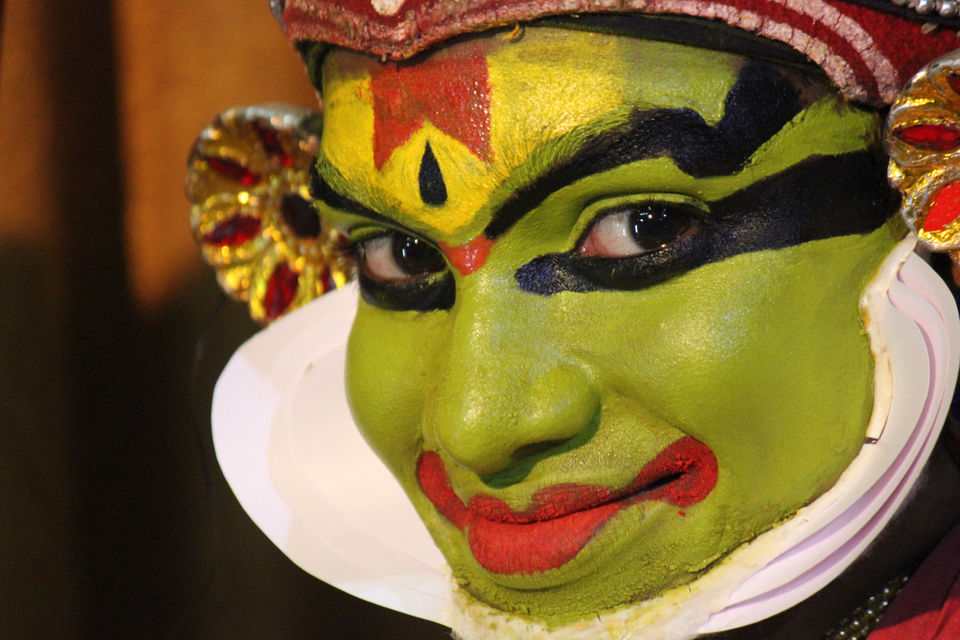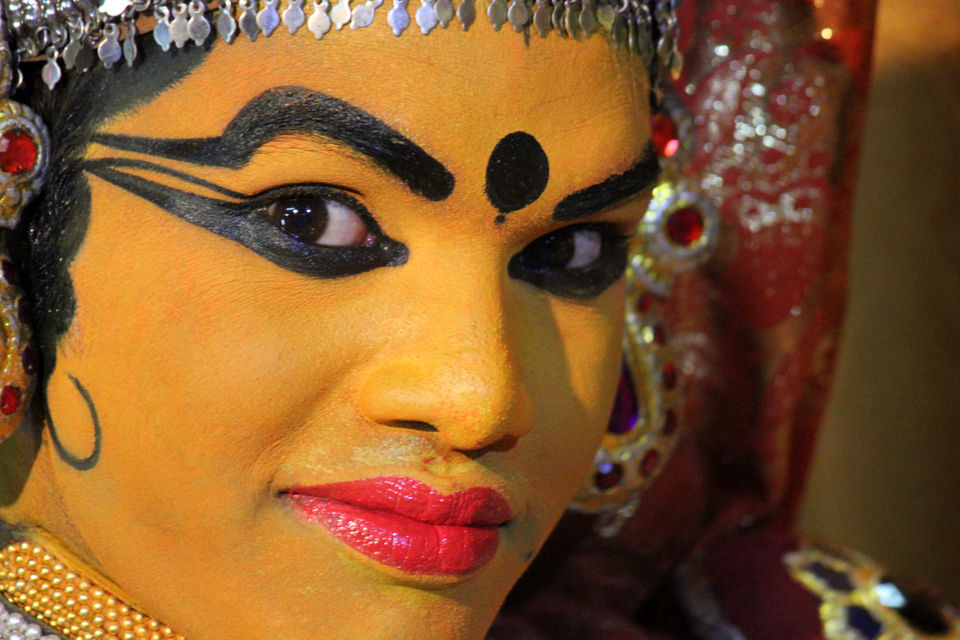 Another of my embarrassment at Kerala, after the show I thought to buy a few souvenirs and only learned that another strike had happened for 6 hours, so all shops including eatery is closed! So, I had no other choice than wait for Day 5 (journey back to Bengaluru) and thanks to the Rose garden adjacent to my Hotel, I bought a few souvenirs there. The redbus started around 4pm and during the descend especially near the Chinnar National park, I saw wild elephant just within 10ft distance.

Overall it was a very nice experience at Kerala, though a bit suffocating due to multiple failed attempts, neverthless the place, the beauty of the estates in conjunction to the Western ghat with the smell of tea makes every penny worth spending there.