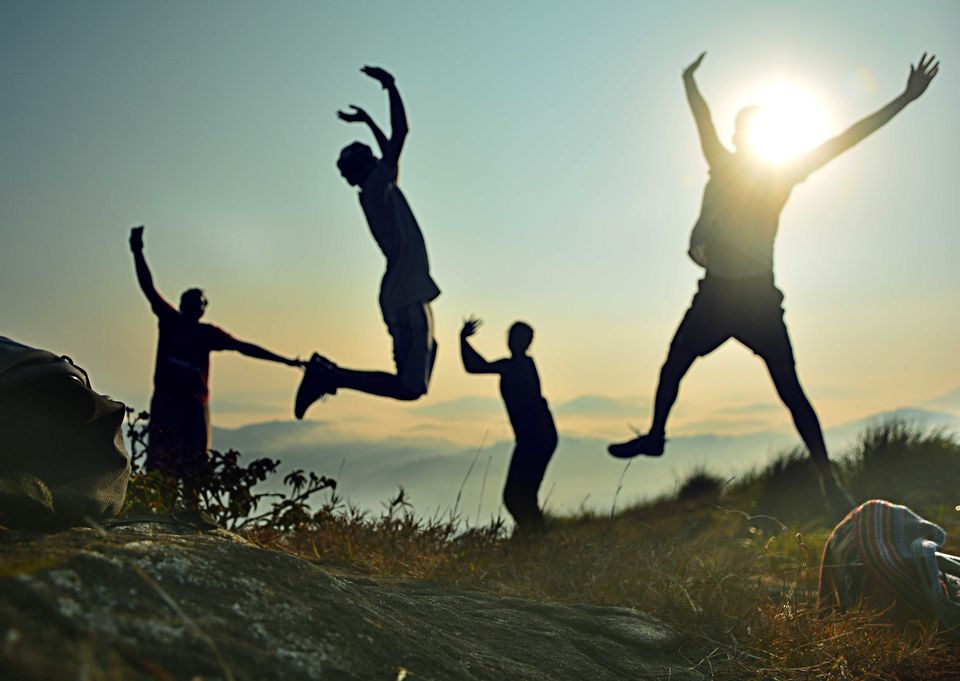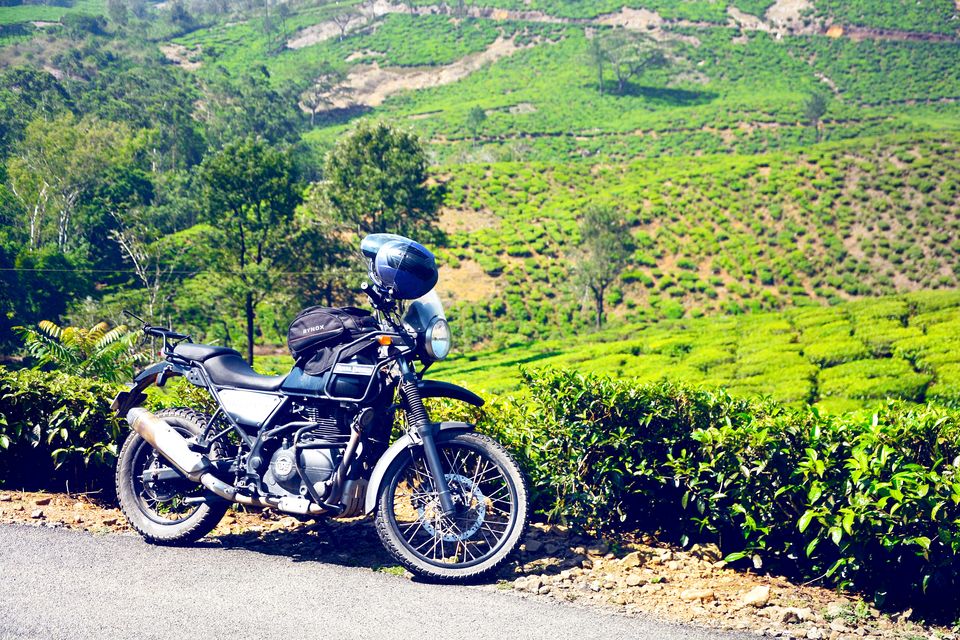 Day 1:
The destination for my mid-summer ride was Vagamon, a quiet little hill station in Kerala, still hidden from a majority of tourists. Although the summer had been pretty relentless so far, I was excited to ride after a long break!

At 4 AM, I'd gotten my stuff packed, loaded it on the bike, and was ready to leave. The weather at this time of the day was pleasant, and riding was comfortable. And the best part was, no traffic on the streets of Bangalore. I was able to maintain a good speed, and reached Salem at 6.30 AM, around 200 kilometres covered in about 2.5 hours. After a quick cup of tea, I was back on the road again. Now that the sun was up, the landscape around was visible, and it was beautiful for the best part of the ride. Even the road was in a great condition and I took quite a few halts for pictures, eating and re-fuelling. It was pretty hot by 10 AM though, and I'd to leave the highway at Dindugul for Vagamon. Due to the upcoming election campaigns, the towns on the way had lots of traffic, and that coupled with the heat was starting to make the ride a little difficult. But once past the towns, the route to Vagamon was scenic, with tea gardens on most of the mountain slopes, and curved roads.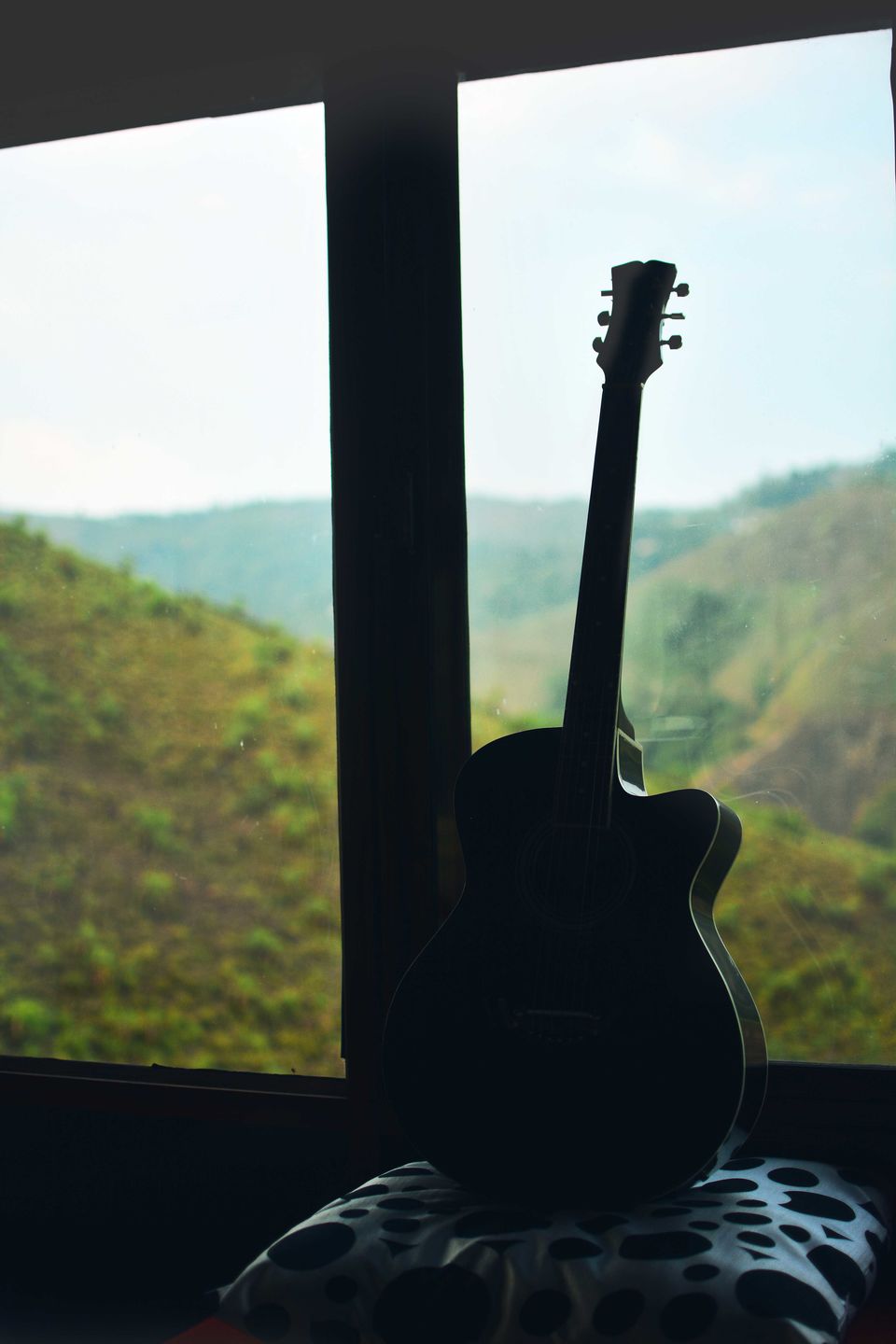 I reached Vagamon at 2 PM, and checked-in at Zostel. The incharge there was this guy from Bangalore called Likhit, and another girl from Delhi called Adi, was volunteering. I got my bunk bed, and went straight to sleep till 5 PM. The ride was tiring due to the heat, and I opted to rest for the whole day. I went to check out the common room after waking up and found a guitar there. And that's all that I wanted to kill time! I went off for an early dinner at this restaurant nearby called Winter Vale. I was done by 830 PM, and came back to Zostel to find everyone settled down in the seating area outside. I got the guitar out, and we sat there singing, till around 2 AM. Any plans for early morning treks or sightseeing the next day were cancelled before we went to sleep that night!
Day 2: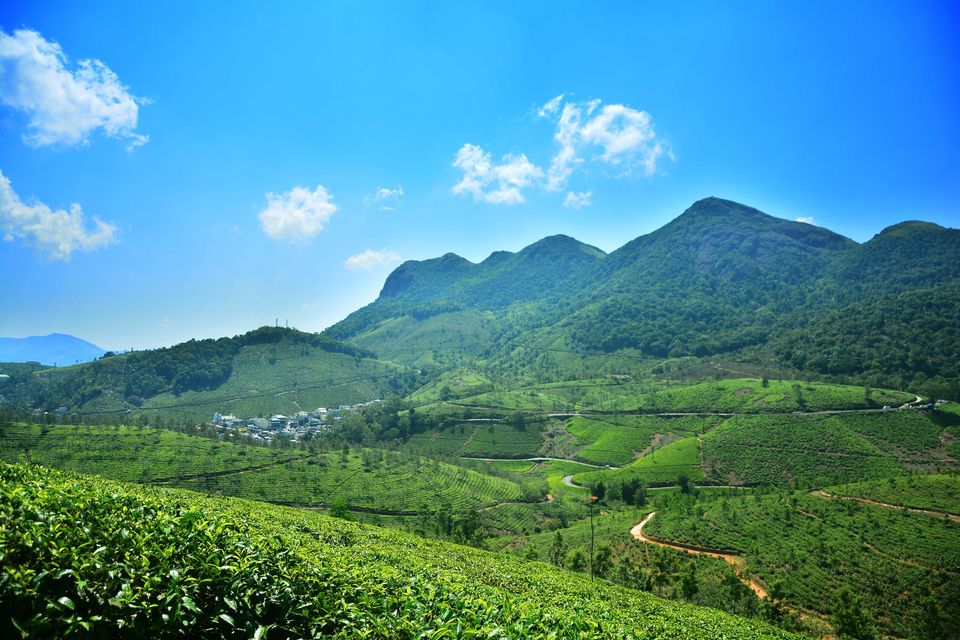 I remember waking up and snoozing my alarm thrice at around 4.30 AM. And I woke up at 8, freshened up, and was ready to explore the place. I was about to leave when one of the girls with whom I'd shared the room was ready to check-out of the hotel, and needed a ride till the local bus stand. I dropped her, the bus stand was some 15 kilometres away! On my way back though, I took all the detours. The place is surrounded by tea gardens, and has little roads passing through the plantation. It was fun to ride through them. After a while, I went to this place called Kurushimala, which has an ashram. I didn't stay at the Ashram for too long, but I saw an off-roading trail near by, and went riding for around 3 kilometres. I just played around on the track for a while, before returning. Afternoons were pretty hot, and it wasn't a great weather to travel. So I dozed off, again. I was up by 4.30 PM, and the others were planning to go to this place near by to see the sunset.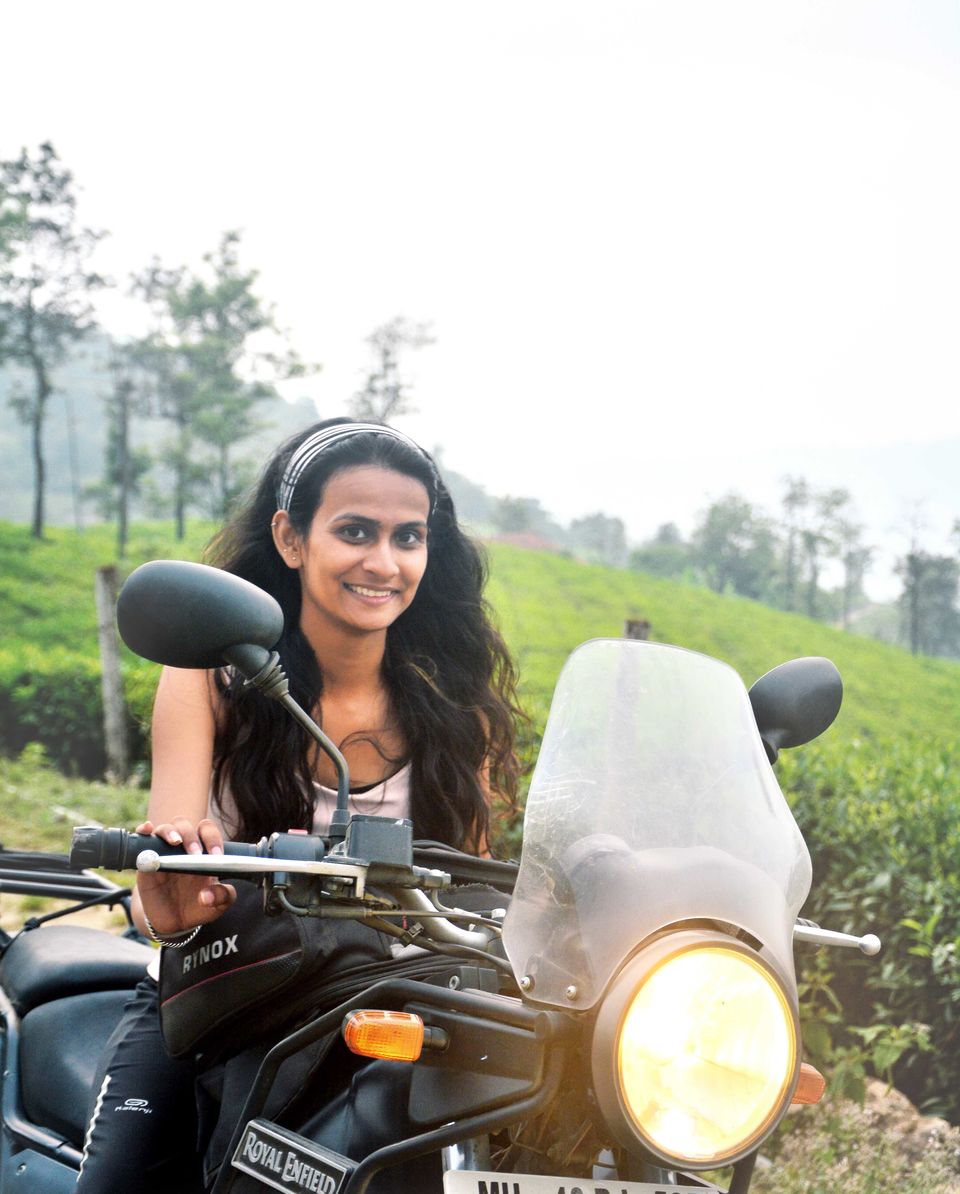 There were 6 of us, and 4 went in a jeep, while Adi wanted to ride with me on the bike. What followed was a chase sequence of sorts! The driver of the jeep stepped on the gas right at the start, and it was like that for the entire ride. I managed to keep up with him till the roads were good, but once they went bad, I lost him. We rode for a fair distance before realizing that we'd passed the place 10 kilometres ago! We caught up with them after a while, and reached the place. But since everyone had already seen the place, we decided to leave right away. On the way back, I halted to click pictures of the tea gardens, and for a cup of tea.
The return journey was uneventful, I was back playing the guitar again that night. Everyone else from the other day had left, and there was a new set of people. We planned to go trekking at Kurushimala the next day.
Day 3: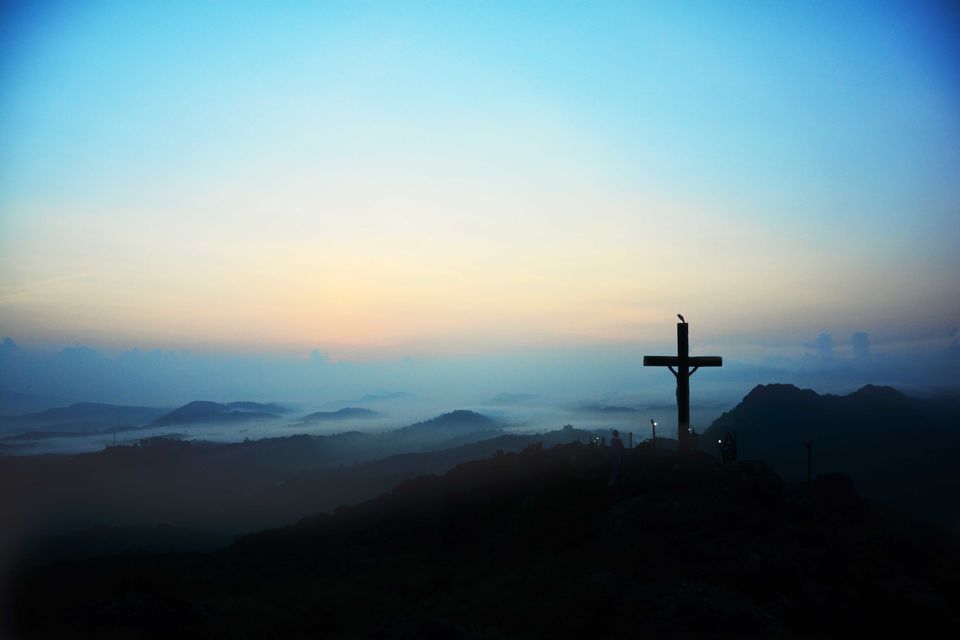 I woke up at 4.30 AM, freshened up, and had all my camera gear in place for the trek. There were four of us, and two bikes. We started at 5.30 AM, and were at the base of the trail in 15 minutes. We'd expected a 10-minute walk to the top, followed by a beautiful view of the sun rise. What we got instead was an insanely tiring trek, which was around half an hour long, but it was tiring! Once at the top, we found a decent spot and waited for the sun to rise. It was brighter now, than when we started the ascend. The entire landscape in front of us was covered by the morning fog, with just the outline visible. When the sun came out, its rays filtered through the fog onto those miniature buildings, making it look like the place was in a spotlight. After clicking a few pictures, and realizing that the temperature was starting to rise, we decided to return. The descend was easier, and we were at the bottom of the hill pretty soon. We went for breakfast at this local eatery, and I ended it with a chai.
We were back by 830 and it was time for me to leave. I packed my stuff, clicked a few pictures of the others, and left by 1030. As I had enough of the highway, I wanted to return via Munnar. The map showed 100 odd kilometres, and the mercury was rising.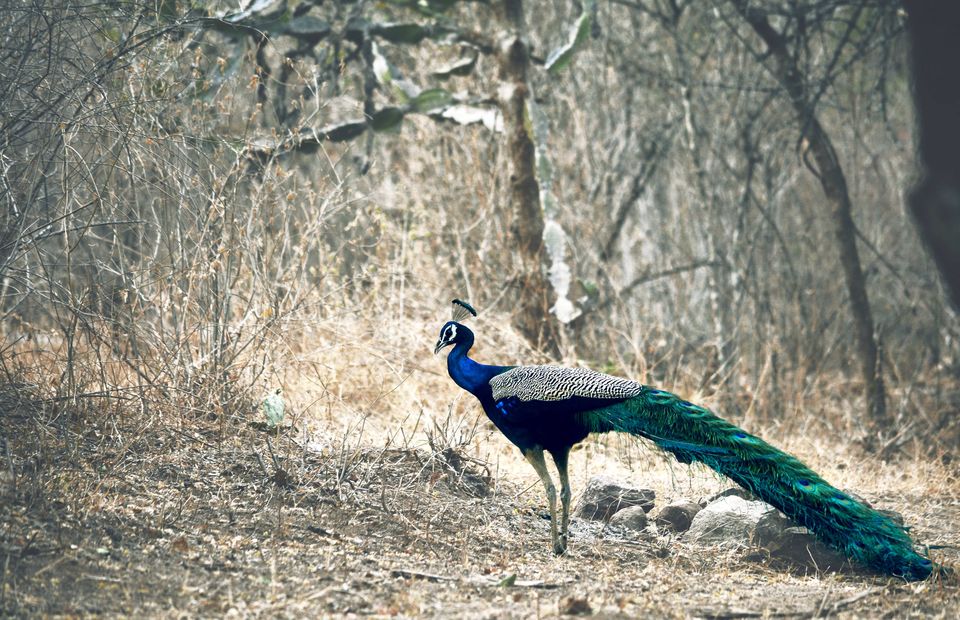 The road from Vagamon to Munnar was a mixed bag, with smooth tarmac in some places, and dirt and gravel in some. But the worst road was when I'd almost reached Munnar, I'd followed google maps blindly, and found myself on a steep dirt track. It has to be one of the most difficult terrains I've ridden on! I had to rev hard to get past, and fortunately, I got reached Munnar without a lot of trouble in spite of the roads, or lack of them.
I had my lunch, and started my return journey. The landscape was so beautiful that I was taking halts every 15-20 minutes for pictures. And by the time I left Munnar, it was 430 PM. And I still had 450 kilometres to ride. The route passed through the Chinnar wild life sanctuary, and I saw peacocks, monkeys and an angry bison on the way.
Once I'd passed Munnar, the heat was discomforting. It was humid, and riding was uncomfortable. I kept at it till I was close to the highway again. I reached Tiruppur at around 830 PM, and still had 320 kilometres to go. After riding till 11 PM, I was starting to feel sleepy, and took multiple halts for tea, and to rest a while. Towards the end of the journey though, I felt fresh again. It was cooler, riding was easy and I knocked off the last 85 kilometres in around an hour. I reached home at 4 AM, and was greeted with sarcasm by mom coz she was expecting me to reach a couple of hours ago!
My return journey took 16 hours, but I'd say it was all worthwhile. The getaway was all that I needed to break the routine - all you have to do is travel, and everything else will fall into place!