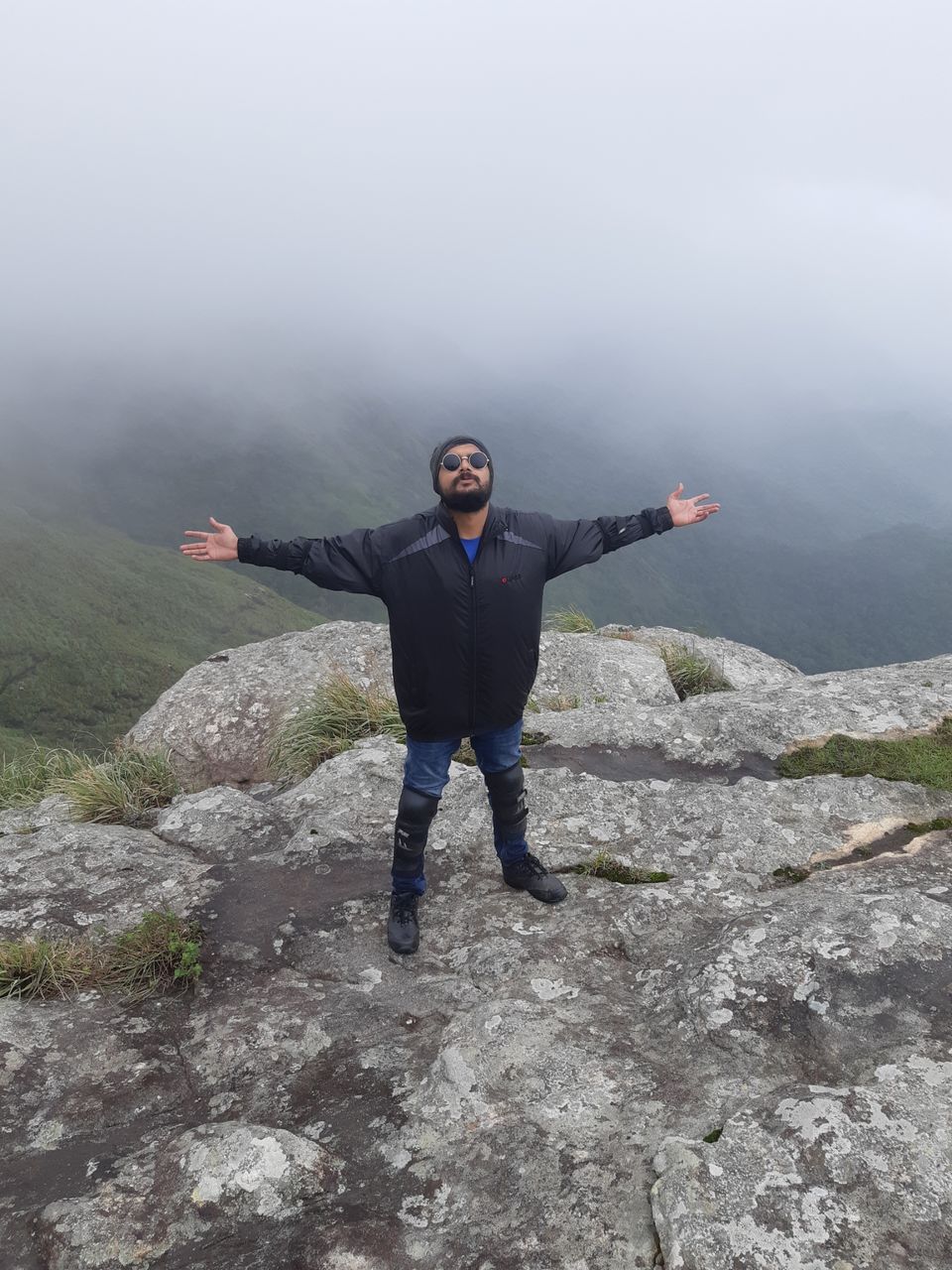 Started from Chennai to Pondicherry on 31st Aug 2019 evening and reached a hostel in Auroville Pondicherry.
Now, this trip was more like a scary one than exciting at the beginning. I was not sure of riding solo. The reason for taking a hault in pondicherry was to make myself clear on my further plans. So I
stayed there for the night. Met some of the people from different places. Two guys were jazz musician from France. Some of them from andhra, Goa, one of them was a professional sitar player. Spent some really good time with those people.
I was not sure of starting a solo ride to the mountains. I had a plan that if I am gonna go on a solo ride, I will cover up three places Meghamalai (TN), Idukki (Kerela), Vagamon (Kerela). But this was not possible as I already started late by a day.
I had taken leave from my office till Tuesday i.e 3rd September, 2019. Anyways I have to reach back on 3rd September to chennai. So, I only had a thought of covering at least two places which I enlisted and then reach back to Chennai.
Next morning, with all my virtual planning, on September 1st, 2019, I started to Megamalai on a solo bike ride. It was approx 425 km from pondicherry, which could almost take 7-8 hours.
I made sure of covering the distance as soon as possible and reach meghmalai, which is in Theni district of Tamil Nadu. But destiny had something else written for me. Due to some confusion in Google maps, I followed another route to the mountains which was blocked by the forest department. I could not reach meghamalai on that particular day, and had to take hotel in Theni district of TN. This was a blow for me. I knew that I have wasted a day and now I wont be able to cover up other places. This solo ride was not at all going as per my plans.
Next morning, 2nd September, I checked out from the hotel in Theni and started riding towards Megamalai which is approx 50km from Theni district. The route was very confusing as the map was not able to show the motorable road.
After asking the locals, I managed to find a route and started riding up the mountains. As I was riding up, the view was getting better and better.
After reaching some height, the mountains were full of clouds and fog and it started raining. I kept on riding, and after a while, I found a very big lake which enhances the beauty of these wavy hills. A lake surrounded by mountains from all the directions reminds of another paradise on earth, kashmir. The adventurous part of the ride was the off-roading of almost 12-13 km for reaching the top of the peak. The best was still waiting when I reached the peak of the mountain. It was mesmerizing to see the wavy mountains all around. There is also a dam which is made on the lake. It started raining while I was enjoying the view on the peak so i had to come back where I parked my bike. Now I started riding back in search of some homestay or hotel. But it's difficult to find hotels in megamalai as the population of people living over there are very less. Majority are the workers in tea estate. People usually visit this place and return back on the same day. I wanted to explore more of that place for which I needed to get a stay over there. I asked some of the locals, but it was really difficult to get stay over there. The hotels in Meghmalai are very less in number and there needs to be pre booking for those. So, I could not get a stay over there. I decided to ride back down and reach Idukki. Here is one another thing happened with me. While I was on the peak of mountains in rain, my phone got drenched and after a while it was not getting charged. The phone was completely working fine as it was waterproof but could not get charged due to the moisture in the charging port. This was another blow for me because now I did not had any option left. The whole time riding down to the Theni town, I was expecting my phone to get charged so that i could start towards Idukki. After coming down from the mountains, I checked my phone again, tried to dry its charging port, but it was not working. Now I had to think and come to a possible decision. I only knew one way from there, which was the hotel I stayed last night. I decided to ride back to the hotel in theni, and start for chennai the next morning which was 3rd September. While returning back to the hotel, I stopped at a tea shop. It was evening 5 and I sat in the shop cursing my luck. I thought to check my phone one last time. So, this time I took out my kerchief and started cleaning the charging port with it. This was just one last try and after struggling for 20 minutes, the charging port of the phone dried, and it turned on. It was evening 5:20 PM and I started riding towards Idukky, Kerela. I checked out some hotels and called one of them. I confirmed the status of forest check post with the hotel guy. He informed that there wont be any check post riding up towards Idukki. I started riding towards Idukki at 5:30 PM. It was approx 60+ km from the theni town. I started riding and by the time I started riding up on mountains, it was dark. I was going through the forest which I was completely unaware of. It becomes real difficult to wander around forest areas of mountains specially when you are unaware of the route and riding solo. Somehow i reached my hotel hotel by 8 PM and stayed there for the night.
Next morning which was 3rd September, 2019. I was pretty sure that I had to start back to chennai. I decided to look around some places in Idukki and then start riding back to Chennai. But something else was destined for me. This was the day which started giving me some thrill and surprises. While I was getting ready and packing stuff, I got a notification from Oyo app. An app used for booking rooms across India. I had never used this app for booking any room till that date. This notification says that I have a free booking, for which I didnt react much. I just checked that out and tried booking a room nearby, just for the formal sake. I selected a room which was a kind of inside a raw jungle, gave the check in date of the same day and next day as checkout. And guess what?? The booking got confirmed for free. This was crazy as this has never happened with me before. But I kept myself calm and less excited. I called the hotel guy and confirmed the status again. He confirmed the booking for me. I thought of visiting few places in idukki and then go to this new place where the booking was done. This place was called Lonely Stay, which by name suggests, that its lonely out there. No house upto 4km, built on the mountain with complete forest around. The best part was the room with balcony in a tree-hut. It was 4km from Kumily, which is a town in Kerela. I started from nedumkandam, Idukky towards a town named Kumily which is 43 km. Idukky is famous for its wilderness. This I understood when I was riding in these mountains in kerela. On the way to kumily town, I went to Ramakkalmedu view point which again surprised me with its peak mountains.
Then I rode towards kumily and reached the hotel Lonley Stay. I decided of leaving next morning and extended my trip for a day. I informed about it in my office and stayed there for the night.
Next morning, Wednesday 4th September, I had to leave for Chennai. I got up early and found that it's been raining since last 8 hours. It was difficult to ride in those conditions. So I decided to wait till it stops raining. It rained for the whole day and continued till noon of the next day. This time nature played its role and I could not ride back to chennai.
Next morning, Thursday 5th september, I decided to take leave for another one day and extend this trip till Saturday. Then I looked for vagamon which was 43 km from my location. I booked a zostel in vagamon for two days. Before starting for vagamon I visited Periyar Tiger Reserve and also went for a boating in the lake inside the jungle.
Then I rode towards Vagamon which was on pretty good height. I reached the zostel by eve 4 pm and was amazed by the view. This place is a complete bliss. It makes u feel living on the top of world. After checking out this place, I decided to extend my stay over there for another day and decided to ride back to Chennai on Sunday i.e 8th September.
Next day I decided to do nothing and relaxed in the zostel. Met many people from different place, culture. The motive was to chill and relax for the day as the climate of that place was too foggy and cloudy.
Next morning I woke up, had breakfast and decided to go on a off road ride to Uluppuny view point which was suggested by one of my school friend. I got geared up and went on the off road track. There has been rain from last 2 days which has made the way more dangerous and slippery. After going for 100 meters, my bike got stuck over there and it was slipping away on left side which was towards steep. The chances were very much that the bike could skit any time and fall aside. I was stuck in a situation where I could not go forward and it was next to impossible to turn around the bike. I turned off the bike and got it skit back and somehow reached a leveled surface where I turned the bike around and took a different route. After a while, I returned back to zostel. Then in the afternoon, me and some the guys from the hostel went to a view point named jheenamala. We reached there by the jeep and the view from there was amazing.
Next morning, I packed up my things and started riding back to chennai. I reached Chennai by eve 7 PM.
Click the link for vlogs of the trip :
https://youtu.be/-Ohu3Z1eqPE