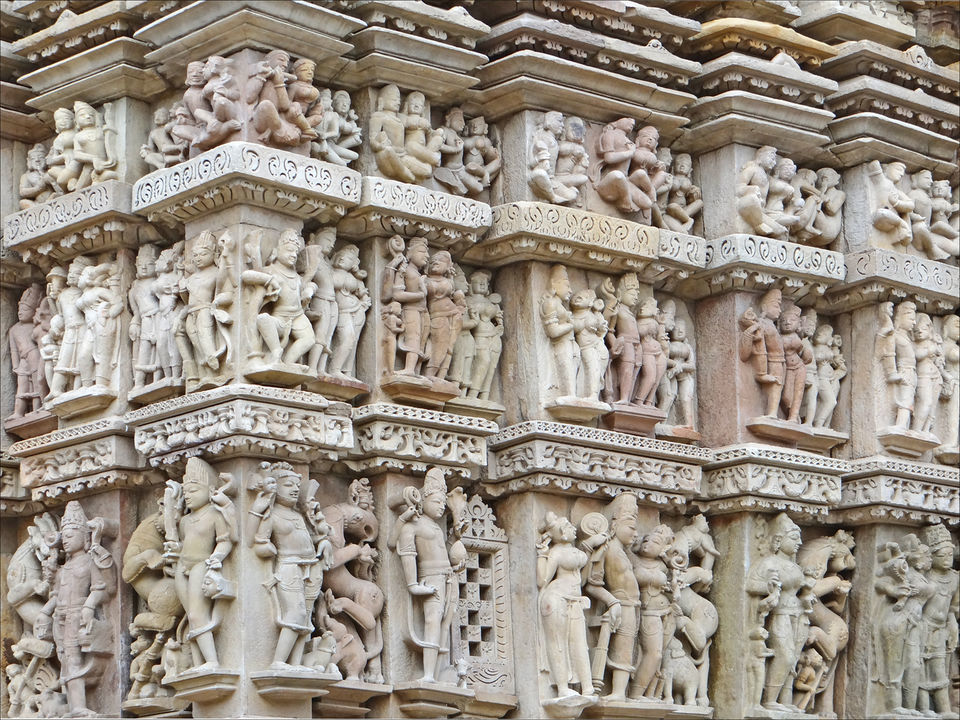 India- the realm of ancient cultures and civilisations of yore; and deep in the heart of it stand the temples of Khajuraho. Literally. Situated in the central Indian state of Madhya Pradesh, this group of monuments represents the age-old values of Hinduism and Jainism through carvings in edifices of sandstone.
As you walk in and around the holy sanctums, with the Vindhya range of mountains looming in the distance, you discover a lot about the people of the past and suddenly their lives don't seem too different from the one you live now. Temples with carvings from deities to common men, from plants to animals, from farmers to women adorning themselves, and from warriors making war to lovers making love; it's like looking at the whole of humanity on these walls.
With two days in hand and an eye for detail, here's how you can make the most of your Khajuraho expedition!
How to get there
One of the best parts about this UNESCO World Heritage Site is that it is accessible by three modes of transport. Khajuraho Airport is conveniently located about 5 kilometres away from the centre of the attractions, with flights from Delhi and Varanasi. The train station is at a distance of roughly 8 kilometres, connecting Khajuraho to various parts of Madhya Pradesh, Uttar Pradesh, Rajasthan and even Delhi. National Highway 39 also passes just off the town.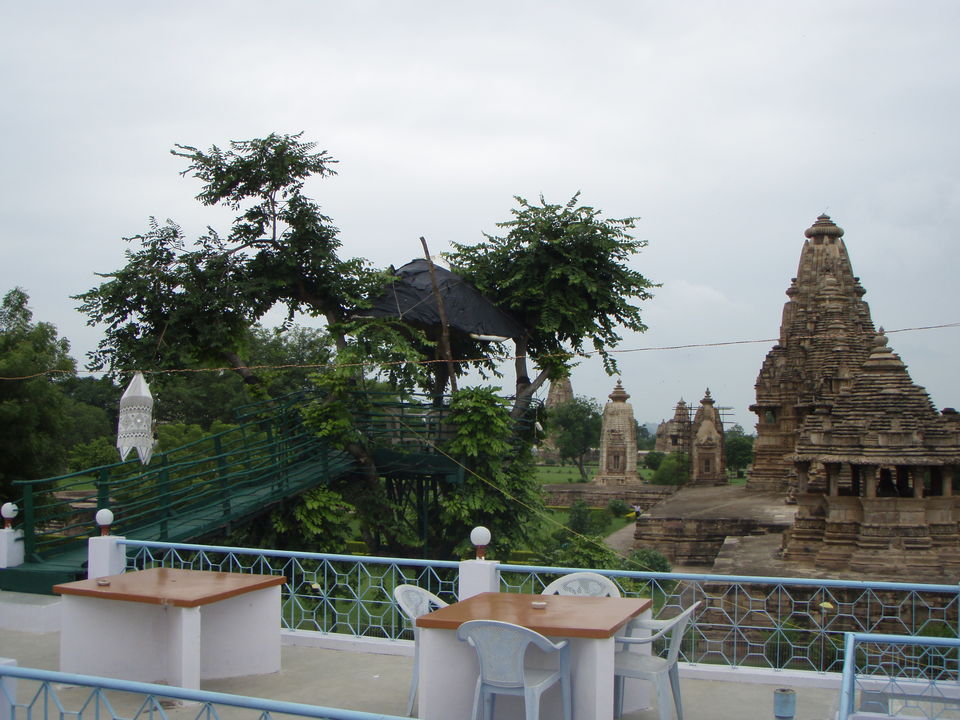 Southern Group of Temples


An Italian surprise!
Ask any rickshaw wallah to take you to Mediterraneo, the Italian restaurant in Gol Market, Khajuraho. As bizarre as that sounds, it's very much true. You'll get a good Italian lunch in this first-floor outdoor-cum-non AC-cum-AC eatery in Madhya Pradesh. We think it's worth a visit just for that. And, you'll also get some well-deserved R&R after your adventure at the falls, and for the exploration ahead!
A relaxed finale to your first day
This simple restaurant with a rustic ambience is situated on the Main Road right opposite the Shivsagar Lake, and provides wonderful views of it. Take a rickshaw or taxi from the Southern Group of Temples towards Shivsagar Lake to get here. Paradise serves up some really hearty Indian and Chinese food that is well loved by everyone who has visited this modest establishment. A perfect way to end day 1!
Wake up with a caffeine shot!
The Madras Coffee House is a good old South Indian café located right opposite the Western Group of Temples, at the intersection of the Jain Mandir Road. Grab some authentic filter coffee and some hot South Indian fare to give you that pump of energy for the day of exploration ahead. As with most such joints, you can get a decently sumptuous meal of a coffee and idli-sambar without shelling out more than 100 rupees.
Have any unanswered prayers? Keep 'em ready! This place is packed with gorgeous temples!
You only need to cross the street to start your exploration for the day with the Western Group of Temples, one of the three clusters of monuments that make up the temples of Khajuraho. It is the most predominant group, that holds some of the biggest temples in the complex. On taking the left path after entering, you will come across the Varaha temple, and then the bigger Lakshmana and Matanageswara temples. The Kandariya Mahadev temple will become larger and larger as you walk towards it, until you can see it in its wondrously carved entirety standing tall at just above 100 feet. Next to it, although evidently not as gargantuan in height, is the Devi Jagdamba Temple which holds some of the most erotic sculptures in the complex. Later, you will pass by the Chitragupta, Parvati and Vishwanath temples. Wandering and wondering through the mandaps and garbagrihas, you will easily spend a couple of hours.
Don't forget to use the official audio guide created by the Archaeological Survey of India, which gives you a seamless tour of the monument complex at your own pace, and with factually accurate information! It'll cost you Rs. 100 (exclusive of taxes) for the English guide, and Rs. 60 for Hindi and other regional languages. Further, apps like Audio Compass provide you with similar guides from the convenience of your own phone!
The entrance fee for Indian tourists is Rs. 10 and for foreign travellers is Rs. 500.
(While this price-differentiation may come as a shock for you if you are visiting an Indian monument for the first time; it is the norm across the country)
Here's an opportunity to put your feet up after your excursion, at this restaurant with a view!
Still enamoured by what you just witnessed, but need to get some shade and a little fuel? No need to walk far. Head to Blue Sky Restaurant, which is on the Main Road, diagonally opposite the exit of the Western Group of Temples. Get a table at this rooftop restaurant and chomp down on some tasty Indian and Pan-Asian food, with the temples still in your line of sight. A great place to get some shots of the temples from a different perspective! At an additional charge, you can also avail the "tree top table" which is perched high above the roof in a tree, from where the views are even better!
Back onto the temple trail!
After a fiesta, and maybe some siesta by relaxing at the restaurant for a while; get a cycle rickshaw for a return journey, and head down to the second of the three temple groups. The first stop is the Chaturbhuj temple, a narrower temple which holds an 9-foot-tall Vishnu idol. It is the only temple in the complex whose walls do not hold any erotic sculptures or inscriptions. Not far from this temple are the ruins of the Beejamandal temple, an unexcavated temple which is said to be longer than the current largest temple (Kandariya Mahadev) in the complex. The final temple in this group is the Dulhadeo temple, which is the last temple to be built in Khajuraho, with sculptures of elegant apsaras in erotic postures.
Before hitting the temple scene, take a short expedition to a nearby natural wonder.
Just around sunrise, have a quick breakfast in your hotel or pick up something up on the way, and take an auto-rickshaw or a taxi and make your way to the Raneh Fall, 20 to 30 minutes away from Khajuraho. These are a series of waterfalls created by the Ken River flowing through a deep canyon gorge with jagged rock formations of different depths, in a myriad of colours. It is truly a sight to behold.
Costs to consider: Auto-rickshaw trip (Approx. Rs. 500 for hire + Rs. 400 for entry), taxi trip (Approx. Rs. 1000 for hire + Rs. 600 for entry). A guide is mandatory to enter the area, which is actually an extension of the Panna National Park, the charges are Rs. 75.
The final group of temples to check off the list!
The Eastern Group of Temples is just down the road from the 'Italy in MP' that you just visited! This group is different from the others in the fact that it is the location of most of the Jain temples of Khajuraho, including Ghantai and Adinath temples. The largest among the group is the Parshvanatha temple which in spite of being a Jain temple, features Hindu inspired design.
To take back a piece of art for yourself!
This large air-conditioned showroom, just a 10-minute-walk from Parshvanatha temple, features wood and stone carvings, paintings, temple replicas, embroidery, metal work, tribal art, and textiles all from the region. It also houses a whole host of various forms of souvenirs and memorabilia for you to take home, as a piece of Khajuraho for yourself.
Khajuraho Sound & Light Show
A stunning history lesson!
The last activity of your trip will be a recap of all the structures you have seen in the last two days; in son et lumière! Just a 5-minute drive away from Kuber, the show takes place in the Western Group of Temples and is narrated by none other than Amitabh Bachchan. There are shows in English and Hindi for the convenience of travellers, at 6:30pm and 7:40pm respectively (from October to February) and 7:30pm and 8:30pm respectively (from March to September). The cost to attend the show is Rs. 250 for Indian nationals and Rs. 700 for foreign travellers.
A beautiful last meal in Khajuraho
After the show, walk down to this charming eatery on a picturesque terrace just opposite the Western Group of Temples. Dishing out some great American and Indian food, along with the location, it gives you a chance to bid adieu to the temples with a lovely dinner. Raja Café makes for the perfect finale of your magical journey.
And that completes your 48 hours in Khajuraho, covering all the best in culture, nature, food, and shopping. So, get ready to get your temple trip on!