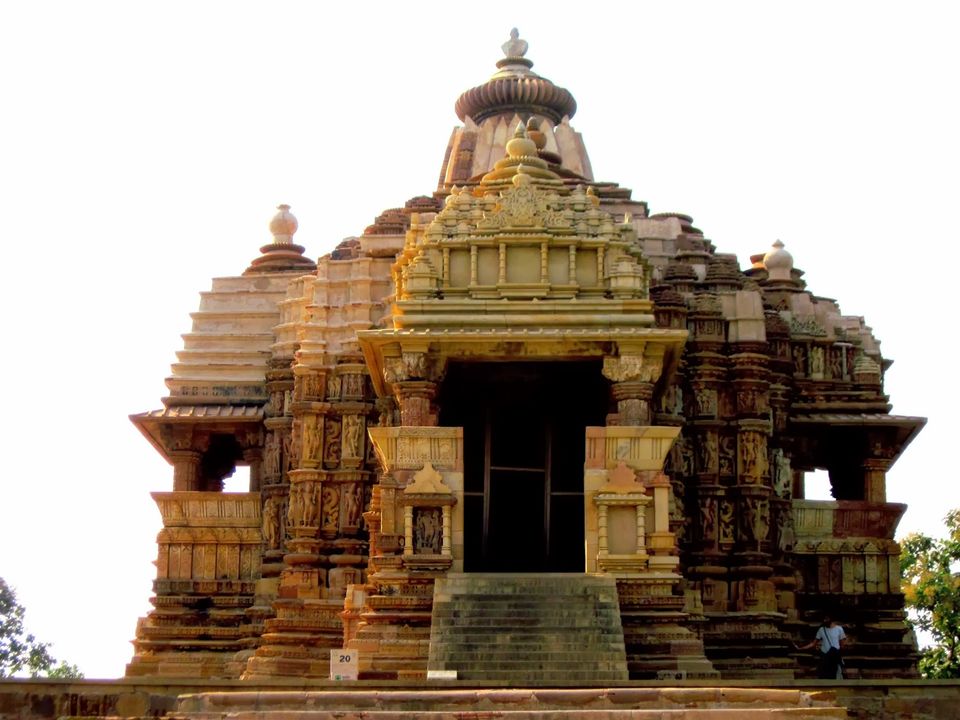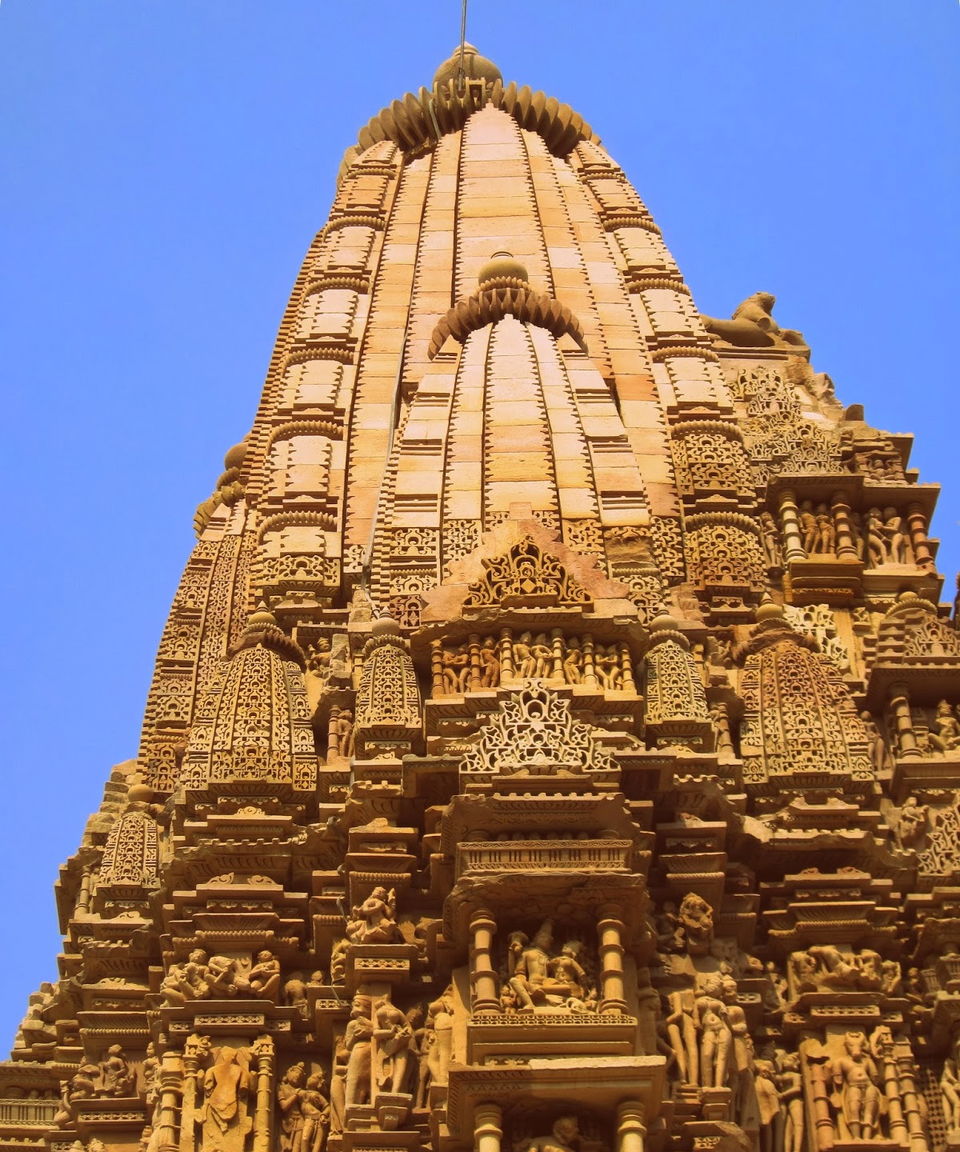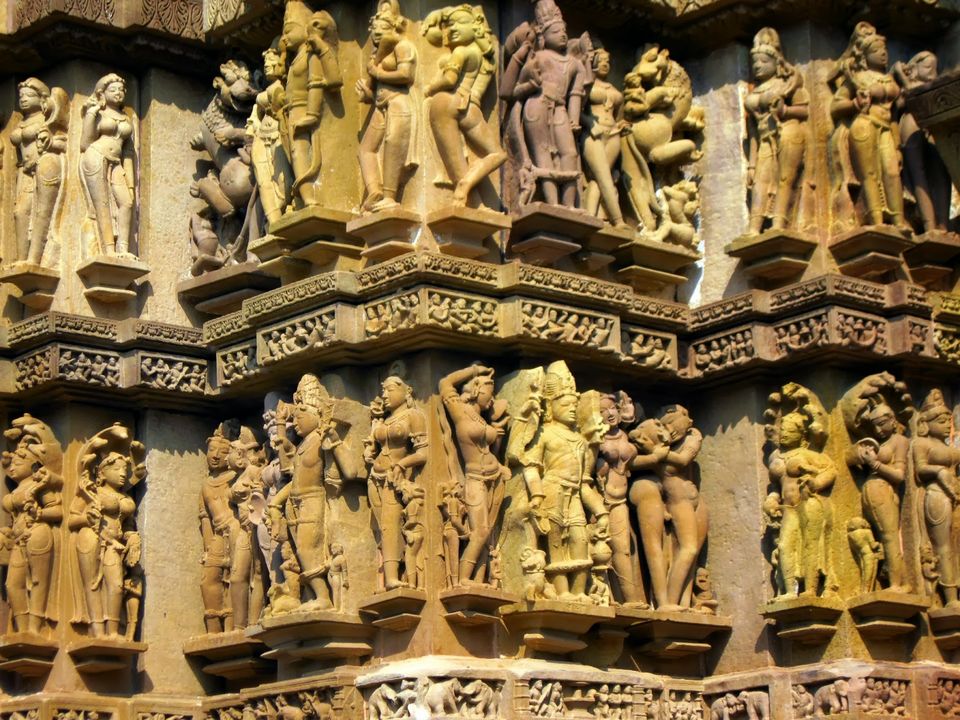 About Khajuraho: Situated in the Bundelkhand region (Chhatarpur District) Madhya Pradesh, India is a popular tourist destination for Indian as well as Foreign Nationals. Khajuraho is famous for its group of temples or monuments. As its beautiful backdrop Khajuraho has the Vindhya range of mountains. This makes Khajuraho a more fascinating destination to visit. Many travellers complain about the tiring persistence of touts here, their complaints are well founded, but be aware that missing out on Khajuraho means missing out on some of the most beautiful temples in India.
These temples were built between 950 AD to 1050 AD by Chandela dynasty. The temple are superb example of Indo-Aryan architecture, but it's their liberally embellished cravings that have made Khajuraho famous. The erotic sculptures of Khajuraho depicting Kama Sutra are unique and one of the finest in the world. Varaha, Kandariya-Mahadev, Devi Jagadamba, Lakshamana are the few temples among the Western group of temples. Each temple bears artistic stonework showing a storyboard of gods, goddesses, warriors, musicians, real and mythological animals.
These temples have been accorded UNESCO World Heritage Site status.
Some of those easy-to-miss details:
First see the sandstone boar in the Varaha Shrine before heading towards the Lakshmana Temple which has some of raunchiest artwork in Khajuraho. Next is Khajuraho's largest temple Kandariya-Mahadev. Cravings to look for here include the famous handstand position, but the most impressive thing about this temple is the scale of it, particularly its soaring rooftops. Mahadeva and Devi Jagadamba share the same stone plinth as Kandariya-Mahadev. Walk north from here to Chitragupta, with beautiful cravings hidden on the west side. The interior here is particularly impressive. Then continue east to Vishvanath temple for more fabulous cravings before admiring the impressive statue of Vishnu's bull in the Nandi shrine opposite.
Other places to visit: Eastern group of Jain and Hindu temples, Archaelogical Museum.
A good way to get around and see the temples as well the village life in Kharujaho is by bicycle, which you can easily rent in the bike shops near the main temple complex, or bicycle rickshaw. They charge around Rs.20 per day.
Don't Miss: Admittedly, the temples do look magical illuminated with technical floodlights so don't miss the the Light & Sound show at Western group of temples and the Bundelkhand Dance show at Community Centre, where the folk dance can be seen at the comfortable indoor Dance Hall held every evening between 6-9 pm.
Time to visit: September to March. The Annual Dance Festival takes place during Feb-March every year.
Where to Stay: Hotel Chandela, Radisson, The Lalit Temple are the popular 5 star properties while lots of budget accommodations could be found including MP Tourism's Jhankar, Payel and Tourist Village.
How to reach: Khajuraho is connected to Delhi and Varanasi by Air and by Rail from Delhi. Khajuraho has a good network of roads connecting Panna, Gwalior and other major towns and cities.
Places around Khajuraho: You can try to visit Raneh Falls- 30m-high waterfalls which is around 18 km from Khajuraho it looks beautiful during or after rain. It is possible to view gharials- a critically endangered species of crocodile at Ken Gharial Sanctuary 8 km beyond the falls. Also you can visit Panna National Park Panna is a beautiful to picturesque place to spend a day on your way to or from Khajuraho. In face its easy enough to do an afternoon safari here as a day trip from Khajuraho. Even if you don't stay the night here it is worth making Jungle Camp your base.www.jcmadla@mptourism.com and you can also arrange jeep safaris. Nevertheless it is a good place to see crocodiles, and with the Ken river flowing through it.