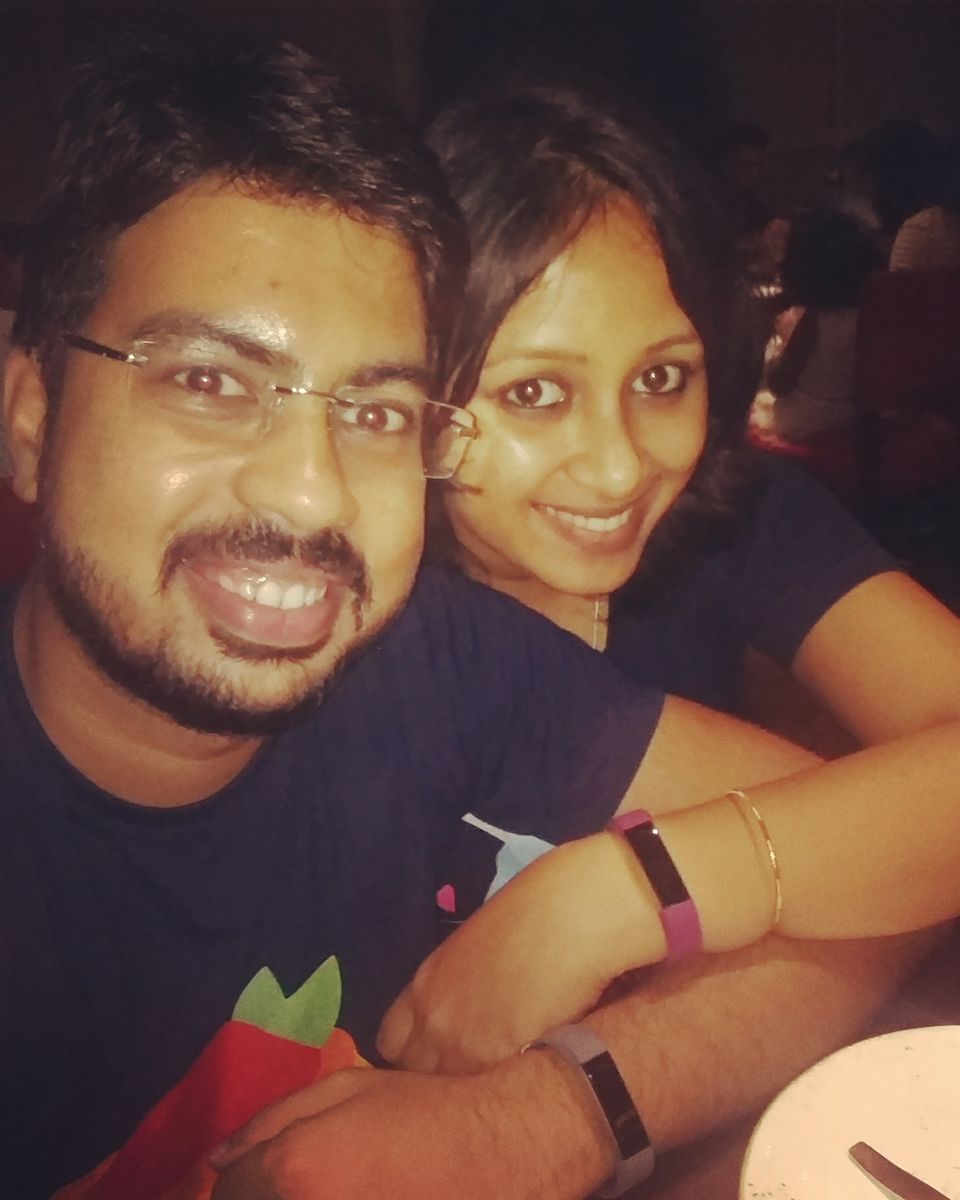 1. Good Health –
The best ever healthy gift I got in my life was a Fitbit from my fiancée on my engagement. We would call it as a Love band which brings us together in numerous ways. With a simple mission of being fit we started walking each morning. As the days passed by its positive results reflected on our life. We aren't caught by common cold and flu which i often get while we was not on tracks. Having ice-creams and cold beverages made my eosinophil count high. But nowadays I cherish the desserts during our dinner dates without any worries. Both of us use Fitbit ALTA HR, which has got a heart rate monitor. This feature is very helpful for our cardio activities to strengthen our healthy hearty life.
2. Explore Far –
Our Love for travel has got no boundaries. Wanted to have lots of "Walk to remember" in life. Be it walking barefoot on the grass, or walking on the streets of new cities, or walking together holding hands along the shores of scenic lakes and beaches, or walking on a red carpet once we get into celebrity life or just walking around the neighborhood for buying vegetables and do shopping. This way wanted to paint with all colors of our different walks on the canvas of our lovely life. During our recent Kolkata trip to do shopping for our marriage we were able to cover maximum items on our To-Do list in spite of short duration and heavily crowded market just because we were equally strong and confident.
3. Fitness Level –
Our Life demands a topnotch level of fitness to enjoy this life to the max. Walking together is the simplest exercise which gets us on fast track to extraordinary fitness in matter of time. While we get on tracks breathing fresh oxygen rich air our heart pumps and lungs get strengthen. Walking barefoot on the grass and mud, jog along a long stretch, doing yoga on rest days, it all has got an integrated impact on our overall wellbeing.
4. Food Trails-
Run2Eat is another mission of our walking. Being a vegetarian foodie we want to satiate our taste buds wherever we go in this world without losing our shape and figure. The more we run the more we enjoy our cravings guilt free. My fiancée is too sweet with a sweet tooth. Our early morning walks helps in removing brakes on our dessert food trails. We don't mind having the extra delicious food which Mama prepares during breakfast after our walk, as we know that we are going to shed off the next morning. I cherish the time we have our food together.
5. Love Life –
Time spend together enriches our relationship. While we work during the day and go out on few nights for dinner dates, watch movies sometimes. But the morning call from my partner gets me to spend leisure time together during our daily morning adventures. While detouring on new paths walking together our heart strikes like a firestone and brings out the fire to glorify our life. Even if I'm tired or sleep deprived on some mornings still I go on our lovely morning walks without any excuses. Communication is key to relationship's success. We share our thoughts and feelings while walking holding hands that makes our whole day positive and vibrant.
6. Spiritual Connections-
As we reach the park we are greeted by the golden rays of sunrise. We do offer our holy prayer together to bright shining sun. Being connected with almighty gives us the strength to lead this life. During our morning walks we sometimes sit under the shades and do chanting and meditations which makes our relationship with the supreme power strong. Without God's will we can't do anything and with the holy showers of blessing life is beautiful. Nature walk purifies our heart and mind which helps to get in touch with almighty naturally.
7. Good night sleep-
Walking over a course of time has improved quality of the sleep remarkably. When the Fitbit reaches its daily targets and the results are reflecting in green on the screen, it's gonna be a good night. Regular morning walks has gradually helped the biological clock to get in sync with the sleep cycle to enjoy a sound peaceful sleep.
8. Sportive –
Both of us were active in sports during childhood days. To keep it up throughout our life a morning walk is all which can keep it active. Workweek hustle, weekend warriors, virtual trails are some fascinating games of Fitbit which we are playing cheerfully and in meanwhile we get sport ready. Be it water sports, adventure sports or mountain sports. Each sport demands its own level of fitness and our morning adventures will definitely help to enjoy all this activities during our future trips together.
9. Natures Love-
Spending time in nature has a lovely effect on our life. Breathing fresh air, watching green grass and getting the daily dose of Vitamin-D early morning are some of the rewards of coming out of the blanket and getting on the tracks with my partner early morning. Hearing the birds chirping and walking barefoot on the dew dropped grass gets the body charged with earths love. Mother nature takes care of its children but to get that motherly love we have to get into the nature's lap.
#srsworld9 #jinnie #ramprasad
#fintness #walk #nature #trips #travel #love
#smrutirekha #sahoo
#ramprasad #subudhi