Have you ever stood under an upturned bucket full of water? And had it pour continuously on your head for a couple of hours or for that matter, one whole day? Have you ever wondered where that sleep-inducing unending rainfall sounds of YouTube white noises (sounds that help you fall asleep) are recorded? (I bet they just play mechanical rain sound on a loop but if there is a place where you can actually hear rainfall for continuously ten hours in the same rhythm!?). Yes, that sort of place really exists. And if you're an excessive pluviophile like me, you will have a gala time immersing in various rhythms of rain!
According to a Deccan Herald article, Matheran had already received 440 mm rainfall in 2 days by end of July this year. That's nearly 200 mm more than it's big sister, Mahabaleshwar. My mother was especially eager to enjoy the rains in the Western Ghats! So even as Mumbai was reeling under frequent flood-pangs, I decided to green-signal my mom's arrival to the city. She only thought that she arrived in a safe-from-distance-admiring-monsoon date of 1st September. But rain gods were just being misleading and mischievous!
Before I proceed further, let me do something which I repent not doing so intimately with my mom. Issue a warning of sorts: if you don't love rain and don't enjoy being damp 24X7, you will not enjoy Matheran. That said, the return gift from this gorgeous little nugget of a hill station will just make your heart burst with joy and pleasure, to which I'll come later. This article is for people who enjoy heat during summer, rain during monsoon and cold during winter and don't complain at slightest of discomfort.
That out of the way, let's begin!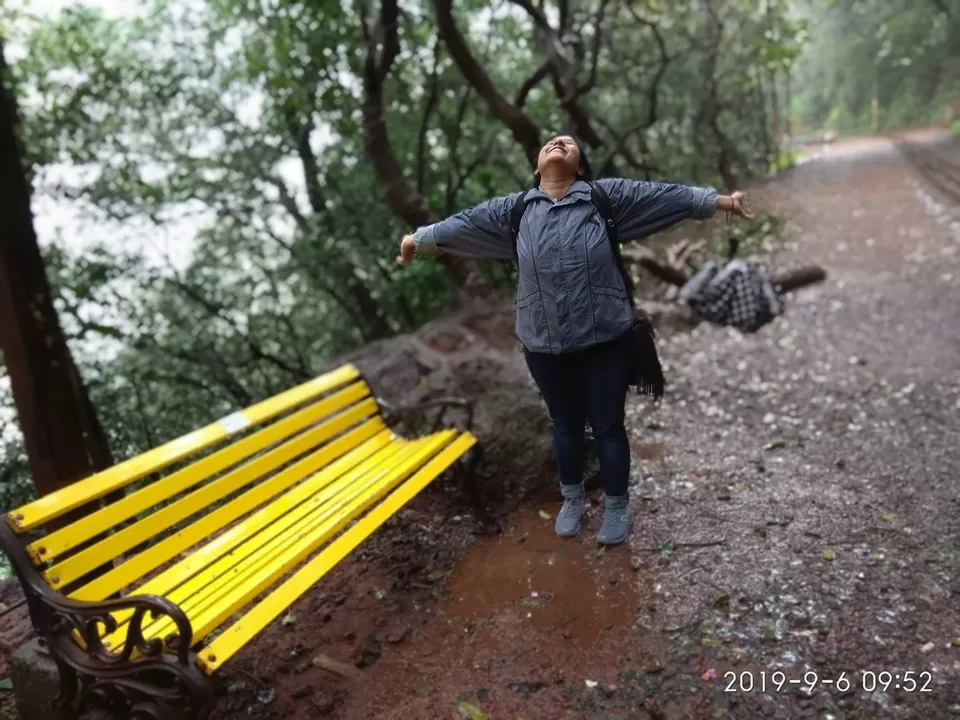 Day 1:
After spending a night numb with fear that we might not be able to catch a train from Dadar because the station might flood (because of incessant rain that started as soon as my aforementioned mom hits the city), we managed to squash our apprehension and move quite miraculously to all the respective railway stations without even a five minutes delay in between, scary rainwater not even in sight! Amazing. I love Mumbai local trains, trusted buddies in all seasons.
We were traveling from Goregaon West. We took a morning local to Dadar, switched platform and took a central line train till Neral, the closest station to Matheran. The sight of green hills swimming in a white sea of clouds and mists was really a refreshing sight. Mum was busy shuttling from one empty window to another to capture as much of the mini-mountains from the train as possible.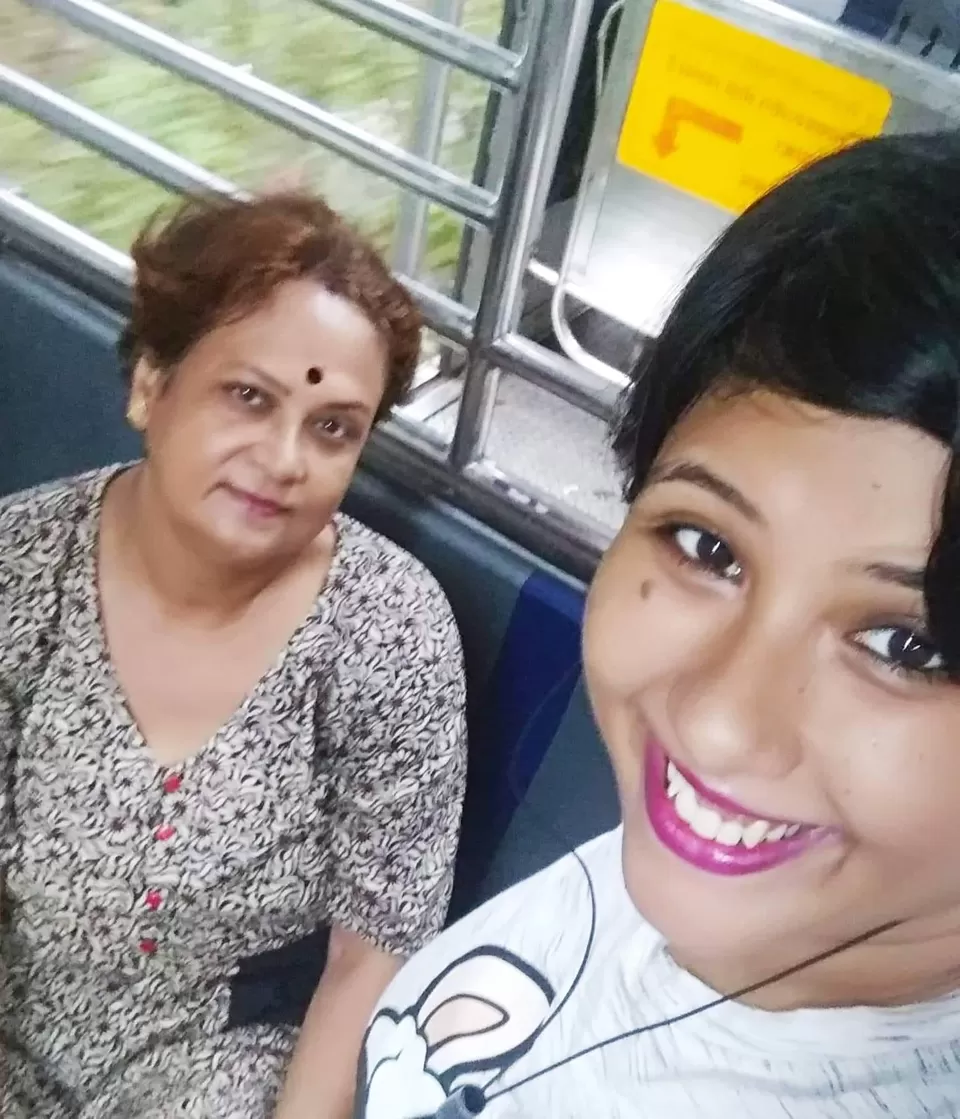 As we neared Neral, the congested apartment buildings also thinned considerably. I enjoy how the Mumbai madness loosens its powerful grip and lets nature take over as we get closer to the ghats! We were so engrossed with this change and enjoying this freedom, that even the grey clouds collecting in the corner frame of the sky couldn't dampen our spirits.
Arrival to Neral was, butter smooth! Since we were just the two of us, so we had to wait for a little for the share taxis to fill-up. While waiting, I was seriously missing the cute little toy train which plies between Neral and Matheran. It has been discontinued because of some technical issues and heavy rainfall making the tracks hazardous. Railways requested us to enquire with them during our next visit to confirm if they have started again or not as they couldn't provide us with a certain date.
We decided to fill up our waiting time with some much-needed grub. We knew the next sanest food stop will only happen when we reach Matheran. And since we don't believe in animal cruelty, we won't take a horse ride to reach the hill station from Dasturi Naka and will inevitably walk. And so we needed some carb to last us till then.
What can better serve the purpose than some piping hot vada-pao! **crunch** **cromch** **glug** - all set.
Whisked away in a tattered and battered Maruti Omni (we still wonder how it's body kept it together and didn't spill us out at the first hairpin bend!), we started for Dasturi Naka. Only 80 bucks per head and seriously you don't mind. I mean how can you when with every swerve you fear of the car door dislodging and the vehicle regurgitating you out in the misty valley below? As you guys would have likely noticed, my imagination flows quite freely. I would also advise you to do the same so that you can feel the adventure. Climbing the mountain, with rain and frequent waterfalls as a company is so thrilling.
What started out as just a drizzle turned into a downpour by the time we reached Dasturi Naka. We had our rain gear handy. Out came the windcheater and umbrella. My mom was flexing her touristy charm and wanted to purchase a plastic overall (which is basically a long plastic packet with three holes for your two hands and one head!) and a wide plastic hat. However, am not sure what came upon her but she decided not to go ahead with it. In hindsight, I guess she didn't strike an ideal bargain. For this, she had to dearly pay later by the way!
You've to get a tourist ticket for Matheran entry where Adult tickets cost 50/- per head and children entry is 25/- per head. There are no separate costs for other nationalities. But it might be me who didn't notice or something. Advisable: to enquire before coming down - you can do that from any hotel you might call up to book your stay.
Oh, I am sorry to say we never fixed any place to stay beforehand. I thought we will convert a good walk into a hotel exploration of sorts and we will find a good bargain. Before coming down I have obviously heard about the MTDC tourist lodge which is also known as Shruti Villa. It is located right at Dasturi Naka, just after the gate crossing.
If you stay at MTDC, for every sightseeing trip, you have to walk for an extra 2 km just to reach Matheran as all the sightseeing points are located there. If there are extra trekking tracks nearby MTDC then I don't know. I only know about the popular points of Matheran! Alternatively, you can take a pony or when the train restarts, a ride to the town as they say.
Aman Lodge is the train station of Dasturi Naka. There are two ways you can take to hike up to Matheran: one along the train track (which we took obviously) and the one which ponies took to trot. Concerned that it will be muddy and unsafe, we stuck to our train track.
Ok! Now I'll take a little time for some rain romance. I've lived through some beautiful rainy moments. The rains and thunderstorms of Nor'westers of Bihar and Bengal, inky rains of Nilgiris, deluges of Mumbai, persistent downpours in deep wilderness of Dooars, murky city rains with no drama-mama - and I love them all equally. So when I started towards my destination and saw the train tracks emerging from the floating fog, you can just imagine my bliss. It's like you discovered another pleasing side of a person you know for ages. From that time on, I knew my Matheran trip is going to be extraordinary.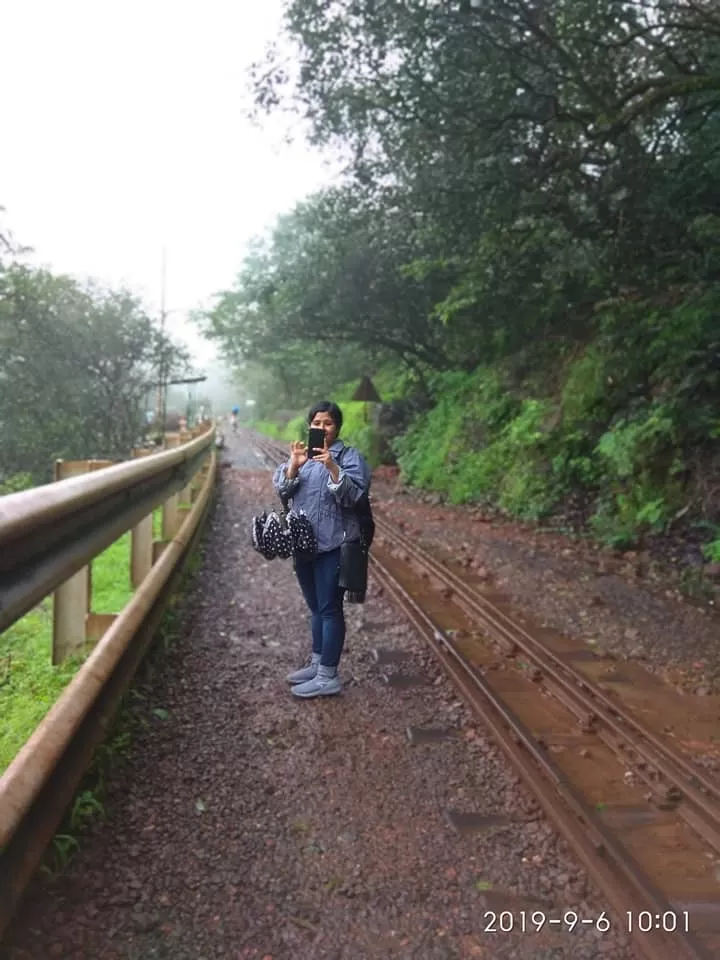 Apart from the mists and the mountain, there's another inevitable 'M' which announces that you're well on your way to the hill station. And that's the dreaded monkeys. They're huge and opportunists. All they are interested in is in your bag's content. If you don't want to draw their attention, don't eat while walking. They'll snatch it if you're not careful. Matheran monkeys are notorious. The kiddies might look adorable but if you don't want them taking your phone and dashing it down the valley, then I implore don't tempt them to make faces for your camera.
Coming back to the walk, it is one of the best walks to this date. Rain-soaked and chasing the clouds we gradually inched towards our goal. We made numerous stops which made our walking duration last around 3 hours. It's an easy walk with hardly any uphill climb. Anyone can do it even if you do minimum physical activity like me.
Finally, (yes we are still on day 1 and yeah I take time to reminiscence - guys, after all, it's a double-dip for me) we reached Matheran. We were damp to our bones, raincoat, and umbrellas notwithstanding. First food stall we see and we make a beeline for it. The Indian necessity of tea beckoning us to warm our innards. Let me warn you again, any decent looking establishment, with a garden and chair-table, will charge you a bomb for a little bit of nourishment. We called for two cups of tea (served in standard-sized paper cups) and a plate of paneer pakora (8 pieces costing us 160/-). Yayyy! Let's the ripping of tourists begun.
A brief bum-resting and our feet turned to lead, absolutely refusing us to take any further. Remember: we still needed to book our stay. So we picked ourselves up and plodded on.
Here, we have to remember a thing. Since Matheran is quite popular with city couples looking for a quick retreat and reconnect (in various ways), so if you don't book an appropriate property, you might get embarrassed in front of your mother, however cool she otherwise is. I mean last time I was here with my friends we actually took up a cheap accommodation for 600/- a night which turned out to be an hourly hotel for a specific purpose. So my point is don't get tempted by cheap monies. If this kinda situation feels safe to you, then go ahead and save pennies. At least, to me as a woman and accompanying a mother this wasn't a very practical choice. That said, Matheran is ridden with hotel options. You'll get lodges with aforementioned properties (?? Am not going moral here though!!), proper rooms with AC and cottages. Touts are always targeting you, so swat them away like flies if you've confidence in your searching ability. Which we were definitely lacking!
So we didn't deny when a man approached us. He took us to a couple of hotels (apparently decent ones????????). We discovered that there are actually four tiers of hotels in Matheran.
Hotel - Gyaan:
Lodges near the railway station - the cheapest option. Some hotels like Hotel Kumar Plaza for families. Rooms in our budget were of handkerchief size and the stairs were steep and dodgy during rains - eventually wet round the clock with hardly anyone to mop and keep them dry. In the second tier, away from the station road, are the cottages. They flank the starting point of the sightseeing trail. My advice is to book there so that every day you have to walk minimal to start your actual walk. It's a car-free hill station, probably you've heard that already. So either you've to walk or ride a pony. There's only one drawback: you have to walk an extra five minutes to the main bazaar. For e.g. if you don't book dinner at your property, then that means extra walking every night. That actually shouldn't be a deterrent. But there's the rain, so not an ideal dry situation. But Matheran is quite safe at any point in the day. The third tier of pricey properties like Byke Heritage or Verandah on Forest is all located on one or the other side of the walking trails. This means on day 1 and final day you've to lug your luggage all the way to Matheran station in case you're walking. So people traveling with senior citizens who adamantly refuse pony-support should keep this in mind while selecting properties.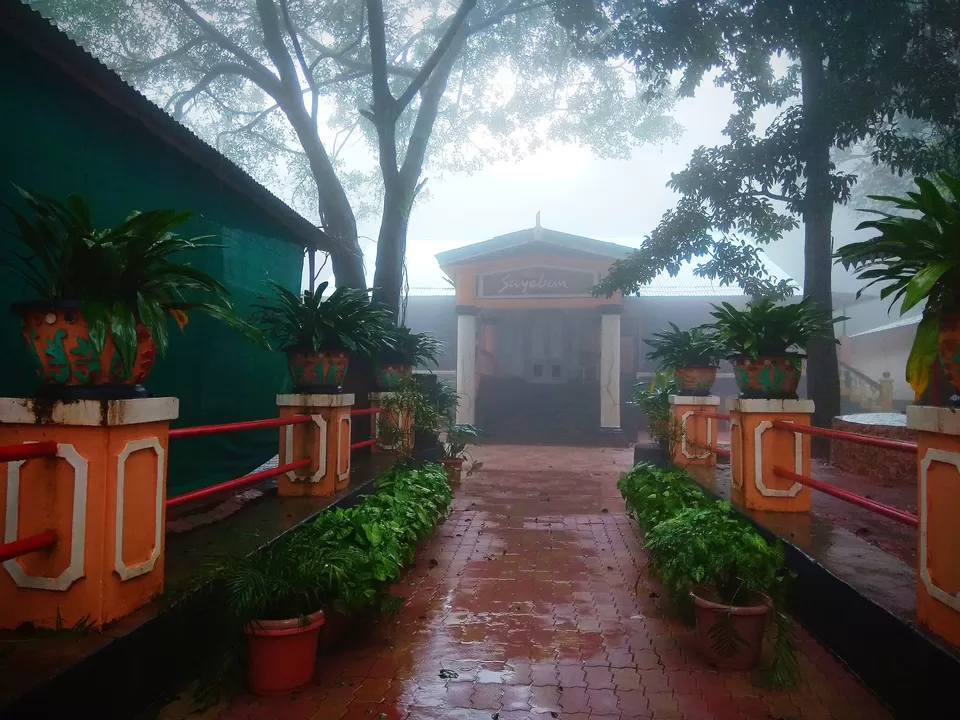 We settled on a cottage style option. Since we were checking in on a Friday, when the weekend hasn't officially begun, we got a good offer. 5300/- for 2 nights, all meals for 2 pax inclusive of taxes and GST. Our room was a pretty standalone cottage with a wooden-flooring bathroom. The compound looked like a mist-wrapped courtyard of a dilapidated haveli. Wide tree trunks with age-worn branches weighed down by living roots surrounded the always empty children's park. The mini rides looked forlorn like the abandoned amusement park from Chernobyl. Still, there was a cold and excitement emanating from that atmosphere.
We were itching to strip our wet clothes and slink into something dry and crisp. But to our dismay, we discovered all our belongings were soaking wet. Aicks! We forgot to pack our dry stuff in at least two layers of plastic wrap to keep them dry. Boom! Now live in wet and damp for the rest of your stay because hear me out, it is impossible to dry anything in that rain. Everything, as it is, is damp, wet and cold. I sent a couple of clothes to a local iron-man but whatever came back was no better. So I dropped the idea of getting dry then and there and embraced the rains fully.
Both mom and I were very tired with the wet walk, so we wolfed down our lunch and promptly wrap ourselves in blankets. We spent the rest of the evening drinking tea and taking an early dinner. For a brief period sometime in the late evening, we sneaked out for a walk. The mysterious streetlights, playful doggos confused with cold and wisps of mist mixing with the darkness lend the scene an incredible depth. We tried to soak all that in, looking eagerly over our shoulders for any spirit following us to complete this nightly exploration of a rainy evening. Nah! I think all were busy looking for the last bit of warmth here and there.
Day 2:
My mom is an early riser and she practically woke me up squealing with joy. Apparently, the fog is licking our doors. She was literally on cloud nine after stepping out of the cottage. Which is a good sign because I need her to be energetic for the sightseeing walks that we have to do eventually that day. Don't for a minute think the cloud dispersed and clear sky winked at us. Nada! All like the day before.
Chomp chomp chomp and we chow down our breakfast of egg-toasts. Donning our walking shoes we set out for the sightseeing. Sightseeing comprises of a lot of vantage points with gorgeous valley views. With the kind of mists that we had that day, our expectations were already slim. Rather we decided to enjoy a fog-filled forest walk!
Wild trails, thick with trees and muddy pools of rainwater, undulating road, passing ponies, smiling strangers, and unpredictable monkeys - it was another day filled with a blissful walk. There is no pollution, no jostling on the sidewalk, no purposeful tread of a morning jogger. Here you're free to explore, stop, breath deeply. The only caution you've to exercise is being mindful of your step. You can easily slip on the pony-poop!
We went to Charlottes Lake. The lake wasn't visible but the small dam was. Since we did ample detour during our leisurely lake walk, our half-day was gone and we chose to go back to our hotel for lunch. Going to Echo Point or Sunset Point didn't mean much because of the visibility issue.
We spent the night resting our feet. Evening entertainment options are limited in Matheran. You can maybe hear some weird DJ music from Hotel Kumar Plaza. Pack books or your own music or films as an internet connection is intermittent in that rain even if your hotel gives you free WiFi. I don't know how it fares during drier days though!
Day 3:
Initially, we thought we will go to another forest walk. But we remembered that we have to anyway walk back to Dasturi Naka. And demanding double walk from our city-slick feet is just too much!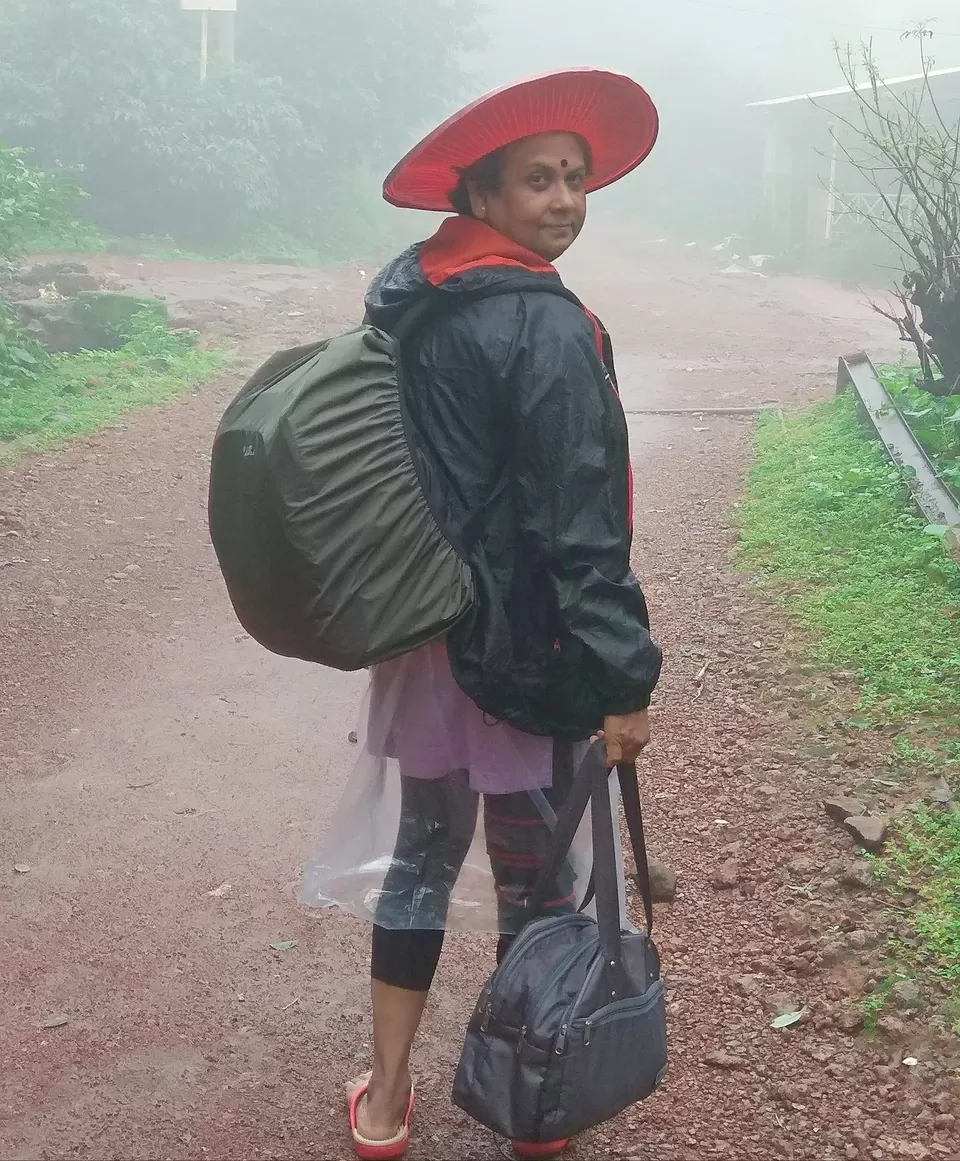 We started back post breakfast. The walk actually didn't even last long. We were happy that we were leaving on a Sunday when we could see hordes of tourists coming from the other end. The rest of the journey was just like the way we came. All butter smooth!
I hope the readers got plenty of monsoon help for their Matheran trip. Holler if you need additional any ????
Frequent searches leading to this page:-
family trip places in maharashtra, weekend package from mumbai, best maharashtra trip packages with fmaily, top maharashtra tour packages with price, family holiday places in maharashtra