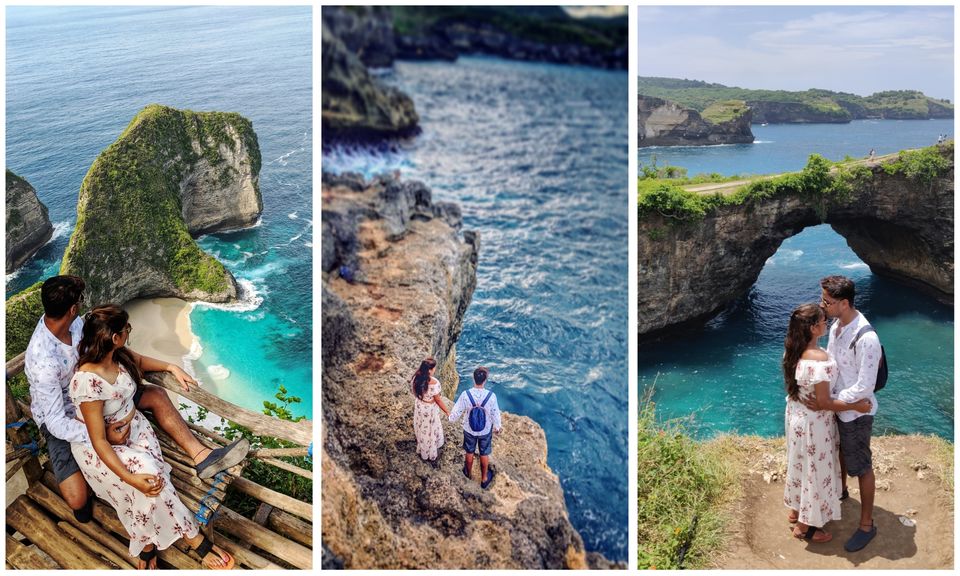 What pops out in anyone's mind with a word Bali is : "Temples and mountains". However, Bali is not made up of just temples and mountains. I feel Bali has equal contribution of beaches and islands too.
Me and Ankita(my wife) recently visited Bali as our honeymoon trip. And we will feel ourselves lucky for choosing Bali as our honeymoon destination. Being explorers, we had no plans when we actually landed up on Bali airport. Going through the list of famous tourist attractions of Bali on Google, we found the beautiful pictures of Nusa penida islands which were enough to make us visit this place on priority. Well, we have this signature click of the view too.. that's here..
On the streets of Kuta, Bali, you can find number of tour agency shops. We chose one of the closest shop from our hotel. You might need to use your bargaining skills to make this tour pocket friendly. But its easier to get this tour in 600k IDR (which is 3k INR approximately) per person.
With booking this tour, we started in the morning 7am. Cab was already there to pick us from hotel. We had a drop to Kuta beach, from where we had to take a ferry to Nusa penida islands. It takes around 35 minutes to reach from Kuta beach to nusa penida islands by ferry.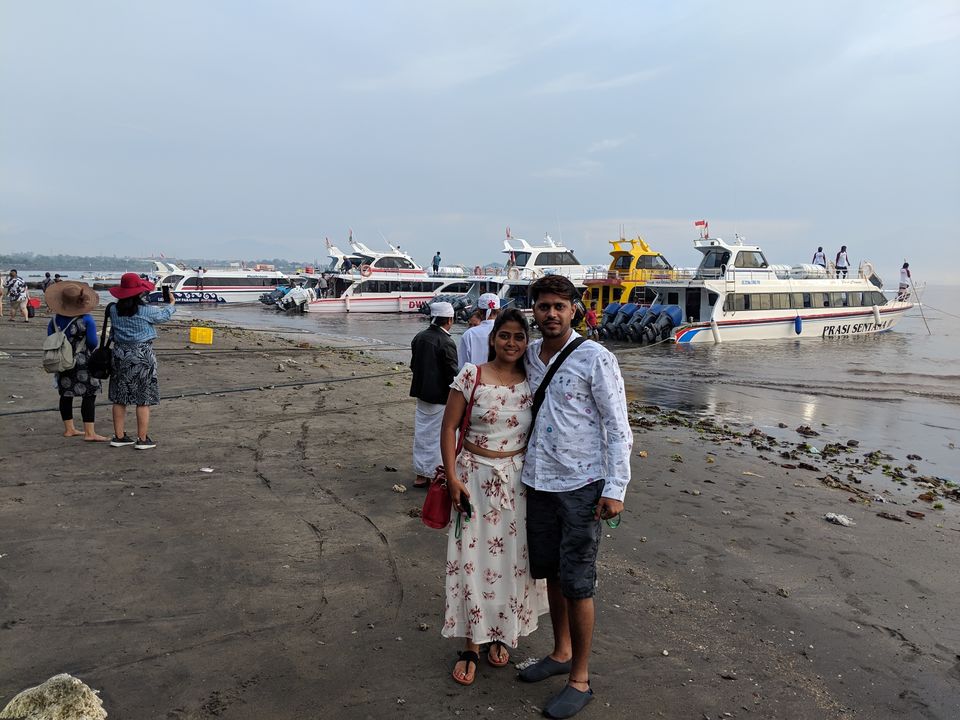 After around 35 minutes of ferry travel, we reached, Nusa penida islands. Before we had to think "what next", we saw the driver with our name board to receive us on the ferry drop location. And the wheels started over the nusa penida islands...
Oops!!! There was a huge difference in the google pictures and the surrounding we were looking at. As we asked driver, we are not able to see the beauty of nusapenida island yet. "You'll need to wait an hour more and you don't feel leaving this place" the driver said.
Let me tell you that the roads on the island are not really too good. Some parts of the roads are not even properly made. This was the only area we found with bad roads in Bali. Well the road was making this journey little adventurous too! However, as we crossed the human crowded areas, we started feeling the beauty of this island. The roads were surrounded by dense greenery and the trees. And we already had started feeling awesome journey. It takes around couple of hours to reach first tourist spot.
And we reached the first view point. Wow the view!! It was a millions times better feeling to be there than looking at google pictures. If heaven had the sea, it would definitely have been right here at this place. This view point gives an aerial view of pink beach. To make this view little better, you need to buy things from the local shop like water bottle, biscuites, or just use paid toilet facility. And u get access to this..

Whoaa!!! Looking at this picture, you must have felt the beauty for sure. We were absolutely not feeling to leave this place but driver assured us to take to even more beautiful place now. Just an excitement....
The Broken Beach!! Yes!!
This naturally made bridge over the non-ending sea was a mesmerizing thing to see. What else can you expect from the nature!! Its beyond your imaginations. Wait for it! There's another view point you can die for....
Angel Billabong : What if you are on this beautiful place purely made by Nature, offers you to experience absolutely no artificial, nature made, infinity pool with non-ending sea view!!! Just imagine!! No, this wasn't our dream. We were experiencing this in reality!
Btw, Just an add-on your adventures, you can walk to the edge!! And this is how it looks...
Yes. its absolutely safe walking to the edges provided you are in your senses. And its worth enough!! Imagine the deep sea right next to your feet!! Sit calm.. Listen the song of the waves... And you are already in paradise!!!
Under the control of brains, we decided to get back and started. Throughout the way, our minds were still busy attached with the memories to these beautiful places. But you cant fill you belly with these memories of course! There are many food places available on nusa penida roads. We chose one of them and it was really nice! I believe you'll get good food everywhere in Bali.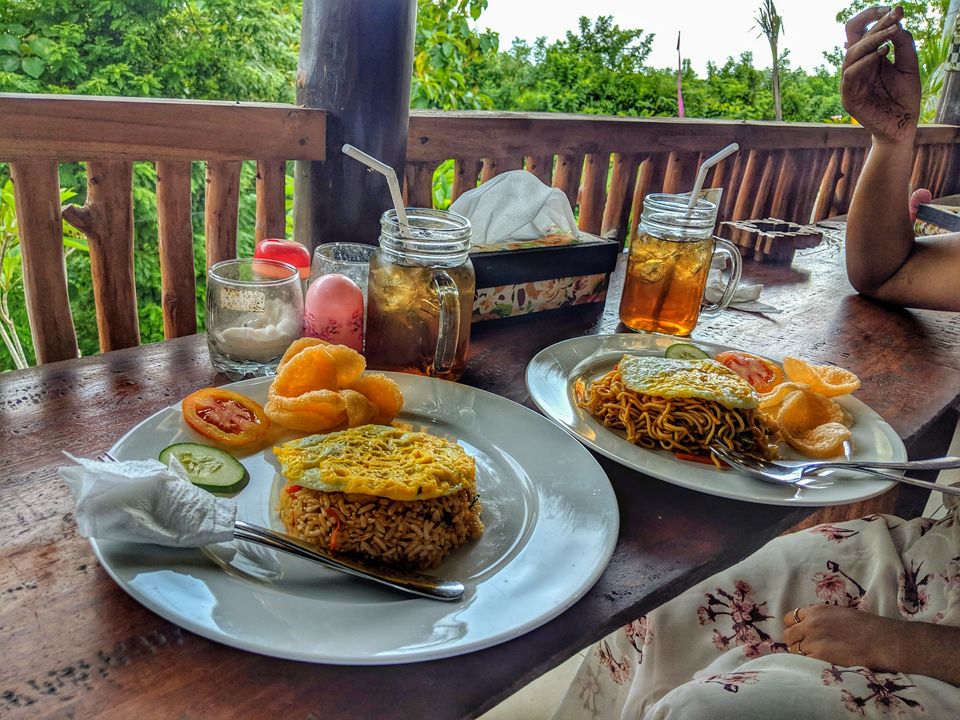 With filled tummies, we headed to the crystal beach to relax! As the name suggest, this beach has crystal clear water. You can swim here too!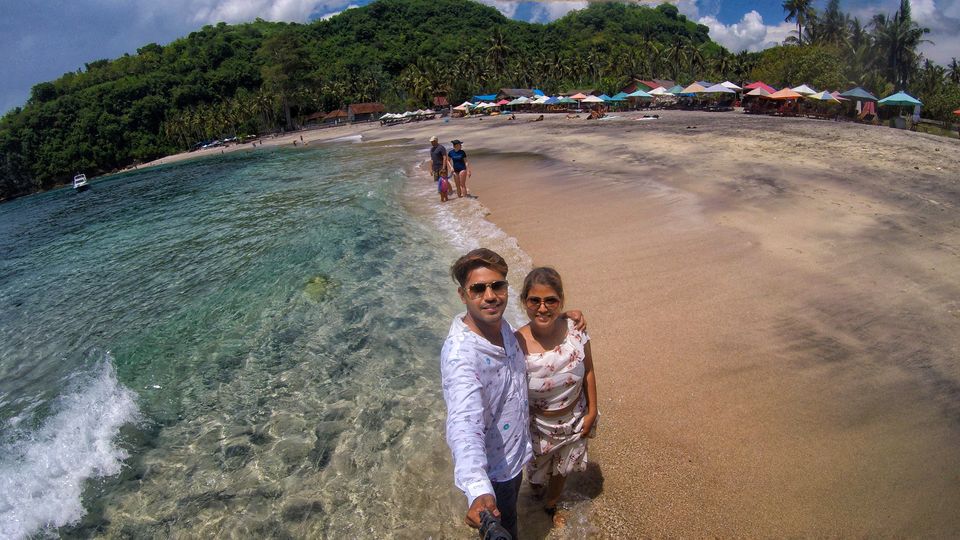 Just look at the water! After spending some time on this crystal clear water beach, we got back to the ferry station and then back to the hotel. Trust me, its really difficult to leave nusa penida islands memories behind! With single thought about our tour we still feel if we visited just a day before!
So if you are already planning for Bali, don't forget to add Nusa-penida islands tour in your itinerary. Yes!! Its mandatory! See you with the next post! Keep traveling!!