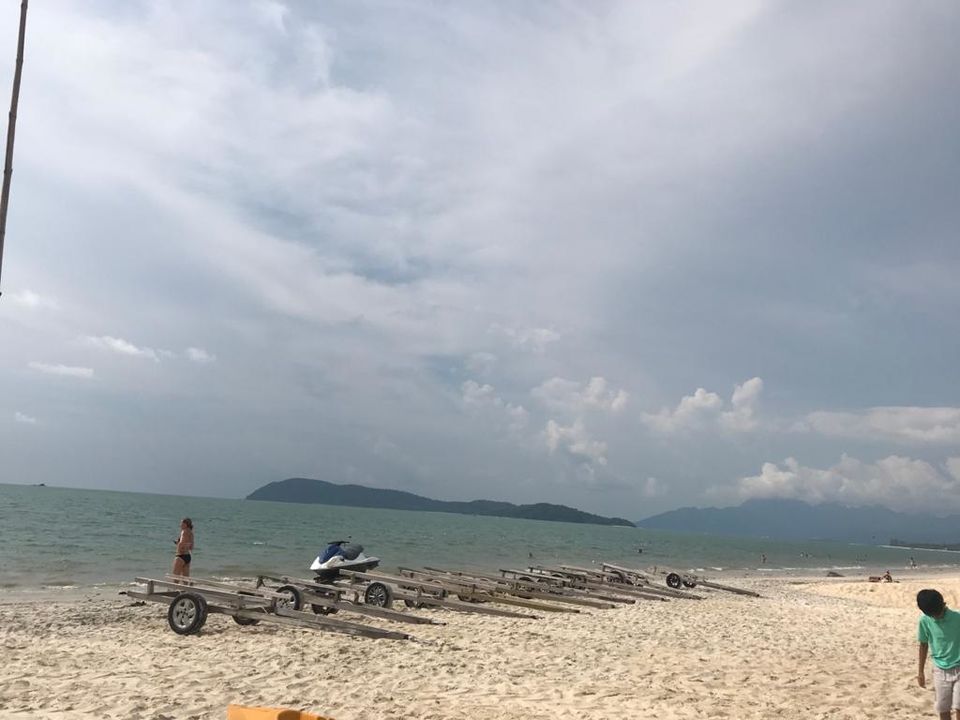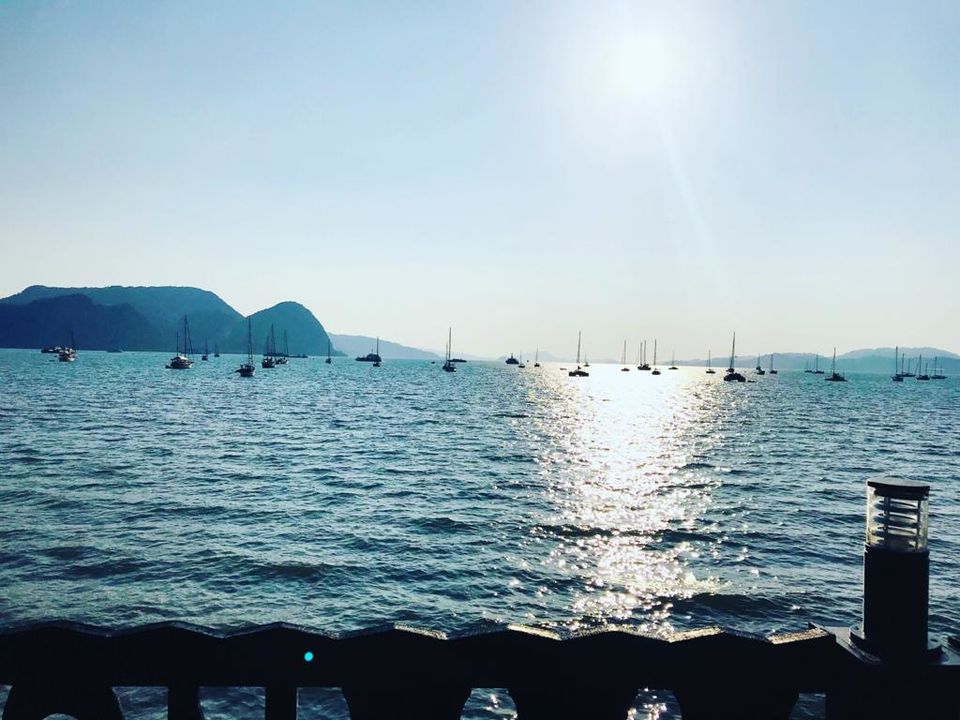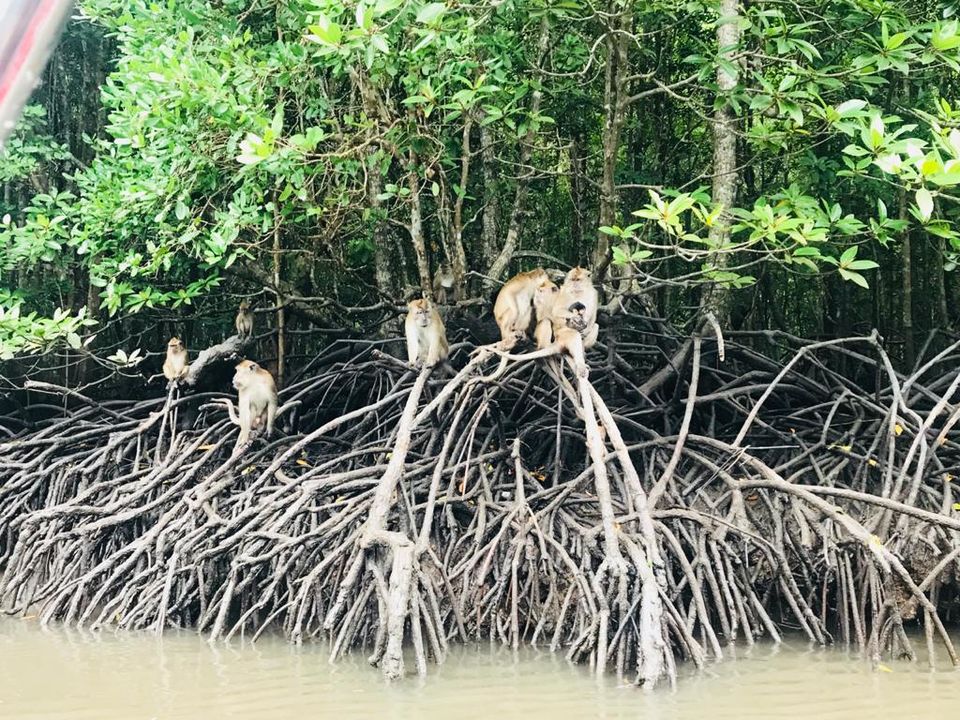 Langkawi's picture in my mind always remained as an alluring island- surrounded by turquoise seas, picturesque paddy fields, jungle-cloaked valleys, swaying coconut trees and a haven for bargain shopping. I could not have missed visiting this tropical gem, situated around 30 km off the mainland coast of northwestern Malaysia, during my recent family vacation to Malaysia. As we boarded the flight from Kula Lumpur to reach Langkawi, our excitement to explore this beauty could not be curtailed and here she was sultry, and all set to welcome us!

Langkawi provides the perfect gateway if you are looking to just spend time on the shoreline, that is fringed by powder-fine sand or you want to try your hands on some water sports or if you intend on carting off duty-free chocolate, alcohol or apparels.
Day one on Langkawi, popularly called as the Jewel of Kedah, was spent at the much-awaited visit to the Langkawi Sky Bridge. One of the main attractions of the island, the sky bridge, a 410ft-long curved pedestrian bridge above Mount Mat Cinchang is not be missed. Not to mention the breath-taking view from top. We braved a wait that spanned more than four hours (it was Christmas time) to buy a ticket for the Langkawi cable car, that takes you to the top of sky bridge. Priced at RM35 for adults and RM25 for children (two to 12 years old), the sturdy cable, takes you atop the Sky Bridge, located 2,300ft above sea level. As the breathtaking journey to the top started out at the Oriental Village in the upper northwest of Langkawi Island, near Pantai Kok, we got 360 degrees view of the ocean down. A few hundred feet upwards, the cable car, that can accommodate around 450 people (at a time) leveled out and stopped at the final station- the Sky Bridge. A dozen of stalls selling souvenirs, snacks and drinks greet the visitors here.
Island Hopping: Our day two began with island hopping. As your speedboat navigate through tranquil waters, Lagkawi's unique scenery was unfolded: a collection of 104 islands congregated closely around the main island. Among the most popular Islands we visited include Pulau Dayang Bunting (Lake of the Pregnant Maiden) and Crystal-clear waters & sandy beaches at Pulau Beras Basah.
Langkawi UNESCO Global Geopark: On day three we covered the most awaited Langkawi Mangrove Forest, also known as Kilim Karst Geoforest Park Langkawi. This half day cruise combined a visit to the Mangrove ecology system, wildlife observation and cave exploration. We were amazed by the mangrove swamps, pristine beaches and vertical karstic hills. Spanning almost 100 square kilometers, this forest offered a wide variety of wildlife from monkeys to otters, from monitor lizards to macaques and tree crabs- you find them all here. After we covered all three rivers: Tanjung Rhu, Kisap, and Kilim, we missed visiting the bat cave due to high tides that played the spoil sport! These river boat cruises cost you anywhere between Rs 4,500 and Rs 8,000 (per person).
Long Beach Strip: Pantai Cenang's expansive beach strip featuring white sands and clear waters provides the best abode for those who want to enjoy some exciting water sports. We tried our hands-on jet skiing and parasailing and of all those for Rs 5,000 – 6,000 (each). With just a 10-minute drive from Langkawi International Airport, the place provides a diverse mix of cafes and restaurants, souvenir shops, high end chalets and motels and duty-free outlets along its long coastal shore.
Underwater World: Spread across nearly six acres, and housing 5,000 types of aquatic life and some mammal and reptile species, is the Langkawi Underwater world, Malaysia's largest aquarium. Located at the southern end of Pantai, the aquarium hosts harbour seals, rockhopper penguins, sharks, giant rays and the enormous Amazonian arapaima, touted as the biggest freshwater fish in the world. Our other visits included visits to few of the zoos around.
Cuisine: As a tourist hot spot, you will find a slew of restaurant options offering anything from Japanese sushi to Russian borscht to genuine Indian thalis. But this place remains a haven to some local delicacies too. Following the footsteps of its other South East Asian counterparts, rice remains the staple here. Infact the state of Kedah, which hosts Langkawi, is known as the 'rice bowl of Malaysia' for its contribution to around half of the country's total production of rice. One of Langkawi's specialties, the local version of the Malay dish nasi tomato (rice cooked with tomato and spices) adopts a different way of preparation when compared to Malaysia. You will find this dish, served out with beef rendang (a dry coconut milk-based curry) or ayam masak merah (chicken in red sauce), acar nenas (pineapple and peanut salad) and vegetable and chickpea curry. Binge on some real street food in Langkawi – from a fresh cash of fish or a satay, sold in street shops, you can devour them all.
Getting around: This Island does not boast of a great public transportation system. The best way to move around would be to hire cars (they are as cheap as Rs 3,000-5,000 per day) or rent bikes. Alternative ride options offered by apps such as Grab is quite popular among locals and tourists alike and are quite efficient.
As we thoroughly enjoyed our Langkawi stay, I wished I went back to visit this island beauty once again!
Best time to travel: Between November and April months provide a good balance of light showers and sun. Hence would be a recommended time to visit.
Getting there: Direct flights to Langkawi works little expensive. Best would be to take a flight from Kuala Lumpur that costs anywhere between Rs 7,000 Rs to Rs 12,000.
Flights from Bengaluru to Kuala Lumpur costs anywhere between Rs 9,000- 12,000 (per person – one way).
Budget: Langkawi offers a good option for all those looking to do a budget trip. You can round up an entire trip to Langkawi in Rs 60,000 (inclusive air fares- per person) with accommodation available with 3/4-star hotels as low as Rs 3,000 (per night).