Tundai Kabab, Bhang, Biryani, Chaats - the list was just going on and on. As the days were drawing close, we went on a strict diet plan to ensure we savor all these delicacies and more on our much awaited trip to Lucknow.
Lucknow, the capital city of the state of Uttar Pradesh in India, is famous for its Tehzeeb (mannerism), historical monuments and Food. Just like its culture, the food here is a conglomeration of traditions, respect, love and perfection. Easy on the pocket, they are sublime, divine and one of the best culinary experiences you can enjoy in India.
Let me take you through our journey.
Our visit to Lucknow was inspired by NV's marriage and the food trail starts from here. The marriage buffet had such endless varieties that even with 4 of us sharing the chaats and dinner, we couldn't do justice to the entire spread.
Satiated and determined to try all the dishes we had read and heard about, next day we set out for our sight-seeing tour. As luck would have it, we ended up at Chowk near Chota Imambara for lunch and spotted IDRESS Biryani.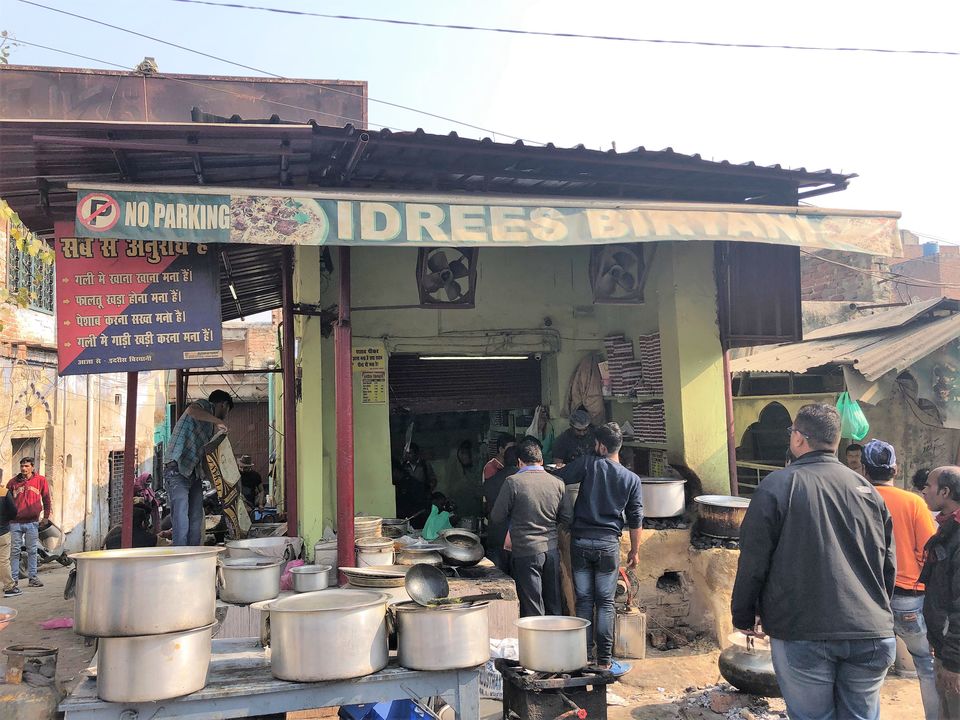 Don't go by the looks. This place serves one of the best Mutton Biryanis in the entire world , if I have the liberty to say so. My non-vegetarian companions will definitely affirm this theory. In their words, they could slice the mutton through a plastic spoon and the dish just "melted in the mouth". Do try this place if you love non-veg food.
Well, being a vegetarian we had to stroll further and came across another insignificant joint for a magnificent lunch in just 36 Rs/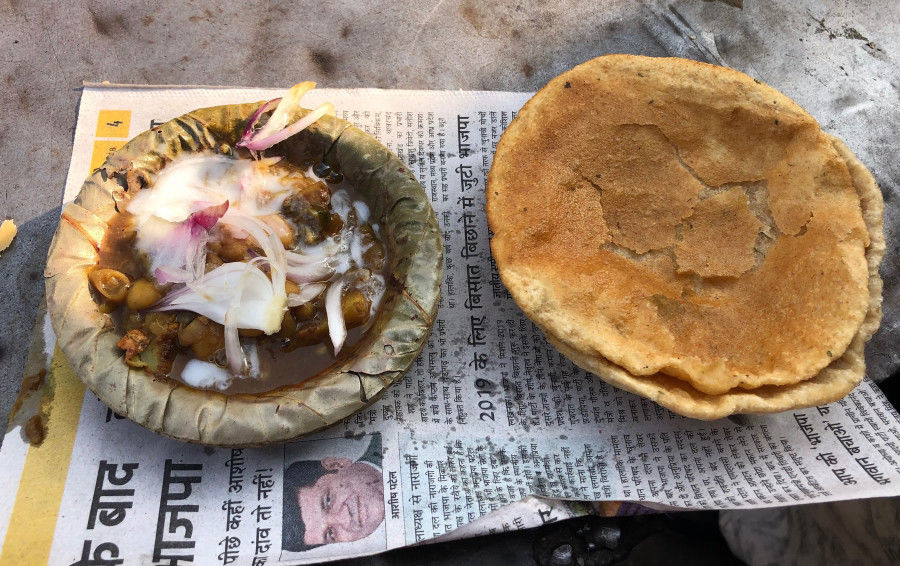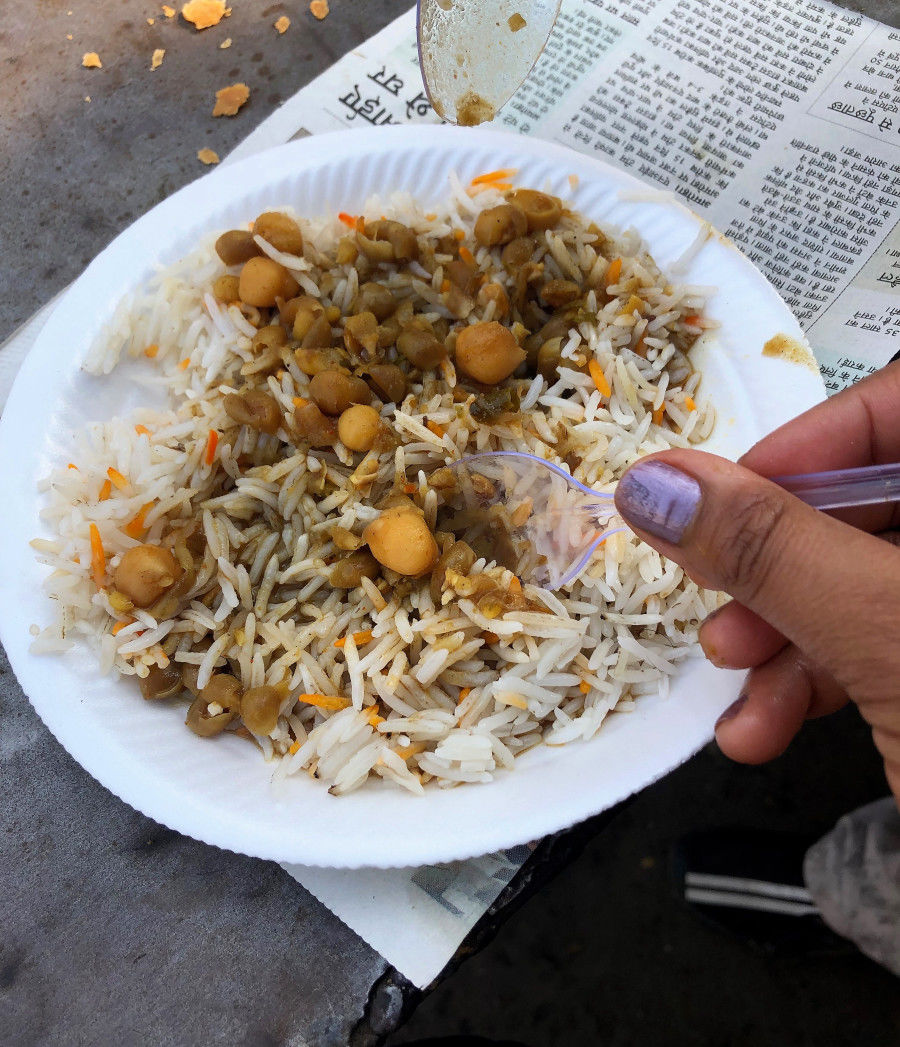 To digest the oily stuff, PA was in hunt for tea and our search ended here: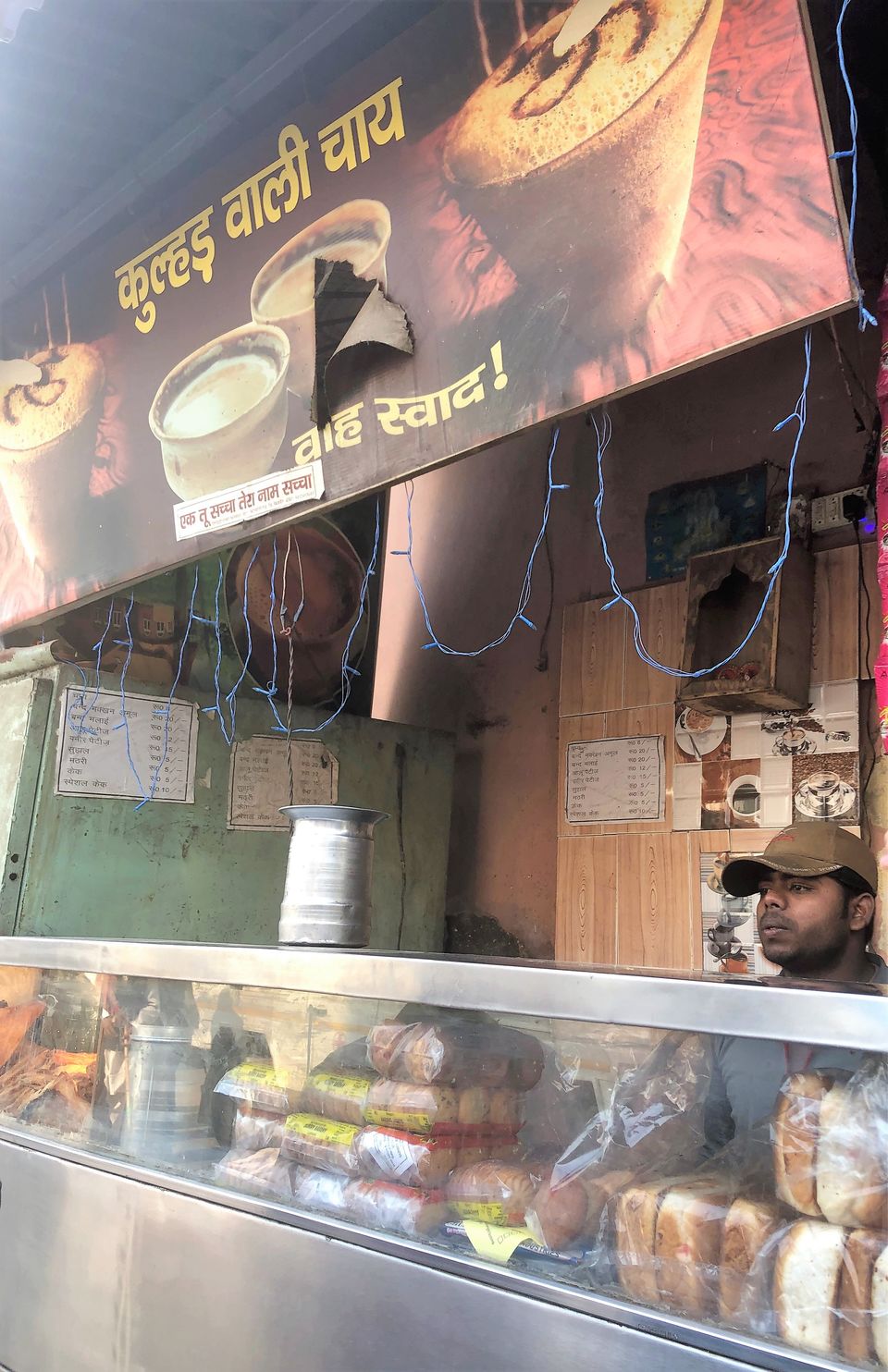 If I remember PA had 2 glasses and we had 1 each.
Since I was in Chowk and RR had mentioned about Bhang being available here, my next mission in life was to hunt for it. What's Bhang - just try to understand here.
We inquired around and reached the exact spot.
The guy was super cool, understood we were novice, made a very light concoction which we devoured later, and signed off with a greeting of "Jai Bholenath". His last statement was " Don't worry about anything. Just enjoy". Totally agree.
Another dish worth mentioning was the Maska Bun we had in Chowk. You won't find mention of this in food accounts or Lucknow travel blogs, but the method of heating the buns directly in coal stove with dollops of Amul Butter added on top left our taste buds very happy.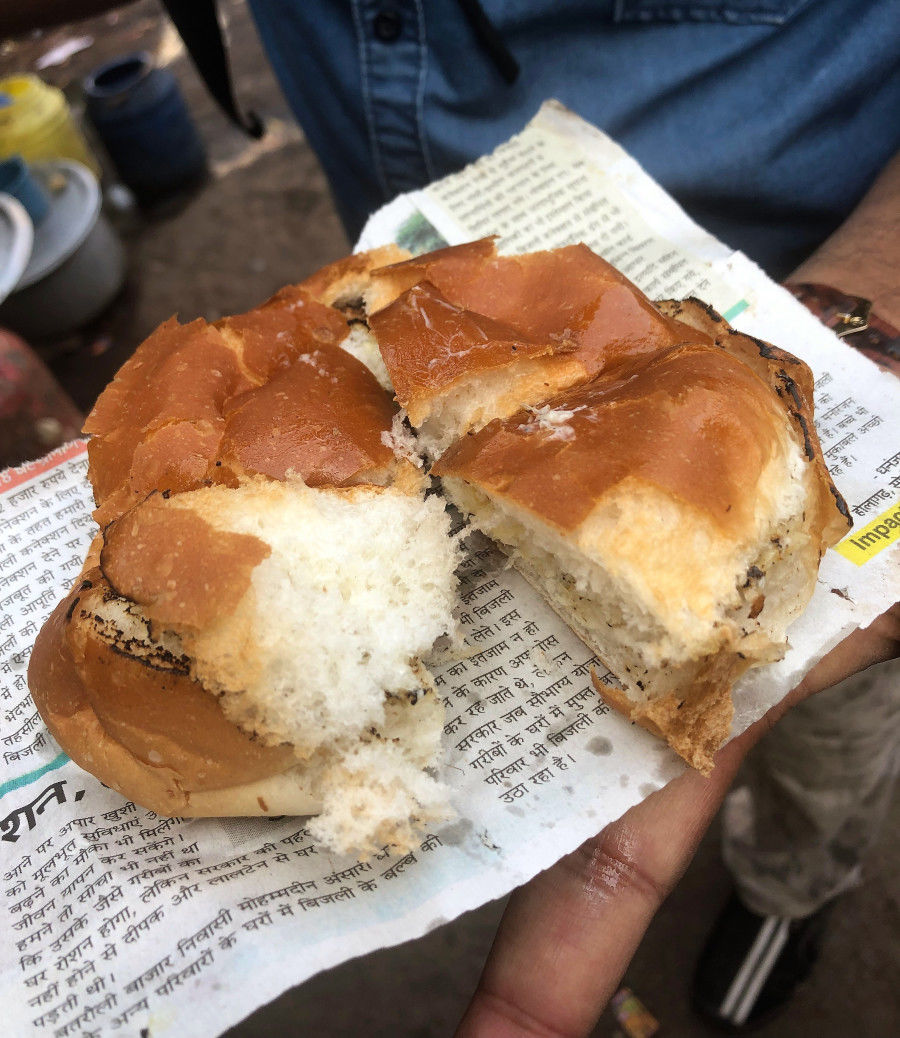 In a nutshell, if you are near Rumi Darwaza or Chota/Bada Imambara, just head to chowk for your lunch or dinner or evening tea or evening snack and your tummy will love you more than ever.
Done with our lunch and quota of tea, we started towards Bada Imambara.
Its sprawling campus houses a mosque, imambara, bhul bhulaiya , step well and manicured gardens. More about those later. Leaving you with a pic to bathe in the magnanimity of this place.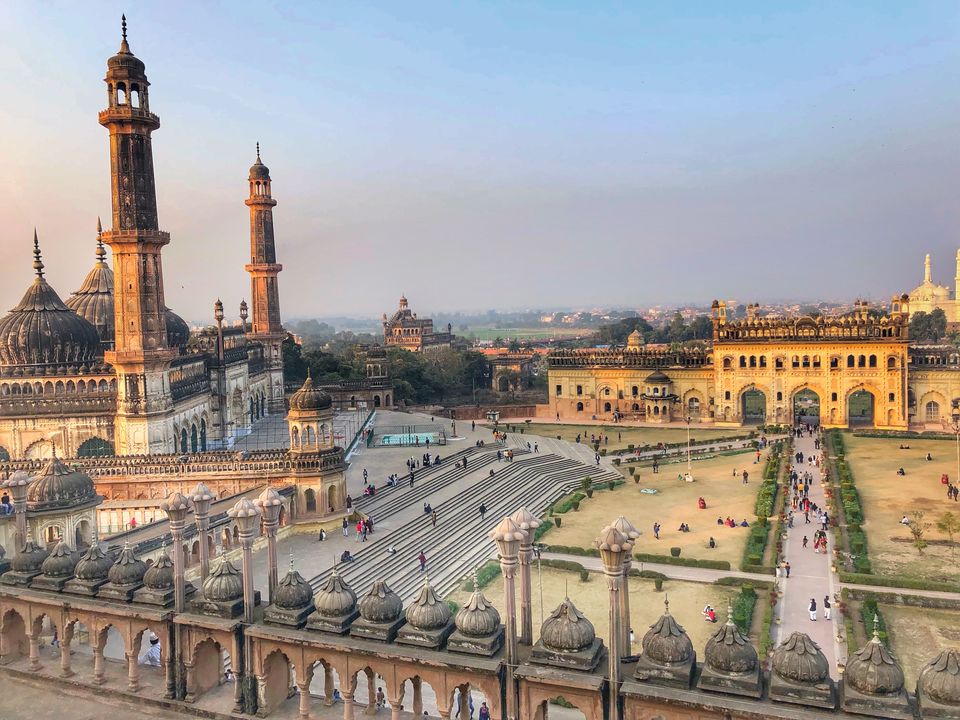 We were kind of exhausted with an entire round and DMN was hungry.
This time we stopped at chat joints, just outside Rumi Darwaza and ate 2 aalu-tikki, kachori chat and pani puri. DMN was finally happy.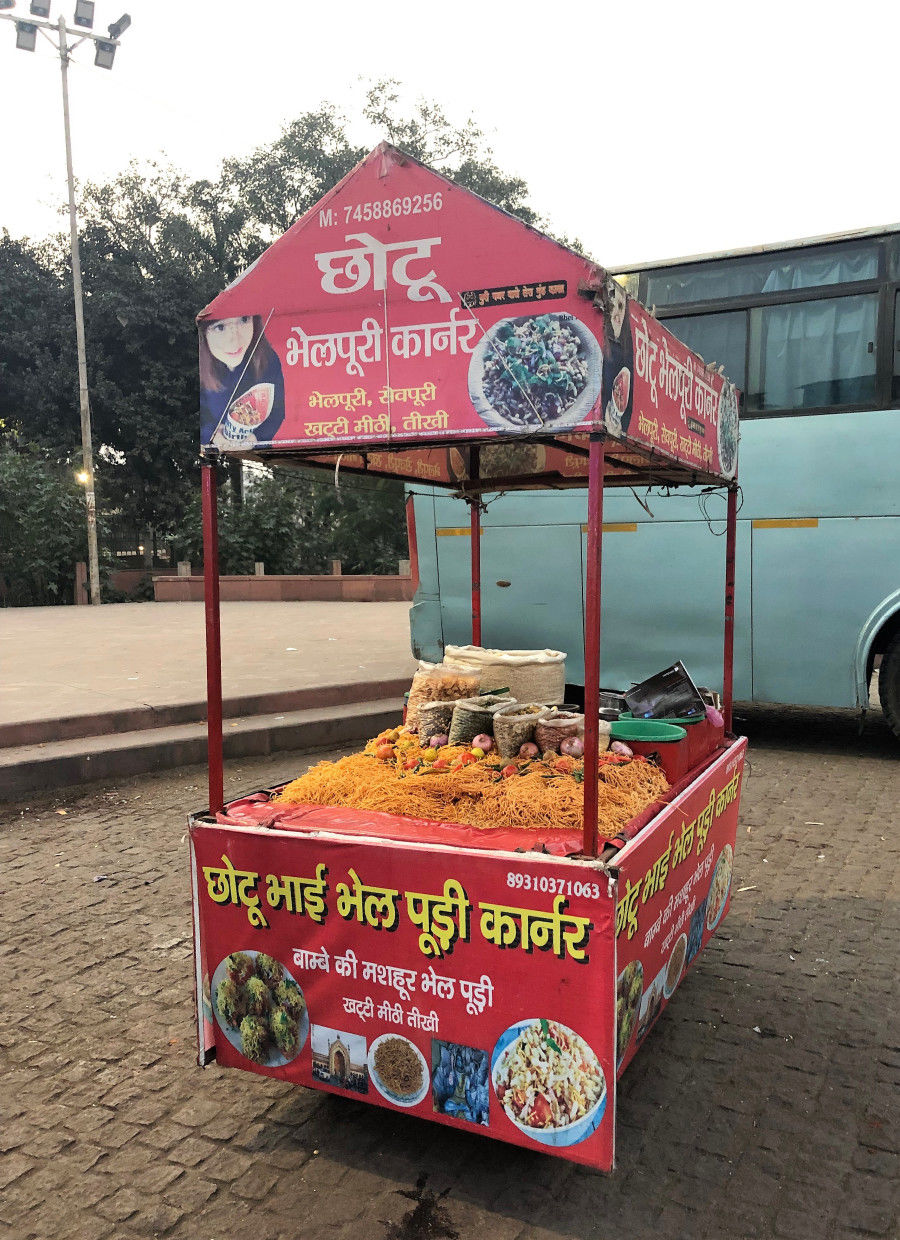 We were done and post a nice evening stroll headed to our hotel for dinner and a good night sleep.
Next day was dedicated to Hazratganj and Aminabad.
We shopped our Lucknavi Chikens from Nazraana at Hazratganj, had a 6PM lunch at Royal Cafe and picked up Motichoor ladoos for colleagues from Moti Mahal. One thing which we missed and I ought to mention here, so that you don't miss are the Tokri Chaats at Royal Cafe. With their beautiful ambiance. you might slurp at every bite.
We were at the fag end of our journey and the bucket list was just half done.
We headed towards Aminabad. Jostling around and absorbing the hustle and bustle of one of the oldest city markets, we finally reached THE TUNDAI KABAB.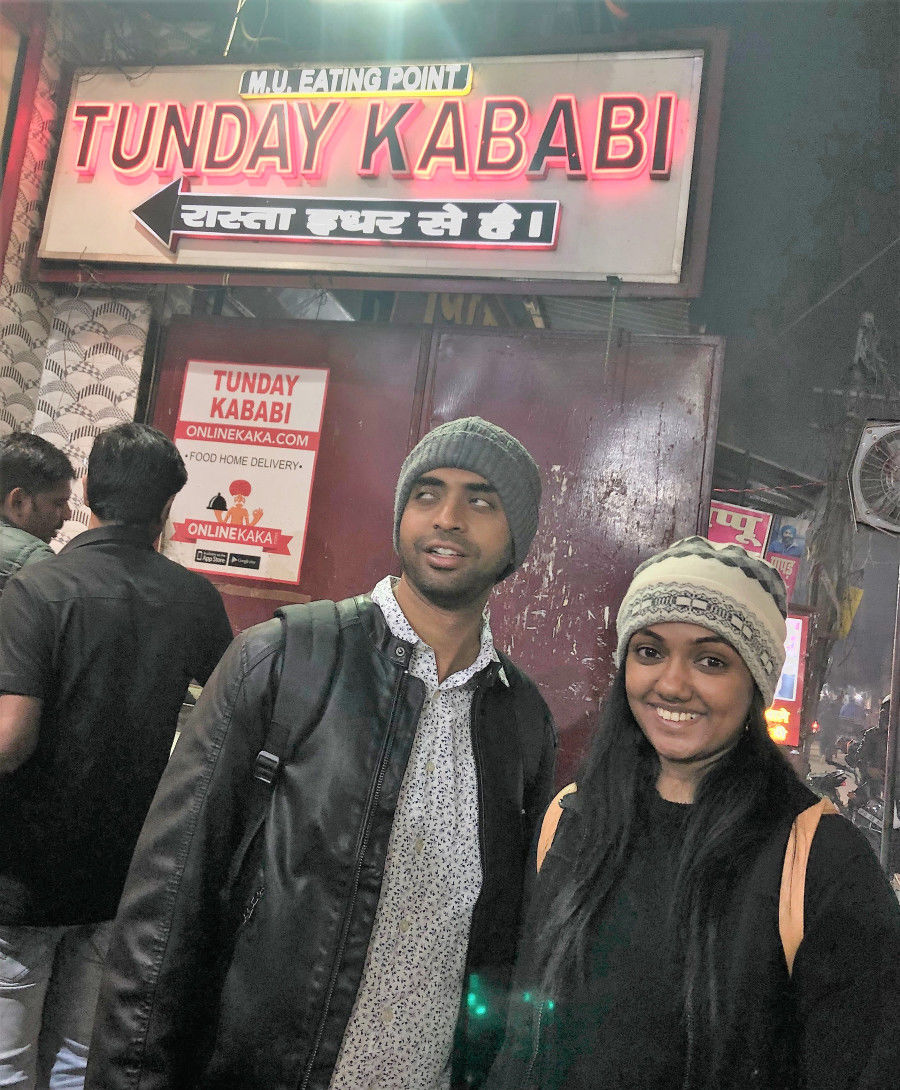 It was 9:30 PM and the place was brimming with activity. Swiggy chaps were jostling around for food parcels and for a moment we were lost. Someone guided us to family rooms - which you are entitled to if you are with women or kids. Once settled, the first order was mutton Kabab. Followed by Biryani, keema and Saffron kulcha.
I tried the kulcha and it was too yum to ignore.
The veg kababs were too bland, well can't blame anyone else but me.
The server was too polite and insisted me to try their Phirni or Kheer since it was a veg dish. Decent, but not a must.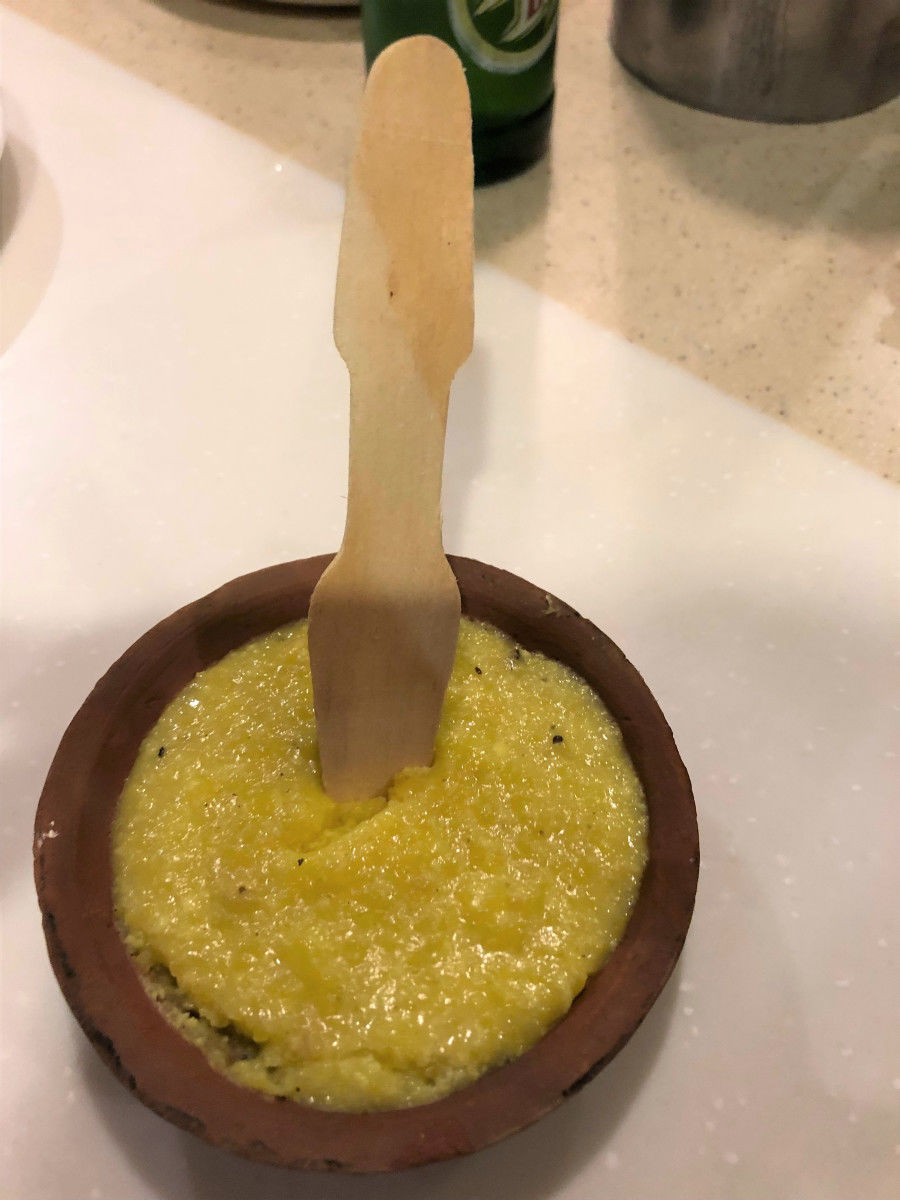 Overall, RN and DMN were too too happy of being able to tick off the most important item from the bucket list and we just basked in their happiness.
Time to head back home. We stopped at a roadside stall selling Kashmiri tea. Looked good but was too sweet for my palate .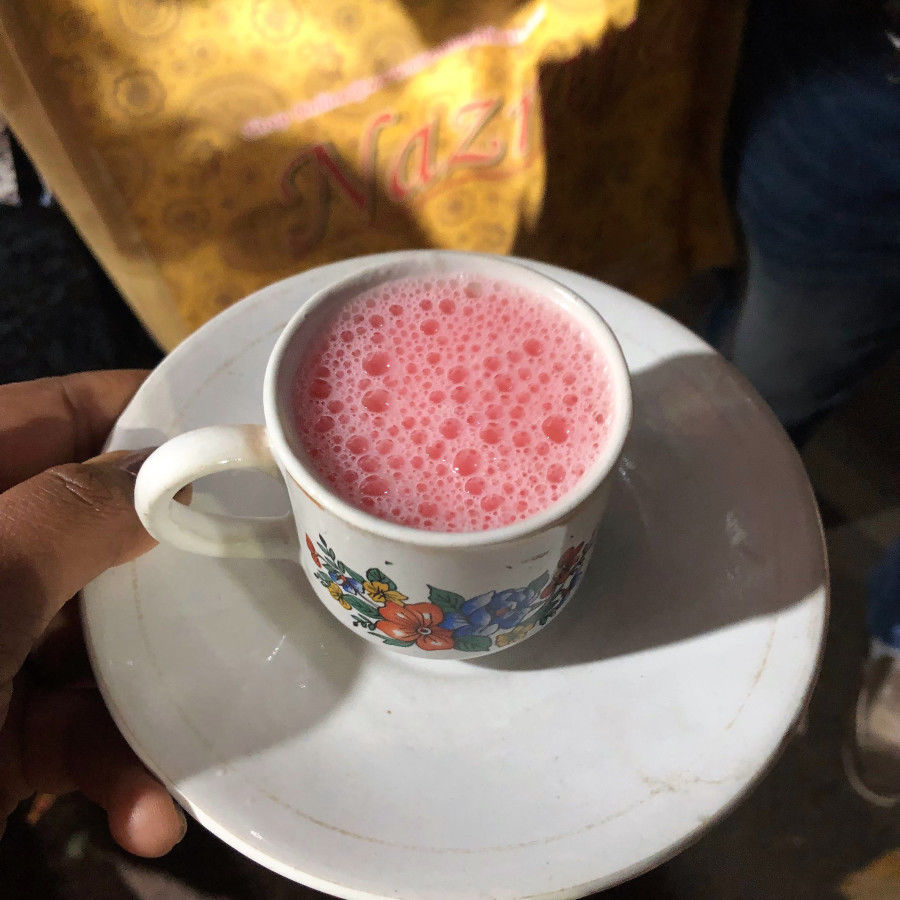 All this while, PA had been asking for kulfi and google maps kept bluffing as by showing that Prakash Kulfi is at a distance of 4.2 km. A bit disappointed we started booking our ride back home. A curosry glance and I saw Prakash Kulfi board in front. My happiness knew no bounds. Again a chance encounter. The odds were in our favour.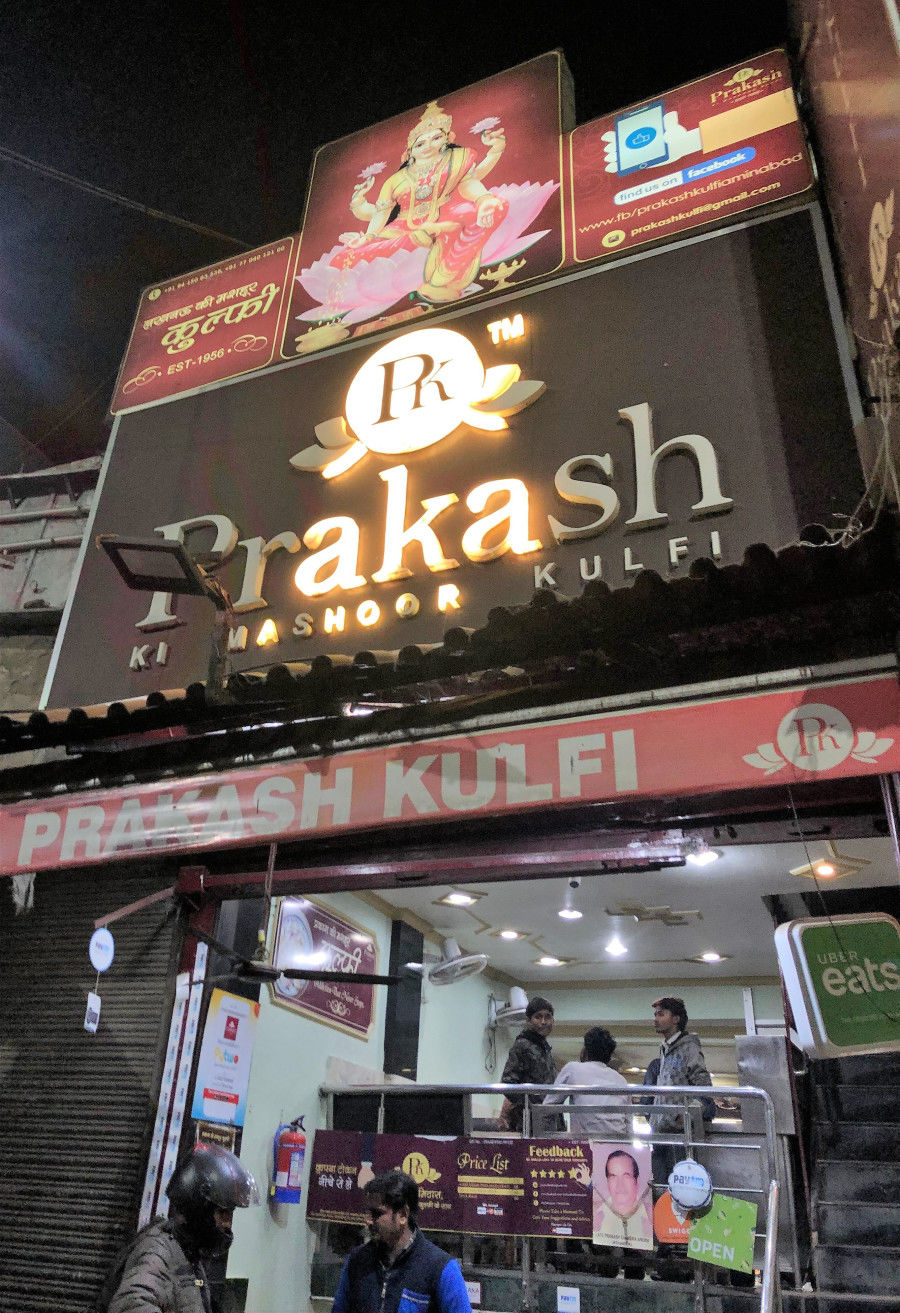 These are stalwarts of Lucknow's history and if not for the food, you ought to be here just for the feel. We ordered a simple malai kulfi which was okayish. Probably not the best choice or we were too tired to relish it.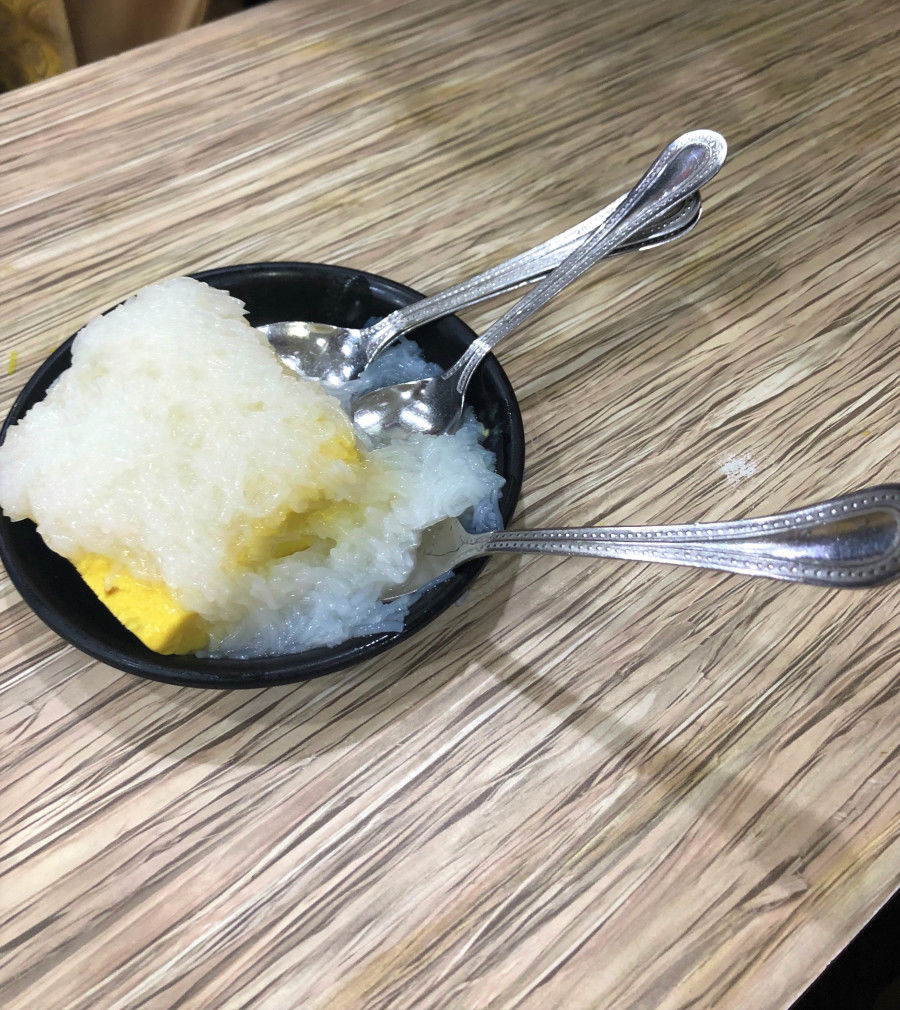 At 10 PM we were near Aminabad Police station waiting for our cab, when we spotted an oldie uncle selling these: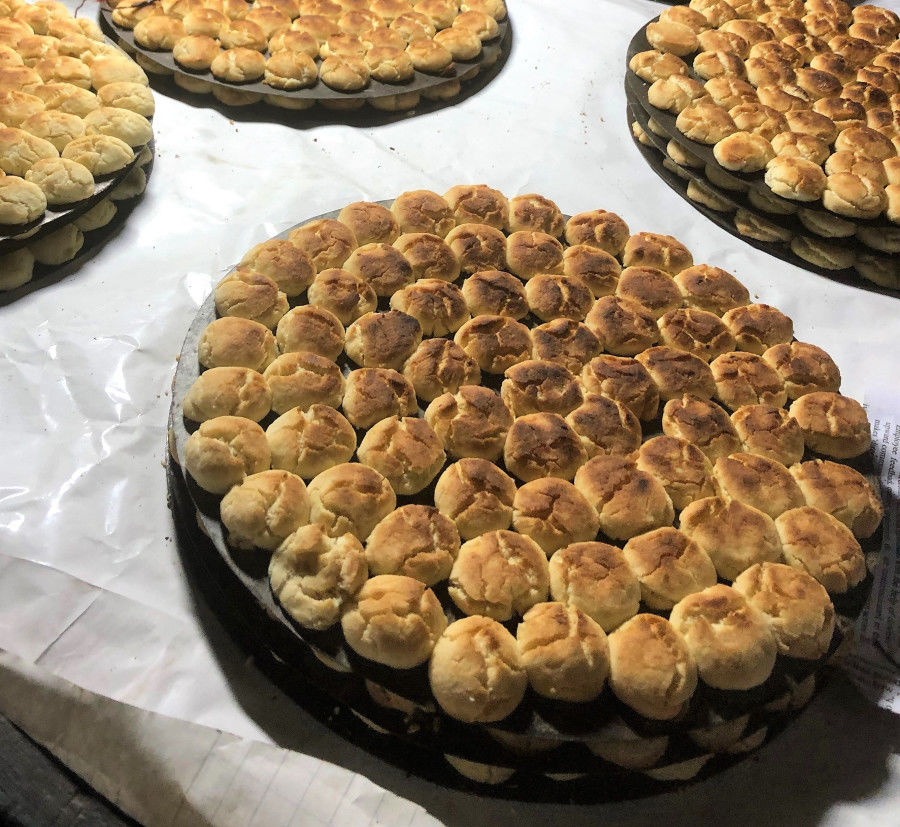 He was kind enough to share one piece and I bought a bunch at 30/ bucks just to make me happy.
To sum it up, the food was great but it was made delicious by the love and care of people who served us , unconditionally , with a single intention of keeping their customers happy and living up to the age old tradition of India -"Atithi Devo Bhavah" - Customer is GOD.