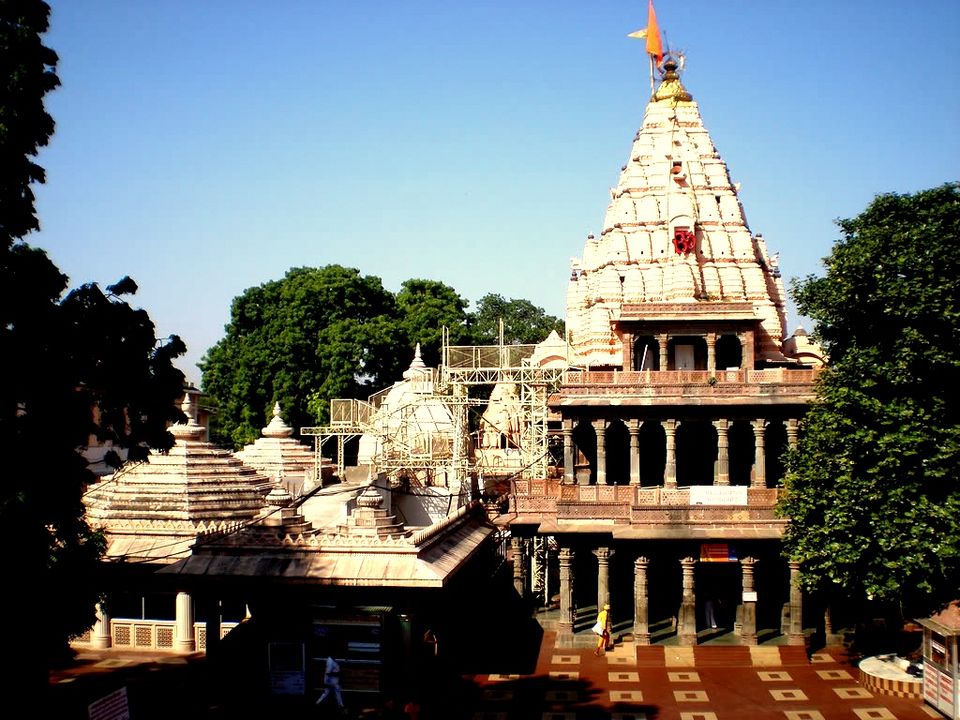 Located in the 'City of Temples', Ujjain, in the Indian state of Madhya Pradesh is the stunning Mahakal temple which is one of the most prominent temples in the country. Standing high in the state nicknamed 'The Heart of India', Mahakal temple is a multi tier temple that is considered divine and one of the ultimate destinations for Hindu pilgrims. It is also called 'Ujjain Temple' or 'Ujjain Mahakaleshwar Jyotirlinga Temple'.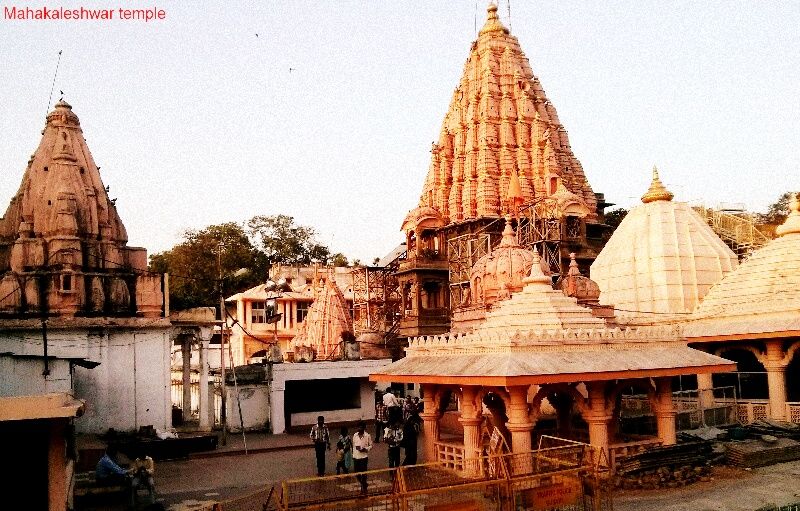 Image Credit: vanamalaarts
According to Hindu beliefs, Mahakal refers to lord Shiva as he is considered to be the destroyer of all elements, which is where the temple derives its name from. India has twelve sacred Mahakal shrines known as 'Jyotirlingas' and Mahakaleshwar temple in Ujjain is an abode for one of them, which places it amongst the most popular pilgrimage destinations in the country. Jyotirlingas are naturally emerging linga believed to acquire currents of shakti (creative energies) from within themselves rather than being ritually infused with mantra-shakti by priests. Ujjain temple plays host to a large number of devotees who visit it throughout the year to offer their prayers and witness the seraphic Mahakaleshwar Jyotirlinga, and is undoubtedly of the utmost momentousness to them.
Ujjain temple has been rebuilt a number of times over thousands of years. It was destroyed by Altamish in the 13th century during his raid of Ujjain but was later restored by the Marathas some time around the 19th century. Now, it is noted to be a saintly place where one can attain absolute peace of mind and indulge in meditation. The various Aartis (Hindu religious rituals of worship) performed every day in Ujjain temple, especially the "Bhasm Aarti", are the famed and prominent rituals that one must attend while visiting. Mahakaleshwar temple with its 'Shikhar' (summit) soaring high into the sky, evokes undeniable awe and reverence with its magnificence. With its aesthetically pleasing structure and varied kinds of decorations that embellish the sancitified Jyotirlinga each day, Mahakaleshwar temple possesses the power to leave every visitor awestruck.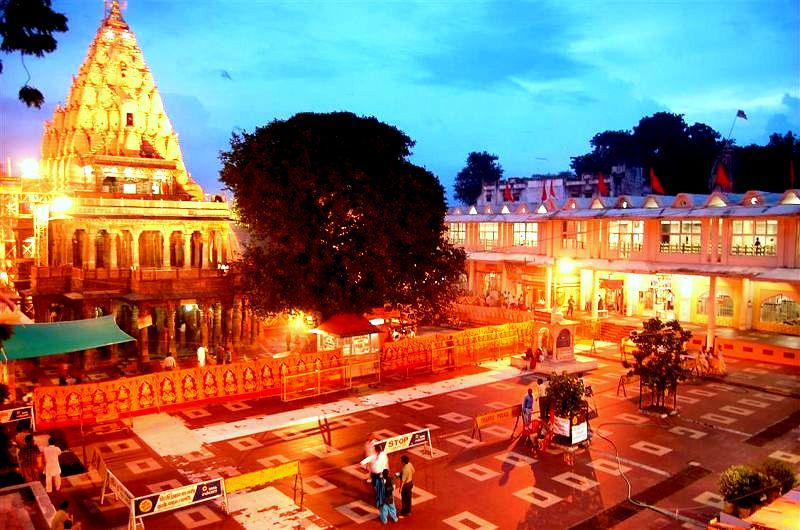 Mahakaleshwar temple at night (Image Credit: Bharat Model)
The grandeur of Mahakaleshwar Jyotirlinga is indescribable. The Mahakal dominates the life of Ujjain and its residents, despite the immersing routine of modern preoccupations, and furnishes a sturdy link with ancient Hindu traditions and culture. A massive fair is held near the temple on the day of Mahashivratri (which is the most significant festival for the millions of devotees of Lord Shiva) and the devoted pilgrims continue their worship throughout the night. The immense belief in Mahakal to bless every soul that visits its abode remains unquestionable. Naturally, Mahakaleshwar Jyotirlinga attains the status of being the epitome of sacredness.
Mahakaleshwar temple timings must be kept in mind by the visitors as that would help equip them with a better plan to go about attending the Aartis and various other rituals that the temple plays host to. The temple is open from 4 AM to 11 PM, on all the seven days of the week. Matmarti (4 AM), morning pooja (7:00 AM to 7:30 AM), mid day Pooja (10:00 AM to 10:30 AM), evening pooja (5:00 PM to 5:30 PM) and Aarti Shree Mahakal (7:00 PM to 7:30 PM) are held at the temple every day after which it closes at 11 PM. During the winter season, Mahakal temple timings are the same (4 AM to 11 PM) but each of the above specified rituals and poojas start half an hour late than the usual timings.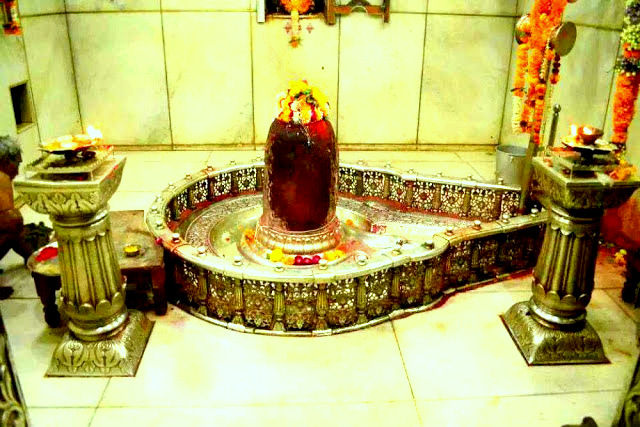 Mahakaleshwar Jyotirlinga (Image Credit: Bharat Model)
Ujjain to Mahakaleshwar distance is minimal which is why visitors from all over begin their journey to Mahakal temple after reaching the city of Ujjain. Ujjain to Mahakaleshwar distance is a mere 2.4 kilometres which can be covered by road in approximately 10 minutes via Mahakaleshwar Marg. Omkareshwar temple, situated in district Khandwa of Madhya Pradesh, is also an abode of one of the 12 Jyotirlingas. Devotees are found to prefer paying a visit to both Omkareshwar Jyotirlinga temple and Mahakaleshwar Jyotirlinga temple since they are closely located. Omkareshwar to Mahakaleshwar distance is around 140 kilometres that can be covered comfortably by road. There are regular bus services for the same. Omkareshwar to Mahakaleshwar distance can be travelled in approximately 3.5 hours via Khandwa road and Ujjain-Indore road.
Mahakal temple with its idiosyncratic charm and undeniable pilgrimage significance makes it a must visit. Besides, the city of Ujjain and the stupefying state of Madhya Pradesh has a lot to offer from just ancient temples and unique culture to various sculptures, caves, national parks and wildlife sanctuaries!