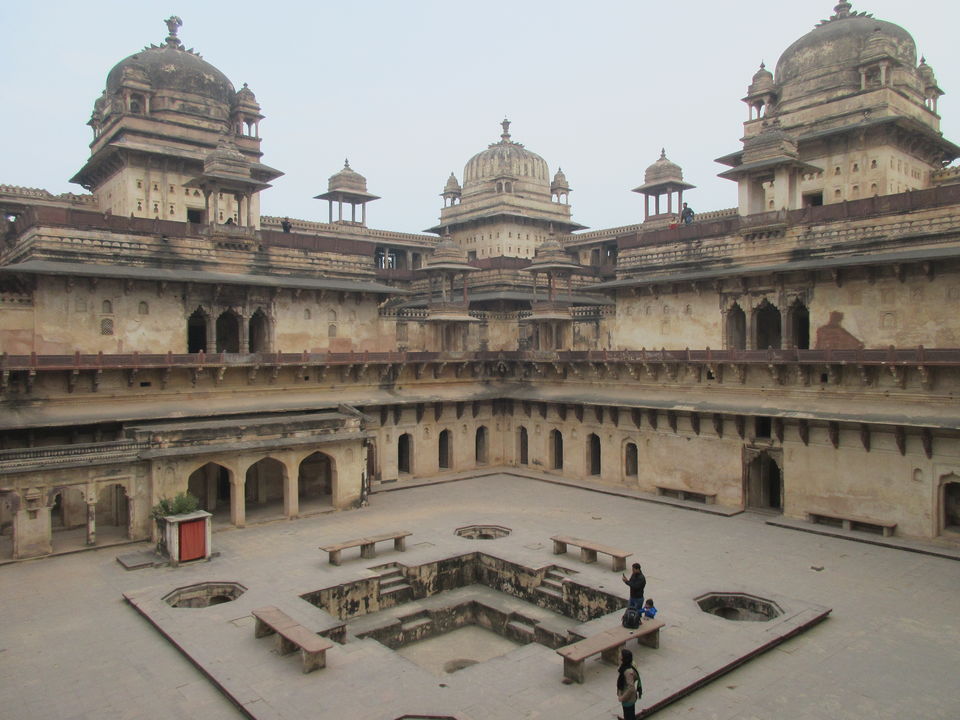 Ever wanted to escape from the busy schedule, to a place full of tranquillity, away from the usual tourist crowd yet as magnificent as any other touristy city, a place which literally makes you travel back in time, where you get to listen to the stories, a lot of them, just by walking around, a place where you can just relax by the riverside or get lost among the numerous monuments, or dive into rich culture and tradition, and all of this without burning a hole in your wallet.
If you are a history enthusiast or a traveller looking for an off beat place just to relax, Orchha is the place to go. Once a capital of Bundelkhand, It has the charm which will make you crave to come again - monuments, temples, beautiful riverside, and some story associated with every corner of this beautiful village. Though Orchha falls in Madhya Pradesh, it is better accessible from Jhansi. (There's some interesting story behind why Jhansi is hanging like a peninsula from UP surrounded by MP)
First and foremost, my thumb rule before visiting any place is to find as much details as possible about the place. Before visiting Orchha, I would recommend reading about it's history and associated mythology. This will help you in two ways - you would no longer need a tour guide to know about the place and you'll have a clear picture of the places which you don't want to miss. I will try to focus this post more on helping plan the trip rather than telling the stories - they are many resources for that already.
Reaching Orchha
Once you arrive at Jhansi Railway Station, head out of the station premise and look for an auto rickshaw to the bus stand. It'll charge you mere ₹10 or ₹20. At the bus stand, you will find share autos heading to Orchha, they wait till they are full. Though they are just at the entrance of the bus stand, You can ask any bus/auto driver and they will guide you to it. The half an hour ride, might not be the most comfortable one, costs only ₹30. The auto will drop you just beside the fort complex at the auto stand. Well, technically it is beside everything, Orchha being a small village, every landmark is just few hundred meters away.
Where to stay
There are many options to stay, both expensive and budget hotels. I stayed at Hotel Sunset which was pretty decent and worth more the price. It was just ₹400 per night. The room was spacious enough, and if you are travelling with someone, this accommodation cost will be shared. There are many other guest house and hotels available nearby, at more or less the same price. Most of them are located on the road to Laxminarayan Temple. This was the only major expense you'll encounter there.
What to eat
By the village standards, orchha has quite a lot of places to eat, mostly around the Raja Ram Mandir. A few fine dine restaurants and others are the usual small road side restaurants, serving cheap yet delicious food. You might also fine a few families selling full meal in the front of their home. I had my meals at one of such, just for ₹50 and believe me, it was more than enough to fill your stomach and taste bud.
What to see
Orchha isn't big, it's recommended to walk around. Except for the Chaturbhuj Mandir and Raja Ram Mandir, other monuments require you to have ticket for visiting them. For Indians it costs ₹10, which is valid for entire day. Carrying a camera will cost extra. The tickets can be purchased at the entry of the fort complex. Lakshmi Narayan temple is a bit away from the village center and it also requires you to have the ticket, so plan your itinerary accordingly. Also remember that the monuments open after sunrise and close by sunset in India. The fort is big, Raja Mahal and Jahangir Mahal are the main areas, but there are more places which you will discover. There aren't a lot of people visiting, so sometime it can be only you walking around. Chhatris are the one of the best constructed tomb complex of the royals. Well, the good news is, no ticket to sit by the riverside, just don't go into river. You can also go for river rafting, I didn't went for it though.
At the end
Jhansi to Orchha and back: ₹50 x 2 = ₹100
Stay for one night: ₹400
Ticket: ₹10
Food: ₹50 x 3 = ₹150
Total: ₹660
That's it, if you have a good budget,you have more than enough to buy souvenirs. I arrived there in the afternoon and left on the next day afternoon. One and a half day is sufficient but this laid back place might make you stay longer...