If you live in Indore, Bhopal, or Ujjain region, then you stand a chance to fill any of your Sundays with a one day trip to Omkareshwar-Maheshwar-Mandav. Living in MP, you might feel like you've nowhere to go for a short one day trip, unlike people living in Mumbai, Pune, Delhi, Bengaluru, who have a lot of such options . But trust me, this is your chance to make your Sundays from boring to roaring.
For a head start, try to start your journey as early as possible, like around 6-7 o'clock in the morning. Book Omkareshwar for breakfast (or brunch), Maheshwar for lunch and finally have a delicious dinner at any restaurant/dhaba after bidding a sweet goodbye to Mandav. Trust me, your journey would be worth wasting your Sunday. Below are some of the pictures which I clicked during my journey. I've tried to keep it as informative as possible so as to provide you with all the necessary details. Hope you like it.
Speaking of Omkareshwar, it is one of the twelve Jyotirlingas in India. It is also said to be the origin point of river Narmada. It lies in the Khandwa region of Madhya Pradesh. It is 139 kms from Ujjain, and it takes 3 hrs to reach there via road. Owing to less traffic and not that much of a rush inside the temple, it took us around 2.5 hrs to reach there, and another 30-35 min inside the temple premises. After that, we had our breakfast at one of the eateries outside the temple. A boat ride in river Narmada was a plus!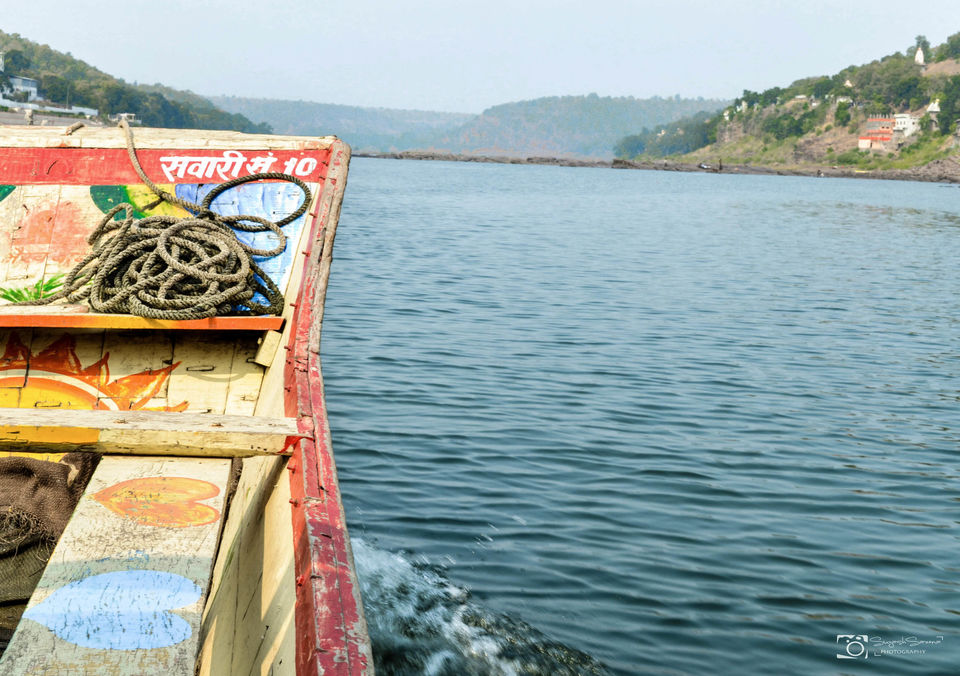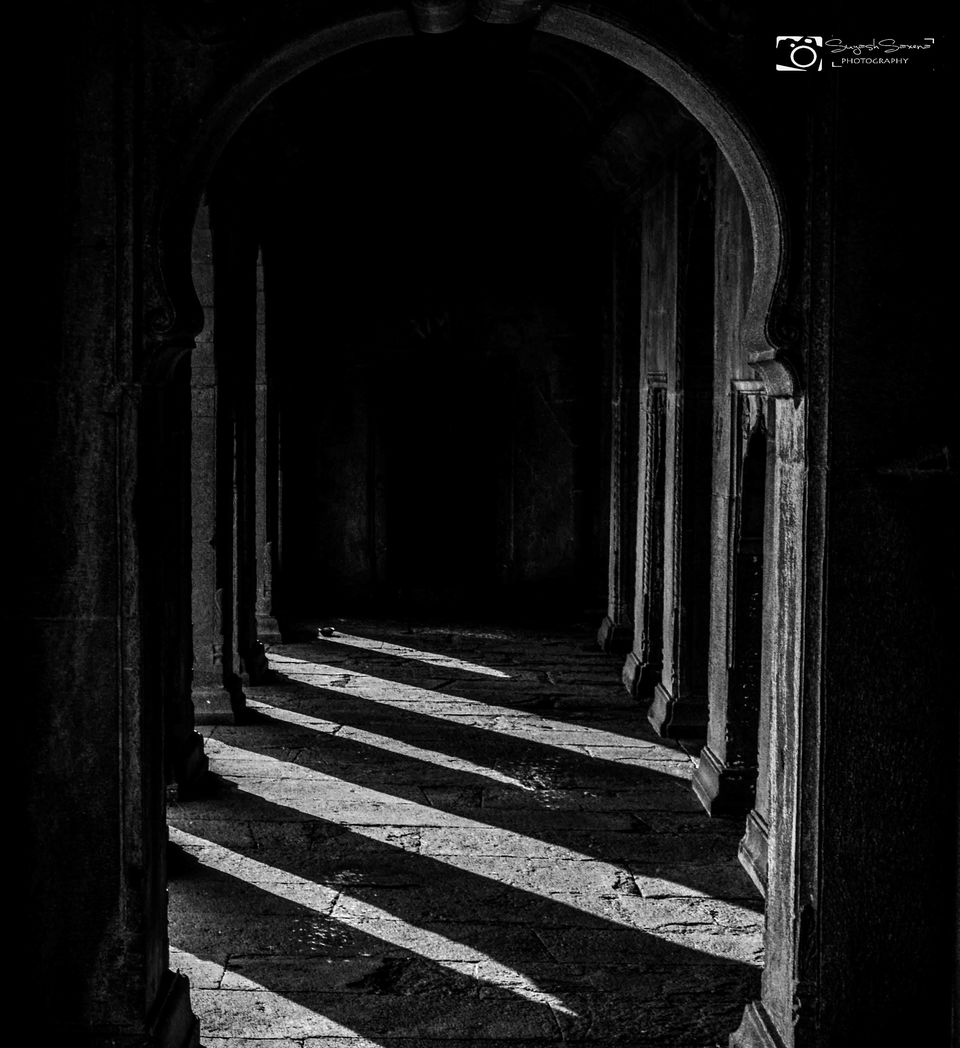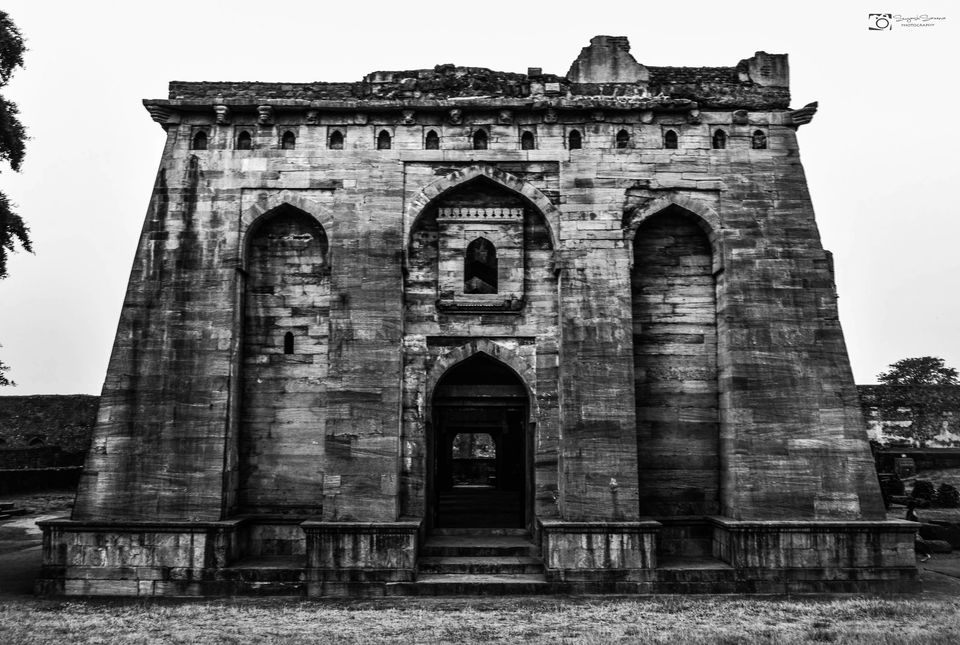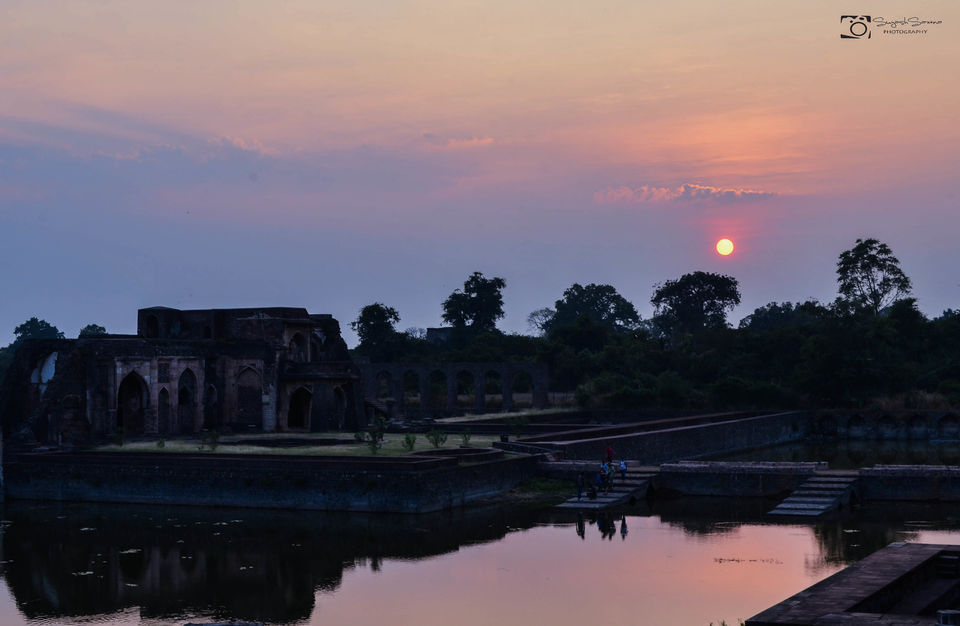 We then headed for Maheshwar, which is around 60-65 kms from Omkareshwar. It took us around 1.5 hrs to reach there. Devi Ahilya Fort and the infamous ghats of Maheshwar are the key tourist attractions. As the fort is right beside the ghats, it saves us quite some travel time. If you have seen the movie 'Bajirao Mastani', this place was picturised as the home of Mastani Bai post her marriage with Bajirao. I know this because I witnessed that movie being shot here live. The architecture of this place is amazing. It seems to be a mix of Rajasthani and Colonial styles. Right beside the fort,are the infamous Ghats of Maheshwar. If you know how to swim you can also spend some time swimming in river Narmada. The Ghats are clean and well maintained, and so is the water of river Narmada.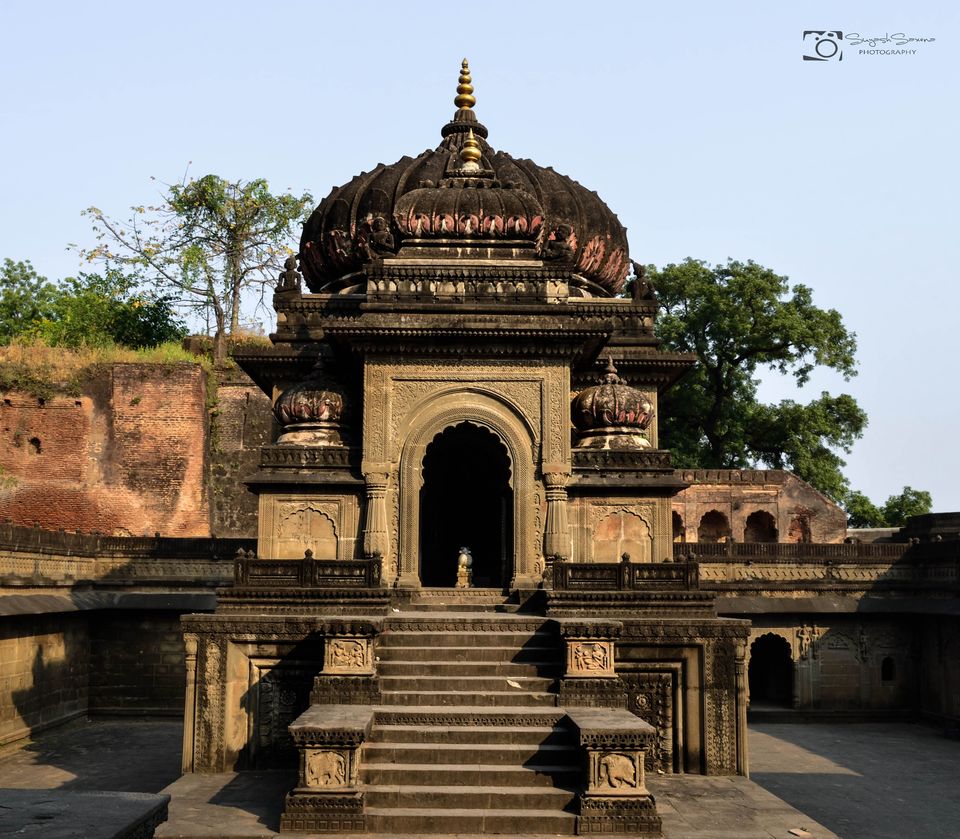 Around 35-40 kms from Maheshwar is Mandav, local name Mandu. It is one of the two hill stations in MP, the other one being Panchmari. We reached Mandav around 5 pm. Jahaz Mahal, Hindola Mahal and Roopmati Pavilion are the key attractions of this place. And since all these are ancient historical buildings, don't feel shy switching to the monochrome (black & white) mode in your cameras, as it will produce amazing results. We got a little late in reaching Mandav. All we could visit was Jahaz Mahal and Hindola Mahal, as all other places were shut by then. That's why I said earlier that a head start is very important.
That very sunset literally made our day. It was around 6:30 in the evening and we were a bit exhausted by then. But that view, right there, it was so refreshing and soothing, that we literally spent around 20-30 mins gazing at it. Around 7pm we were on our way back home. We had dinner on the way at a roadside dhaba. The food was amazing and it felt like icing on a cake. By 11pm we reached Ujjain. Obviously we were tired from a day long trip, but the whole experience was worth all of it. More to your surprise, the whole trip was planned by my dad just a night before. And afterall, a road trip with your mom, dad and sibling is, any day, very special. So whom are you waiting for?
- Suyash7
Frequent Searches Leading To This Page:-
weekend getaways in madhya pradesh, madhya pradesh places to visit, getaways in madhya pradesh, omkareshwar to maheshwar to mandu, omkareshwar maheshwar trip