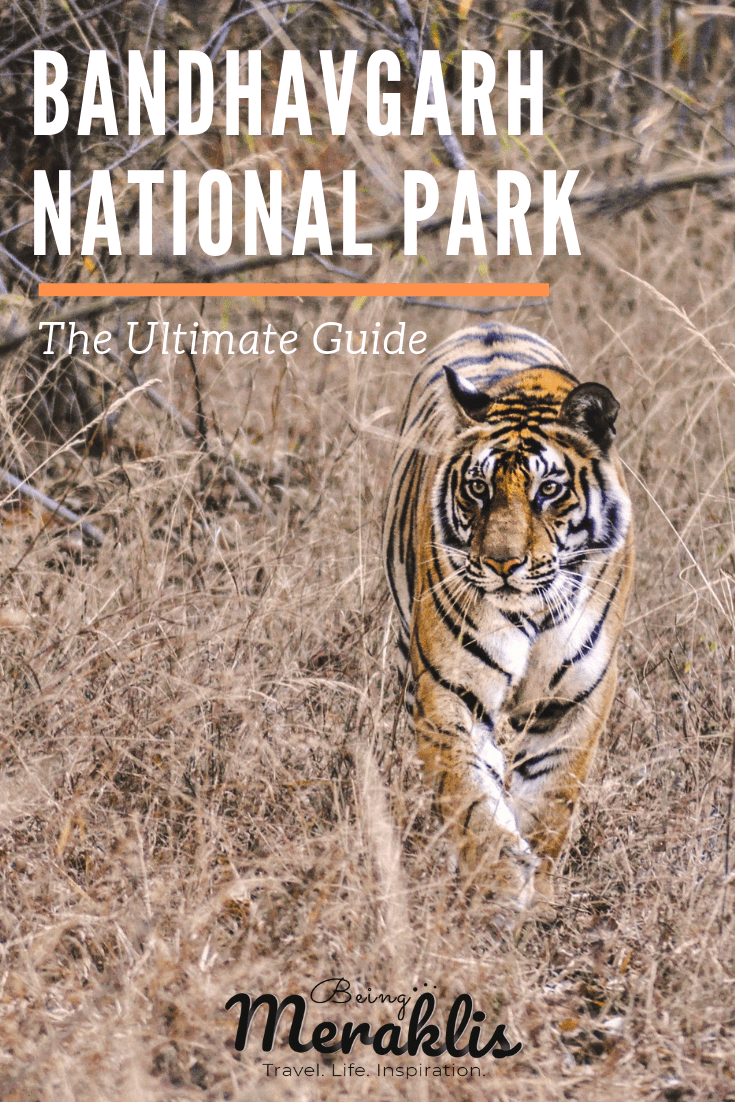 Bandhavgarh National Park visit was such a lively change in comparison to our previous travels. Instead of chasing beaches and mountains.
Bandhavgarh was all about forests, nature, wildlife, and a reminder of life itself.
Planning before arriving upon Bandhavgarh National Park
As the two of us have never been to a national park, this year for our anniversary we decided to visit one of the many glorious national parks in India. India being a tropical country has very rich wildlife in terms of variety of birds and animals and we have several parks dedicated to different animals.
Starting off with the basics, a quick list of reasons on why we narrowed down on Bandhavgarh National Park.
Why did we choose to visit Bandhavgarh National Park?
1.Time of Visit
For any animal sightings, the time of the visit is crucial. Depending on the season this varies. Peak summers like April and May in India are usually known for their animal sightings because the heat drives the animals to come out in search of water.
Another reason why summers are a good time to visit is that the forests are not as dense in this period, which means you can spot a tiger walking along far inside as well from the roads and pathways.
Since we were planning to go in the middle of April, Kanha and Bandhavgarh in Madhya Pradesh were ideal choices given summer temperatures could soar even as high as to 45 degree Celsius.
2.Tiger Spotting
Bandhavgarh is not a very large national park compared to others like Kanha. However, Bandhavgarh National Park is said to have the highest density of tigers per acre of forest. This means that the likelihood of spotting is much higher.
However, we realized after our visit that there is more to Bandhavgarh National Park than just tigers. They have an amazing diversity in wildlife that needs a special mention but more on that later
3.Connectivity
Bandhavgarh National Park was one of the few parks that could be reached with a direct flight from Mumbai and 4 hours on the road. Bandhavgarh and Kanha are about 160-180 Kms from Jabalpur airport and is a 4-hour drive, which makes it very easy to commute for short trips
Best Time to Visit Bandhavgarh
Bandhavgarh National Park has a great diversity in terms of both diversity of animals and birds found here. If you are into bird watching, then the winter months starting October are the best since the forests are much denser and there are migratory birds that come visiting.
For animal spotting, the summer months are considered the best so March to May.
Bandhavgarh National Park: How to get there?
By Air: Jabalpur airport is the closest from where the drive to Bandhavgarh National Park is about 175kms and a 4-hour drive
By Train: Umaria is the closest station to Bandhavgarh National Park. A 1000 bucks ride will take you from Umaria to Tala where Bandhavgarh National Park is located in less than an hour.
Road connectivity is not as great, so it is better to go ahead by either of the two options above
Where to Stay near Bandhavgarh?
Bandhavgarh National Park has attracted a lot of attention from tourists in the past decade and one is spoilt for choices when it comes to places to stay.
Most of the properties are priced higher than average. We were booked in Aranyak Resort initially, read my review here. The place is good for the price paid, however, the service could have been much better
However, we also had a chance to stay in Bandhav Vilas since Aranyak was overbooked and they requested us to shift for our last day. It is a gorgeous property for sure but definitely not worth 15-17k a night.
Choosing the right Safari
Bandhavgarh National Park by law has been split into 80% forests where tourists are not allowed and the remaining 20% of the forest lands are split into 3 zones - Tala, Magadhi and Khaitauli
My personal experience visiting Bandhavgarh National Park
Each of them has more or less the same amount of forest area, however, they are known for different species.
Tala is famous for tiger spotting and has a wide diversity of deer, antelopes, Sambar, insanely long-tailed Langurs, Wild Boars, Jackals, Bisons and the occasional Leopard spotting up on the hilly terrains within Tala Zone. We spotted several birds like parakeets, hornbills, Egyptian vultures, peacock, and peafowls.
Magadhi is famous for its tigers Solo, Dotty, Mahaman and their cubs. The zone known more for its female tigers and their little ones, this zone is more about spotting these lovely animals. The forests here are much thicker than Tala and though the diversity in wildlife here is just as much as in Tala, spotting them is tricky for they might be in much deeper parts of the jungle.
Khaitauli is one zone we did not get a chance to visit but were told that it was a more popular zone for bird enthusiasts for the zone has several waterbodies that attract their attention.
Safari Cost
We chose a private safari for the two of us and the per safari the actual costs is 5550. However, if you were to book it through hotels in which case the pick up is arranged from the hotel itself, they charge you 6500.
However, if you were to go in groups the cost per person would be lesser. While the open jeeps can accommodate 6 people at one go, my recommendation though would be not to go in groups larger than 4 in one jeep as they view then becomes restricted for the two seated in the middle
Keep in Mind that there is a cap on the number of vehicles they allow for every safari so ensure you make your safari bookings well in advance (at least a month before to ensure that you get the slot of your preference)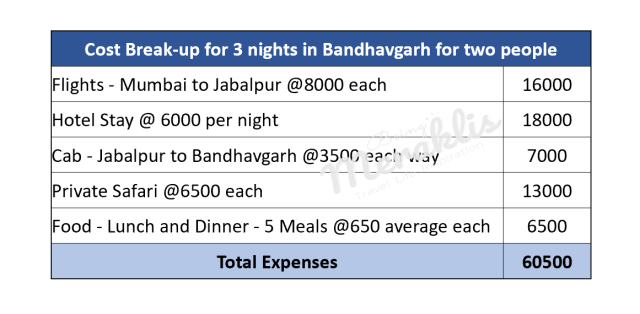 Safari Timings
Bandhavgarh National Park has 2 alternatives a morning safari from 5.45 AM - 11.00AM or an afternoon safari from 2.45 PM - 6.45 PM.
Morning safaris are your best bet especially if you are going in peak summers as you can avoid the heat. Also spotting animals is trickier during the afternoon time for they prefer to stay under forest cover to protect themselves from the heat. The gates open like clockwork in all zones at 5.45 AM in the morning and that is absolutely the best time to visit Bandhavgarh National Park. We visited both Tala and Magadhi in the morning and they were worth waking up at 4.45 in the morning on your vacations.
Things to Keep in Mind
1.Avoid the tiger frenzy
As soon as we reached Bandhavgarh we realized there is a frenzy to spot the tiger. You have had a good trip if you have spotted one and a terrible one if you have not. This mindset of tourists put the safari jeep drivers and guides on immense pressure to ensure you spot one at all costs. Please do not be one of them. Bandhavgarh National Park has forts, lakes, a beautiful forest and amazing birds and animals that can only be spotted here apart from just the tiger.
2.Very very dusty
I had read before I had gone on the safari that the roads are dusty. I took my scarves but never bothered actually taking it on the safari. Please do not make that mistake. Cover yourself as much as possible.
3.Little to do after the safari
Given that most of the nearby surrounding areas are forest land, there will not be much to do before or after a safari so plan your entertainment accordingly. The two of us were more than happy to use this time to unwind, do nothing and just catch up with each other
4.Food
For some reason, all resort/hotels in Bandhavgarh seem to have this set menu concept for lunch and dinner. While the food is good quality and tasty in both Arnayak and Bandhav Vilas I did miss my right to choose what I wanted to eat.
5.Patience
Last but not least, you need patience when you are headed to these safaris. Watching animals in their natural habitat also means understanding their ways of life in such a habitat. Animals have a mind of their own and choose what to do at any moment in time that cannot be predicted by forest officials. They go by the routes charted and follow paw marks to trace a tiger's moment or go by the deer's calls to identify where the Tigers were last spotted. Be patient, try and be a part of the process in tracing those marks, believe me, it is fun. Spotting is about being in the right place at the right time, which involves a lot of luck as well so do not lose hope.