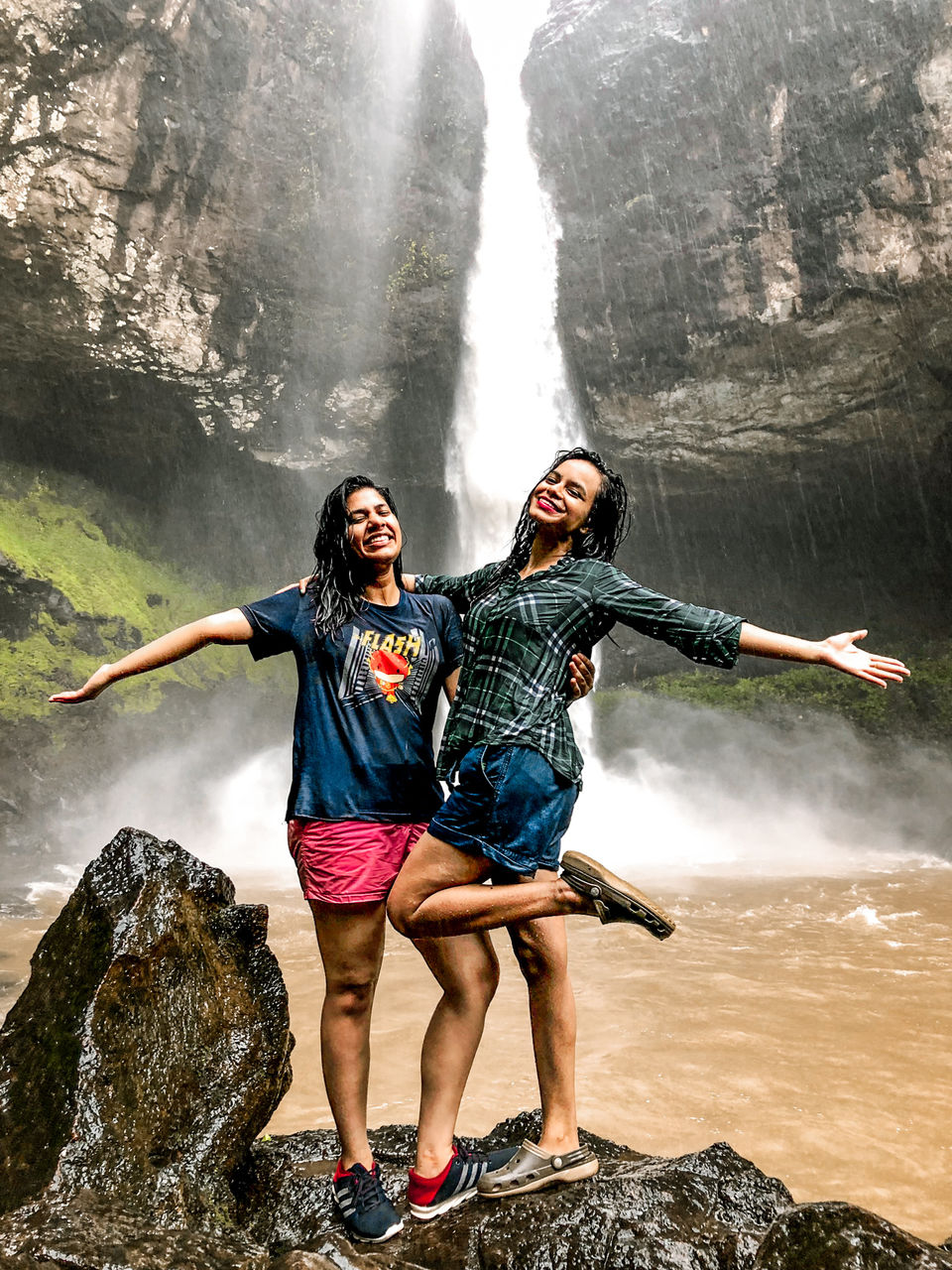 Devkund waterfall: A mysterious jungle trek
Never-ending trudge of 14 km's, crossed three 6 feet deep rivers, soaked in soggy and muggy clothes straight for 9 hours, half-dead in hunger and cold, got lost in the dense jungle!!!
Yes, it all happened in a day.
Hey everyone, I hope you enjoyed reading about our experience of tiring long haul to Lohagad spooky fort(well, I like to call it that way you know why :P).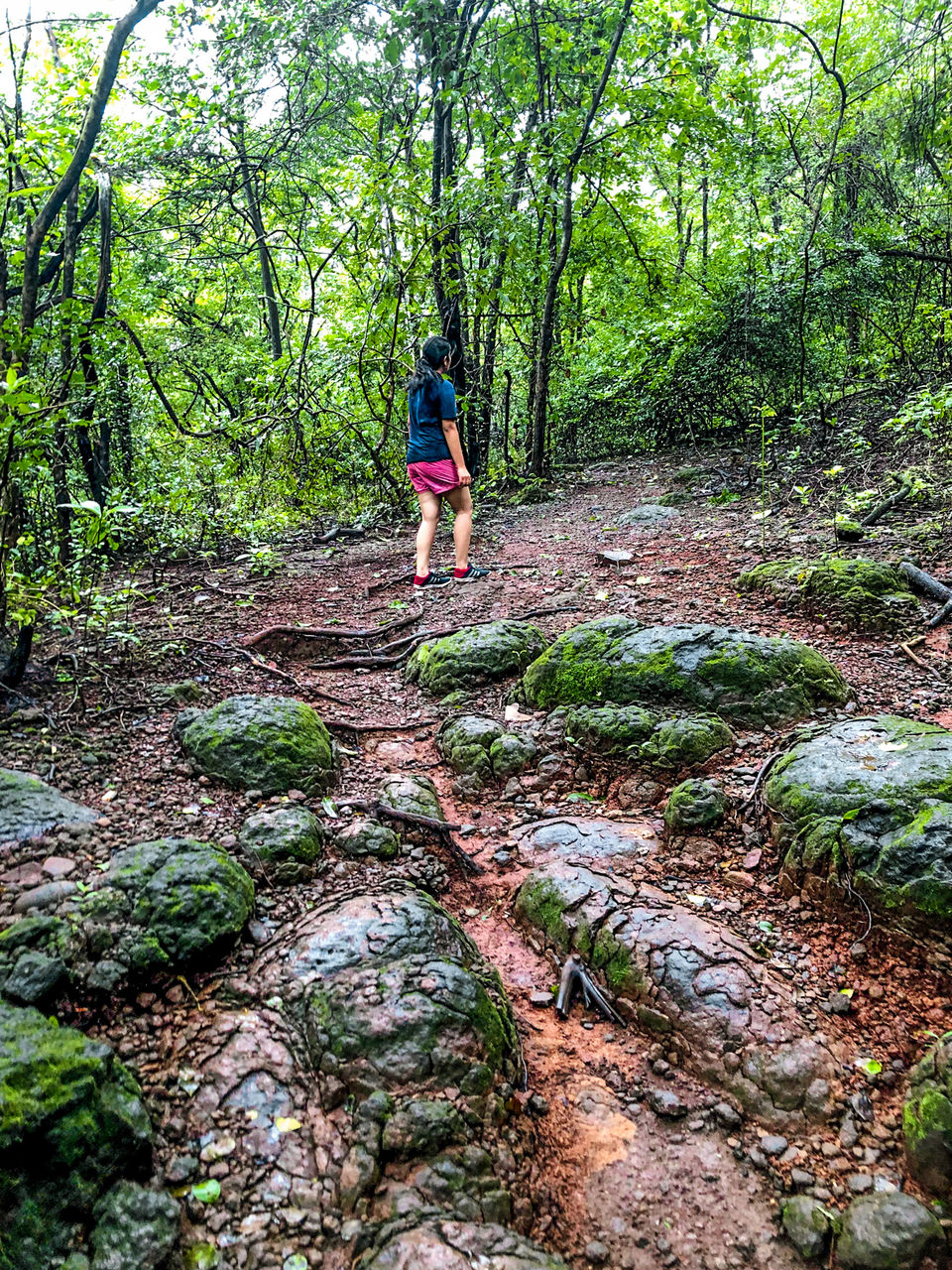 Anyways this blog is all about surviving a life-threatening expedition in the peak monsoons.
Devkund waterfall-a fall that offers undoubtedly one of the most nerve chilling experiences.
Grab a popcorn, turn on your imagination and try to visualize while you peruse through the blog.
When forests itself beckons you, this happens!
I woke up at 4 am and got vexed to notice that it was all dark and lashing out heavily.
But the zealous me made a ring to every other somnophilias (my sleeping friends)and asked them to get up and gear up as we booked a cab at 5 am directly to the Bhira.
We sleepy heads boarded the cab somehow at 5:30 am after keeping the driver waited for 30 minutes, and the journey started.
Well to inform you, there are no direct public transports to the Bhira village, where the fall is situated.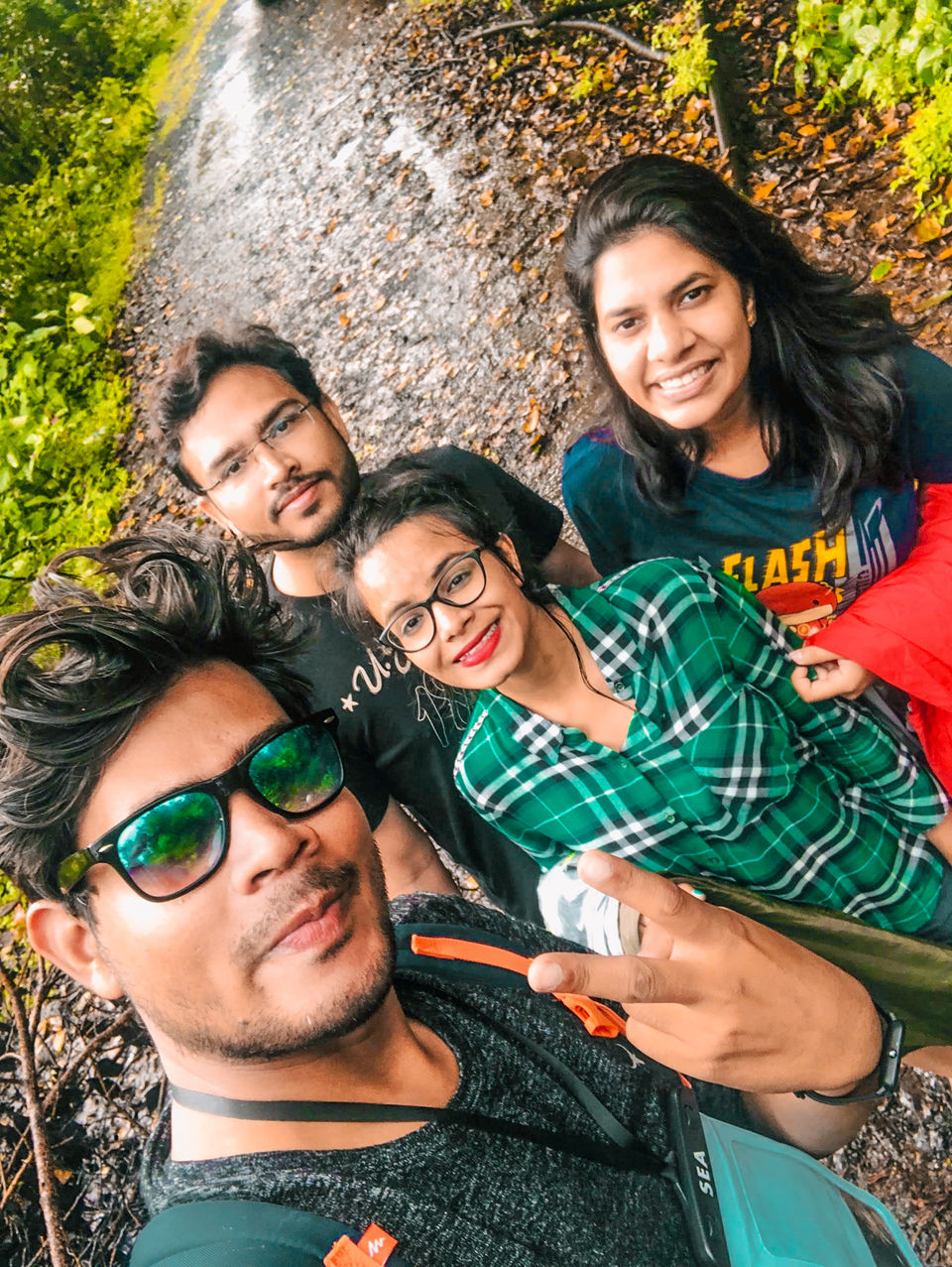 If you are a group of more than 4 people it is advisable to book a direct cab from Pune or Mumbai, as your cost will cut down when you split among each other.
Cratered roads proved to be a lifetime cherishment!
It's a 4-hour voyage from Hinjewadi to the base village of the fall.
But the driver assuredly told, "it will take more than 5 hours because of the uneven roads due to rains".
We passed through Tamhini ghat which was eternal and exuberant.
Tamhini ghat: Gem of the western ghats?
60kms from Pune, this ghat is another one day trek that you can do on a weekend in Pune.
But mind it, the roads are awful. I really mean it.
And especially in monsoon, those herky-jerky path holed roads will make you bite someone's head off, literally!
But don't you worry, the scenic landscapes and the panoramic view will bind you onto them and divert your mind from the irksome journey.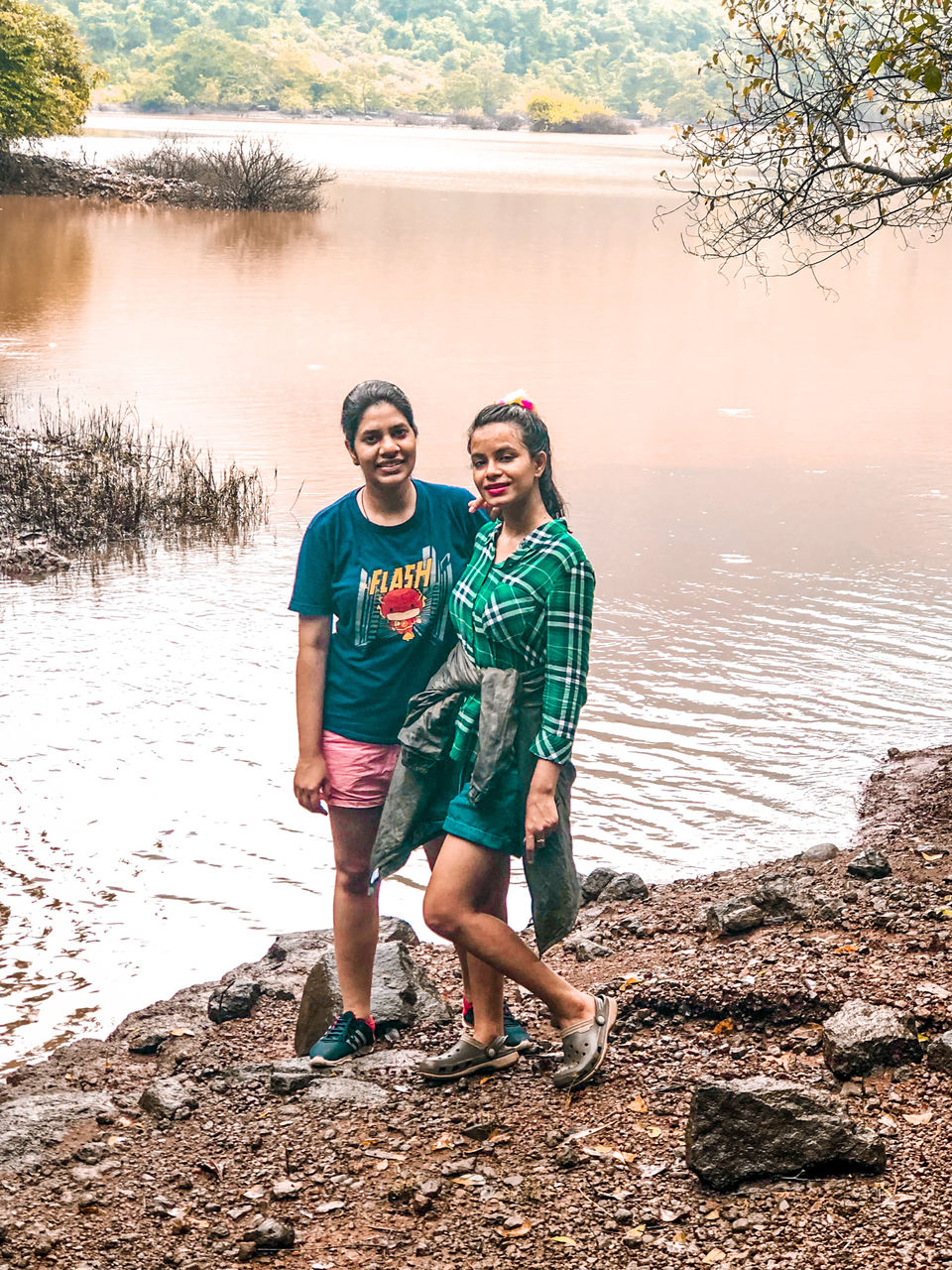 While passing through the enticing ghats, you will come across a lot of small falls outpouring rainwater with a flash and lush emerald green farms.
The first ray of dawn: the pragmatic approach to life!
Imagine what could you have asked for more when you spot the sun god in the mood to play peekaboo behind the dark clouds and sprinkling its golden first rays on these velvety farms? Nothing right?
It was magical!
The ghats are surrounded by Mulshi lake. You can have the best time with your family and friends camping beside the lake.
It was a bliss to the eyes and soul to have witnessed the breathtaking view in the morning.
We were enjoying the landscapes, listening to some old Hindi songs in the background that our driver played.
Oh, I remember, it was the soulful " ye haseen waadiyan ye khula aasman " from Roja. ????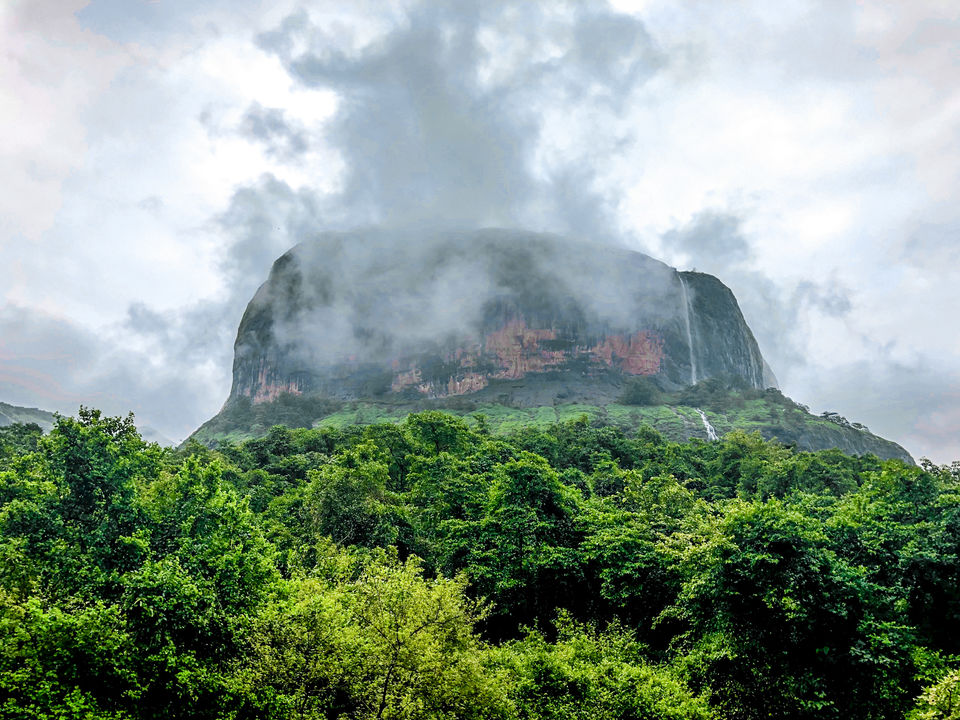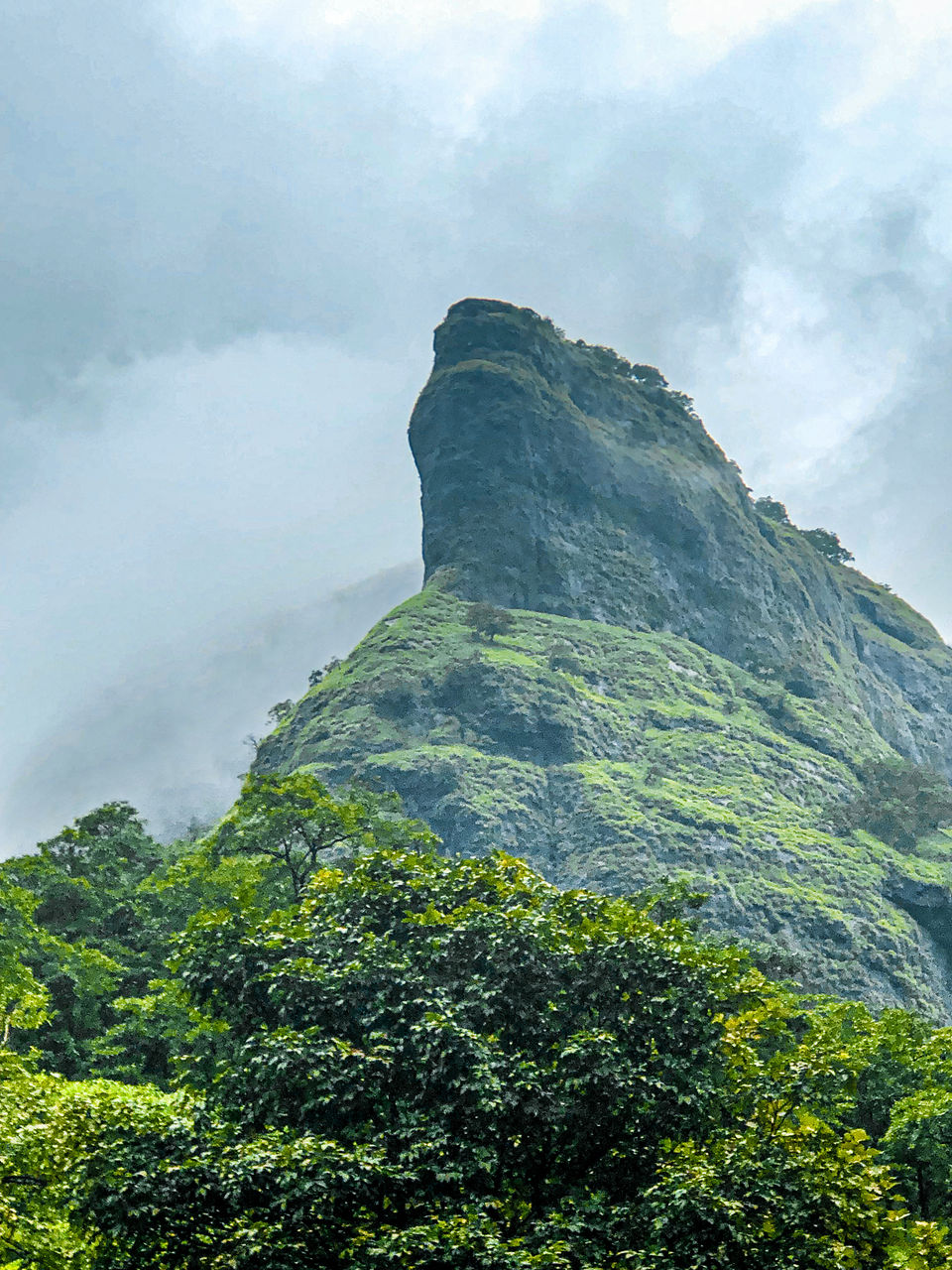 Don't they say "the journey is more beautiful than the destination"?. Yes! it's true.
And then what? I partially opened my one eye and realized, I slept for a while and when I turned my face to my right, I found all of my friends taking a nap.
We were quite lethargic due to the restless last night.
I spun my neck towards my left and I felt a gleam in my drowsy eyes and an arch came into existence on my face called "smile" after seeing the heavenly view from the window.
Survived the bumpy ride and reached Bhira!
And the next moment when I opened my eyes, I found myself to be in the middle of Bhira village.
My eyes twinkled I and felt butterflies in my stomach, yes just like the one on the first dates, to trek the ever enchanting Devkund waterfalls.
We collected our belongings and left the rest in the car itself.
We met our guide Manohar, a tall, dark and lean boy who assisted a group of 20/30 people who were already there waiting for us.
The trek started. We were all pumped up.
And here it begins action-packed excursion to the mighty falls-Devkoond.
"India's natural habitat/flora and fauna and landscapes are only revived when trekked through dense and condensed jungles. So let's do this.. are you ready"? The guide said
A very few of us squeaked in sleepy mode "Yesss"!
He was not convinced.
He tried one more time, guys you are going to witness one of the most beautiful waterfalls of Maharashtra.. can I see some excitement?
The whole group including me roared aloud-" yessssssssssssssssss"! He smiled and we entered into the jungles.
It was 12 pm then.
we started the trek
Unfolding the mysterious jungle!
The first 30 minutes of the trek was quite easy as we were walking on a plain patch of grassland, along the Bhira dam reservoir.
As we trekked more, we were invading into the dark forest which was covered with every possible variety of jungly trees and weeds.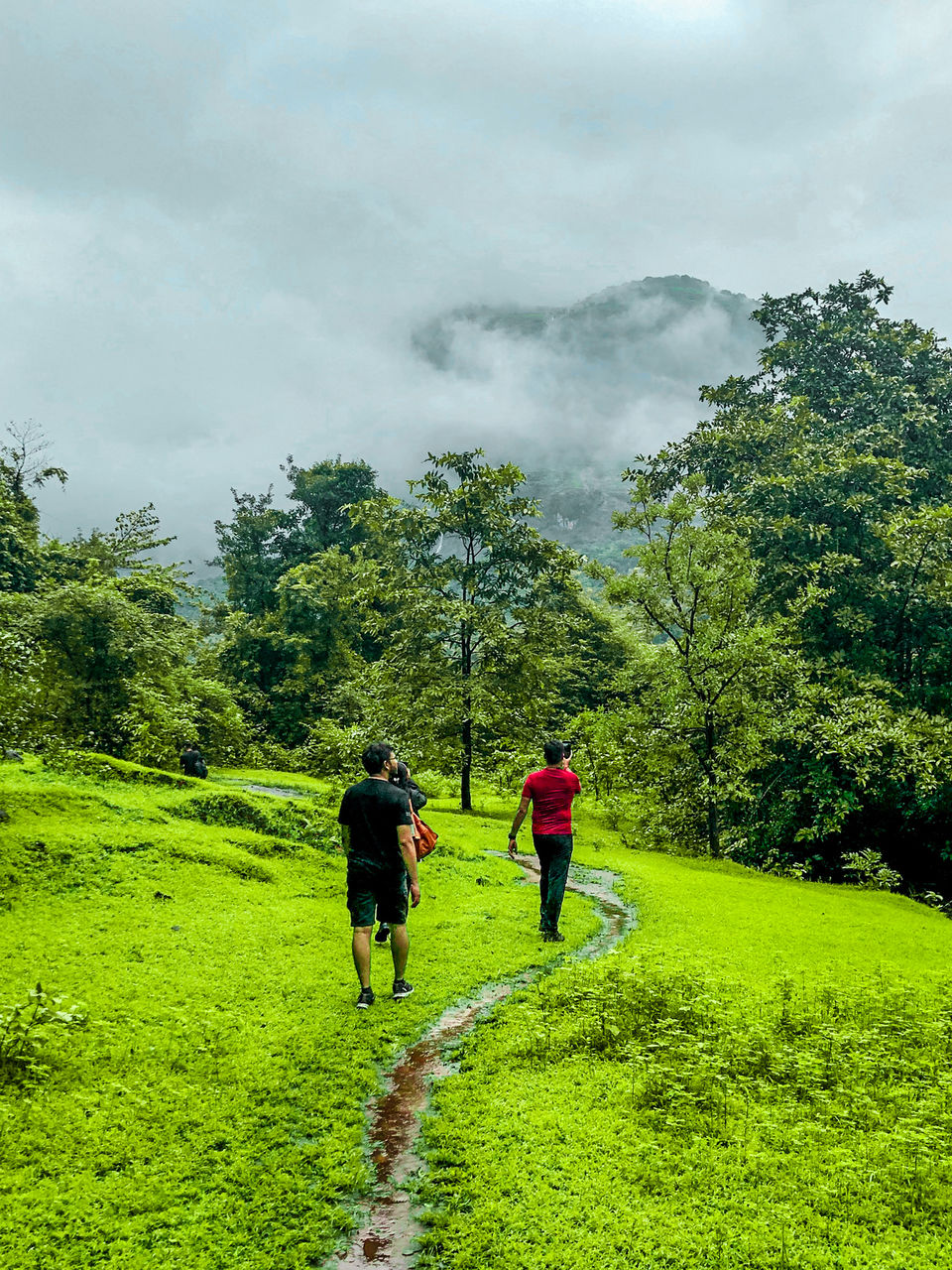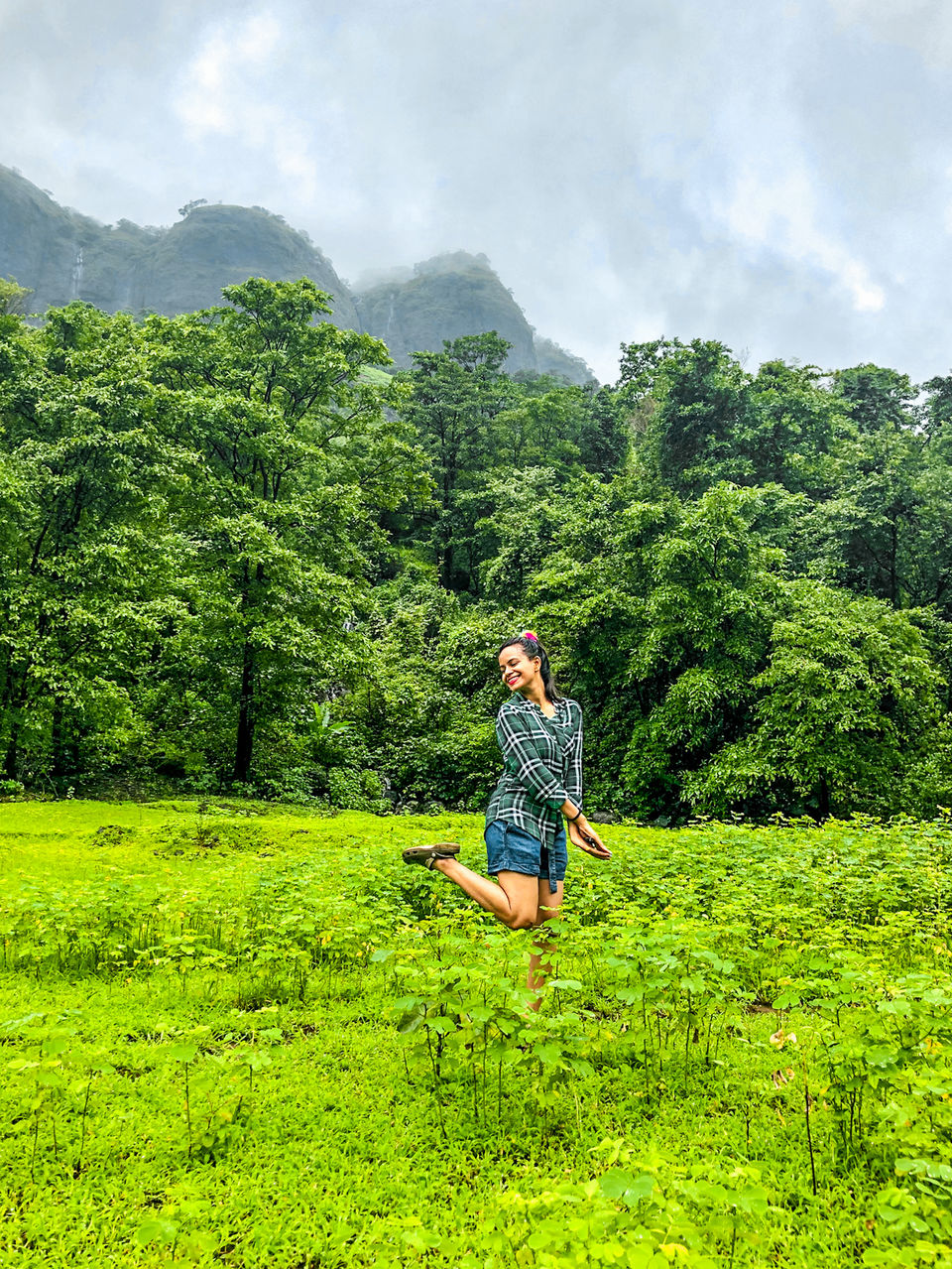 It was growing denser progressively.
So dense that sunlight couldn't enter into it.
Yes! we are in the middle of Bhira.
The essence of the jungle was coiling us and we were happy to mold ourselves.
The next 1 hour of the trek got us to make our way through muddy plains, slippery rocks and stubborn bushes. Which was very exciting and thrilling at the same time.
Traversed through a 6 feet deep stream?
Trekked more and more, and there came a point where we found a 30 feet wide river stream right in front of us.
When the guide said "we have to cross this stream, I rubbed my eyes and widened it to actually believe what he is saying.
The information left all of us flabbergasted when he said there are more 3 rivers just like this.
Something like this was my first-time experience and I was thrilled and fascinated.
It was more than 5 feet deep!
The guide among with few other tall men from the group valiantly crossed the river to tie a rope to a tree on either side so that we could cross it one by one.
It was more than drizzling then, and the flow of the water was high, and when I say this I want you to emphasize on the fact that I was actually going to cross that high flow deep river.
"It was going to be life-threatening but maza ayega(i am excited)"-I murmured.
People started to cross.
I don't know swimming… please help!! I am drowning.
And then came my turn, I stepped into the river, and O M G I suddenly realized the water was chilled and the flow was not an easy obstacle for me.
And then I put another step, and I found myself drowning, literally not even kidding guys, but the level was over my head and the flow was pushing me in the wrong direction.
I called out for help, I thought I would submerge inside.
I started panicking.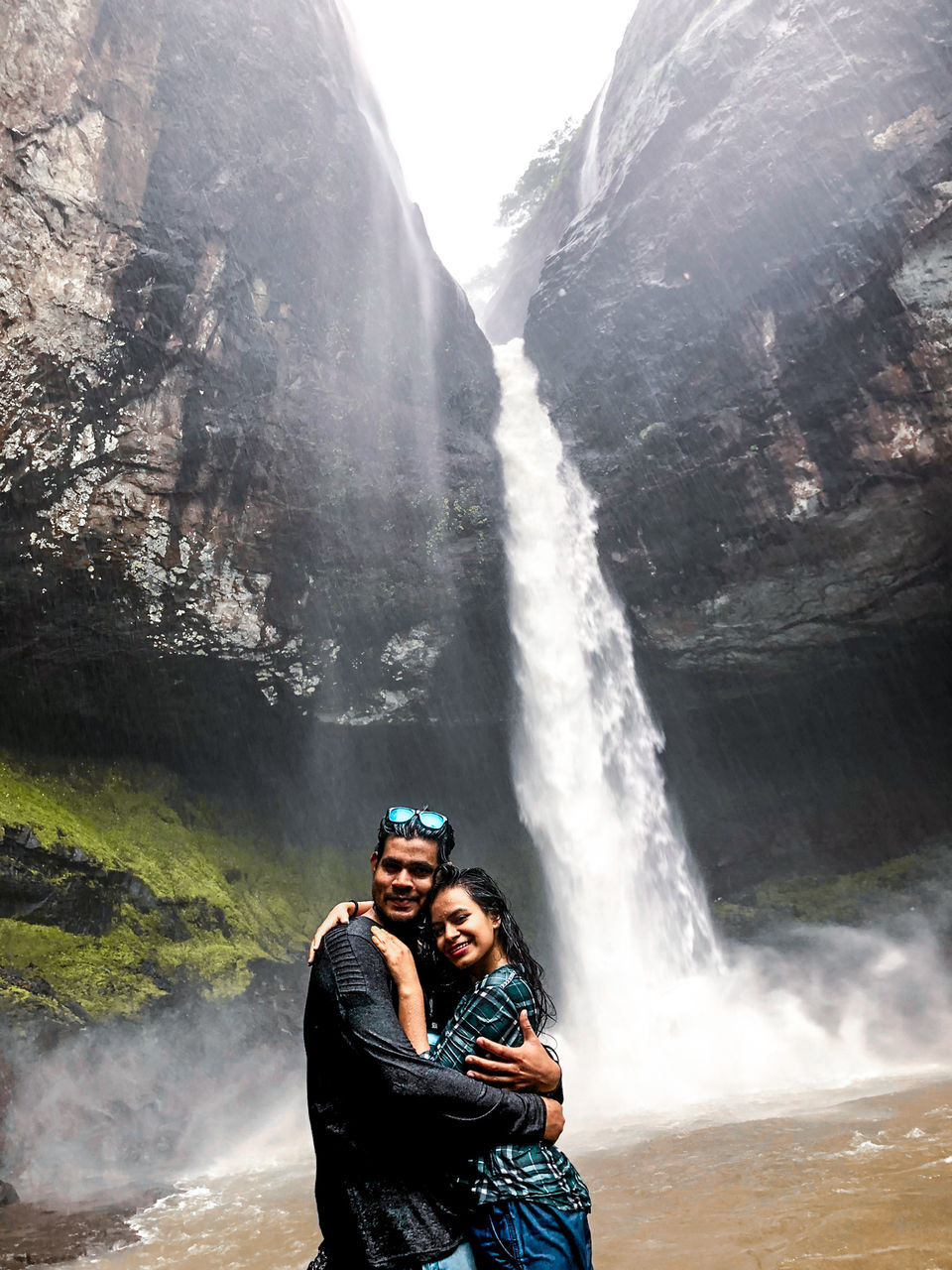 Luckily Avinash who was coming right after me stood behind me like a barrier to obstruct the flow of the water, then he held my arms and dragged me to the other side within 10 seconds.
Ahhhh! finally, I did it! it was super adventurous.-I said to my friend Iti who already crossed the river before me. I hugged her.
Chal nautanki (such a gimmick you are) she said laughing.
We continued our walk after that spine chilling river crossing act.
Devkund waterfall: One of the most challenging treks in monsoons!
And we passed by more mud-caked lakes, gargantuan celestial spherical shaped mountains engulfed with fog, greener pastures, and impenetrable forests.
We were worn out by then but we kept rambling with our faces lit up with impish glee in order to discover every step of the trek.
The guide kept us engaged with the information trivia about the local environment as we kept walking through a series of interconnected sprawling forests.
Again we crossed two more 4 feet river streams one after one, by the end of which I felt myself like Mowgli. haha…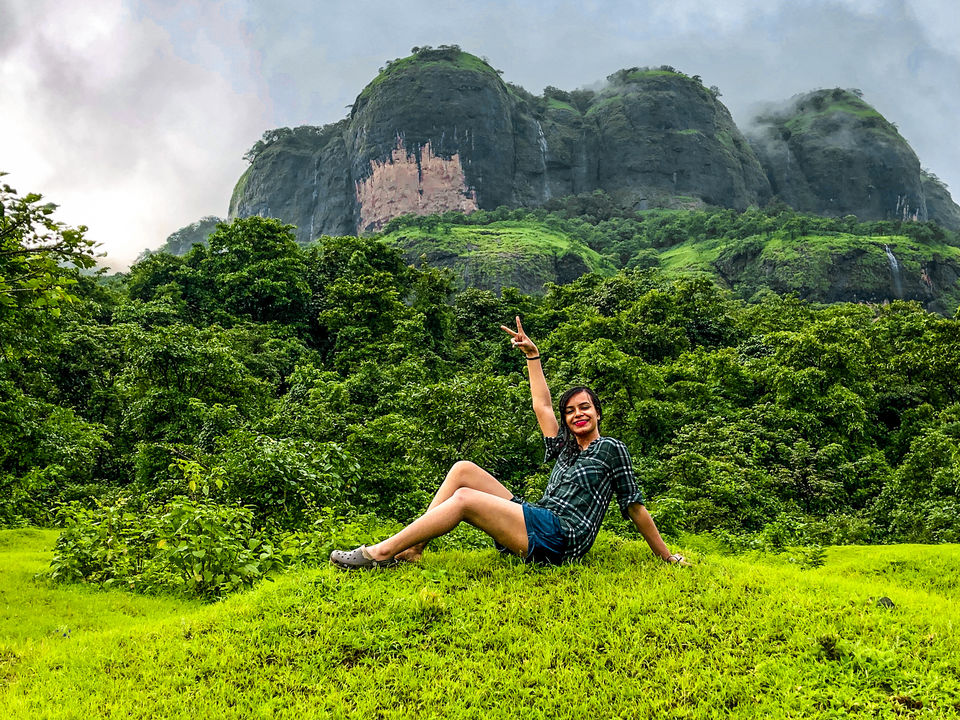 Trust me the experience was out of the world, that this blog can hardly do any justice.
Exhausted and strained, we were just walking into an endless and unfading jungle.
Then there came a part where we had to climb an inclined foresty peak, behind which the most awaiting fall was located.
While climbing up, we just saw an animated world right in front of us.
A view just like an illustration from the book of fantasy!
Hundreds of butterflies fluttering around and larger than life tree roots, sheltering glowy honeycomb structured mushrooms that mischievously distracted us was absolutely magical. Just imagine.
Indeed a fascinating dreamland where we could hear the falls sloshing with a ripping flow into the koond.
Devkund waterfall: A mysterious jungle trek
And with each footstep, the woosh sound of the fall was getting us anxious to end the wait, to see the anticipated waterfall.
After 30 minutes of struggling through the climb, finally comes the divine fall that your eyes would ever envision.
Unveiling the secluded divine waterfall!
It was gigantic, it was colossal and the most artistic fall, mother nature possesses. Incredible it was!
We could not believe our eyes that we actually reached there.

It was raining cats and dogs by then, we sat on a rock and gazed admiringly the pulchritudinous fall for 30 minutes without uttering anything to anyone.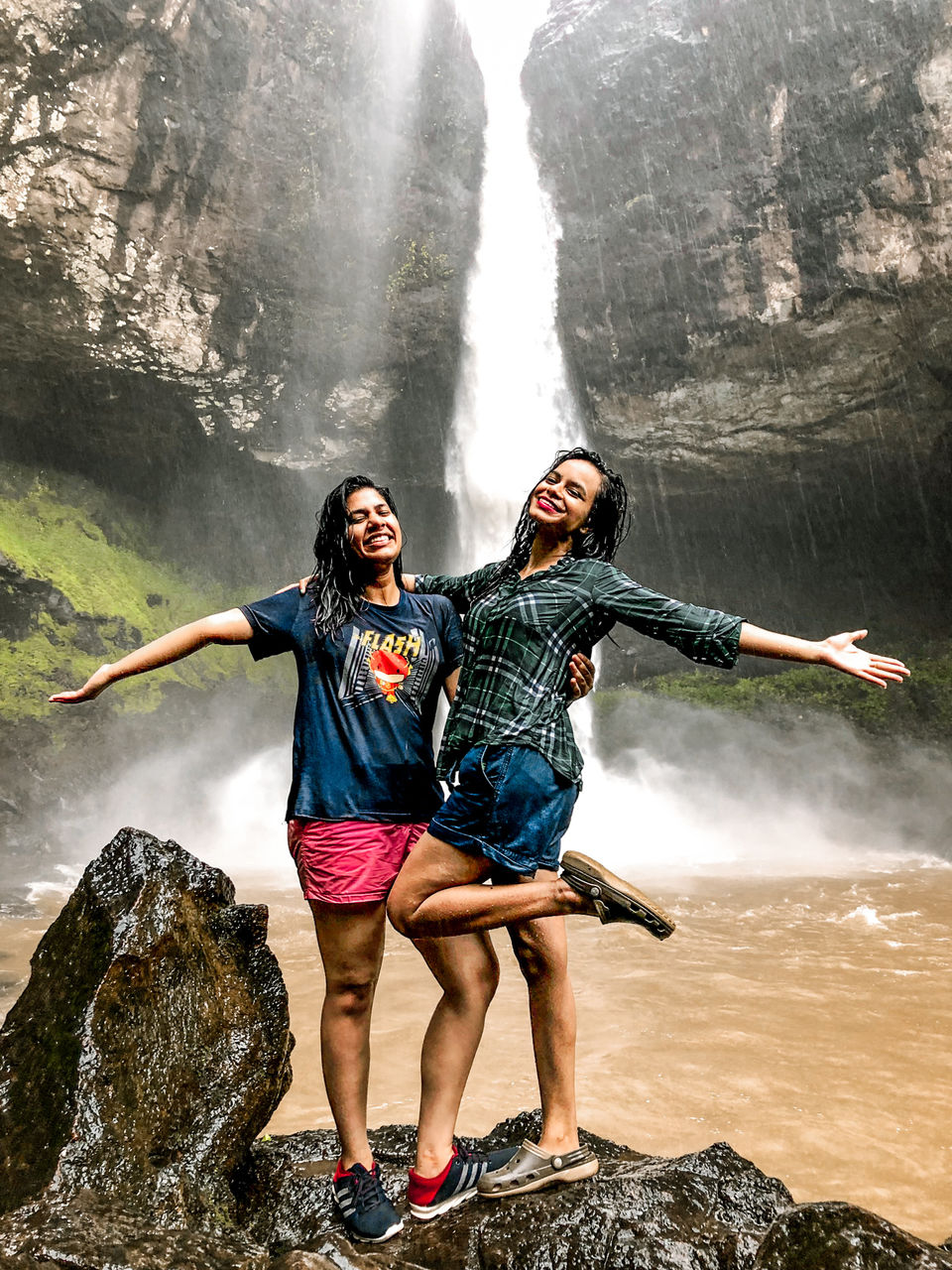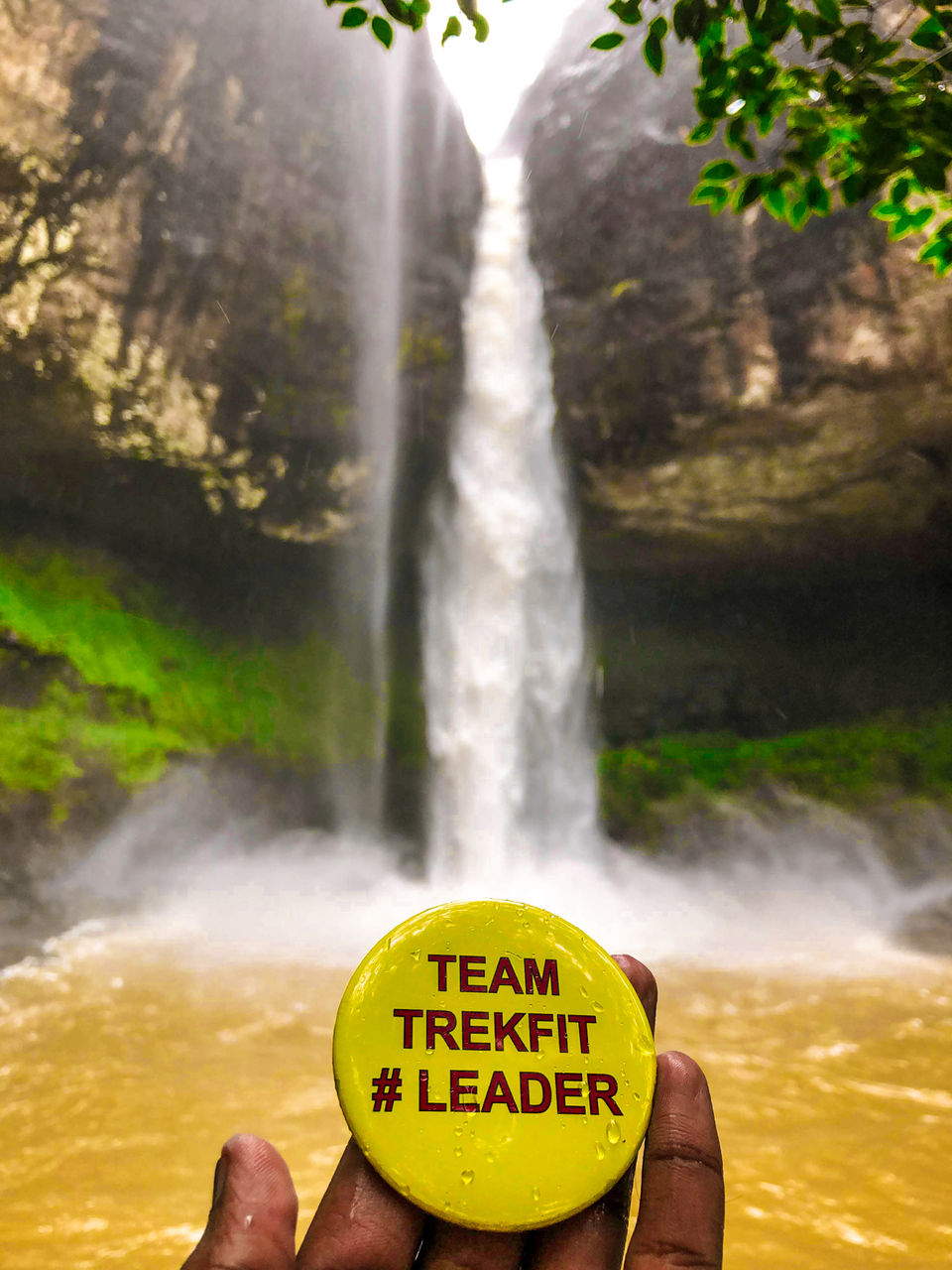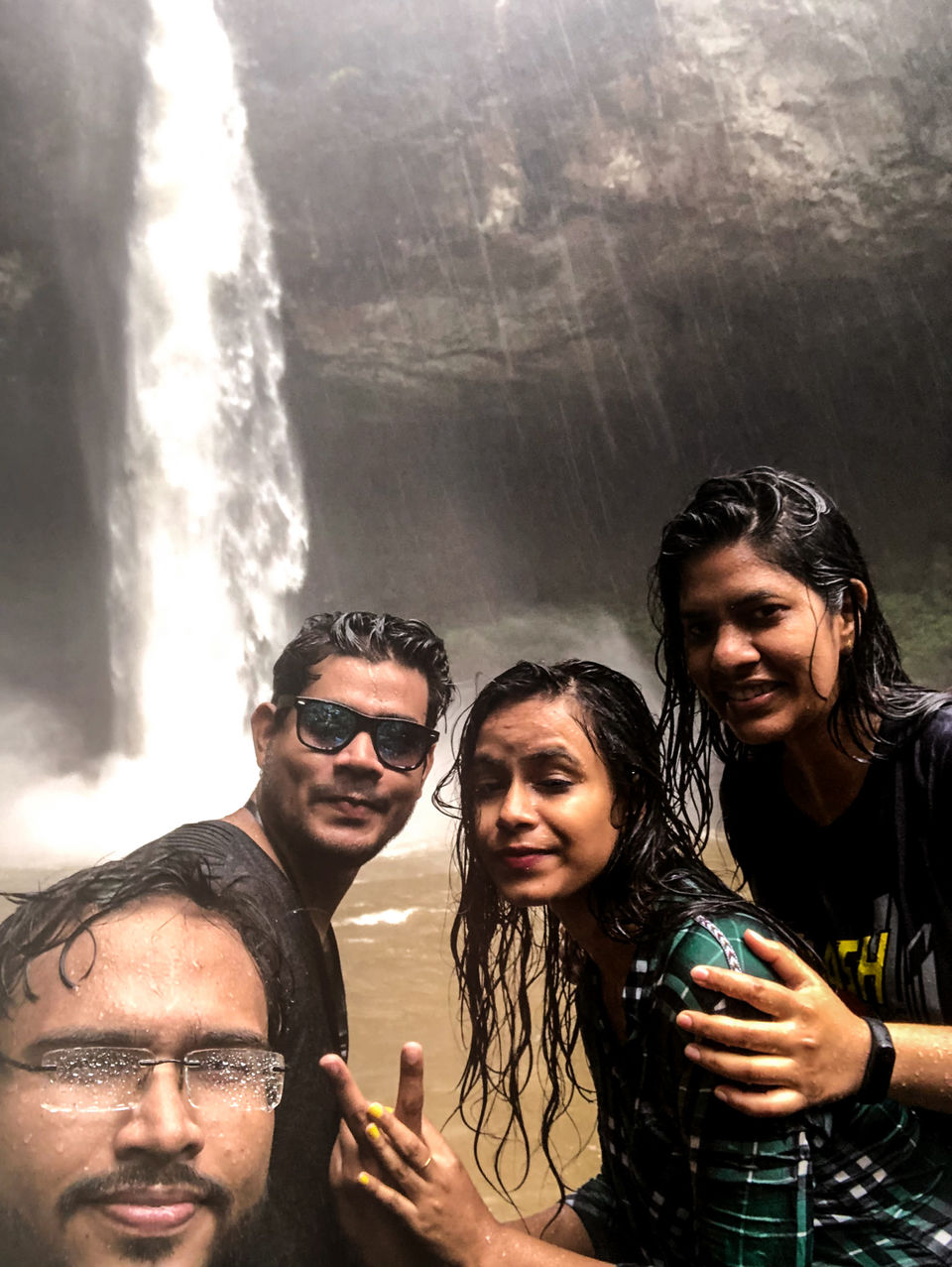 It was such an eye-soothing beauty, amid the pristine wilderness.
A whopping amount of water flowing from the Kundalika river which is said to be the waterfall's origin and falling into a huge pit left us astounded.
We couldn't get enough of that 80 feet massive waterfall.
I went into some other zone of thinking and relating all this to LIFE.
Accept the challenges, so that you can feel the exhilaration of victory!
As in life, we come across so many hurdles, but we should never let the fear of failure overpower our impulse and self-motivation.
And as you do so, see how beautiful the destination will be!
Just like this trek that taught me so much.
It all looked so meaningful!
We thought of going into the pond where the fall splashes into, but we noticed a rope was tied which said: "don't cross beyond this rope ".
Devkund waterfall: a pond of tragedy?/ pond of deaths?
We learned from our guide that last month a few accidents took place so any of us will be prohibited beyond the rope due to safety reasons. Also, the water flow was very high.
The rains and cold were shivering our flesh off as we were wearing those wet clothes for 4 hours now.
But we got up one by one to get captured with that mammoth waterfall in the frame.
After getting some amazing shots of this enormous picturesque waterfall, we trekked back as we had to reach the origin before 7 pm for obvious reasons(its a jungle).
And again we started the journey of life on a backtrack, crossing those semi flooded dense forests and three river streams.
Devkund waterfall: A mysterious jungle trek
Trekked back with a feeling of triumph to the quaint village(Bhira).
This time the water was more chilled and it got on my nerves.
The guide showed us the route to Andharban forests (dark forest)pointing to an unspecified mountain to which I promised myself to trek that next time I visit Pune.
We witnessed the exotic sunset on our way.
It was perfect and exquisite.
Devkund waterfall: A mysterious jungle trek
I would not exaggerate but after trekking for almost 14 km that day with all that spine-chilling adventure in the dense jungle, empty stomach, and wet clothes, I was still feeling my best.
Then on the way back to our rooms, we had Wada pavs in a restaurant, also where we changed our clothes before we would die of pneumonia(just kidding).
What a day it was! Tiring tha par on the top of the world wali feeling aa rahi thi. (it was tiring but I was on the top of the world).
Do let me know if you will still visit this waterfall? Also, let me know how did you like the blog.
Till then,
Take care of yourself and I shall meet you very soon with another exciting blog.
love
#wanderuffles