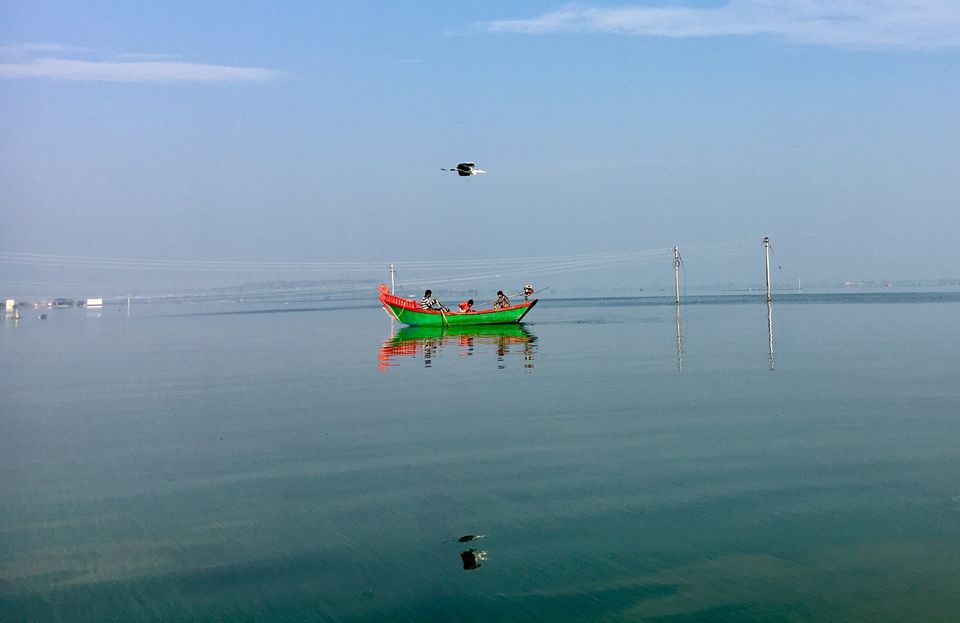 It is not always necessary or possible to go for a two week long vacation. At times, you just have the weekend or a single day. And just that day when you don't want to sit at home and chill.
That's when you start exploring things that you can do in day's time. For wanderers, travel is the only world they explore. :)
So did I, on a Sunday. I found out the perfect get-a-way I could do and enjoy in a day's time.
Winters in the western part of India are but a cozy time for many many migratory birds from different parts of the world like Siberia, Middle East and Africa. They start their journeys as early as in the month of September to make it to our country.
My plan was to welcome these beautiful foreigners at Bhigwan.
Maharashtra is etched with history throughout, one such marvel from the past is a temple built in the 13th Century. The Bhuleshwar Temple.
This was the second part of the plan.
Bhigwan, The Bird Sanctuary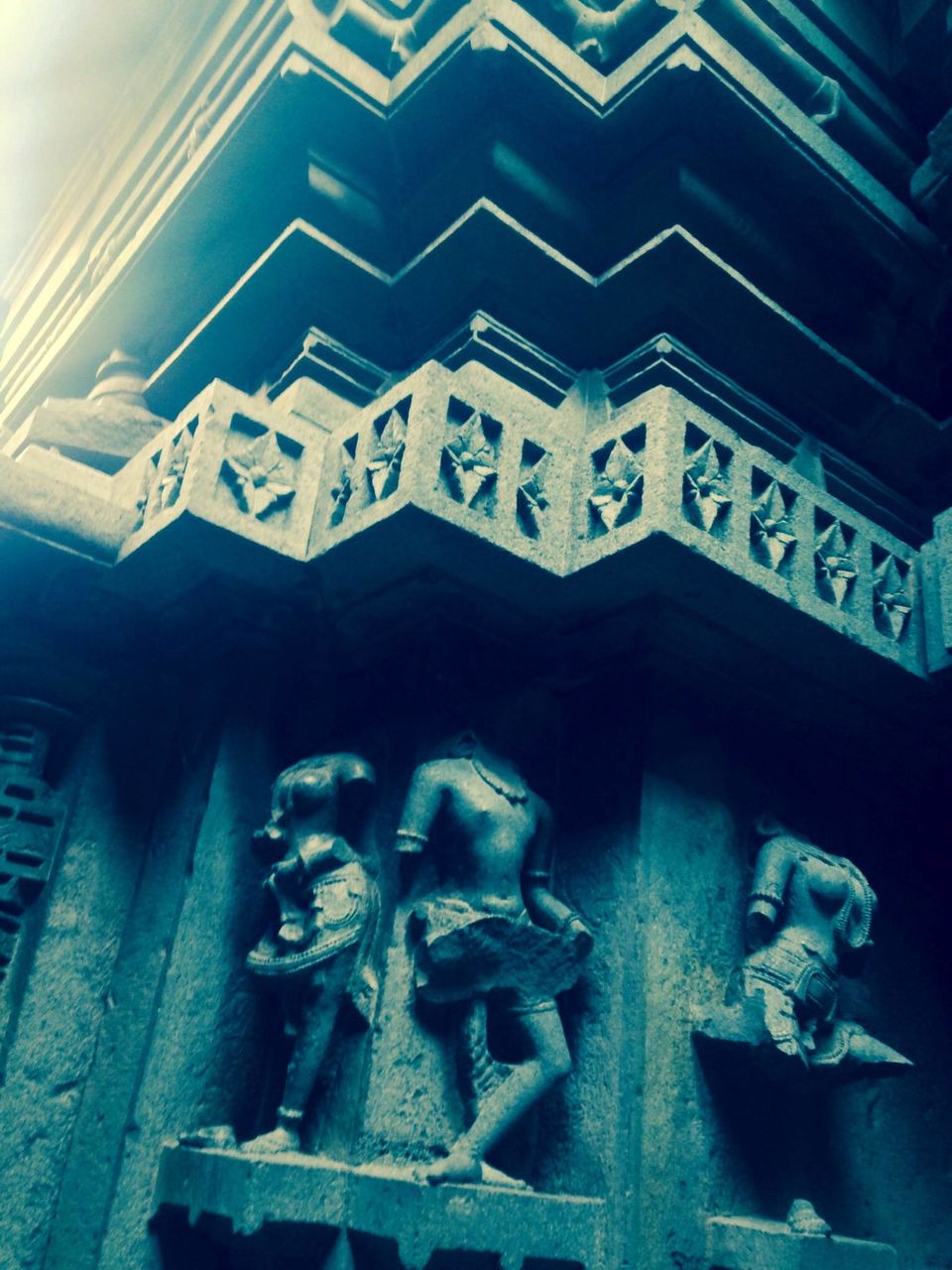 Located on the border on Pune and Solapur, on the Pune-Solapur Expressway, Bhigwan is about 105km from Pune. It is situated on the backwaters of Ujani Dam, which is what becomes the home in winters for these varied birds.
We started at 5:45am sharp from Pune in 3 different cars, 9 of us. The idea was to reach there by 8:30 so that we could set out sailing into the waters latest by 9:30am.
Why is timing so important? Because firstly, you will be able to see more of these birds in action. Secondly, the sun will not roast you.
Interestingly, the road is as straight as it can be till where we take a turn for Kumbhargaon, one of the cluster villages of Bhigwan. The drive is smooth and peaceful. And as you drive towards the east, you can witness the sun gain the zenith from below the horizon, right in front of you.
After reaching, we were served steaming poha by the organizer team. We then wore our life jackets and boarded the boat.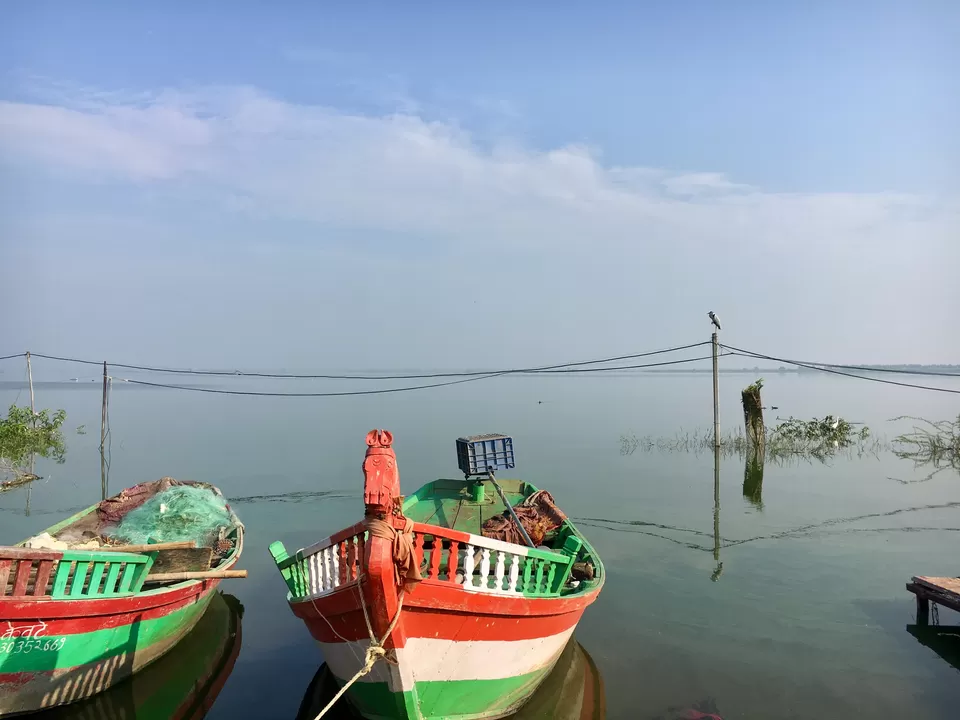 We sailed into the backwaters where we started sighting variety of birds.
We first spotted a family of Coots, very close to the bank. Although appearing very similar to ducks, they are only distantly related to them. The sight was interesting - Mommy coot and Daddy coot feeding three baby coots. And while the parents searched for their food, the kids hid in the grass to be safe.
The boat takes us much into the water closer to the marshy lands where these birds actually rest.
Few birds we could spot - Ruddy Shelducks, Storks, Painted Storks, Indian Cormorant, Glossy Ibis, Marshy harrier, Spoonbill Stork, Spotted Eagle, three types of Seagulls including the Heuglin's Gull, two types of Kingfisher including the white throated one and Black Drongo, Egrets, Kite and Grey Herons.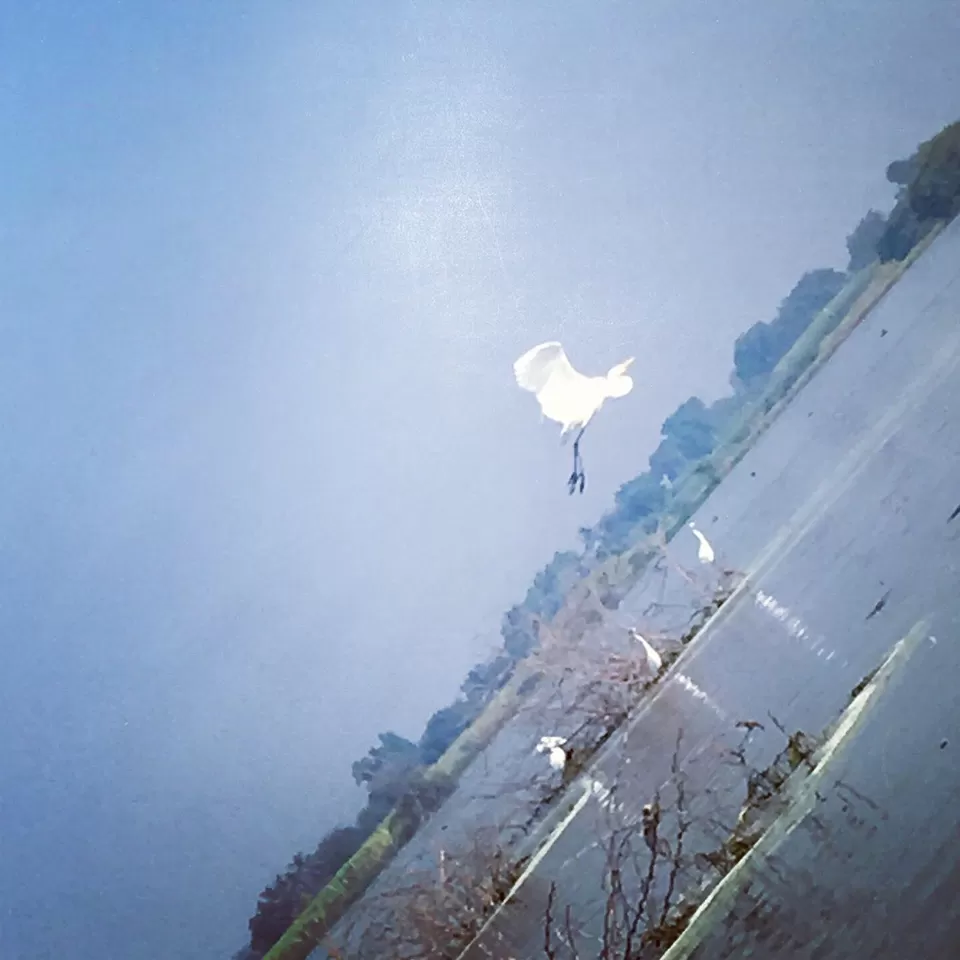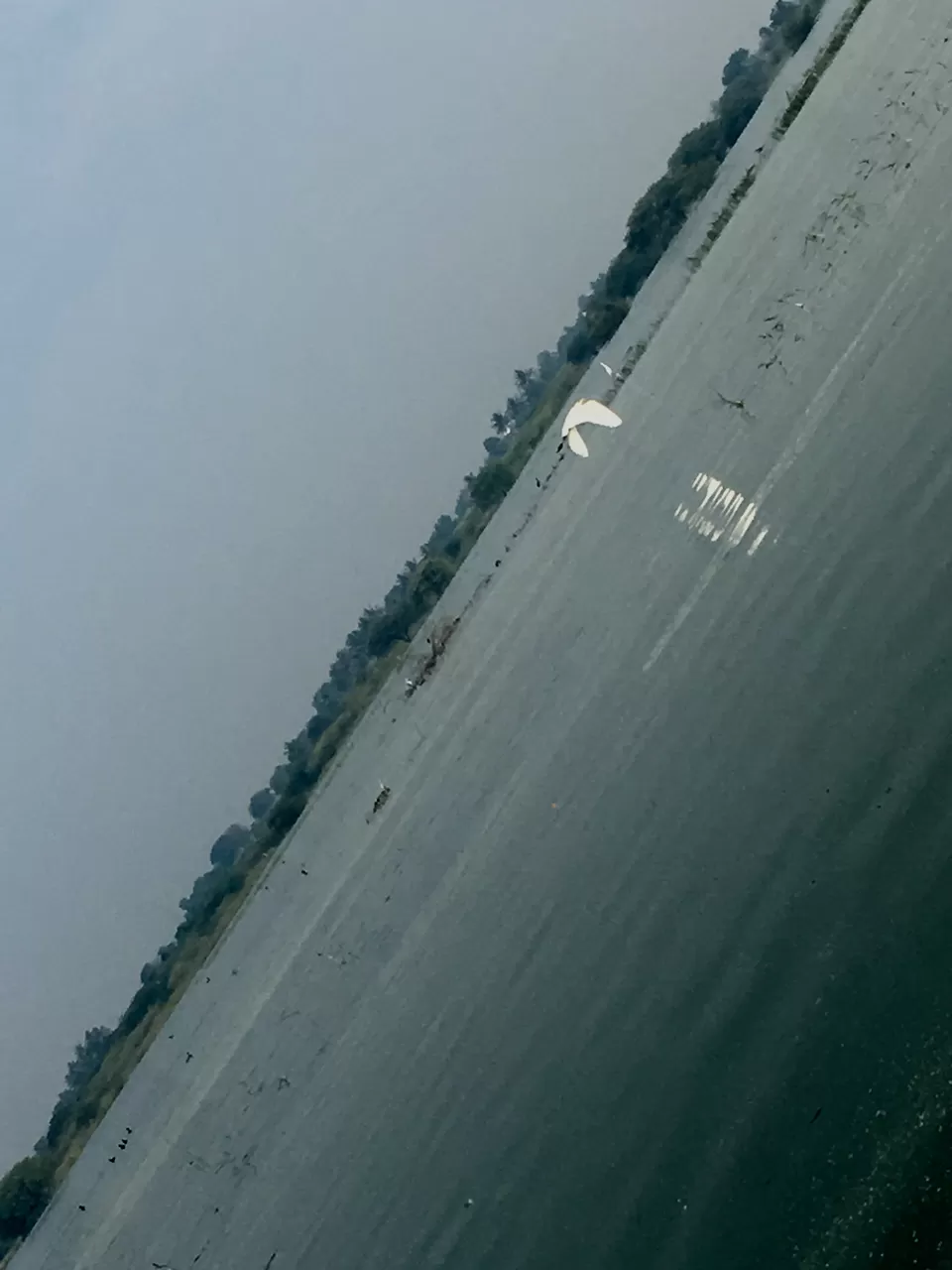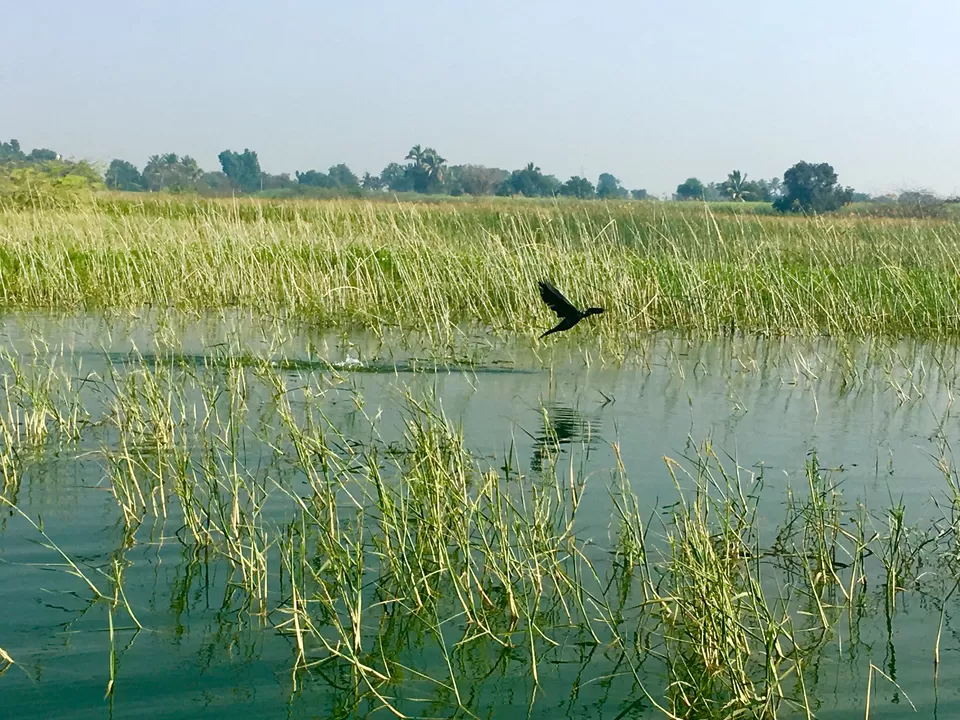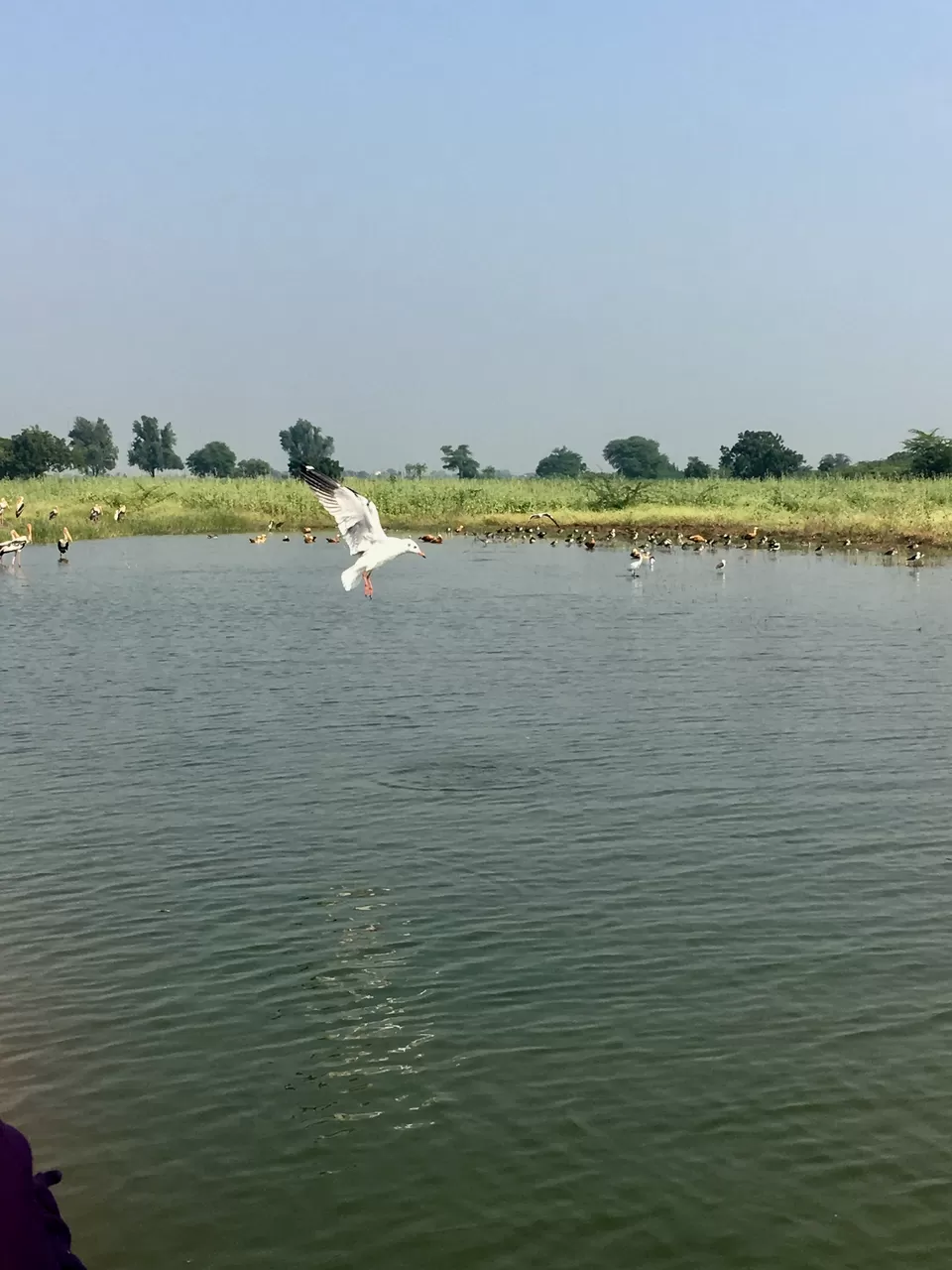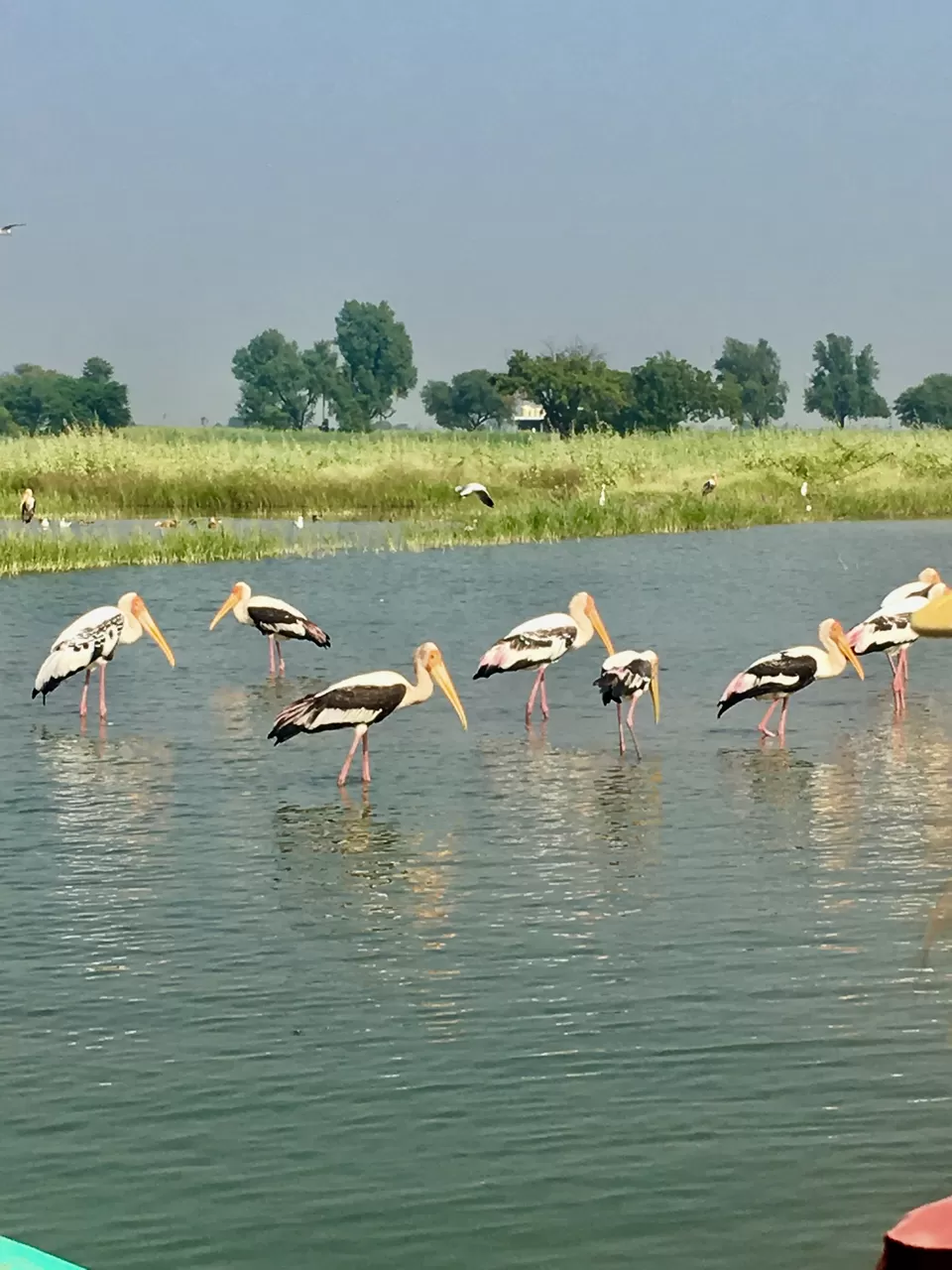 We were in the water for some good 2.5 hours and the water was much, thanks to the incessant rains in Maharashtra this year.
While bird watching, we could actually see some shortest of documentaries. One of which was an eagle preying on the baby coot. And then a kite trying to fight and snatch the kill after a mid-air collision.
Another one was a number of small fish leaping out of the water, one of which came into our boat. After having some fun trying to catch it, we put it back into its home.
Our guide was a humble man, so he took us as close as we could go to the groups of painted storks, seagulls, and shelducks.
He took some extra efforts to get some fish from the nearby fisherman to feed the birds, so that we could get a closer look of them. And we successfully did. Painted storks are God's one of the most splendid creations.
He also educated us with an amusing insight about the Ruddy Shelducks. So these shelducks are known to have the same partners for life. And you will always spot them in pairs. In the event of life, if one of them dies, the other commits suicide. That's a commendable loyalty.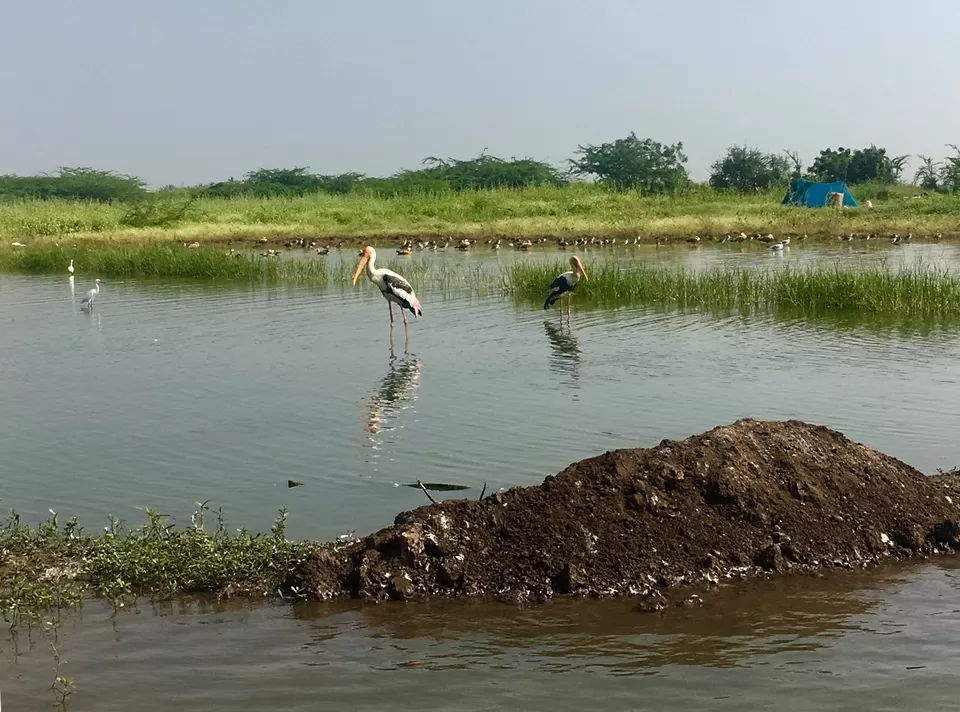 The water was wavy and the ride was pleasant with cool breeze. While on our way back, we could also get some luck to see white lotuses, many of them.
After going through all the swamps, silently getting as close to the birds as we could, we headed back towards the land where our lunch was awaiting us.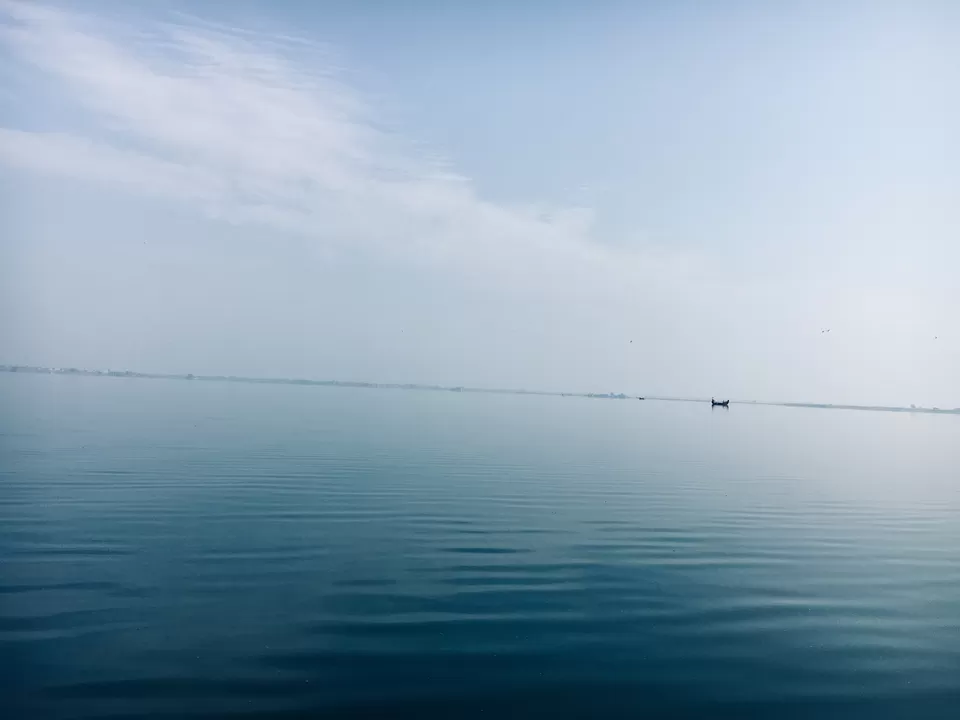 What we were all excited about was the fish that our guide had proposed to us. The famous river fish in the area called the chilapi fish. It is a fresh water fish, and a very tasty one. It is called Tilapia in English.
Sumptuous lunch and almost an hour of rest recharged us for our next stop - the Bhuleshwar Temple.
With no regrets, but a reason to go back, since the water was too much and very less of marshy land, we unfortunately could not see flamingos. About flamingos, they like to be in huge groups and do not like to share there space with any other birdies....some attitude there..... nevertheless......Next time! :)
Bhuleshwar Temple, Yawat
About an hour's drive from Bhigwan is this 12/13th Century temple - the Bhuleshwar Temple.
Located in Yawat, this is a Hindu temple Lord Shiva holding a lot of interesting historical narratives.
In a short description - it is said that when the Nizams use to rule Pune and the area, they were adamant in destroying everything that was there. To keep this temple safe from their acts, the top of the temple was built in a way that resembles islamic architecture. The Nizams apparently got caught in the net and refrained from destroying an islamic looking monument.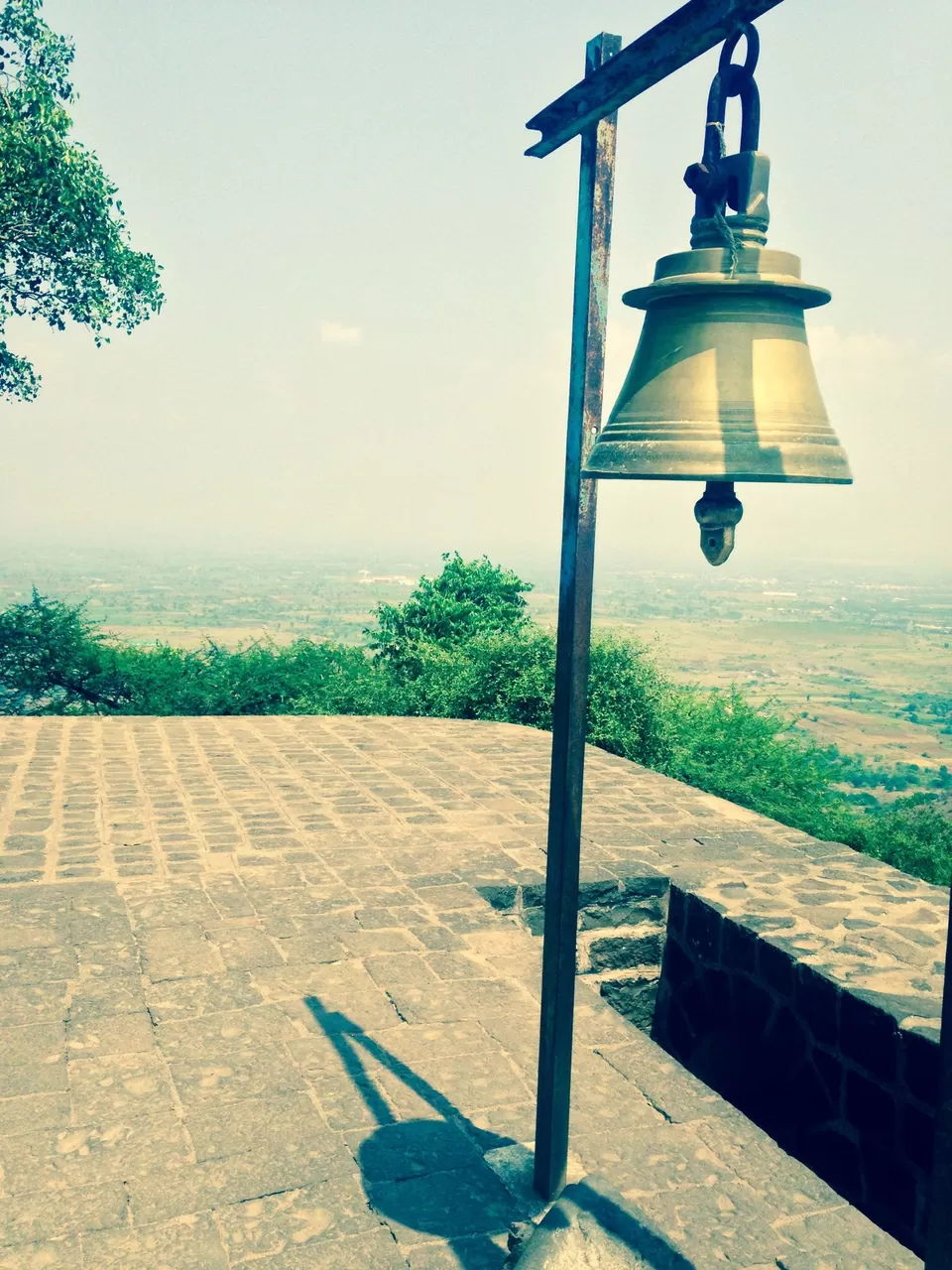 This temple is atop a hill which served as a perfect spot to keep a bird's eye view of the entire area. This urged them to create a fort there which got them to finally figure out that this is a Hindu temple. Their typical way to destroy such carvings and architecture was to chop of the head and the legs of the carved statues. What remained was just the torso, which you can see today as well.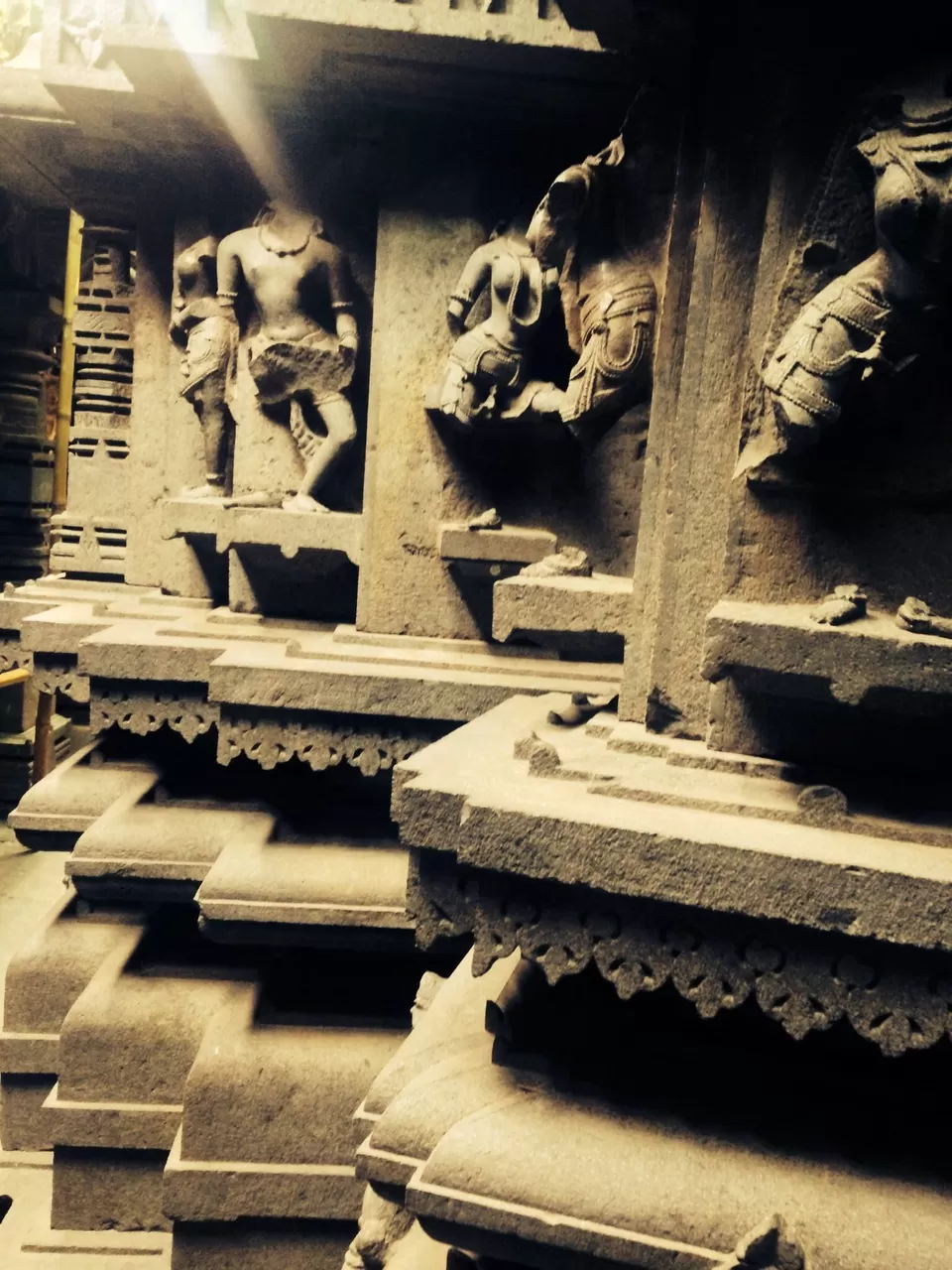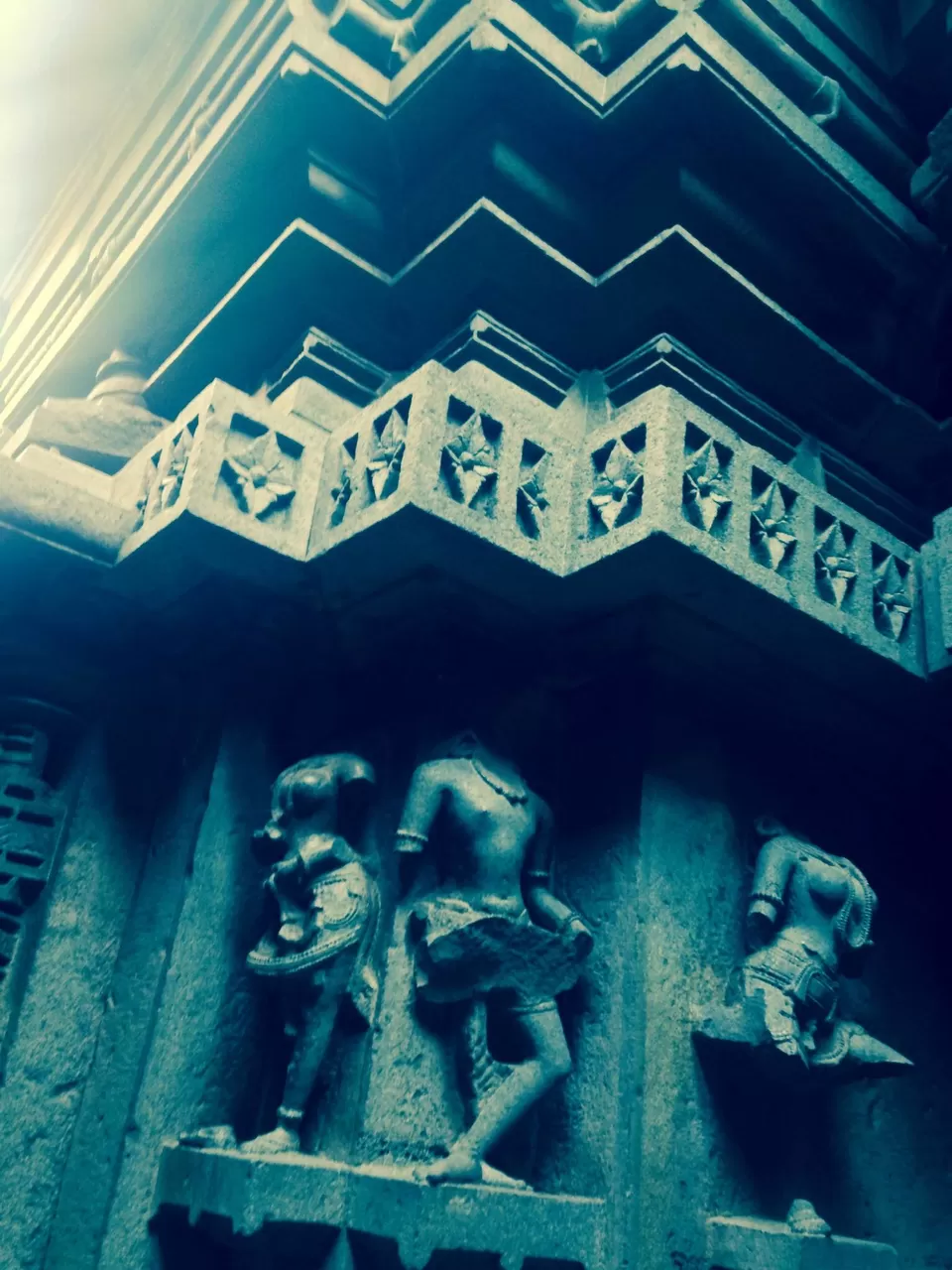 Another interesting fact about the temple is that it has female version of Ganesha and Kartik. The female version is called Ganeshwari. Do try and spot it out. Apart from this the carvings depict a lot of instances from the Mahabharata like the Samudra Manthan and Draupadi Swayamwar.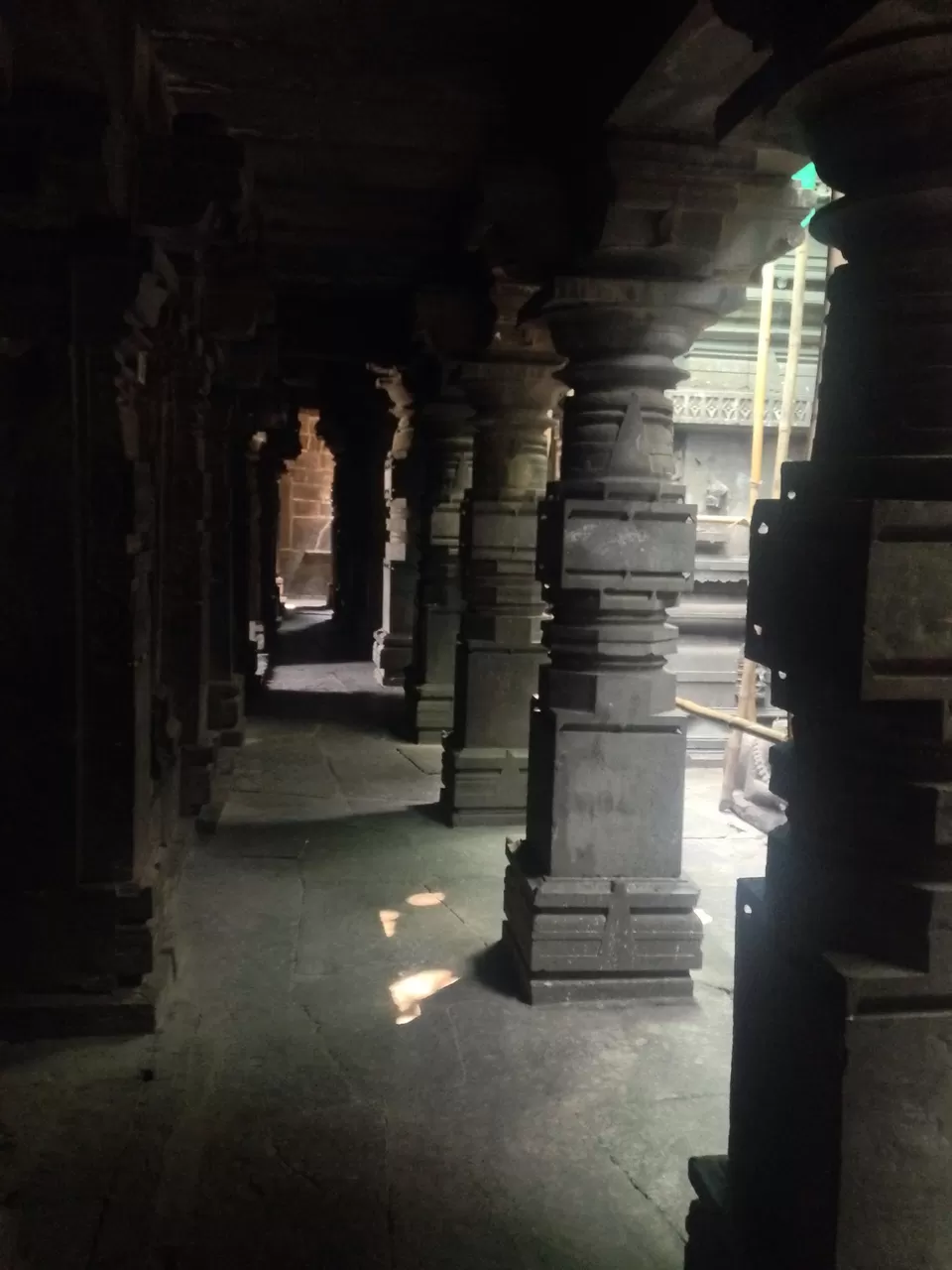 The sanctum has the shivling where the puja happens and a life size Nandi in front of it. This pious place is a marvel of architecture with numerous carvings inside and outside. The beauty of the architecture is that there is no mortar used to hold the stones. It is said that they were kept on top of each and then carved into the preset designs.
As prasad you get pedas along with other things to offer. These pedas also have a drolling story. People say that if you keep a few pedas in a bowl inside the temple where the shivling is, there will be one or two less. Now, I did not try that, but you may like to and find how true is it :)
We spent about 35 minutes there, and then commenced our journey back home to Pune.
10 points to note:
1. Carry jackets, cap and shoes. The breeze is quite cool. And the sun will tan you.
2. Photography enthusiasts - do carry your expensive lenses.
3. Don't worry Instagrammers - surprisingly you get full speed 4G connection in the middle of the backwaters. You can easily populate your timelines. :)
4. Carry a handbook that covers all the birds that visit there. It will be helpful to identify birds.
5. Leave early in the morning or be there at around 9am latest.
6. Do try the chilapi fish. Local food is always a better option.
7. Be careful when on the boat, and have the life jacket always on.
8. Do not litter the backwaters or throw any trash or food into it.
9. At the temple, it will be nice to have someone with the knowledge of history and architecture. It helps you appreciate the place better. I did mine with Travia Outdoors, owned and run by a friend.
10. Lastly, at the bird sanctuary there are also night packages. If you are one avid bird-watcher, spotting the nocturnal ones will be an experience in itself.
Sometimes, a day's journey experience also equates the conversance you get from a week's journey or a longer one. And it is satisfying in it's own way.