The start of the year 2020 brought a welcome change to my life. I shifted to Pune after spending close to four and a half years in Delhi. Having spent around 15 years in the hills (Almora), 3 years near the hills (Haldwani), 4 years in a university cum city (Pantnagar), 2 years in a peaceful campus (Bhubaneswar) and around one and a half years in a quiet village in Chhattisgarh (Kelhari), I was never prepared to live in a big, crowded metro city and all this time I could not really love the city I lived in. So, this chance to shift to Pune was the best new year gift I could have ever asked for.
(This could be a maths problem- now tell what my age is? :P)
The first trip of 2020 was not just the first one for the year, it was special because it was the first one from my new home. It was just a one-day trip with my family, but it managed to show me so many things that I had never seen before- It was in true sense, the first trip with so many "firsts".
So, my first trip in 2020 was a short and sweet one day trip to Agnipankh Flamingo Point, Kumbhargaon and Bhuleshwar Temple.
Kumbhargaon is a small village in Bhigwan town and it is an approximately 2.5 hours drive from Pune. It is around 110 km from Pune and is situated on the Solapur -Pune Highway. Bhigwan is located at the banks of the backwaters of the Ujani Dam, which is built on river Bhima. The backwaters have converted the area to wetlands and therefore this has become the "winter vacation destination" of variety of migratory birds that come to India from Siberia and parts of Central Asia. The place is popularly called the Bhigwan Bird Sanctuary and Kumbhargaon is one of the bird-watching points of Bhigwan.
Here, I would like to mention the reason for choosing to go to the Agnipankh point particularly. While reading about the bird sanctuary, one name appeared very frequently on all blogs and reviews- Mr. Sandip Nagare. On searching more about him I found that he is a resident of Kumbhargaon and runs a nature conservation group called Agnipankh in his village. He has trained people of his village in nature conservation and has also skilled them to provide guided boat tours to the visitors, providing them a means of livelihood. He is an avid bird watcher, a photographer himself and has published a book called "Birds of Kumbhargaon". His was an inspiring story to read and I wanted to meet him and take tour with him or one of his guides.
We started from Pune at 5:45 am and reached our destination at around 8:00 am. The location of Agnipankh on Google maps is accurate and it leads to you to the right place without any hassles. We met Mr. Sandip and his team members and started the boat tour at around 8:45 am as there were around 3-4 more groups waiting before us. Mr. Sandip also runs a homestay and a small restaurant where you can have breakfast, but we chose to skip that because we wanted to complete our boat tour without the scorching sun roasting us.
Meeting such an inspirational human being for the first time becomes the one of the "firsts" of the trip :)
We were taken for the tour by Pramod Bhaiya, who has been working as a guide for 8 years now. He showed us a variety of birds like Brown headed Sea Gull , Black headed Sea Gull, Cormorant, Whiskered Tern, White Heron, Grey Heron, Black Winged Stilt, White Throated Kingfisher, Storks and then finally the GREATER FLAMINGOS :). He also told us quick facts about some of these like cormorant are used for fishing in China, inability of the whiskered tern to swim and its technique of fishing (this i actually observed later), how gulls are differentiated based on the color of their beaks, the pretty heart that comes out when flamingos face each other is actually a fight :D and many more. And all this conversation happened in Marathi mixed with Hindi, which Pramod Bhaiya called Remix.
Seeing that super pretty and elegant bird "Flamingo" is another "first" of the trip. And knowing the quick facts about some birds also qualifies as a "first"
The boat tour completed by around 10:30 and we left the the paradise of birds at 10:40 to head to our next destination Bhuleshwar Temple.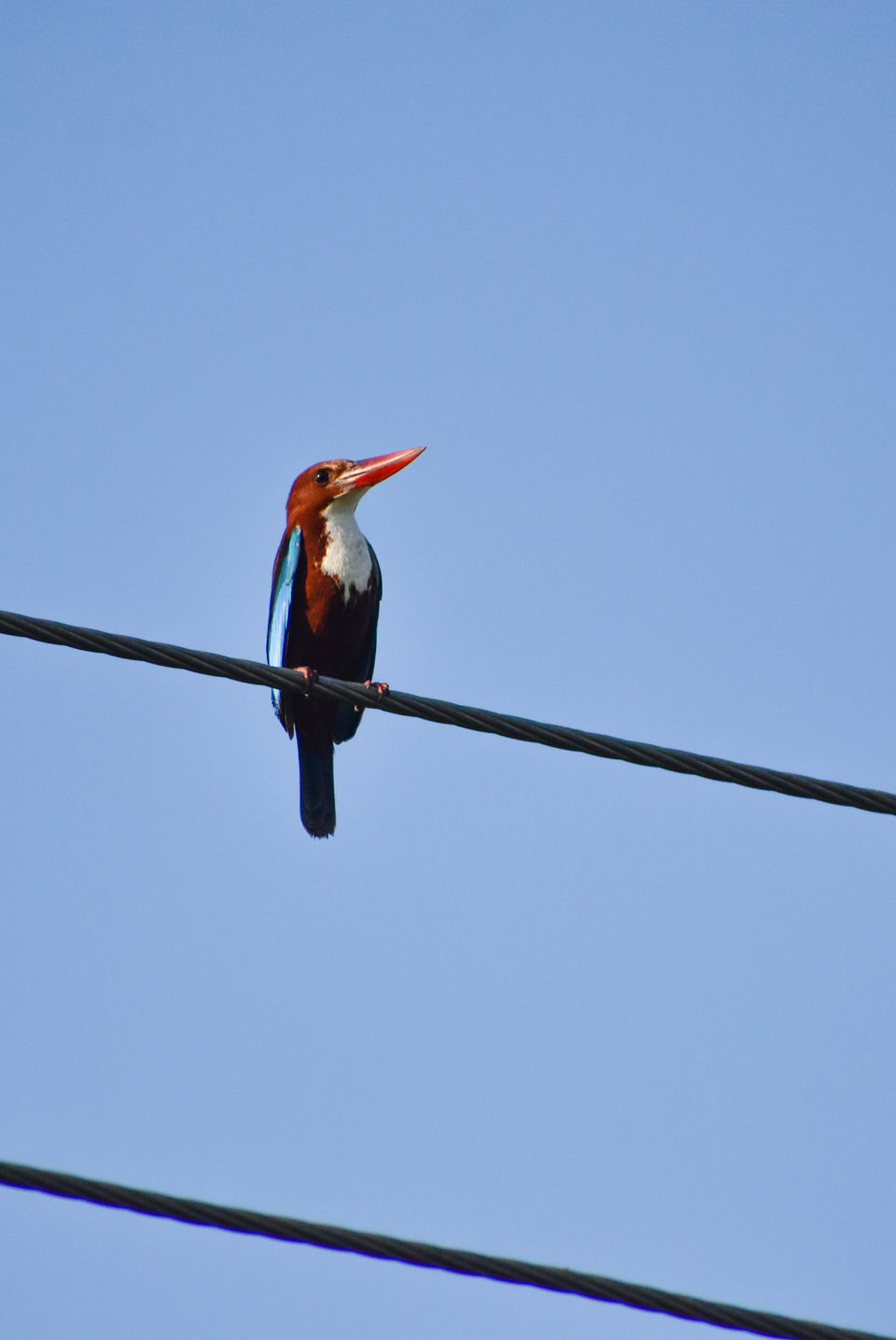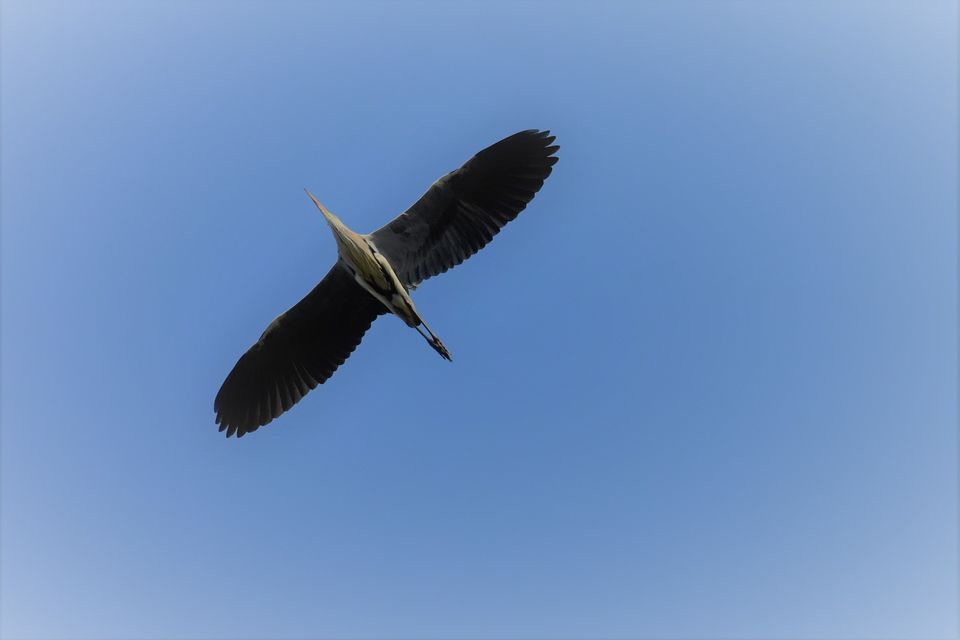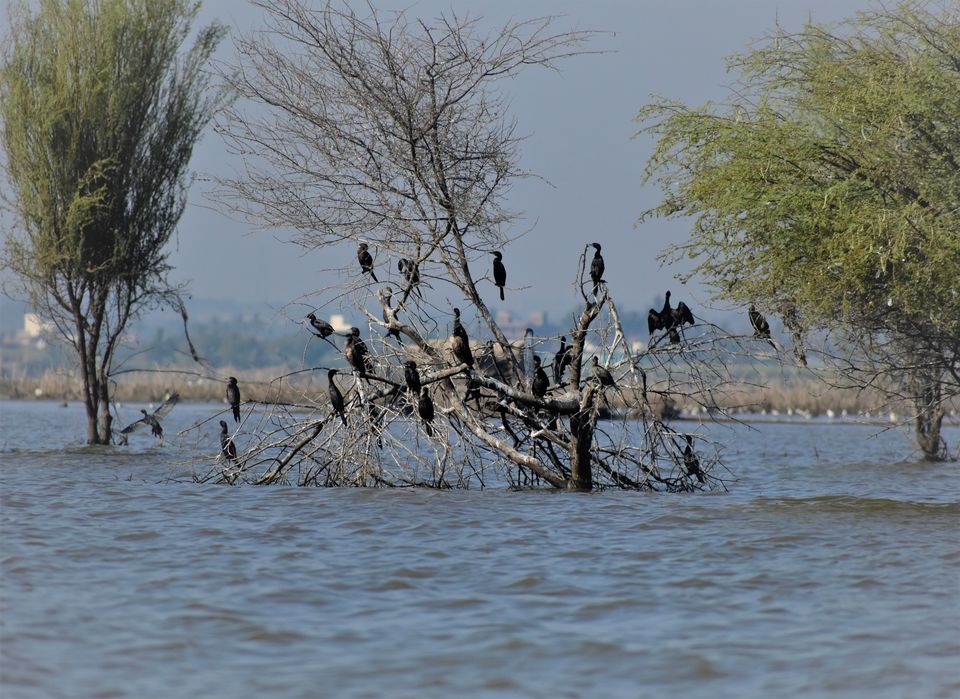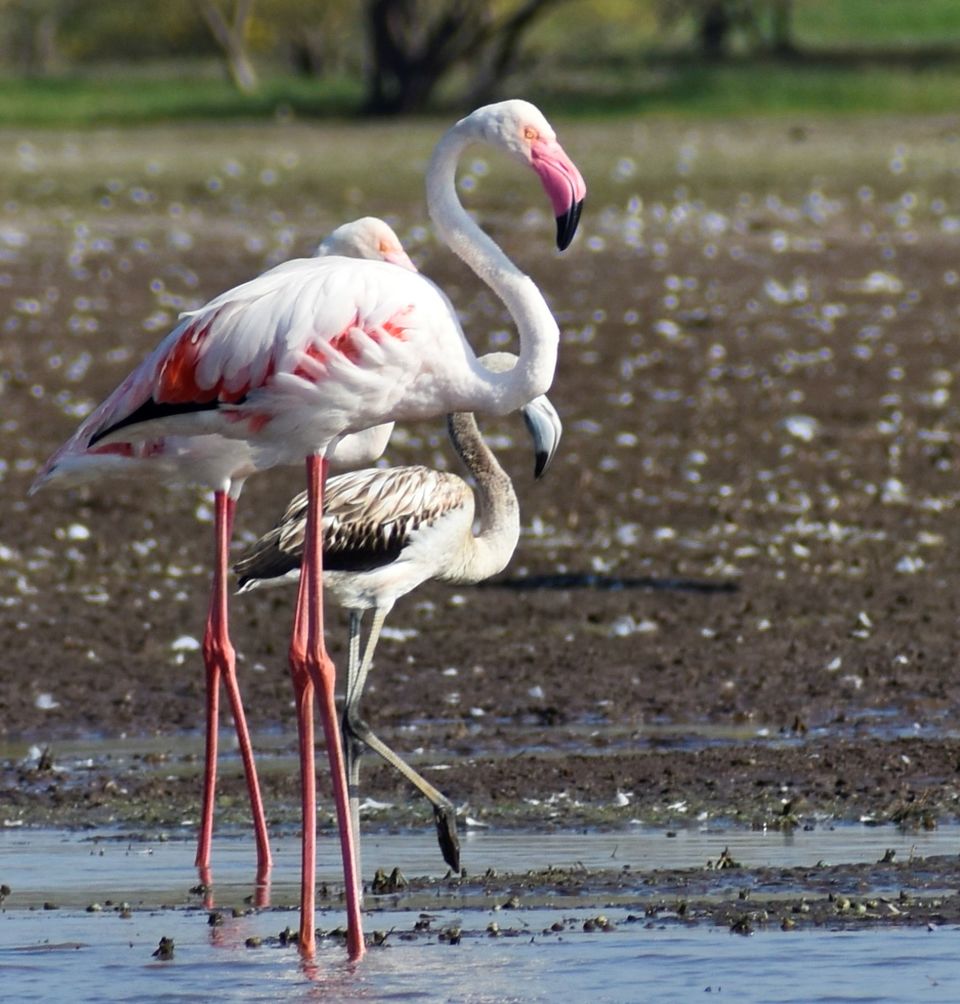 The next destination for the day- Bhuleshwar temple- is an ancient temple dedicated to Lord Shiva. The temple is around 1 hour 45 mins drive (75 km) from Agnipankh Flamingo Point. From Pune, the temple is around 45 km. We had our breakfast on the way and reached the temple at around 1:0o pm. Google maps might ditch you this time. There is a place where the map tells you to take a U- turn, but you actually need to take the left there and the place is called Yawat. There is small green board that shows the way Bhuleshwar mandir. If you miss seeing that, consider asking the locals.
The temple is situated on a hill top in the Sahaydri Mountain range and is said to have been built during the reign of King Mahadeva of the Yadava dynasty. Remnants of a fort can also be seen around the temple. The fort was called Daulat Mangal fort and was built by Murar Jagdev after he looted Pune. It is believed that he built the fort to keep an eye on the city. The temple is built with black basalt which appears different from the brown basalt of the area. There are intricate carvings on the inner wall of the temple and you can spend one entire day looking at the details that have been depicted there. Most of the carvings however are damaged and have been beheaded leaving the torso behind, which is a result of the attacks done by the Mughal rulers.
The architecture of the temple is very unique closely resembling islamic style with domes and minarets. However, the interiors look much like South Indian temples, the exterior looks completely different.
So, here comes another first- I had never seen this style of architecture in any temple before this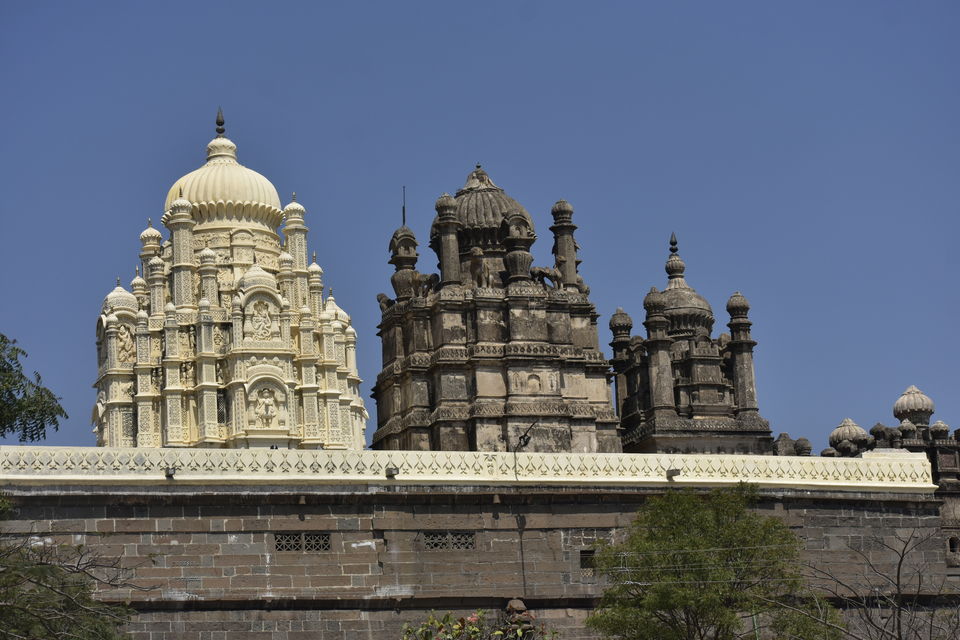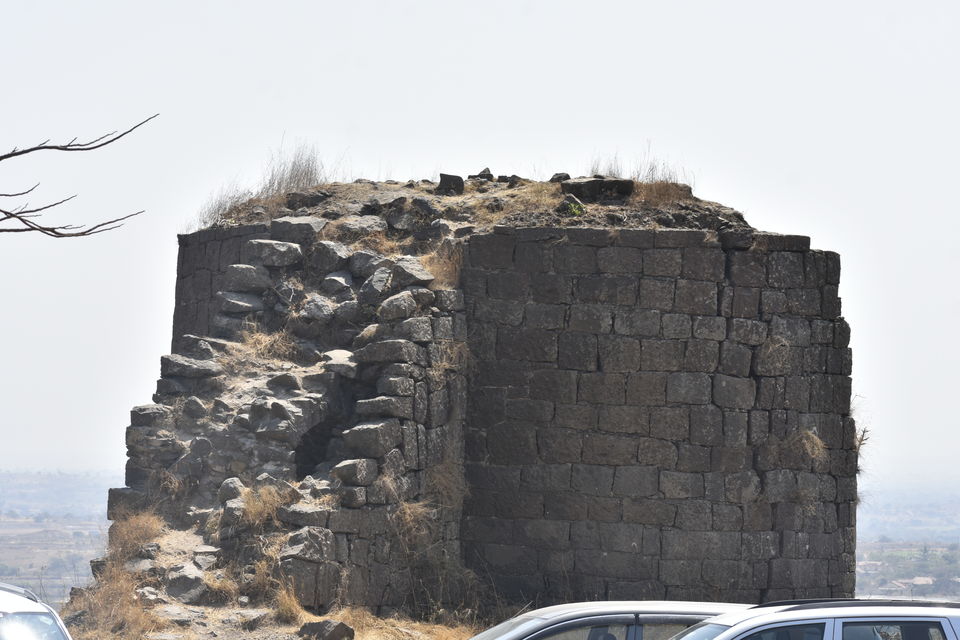 Another unique feature of the temple is that it has an idol of Lord Ganesha in feminine form - known as Vigneshwari or Vinayaki or Lambodari
Another first- I had never seen an idol of Ganesha in female form earlier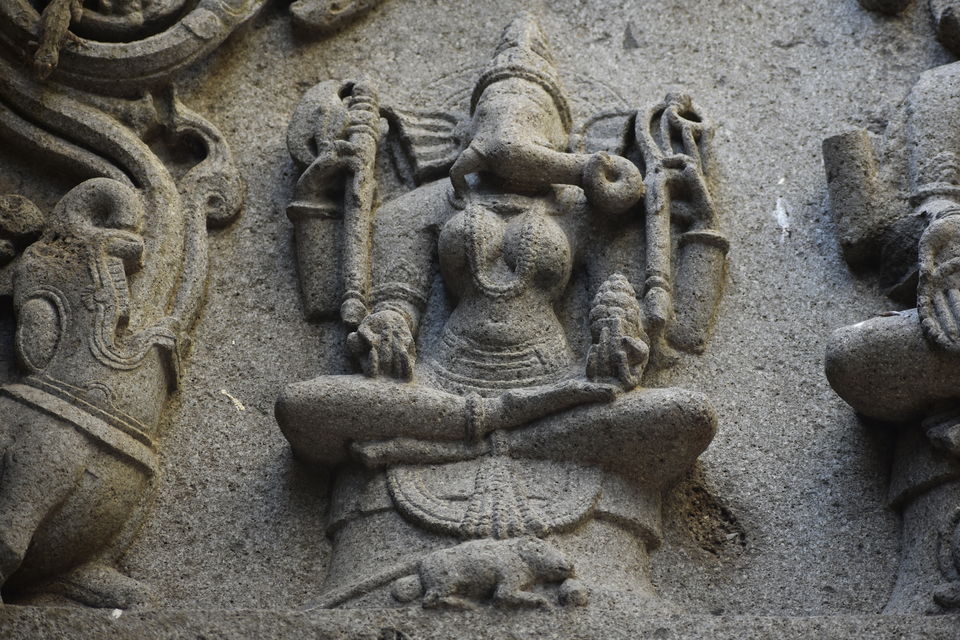 We left the temple at around 2:15 pm and brought back with us beautiful memories from both our destinations. This one day trip was filled with so many new things and I wish all the trips I take this year bring so much delight.
Tips:
1. Call Mr Sandip Nagare before going to Kumbhargaon to know the status - try to visit when the number of flamingos is maximum (9960610615)
2. Carry hats, scarfs to protect yourself from the sun during boat ride
3. Carry binoculars if possible, as there are many tiny birds that are otherwise not visible
4. Carry snacks, water bottle for the boat ride BUT do not litter the boat and the water :)
5. Try leaving early in the morning so that you can witness the sunrise (we missed it this time though). Also you will be able to see the flamingos more closely if you go early as the birds tend to move closer to bank, once boats start arriving. The banks are marshy, so the boats are brought to a halt much before the bank, and then it is a "long distance relationship" with the flamingos :D
That's about my first trip of 2020.
Happy reading and Happy Travelling folks!!