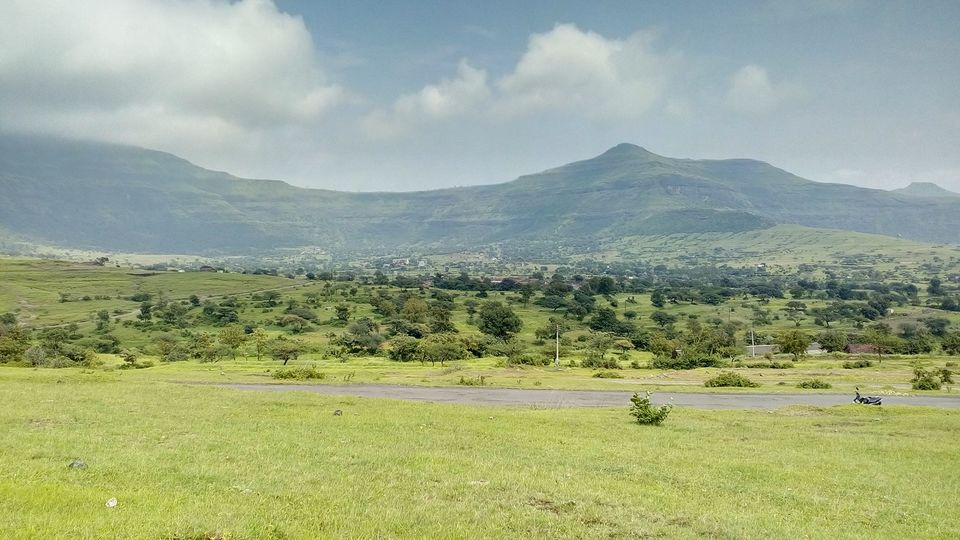 Driving through Meadows, Gazing at clouds..
This Eternal Trail leads to Misty Shrouds….
Malshej Ghat, a 2300 ft. mountain pass, 120 kms northwest of Pune district of Maharashtra, India provides an enthralling trail to follow. This thriving landscape residing in the majestic ranges of the Sahyadris is not just picturesque for the eyes but also delightful for the soul.
The trail I followed to witness this was accompanied with bunch of my friends riding on motorbikes to enjoy this at the fullest. After driving through Pune-Nashik Highway which is pretty good in condition and provides a scenic beauty as well of the surroundings, we headed towards Shivneri Fort which is located near a small town of Junnar. It was month of September so weather was pleasant and sunny.
After driving for 2.5 hours through some villages, surrounded by farm lands, we entered into this 17th-century military fortification located on a hill and directly accessible by the vehicles till its entrance.
The caves, rock-cut architecture and water system of this fort indicate presence of habitation from the 1st century AD of Buddhist dominion.
About just 2-3 km from the junnar town, It is easy to reach the fort top via main entrance, however the trekkers with proper climbing equipment can try the chain route which is located on the western scarp of the fort.From the top of the fort Narayangad, Hadsar, Chavand and Nimgiri forts can easily be seen and it provides a beautiful panoramic view of the Junnar town.
After exploring the Shivneri Fort for a couple of hours, it was time to head for our pinnacle – Malshej Ghat which was just 45 more minutes away !
As soon as we were ascending towards those gigantic Sahyadri Range, the temperature was dipping, dark clouds were spreading across the sky; over the huge cliffs.
The cool breeze and lush green pasture tempted us to have some rest and we decided to halt for 15 minutes and capture few most amazing scenes
After relaxing for some time, we were again on our way to Malshej and soon riding through some switchback paths, we had that feeling "Winter Is Coming" !!! Soon drizzling started and we could easily see the waterfalls cascading down in all their glory on every few yards. Since I can't resist myself from taking a douche in waterfall, We parked our motorbikes and jumped towards one.
Clouds kissing the lakes and fog covering the roads provided a clear indication that we're in Majestic Malshej Ghats…
After a sprightly shower, it was time to grab a cup of hot Tea and some snacks while enjoying the beauty of those clouds blanketing those pristine valleys.
The entire atmosphere was so charming there, that we didn't want to turn back to our home, but we had to ! But still, we had one place in our trail before completing this ride and it was Lenyadri caves which are a series of about 30 rock-cut Buddhist caves.
We worshiped Lord Ganpati, here known as Girijatmaj after climbing some well constructed stairs for around 20 minutes. Lenyadri is the largest excavation around Junnar, about 100 feet (30 m) high with no human settlement nearby. However, It is located at a distance of just 3 miles from Junnar town.
Some Useful Additional Information –
How to Reach Malshej Ghats:- Malshej Ghat is 164 km from Mumbai and 85 kms from Kalyan in Thane district, 120 km from Pune and 30 km from Junnar.
Places to Visit Nearby:- This region is a trekker's paradise with its extremely rugged and rocky hills on which you will come across forts which are great examples of architectural marvel, temples dated back to 16th century AD and ancient rock-cut caves. Harishchandragad fort, one of the most-challenging treks in western ghats, is a popular fort in this area. The beautiful Pimpalgaon dam and Ajoba Hill fort are other spellbinding attractions here for any tourist.
Where to Stay:- Although, Malshej Ghat can be easily explored in one single day from any of the nearest town, there is an option to sojourn yourself surrounded by natural beauty which is conferred by Maharashtra Tourism Development Corporation. Information related to booking and other things can be accessed by it's website MTDC MALSHEJGHAT.