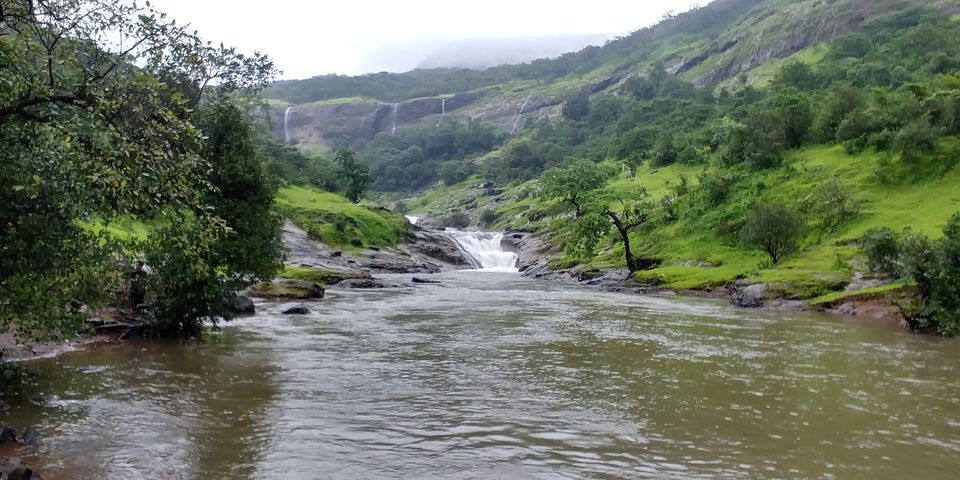 My first monsoon trek of 2017 happened to be a really memorable one. It was with a group called TrekDi adventures, led by Akshay as our group leader and Saif as the co-ordinator. The 8 of us, including our trek leader and co-coordinator started at around 6:00 AM (that too on a Sunday morning :P, which meant I had to get up around 4:30 and leave home by 5:15 AM) to the base village, called Bhorgiri which is a good 70 odd km's from downtown Pune.
We had breakfast on the way, at a shack near Chas Kaman dam. The view from the same point was amazing and the horizon could be seen till the mountain of BhimaShankar, which was our destination, among the Sahyadri's.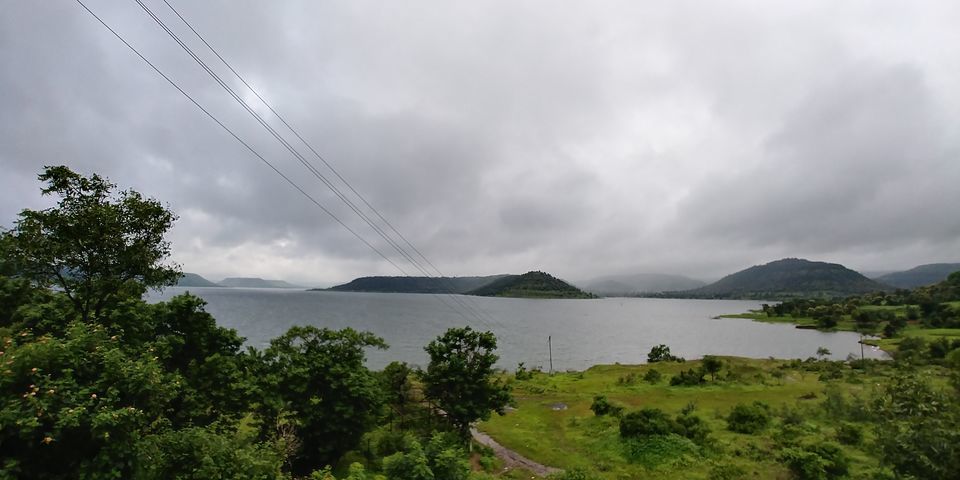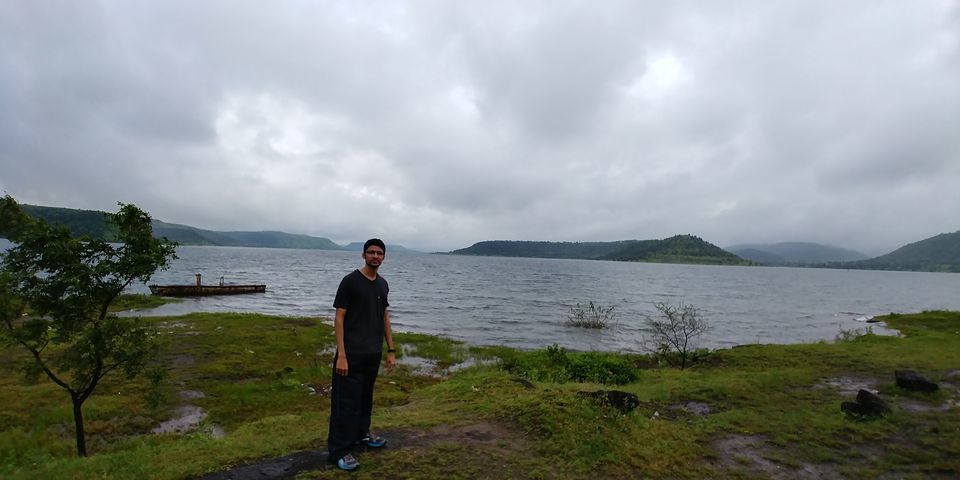 After reaching the base village at around 10:30, we took an hour's detour to see an ancient cave that had Mahalaxmi Mandir and Shiva Temple inside it, after a small climb of 20 mins to the hill adjacent Bhima River. That was where we had our intro round, and people really opened themselves up about what kind of adventures they'd done before and what brought them into trekking.
Then, finally at around 11:00, we began our trek towards the forests of BhimaShankar. The rains began to pour down mercilessly, as we climbed cautiously , specially careful on the rocky portions, though there weren't many of them. Most of the trek included walking along a small trail in the jungle, lot of water puddles and around 3 streams of river to be crossed along. In-spite of this, it seemed a lot fun.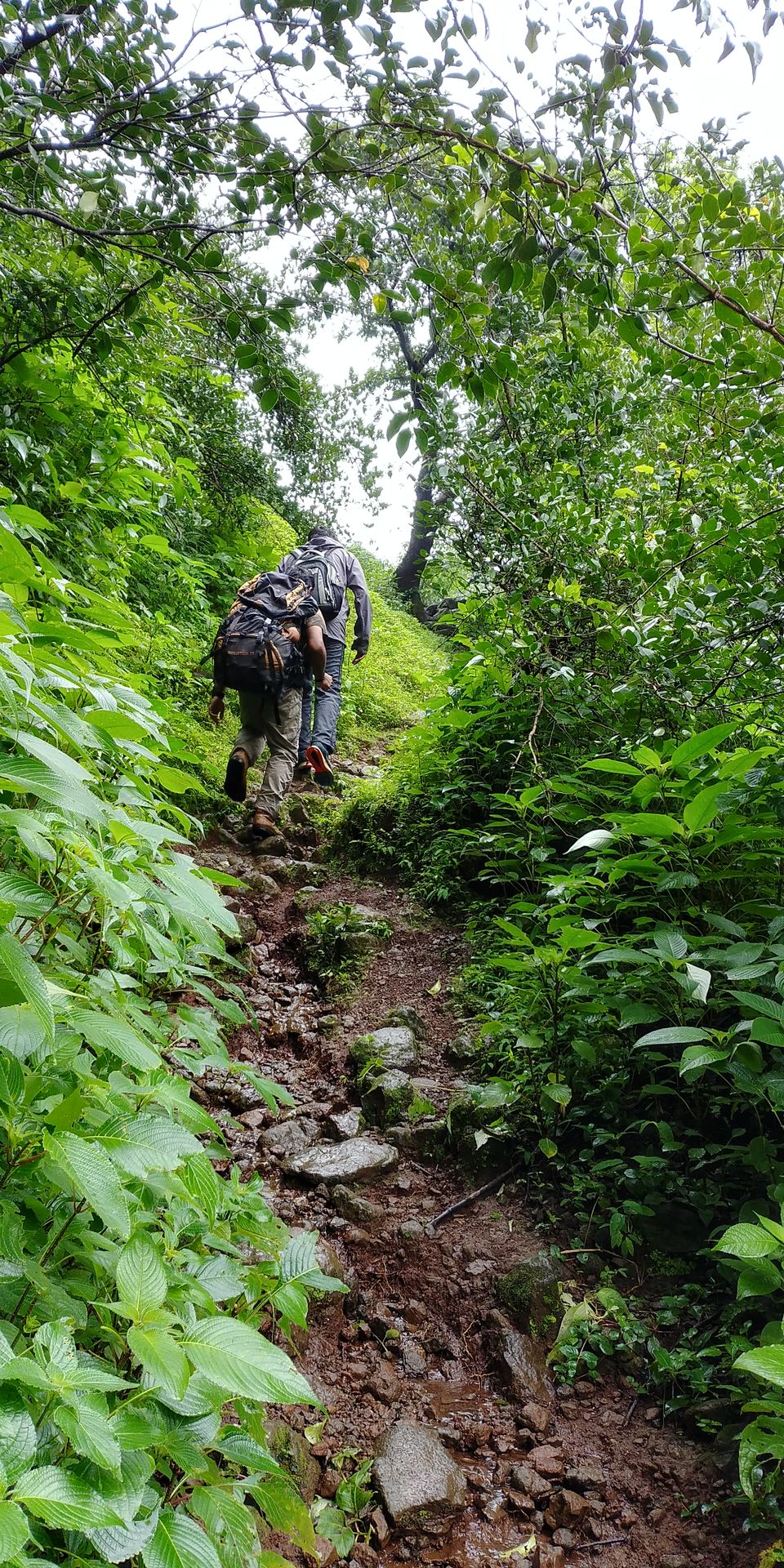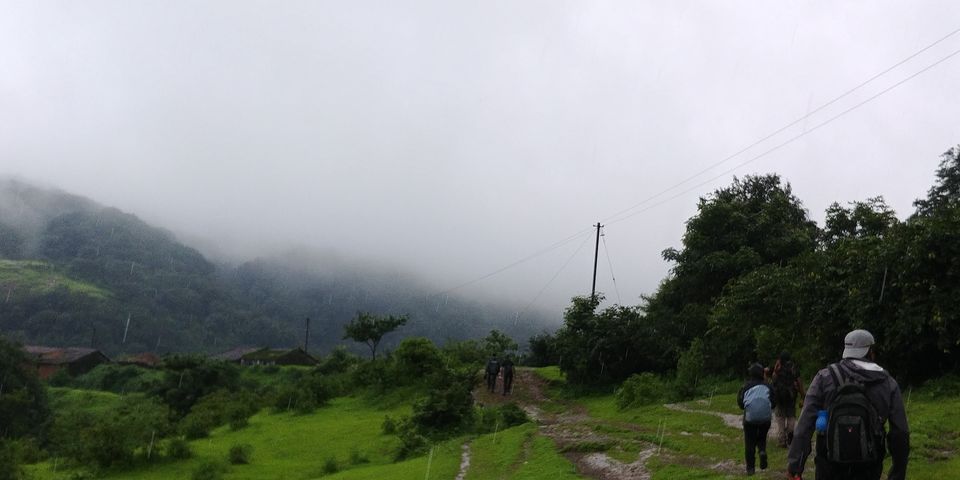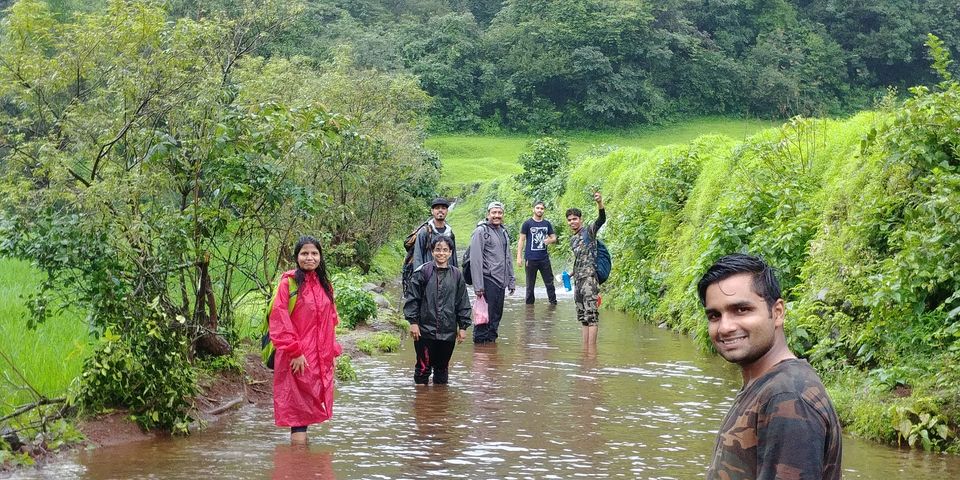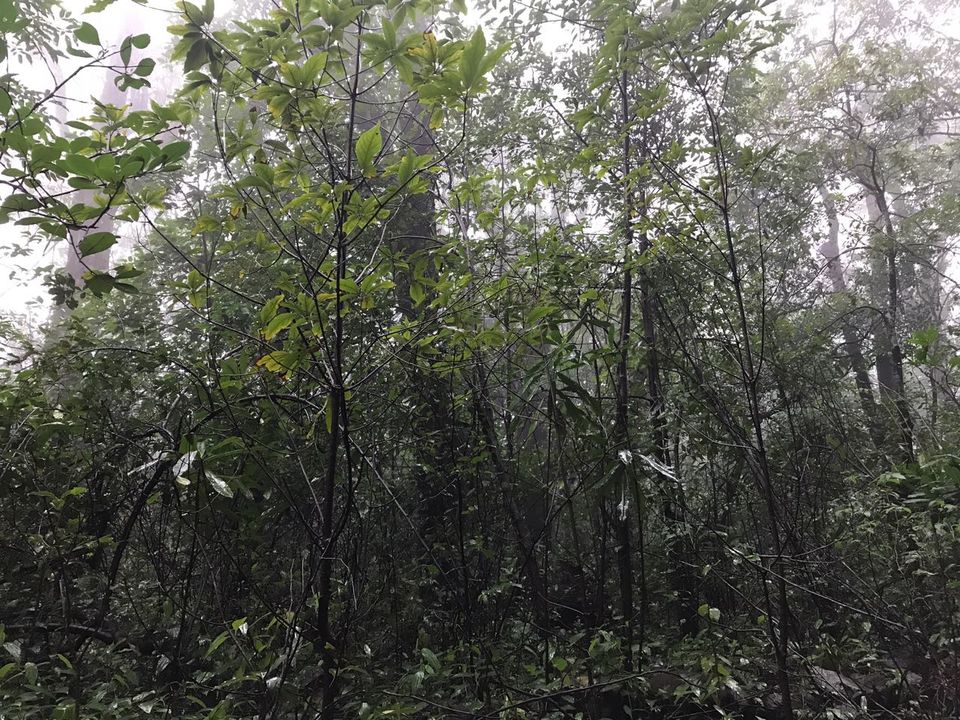 Although water gushed thro' those streams them with a lot of speed, it wasn't that wide enough and we managed to cross holding our hands together, without the technical stuff.
Particularly, the last hour of the trek was a walk in a very dense jungle, and because of the fog settling in, we could barely see around 300 m visibility.
The trek ended where the temple of BhimaShankar starts, right besides it. It took us around 3 hours with intermittent breaks to finish the trek.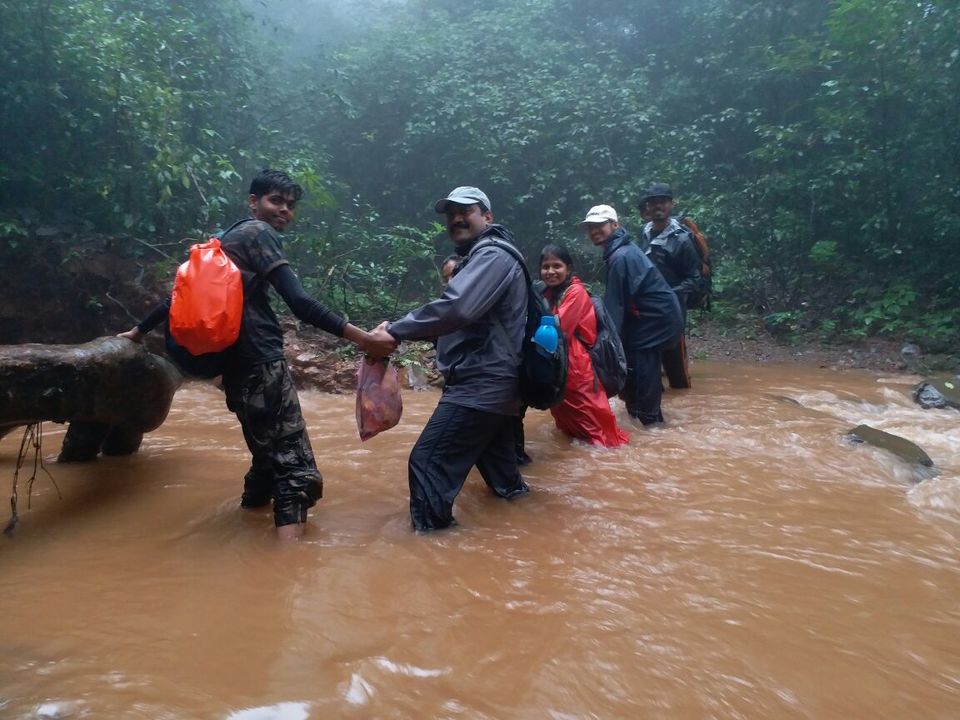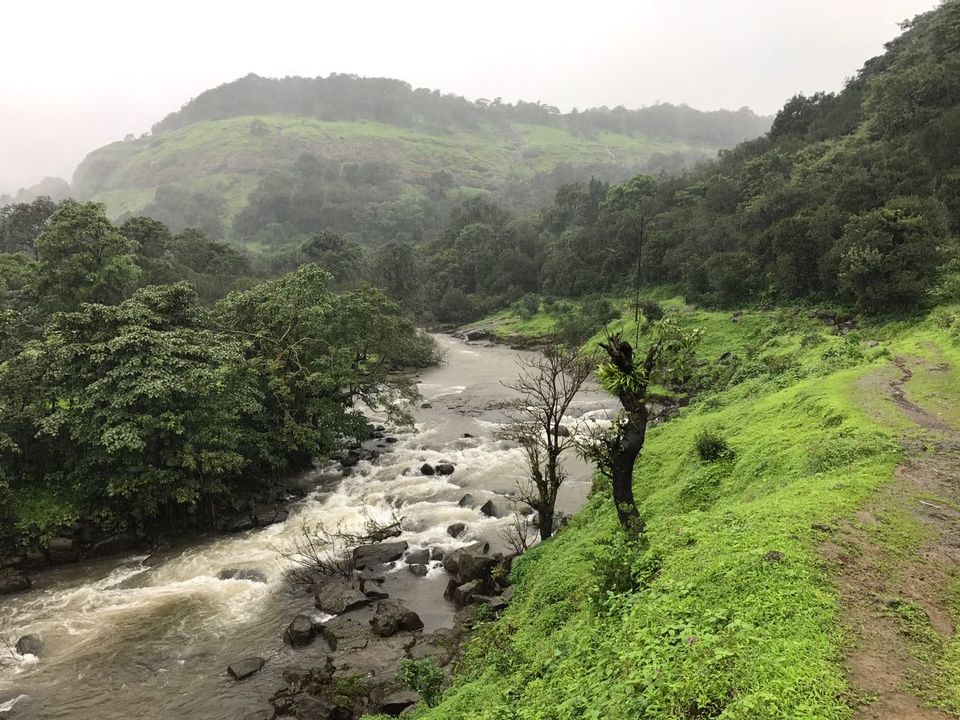 Lunch was arranged at a Hotel, in the middle of the market just outside the temple., along with chai as well :) Then, we went to the most exciting place of this trek.. The Nagphani Kada, which was a good 45 min walk + a little climb from the main area. The USP of this place is the view from it, although we only managed to get a glimpse due to the dense fog and the shape of the mountain that looks like the face of a Naag.
We spent a good 15 minutes over there, just chatting up and clicking a little snaps, and then finally began for our descend to the parking area of BhimaShankar. We were to board our bus from there itself instead of descending back to the base village.
Since it was on the same long weekend as that of Ganesh Chaturthi, although not much of trekkers on the way, there was a lot of crowd at the temple premises though. We started for our return journey at around 6:30 PM to reach around 10:30 at FC Road, which was our final drop point after having dinner at a roadside dhaba.
Overall, I would say it was a medium difficulty level trek, and overall the distance covered was around 17 - 18 KM's on foot, including visiting the temple and the detour to Nagphani Kada. A great monsoon trek that all of us enjoyed, being a small group and almost had a plenty on my checklist covered.
Breeze gushing over your face - Check
Stunning view from Nagphani - Check
Crossing river streams - Check
Climbing thro mud and stone- Check
Constant noise of water gushing - Check.
Totally recommended to be done in monsoons..!!