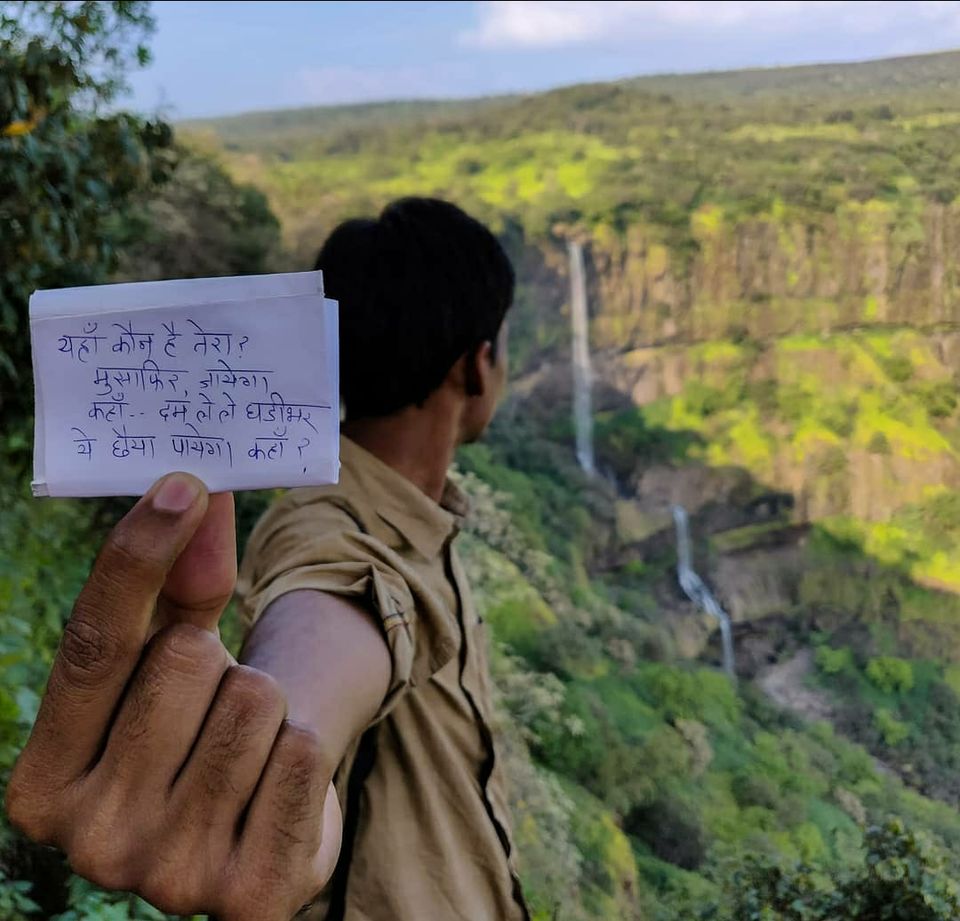 Backpacking to mountains can never be boring. Pune is blessed with Sahyadri mountain ranges. Lonavala and Khandala is all time favorite of everyone but there are so many hidden places in sahyadris which attracts thousands of mountain lovers like us. In 2015 I come to know about one of the majestic waterfall in India. But it took 3 visits to get there. Every monsoon I used to go to Kaas Plateau (Maharashtra's Valley of flowers), Satara. but every time because of some shitty reason I couldn't able to witness this waterfall. Vajrai waterfall offer spectacular views and trekking to waterfall is so adventures. It's risky and dangerous but bathing in waterfall crest is heavenly experience.
On my first visit to this place (21 sept 2015) , when I asked about route for this waterfall to one villager, He said "The jungle is dense and its already 3pm now and soon it will be dark in forest, without local guide you should not go to such dangerous place. Also there are many wild animals present there". So i skipped. On my second visit, I did little progress to reach this waterfall & unfortunately failed again.
This time we were right on our route and it was raining so hard since morning and it was dense foggy too. We were just few meters away from falls but can't able to see at least some part of it. Our ears were paining a lot due to loud sound of falling water and continue rain. Soon one group of people who were coming back from falls they told us to not to visit, because of heavy rain the trek path become very slippery and it's too dangerous to go. There is no chance of getting your death body if you slip from these mountain. And most importantly its waste of time and energy to trek to this falls so please you too go back. Like some girl dumps to her BF in mid of something we felt the same after hearing GO BACK.
On 5th oct 2018, We (me and my instagram friend Prabhuraj aka Trekkerbhau_prabhu) left early from pune to satara ST bus. Around 9.45am we reached satara but surprisingly there was no any bus to Kaas(Starting point to vajrai waterfall) till 1pm. Earlier, till 2017 State transport has good no of frequency for kaas and near by route but now they have only 4-5 trips daily. 6.30am, 8am, 9.30am, 1pm, 4.30pm(may be its last bus). We tried to get somehow any transport to kaas but nothing worked. We came back and waited like hell for 1pm bus. Instead of getting down at kaas we requested to bus conductor to stop the bus after kaas lake.
From lake it's just 2km of walking distance. I was telling the story of last two failed attempts of this place and I felt sudden heart break for some time. The reason was... There was no clue of any waterfall due to this region had received very low monsoon this year. Everything was little yellowish instead of green. We sat on rock and clicked picture of dried water channel but I heard sound of water falling from high. But sound was too low in intensity. We ran across the wild grass and descend few rocks to get the view of waterfall. We just followed that sound and guess what?
Finally we came across waterfall... The experience was so memorable and adventures. Trekking through dense jungle, following the sound and watching the spectacular views. The valley is not only deep but dense too and also locals say that there are many wild animals can be found. But it was worth to trek and visit this place. The waterfalls is three steps, It's total height is 530m. This waterfall is also called as the source of Urmodi river but actually it's overflowed water from kaas lake. At the crest of waterfall one can dive in and swim for hours in natural pool but it's risky and best to enjoy from distance. Locals can guide you or they will take you to base of waterfall easily. But I would recommend not to go to base or near waterfall. When I visited that time water stream was low due to this region had received poor rainfall. But this area is known for heavy rain as it receives highest rainfall in maharashtra. We took so many photos and videos and saved many views for lifetime in our heart. It's true heaven to trek here in monsoon.
Clicked this setting sun from kas plateau while heading back to satara in evening.