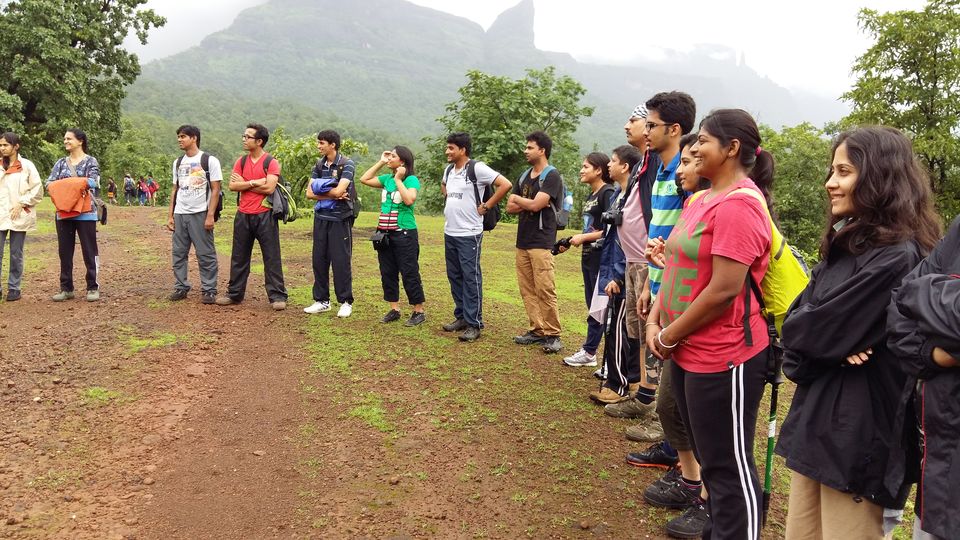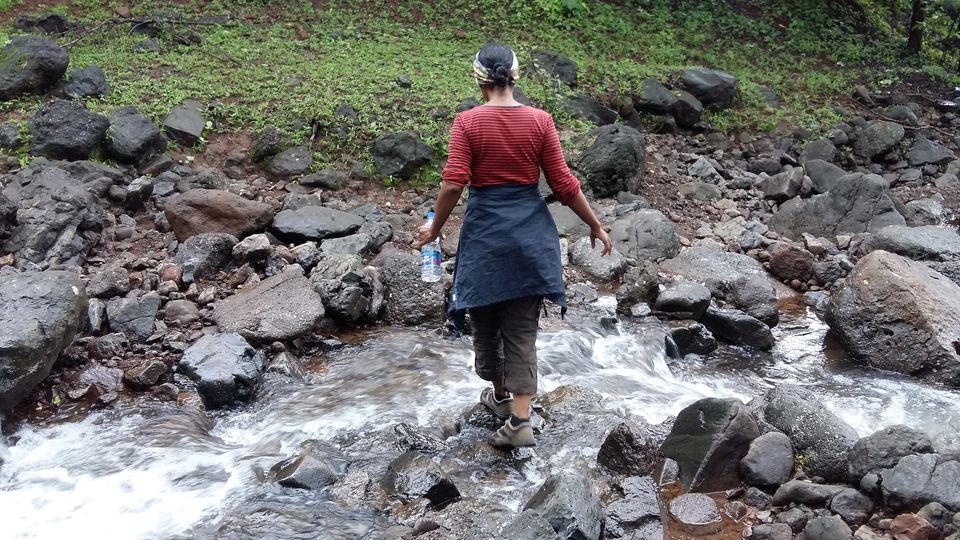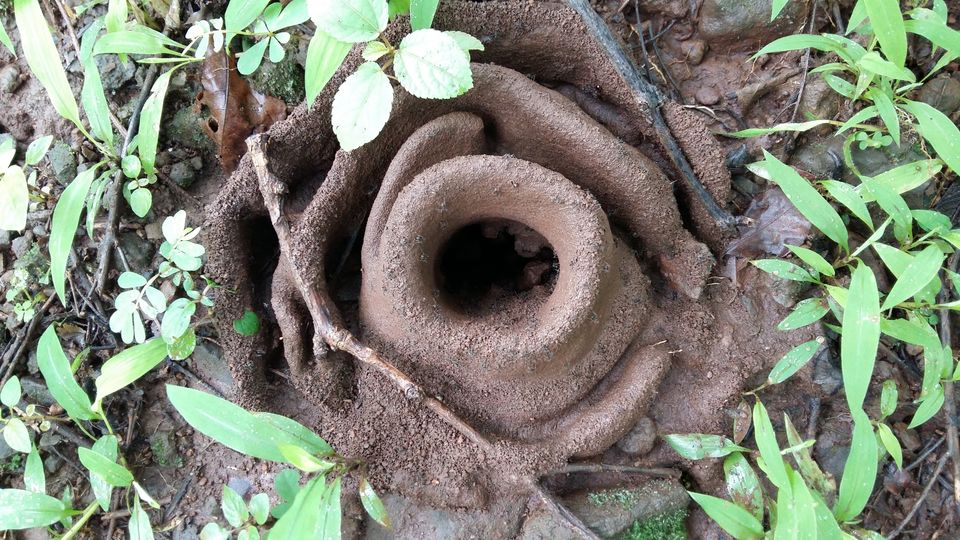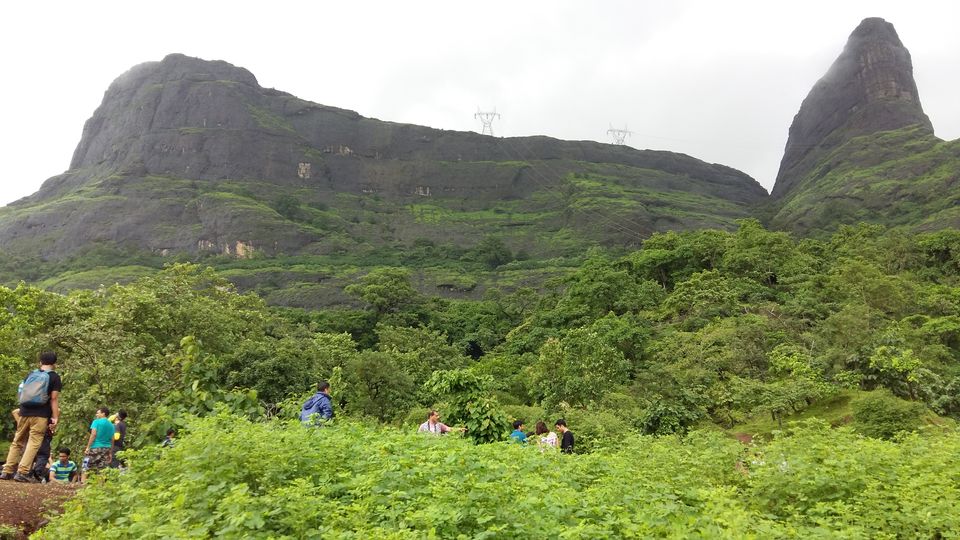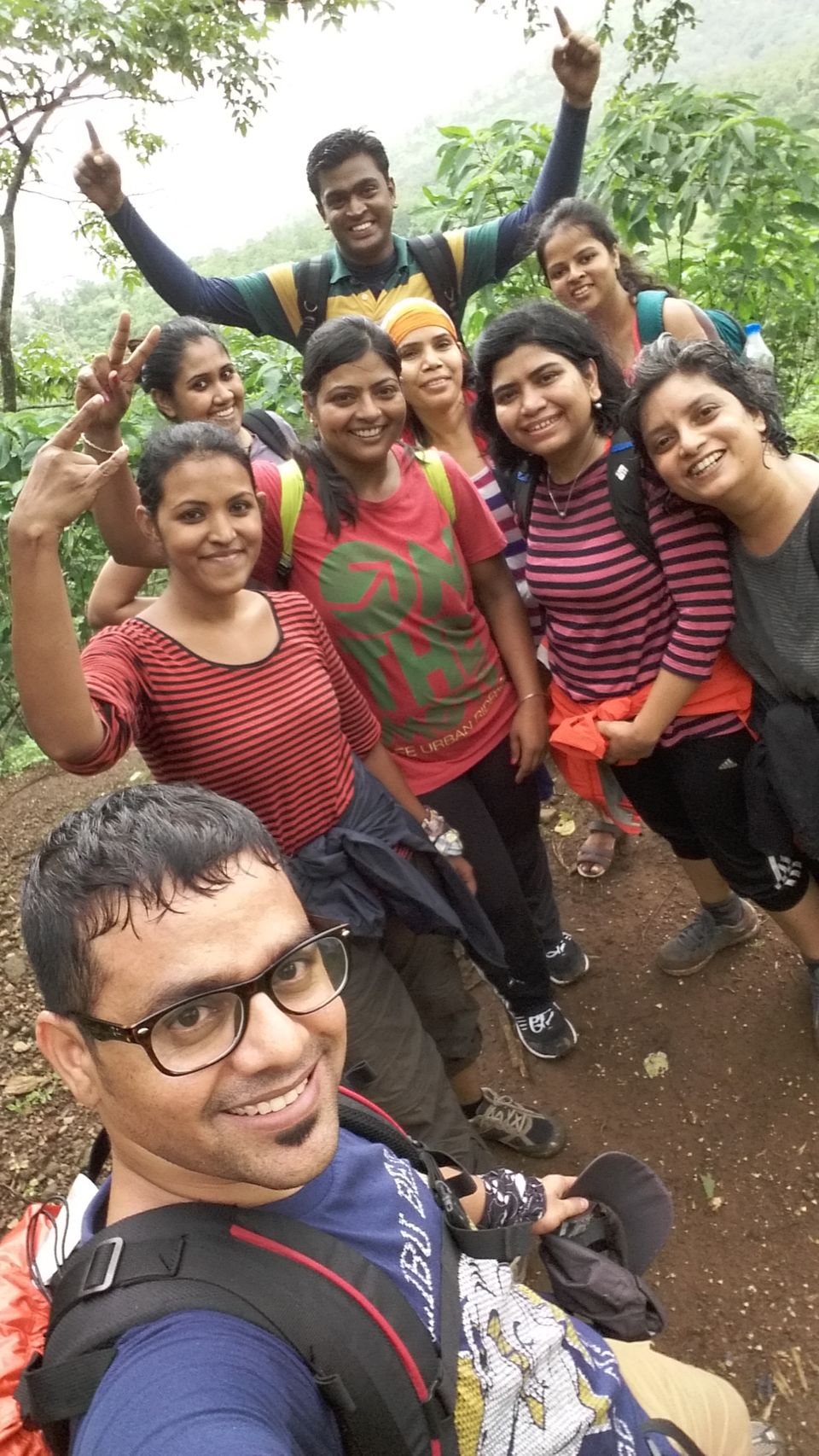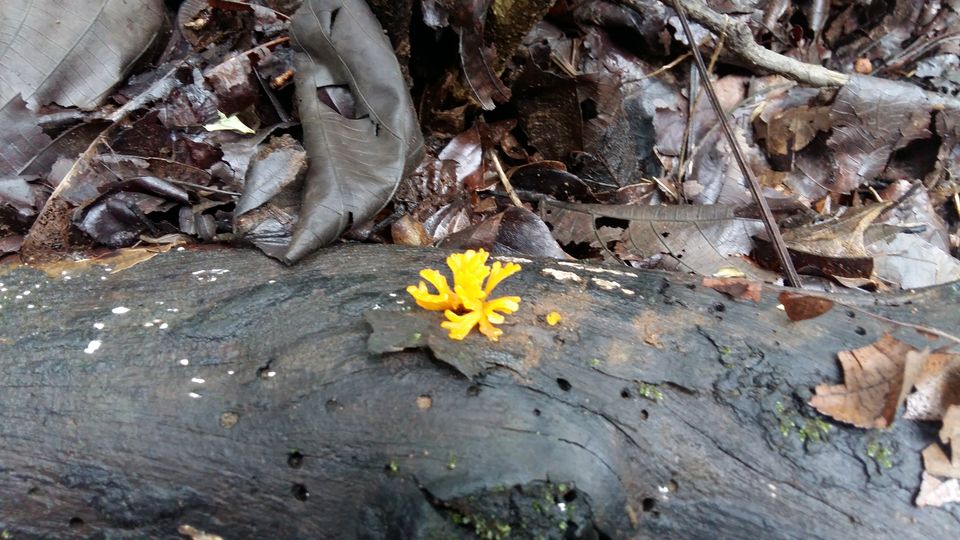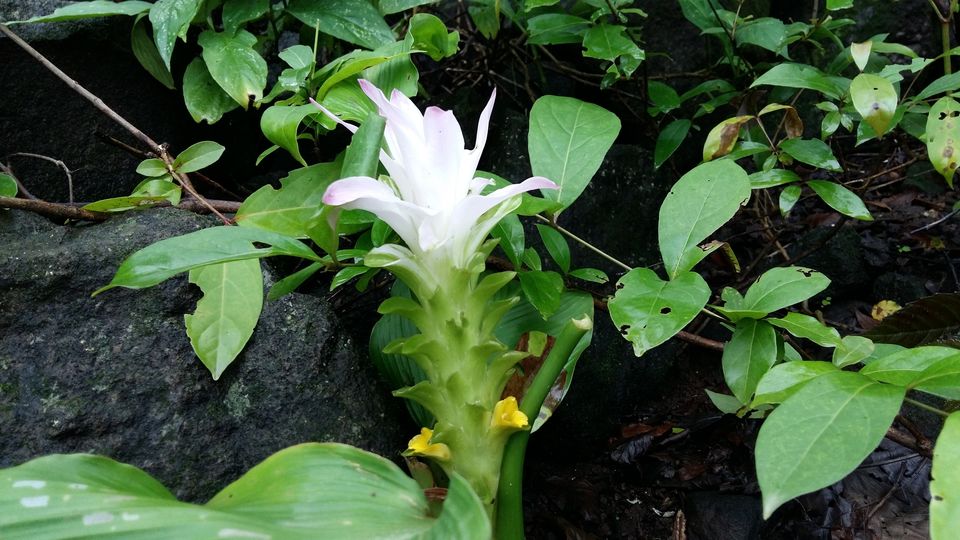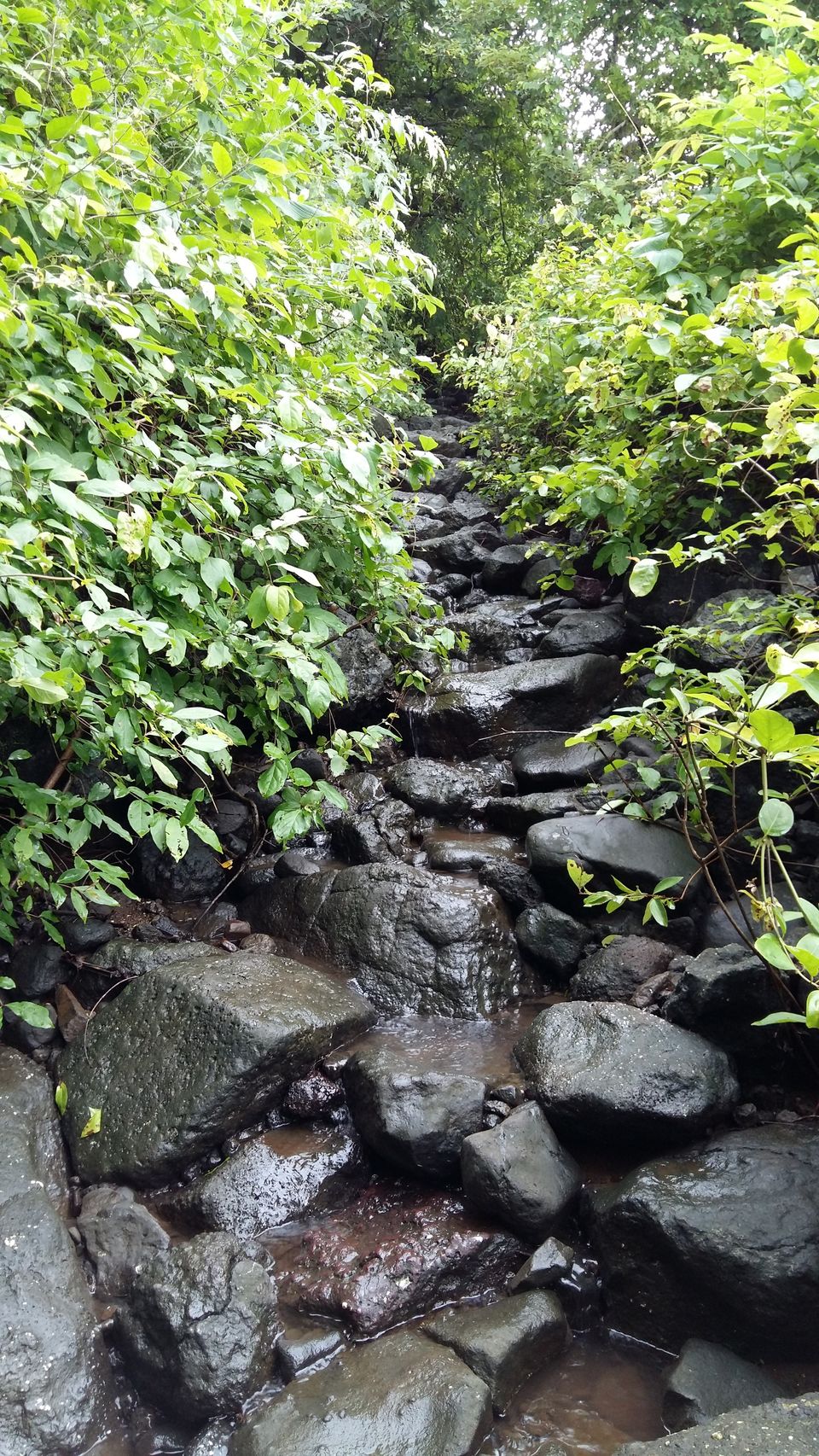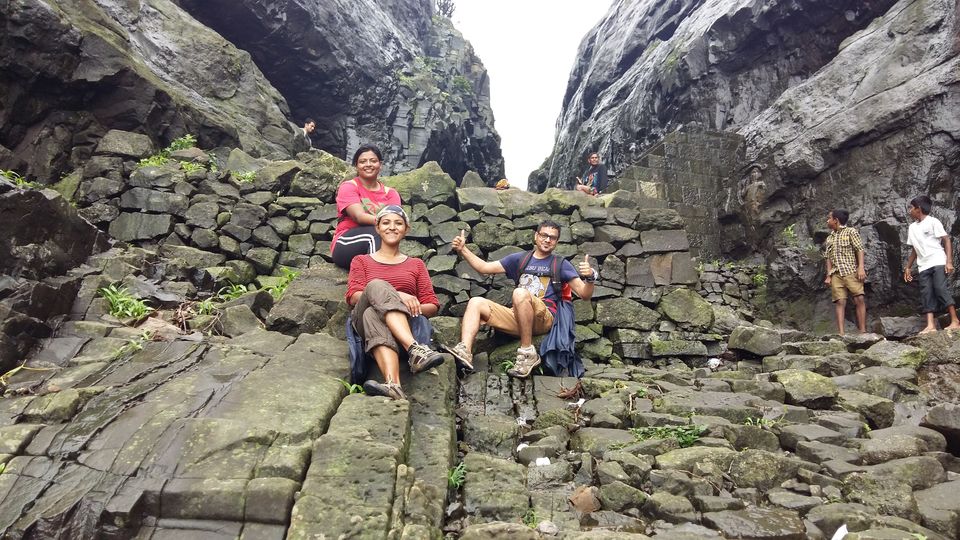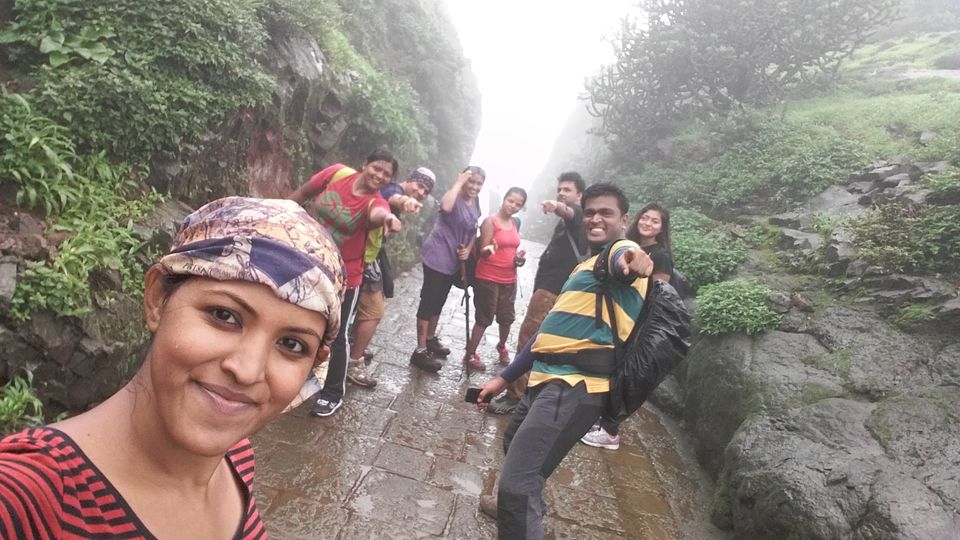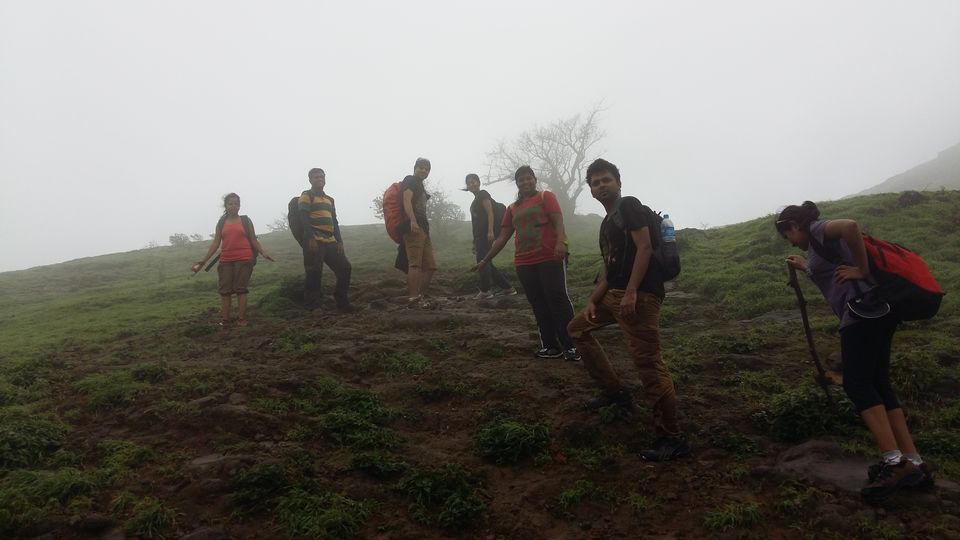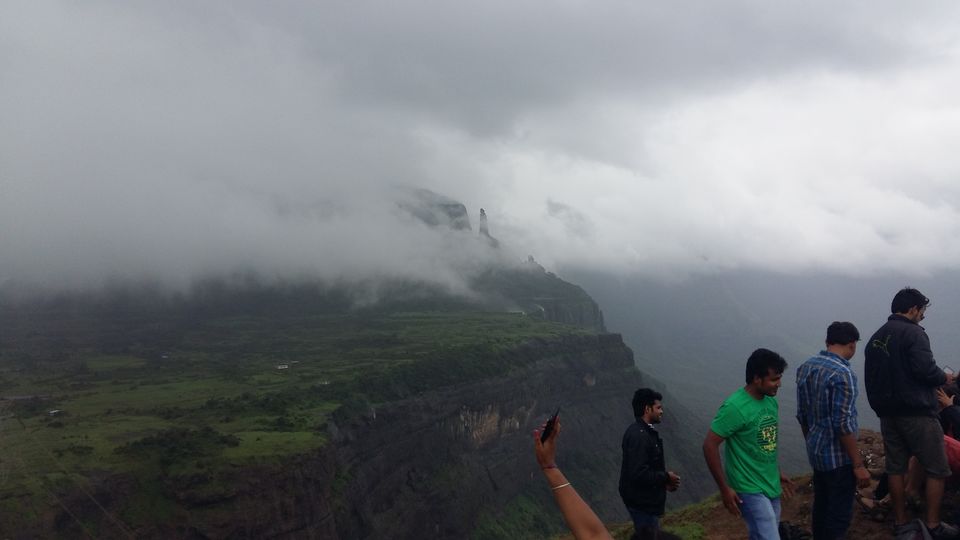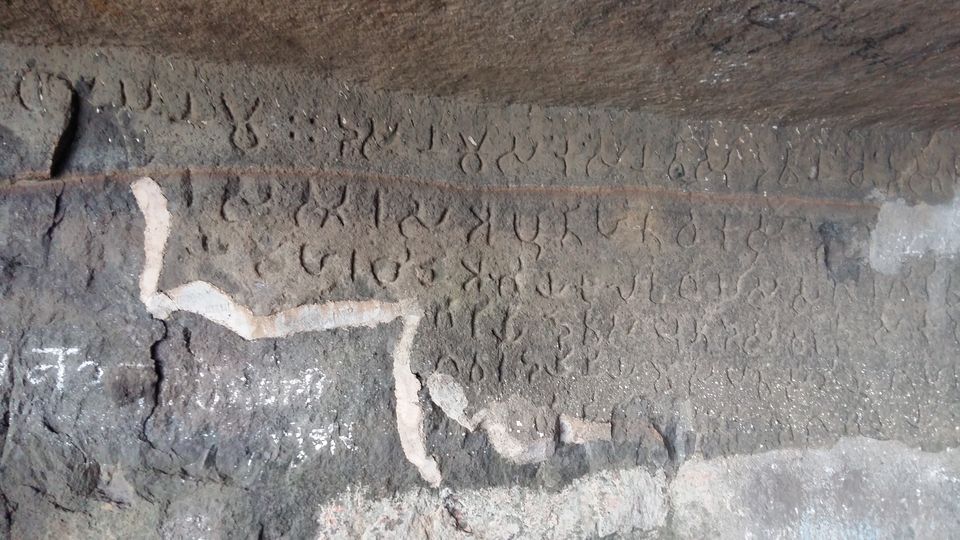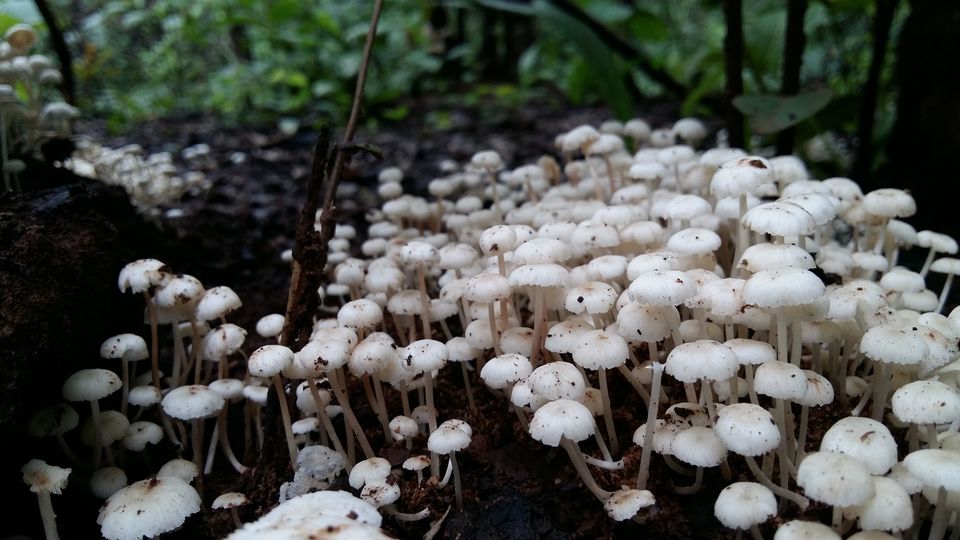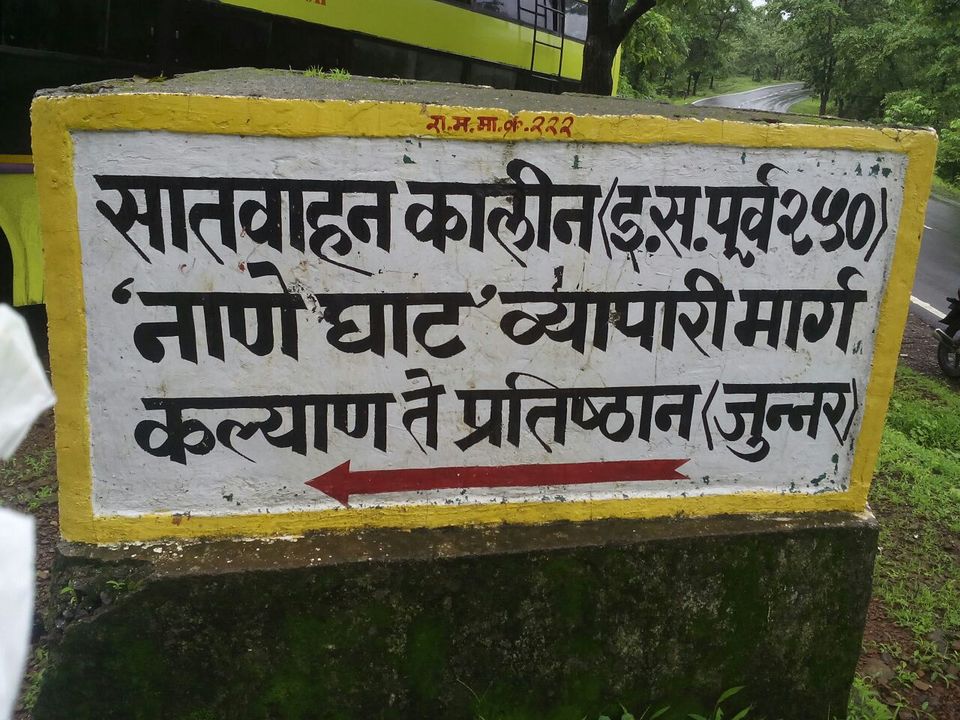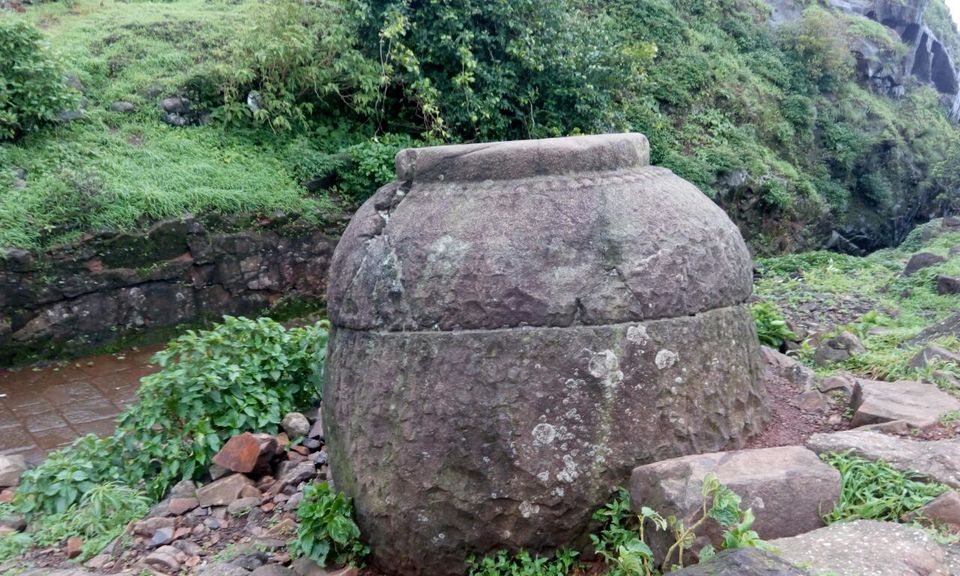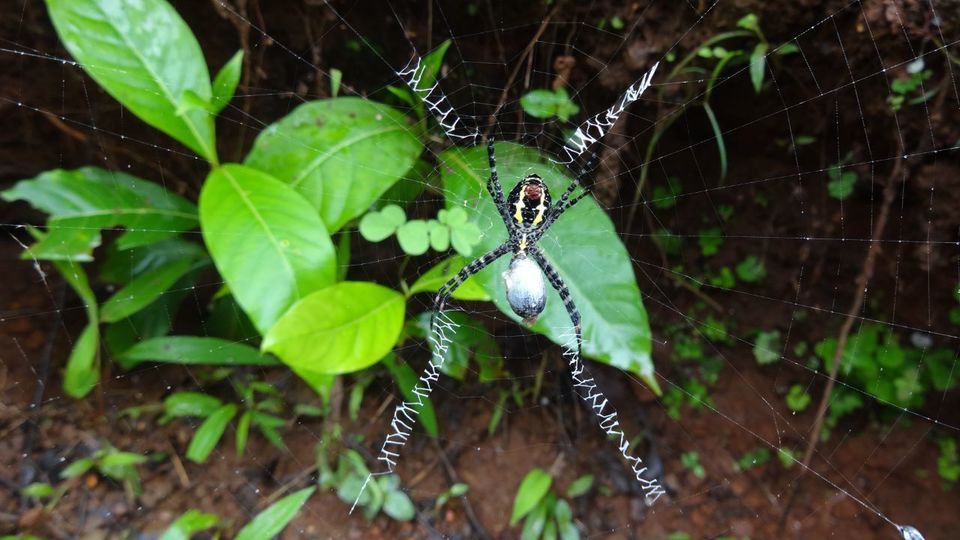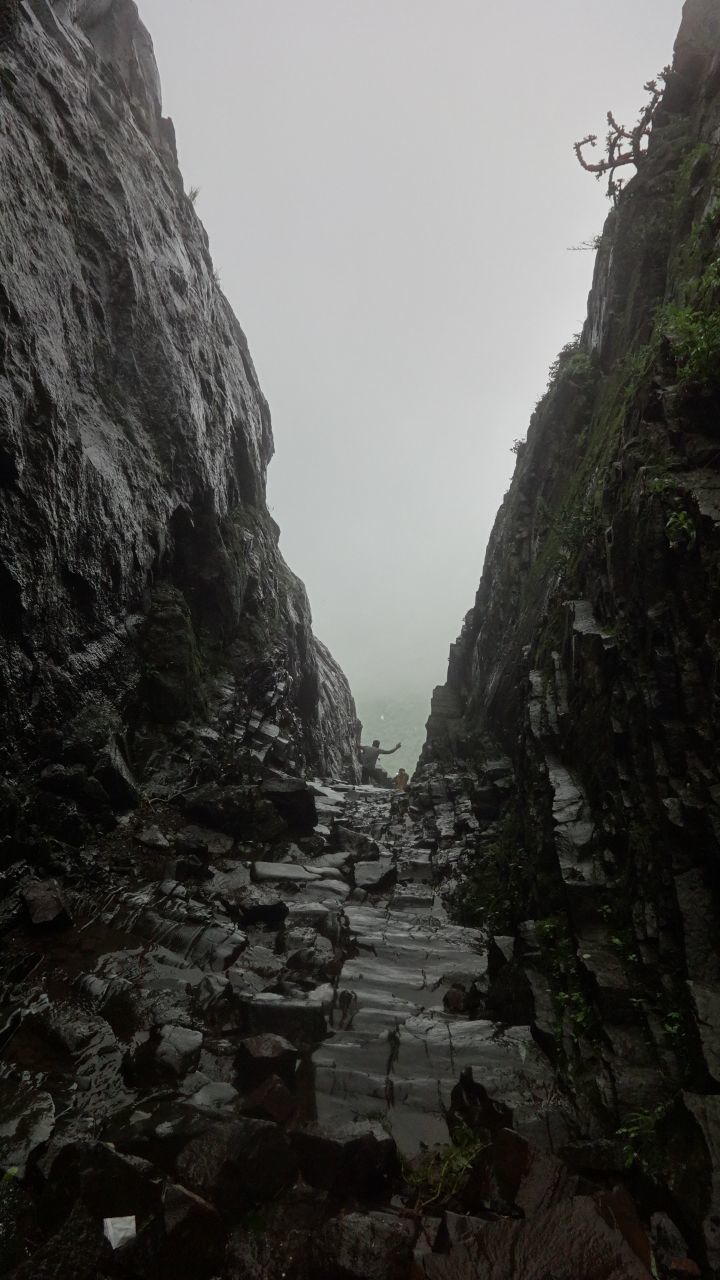 Numerous milky white mushrooms spread all over like a white velvet carpet, exceptionally beguiling ant-hills, several creepers swinging down from giant trees across, water filled snake-holes lying random, the sweet smell of cool moist mud, the shades of greens changing after every turn of the trail, birds chirping and singing euphoniously, colorful dragon flies, spiders, bugs and the sound of gushing waterfalls.
Doesn't it sound like I am sleep walking in Alice's wonderland? All this is very much real and I did not need to be in Alice's wonderland to witness it. I had gone trekking to Naneghat with Trek Mates India.
The mighty Sahyadris undergo an unabashed change in it's complete appearance during monsoon. The feel of trekking through these misty, mighty, dewy routes bequeaths nothing less than felicidad.
History and Facts:
Naneghat, also known as Nanacha Angtha (Grandfather's thumb) owing to it's shape, is a mountain pass in the Western Ghats near Junnar in Pune. This pass largely served as a trade route between Kalyan (near Mumbai) and Junnar during the Satavahana reign (250 BCE).
One of the prime importances of this pass was the fact that it was used as a toll collection booth to collect tax from the traders passing through. The tax was to be deposited in a stone carved pot.
The name, Naneghat is derived from words "nane" meaning "coins" and "ghat" meaning "pass".
There is an ancient cave in Naneghat which is used as a refuge for campers. This cave served as the resting place of the traders who passed through this route. This cave is said to be commissioned by a powerful woman ruler, Queen Naganika, wife of King Satakarni, the 3rd king of the Satavahana dynasty.
Satakarni was undoubtedly considered the initial empire builder for the Satavahanas who raised the dynasty to becoming the paramount sovereigns of Trans-Vindhyan India spreading outward from the Godavari Valley challenging the Greeks of Punjab and the Sungas in the plains of the Ganges.
Naganika was member of the Maharathi family. She wrote the Naneghat inscription, in which she describes Satakarni as "Lord of Dakshinapatha, wielder of the unchecked wheel of Sovereignty". She served as the regent to the throne after Satkarni's death till their sons came of age and succeeded the throne.
Naneghat is located at a height of 2, 461 ft. It also acts as a shortcut between Konkan and Deccan regions.
It can be reached through 2 routes:
From Pune via Nashik highway, towards Junnar
From Kalyan through Malshej ghat road
The Trek:
We were a group of 47 including our leader, Vishal Khond. Started off on a slow note as the bus that was supposed to reach at our pick up point around 12:00 AM, was late by two and half hours due to technical problems. Well, Vishal had to arrange for a different bus altogether. Nevertheless, we still managed to have a good wait time.
We reached the base village, Vaishakare village, at the crack of dawn. Post refreshments and breakfast, the bus drove us till entrance gate of Naneghat trek, which was our starting point.
The path seemed to be muddy with scree and surrounded by huge trees. It drizzled every now and then. We had our usual "straight circle introduction round" as we reached a small clearance. This group had the majority of CAs and finance guys, many first timers too.
After walking for good 20 minutes, we came across a small shallow stream, rather easy to cross. Infact, the beginning of the trek is quite easy. It is mostly a muddy trail. Once we crossed this, we entered the forest route.
Monsoon had made it's impact much evident. The grand trees and creepers covering the trees prevented much of sunlight to enter into the forest. The smell of damp moist soil and wood struck the mood chords to a fare-thee-well.
I felt like I was living my childhood dream of walking into the woods through green tunnels, listening to the chirping birds, watching the moves of various other living forms for hours to go. AND, swinging on the creepers  that hung from the trees.
We also got to cross couple of more streams on our way forward.
Few more steps ahead, we were ambushed by incessant mosquito bites. Yes, there are millions of them. Please carry insect repellent ointments along or keep yourself completely covered up if you wish to keep mosquito bites at bay.
The forest trail is followed by the rocky terrain. The patch becomes steeper and even more exciting. We traversed through the patch, reached a mid point and turned back to have a glance at what we had left behind. I just could not take my eyes off the magnificent view. I sat down on a large rock and simply closed my eyes, wanting to secure that moment and emotion forever.
The ascent upward was easy, only that one needs to negotiate the steps with utter care since the rocks were wet due to rains and continuous flow of water made them even more slippery. After around 1 hour, we reached the ancient cave.
The inscriptions on the walls of the cave are still visible and the script is believed to be the brahmi script. Sadly, tourists visiting this place simply do not understand the importance of preserving such ancient heritage. They keep littering around.
Towards the left from the caves is the famous Naneghat pass. The grand rock carved pot still lies by the pass which acted as the toll booth during good old times. The traders used to deposit coins into this pot while passing by.
While we were busy getting clicked alongside the ancient toll-booth, Vishal (our Trek Leader) got some hot pakodas (fritters) from a nearby stall. The stalls were set up by villagers of Ghatghar village, which is on top of Naneghat pass. The fritters were yum and we wanted to have more. But Vishal asked us to complete the summit first and then have pakodas while descending. We agreed like righteous kids.
The next leg of ascent was super fun. The surrounding was covered with dense fog. We could see the clouds floating and dancing around. We also got to witness many reverse waterfalls by the valley and the majestic Jivdhan Fort, once the clouds decided to change their course.
The pressure and impact of the wind was such mammoth that it could blow away any and everything present. The wind kept throwing us back the more we struggled to step ahead.
Everything was blowing away with the intense wind. Caps, rain covers, windcheaters, sandwiches, theplas (flatbreads made from of fenugreek leaves, wheat flour and spices), almost everything.  Somehow, we reached the top. We had our lunch soon after.  Now that our hunger was satiated, we took the liberty to spend a little more than the allocated time to take pictures (selfies- to be precise).
Since we were late, Vishal denied us from having fritters. We were heartbroken and decided to name Vishal as "Vishal Pakoda" as a reminder of his sternness. As we were discussing how none of us  would able to sleep and our souls would keep coming back to savor the fritters, Vishal appeared from behind and handed me a big bag with piping hot fritters. Those were the world's yummiest fritters ever made.
The descent was quicker than ascent since we didn't have to wait, explore and click. We had our evening refreshments in Vaishakare and started our journey back to Mumbai.
It was a musical journey back with antakshari. An antakshari with repeated songs and stopping at chorus or mid-way so that the other group doesn't get time to prepare their songs.
Everyone became grumpy about the fact that we had to face Monday blues next day.
Every trek is unique from the previous one with an entire new experience altogether. Likewise, each place has a discrete essence of it's own by each passing season. The Sahyadris is one of those places.
I am still suffering from Naneghat hangover. My mind refusing to get over the walk through my wonderland.
This story was originally published in Cocktails, Mocktails And Life.