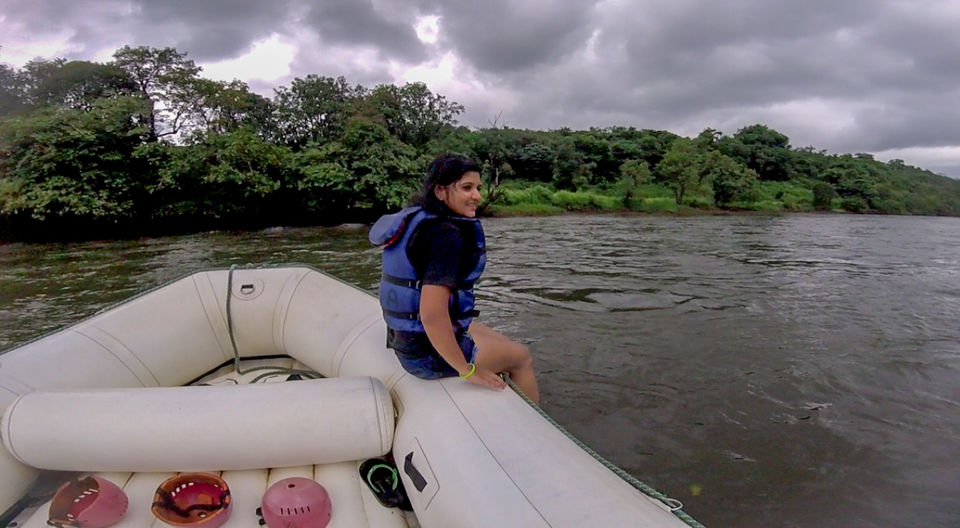 " Kundalika River Rafting is about an ultimate adventure destination that unfolds the true essence of nature. It welcomes you for a voyage to go beyond the human limitations and be a part of it."
Me and my friends were planning to go Kundalika River for rafting since last 2 years, but we never got a chance. After going through various cancellation and changes, finally we made a weekend for an adventurous river rafting.
Kolad, a small township located on the beautiful, scenic Konkan strip of Maharashtra and no. 1 place to go for river rafting on Kundalika River at kolad. It falls on the Mumbai Goa National Highway No. 17. Situated at a distance of roughly 150 kms from Mumbai gives it a vibe of a not so strenuous road trip as well as providing some wilderness white water rafting experience.
We contacted Sai Farms resort for a day package keeping in mind the weather condition. October 1st was the day when we started the trip by car at around 5.00 AM from Dadar. Our target was to reach Kolad at 7:30 in the morning but due to poor road conditions we reached at 8:30 a.m. We got stuck in traffic at 'Penn' village for half an hour between 6.00 AM to 7.15 AM. Two public holidays back-to-back 'Sunday' and ' 2nd October ' was enough reason for the mass exodus of people.
The rapids at Kolad are not of a natural source, the water flow at Kundalika is controlled by Bhira dam, which normally releases water at around 9:00 a.m. The River rafting distance was 12 Km from starting point. By the time we reached, Our group was the last who left to take on the challenge. Our instructor showed us a quick safety gear and rafting techniques along with commands to be followed while rafting.
Clothes, bags, gopro and we were all set to rock !
We took the raft near the river and boarded it. We w
ere all set for the thrill and started paddling our raft. We were going with the flow in the river Commands like Forward to peddle the raft ahead, Backward to peddle the raft back, stop to stop peddling duck to protect ourselves and duck into the raft where being ordered by the instructor. We all were trying hard to synchronize our peddling while hitting one's peddle on another, it felt like all we could do is to put peddle inside the water and take out, while the instructor did most of the work of directing the raft.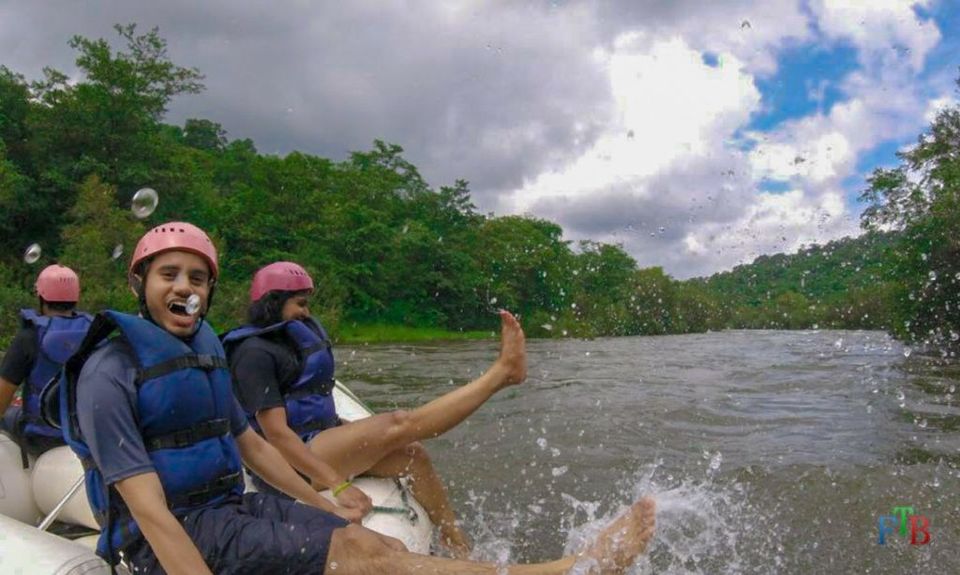 Within a few minutes, we entered a flowing water channel that restored our faith. Holding our breath tight, we settled in the raft to face the rapids on my way.The river started getting rough and waves started appearing. It was an exhilarating experience and the adrenaline in our blood began pumping. The streaming water was sprinkling all over us, washing away all our tensions of life for the moment. While moving through these evaluations, a proper technique planned in mind and makes our team ready for an exciting rafting experience.
Later, our raft reached to a portion of the river where the waters were still. Our instructor suggested us to lean half outside the raft with our stomach facing the sky. I popped out and touched my head to the chilled waters. Everything seemed so different, viewing the world over turn gives an interesting perspective.
A sudden rain storm took over and made the rafting that much more exciting. The climate started getting more mesmerizing. Our instructor allowed jumping in a water, which was 30-40 ft deep. I was scared to jump but when our instructor pushed me in a water, Ayeeeeeeee.......Whooooo Haaaaaaaa!!!!!" the chilled water bounced on me, i went blank for a moment . But then i felt that i have conquered my fear and jumped more than a 3-4 times in a water.
We ended our 2 hour of rafting with hot Kanda Bhaji and Chai !
All the hills covered in post monsoon greenery, clouds playing hide & seek with the mountains, rain, pleasant wind and the waves hitting us from time to time, singing song loud in groups, shouting with excitement, nourishing on them with bliss, competing with other boats, somehow I felt that I found something new about myself, it made us forget all our worries.I had added one more breathtaking experience to my life. Those two hours of rafting has given us a new dimension. It has taught us to confront challenges and overcome our fear. We saw two aspects of the river during our journey, one very vibrant and turbulent representing the twist and turns of our lives and the other one extremely calm and serene thereby telling us that after passing tough times we can also sail in our lives easily.