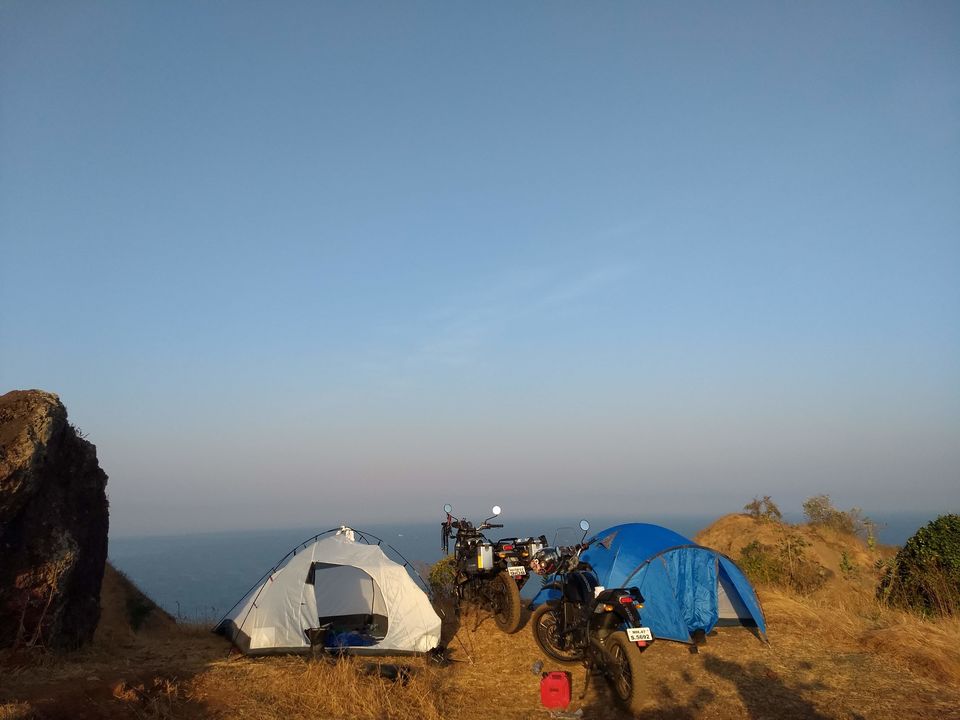 Escaping to a place with your elite friends.. keeping your circle short, camp at a place where no one shows up has always been relaxing and refreshing.
So we 5 decided to go at a place where hardly anyone shows up. We knew a place called Dabhol but never heard a location called Dolphin point near light house. Not that this place is a tourist attraction but very few people choose to show up here.
Ride, Roads and Riders is the most amazing combo that you will ever make to get refresh. We started from Chembur where we all gathered at friends place. Our first halt for breakfast was Pali Temple but time had another plans for us.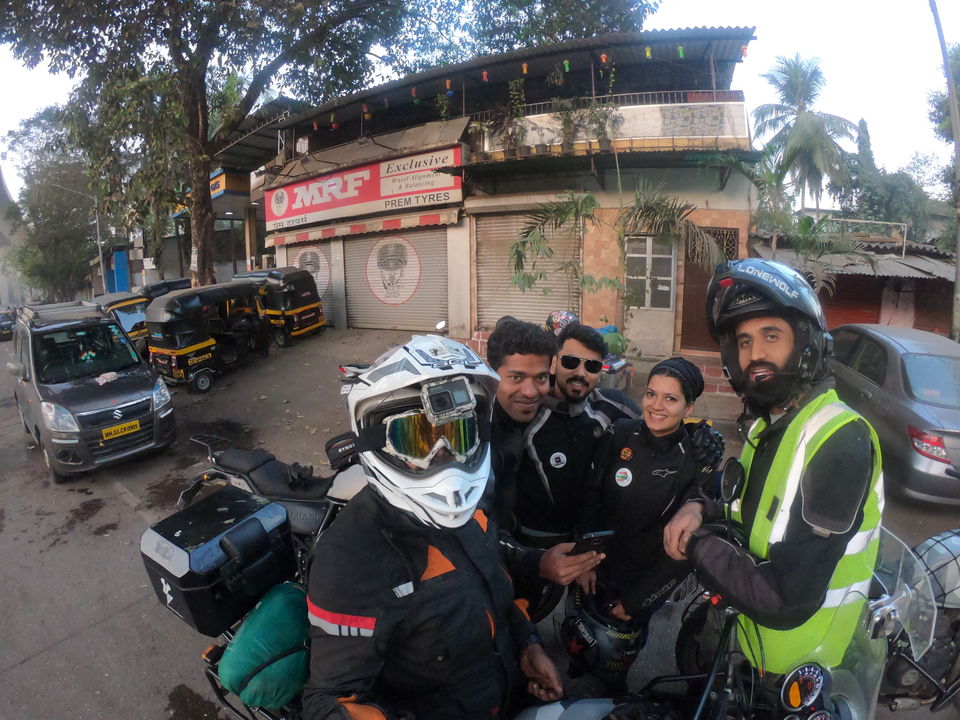 We reached Datta snacks, Panvel @9 am approximately. Decided to have tea and breakfast there and leave for Pali. But as I said time had another plans for us I will quote this in line " Ye raaste humari manzil theraya karte hai, hume sirf raasto pe chalna hota hai".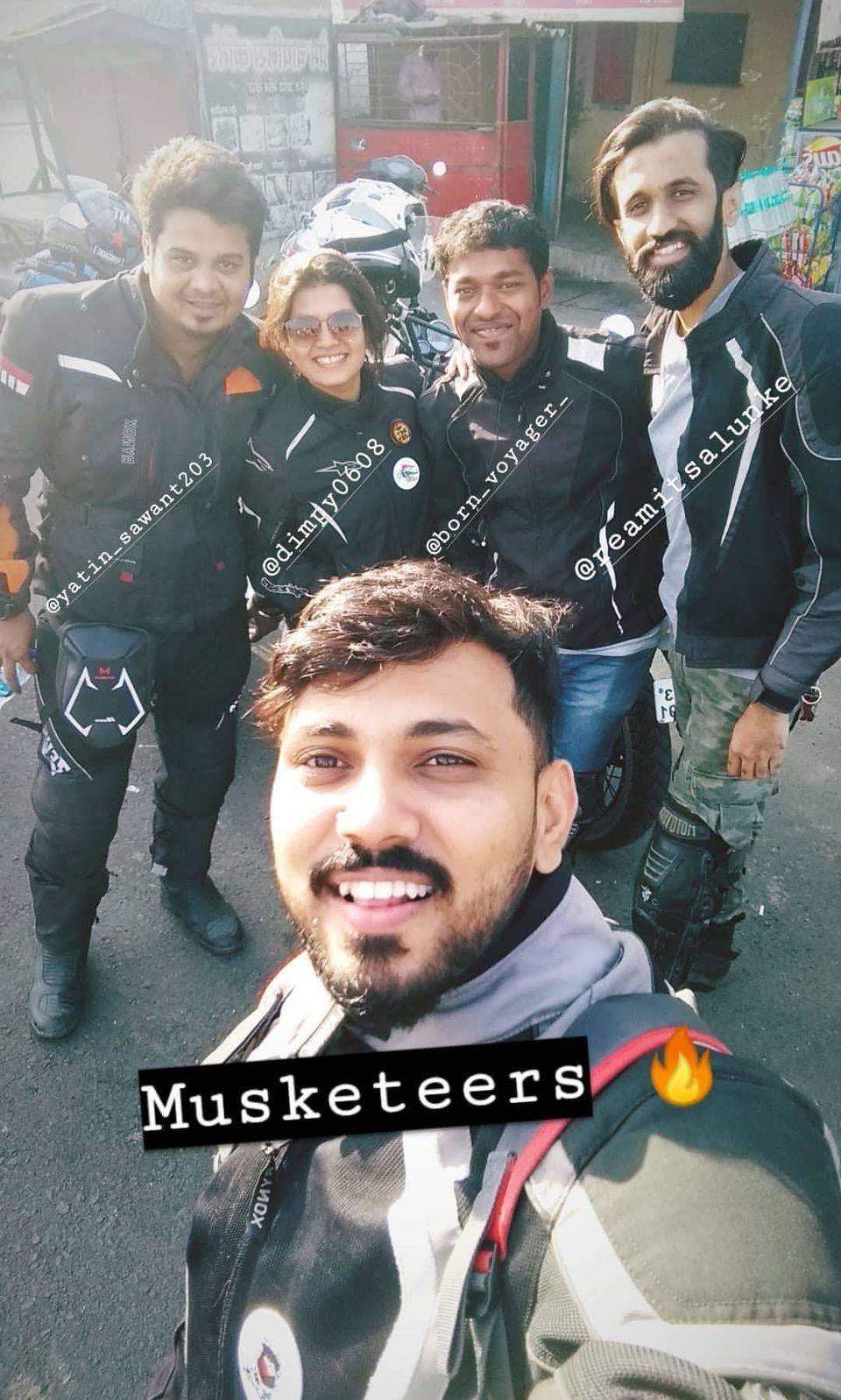 So we decided to take the old Bombay Goa route and reach Dapoli, We skipped the Pali temple and enrouted Dapoli via Bombay-Goa highway. It was a bit hot but we were lucky enough with cold breeze that ensured our trip was not too exhausting. Now we were hungry and needed a small snack break to refuel us.
When nothing goes your way, you are on the right track. We were to halt after Kashedi Ghat but as I said time had another plans here too. We halted before Kashedi Ghat at a place built on the banks of Krishna River. A shady place near a river, Egg Bhurji & Bread and Chilling Sprite (Cold drink) gave us a much fuel to start ahead again.
How could we resist clicking some pictures where we get peace.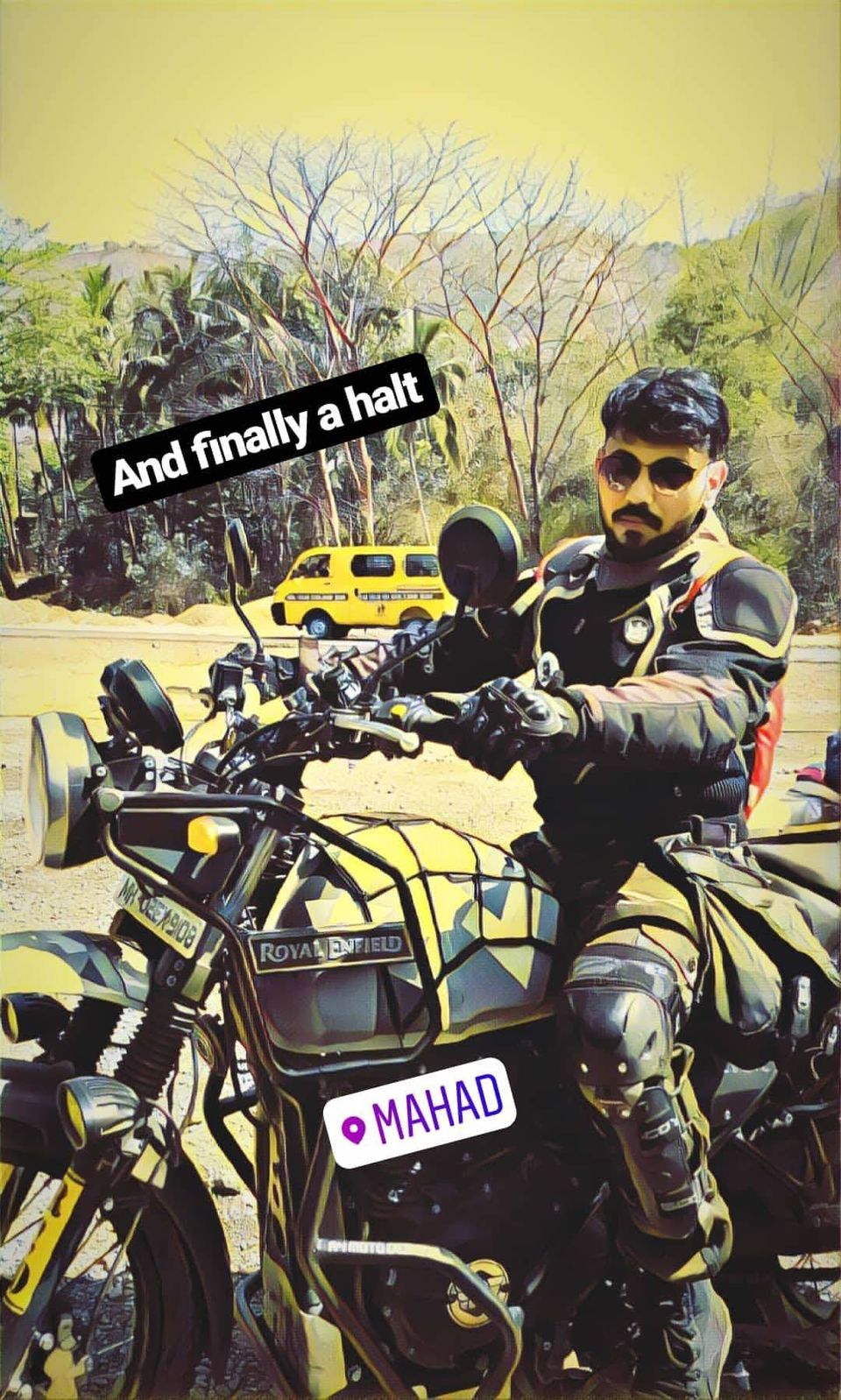 So we started our journey towards our destination. An under Construction road of Bombay Goa route, Furious Sun on the top, a 400 cc Royal Beast (Himalayan) , 7.2 km adventurous & curvy ghat called Kashedi - in the cradle of Sahyadri, A lady rider riding at 120 Kmph and a crazy destination to reach. What else one could ask for when your trip is full of adventure.
We reached Dapoli around 3:30 pm with our tanks full but stomach empty. So we again needed a halt to refuel us before taking a ferry boated for Dabhol. Now Dabhol ferry was 30 km away from where we were. Luckily we got a restaurant which was going to close by 4 pm, at the entrance of Dapoli itself.
Reaching Dapoli and taking pictures wherever you can is mandatory.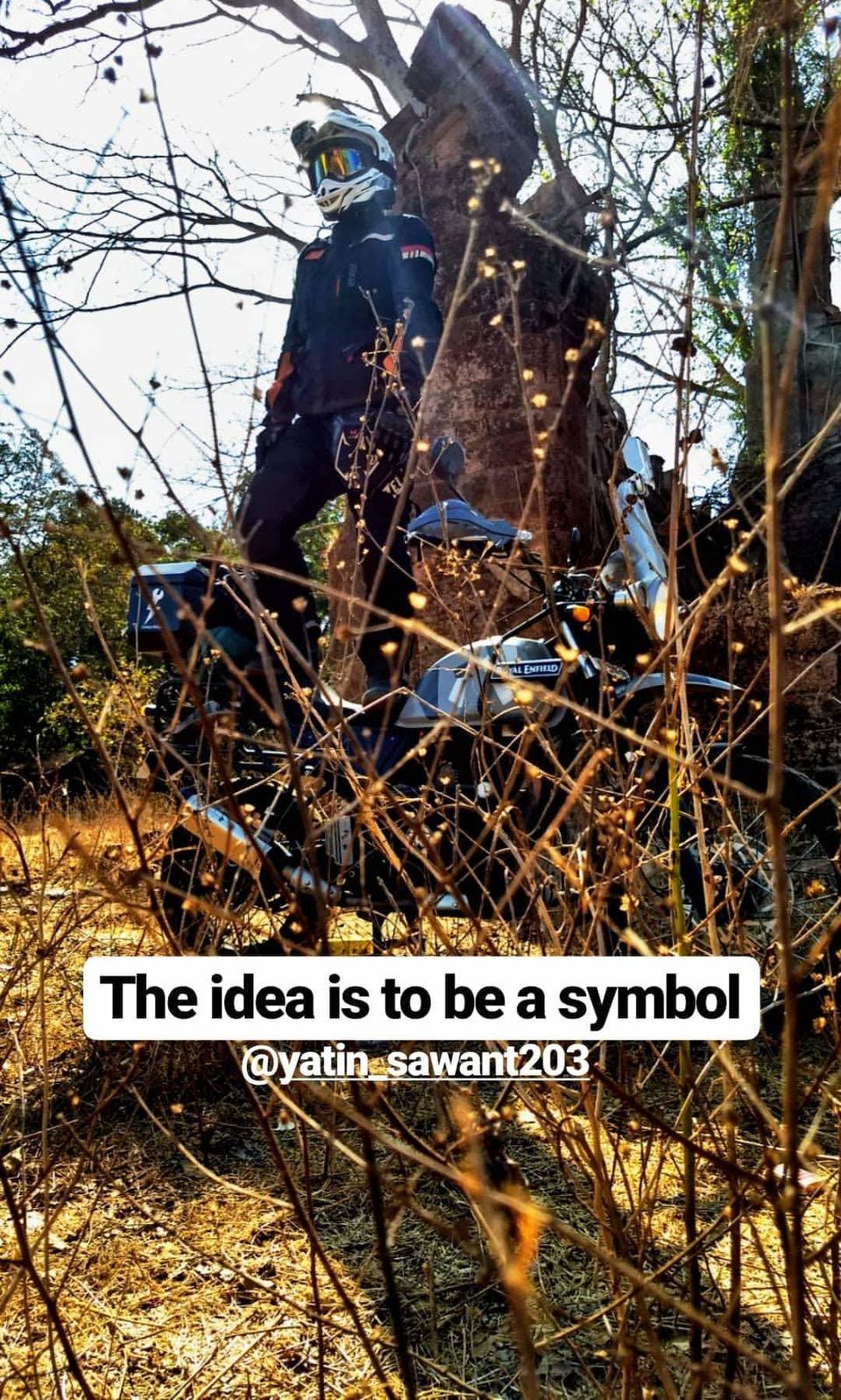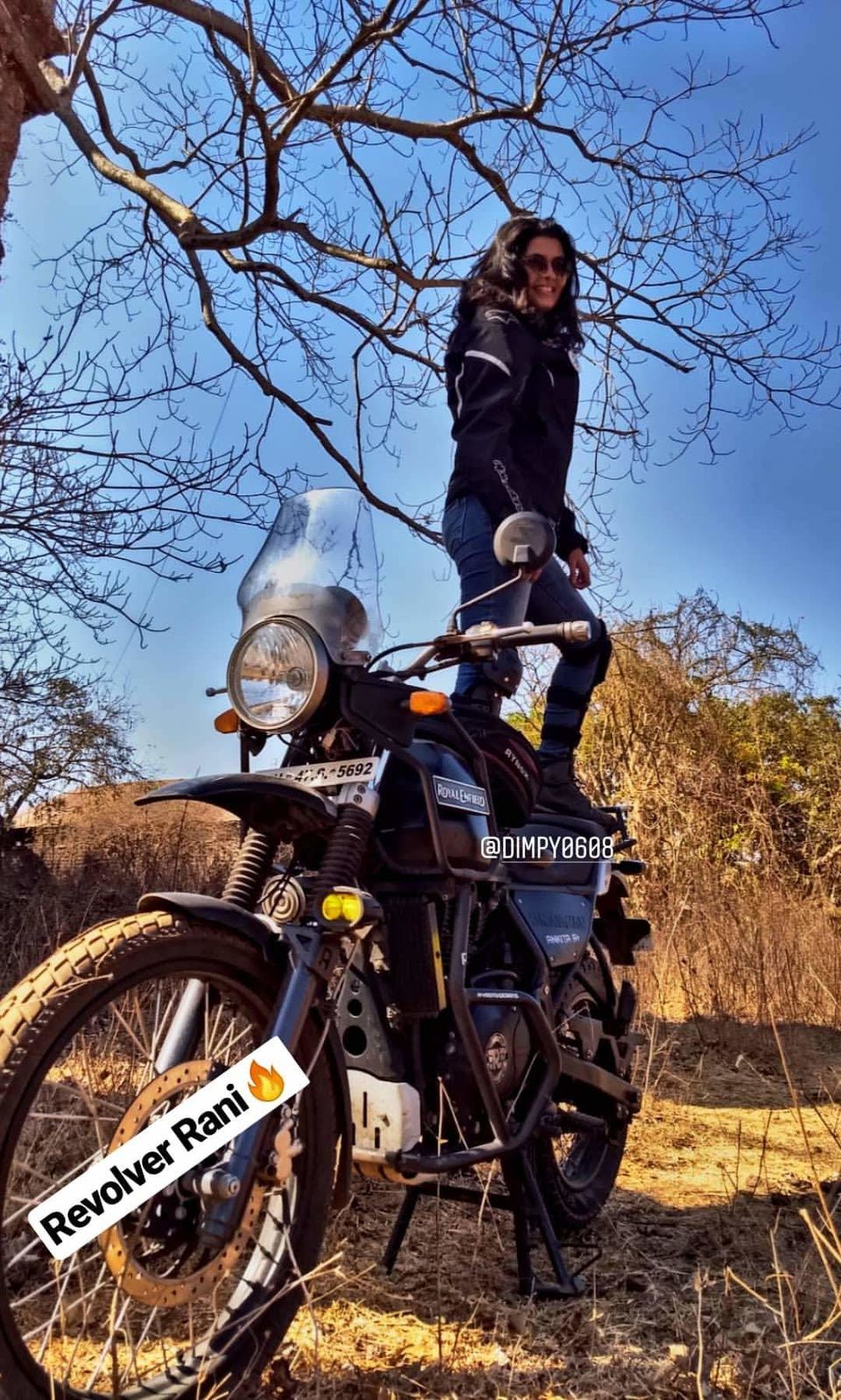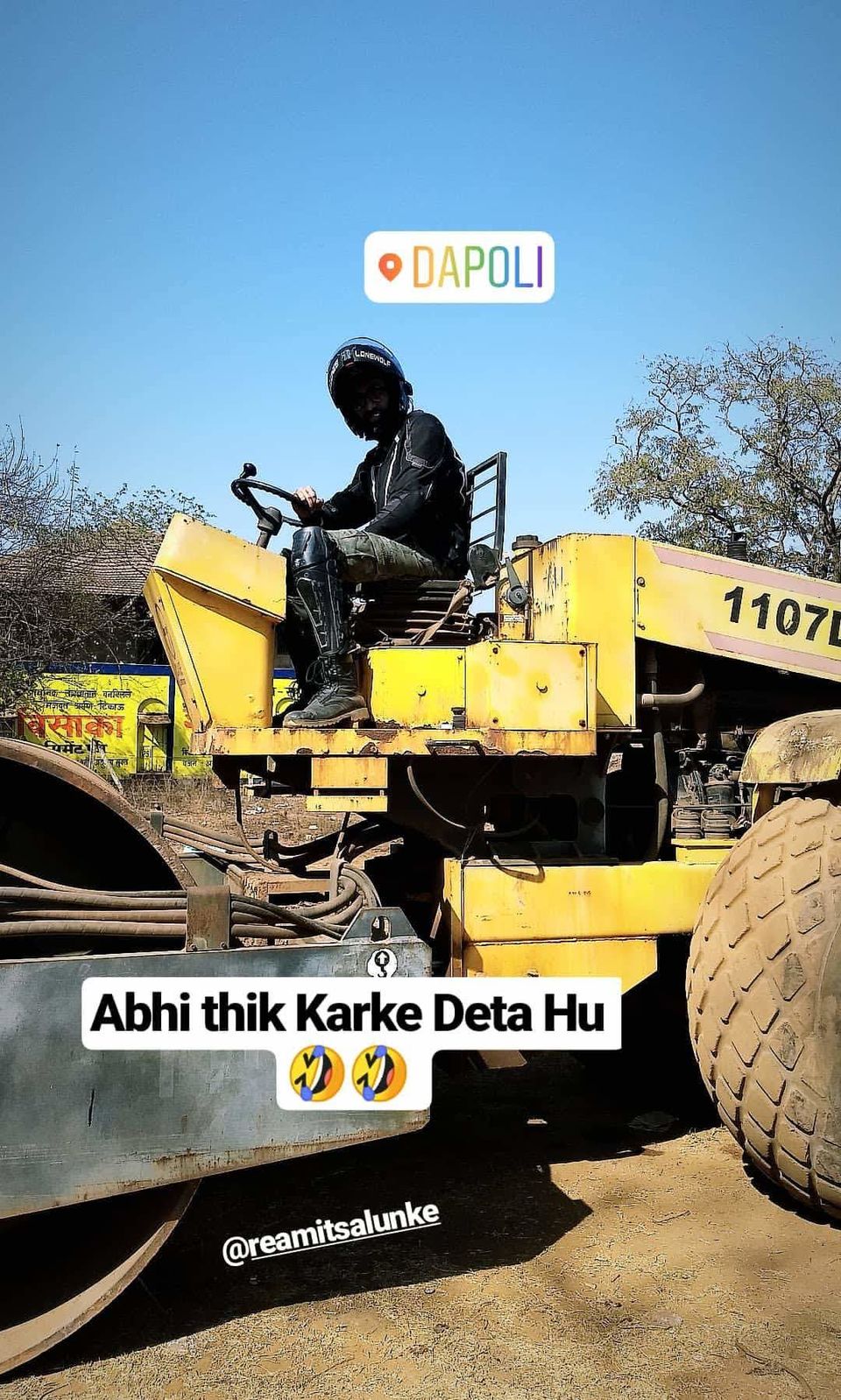 Taking pictures was more important than having food even when we were hungry. Because this trip was giving us a more adventure than we expected.
Kokan patta or Coastal strip is as famous for fish as it is for its beauty. No one in this world can say NO to fish curry and fish fry in this region. More of a staple food the people residing here enjoy their daily meal by including a rich source of protein "Fish". Here is the glimpse of a Thali which we ordered.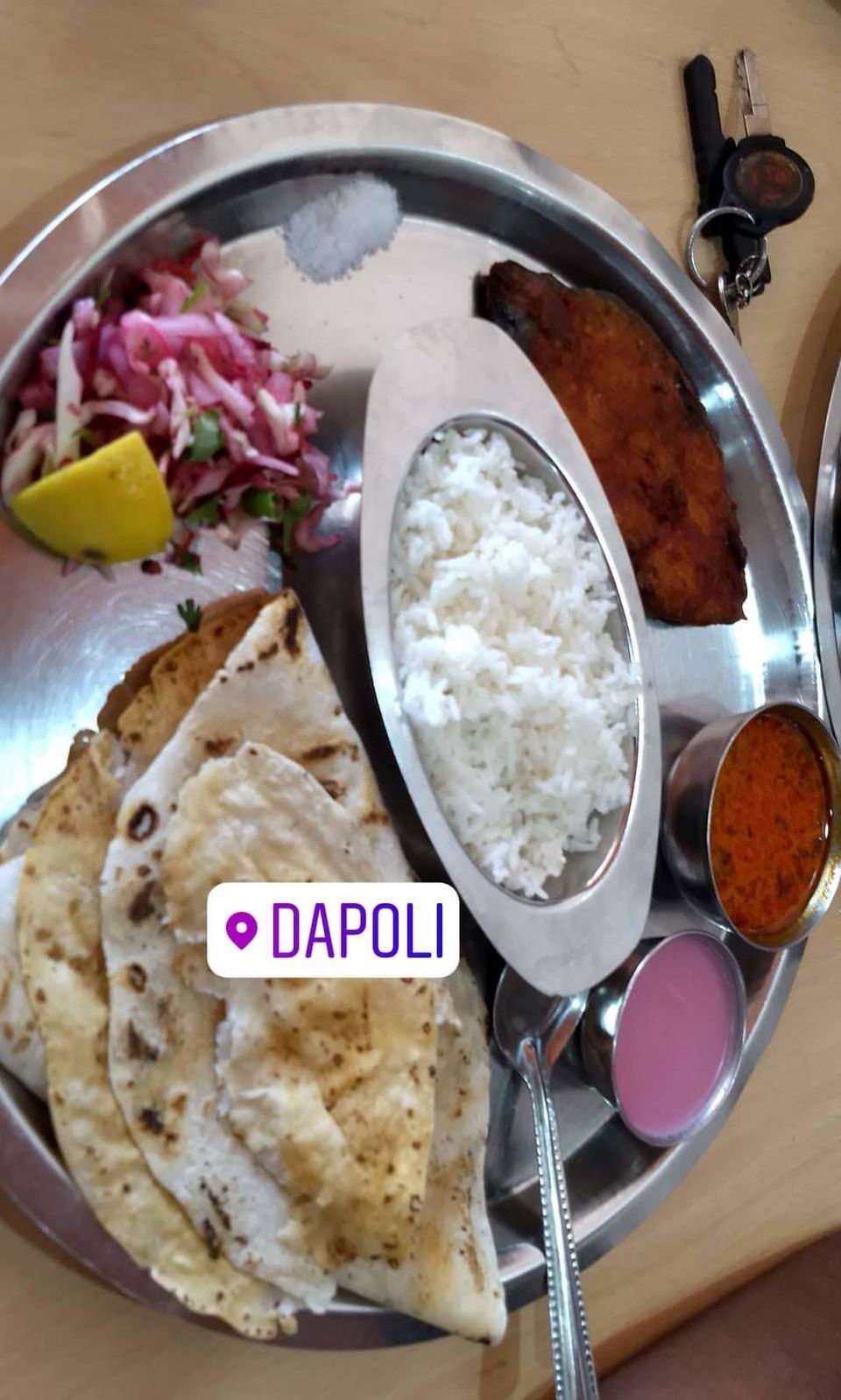 We finished our food by 4:15 pm and we were to reach Dapoli ferry point 5. You must always note the ferry timings in order to reach on time. We were already running late as we needed to buy some cooking stuffs for camping too. We reached Dapoli jus 15 mins before the leaving time of ferry boat. You can get a big size fresh prawns if you are lucky to reach at market soon. We were lucky enough. There is a fish market and a grocery market too very near to a ferry point. We bought all the stuffs for cooking from this market and left for Dabhol. It's a 20 min journey from Dapoli ferry point to Dabhol ferry point.
As soon as we reached Dabhol ferry point the very first thing we did was to buy as many water bottles we could as there was no local market at least 10 kms from our destination. So we decided to carry 20 water bottles with us. We began our journey towards our destination before we could miss the mesmerizing sunset. We didnt want to miss any beautiful thing in our trip so we hurried and left as fast as we could. As you travel towards the Dolphin point after some distance of travelling you come across a junction where a straight road takes you to Guhaghar and a right turn takes you to the village. From this village its merely 15 mins of ride toward light house.
Exactly around 6:15 we were at the Sunset point. And no one from us can explain this mesmerizing feeling of being at the top of the world and experience such a beautiful sunset.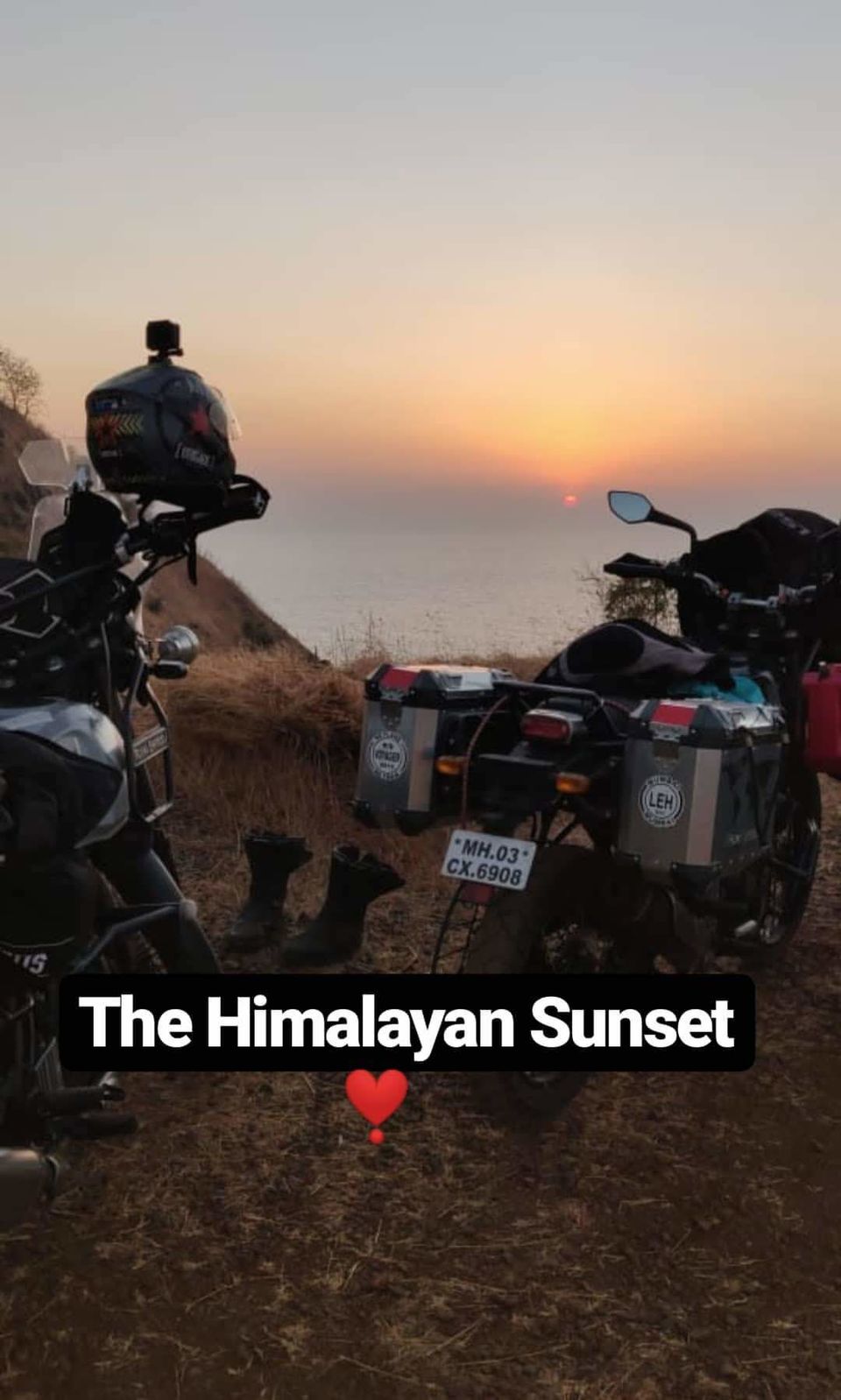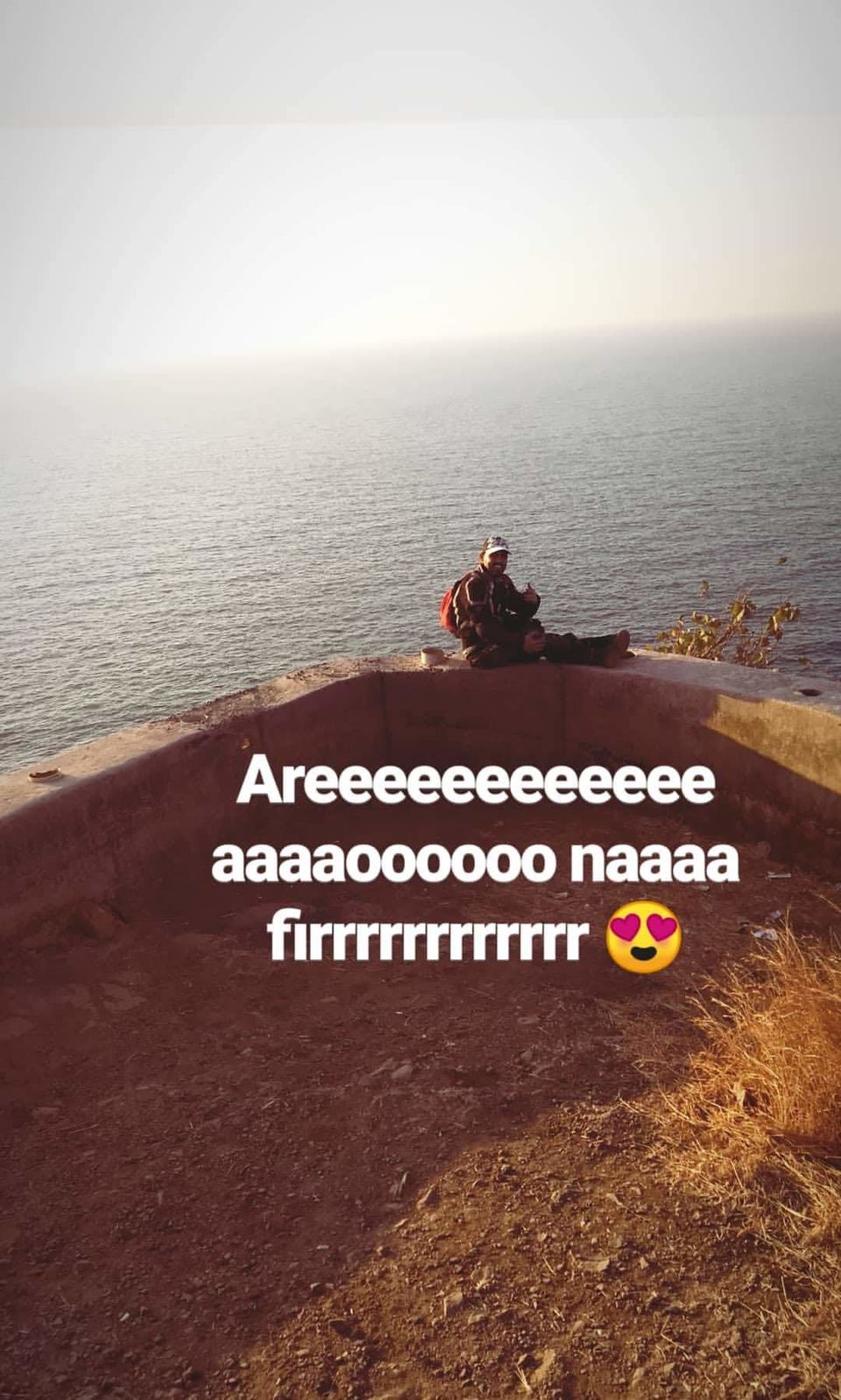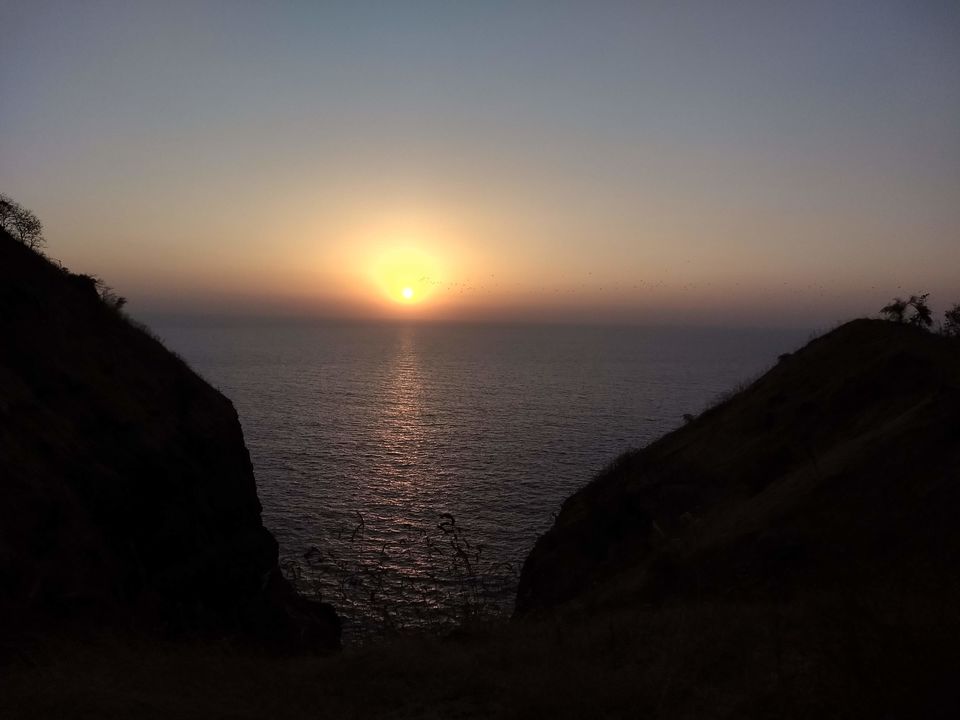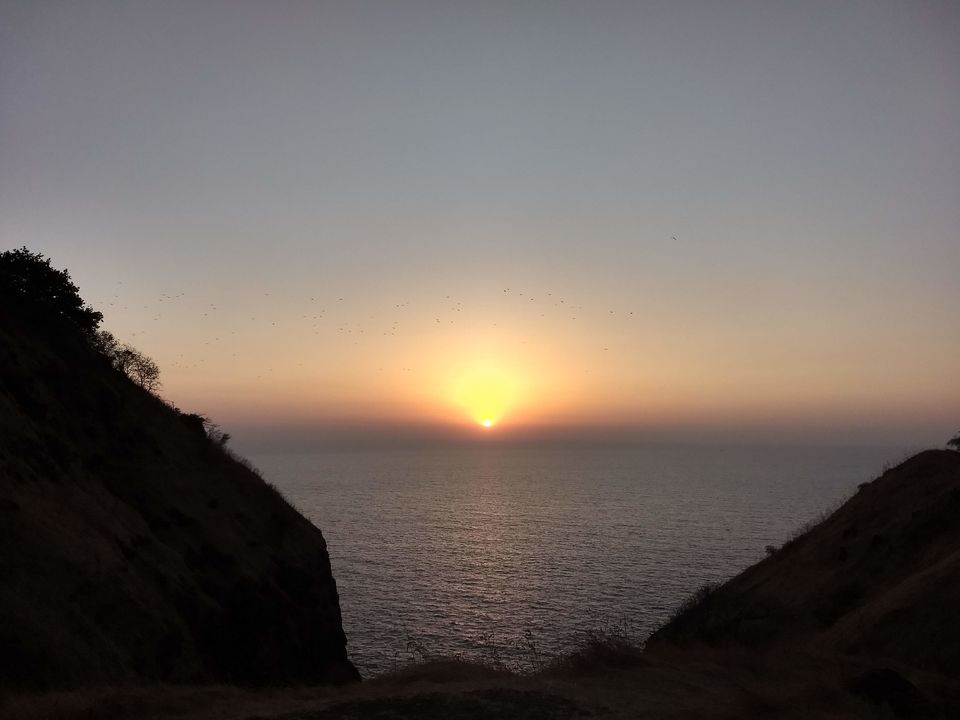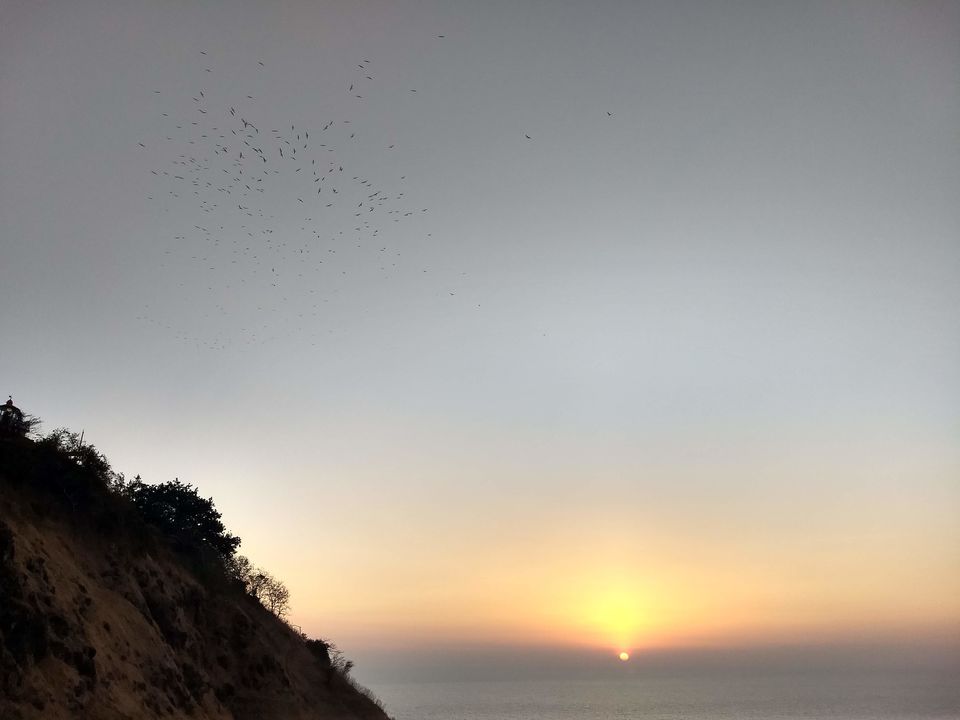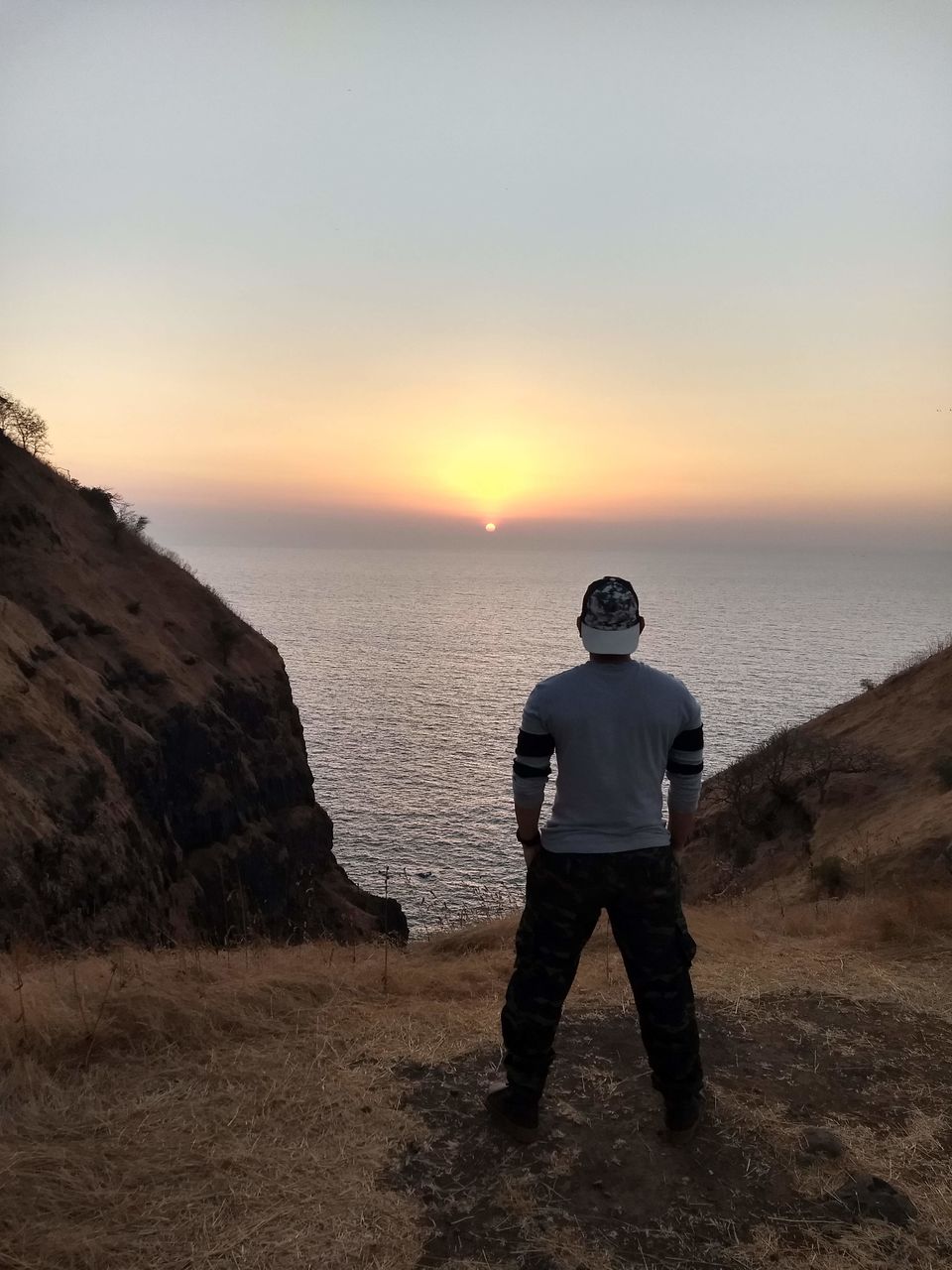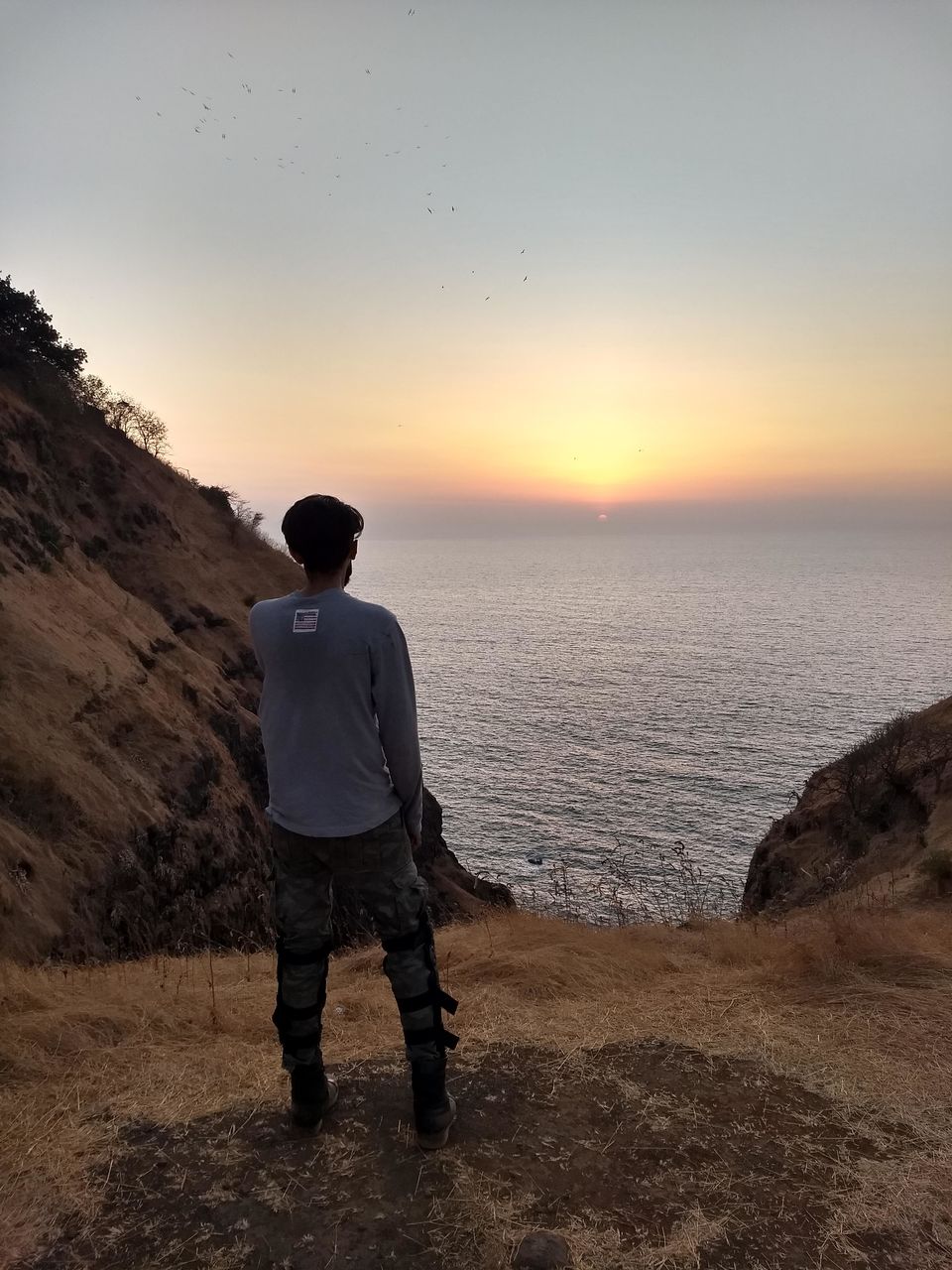 We had our moment with sun but time was running out we were yet to set our tent. So we rushed hard and fast to set our tent. Having good practice of setting it, we didn't waste enough time to set it. Now our site was ready and we were relaxed to enjoy the dream weekend.
All we needed was to enjoy the drink and the food that we were going to cook. So we started with the cooking stuff with wonderful melodic music tuning with the campfire and waves splashing on the rocks creating natural beats adding up to the moment. Here is the glimpse of the mouth watering butter prawns fry that will remain as a wonderful memory till we die.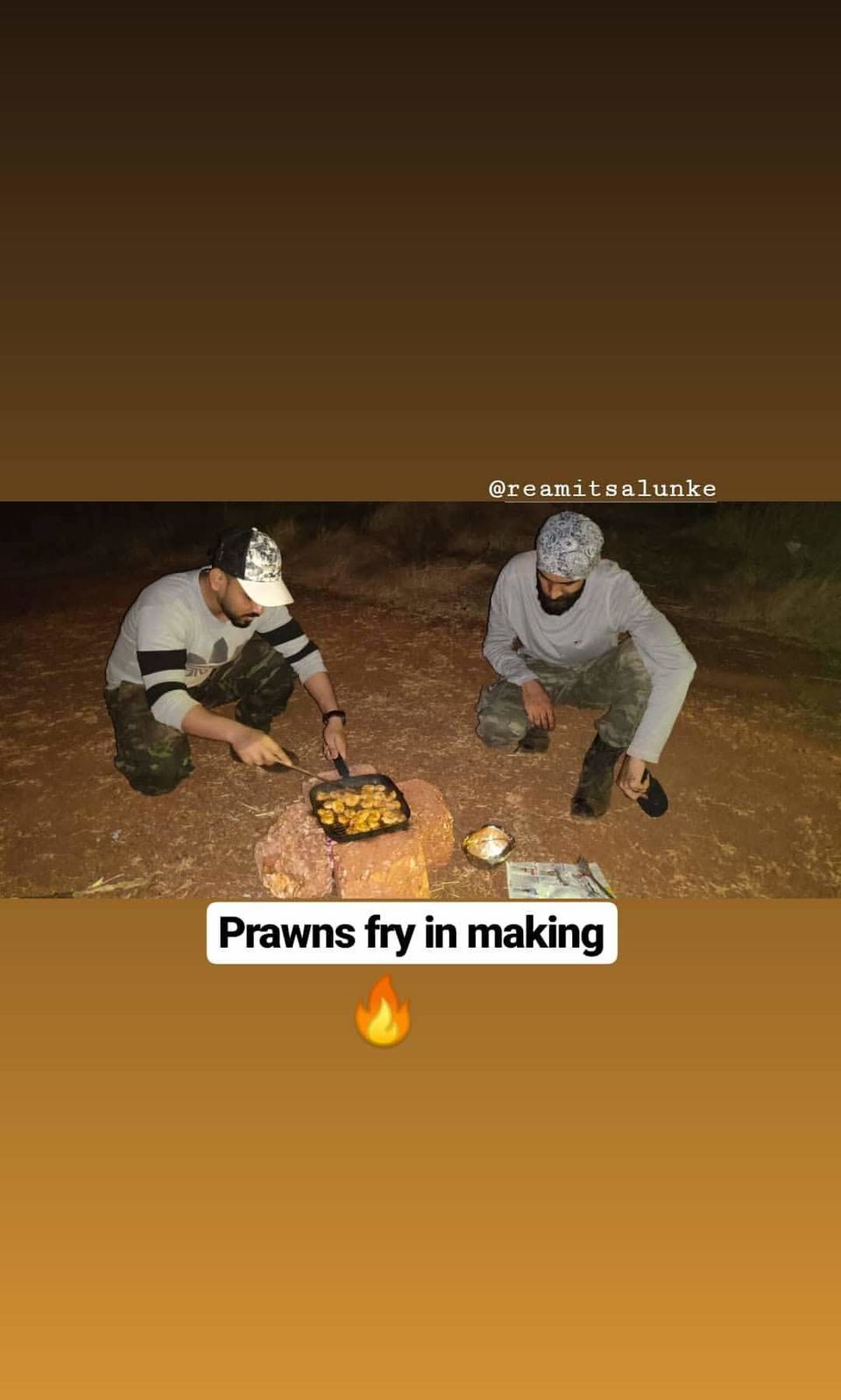 After prawns, it was the time we cook delicious chicken fry for us.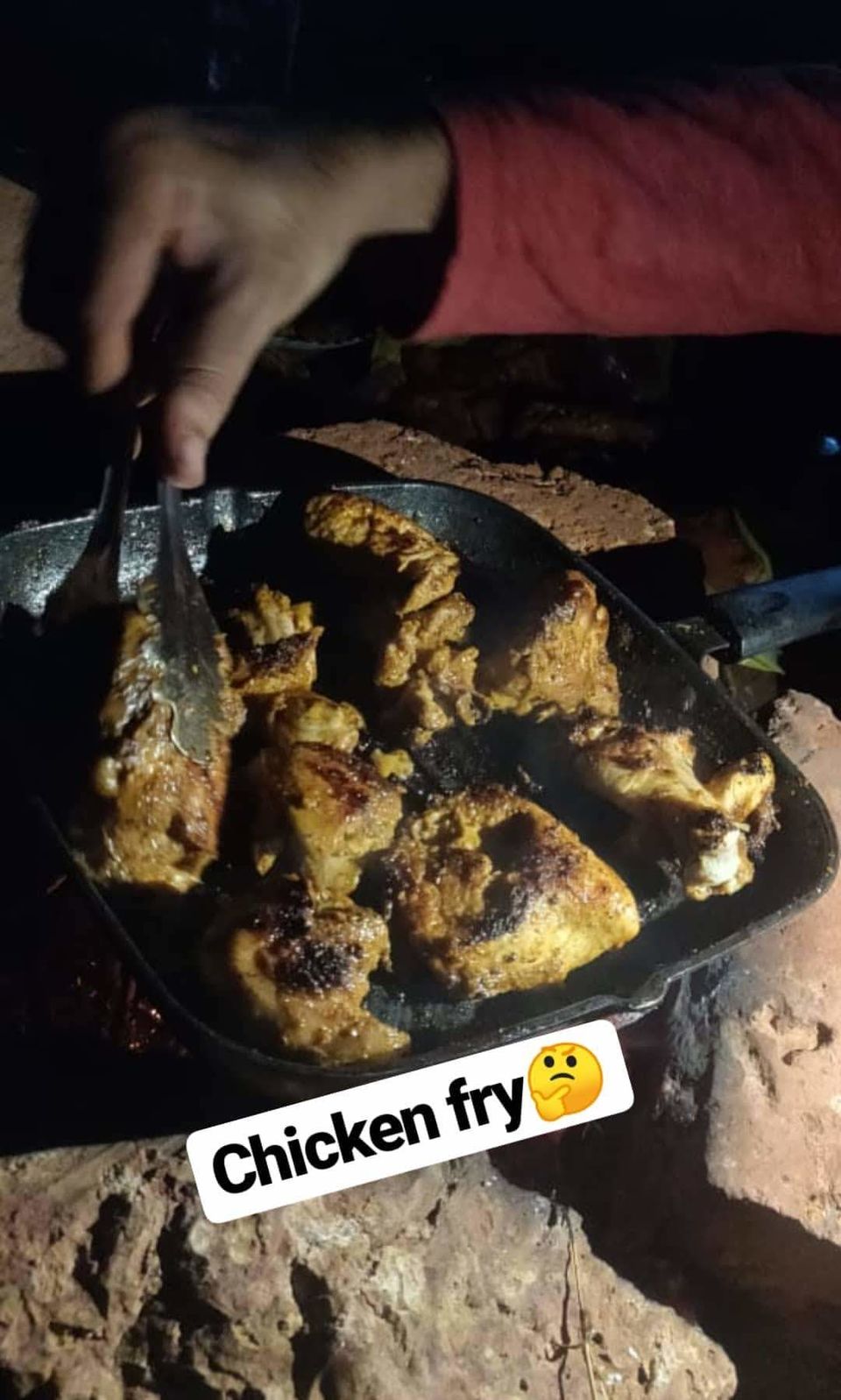 And it was the beginning of the wonderful dream night of the weekend that we had plan a month before. A perfect picture that we imagined was coming true. A star sprinkling sky, Waves splashing on the rocks, A tent to sleep, a campfire, old monk and melodic music. We could not have asked for more.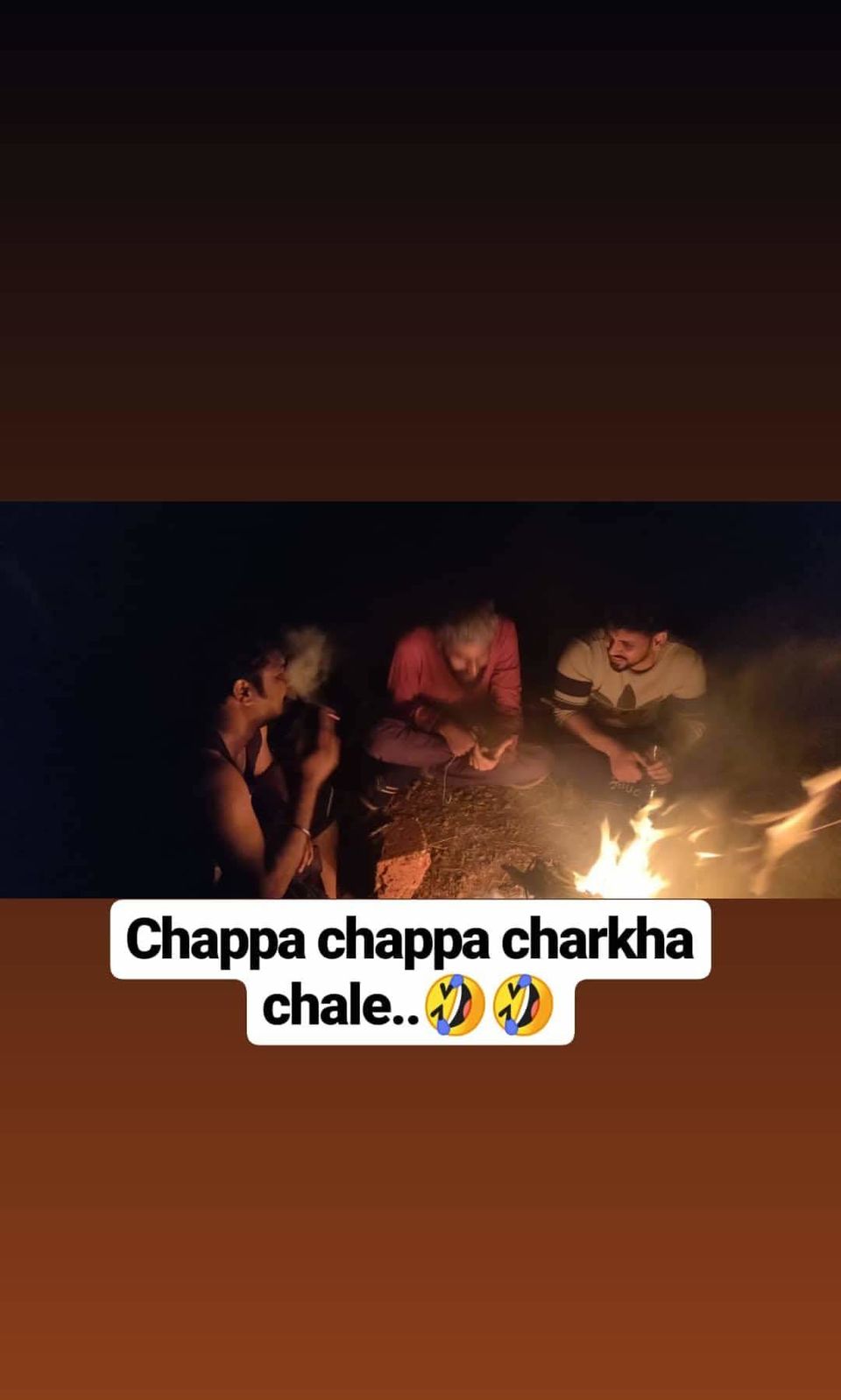 It was a bit cold night, we decided to sleep as we were to take some breath taking coastal route back to Mumbai. But time always has another plans for us. We got up to such beautiful morning and as usual could not resist taking pictures of the same. A perfects weekend's perfect morning was adding up to our memories which were gonna last till our life ends.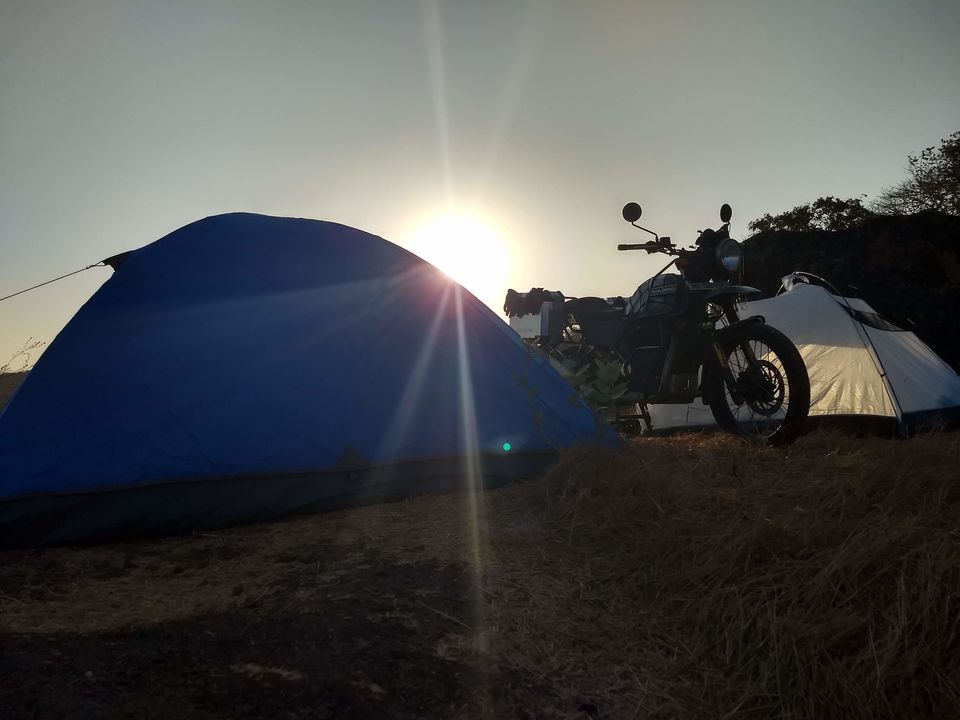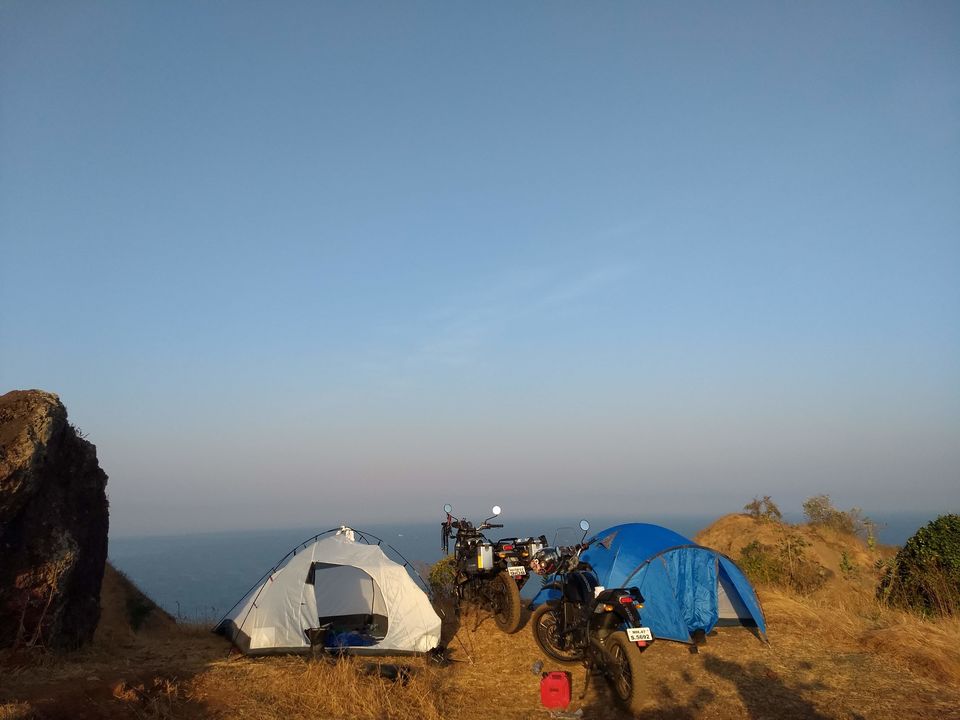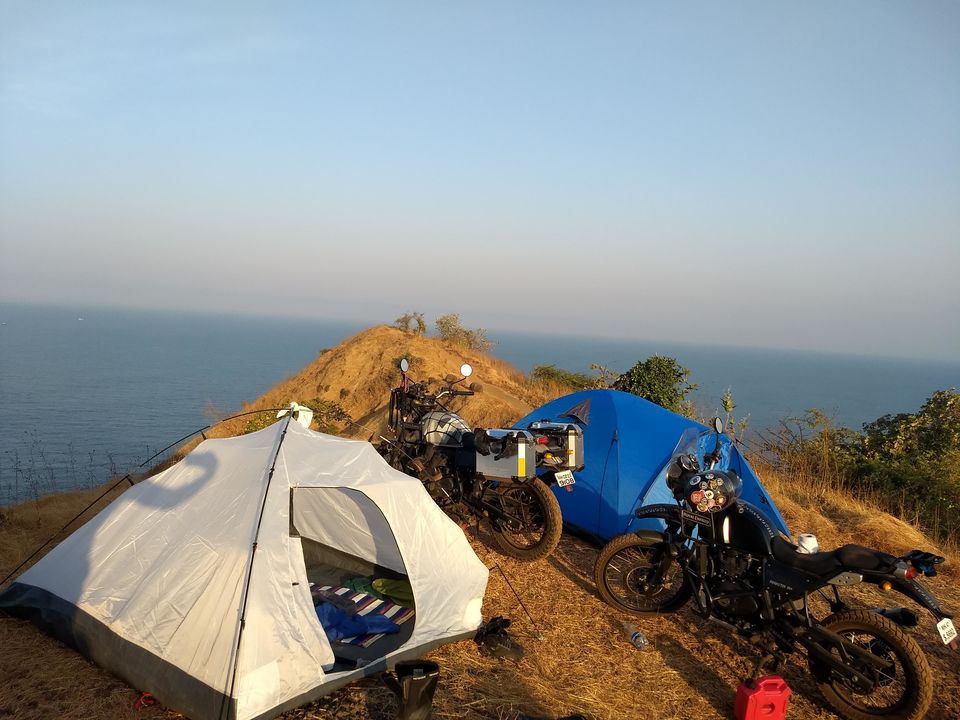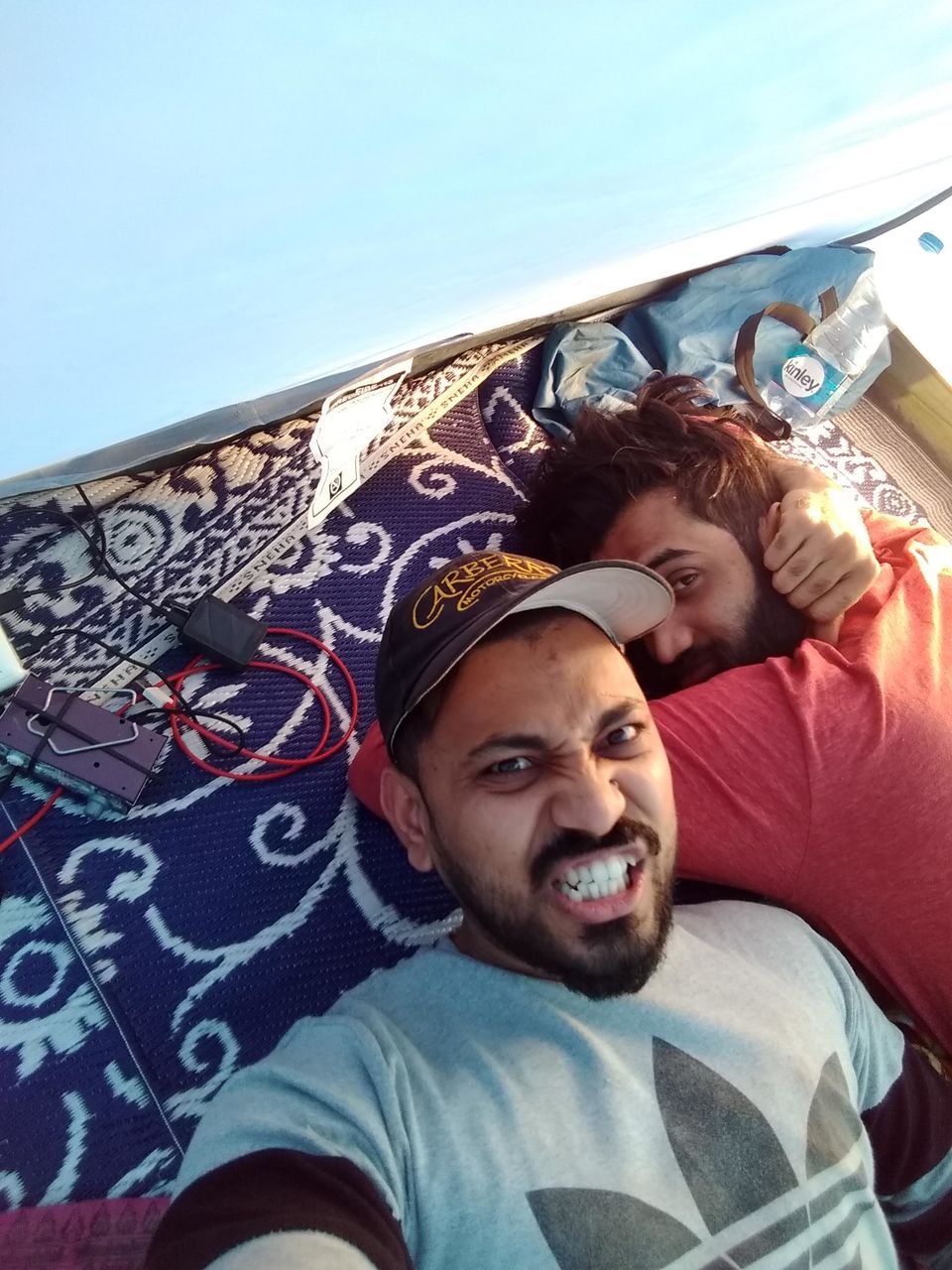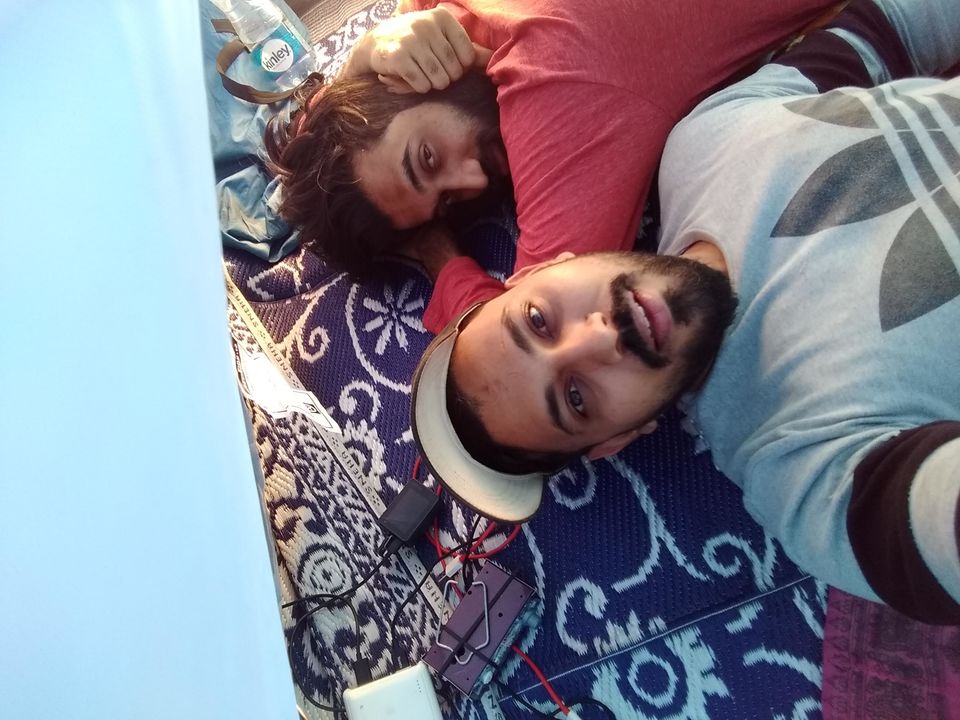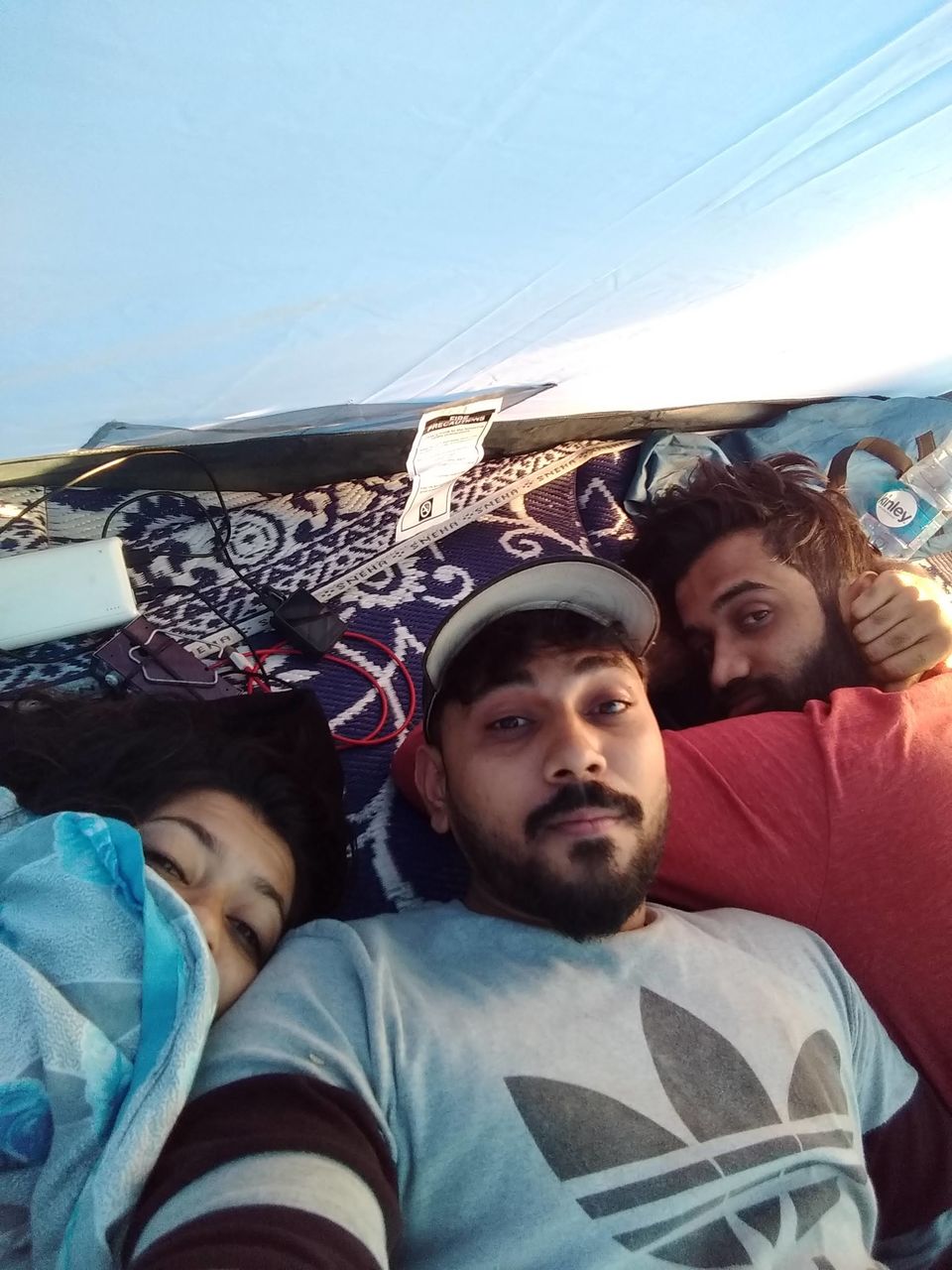 We got up early to see Dolphins but were unlucky to see them. But the photography took more time and we could not leave early. So we decided to make some snacks to fuel up and leave. And believe me 2 mins breakfast on such destinations gives five star taste that you cannot forget your entire life.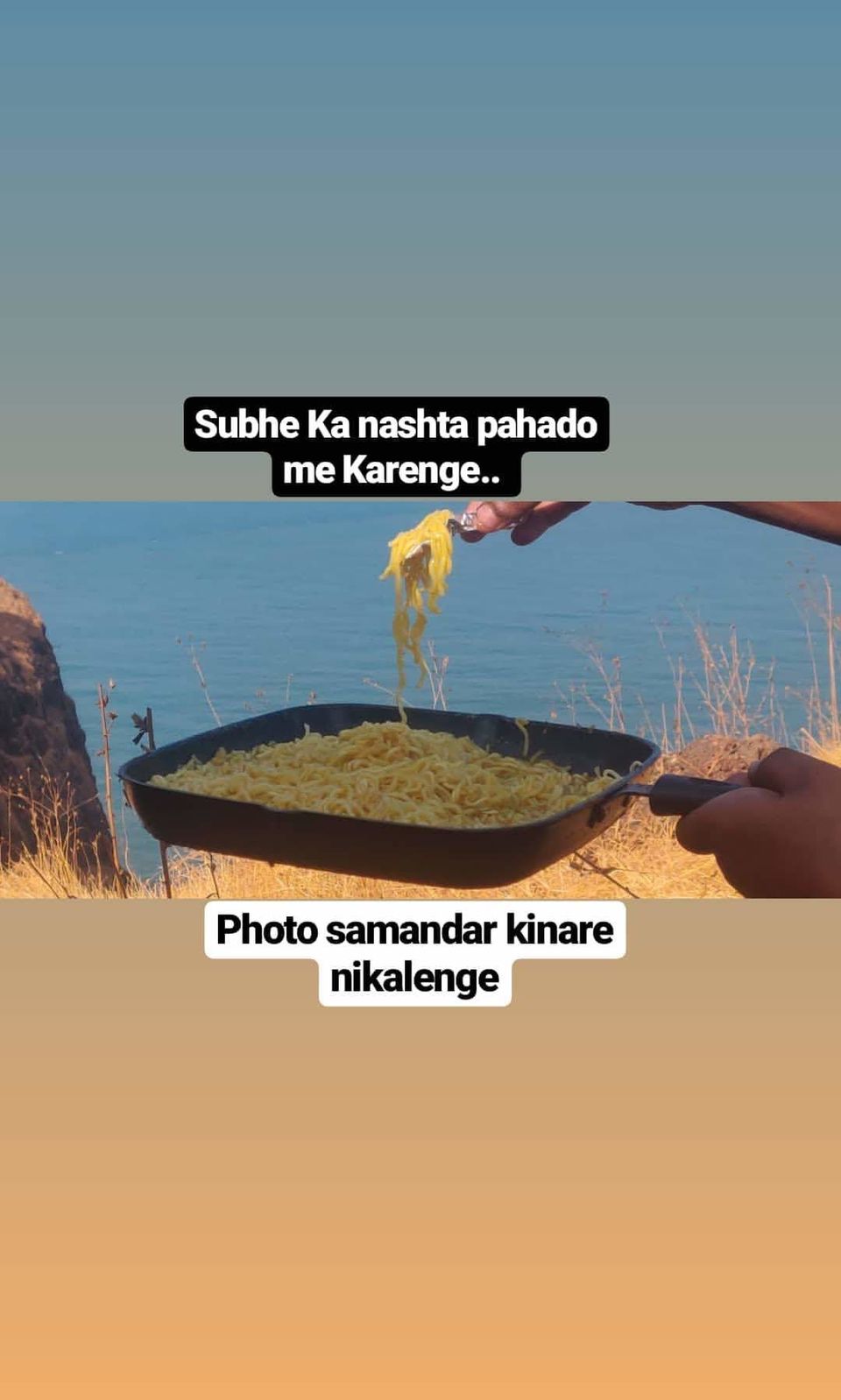 We started wrapping up things nearly at 11:30 am as we had leave fast. It was disheartening to leave such beautiful places but this is what travelling teaches us. Leaving footprints behind behind and taking only memories. We were taking so many wonderful memories to cherish. We had our moments at this place as decided.It was time to return.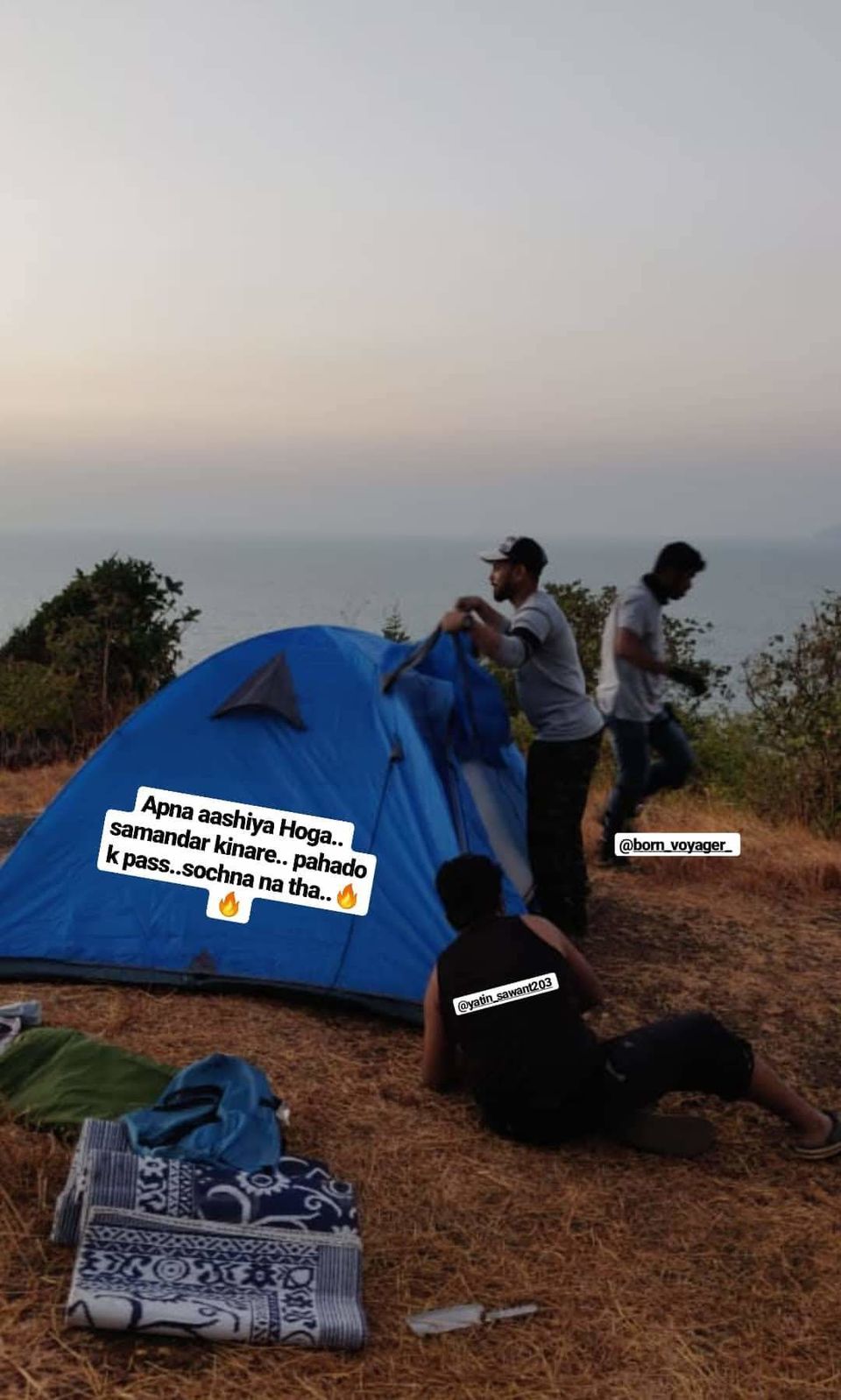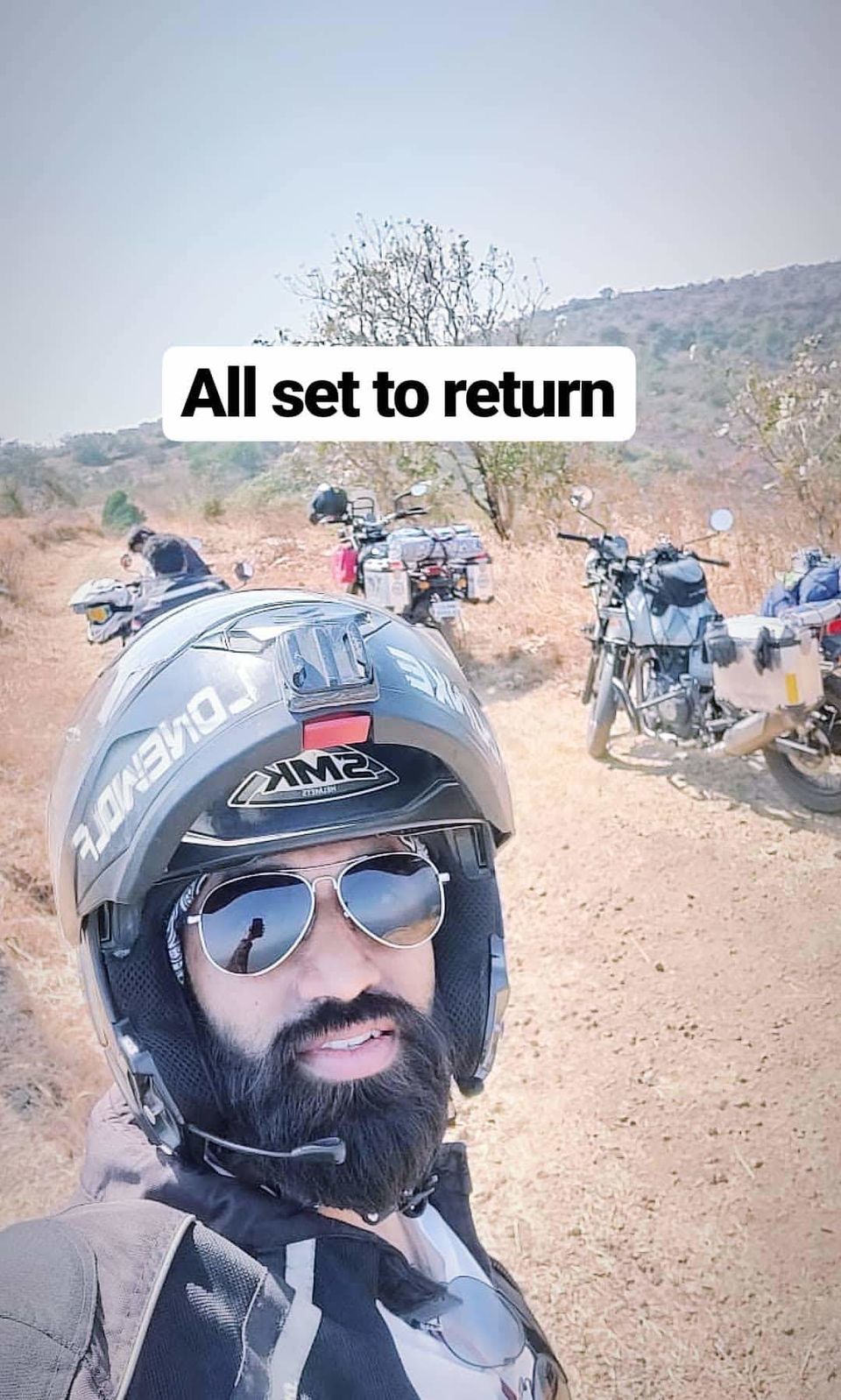 We left this place around 12:30 pm and headed towards Dabhol port. We were to reach Dapoli and then Via coastal route to Bankot for another ferry boat point. But there were lot of memories waiting for us ahead. We reached Dabhol port according to the ferry timing we noted. But this view near the port which caught our eyes became another memory in mind.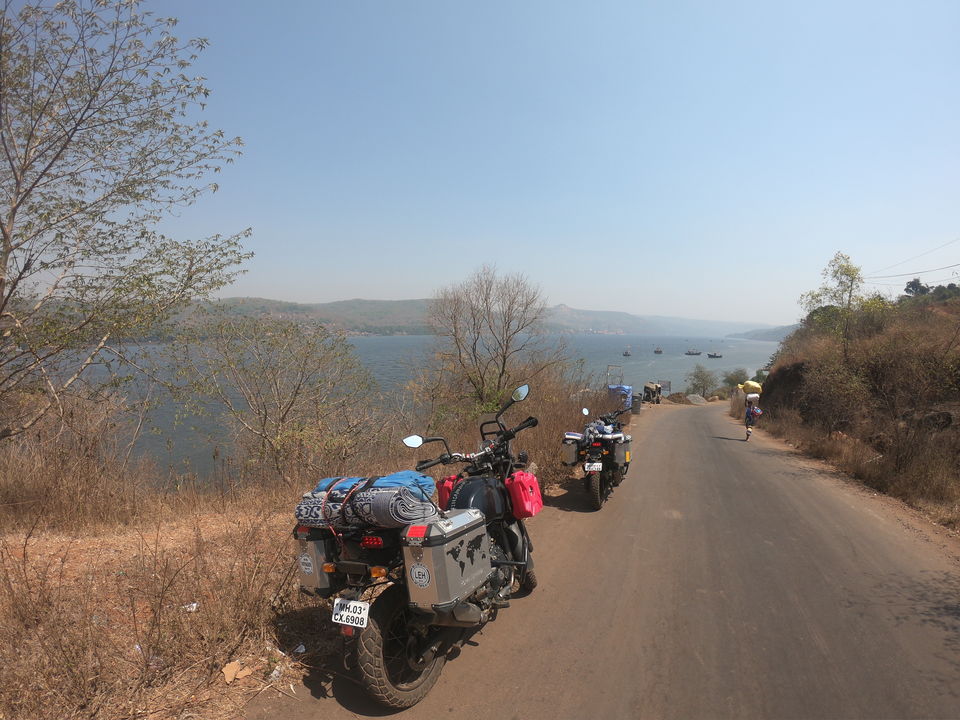 We took a ferry boat for Dapoli. We were to take route toward Bankot via Harne and then Anjarle.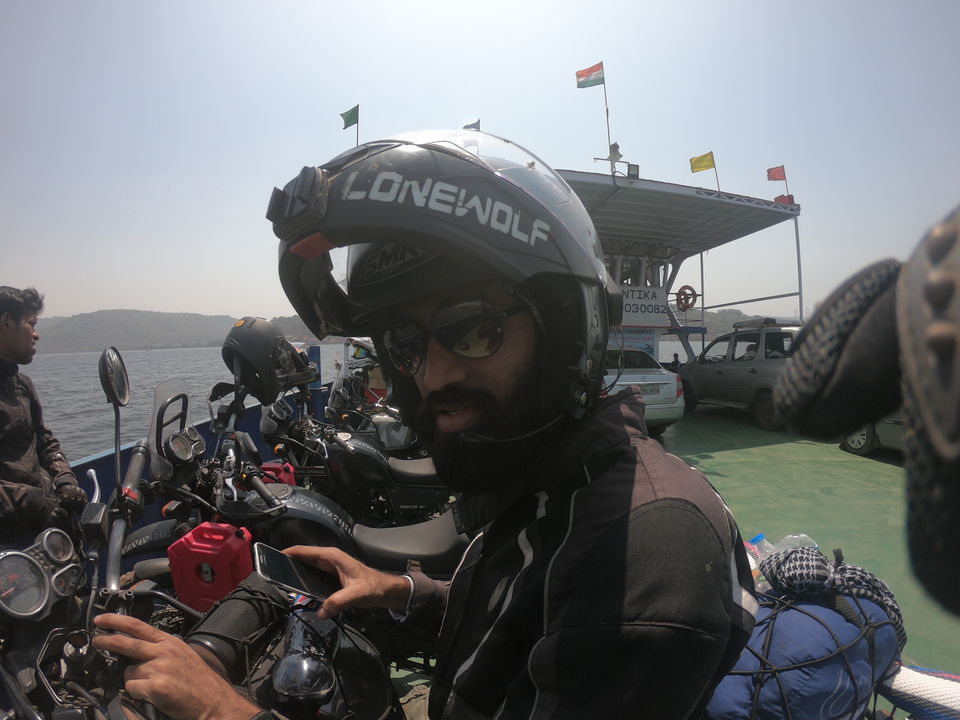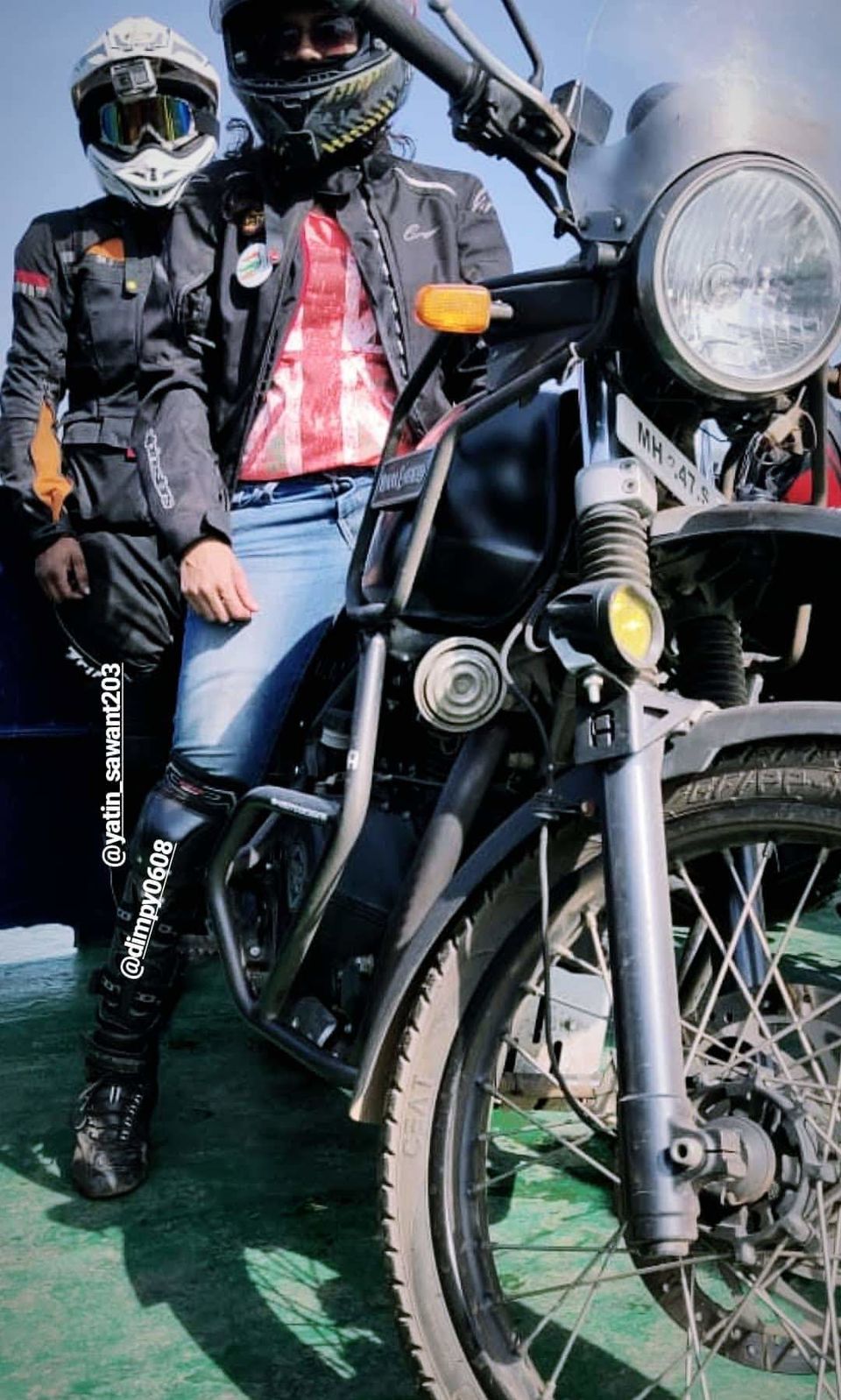 We reached Harne around 3 pm. It was too hot and humid but we just cannot miss the Harne beach. It gives you wide view of the ocean beach and road in one frame. Just because it was hot it could not have stopped us halting here.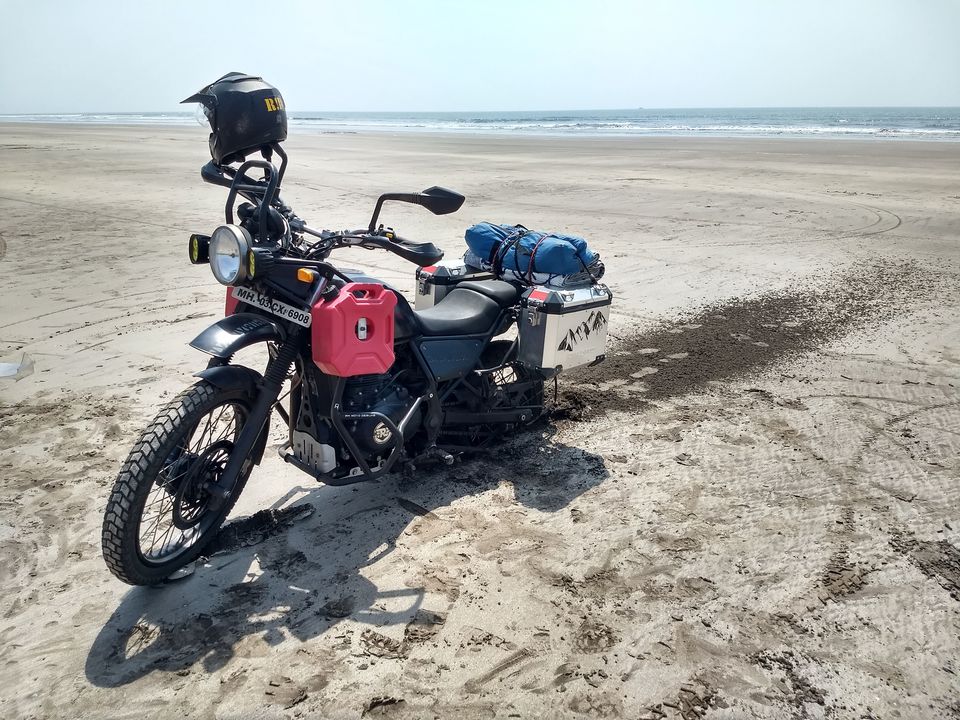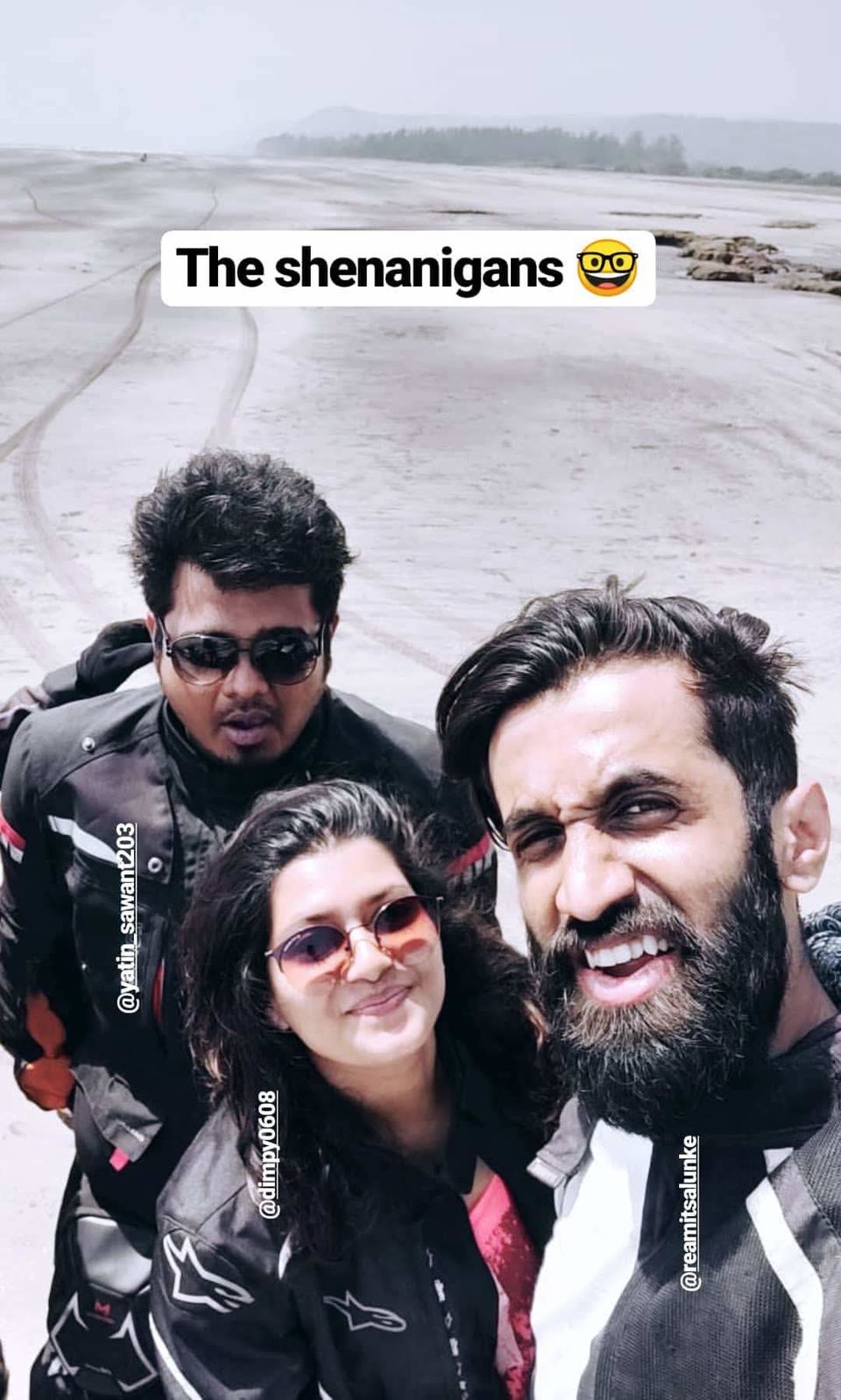 We were yet to reach Bankot Ferry point. We were still lagging behind. It was not possible for us to travel continuously as we all were exhausted due to humid coastal nature. We reached Bankot around 4:30 pm to take ferry boat towards Harihareshwar. We were to take route of Harihareshwar - Dighi - Agardanda - Revdanda - Pen - Panvel - Mumbai. But unfortunately we left Harihareshwar and via Shrivardhan we reached Goregaon Phata, Mahad. And then via Bombay Goa route we reached Vadhkhal Naka and then Panvel to Mumbai.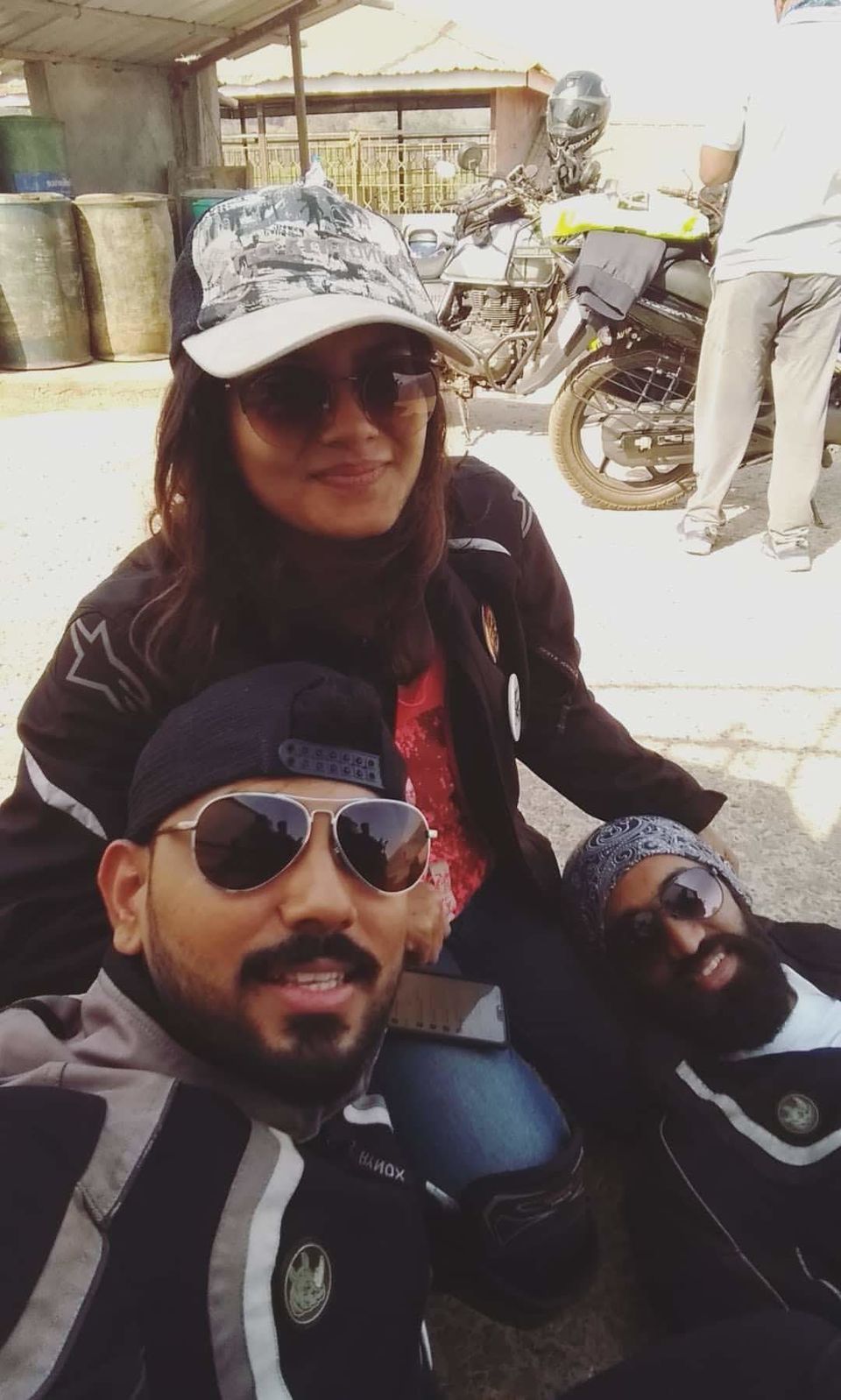 It was one hell adventurous ride we experienced. It was a perfect dream weekend that came to an end with load of memories to cherish all our life. Here are some memories that we created till Mumbai.
One must visit this point. Its peaceful, quite and most importantly relaxing. If you are crazy about gazing star sprinkling sky, u love the sounds of waves splashing rocks then I would recommend this place for sure. Food and fuel cost us around 2000 Rs each for this ride. A worth ride for memories!!!!!!!!!!!!