Sun, sand, and motorcycle. Whenever, I try to picture a place, which includes all of these factors, only Goa comes to my mind.
Travelling to Goa has always been special but doing it on your very own bike would be very exciting. Riding to Goa has been a dream for many motorcyclists (including me) as you are welcomed by narrow roads, beautiful beaches, amazing scenery. This is what I have been craving for a long time and hence, I decided it was time to live this dream.
The Comrades:
KTM Duke 390
Bajaj Dominar 400
The Plan:
There are three routes to get to Goa from Mumbai. The first route was the NH4 highway. Having past experience of riding on the NH4 highway (Mumbai-Bangalore) to Kerala made me realize how boring it gets, once you cross Satara. It's just straight roads all the way. The second route available to us was the Old Mumbai-Goa Highway. Discarded this route as well because it was under repair at most places. So, we decided on taking the third route which meant riding along the coast. The plan was to reach Goa in three days using only the coastal routes.
Day 1: Mumbai to Harihareshwar
Day 2: Harihareshwar to Ratnagiri
Day3: Ratnagiri to Calangute (Goa)
The excitement was unreal and gave us many sleepless nights as we would be riding along pristine beaches, beautiful sunsets and mesmerizing scenery. The bikes were prepped up and a final check was done by the service centre guys before departing on our trip (always important!). Finally, the day was here.
DAY 1:
Destination: Harihareshwar
Route Taken:
Mumbai – Panvel – Old Mumbai Goa Highway - Karnala Bird Sanctuary – Dolvi – Nagothane – Roha – Murud – Agardanda (Ferry point) – Dighi – Diveagar - Harihareshwar
Distance Covered: 191 kms
Packing of luggage was done quickly, however, the biggest task is to strap the luggage on the bike. It is no easy feat for beginners like me who have barely done it. You need to get used to it, in order to get better at strapping your luggage. After a lot of trial and error, luggage was strapped on the rear seat of the bike.
Finally, our ride finally began at 9:30 am and we were soon on the old Mumbai-Goa Highway. Repair work on this highway led us to a mix of both, good and bad roads. Soon, we entered Karnala bird sanctuary area and this is where my adventure truly began.
First up, a big puncture in the rear tyre and the roadside mechanics could not fix it properly. They plugged it for the time being with two puncture repair strips. It was decision time: whether to take the risk and go ahead or turn back and try again the next day after getting a new tyre. The mind said, "turn back" but the heart said, "go on, don't turn back, live the adventure". And, that is exactly what I did. "Hell, with these punctures, I will complete my trip" is what I said and went on further. However, I do not recommend it, especially for a solo traveller, as taking such risk might leave you stranded. I took the risk because I had the company of my friend.
Rode for another 15 kms and disaster struck again. Amazing road conditions of the old highway meant that I lost two nuts holding belly pan of the bike (the thing that covers the bottom of the engine). As a result of this, my belly pan was hanging on just one nut and would make those irritating scraping noise on every speed breaker that it encountered.
Another mistake, I forgot to map the route on Google Maps. We planned to ride through Alibaug-Kashid-Murud coastal route. However, I forgot to adjust this route on the map and hence, it ended up taking us through old Mumbai-Goa highway to Murud.
Nothing was going our way. At times like these, it's always important to calm yourself down and think of possible solutions to get you out of such a situation. Failing to do so often ends up in increasing the frustration and inadvertently ruining the whole trip.
Hence, we stopped and took a small break. We reset the Google Maps to Murud via a different route. It took us through internal roads of the nearby villages and, boy oh boy, what a decision it turned out to be. We found some of the smoothest roads in the whole of Maharashtra which went through these villages. Narrow, smooth and fast, that is how I can describe these roads. Also, I came across a local mechanic who helped in fixing the two missing screws so that my belly pan stays in place. With everything fixed, I was just flying on my Duke 390 without any worry. The scenery was just perfect, the feel was brilliant. Everything was going great until we hit a big patch of broken roads for next 30 kms. When it finally finished, we were welcomed by a ghat that went through the jungle with steep inclines. Good thing that we are riding through it during the daytime as riding here during the night would have absolutely scared us. The ghat ended briskly and we were welcomed by the Murud beach. Phew! What a ride it has been so far!
By the time, we reached Murud, it was around 3 pm. So, we decided to stop for lunch at one of the restaurants by the Murud beach. We ordered thali (chicken and veg) for lunch, it was extremely delicious. We wrapped our lunch, took a small stride by the Murud beach and started again by 4 pm. We had to reach Agardanda to catch our ferry to Dighi. It took us around 45 mins to reach Agardanda from Murud.
Now, we made a mistake of not checking ferry timings and inadvertently missed our ferry. All the ferries that we took on our trip, have their timings mentioned on Google. So, make sure to check the timings while making your plan. Our ferry was missed and the next one was after an hour. That meant we would not be able to watch the sunset at a beach. However, to our surprise, there was a boat available that could take us to Dighi. I was skeptical at the start because on Ferry you have a ramp to get your bike on it, however, on a boat, it was a different story altogether. On the boat, there is a wooden plank but then the surface of the boat is atleast couple of inches below when compared to the port. So, there is a possibility that the bottom portion of the bike scrapping when you load it in the boat. Also, people would be dragging the bike with their bare hands. Miscommunication between them may result in your bike falling into the sea. It was quite risky and hence I did not leave my bike until it was loaded properly. Yeah, I love my bike and hence was reluctant to do it in the first place. However, we had no option as I did not want to miss the sunset. So, we went ahead with it. The ferry costs are nominal and within like 15 mins we were at the other port. Since these are internal villages, our bike started getting a lot of attention. Especially, the Duke due to its flashy orange colour.
As we continued our journey from Dighi port, we were welcomed by extremely broken roads. My friend was having a hard time, but not me. Remember, the puncture. It turned out to be an advantage. This is because less tyre pressure on these broken roads meant I was gliding on most of them and could carry decent speed. Soon, we arrived at a barren patch of land just before Diveagar beach to watch the sunset. It was truly spectacular to see so many different colours in the sky post-sunset.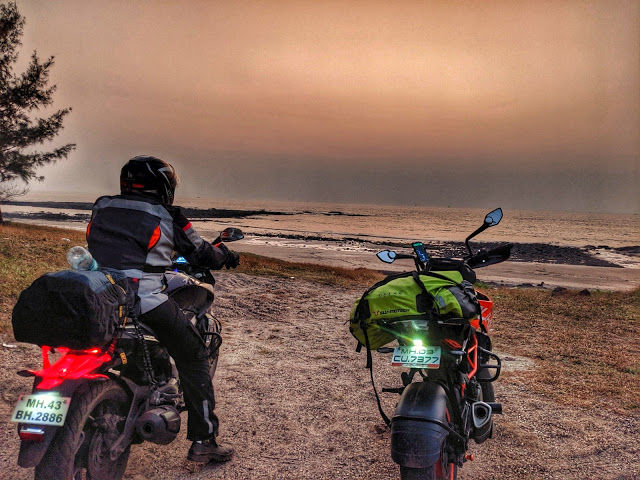 We stopped by clicked some photos near Diveagar beach and continued our journey to the Harihareswar at night. We were coping up good and I asked my friend to ride in front of me (Dominar headlights should do the trick at night).
We rode for 10 kms and I noticed that my friends backpack that he had on Dominar's rear seat had moved towards right and landed on the exhaust. This meant the bag was burning as it was touching the exhaust. I signalled him to stop immediately. The bag was pulled away from the exhaust and I could see that damage was already done. The bag was burnt and a few clothes too. Honestly, it could have turned worse as my friend had deodorant in it which could have burst and led him to disbalance the bike. I asked him to carry it on his shoulder as straps were barely intact and we were in touching distance of our final stop – MTDC Resort Harihareshwar. We booked a cottage room and our bikes were parked right outside our rooms (the best thing!). We had dinner and went straight to bed to get some much-needed sleep. It has been an adventurous day but tiring too.
DAY 2:
Destination: Ratnagiri
Route Taken:
Harihareshwar – Bagmandla (Ferry) – Vesavi – Harnai – Burondi – Dabhol (Ferry) – Dhopave – Guhagar Beach – Palshet – Tawsal (Ferry) – Jaigad – Ganpatipule – Aare Ware Beach - Ratnagiri
Distance Covered: 198 kms
I woke up early to a misty morning. The room had a small balcony with a brilliant view of the Arabian sea next to the MTDC resort. The resort is a bit on the expensive side (for a night) but if you can afford it, go for it as you will have some really nice view next to your rooms. I freshen up and went exploring on the beach next to the resort. It turned out to be relaxing as I was greeted by cold winds, flowing waves and a lot of silence. It made me lose track of time. I spent around 2 hours just sitting at one place and taking it all in. Sun was up and so were we.
We had our breakfast and left the resort to catch our first ferry of the day. Today was going to be special as we had to catch three ferries (Bagmandla, Dabhol, Tawsal) to reach our destination - Ratnagiri.
In about 20 mins, we were at Bagmandla to catch our first ferry of the day. 10 mins on the ferry and we were at Vesavi port.
We started for Harnai and bad roads as always welcomed us. Gliding over hundreds of broken patches, we reached a hill overlooking the sea. Time for some off-roading exploration as you do get an amazing view of the Arabian sea when you reach its top. This is the same hill on which Powerdrift shot a couple of their videos. We spent some amount of time to take in the scenery and then proceeded towards Harnai.
We made it to Harnai in the next 1.5 hours. Took a small stop for snacks and then left for Dhabhol. The views were getting beautiful, the roads had a charm of its own as it became narrow and were going past small villages with a lot of greeneries around. We were enjoying this experience.
Everything was going great until Google maps decided to mess it up. It suggested a shortcut to us. We went ahead with it only to realize that the entire stretch is made of loose red soil and gravel along with a steep descent. This made it incredibly hard for us to get through it as we were running road-biased tyres and they had absolutely no grip whatsoever. Braking on such surface meant locking your wheels and yet your bike would not stop. So, I shouted to my friend, "One person at a time". This is essential so that if one of us ends up falling, the other can be there to help with the rescue. On such terrains, I usually take it very slow and use engine braking to the max.
Slowly, we made it through the patch only to be welcomed by a beautiful view of the beach. We rode through the route adjacent to the sea and made it to Dabhol to catch our next ferry.
A ferry ride of 10-15 minutes and we arrived at Dhopave. From here on the roads, started to get better. We wanted to catch the sunset at the Malgund beach. So, we decided not to stop for lunch at Dhopave and continued our ride for another 2 hours and reached Tawsal ferry point. The Ferry had some time to depart and hence we quickly munched on a few snacks available at a nearby small hotel. We were extremely hungry, and in no time finished munching all of the snacks, had chai (essential) and then boarded the ferry. Another 10 minutes and we were at Jaigad. The excitement was building up as we were knocking on the doors of Ganpatipule. The views from Ganpatipule just gets better. The roads were empty, fast and smooth. You can cover distance faster on these surfaces. In no time, we reached the long-awaited Malgund beach.
I was so fascinated by the beach that I could not concentrate on the road and ignored the oncoming vehicle. Yeah, stupid me. Thankfully, nothing happened, and I apologized to the oncoming driver. We entered the beach and it was surreal.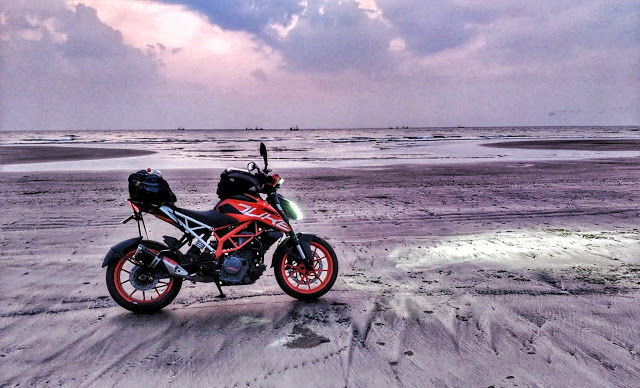 The beach was less crowded, clean along with a beautiful sky and our beautiful bikes. It was stunning as we watched the sun go down and thereby ended up spending close to 3 hours at the beach. This is the exact beach on which Powerdrift shoot their videos. It looked more beautiful in person than it did on the TV. I did not feel like leaving but we had to as it was getting dark, and we still had an hour ride to reach our hotel.
We started our ride again, but Google maps decided to mess up with our turns and we ended taking a longer route to reach Ratnagiri. It took us nearly 2 hours to reach Ratnagiri from the beach. Well somehow, we reached our hotel, feeling accomplished as we achieved our goal of watching the sunset by the beach. And add to that, our excitement was at its peak as we were just one day away from reaching Goa and completing the coastal ride. We had our dinner and decided to get much-needed rest.
DAY 3:
Destination: Calangute (Goa)
Route Taken:
Ratnagiri – Devgad – Malvan – Shiroda – Tiracol (Ferry) – Querim - Calangute
Distance Covered: 238 kms
The day started with me riding to see Aare Ware beach as we missed it yesterday. It was around 40 mins journey from Ratnagiri. The view was spectacular.
Returning from Aare Ware beach, I opted to get the rear tyre replaced as I was able to locate a tyre dealer in Ratnagiri (Laxmi tyres). The rear tyre has started to lose quite a bit of air pressure. Hence, I decided to go ahead and change the tyre to either Metzeler or Michelin. Metzeler wasn't in stock, so decided to go ahead with Michelin Pilot Street tyre. Due to this, we lost around 2.5 hours and we were able to start our journey only at 12:30 pm. With only one ferry for the day, we decided to gun the throttle. And the roads were welcoming as well. We encountered narrow serpentine roads along with new rear tyre meant Duke was in its zone. It took corner after corner in its stride without any complaint. The bike handled all of the corners so brilliantly that I was awestruck and ended up having too much fun. We took very few stops and decided to have lunch late. As we moved on, we discovered a rather barren airport (Chipi-Parule Helipad) in the middle of nowhere. It was beautiful and the road that went just next to it was great too.
Enter Google Maps! It suggested us the wrong way and then asked us to take an immediate right at the end of the road. The immediate right did not exist as it was guarded by a high fence of the airport. So the only way to take immediate right was to jump over it and end up at the airport. I am adventurous but not so much to jump fences (scene from Terminator movie plays in my head). Not only it suggested us this immediate right but then it asks us to continue straight from there to the next road. That means we ride on the airport runway through the security check-in and then exit the airport. All of this on a motorcycle is too much of ask, don't you think Google? At this point, I could only laugh at Google Maps. We went back to the start point of the road and took the other route only to find it was the proper route and Google maps re-routed itself.
We went around it in no time and continued our journey to Tiracol. About 50 kms into the ride and I noticed that I could not see my friend in my rear-view mirror for quite some time. So, I decided to stop, and it ended up being 30 mins stop as his bike overheated. Yes, you read that right, the Dominar overheated and some kind of white smoke started coming out of his engine. He had to stop his bike and let it cool down due to which we ended up taking 30 mins break. I am glad he did that and did not overlook it. Safety is our top priority. What amazes me is that KTM Duke 390 and Bajaj Dominar 400 share the same engine with just different tuning, yet KTM ran with absolutely no issues (considering the fact that KTM engine runs much hotter than Dominar). We continued our ride after 30 mins and I asked my friend to ride ahead of me as these internal roads didn't have any phone network. If the same problem occurs again, I might be able to help him. After covering a good distance, we decided to stop for lunch at a roadside small hotel. We were just an hour away from the ferry terminal in Tiracol.
I always look forward to interacting with locals on such rides. You learn so much such as how do they go about their daily life, you come to know about the road condition which lies ahead, they are awestruck on hearing your journey and, you end up leaving a smile on their face when you depart. We had a great chat with the owner of the hotel along with freshly made food and chai. Soon, we left for Tiracol and the hotel owner wished us for a safe journey.
With our strength restored back, it was time to gun the bike and reach Tiracol. And so, we did. As we moved on, we found a secluded beach surrounded by pine trees. It was too inviting and hence we went exploring in it. Took a small stop for 5 mins to witness the secluded beach and also click some photos.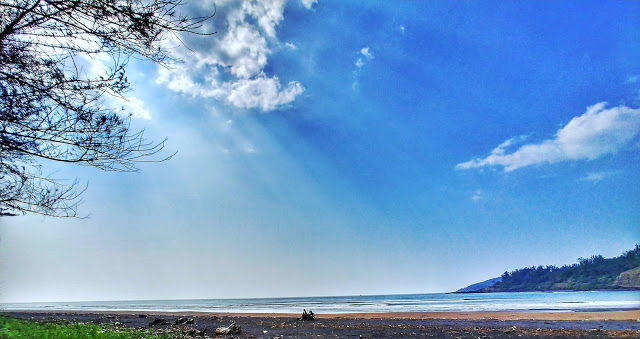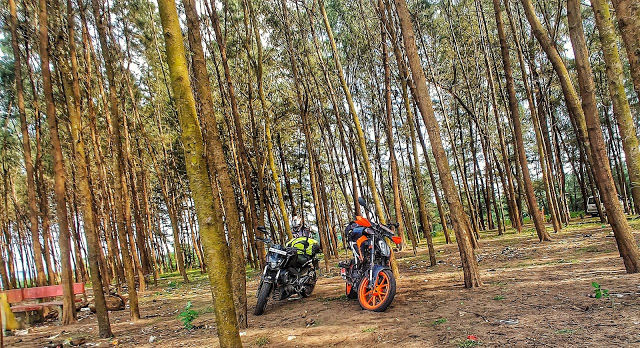 We continued our ride further and saw many animals on-road such as mongoose, snake, peacock. A frog made a long jump to cross the road just in front on my headlight. It was so cool to see frog jump in slow motion and my headlight lighting up his action completely. Within an hour, we reached Tiracol ferry point. Tiracol is Maharashtra-Goa border. It was dark by the time we reach the ferry point and we were relieved to make it this far. It was time to say bye to Maharashtra for a while.
Hola Goa! The ferry from Tiracol to Querim is free and less crowded. It's a 10 mins ferry journey and we landed in Querim. Our excitement was uncontrollable as we completed the coastal ride. We thanked the ferry owner for the free ride and continued towards Calangute.
It was an hour-long journey to reach Calangute from Querim. We took each km slowly as we were not in a hurry at all. Found a petrol pump near Calangute and we filled our bikes before heading to the hotel. We reached our hotel by 8:30 pm and still fresh to venture outside. We freshened up and went out for dinner at our favourite place in Goa (Infantaria) to munch on my favourite pastry (Death by Chocolate).
3 hours later, we had another friend joined us. How we wished if he would have been part of this journey from Mumbai to Goa. He came all the way from Bangalore on his Suzuki V Strom 650 along with his wife. Surprisingly, he also had a burnt saddle bag as it touched the exhaust. And so, we all decided to chill together for a while before heading to sleep. We decided to explore North Goa the next day and then ride back home the day after.
At the end of this trip, I just wish people experience these coastal routes once in their lifetime. Photos, videos don't do justice to the experience that coastal route brings with it. I have enjoyed it so much that I have decided every time I go to Goa; I will be taking the coastal route.
Always remember to wear proper safety gears when heading out on such long rides.
Happy Exploring!