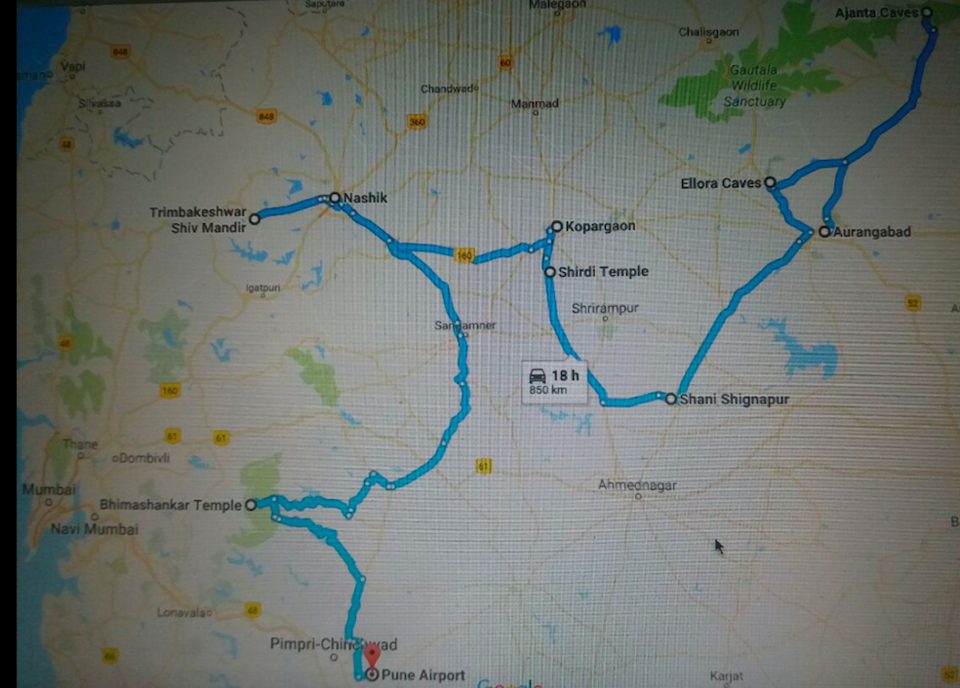 Dear Readers,
This blog covers my recent trip to few religious shrines and UNESCO Heritage sites in Maharashtra.
Theme of the travel:
a) Visit to religious shrines - Shirdi, Shani Shignapur, Jyotrilinga sites (among the 12 sacred Jyotrilinga - 3 are in Maharashtra)
b) Visit to Ajanta and Ellora Caves - UNESCO heritage sites
c) Experience local cuisines, street foods - Aurangabad, Nashik, Pune
I live in Bangalore. I made a 4 day travel plan, along with my family (Wife and 3 year young Kid).
Day -1 (Bangalore to Aurangabad)
Most part of the day was spent flying, commuting, checking in/out 3 airport terminals - Bangalore, Mumbai and Aurangabad, walking from departure gates to arrival gates, trollies with baggages, queuing up in lines to board the flight along with passengers flying either for business, pleasure or to divine destinations. Traveling from IT capital to financial capital of the country then to a heritage city - Aurangabad, there were lot's to see and experience - Premier plaza lounges, airport dining, long escalators, coffee shops, souvenir shops, book shops, glimpse of cine star to security personnel, busy passengers, drinking water fountains, airport loos, delayed flights, takeoff's with splendid sea n city views, decent in-flight foods to not so smooth landings. During the flight, my kid was giving us a tough time, he continuously kept pressing the flight attendant call button, standing on his seat. A nice flight attendant offered cadbury to my kid, to settle him down.
Our flight landed at Aurangabad around 6 pm. From a tours and travels operator in Aurangabad, I booked a cab for 4 days, we travelled 850 kms over the next 3 days.
In the evening, we enjoyed local street foods of Aurangabad at Gulmandi. There are renowned sweets and snacks shops, paan centre where you get mouth watering local specialities - Kachchori, Imrati (Jangiri), Jilebi, Dhokla, special varieties of paan.
Aurangabad is known for Himroo and its Paithani's...we did a bit of shopping.
We finished our dinner at Rama Intl. This restaurant is known to serve authentic Mughal Non Veg cuisines and much tastier Veg dishes....we tried their delicious veg cuisines, Dhal Kichadi they served for my kid was a stand out. Tiring long day came to a halt as we headed to our nearby hotel in Aurangabad for an overnight stay - this is a hotel chain promoted by the Hindi actor, Irfan Khan.
As all the 4 days we were travelling, every night, we stayed at different hotels,
Day - 2 (Ajanta, Ellora, Grishneshwar, Shani Shignapur)
Good morning, Aurangabad. As a part of the hotel bookings, breakfast were included. Poha, famous staple breakfast of Maharashtra with coffee and banana were served.
After good breakfast, we headed to the famous Ajanta Caves, which is 2 hours drive from Aurangabad. Sir, this place is Ajanta Gaon, told my cab driver as we were getting close to Ajanta caves. Sure, this village must be as equally old as the famous Ajanta caves. The caves were full of beautiful paintings - all about Kings, Queens, their marriages, relics of Buddha, Gods, immortal and mortal creatures, 3D paintings with natural colors, old sculptures. The method followed for paintings (as the caves inside were dark, the painting over the ceiling were done with the reflection of sunlight from the water that was specially brought inside the cave to aide the painters in painting) were completely mesmerising. Admiring the intricacies of the carvings inside the caves, didn't realise that we spent over 180 minutes...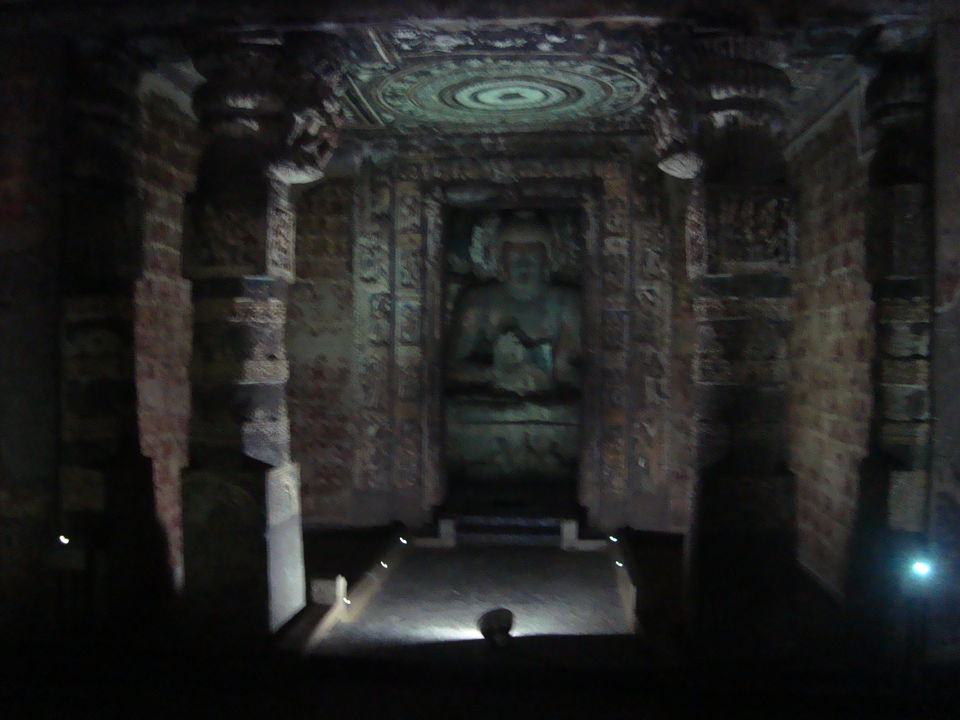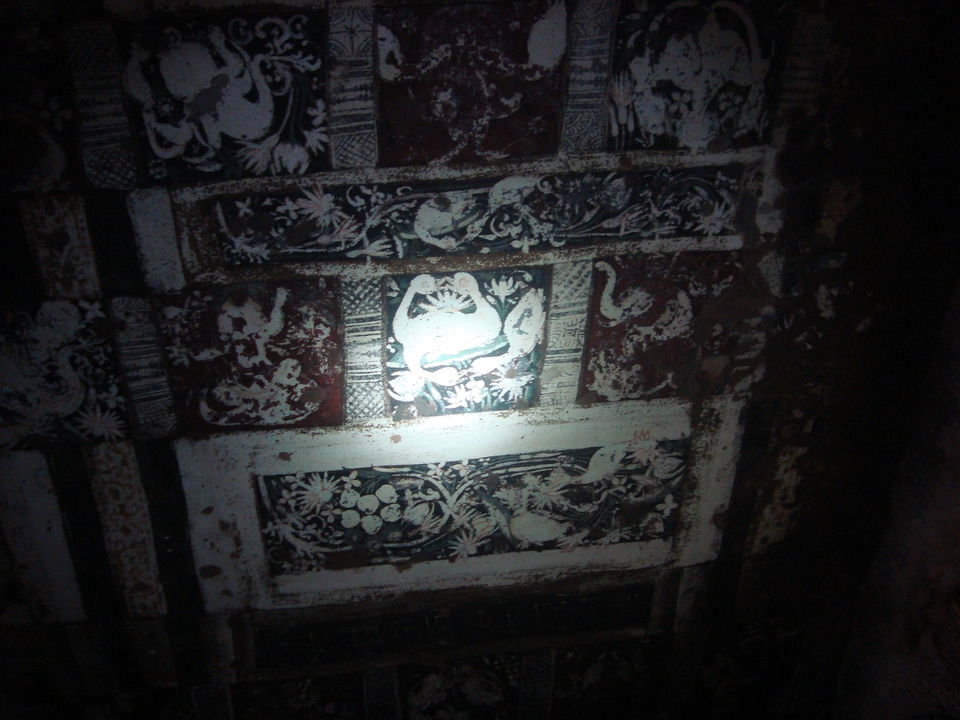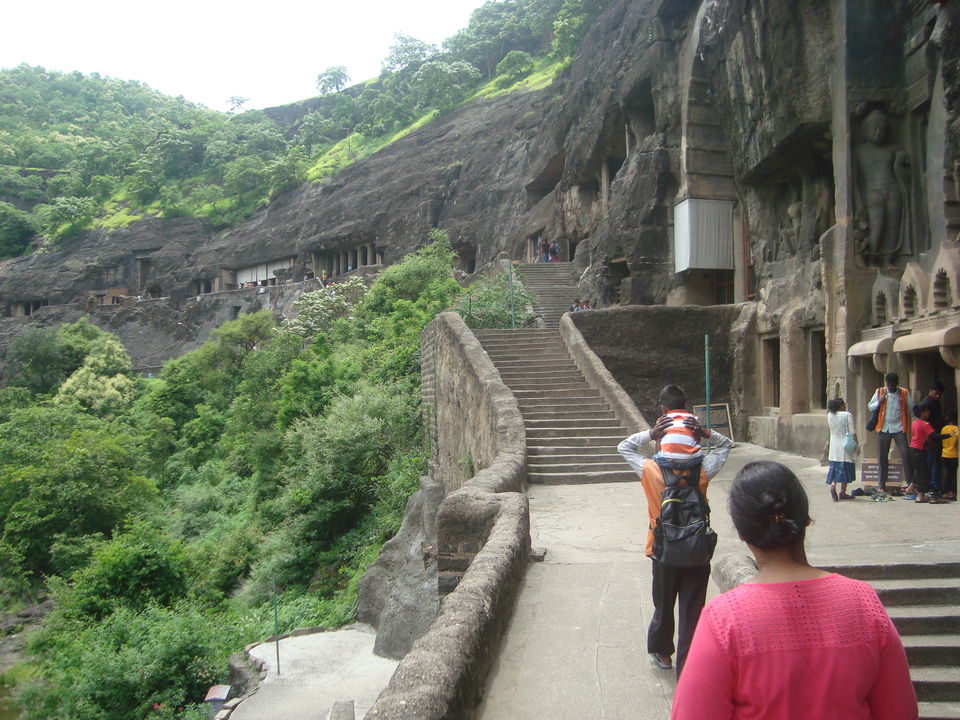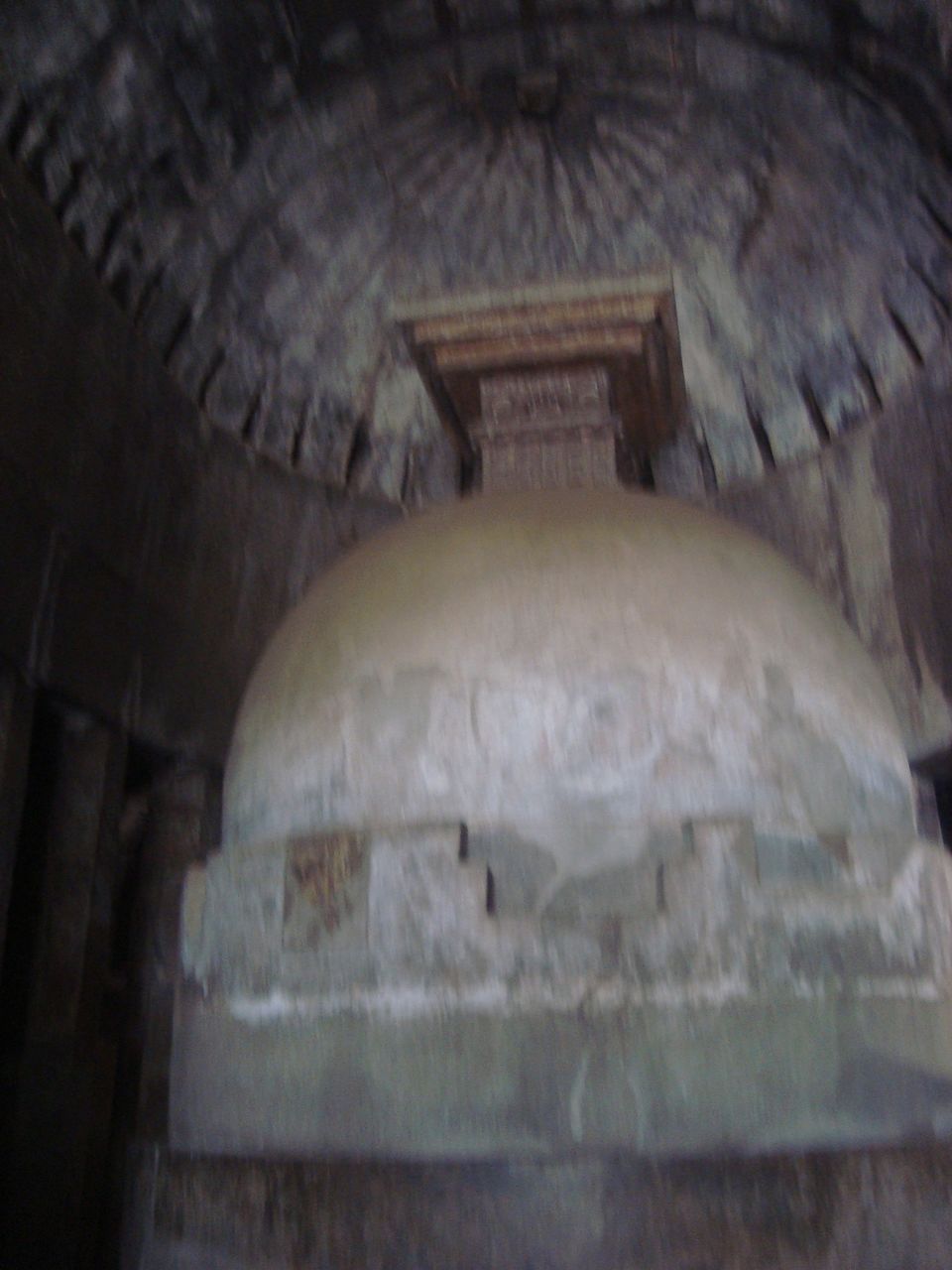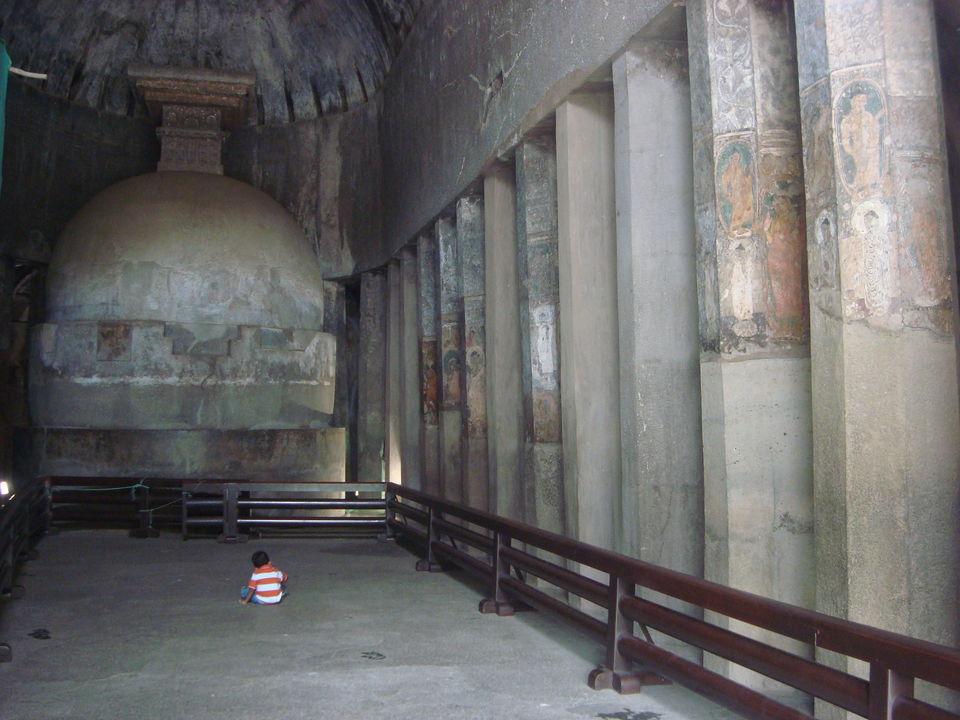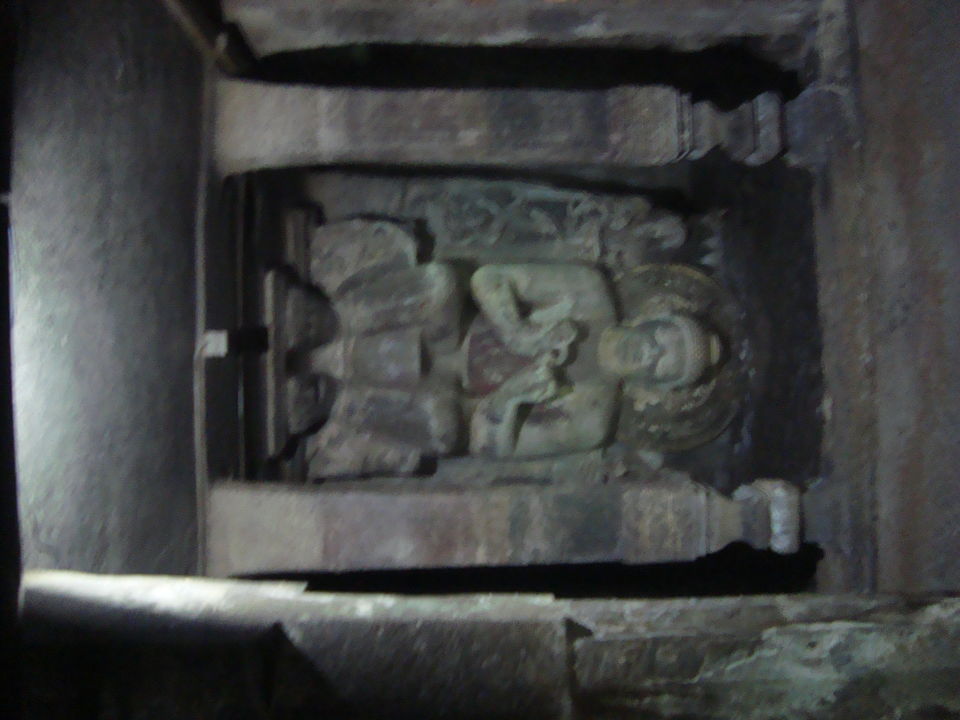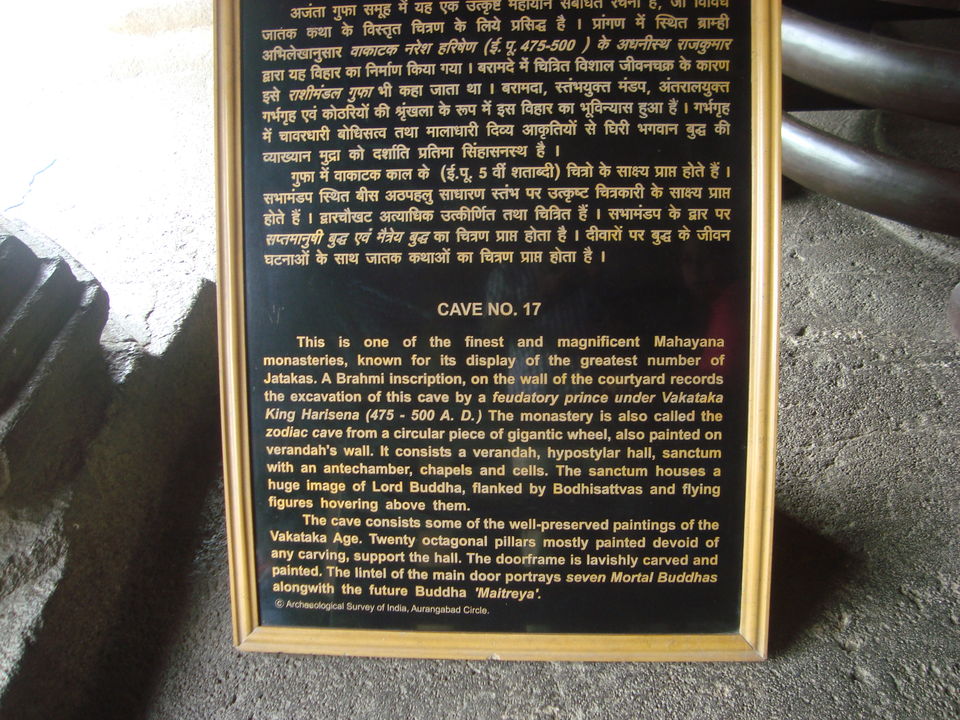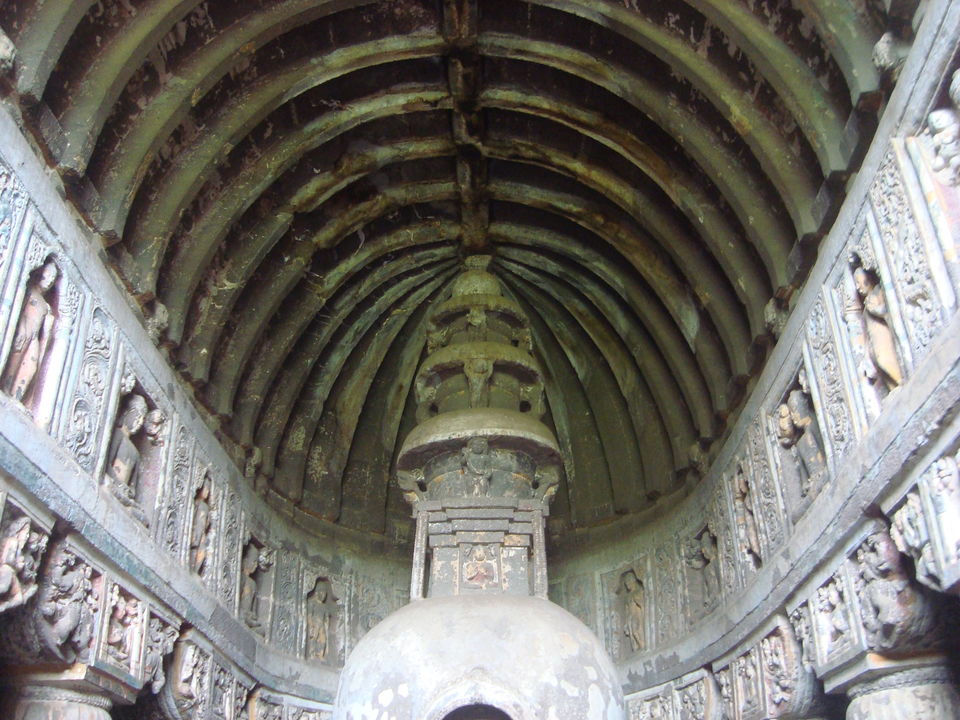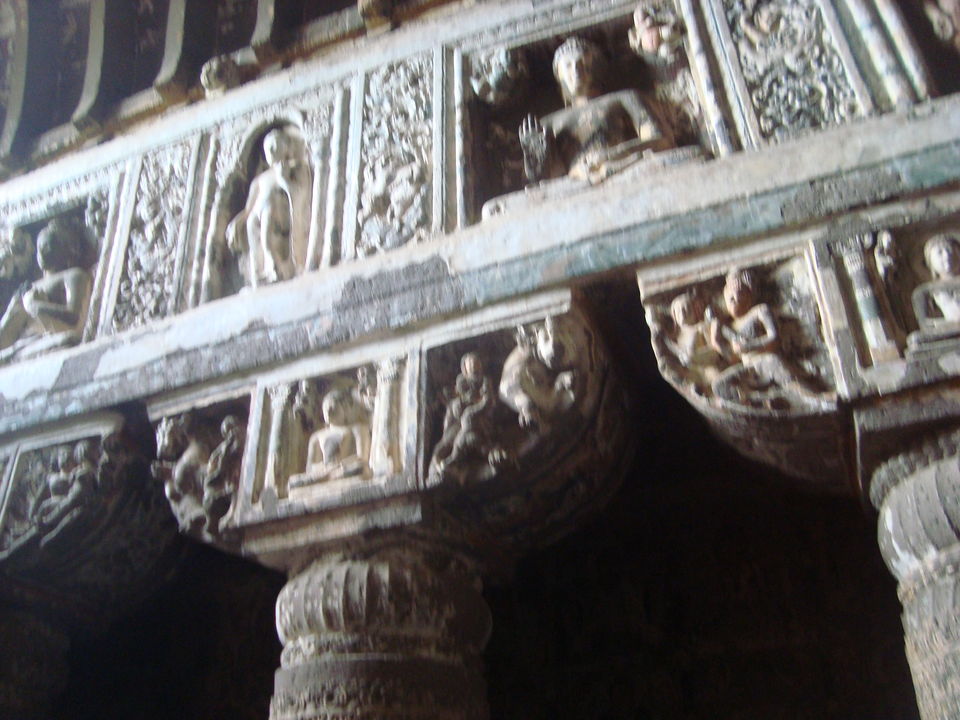 Still 3 more sites to be covered, we were clearly running behind schedule.
From Ajanta caves we headed to Ellora caves. On the way to Ellora, we stopped at a well known dhaba, to finish the lunch. Post lunch, quickly we hurried to Ellora. The lady at the ticket counter handed over our entry tickets and said, sir just 10 mins left..., the site closes at 6 pm. Literally ran to see the famous Kailasanathar (Shiva) temple inside Ellora caves.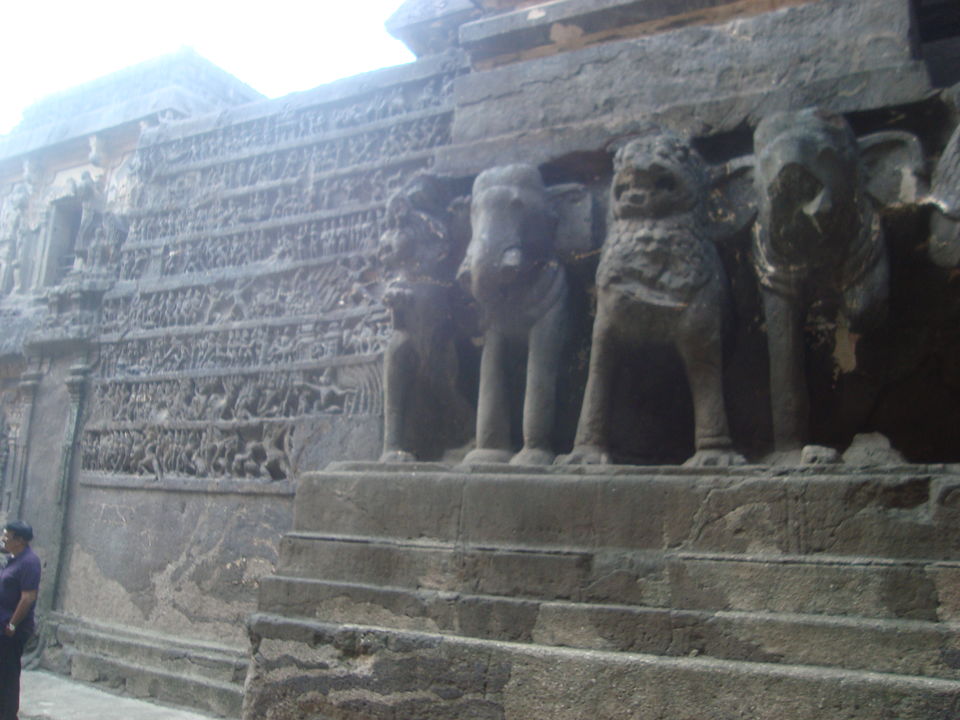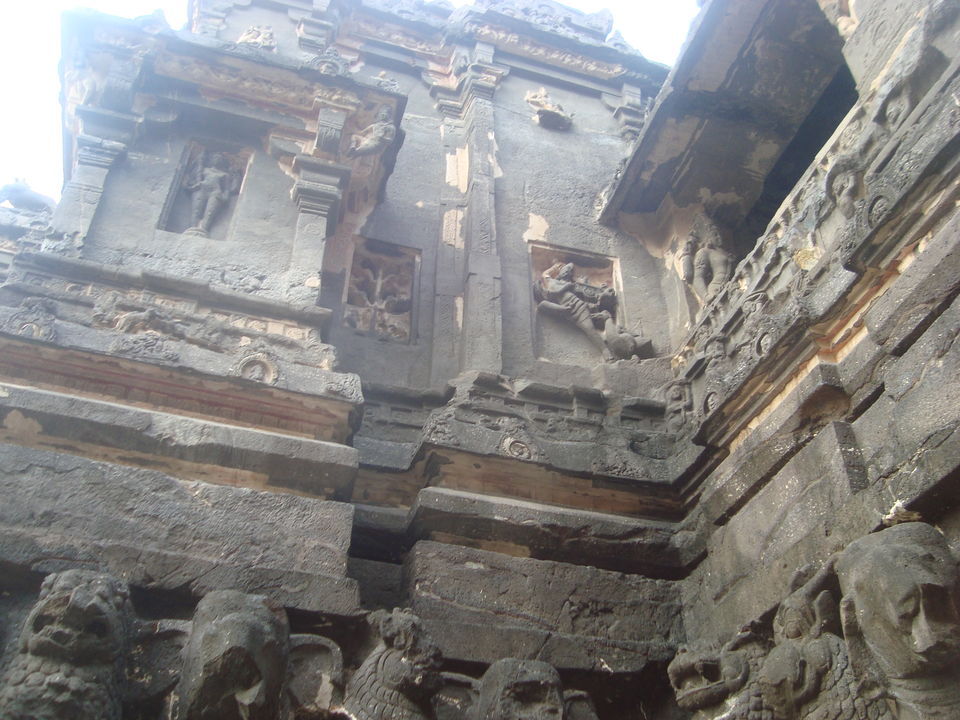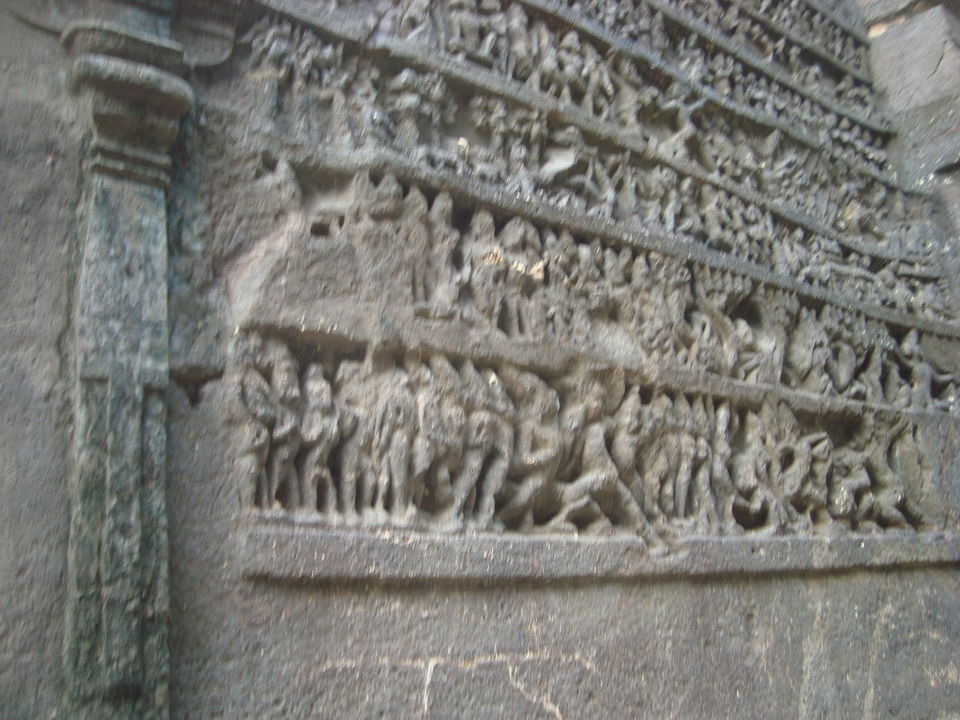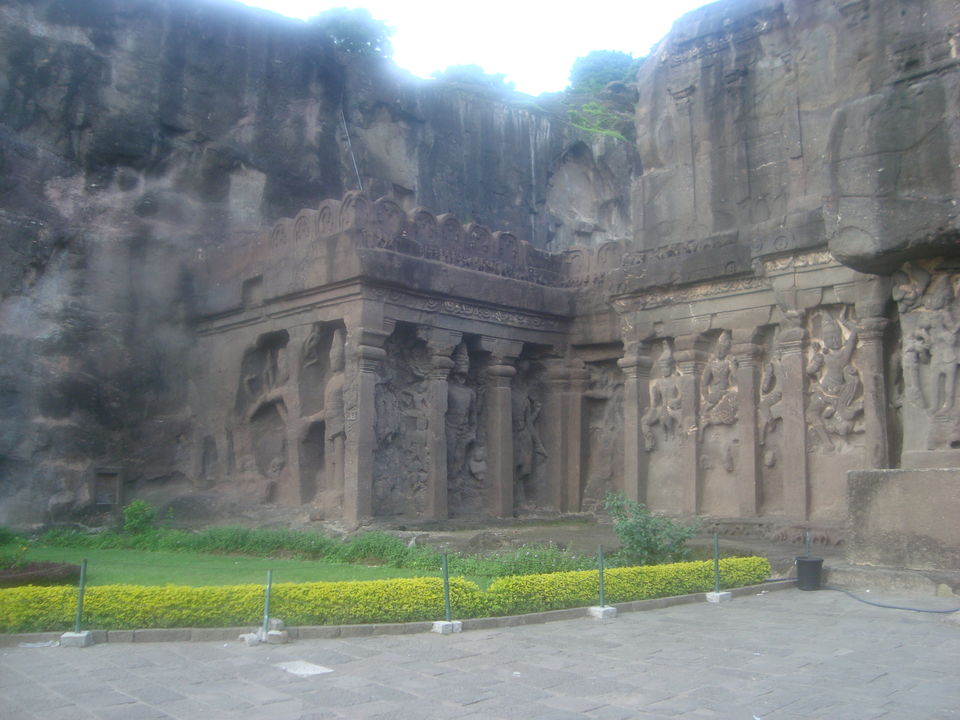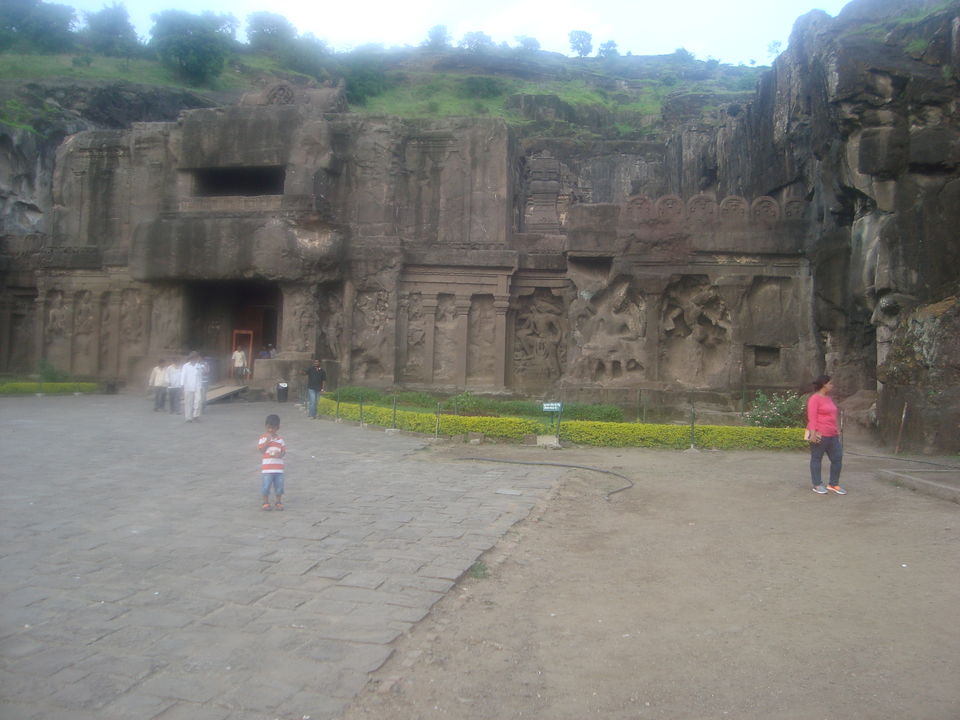 The  Ellora cave was marvellously carved. Sculptures laid were of stories and characters depicted from the epics Ramayana and Mahabaratha. Ellora caves is a stunning piece of rock carvings, it is a sheer masterpiece.., its even called a mystery temple..no one till date knows the remains of the rocks after the ellora temple was completely carved....,and what were the methods used to drill the rock and construct this masterpiece. Though we had little time, we still managed to spend over 30 mins with the help of a local guide.
Well, now it was time to visit Grishneshwar - Jyotirlinga, located at Verul - Previously, I hadn't visited any Jyotirlinga's.....I have heard there were 12 Jyotirlingas in India. What is Jyotirlinga, it's significance? Why and how they are different from other Shiva temples in the world etc were not fully known to me...I purchased a handbook to understand a bit about it..
Jyotirlinga is a pillar of Light.., according to the story from the handbook, there is a Jwala Mukhi, near Himalayas - a fire emerging from the core of the earth , burns constantly lighting up the entire area. Lord Shiva had taken the incarnation of the eternal light. This miraculous light can be seen at 12 places across India, which are considered to be highly sacred, and known as Jyotirlingas. Originally, there were 64, out of which 12 were considered more holy and sacred.
As per Hindu mythology, the story behind Shiva's manifestation as radiance of light goes like this. Once Vishnu and Brahma had an argument over supremacy of creation, Shiva intervened to settle the debate, he pierced the 3 worlds appearing as a huge infinite pillar of light. Shiva asked both Brahma and Vishnu to find out the end of the light, they split themselves to find the end of light's upper and down directions respectively...Vishnu returned unable to find its end.., Brahma came back and lied Shiva having found one end of the light, this angered Shiva and he cursed Brahma that he wouldn't be worshipped, though he is the creator of Universe. Later, the light - Jyotirlinga cooled into the holy mountain.
Each Jyotirlinga has it's mythological stories - viz...Lord Shiva ascending on earth to fight evil, finally manifesting himself in the form of Linga..also formation of nearby rivers and their names are associated with the stories.
Game of Chess now played by Grandmasters like Anand, Carlsen holding supremacy, is one of the oldest game in the world....Chess was played even between God's at heaven. One such game, Parvati checkmated Shiva, angry on his defeat Lord Shiva came down to earth, and stayed at Sahayadri.... to bring back Shiva, Parvati too descended on earth, in the form of a tribal woman.., while they were on earth, a miracle occurred, Parvati was once mixing Vermillion and saffron in her left palm with water from Shivalay. Vermillion turned to Shiva Linga, and a great light appeared, Lord shiva said this Linga was hidden in Patala. This linga got its name Grishneshwar as it was formed out of the friction (Grishna) of Parvati's thumb.
Getting back to the tour, it was almost sunset..., we completed our darshan at Grishneshwar. As a ritual men must remove their shirts...,My kid had good time running around the temple while we waited in the queue.
It was getting dark, and we had to get out of Aurangabad and reach Shirdi for overnight stay. Before reaching Shirdi, my plan was to cover Shani Shignapur. We reached this famous Shani temple late in the night (this temple is open 24/7). The houses in the villages have no doors, it is a strong belief among the people who live there that if a person steals anything, or does anything dishonest, he faces a Sade Saati (a period of seven-and-a-half years of bad luck). Somethings bad happens in the family — court cases, accidents, deaths, losses in business etc..
After we finished offering prayers... we left for Shirdi. On our way we asked our driver to stop at a hotel for our dinner. Here, the food was good and priced economical. We then headed to our hotel booked at Shirdi, it was already past midnight, when we reached our hotel. In no time, we were sound asleep.
Day - 3 (Shirdi, Trimbakeshwar, Nashik)
Jai Shirdi Sai Baba!
I had booked Madhyan Aarti at Shirdi. The breakfast at the hotel was decent, after we got ready, we visited the temple to get the blessing of Sai Baba..., I had done my engineering from a college affiliated to Pune University, at Kopargaon, nearby place to Shirdi. Fourteen years passed by and our lives have changed.
Shirdi as a temple nothing much had changed since, except there were more devotees thronging the temple, and administration seemed to be more streamlined with online booking, Bhojanalay is set up that offers food to devotees visiting Shirdi. Laddus are properly packed and given to every devotee. There were some mushrooming of new hotels, a new Shirdi railway station has come up...It is a divine destination, our visit to this shrine was long pending and got completed.
We visited my old engineering college at Kopargaon, as an alumni its always a great feeling to get back to your college..., where you were a student once..., places closer to the vicinity of the college were all the same. I was walking down the memory lane. It was a Sunday afternoon. Getting back to the same college where you studied, seeing the hostels you once lived, canteen's where you ate, college grounds where you played, the same Hanuman temple that we visited every evening during the exam times etc...it was an amazing feeling, can't be fulfilled with words. Had tea with family at the same place where we used to have with college friends once...Took a round, covering dairy firm, sugar factory, railway station....I was in full excitement, pointing these places to my wife...,time was ticking by.
We zoomed to Nashik, our next destination is to visit Trimbakeshwar, another Jyotirling temple situated close to Nashik. The drive from Nashik to Trimbakeshwar was an amazing experience.
We plied in a local Maharashtra Govt bus to reach the last milestone as traffic cops had stopped all private vehicles few kms before the temple siting traffic jam ahead...
It was almost sunset, when we entered this temple. The chill atmosphere and hundreds of shiva devotees thronging the temple, the place was completely electrifying with high positive energy around....there is a great story about the shiva idol and the shrine..., Trymbak - means 3 lingas, they are shaped like thumbs - supposed to represent Brahma, Vishnu and Mahesha. Linga of Mahesha gets constant shower of water from the orifice above, which is a natural source. It's observed that, when Shankara is angry sometimes the roar of a lion can be heard, and flames can be seen emanating from this Jyotirlinga, to keep safe milk mixed with opium is put in a pitcher and hung upside down that trickles down to Linga to cool him down. Rudrabhisheka mantras are chanted at this time.
After darshan, we returned by bus to the same place where our car was parked. Here, we tried some steaming hot potato bajji's from a corner tea stall and with it we were back to Nashik. If you are at Nashik, and you love to eat local street foods, do not miss Dudhbazar at Badrakali. We tasted some delicious Sabudana vadas, Vada paav, Dabeli...with almost full stomach a soda was necessary...I got to know about Akbar soda (specialised for serving only sodas, their menu boasts of different flavours) - I tried their Pineapple flavour.
For the third night, we stayed at Panchavati in Nashik at a non-profit accommodation run by a Trust. We were fully exhausted by the end of the day..., By third night, travelling to new place, changing hotels felt like we were doing our routine.
Day - 4: (Nasik to Bhimashankar Temple, Pune)
The day started off on a slightly worrying note, as my three year young kid seemed to look very weak as he slept early and skipped his food the previous night. We had to start to Bhimashankar, a Jyotilinga site, located some 100 kms before Pune..this was another long drive from Nashik. On the way, I grabbed every favorite items that my son could either munch or eat. Smiles on our face's returned only after our child ate some food.
Raksha bandhan is celebrated across India and Nashik is not an exclusion.., it was a state holiday and many establishments were closed, including the famous Ambika restaurant..., where we planned to eat Misal paav...yes, this was the first red flag in our itinerary..
Later, we stopped for lunch at Narayangaon..., after heavy thali, it was time to warm up, no heat up the car seats and travel to Bhimashankar. The last 50 kms drive was extremely beautiful, with full of green pastures.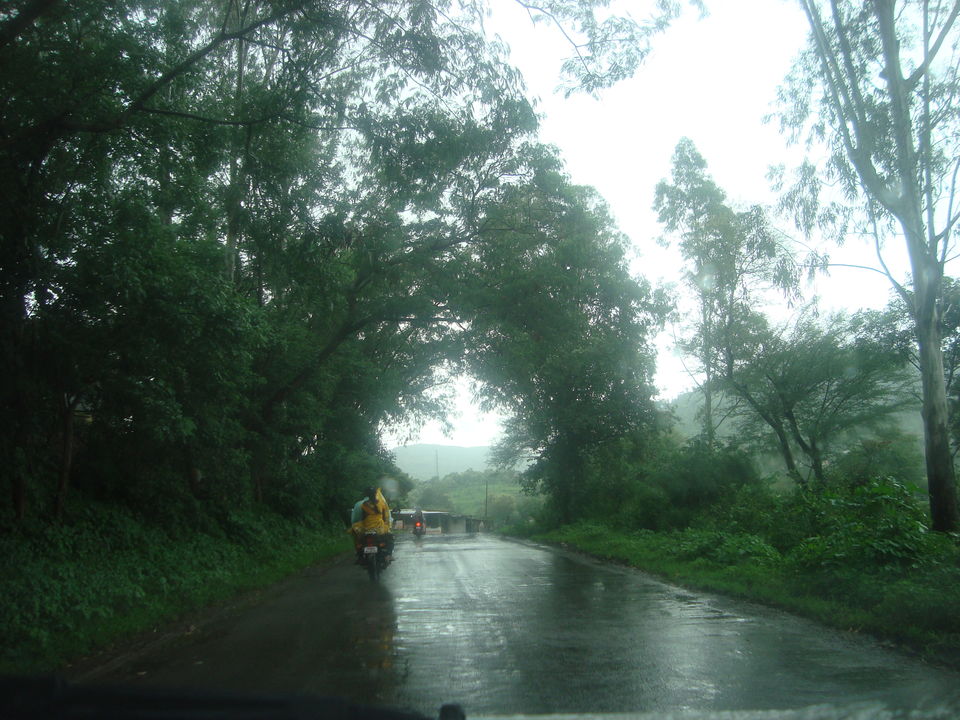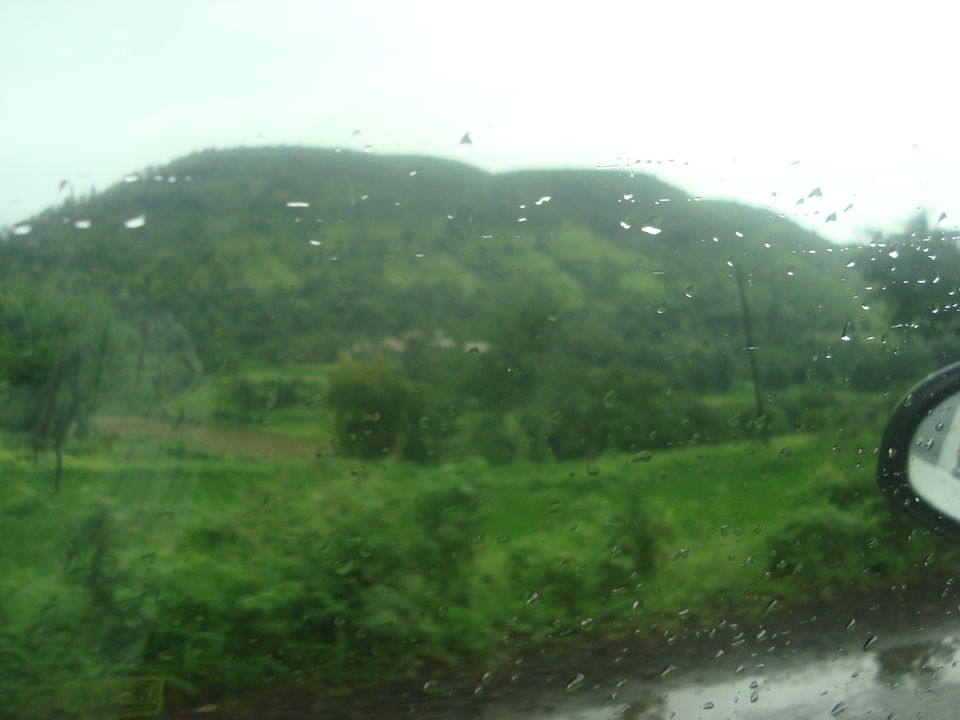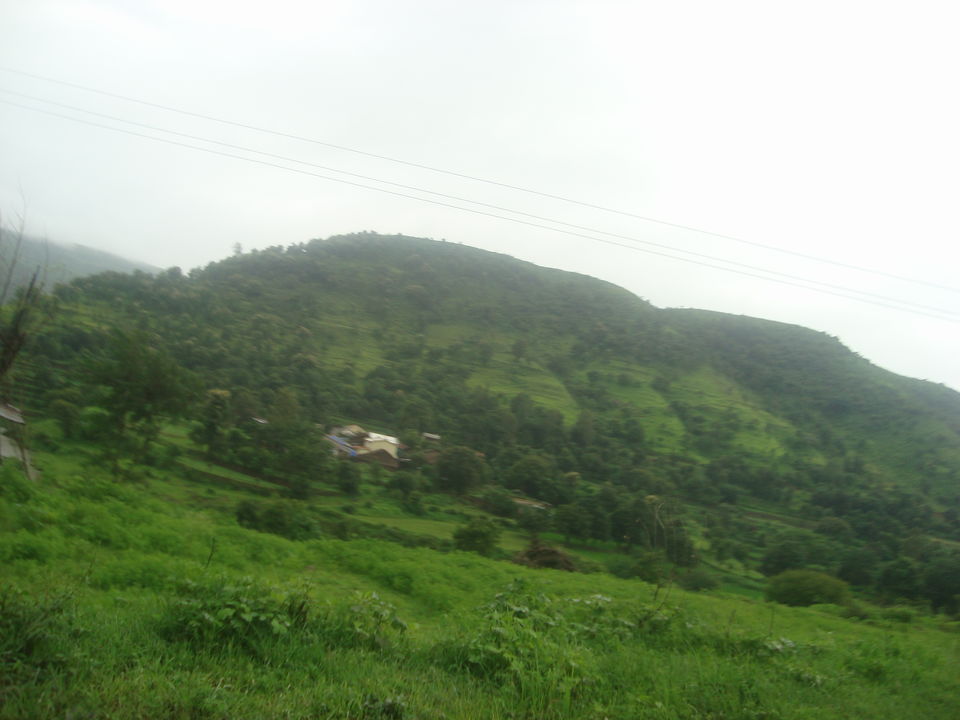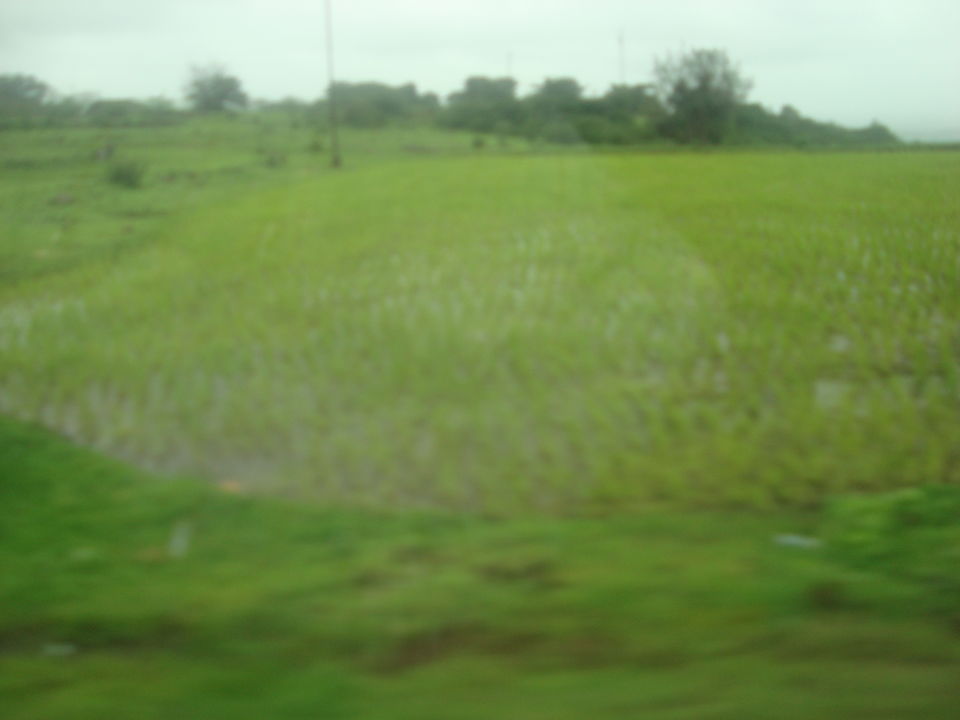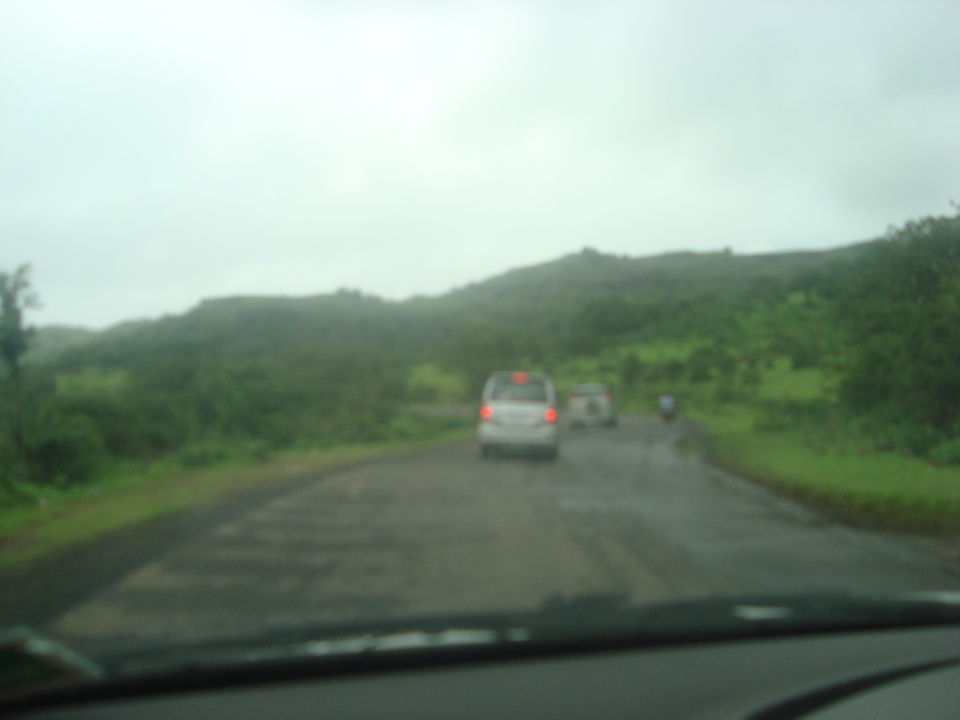 we crossed a water dam, winding roads round the hill, and light drizzle accompanied our drive..., certainly, a ride worth covering through a bullet.
There were incessant rainfalls and compulsorily we had to commute by a local bus to cover the last stretch to reach the Bhimashankar temple, this is one among the 12 Jyotilinga.....The umbrellas and raincoats we carried as back up came in handy. With pouring rain, carrying my kid along, climbed down the stairs to reach the temple shrine.
This is the 6th temple we were visiting in the last four days.
Bhimashankar temple too has its story. Kumbakharna's (Ravana's younger bro) son Bhima, a wicked demon king was creating havoc, destructing Dharma. He had his reasons to dislike Gods, and take revenge on them. All his family members were killed by God's and saints. Bhima's father kumbakharna and his uncle (bade papa) Ravan were killed by Rama. Bhima's maternal grand parents - Pushkasi and Karkat were burnt by Sage Agastya. Bhima and her mother karati, lived in the forest. Lord Shiva descended on earth to end his evil, he blew fire and burnt Bhima into ashes, and with request from other Gods and in the view of protecting the world, Shiva stayed there in the incarnation of Bheema Shankar.
After darshan, there was this immense satisfaction of covering all the religious sites, especially the three jyotilinga sites within 3 days, along with Shirdi, Shani Shignapur and the two UNESCO sites. Later when I enquired with the cab driver, he acknowledged not many visitors have covered these sites within three days with such packed schedule.
Now, having covered all the planned sites, it was time for us to head to Pune and catch our return flight to Bangalore.
The traffic was horrible...1.5 hour journey to Pune had taken us more than 3 hours. My plan to visit my friend's house in Pune went for a toss...and we ended up meeting at Phoenix mall, near the airport. We met after a decade, we studied together, stayed in the same hostel, we were old roommates, it was nice getting introduced along with our family and our kids...we discussed each other's love stories along with the dinner at Zaheer Khan's.
Now we had to give adieu to my friend and start to Pune airport..., on reaching the airport, we soon settled the cab driver and entered the airport terminal. It was the same routine which we did on day 1, after very long day and a heavy dinner we were little slow but still managed to complete the formalities and waited for the boarding announcement at our gate. Soon we boarded our flight and it was past midnight, when we reached Bangalore.
It was one hectic journey..., and my family was a great source of inspiration through out the journey...and without their co-operation it wouldn't be a successful one. Hour after hour, minute after minute, my family stretched themselves....,to explore new destinations. My wife and kid, enjoyed every bit of the journey...my kid was playful, highly active most of the time. It was important we stay focused and followed timely schedule..,it was certainly a challenge with our three year old, but we happily carried him off to all the sites..., its important to have positive mindframe and keep tab on the health as during the journey we were subject to continuous change in air, water, shelter and food. And, finally Yes, God was with us through out the journey...and I pray Almighty, he be with us always..