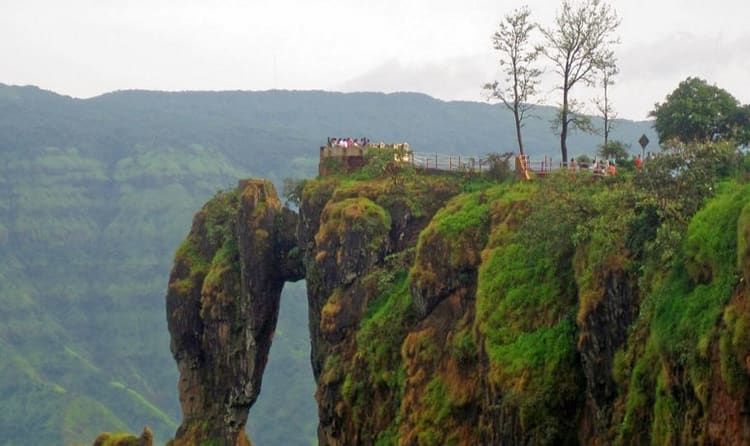 We decided to take a trip to Mahabaleshwar. This climatic health resort is famous for its strawberry growing, its holiday resorts and a current honeymoon destination. It was also the summer capital for the Bombay presidency at the time of the British empire. As this city is 120 km from Pune, some decided to go by motorbike, while the rest in car. We left Mumbai to continue our journey to the south of India.
Day 1 Trip to Mahabaleshwar
Melodic awakening. The sun is barely up when we wake up by the scream of a salesman in front of our bedroom door. It looks like fast-forward Rap. He walks in front of the hotel with flasks of olive oil and wine vinegar. We finally understand that he sells head massages.
The TV of our neighbor resonates. Choked voices. I feel like I hear someone talking underwater. Outside, the morning song of auto-rickshaws purrs like people passing by. Their horns make the sweet whisper of a blocked apartment bell. It is no longer possible to sleep. It is 7:30 am and I go to get some fresh air at the window.
An old man burns rubbish. Thick tarmac smoke rises and hides the pale sun. His small pile of garbage pollutes as much as a coal train. The exterior walls of the hotel are stained with soot. I ask the waiter for a double milk coffee without sugar. I get a mini cup of sweet black coffee. We decide to go to another hill station as was Matheran. We really need to flee the pollution of big cities.
At the reception, we are asked why we are leaving. We leave for a 4-hour drive to Mahabaleswar. I did not count the number of stops in our trip. I would say one every 15 minutes on average. I found the breakfast stop a little frustrating. But as we were on vacation, so it does not matter!
Pune is surrounded by mountains, so the road took us through beautiful landscapes. With the wind and the rain, I admit that I was feeling a bit cold. The first leg was Panchgani, after 2 hours of road. At 1300m altitude, a vast plateau gives a strange impression. We climb in the car along the mountain and suddenly it's all flat as if someone had cut the top of the mountain. Up there, of course it's cool, but it's windy.
This site is very famous in the paragliding world. Indeed, this activity has become the fashionable hobby for the wealthy people of Bombay who come here for the weekend.
We take the road again. The guys on motorbikes always follow us. There is a lot of traffic. It's a bit long and winding. I prefer to sleep. We finally arrive at Mahabaleshwar, a town of 13,000 inhabitants in the mountains. We find a room in a hostel. It's calm, but a hubbub of daycare hangs over the place. We have lunch at the restaurant of the hotel. The place looks like a cafeteria. There are plenty of children, well-to-do families, fathers in shorts and girls in jeans.
Mahabaleshwar is a popular vacation destination for the affluent Mumbaikars. Around our table, the families talk loudly without embarrassment and without any restraint. It echoes in the restaurant, as it does in a church. We order a soup. The waiter wipes my spoon (my only utensil) with his thumb. I ask him for rice thali. My meal arrives and I hasten to devour the rice.
We take the car to see the viewpoints without risking to get lost. We embark on a long walk in the mountains to stretch our legs. Here, the trees cover the roads of their branches intermingled like veins. Creepers, cords of wood, attach the trunks to each other. This is the exact setting of Kipling's Jungle Book. I would not be surprised to see Mowgli leap from tree to tree!
We start by visiting the ancient temple dedicated to Shiva, built under the time of Shivaji, the great Maratha king, then the Krishnabai Temple, where water comes out of the head of a cow carved into the rock. This water comes from 5 sacred rivers of Krishna, Veena, Koyana, Savitri and Gayatri. My friends soak their feet in the pool, and then splash with water directly from the mountain.
Mahabaleshwar is the name of a place in the mountains, a few hours away from Pune. These mountains are so high that you are right in the clouds! Of course, this also has a certain effect on the view. So we stared up into the white fog. But there was a moment when suddenly the cloud curtain opened and gave a magnificent view of the valley. Unfortunately the battery of my camera was empty.
On the way to Arthur's Seat viewpoint" at 4421 feet, we see strange road signs. There is the do not spit on the road, and the famous cleanliness is next to godliness signs. In Mahabaleshwar, there is an attempt to lessen environment pollution. We are soon on the edge of the mountain. We are not the only ones to have planned to go here on New Year's Day!
The voices bounce off the mountains in front of us. Echo effect. A guy throws a liquor capsule in a vacuum. The serrated cap floats like a UFO. On the observation deck of the Arthur's Seat, a western lady came up to me and asked if she could hug me. That was new to me! I thought for a moment and said okay. She squeezed me once and tried to kiss my lips. Then she went away beaming with joy. Wow, I was completely taken by surprise. Should I ask her for a date?
Back in the car, I was able to change my battery and I was ready again for the next exciting stops of our trip. Mahabaleshwar is known for its strawberries. We looked at a strawberry field with no strawberry on it, as the season is long gone. On our way, a seller of strawberries and carrots try to sell us his harvest. He walks the streets with his two baskets hung on a wooden pole.
But we were still able to toast with fresh strawberry juice. At the market, I buy a strawberry juice to quench my thirst and at the same time, probably hydrate my stomach too. In front of us, a shepherd and his flock pass in the street. The ewes are dyed in fluorescent pink. I want to bite one to see if his wool would not melt like a cotton candy.
We start again in another long walk in the surrounding forest. We walk for a good 1 hour to get to a viewpoint. We stopped at other vantage points, but something distracted us from the view. We see camels on the horizon! We knew what we had to do! We see a furry caterpillar. While we think we are lost in the mountains, we see a young couple sitting under a tree.
The woman has pink face and she avoids our eyes. The man is rather pale. He crosses his legs. They did not expect to see us. I think the lovebirds were not just chatting in the forest. The unmarried people of India do what they can to have privacy. We return to the hotel. We have New Year's Day dinner at the hotel with a buffet.
The lobby turns into a disco with neon lights and a DJ for the Maharashtrian families who came to enjoy the weekend. The fat moms in sari let go themselves, while their husbands just as fat drink, and the kids join too. It's crazy and was a real show. We had a good laugh!
Day 2 mahabaleshwar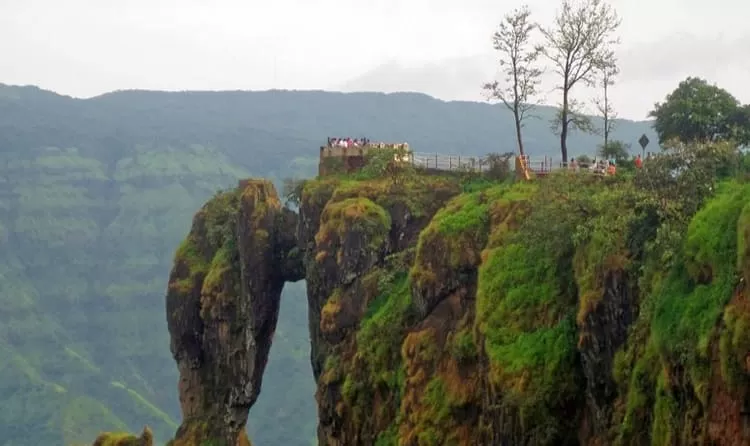 We see the lovely sunrise this morning. I ask for a banana yogurt. Today is our last day of walking in the woods of Mahabaleshwar. We take a road that we have not taken yet.
We take a taxi to visit Pratapgad Fort located 22km from Mahabaleshwar. We zigzag on the mountain roads. We see a yellow painted tree. Pratapgad Fort is good. A light blue butterfly flies in a crossroad. As we approach, thousands of her colleagues fly away without warning from a huge oak in front of us. We are in a fantastic tale.
We arrived at the top, on the ramparts. The fog (apparently famous in the region) was suddenly raised and we could see the lush jungle of the valley. We spent an hour or two playing around in the fort, breathing and listening to the silence.
Then, we stop to buy chips and, suddenly, we stopped in a garden, in fact a field with a little greenery and tables and, below, we see strawberry plantations, specialty of the region, generous in jam. The surprise is when we see sizzler brownie, brought on a hot plate with scoops of ice cream and chocolate in abundant quantities. What a way to recover from walking!
We go to the market to buy provisions in anticipation of the long ride of tomorrow. I'm at the flea market. We see many traders trying to sell us their junk of pretty hats of plastic flower straw, inflatable hammers, bamboo flutes, water guns, small cars. We buy some small fruit juice packs. The nuts are wrapped in old newspaper. We buy honey, and eat onions pakoras.
The last activity before returning is a bit of boating. We arrive at the edge of a lake, completely covered by mist. It's very cold, and it's only the riders who took windbreaks. We have a lot of fun, and everyone is very happy. I feel cold, but seeing my friends laugh and smile makes me happy.
We went to visit another fort. It was necessary to enjoy a little of the pure air of Mahabaleshwar, with beautiful, abundant green plateau caressing in the middle of the mountain ranges of Sahyadri.
We have an excellent dinner in a restaurant where the tables are covered with bathroom tiles. I pay myself a chicken burger and french fries. The cooks sprinkled my cheese fries, and there are cucumbers in my burger. It's a surprise at every meal!
A sadhu comes to us while we enjoy our dinner. In the right hand, a cane serves as a support, while the left holds a spittoon. A white V-shaped beard flushes his face. The tip has been dyed with henna, which gives it a rusty color. Between the eyes, the man wears the inevitable orange dot. I take a picture.
At the bar, a big surprise for me. I was warned that it could happen, it did not reduce the shock. At the table next door, young men get a little stiff after a few rounds of drinking beer. We finally go home. No one is wrong, no one is right. Our ways of having fun will always be different.
Day 3
After breakfast, we depart for Kolhapur, the ancient capital of Maharashtra.