Have you ever been on a holiday with no agenda or checklist? Something on the lines of having no pressure to go sightseeing or participating in any local activities, whatsoever. Simply do nothing, nothing at all, just soak it all in?
My husband and I, have recently been to one in a very long time and thoroughly benefited ourselves from lazing on sun beds by the beach with all the time and coconuts in our hands.
The darling husband surprised me with an anniversary getaway to Seychelles and managed to reveal nothing till we checked in at the airport. All I was told for the sweet convenience of packing the bags was that it is a tropical destination.
Seychelles is the epitome of a popular tourist destination that is till date co-existing alongside it's well preserved natural surroundings. Seychelles islands were developed respecting the ecosystem and lucky for us city dwellers, mapped out keeping in mind the rare species of animals and plants that the island hosts. I have never seen a forest in the mountains this lush, sands so white, the ocean so inviting and every sundown this dramatic. Making all our tropical dreams come true in this paradise.
THINGS TO KNOW BEFORE TRAVELING TO SEYCHELLES
1. WEATHER
We were there early in the month of MARCH, for 3 nights and 4 whole days. The islands sits close to the equator, thus, the temperature ranges between 24°Celsius to 30°Celsius with occasional downpour and stays pretty much the same throughout the year. During our stay we experienced a great tropical weather with least amount of humidity and to top it all off it was slightly windy to enjoy the outdoors. Peak tourist months are from April till September and around Christmas and New year holidays.
2. CURRENCY
As travellers you should be aware that airport exchanges give a much higher rate than within the city. Also, authenticity of the exchange depends on place to place and Seychelles is extremely safe with many shops, even grocery stores available to exchange your currency for Seychellois Rupee, throughout the main island of Mahe. Ask for directions to the one close to your stay.
P.S.: We noticed Euro gave a better exchange rate than another currency on the island, even better than dollar. So carry more euros if you can.
3. CUISINE
Local cuisine is mostly non-vegetarian and a lot of different flavours to savour than you'd expect. We enjoyed a fixed menu of Creole cuisine at a local restaurant and it mostly comprised of fresh seafood dishes in an assortment of flavours (@Maria Antoinette). Creole cuisine is a fusion of French, British, Indian, Chinese and African influences from over the years. Yes, for such an elaborate blend, it'll be a shame not to seek them out!
There are many restaurants within the island or any region of Mahe Island where you might be put up at, but not all of them may serve food to your liking. So do your research before you leave; to not have to starve or pay a steep price for a meal that you might end up not enjoying. We stayed in Bean Vallon i.e. north of Mahe Island and knew where the Indian restaurant was; of course we never went for it as we were smitten by the local options available to us and if you enjoy your cocktails, the bars on the island whip up some mean tropical concoctions (@Le Café de l'horloge). Believe us, when we say that we loved the cocktails at every bar there and NO, I am neither kidding, nor exaggerating.
There are no fast food chains on the island. Yes, unlike most countries, in Seychelles you can't expect Mc.Veggie and cheese burst pizzas at your convenience.
Reservations are required to be made one day before as most of the restaurants on the island, especially at the highly recommended ones and during weekends or like us you might have to give up your anniversary (@Le Perle Noire) dinner plans at the last moment and settle for a pub with one last seating left. On a positive note the bar (@Trader Vic's) served the best Mai Tai's we have had and trust me we have had a lot of them.
4. RESORTS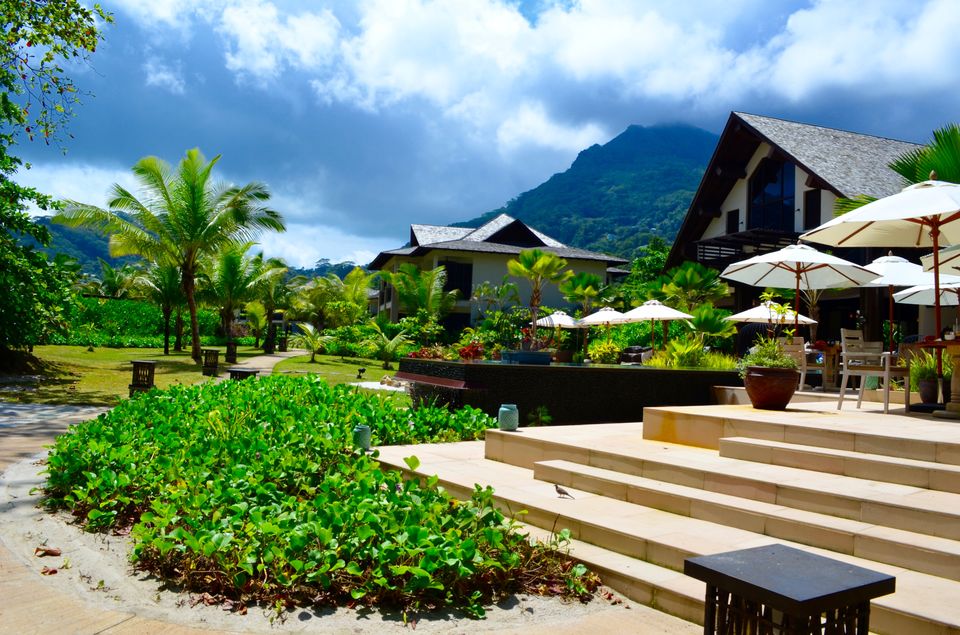 We can save and live in tight apartments or hostels in Europe or major cities where accommodation costs can be exorbitant. In places like Seychelles, where you are meant to spend most of your time within a resort, use it's facilities or get services by the beach and have a prefect de-stressed time being pampered, cutting cost here won't cut it for you. My husband and I calculate our budget according to the destination and what we intend to do at a particular place. This was a small getaway for us to spend quality time with each other and un-wind so our comfortable resort on Beau Vallon perfectly fit the bill.
I highly recommend taking up the resort life when holidaying on such islands, as it makes experiencing the place all the more worth it.
5. AQUATIC THRILL
In a country surrounded by water, water-sports are easily available on most of their beaches. Many water activity providers on these beaches will be competing to lure you into using their services and from our experiences, they are definitely overpriced compared to the ones in Thailand, Bali or even in India. We did not do any water-sports as we have tried them in at many different places already. So, if you really want to we recommend you look up online for companies who provide packages that include water sports at a much reasonable price, which also includes pick up and drop from the hotels/resorts and maybe even lunch. Also, Beau Vallon beach is one of the best beaches on the island to indulge in water sports.
Water activities majorly include: Reef Safari Snorkelling, Glass bottom boat rides, Diving, Fishing trips, Paragliding and Jet skiing.
6. ISLAND HOPPING
Made up of 115 coral and granite islands, this tropical island country boasts of some of the most spectacular white beaches on earth. Of course no island is same and covering all 115 islands can take more than 4 days of being on the road and water. Some of these islands are pristine and still untouched by any civilization.
Again, for touring these islands book your tours online for the best deals. These tours take you to the main islands by boats, visit the rare animal reserves and even include a barbecue experience on the beach.
Some of the must see islands are: Beau Vallon, Port Launay, Police Bay and Petit Police, Baie Ternay, Anse Soleil, Fairyland Beach, Anse Intendance and my favorite La Digue.
7. TRANSPORT
There are a limited means of transport within the main island of Mahe. Buses (5 Seychellois Rupees) are the cheapest mode of transport and cabs (250 – 500 Seychellois Rupees) on the other hand, the most expensive mode of transport and if you can try and bargain with the drives, though they rarely agree. And, to go from island to another they have an efficient ferry schedule that you can follow and the price depends on the island you want to get to.
This colourful island country has me craving for more such getaways and right about now, got me dreaming of lazing on their heavenly beaches backed by lush hills, sipping on coconuts sold by friendly vendors while I enjoy the perfect tropical weather with the least humidity, taking a dip in the sea reflecting every shade of blue, feeling the calm and slow pace of the island life rubbing off on me, riding a bike around into the sundown or just heading out to the ocean for a round of casual snorkelling.
For more stories and updates on my travel exploits follow @BohemianOnTheRun on Instagram.
Visit my website to find more Travel Inspiration www.BohemianOnTheRun.com
Unauthorised use and/or duplication of any picture or written content in the above article for any purpose is strictly prohibited without express or written consent from the writer; ADITI JANA (c)