The largest island in the Seychellois archipelago and home to 90% of the entire population residing in these gorgeous islands form the ideal base to explore its more illustrious neighbours of Praslin and La Digue. Unlike its counterparts, Mahe is the most developed island of the country and is home to the largest selection of resorts and activities. While the West Coast is adorned by a string of sunshine flecked beaches, the hilly areas in the Northern part provide for absolutely stunning multihued vistas of the Indian ocean –cerulean blue in the morning, shiny silver in the afternoon and pale crimson during dusk. Apart from having arguably the best sunset views in the world, Mahe Island is home to some of world's rarest flora and fauna.
A Luxury Getaway?
Mahe Island with the presence of plush star hotels and swanky resorts (mostly beachfront properties) ticks all the boxes for an indulgent and hedonistic getaway. Frequented by celebrities from across the globe, this archipelago of 115 glittering islands is usually not perceived to be accessible and affordable with a shoestring budget. In recent times this perception has changed.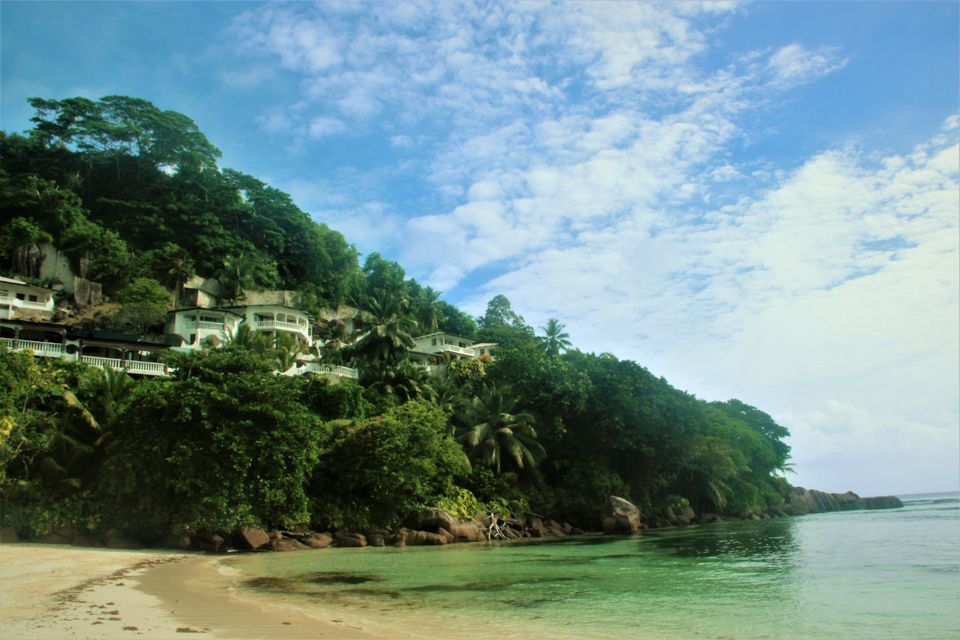 It is now possible to experience Mahe's paradisiacal beaches, creole cuisine and laidback local life without burning a hole in your pocket.
1. Hire a Car
Renting a car is surprisingly cheap with fees ranging from 40-50 euros / day including insurance for an automatic hatchback. Almost all properties have car rental options. In contrast to the steep taxi prices, it is the best way to move around the gorgeous island at your own pace stopping at numerous sprawling beaches and tiny secluded coves whenever you feel like.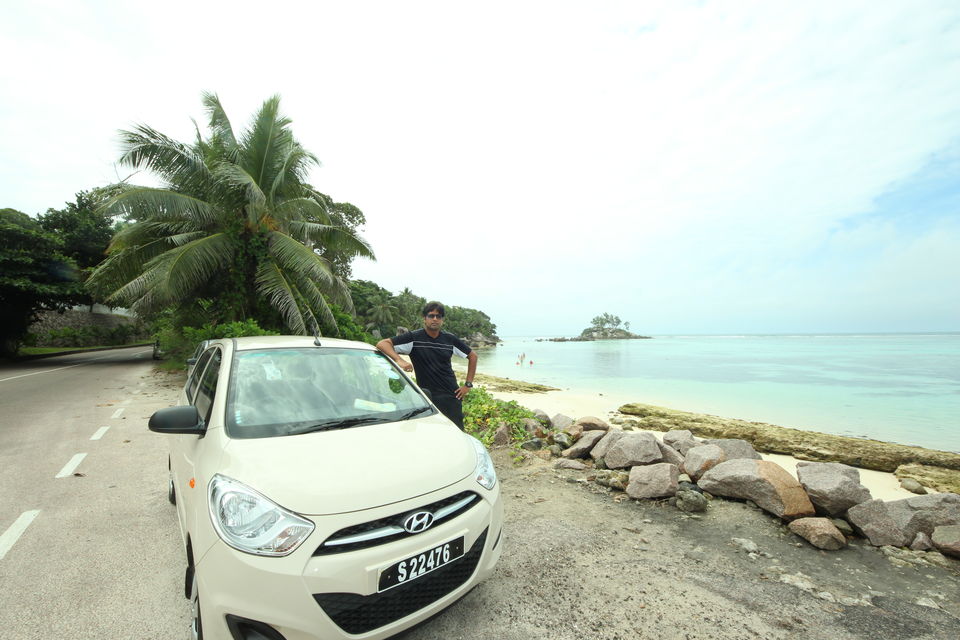 Mahe with its spectacularly clean (though narrow) tarmac roads runs across the circumference of the island with several scenic intercepting lanes running through the mountainous interiors. There is plenty to see on the drive – the small and charming city of Victoria with bustling markets, manicured gardens and a handful of old colonial buildings blending seamlessly with the modern structures and shopping plazas, towering mountains plunging into cobalt blue waters, innumerable bone-white sand beaches and exhilarating green hills and tea plantations in the Morne Seychelles National park. With the help of a map the driving directions are fairly simple.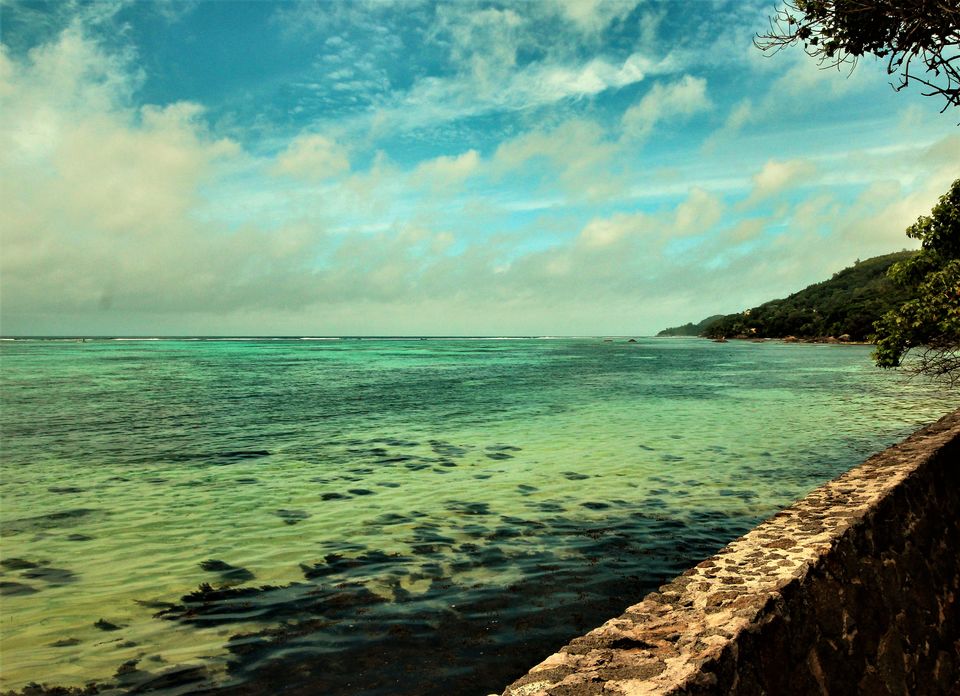 Public transportation though reliable and cheap (5 euros) does not guarantee stopovers near the preferred hotspots which might result in long walks and unnecessary hassles.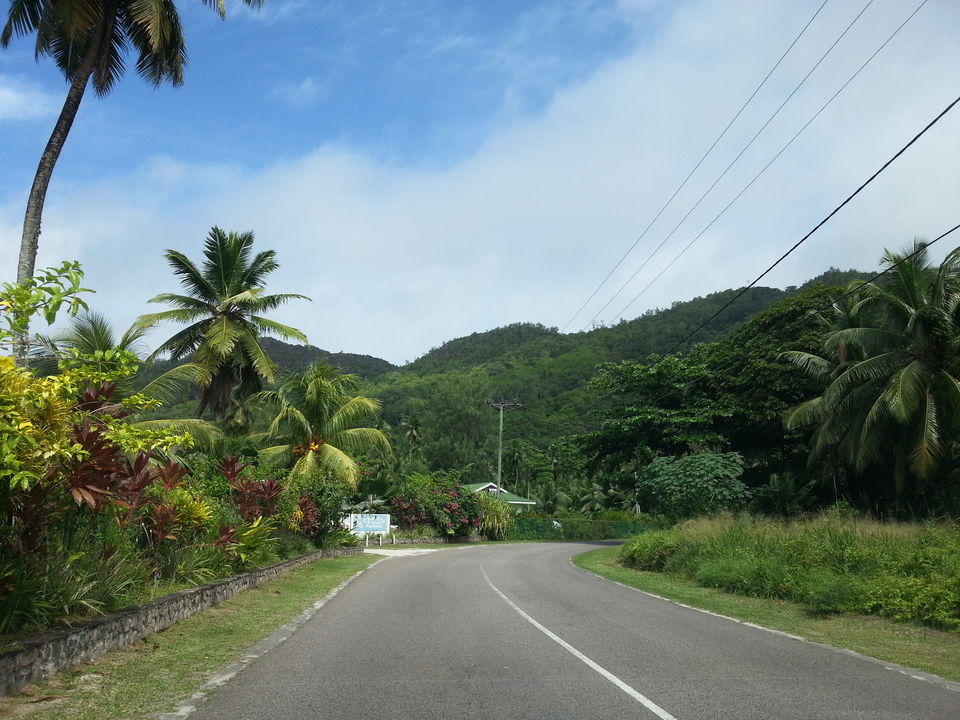 2. Choose Home Stays, Villas and Apartments over Beach Front Properties
Since all beaches in the Seychelles are public, one doesn't need to stay in beachfront star properties to get access to it. Those who are not looking for a luxury experience can opt to stay at guest houses, self-catering properties (villas, apartments and chalets), homestays and small hotels offering value for money and great service standards.
Creole people are very warm and hospitable towards tourists which make these properties all the more appealing. Staying in these self-catering properties gives the option of cooking with local ingredients. Since eating out in Mahe is an exorbitant affair, many tourists prefer shopping from their nearest supermarket and cook for themselves. Georgina's Cottacge Beach house (starts from 80 EUR) in Beau Vallon, Carana Hilltop Villa (from 98 EUR) in Northen Mahe, Chalet d' Anse Forbans (from 110 EUR) on the Southern Coast of Mahe and Blue Lagoon Chalets (from 125 EUR) at Anse a La Moucha on the western coast are such properties with welcoming hosts and warm hospitality.
3. Indulge in the local Creole cuisine
The gastronomic scene in Mahe is dominated by spicy Creole cuisine - a blend of French, Indian and Oriental flavours. Grilled Fish and Octopus coated with a fiery sauce of crushed chillies, ginger and garlic is a popular dish alongside the national staple – rice. Coconut milk is an integral part in most of the Creole curries. Chatnis made from local fruits such as Pappaya and Golden Apple is a national favourite. Fresh flowers are used for garnishing in many of the dishes. Almost all restaurants in Mahe will delight you with this unique cuisine. Mario Antoinette (Victoria) and Boat House (Beau Vallon) are considered to be the authentic joints for Creole dishes. The menu being inspired mostly by sea food, vegetarians would have to look somewhere else. Few wood fired Pizza outlets like Baobab Pizzeria provide great options for vegetarians.
4. All the Beaches are accessible to public
Few places in the world boast of beaches flanked with vertical rugged granite boulders. The grandeur of these ageless wonders coupled with the intermittent splash of azure blue waters against them provides a sense of absolute peace.
The warm crystal clear waters provide ample opportunities for swimming and snorkeling. Beau Vallon beach with the stunning back drop of green hills offers the most spectacular sunset views of Seychelles with the sky looking like the work of an errant painter running amok with a bucketful of paints. Beau Vallon defines the island's characteristics and its unhurried pace of life - fishers selling fresh fish late in the afternoon, people lying in the shades of the coconut palms, local boys enjoying a game of football in the evenings and tourists lounging on their desks in the upscale properties.
Anse Intedance on the South Western coast of Mahe is considered to be the most beautiful beach of Mahe.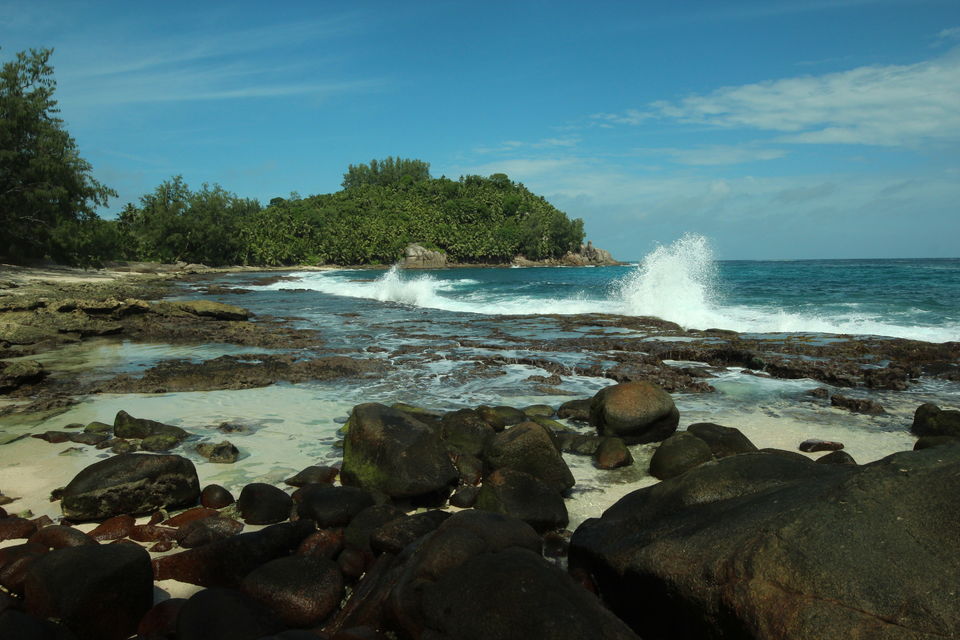 The sea is violent here and the water constantly splashes against the small rocky outcrops along the entire stretch making it unsuitable for swimming and snorkeling.
5. Trek in the Morne Seychellois National Park
Covering atleast 1/5th of the entire island, the thick vegetation entails many indigenous flora and fauna. Hiking in the woodlands can very rewarding with around 12 trails to be explored. With marked routes and maps, it is possible to do half / full day excursions depending on your fitness levels. A walk through densely forested slopes devoid of human intervention provides views of glorious landscapes where clouds hang as a veil on the verdant green mountain tops. Morne Seychellois is the highest peak of the country at 3000 ft above sea level. This 5 hour hike, though promise sensational views of the islands, can be challenging for the amateur trekker. Some other notable hiking trails outside of the park are Danzil to Anse Major, Morne Blanc and Copolia Trail which promise jaw dropping vistas from the top.
Though Mahe Island has all the perfect ingredients to turn over a tourist into an unalloyed lotus eater, there is more to this place than vegetating on sun drenched beaches, afternoon siestas in shuttered rooms and view of crimson spattered horizons during sunsets.
Where to stay:
Georgina's Cottage Beach house
www.georginas-cottage.com
Carana Hilltop Villa
www.caranahilltopvilla.com
Chalet d' Anse Forbans
http://www.forbans.com
Blue Lagoon Chalets
www.seychelles.net/bluelagoon
Where to eat:
La Pause (Cafe), Victoria
Baobab Pizzeria (Wood Fired Pizzeria), Beau Vallon
Maria Rock Café, Baie Lazare
Marie Antoinette (Creole cuisine), Victoria
Where to shop:
Outdoor Market – Beau Vallon Beach (Wednesday and last Saturday of every month). Around 50 vendors set shop and sell food, jewellery, trinkets, clothes and plethora of local merchandise. These are much cheaper than any other souvenir shop in the island.
Tea Tavern – Located close to the tea production factory in Morne Blanc, it offers a range of flavoured tea – vanilla, mint, cinnamon, orange and lemon. The lemongrass infused tea is popular and is a must try. Packets of different sizes are available for sale.