When I think of what Paradise would look like, I think of Seychelles. It has everything that one would want in paradise: Gorgeous pristine secluded beaches, uninhabited islands, a tropical climate, and kilometers of reefs. Largely overlooked and located directly on the equator in the Indian Ocean, visiting Seychelles is a dream come true.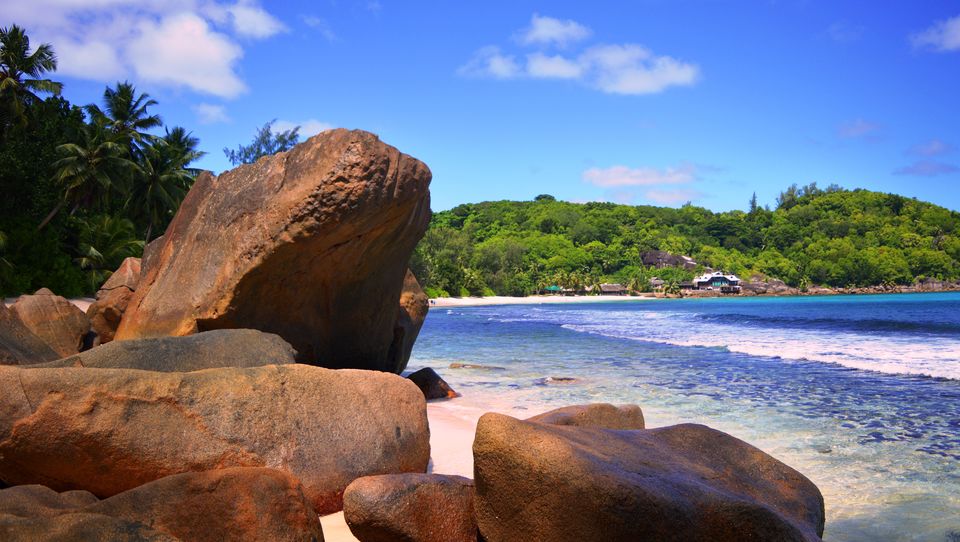 It almost takes a month's time of meticulous planning to put thoughts into action. Unfortunately, isolation and a pristine environment come with a price, and a trip to the Seychelles will cost you handsomely. This is not a budget destination whatsoever. But there are certain tricks which can help you economize, which I will mention in the later part. That being said, 'Paradise' is worth the price!
We stayed in 3 Islands in Seychelles namely Mahe, Praslin & La Digue. The First part of our Seychelles blog will focus on Mahe Island. Mahe is 28 km long and the largest of the 115 Seychelles islands. With almost 77.000 inhabitants, it's home to roughly 86 percent of the total population of the Seychelles. Boasting of not only the international airport, Mahe is also the location of the city of Victoria, the smallest capital city in the world.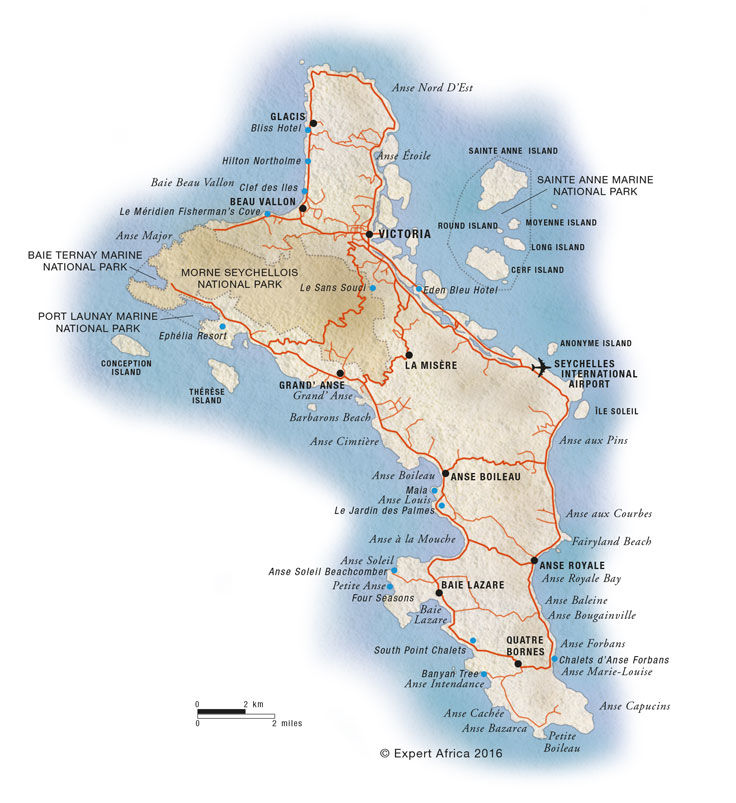 A trip to Seychelles calls for some luxury…at least for a couple of days. The blue waters and golden sands appear even more splendid if you have pretty cocktail in one hand, a book in the other and your back is comfortably rested on a beach lounger plonked under a tall coconut tree! Though there are many B&B options available in Mahe, we chose to spend our 3 days in the Berjaya Resort on the world famous Beau Vallon beach. The beach is easily accessible from the hotel and is overlooked by a hill making the view from the beach stunning on either side.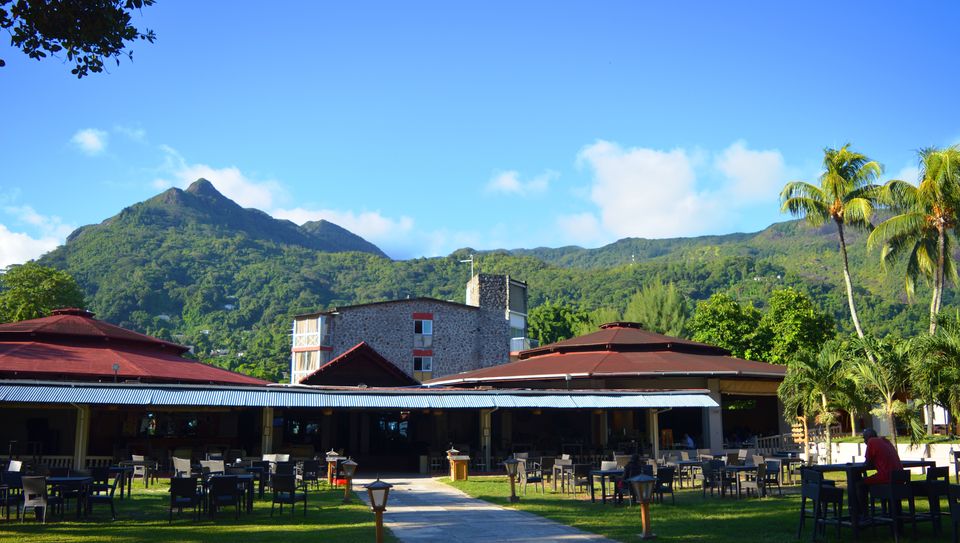 We arrived in the afternoon from India, cleared our immigration, then hired a car for 3 days and went to our hotel. After Check-in we straight headed for the beach. The Sunset at Beau Vallon is amazing and for the next 3 days we were always there right in the nick of time to watch the sunset. After watching the Sunset we made our plans for the next 2 days. We sought help from the tourist help desk of the hotel and chalked out a plan. There were hits & misses. We couldn't plan our scuba diving or snorkeling in Mahe as there were too many beaches and trails to be visited. In the evening we wanted to try some Creole food. After some searching we arrived at a place which was easy on the wallet and served good food. We ordered our supper, the highlight of which was the Octopus curry. For non-vegetarians Seychelles is Heaven, though most places serve vegetarian food as well. There were few dishes which we had in mind and wanted to try – Octopus curry was one of them. After dinner we called it a day, eagerly waiting what Seychelles had in store for us and particularly the Island of Mahe.
Next day we woke up early to stroll along the Beau Vallon beach. It was a serene experience with the Sun rays peeking from behind the trees and various birds playing around among themselves before human activity could disturb them. After a sumptuous breakfast we moved ahead according to our plan. The first beach we hit was Anse Royale. The beach is alongside the South coast road. It covers a small area. The problem with this place was in the month of May the water is full of sea weeds, hence we couldn't venture out in the water. But it was our first experience of large granite stones on sand, for which Seychelles is famous for and we see them featured in all the postcards of the Island. We clicked few snaps, climbed on the granitic stones and lazed around for an hour but were disappointed because of sea weeds. Our next destination was the beach of Anse Intendance, but we skipped that and decided to go further to Anse Takamaka on the South coast road. On the way we bought some snacks & cans of beer from a local store.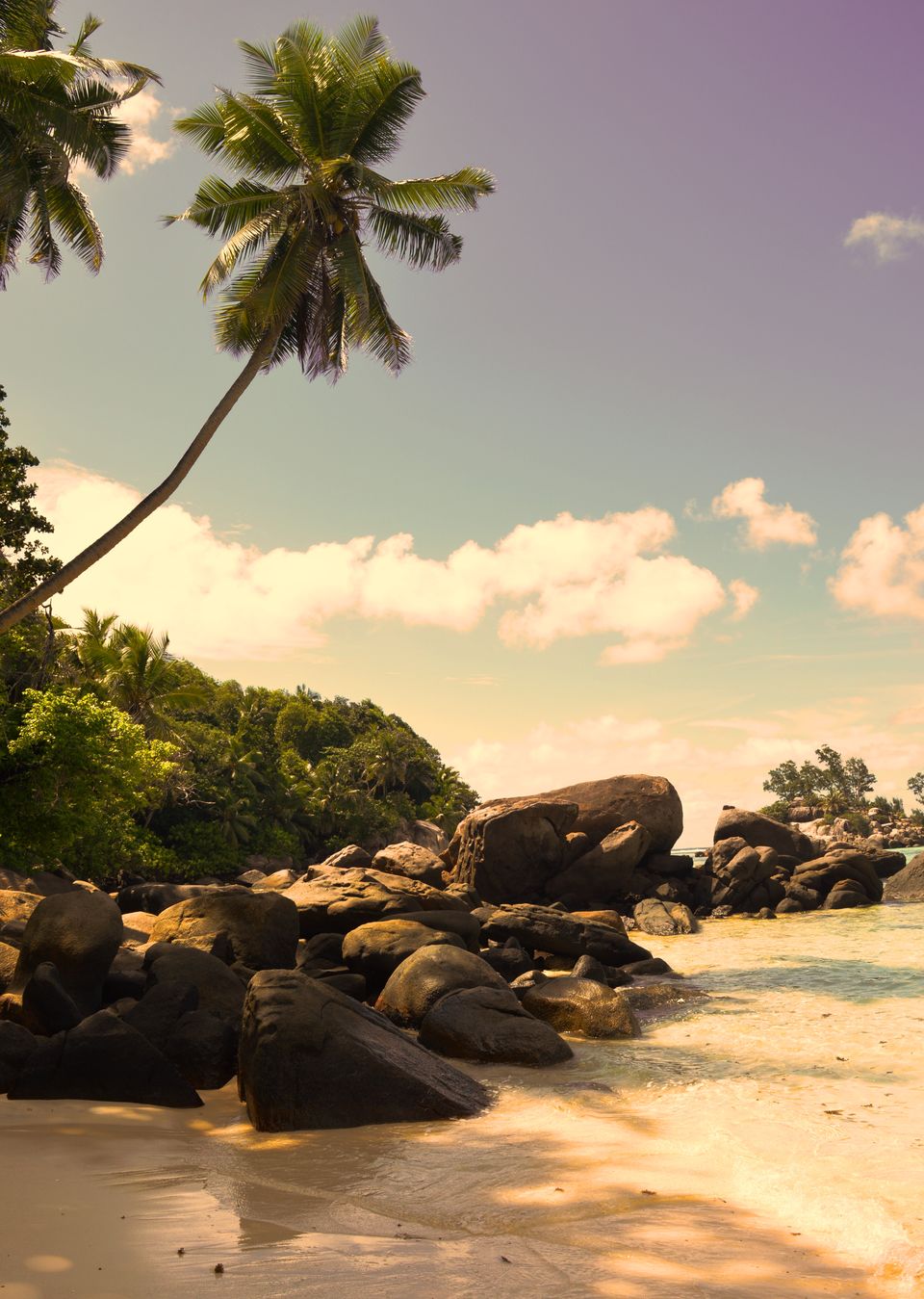 On reaching Anse Takamaka we were a bit skeptical about sea weed, as it had already played a mood dampener in Anse Royale. But to our surprise the beach was clear of any sea weed and had crystal blue water and to add to that the experience of a secluded beach which we had heard of but never experienced. We had the whole beach to ourselves for quite some time. We discovered the complete beach by walking from one end to another leaving our footprints on pristine powdery sand. We were even scared by coconut falling from tree right next to us due to the swaying because of gusty winds. Sitting under a coconut tree we savored the view of blue waves lashing the shore and some local children playing and fighting the waves, which reminded of our own childhood days. It was about noon time, so we decided to move to our next beach which was Anse Intendance, which we had skipped earlier.
We drove back along the South coast road and reached Anse Intendance. To reach the beach one has to go through the village and then the premises of the Banyan Tree Hotel. Anse Intendance was another secluded beach and a piece of paradise. We changed into our beach attire and jumped into the sea water. There were warning signs of high current so we didn't go deep but enjoyed and swam along the beach only. The waves were very rough and making roaring noise, but we enjoyed fighting them each time. As we were hungry, we munched on to the snacks we had got and relished a pint of local beer 'Sey Brew'. After sometime we again hit the waters and felt like never coming out of it. But again we didn't want to miss out on the sunset which was not possible to view on this beach. So we drove back to Beau Vallon.
On the way to Beau Vallon we made a small stopover at Victoria, World's smallest capital. This city has only one square which is decorated by a clock tower. There are only food joints, souvenir shops, banks and tourist operators in the capital. We were amazed as by 4 pm the whole place was deserted and all the shops were closed except for a few food stalls. We had hot-dogs at one of the food stalls, and then went to a food joint for coffee. We noticed that very few people were there at the joints. Most restaurants & food joints are devoid of Wi-Fi and the people here converse about way of life and the happenings in surroundings with one another on a coffee or dinner table in the old world way. Even tourists seem to enjoy this fact. Soon we finished our coffee and headed towards Sunset beach, which is an extension of Beau Vallon beach to view the sunset. It was a beautiful picture. The clean atmosphere and the brilliant colours made the sunset absolutely splendid.
We returned to Beau Vallon as the Sun sunk in the distant horizon. As we slipped into the calm night, we reflected on how the day passed by and were excited for the next day.
Travel Pointers:
Seychelles is a visa-free country meaning that there are no visa requirements for any person wishing to travel to this country.
It's a good idea to make Mahe the last stop of your island hopping journey. After landing at the airport you should take advantage of the free shuttle bus to the port of Victoria. From there you can go by ferry (Cat Cocos) to Praslin and La Digue (travel time: 60 minutes). We were not aware of this provision.
Look for B&B if you are a budget traveller. There are many options available. (Try Airbnb!)
Euro is the widely accepted currency along with SCR. But try to keep the SCR as the shop owners will give you change in SCR even if you give them Euros and avoid the transaction loss.
Plastic currency is accepted in all the stores, restaurants & hotels, except in Petrol pumps where I suggest you may pay in SCR.
You can eat relatively cheaply here if you steer away from hotel restaurants. For a basic meal, expect to pay around 175 SCR. A nicer meal with table service will cost around 400 SCR. Fast food will cost around 120 SCR while a beer is usually around 45 SCR. If you are planning to cook your own meals, expect to spend at least 1,000 SCR per week on groceries.
Check for sea weeds with the locals before planning to go to a beach. Sea weeds play a major dampener as one cannot venture out in the water.
A lot of travelers take the local buses on the island of Mahe and Praslin. While this is the cheapest option, it takes away the flexibility of doing things as per your schedule. Also, if you have anything more than a backpack, boarding the bus is at the driver's mercy. Taxi is very expensive; an average trip of 7-8 km will cost you about 40 – 50 Euros. Instead rent a self drive car for 40 Euros per day for unlimited kilometres. Read and understand the terms & conditions carefully before renting a car.