After watching picturesque view of Maldives on various social media sites, I had decided that my next trip would be to this island called Maldives. And here I landed to my dream destination on 14th Dec, 2018. We landed at Male airport around 4 pm, completed the immigration formalities in 30 mins. The airport had different counters for different resorts for transfers from airport via speed boat/ sea plane. We rushed to our resort counter and had to wait for sometime for our speed boat ride. And finally our trip to Maldives begun. As soon as we exited from the airport we were welcomed by the view of the Great Indian Ocean. Our resort was around 45 mins speed boat ride and we reached the place by 5.30 pm. The refreshing view of the ocean swept away all our travel fatigue . As we approached the reception we were received by a staff with wet towel and welcome drink. We completed our check in formalities and we got the keys of our water bungalow. Our package was for 4 nights 5 days with stay split of 2 days water bungalow and 2 days beach bungalow stay. We opted for first 2 days water bungalow and last 2 days beach bungalow.
The very look of the water villa drove me crazy and I just couldn't take my eyes off the beautiful view. This was something worth all the efforts we took from planning the package to travel. I wanted to live every moment of it
The water bungalow had open sea deck from where you get into the sea using stairs. We spent some time relaxing and enjoying the view. Post which we went for dinner around 7.45 pm. Vegetarians like me had very limited choice in the buffet spread but the mesmerising beauty of Maldives had captivated me so much that I was ready to eat just for the survival. Slept by the deck around 10 pm. With all the gushing sound of sea waves I experienced a serenity and slept peacefully.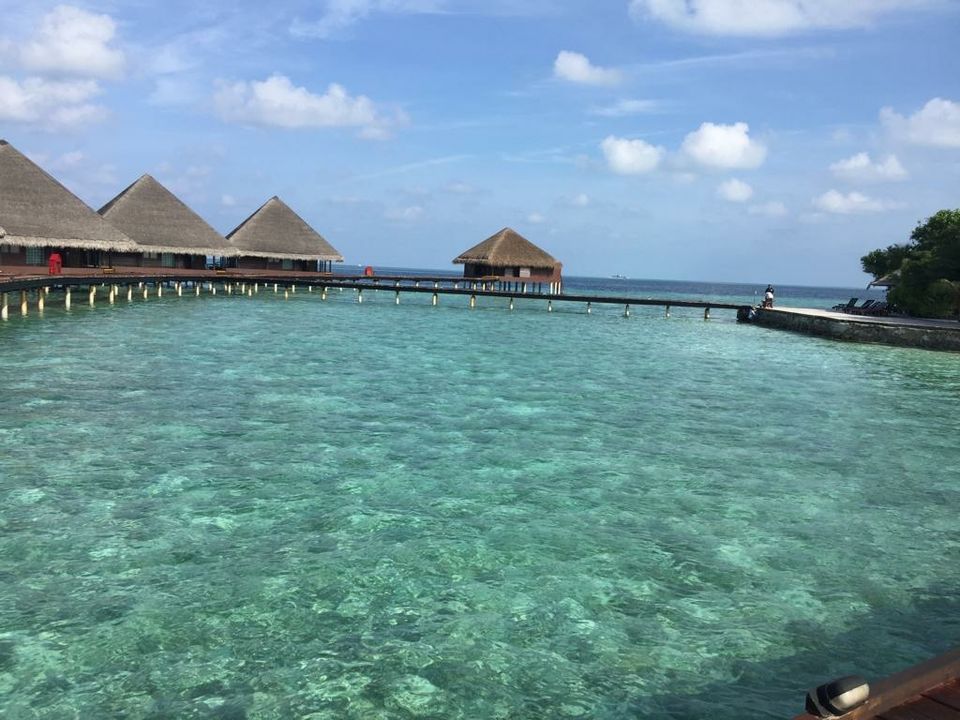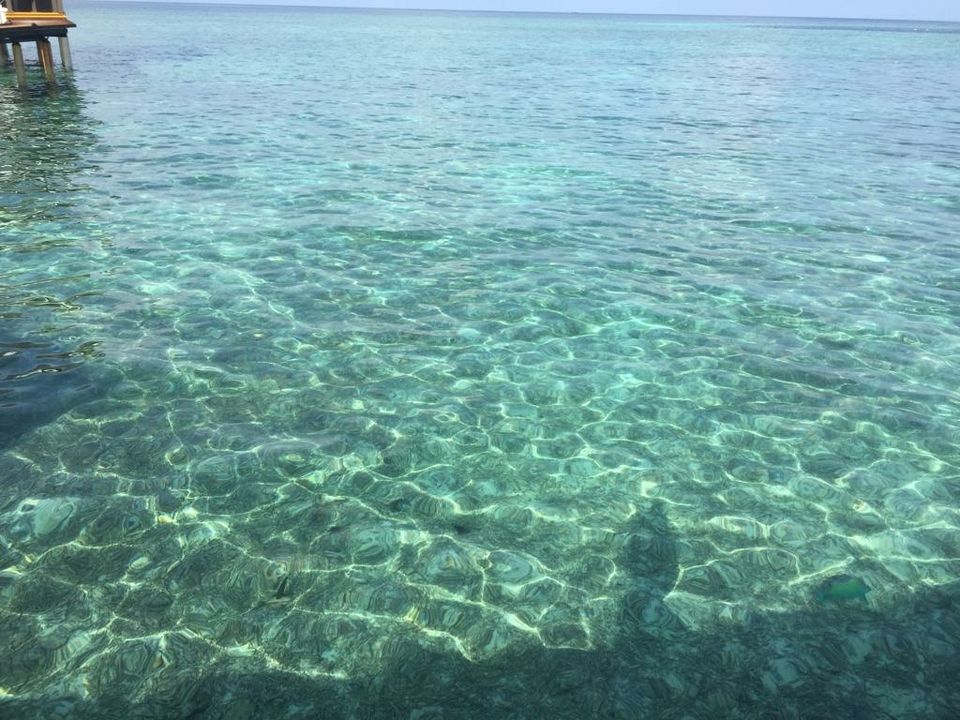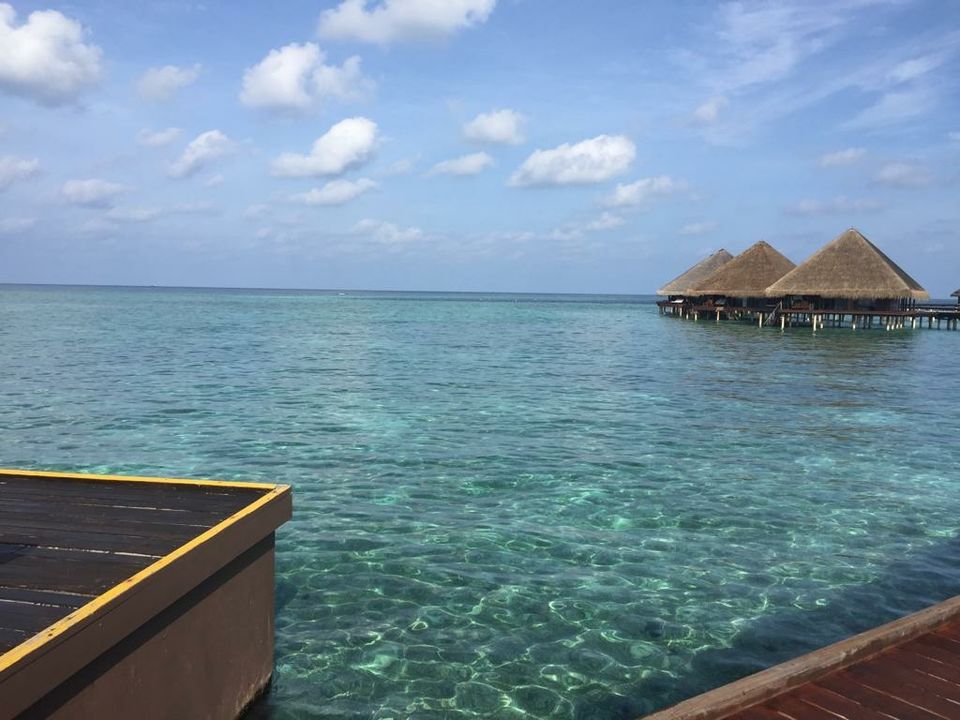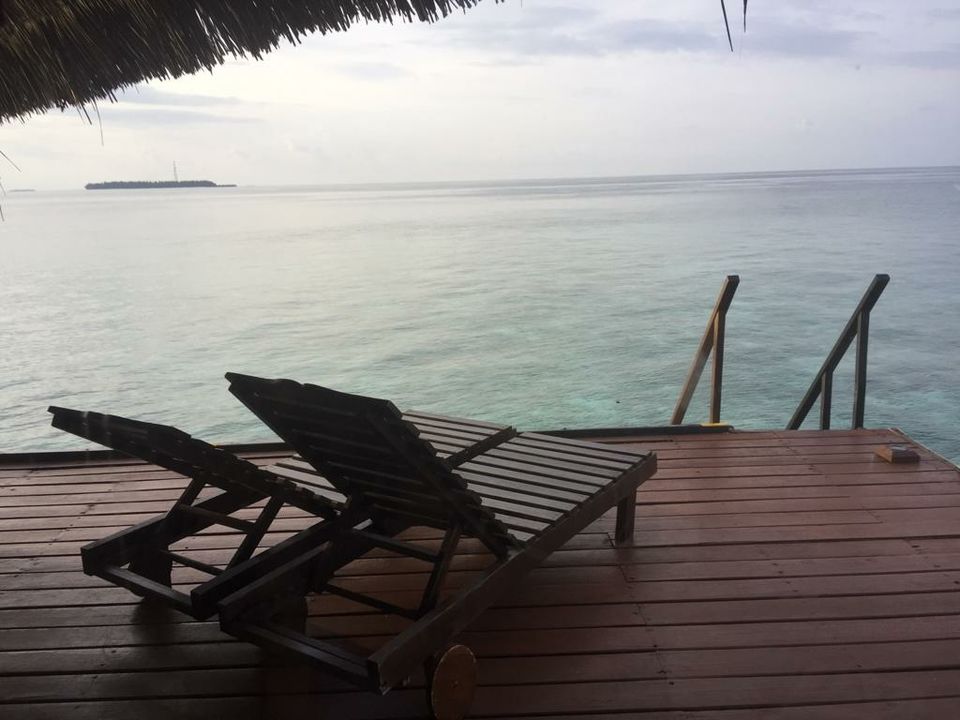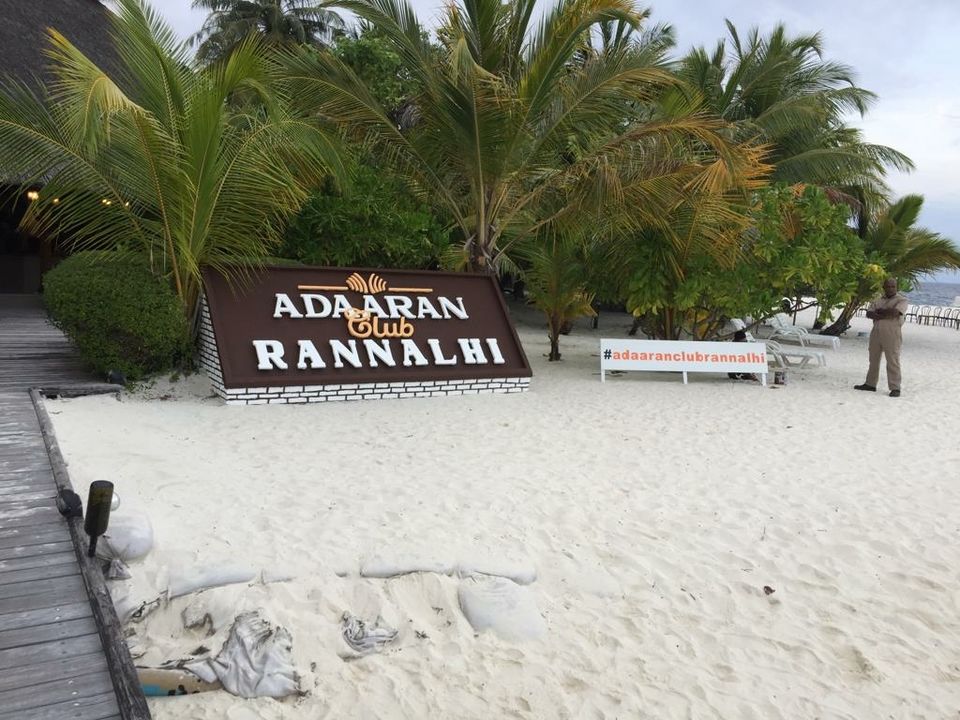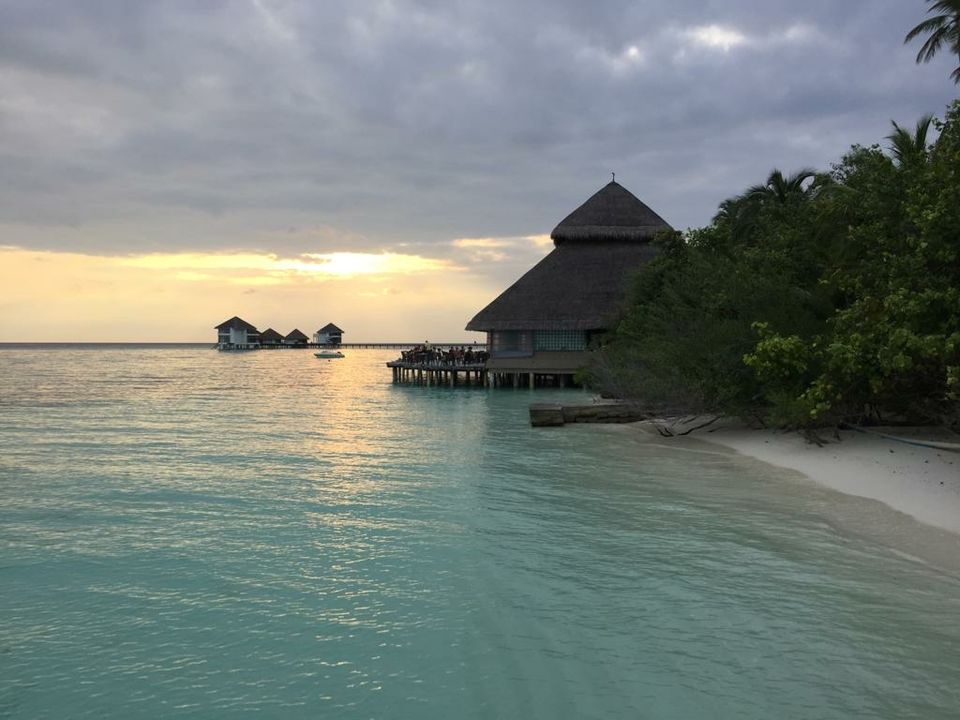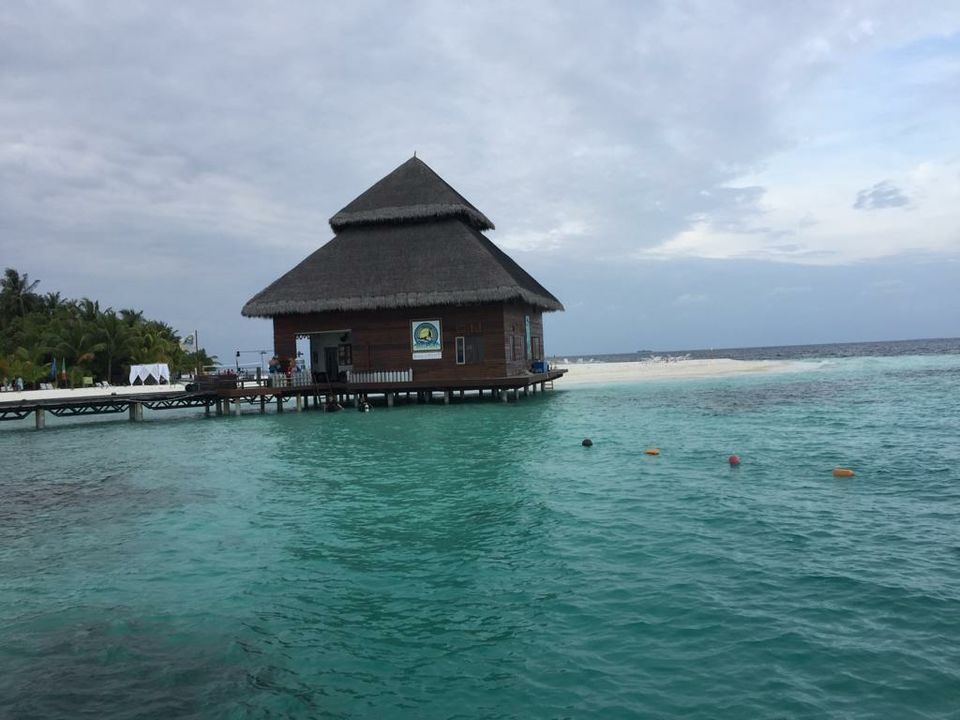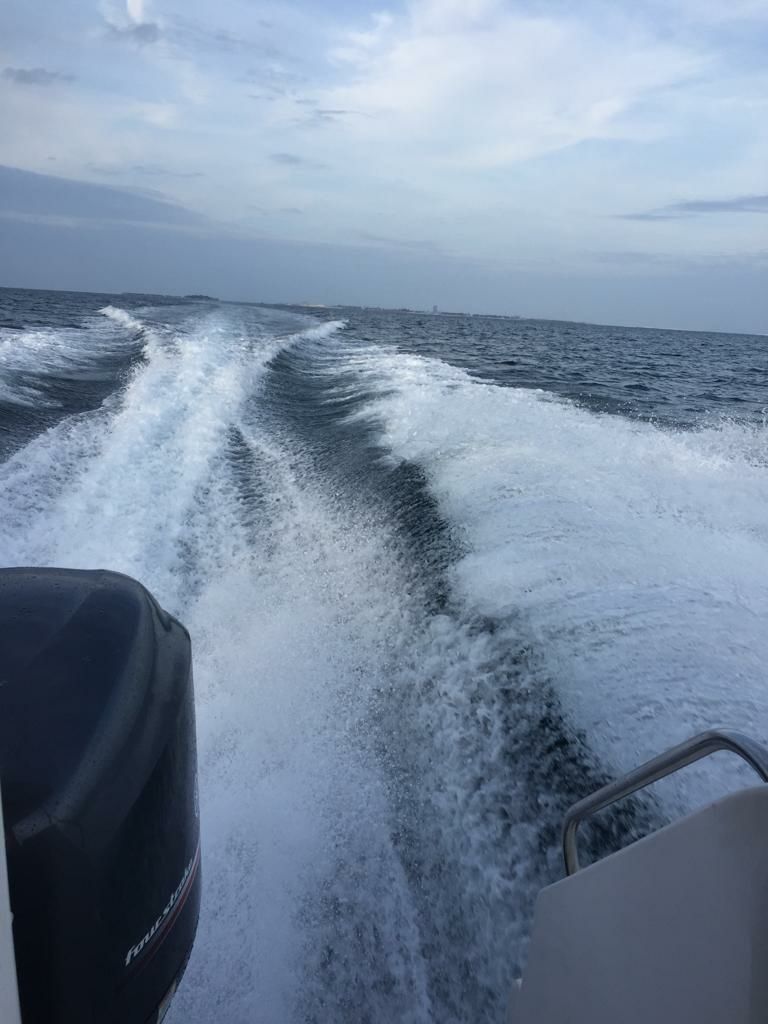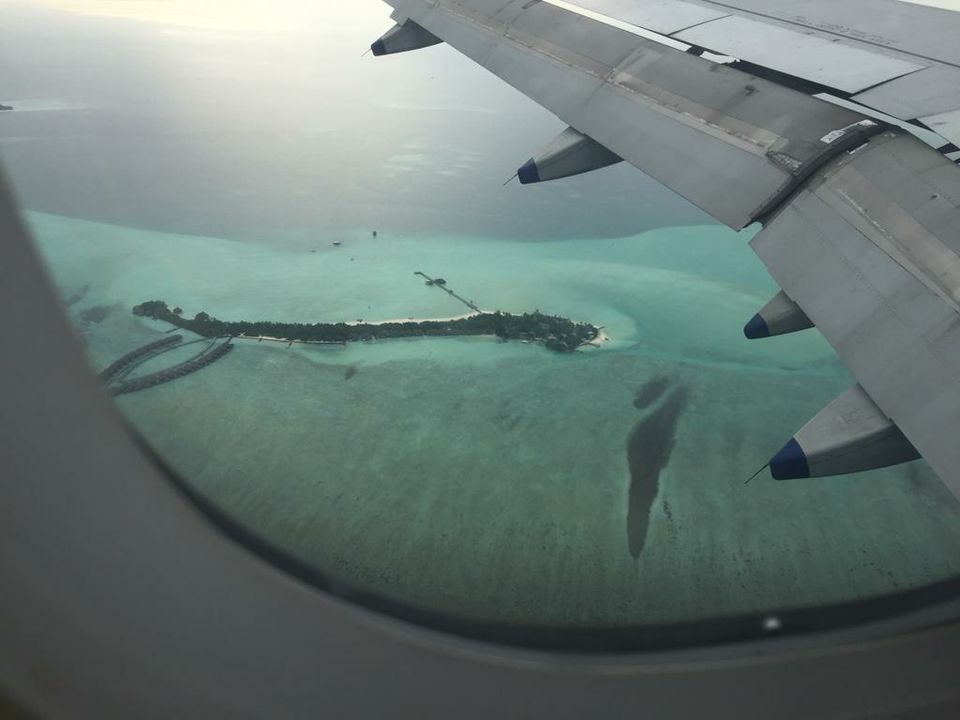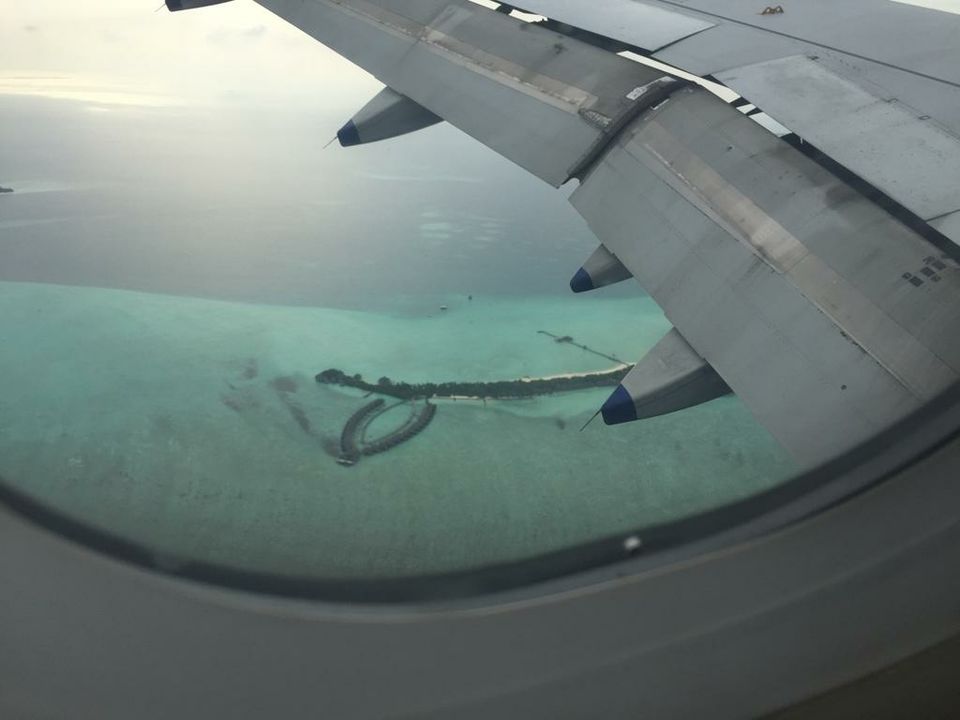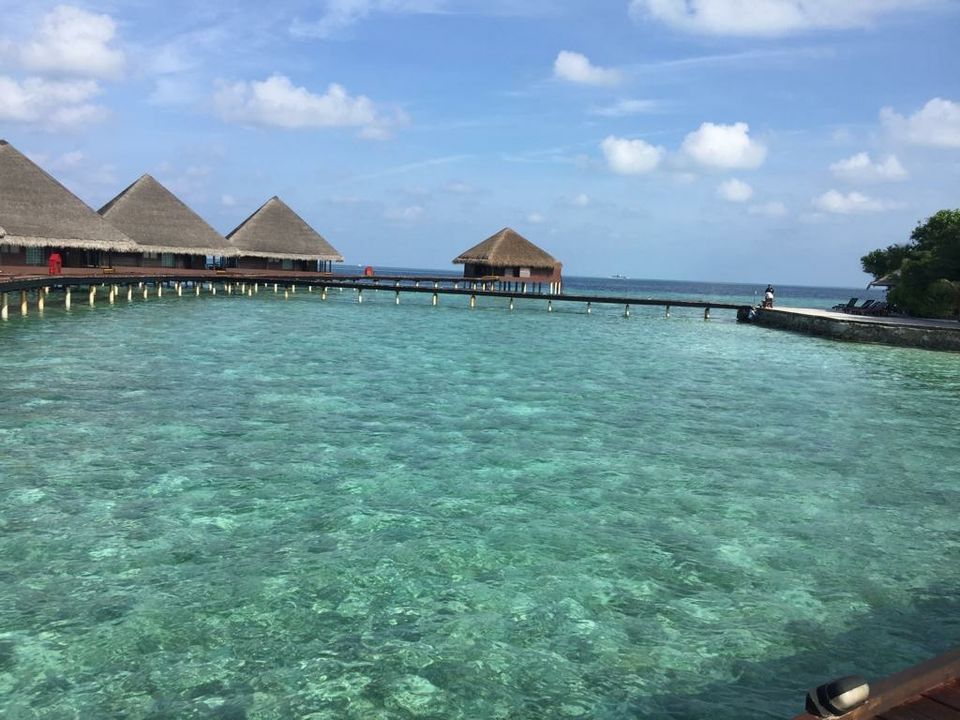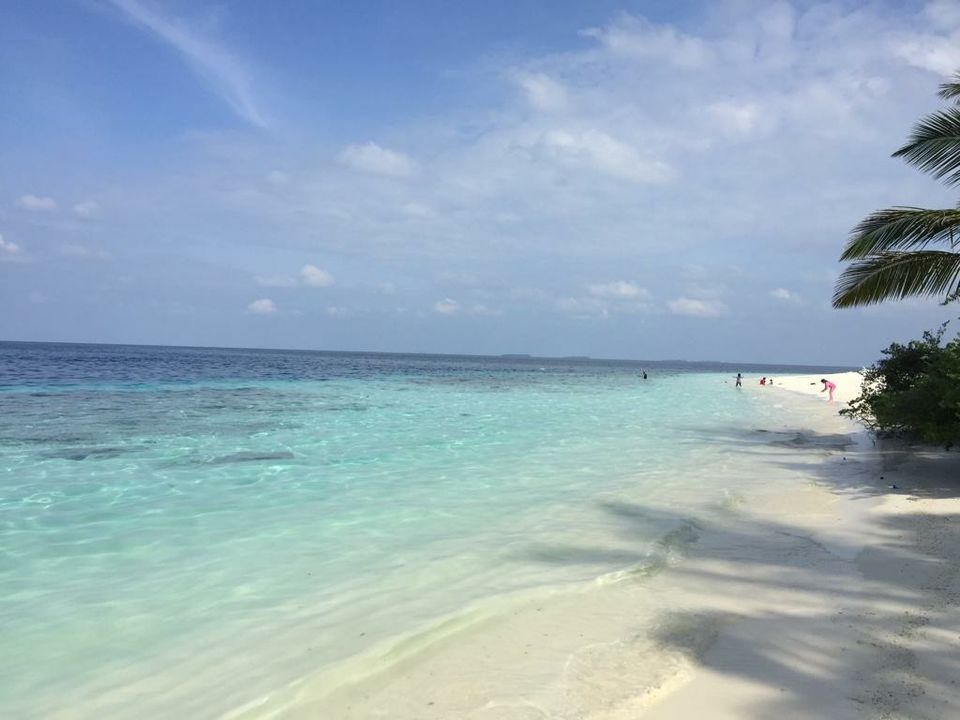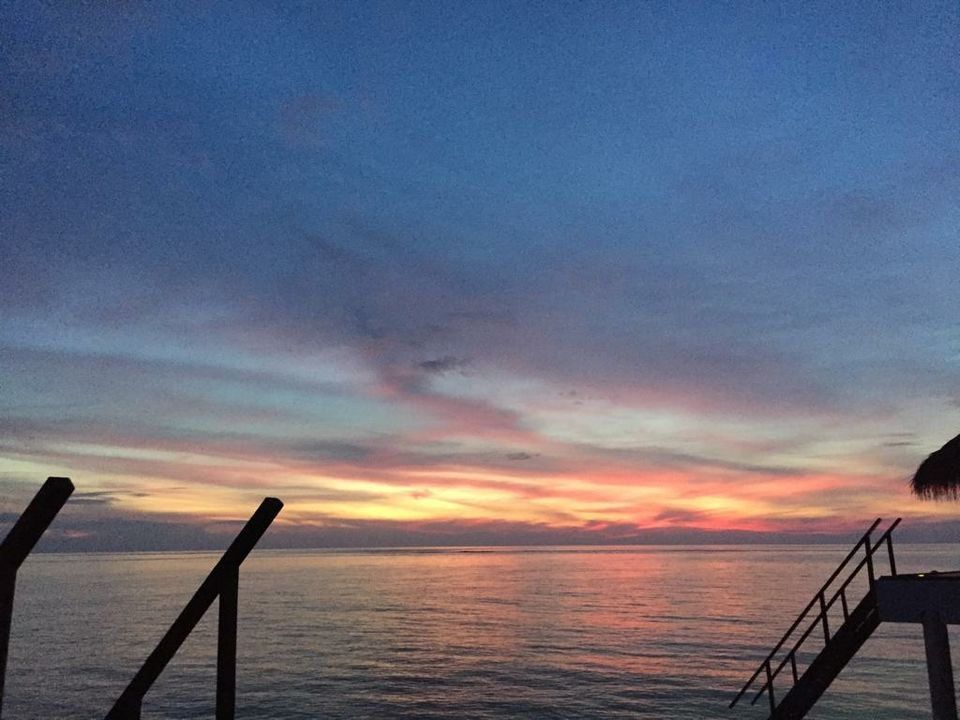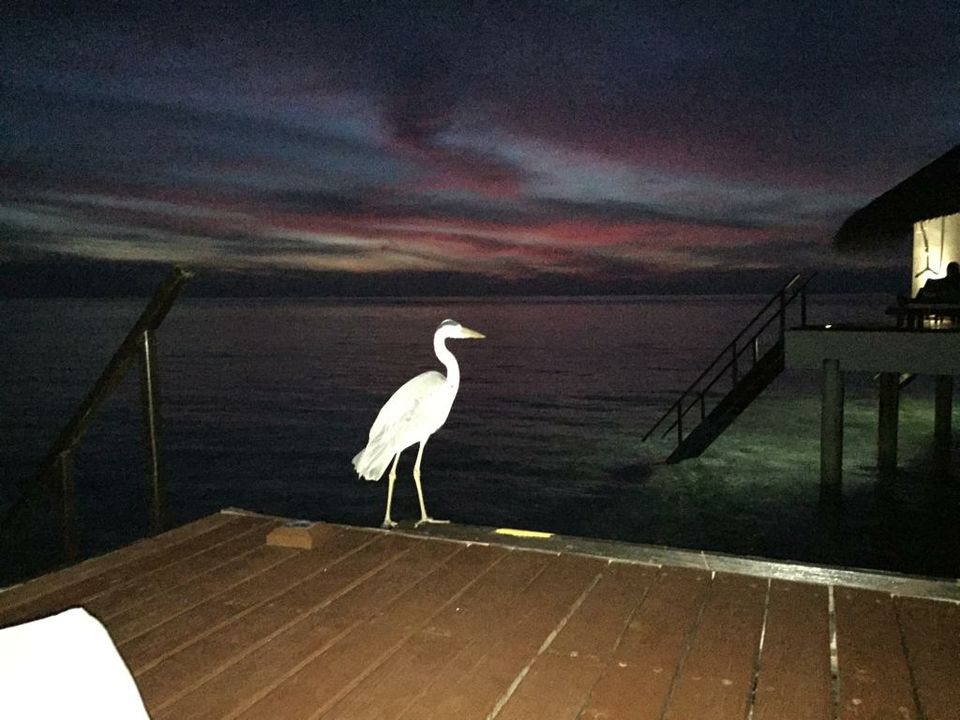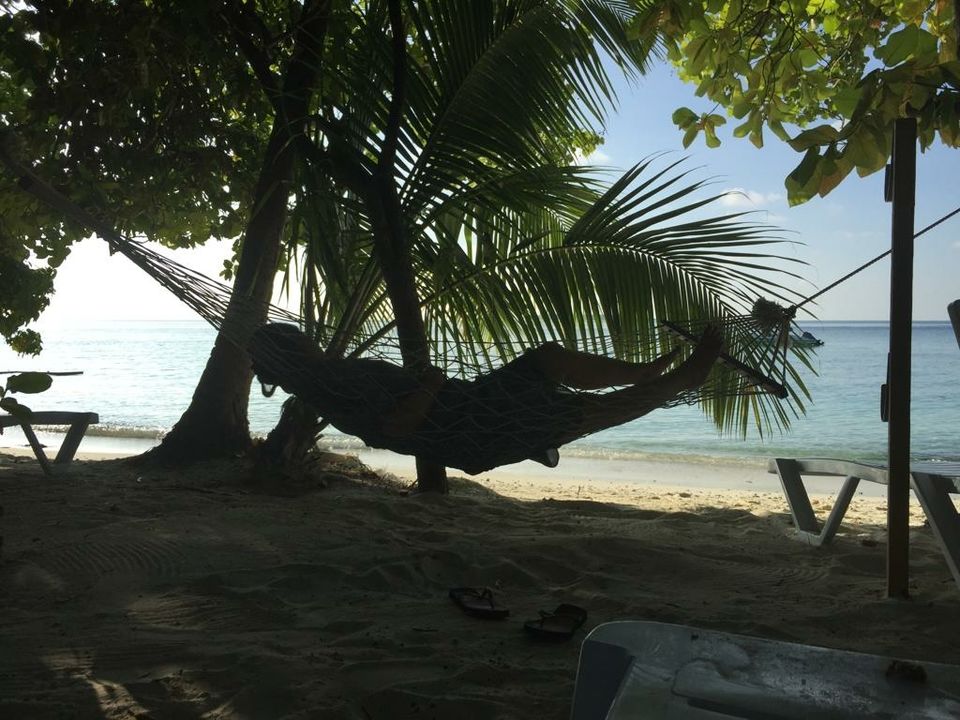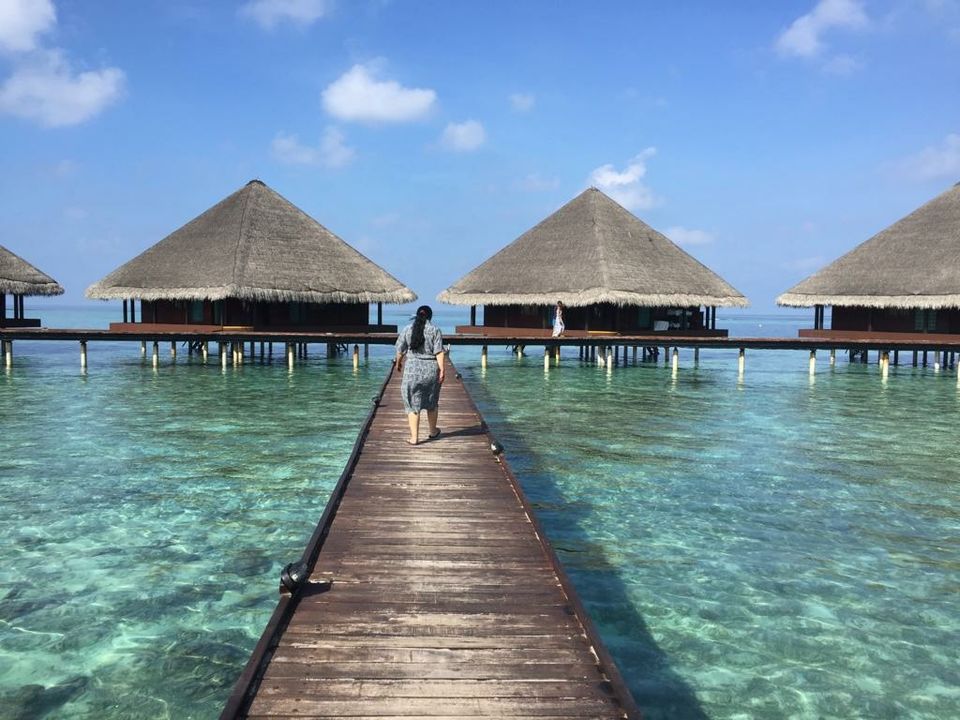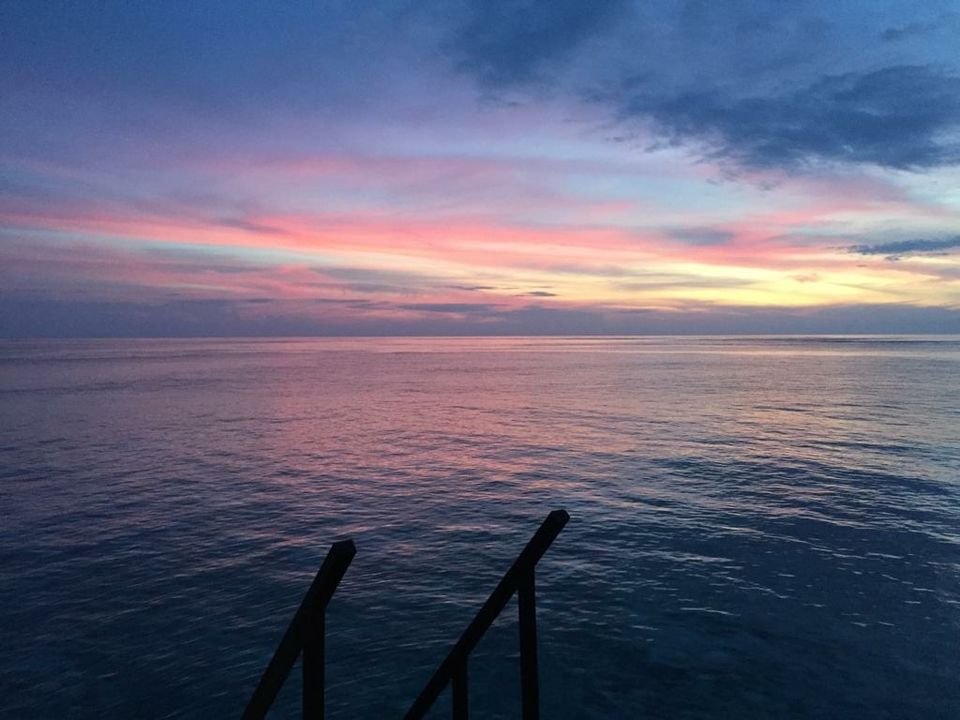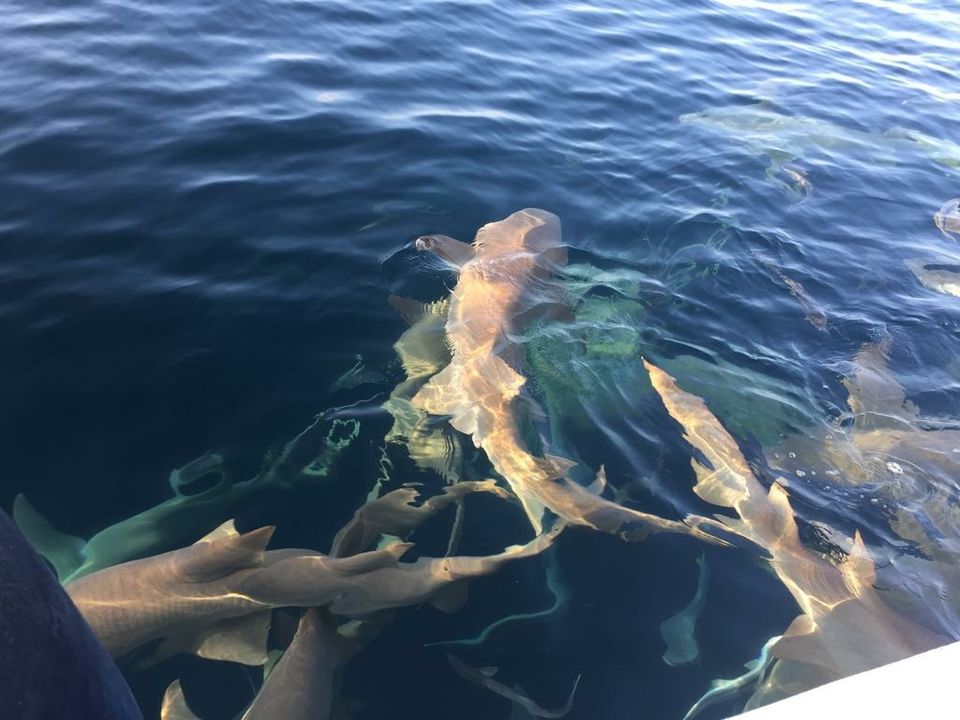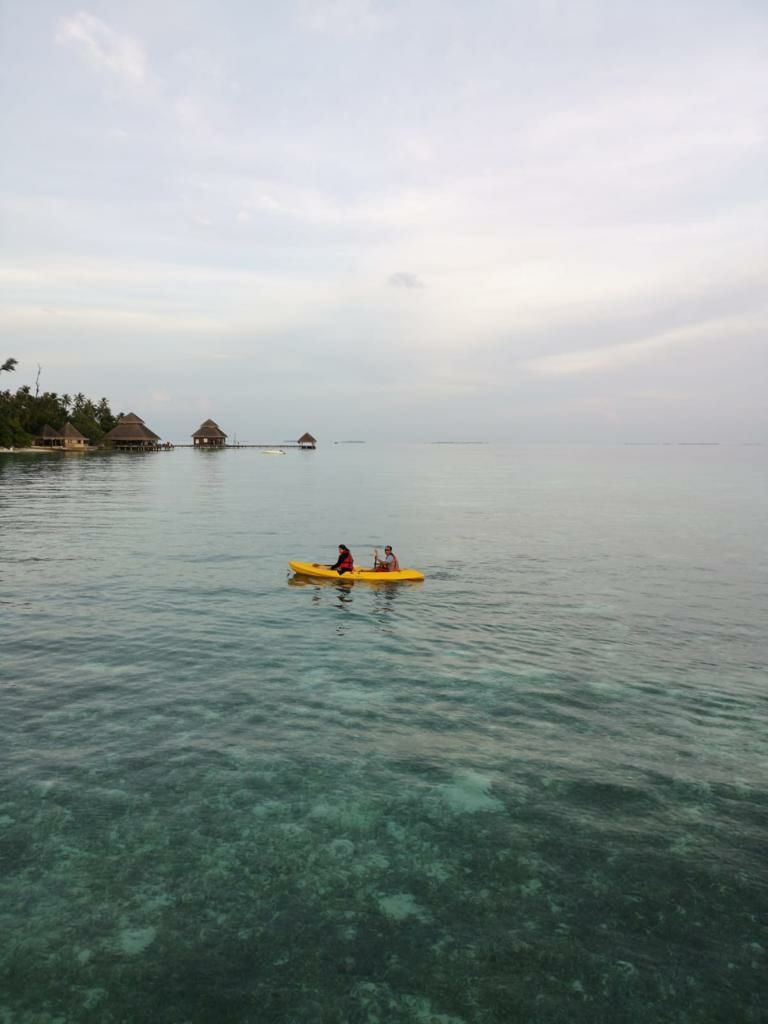 After sleeping till 8am we got ready and rushed for the breakfast. Enjoyed a hearty breakfast and came back to relax at the room as the weather was sunny outside. Post lunch we spent some time by the beach chilling and watching the crystal clear waters and then went for some spa and massage therapy. Evening we got back to our room to enjoy the pictureseque sunset from our sea deck. The sky was splashed with different colours from yellow to orange to red and pink. We enjoyed viewing the sky while sipping our coffee. We had a visitor who came to visit us ...the white heron looking for his dinner in the crystal green waters. It was our dinner time too. Post dinner we enjoyed some music at the bar and went for a good night sleep
Went for early morning shark excursion. Saw sharks and the organizers had arranged for their breakfast so witnessed how sharks grab their food. Had breakfast and we had to check out from water bungalow to beach bungalow. Beach bungalow had its own charm as it was located right opposite to the sea. You just hop skip and jump and there you are at the sea. There were hammock on which we spent hours listening to sea waves. Did water sports like canoeing and jet ski. Water sports are an expensive affair in Maldives though. In the evening I and my husband spent a romantic evening on the beach. It was dark. Everyone was busy at the bar. I and my husband went to the lonely beach and danced on to the music under the moon and stars lit sky. It was one night to remember in my life.
We had met a newly wed couple who were on their honeymoon. They were also from Mumbai. So we chatted and discussed lot of things. My husband did scuba diving while i relaxed at my room. Then we indulged in photography. We were given complementary wine bottle by the hotel. We spent an evening with our newly wed couple friends sipping on to wine and listening music. It was our last night there. With a heavy heart we slept.
Check out early morning...back to the old life.