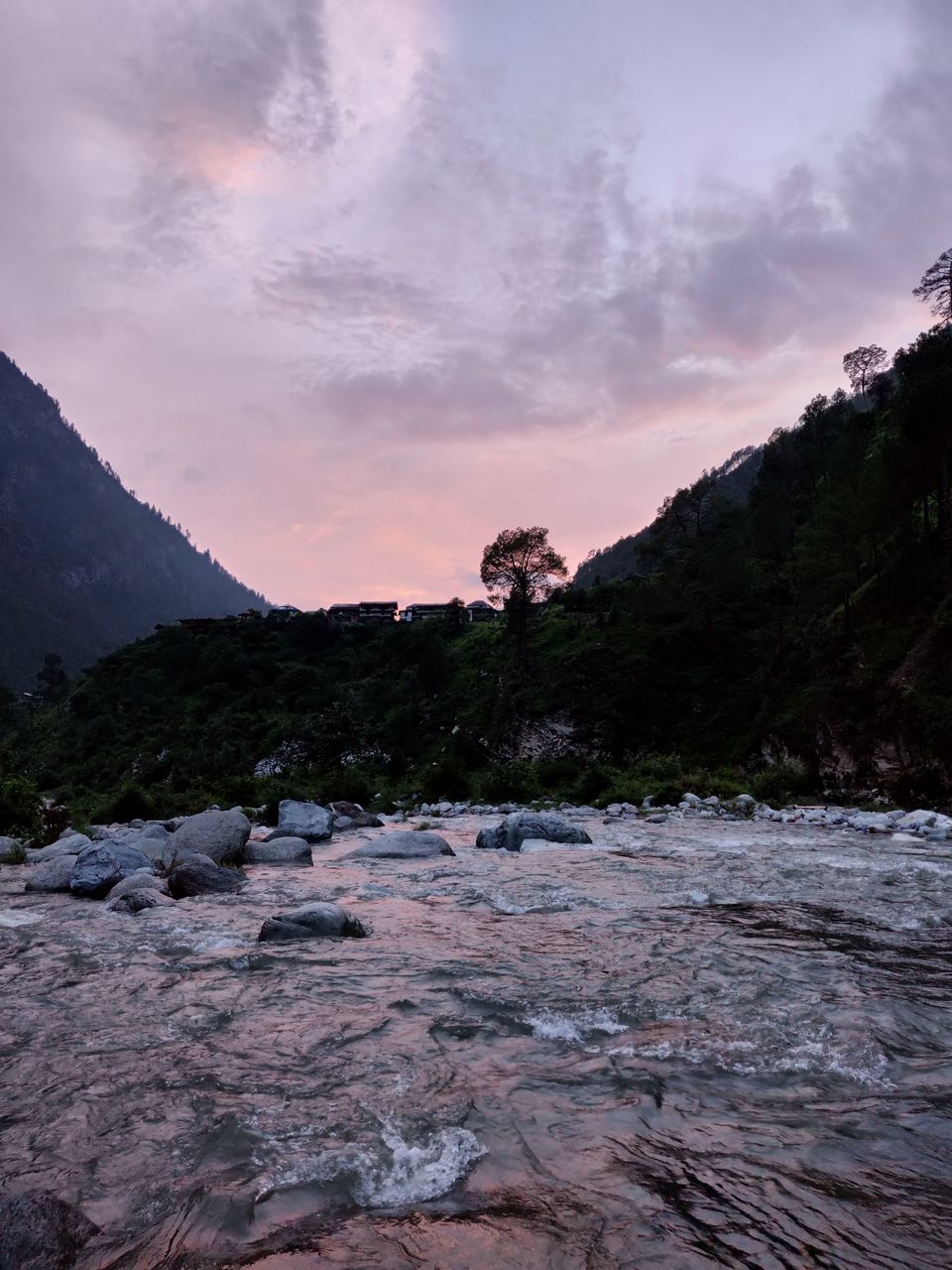 Himachal has always been amazing, and each trip here further consolidates the expectations for the next one- There is so much to explore!
My third trip to the Banjar valley gave me an altogether new experience, yet again- This time, as Tirthan!
We (me, along with 3 of my friends and my sibling) boarded the bus at ISBT Kashmiri Gate at 10PM. To our surprise, the bus was largely empty. This rarely happens when travelling by a Delhi-Manali bus on a weekend, but since July is the beginning of rainy season, probably people avoid travelling to hills. Nevertheless, since we were a group of 5 friends going on a 3-day trip, we were super excited for the journey. After halting at a place for dinner on way, we dozed off to wake up in the morning to the beautiful hills of Himachal. The quaint snap-worthy-unable to take off eyes-view just made the morning as perfect as possible. We had always wondered looking down the valley how classic would it be to live besides that freshly flowing water. Our wish was about to come true!
We got down at the Aut bus stand (65 Km. before Manali), where we had a cab waiting for us (I had been to Banjar valley twice before, hence had already called a driver and booked a ride for us beforehand). The rest of the distance took a little less than an hour to cover by car, and the scenic view was worth the ride. While one can take local buses across the way, since they are quite full most of the time, would not recommend the same. After all, we take trips for great experiences- Standing in buses lugging around bags can wait till we get back to the crowded locals and metros in our cities! ????
Descending the valley started making us feel more excited, and we were waiting to reach the home stay we had booked. We were quite expectant from the pictures of the place that we had seen while booking. And finally, we reached there to see that it didn't disappoint!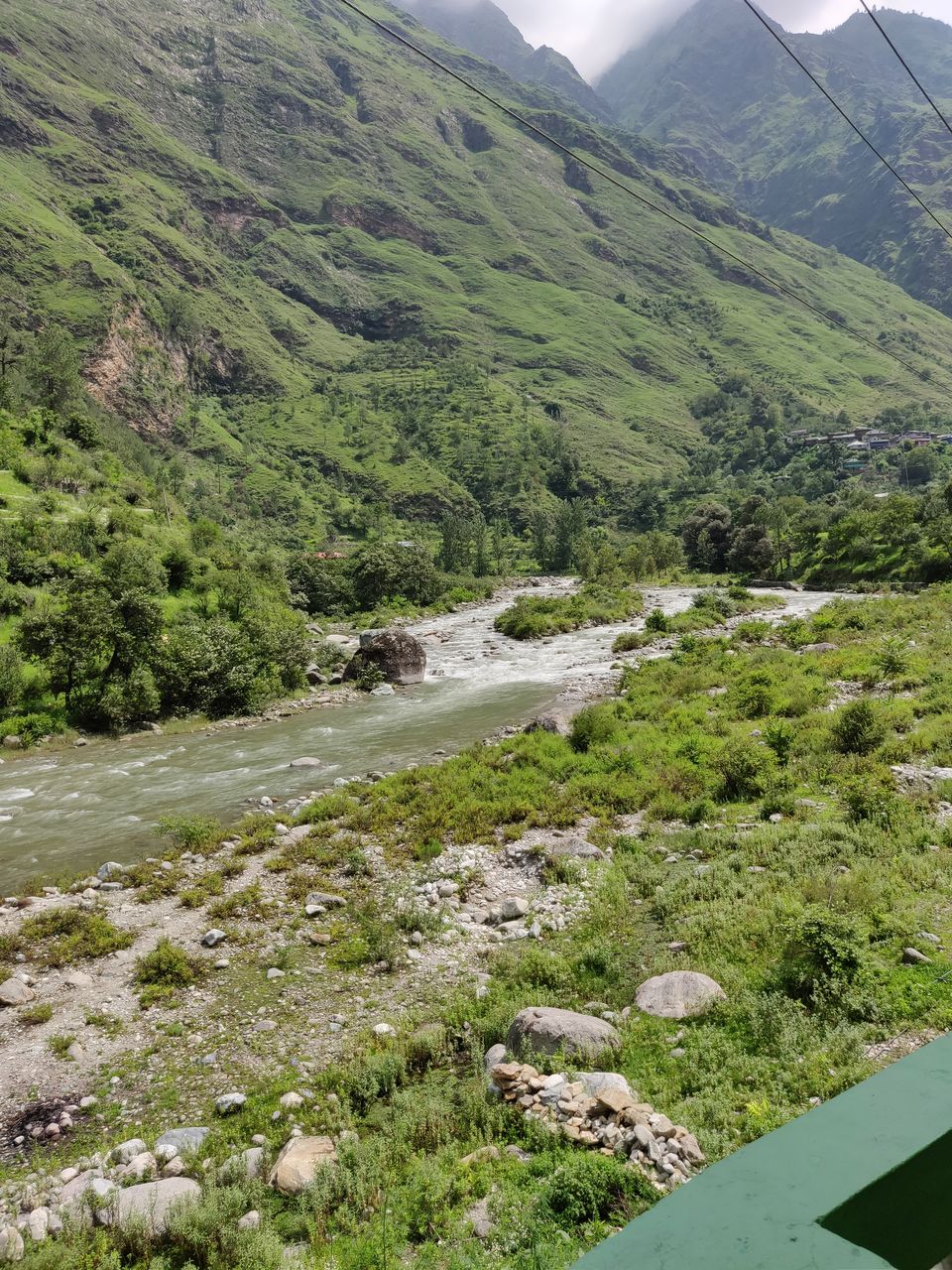 The very view before us made it feel we might not want to leave our rooms at all for the next 2 days. The gush sound of flowing white water and hitting the rocks, the green mountains surrounding us and the entire scenery was as picturesque as it could get. All that we had seen in pictures and more, with a serenity that cannot be captured in words or camera- You just have to be there and soak in the moment.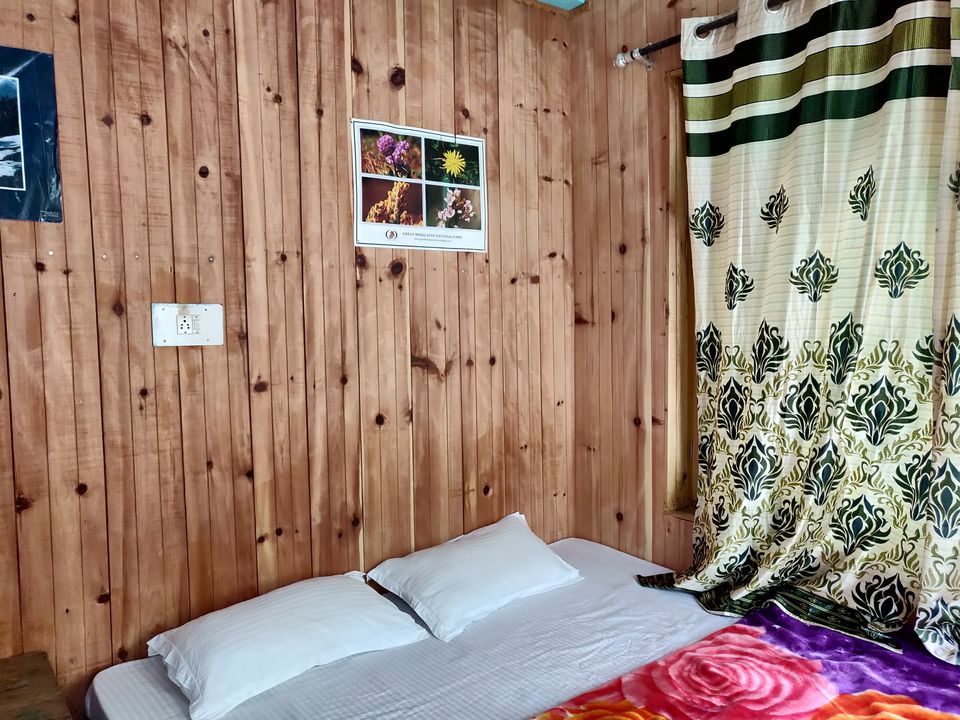 We had asked our care-takers in the homestay to prepare breakfast for us- Maggi, Omelette and Paranthas, along with some hot tea. Even before they could prepare the same, we kept our bags in the rooms and rushed to the waterfront like small kids. We spotted one stone each and sat on the same, throwing water on each other and enjoying the music of water around us.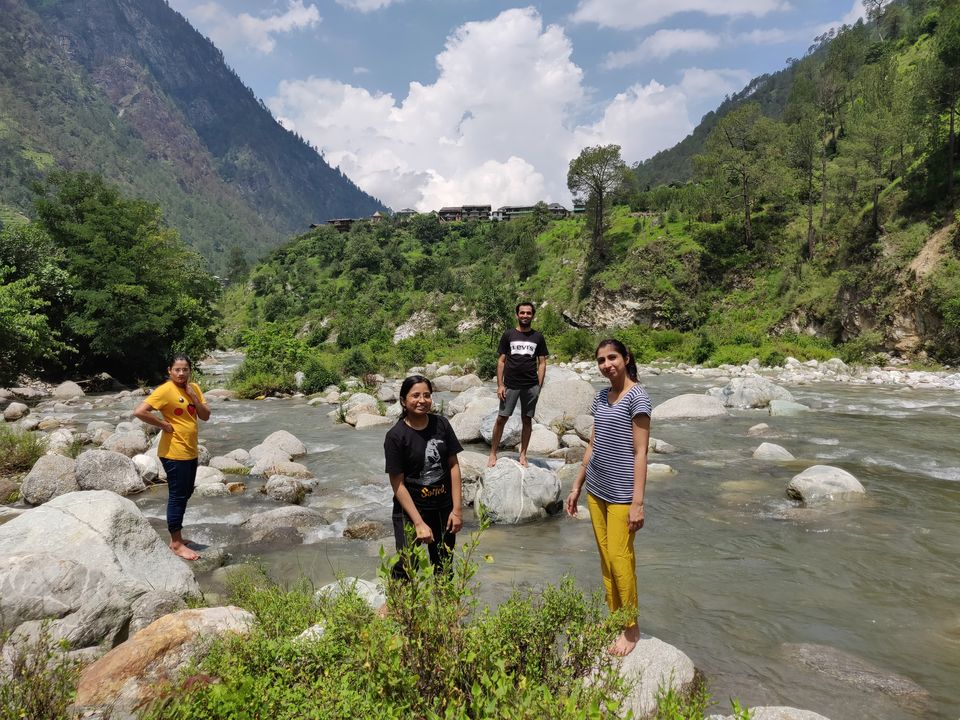 It was hard to hear when our care-taker called us once the breakfast was ready. Sitting on the balcony, looking at this perfect view, having Maggie and a hot cup of tea, it was a great start for our weekend getaway! We kept sitting for some time, freshened up and then again went to relax near the water. The blissful feeling when surrounded by fast flowing water and mountains, no phone in hand and nothing else to worry about in life- It all seemed surreal.
We relaxed this way till the evening, and then went back to our rooms and the balcony area. It started raining a little, with the size of drops being exactly what one wants to experience, without drenching completely. The descended clouds had engulfed the surrounded hills and made the entire atmosphere whimsical. To add to the ambience, we played soft Bollywood music on our speakers and hummed along till dinner. Dinner served was quite tasty, and we enjoyed the same followed by some games of Uno inside our rooms till we dozed off. Indisputably one of the best evenings we all had experienced!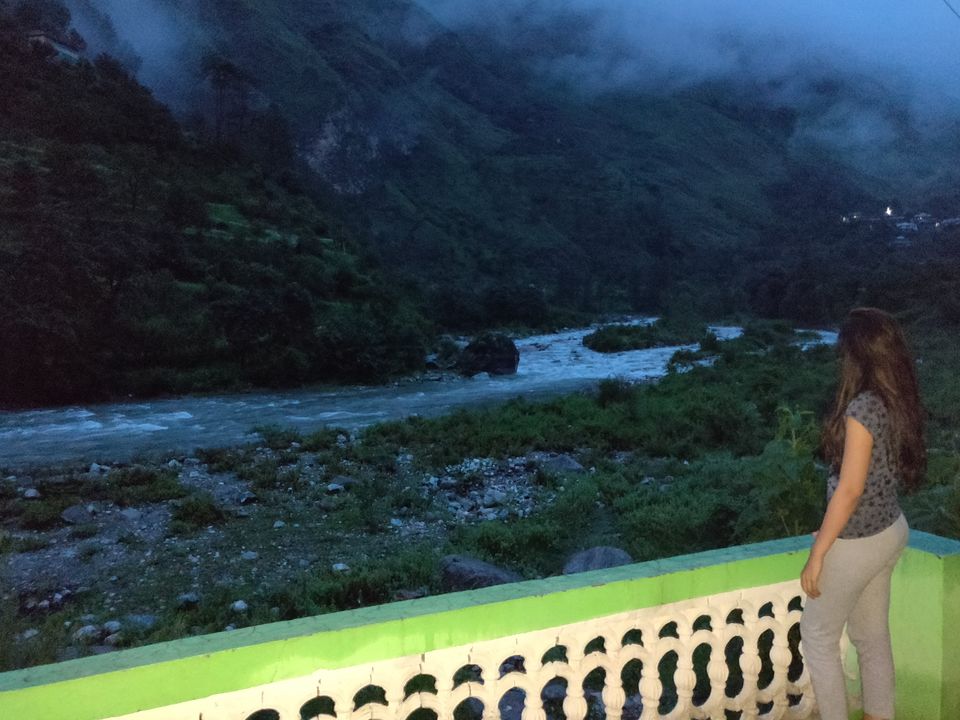 We had big plans for the next day after waking up. There is a waterfall in Tirthan, which has quite a strong flow of water and is highly recommended for visiting. After having our breakfast, we decided to go there, walking- It is a couple of Kms up-hill through a trekkable route, and we were glad we climbed up the entire way. We asked our care-taker to send a local person with us so we do not get lost, and the guy was quite helpful guiding us. The way up was interesting. Apart from clicking pictures all along the way, we came across few very old wooden cottages and houses, interestingly all abandoned.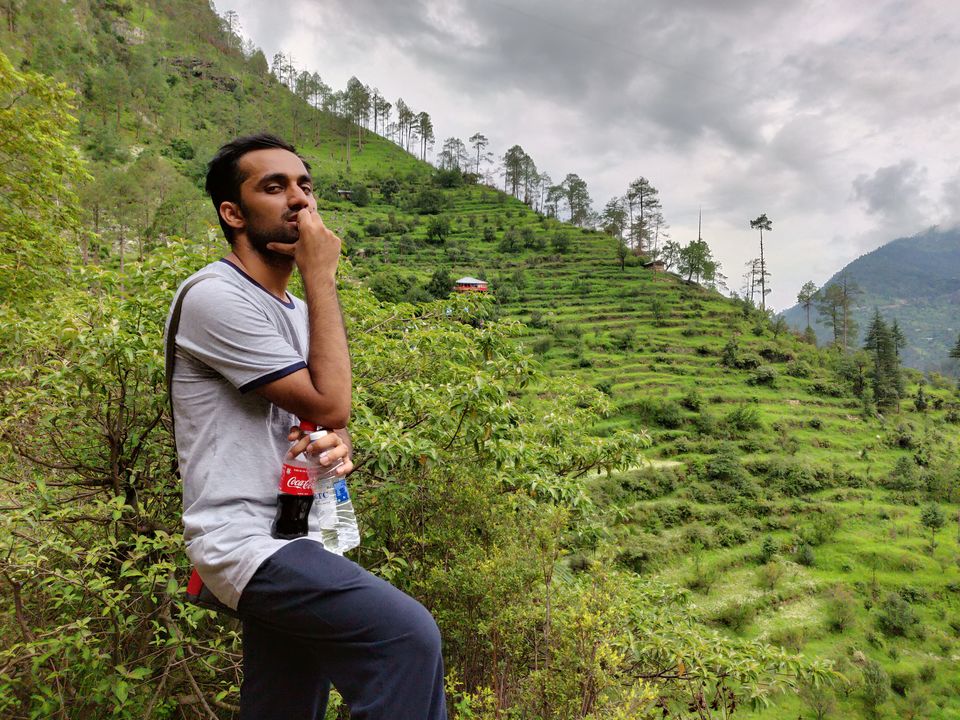 Upon reaching the waterfall, our hearts skipped a bit looking at the beautiful view. Instantly, looking at the water, me and one of my friends had a thought- "We should totally take a bath again, here!". It made perfect sense, just one problem- The flow was tremendous. We couldn't possibly go beneath the falling water directly, else we would have been thrown to rocks by the speed of water. We decided to reach as near to the centre point as possible. 4 of us slowly advanced, getting drenched even before we reached any close to the 'spot' where water was hitting the ground. We held each other's hands quite fastidiously, and almost reached the 'exact below' of waterfall. The pressure of water was enormous, but it was so worth it. We were all sitting below the waterfall enjoying the view and sound of it, till we realised it was time to go else we will catch cold.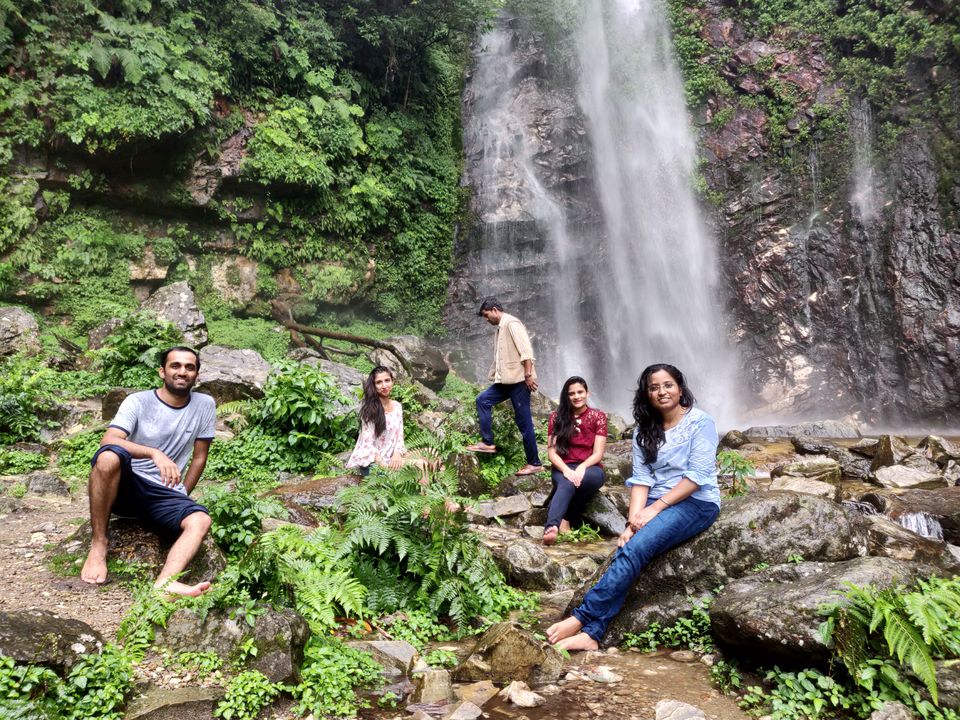 We could not dry ourselves up since we hadn't bought any towels, and therefore advanced downhill to reach home ASAP. While we were about to reach our rooms, we stumbled upon a bridge connecting two sides of the river- The kind of which they show in movies. Suddenly, all the girls in our group got reminded of all the amazing posed pictures they could have on the magnanimous prop they had found- hence began the photo session, lasting around half an hour. The bridge was, actually, quite amazing. It was so pacifying to stand on top and see water flowing with such speed, vertically below.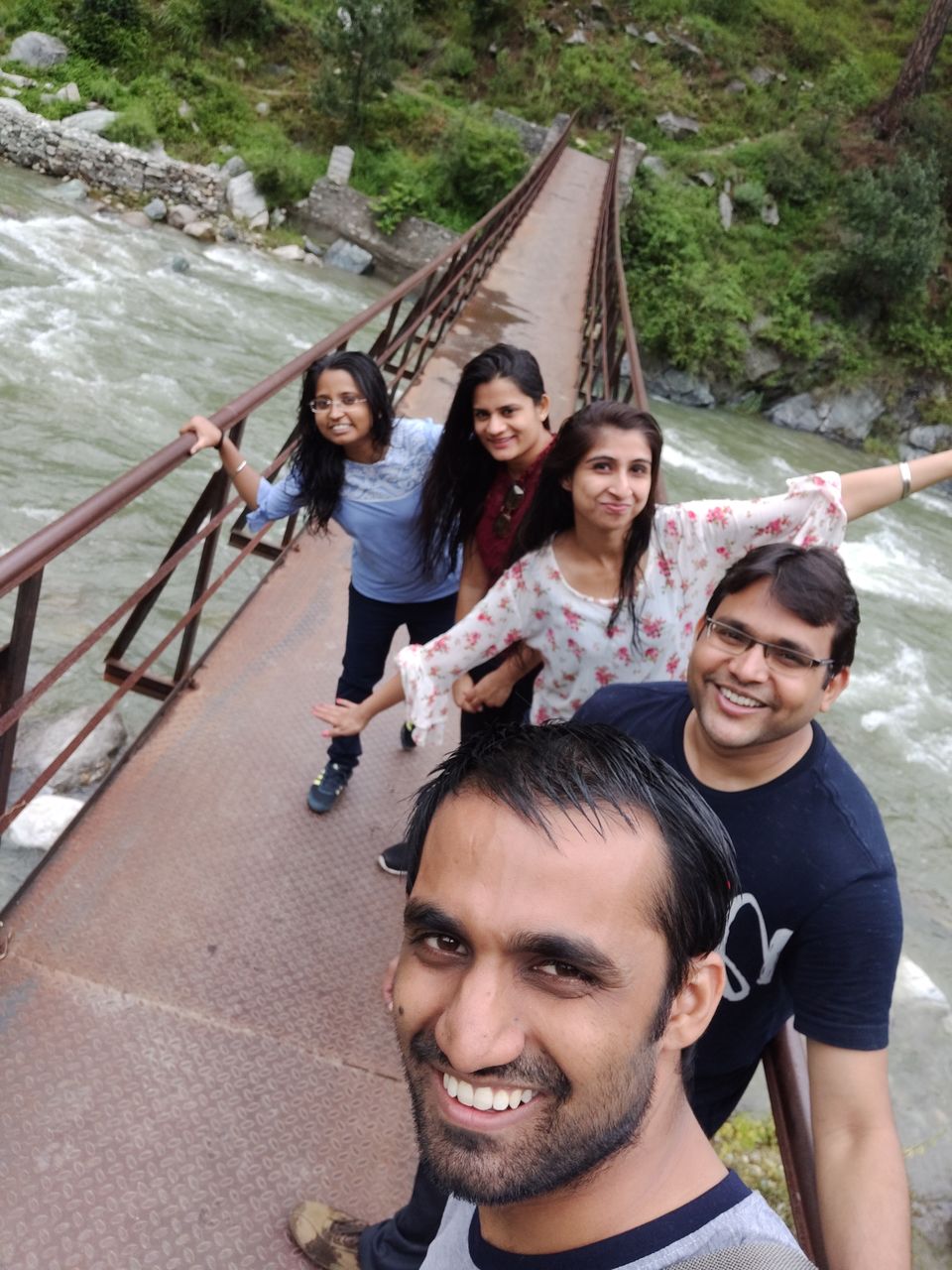 We then advanced towards our homestay, changed, had some tea, picked up some snacks from a nearby shop and began walking. We always see those drop-dead-gorgeous, empty, hilly roads with greenery around, on which people on vacation walk and enjoy the scenes by gazing in the sky, like the ones we see on TV. It was exactly the same, and here's a proof-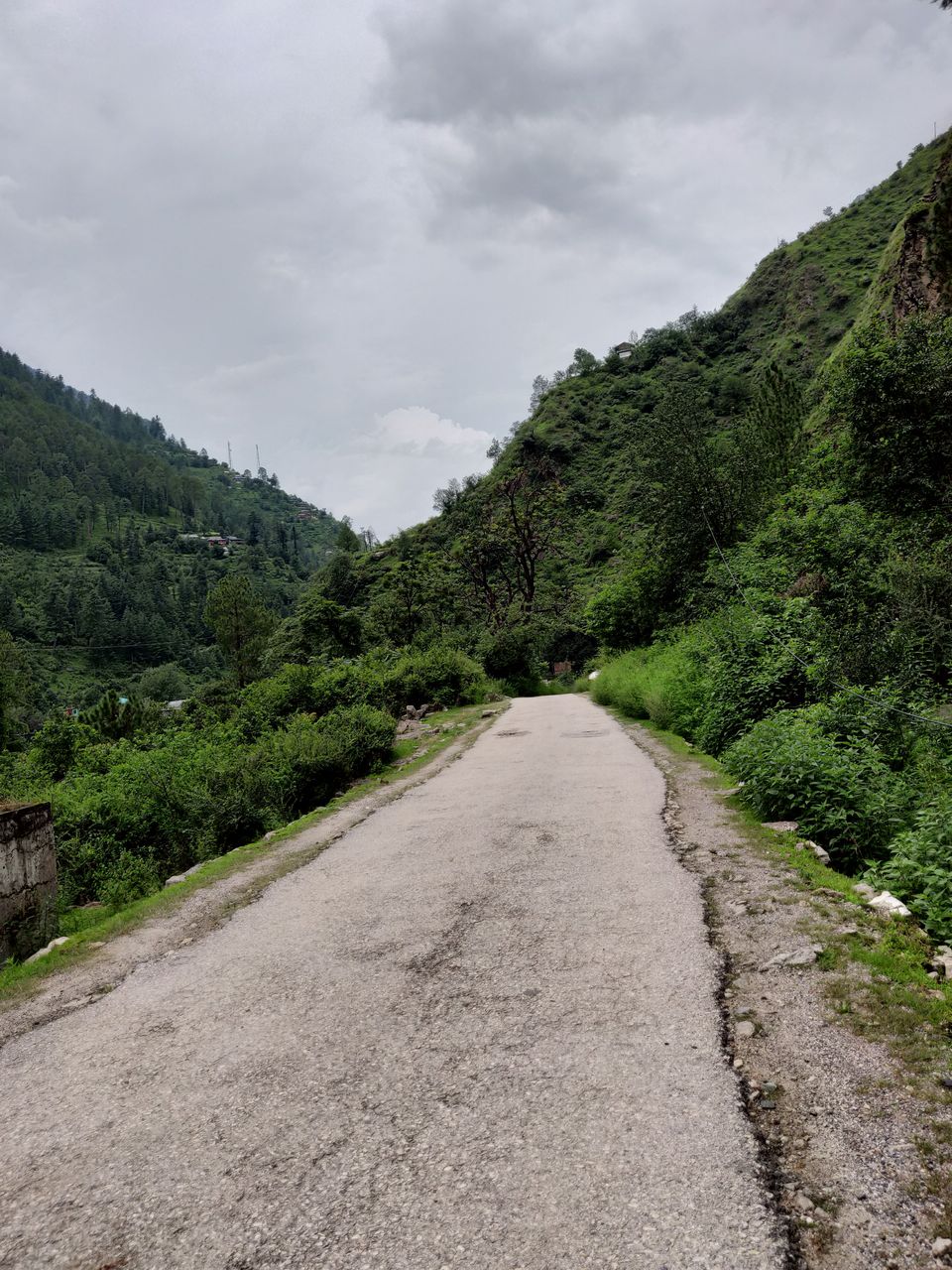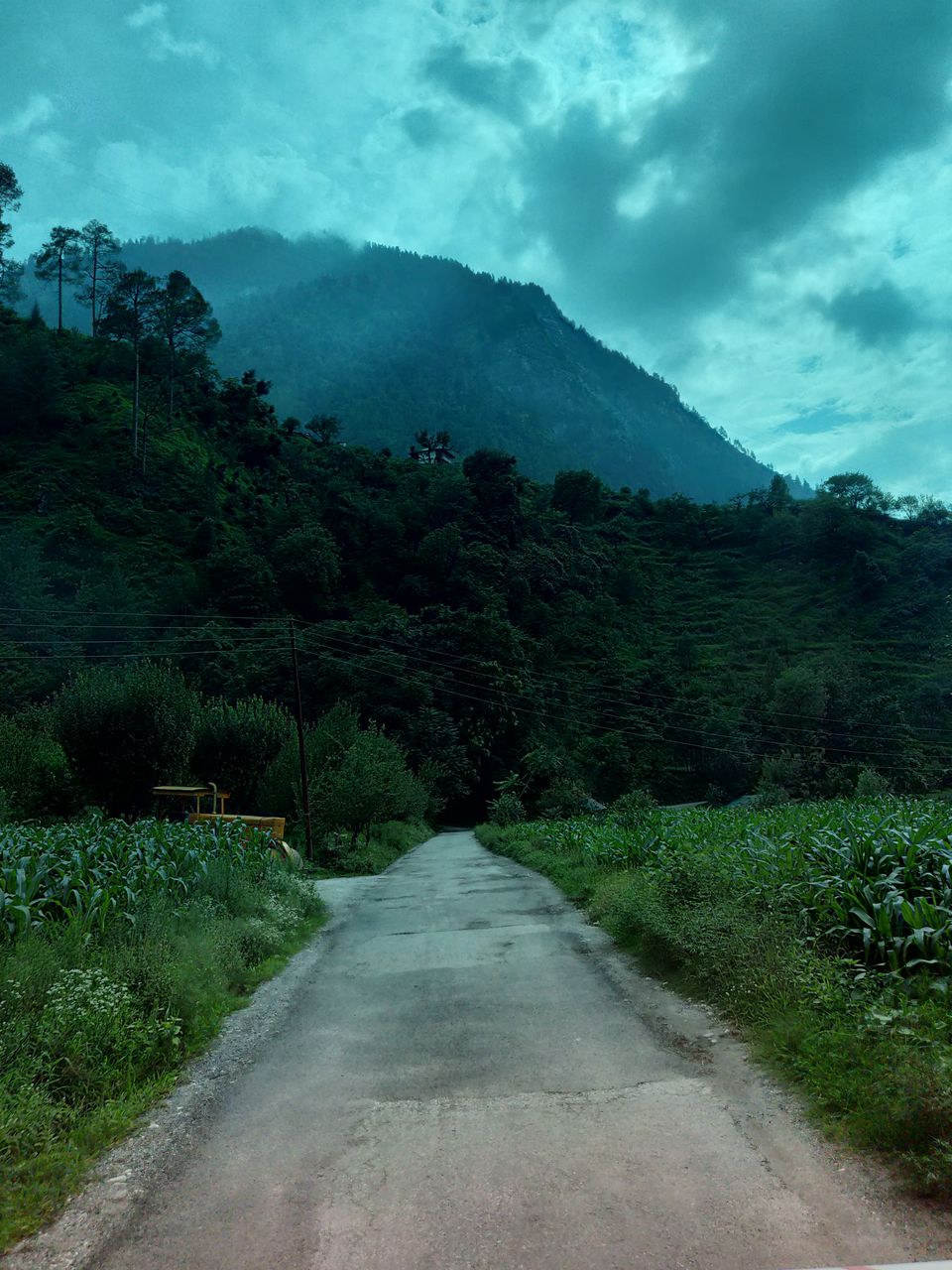 We just kept walking, passing through some of the best landmarks - Apple trees, small and cute hilly houses which we always think of living in, a small and pretty temple- and of course, the narrow, greenery surrounded, seemingly ending in infinity- road. We clicked quite a lot of snaps on our way. Also, notably, we saw some outstandingly furnished hotels on our way, which appeared quite high end but surely quite worth the bucks spent. (There were some private pools and gardens in a couple of them).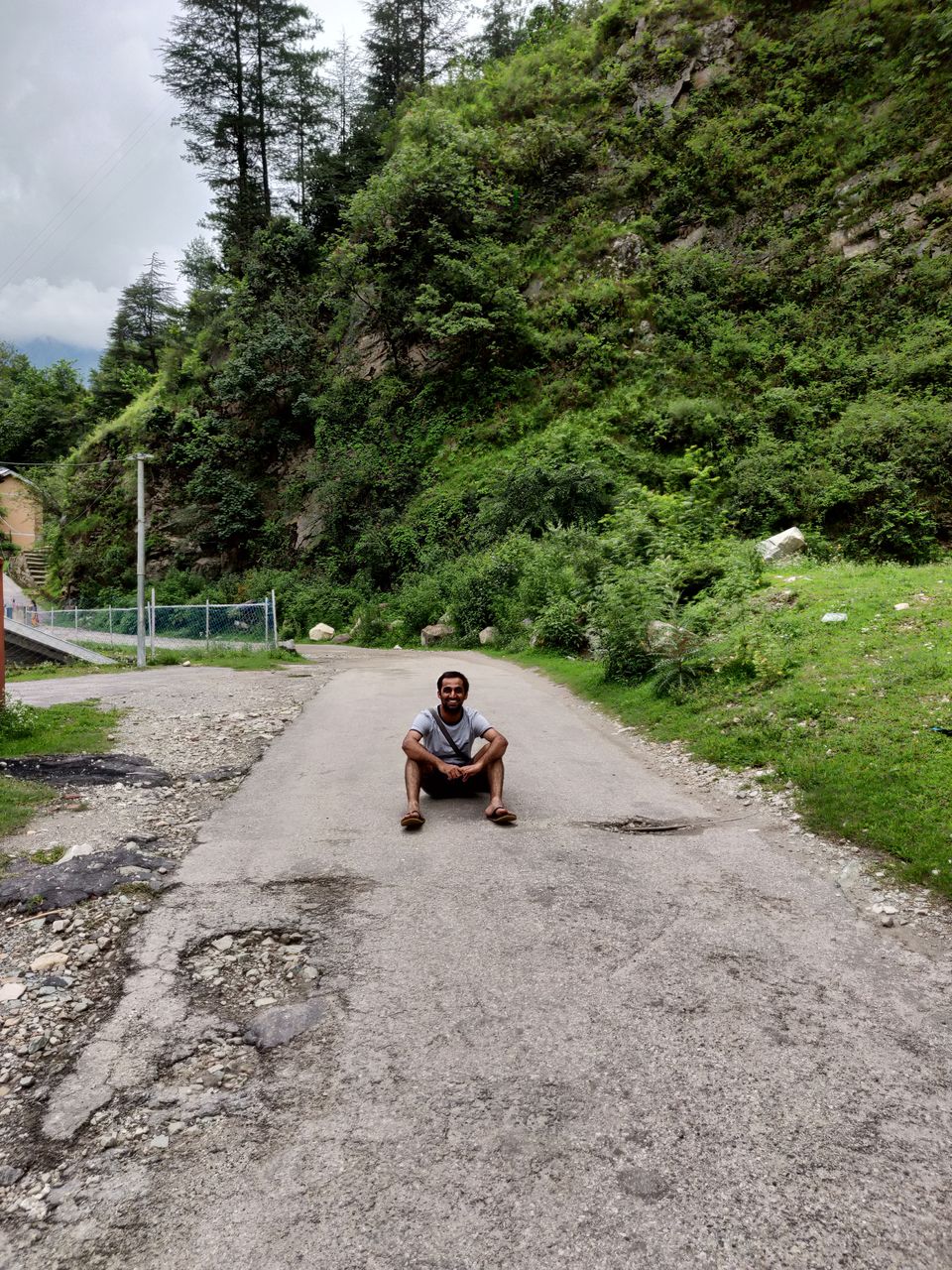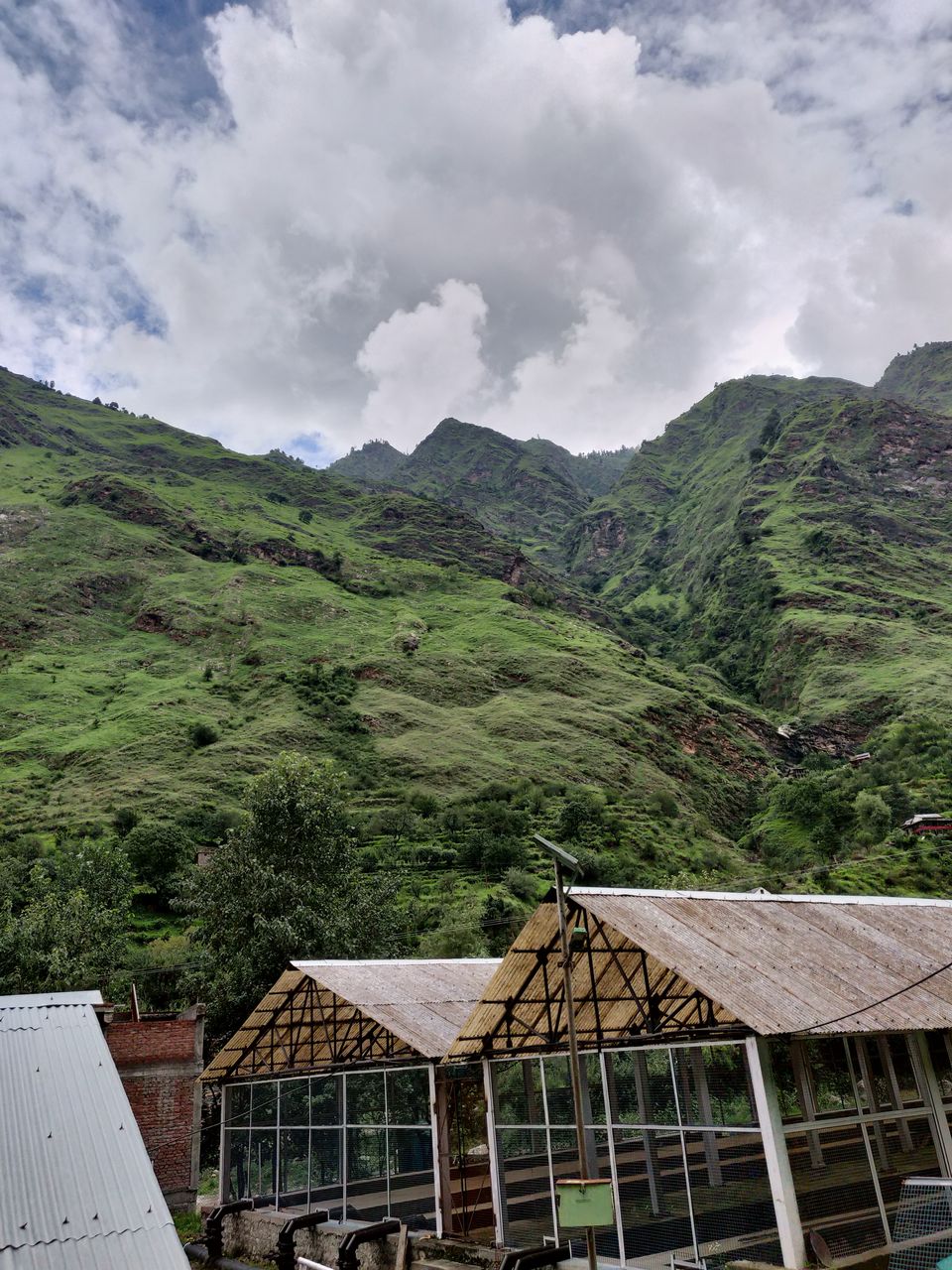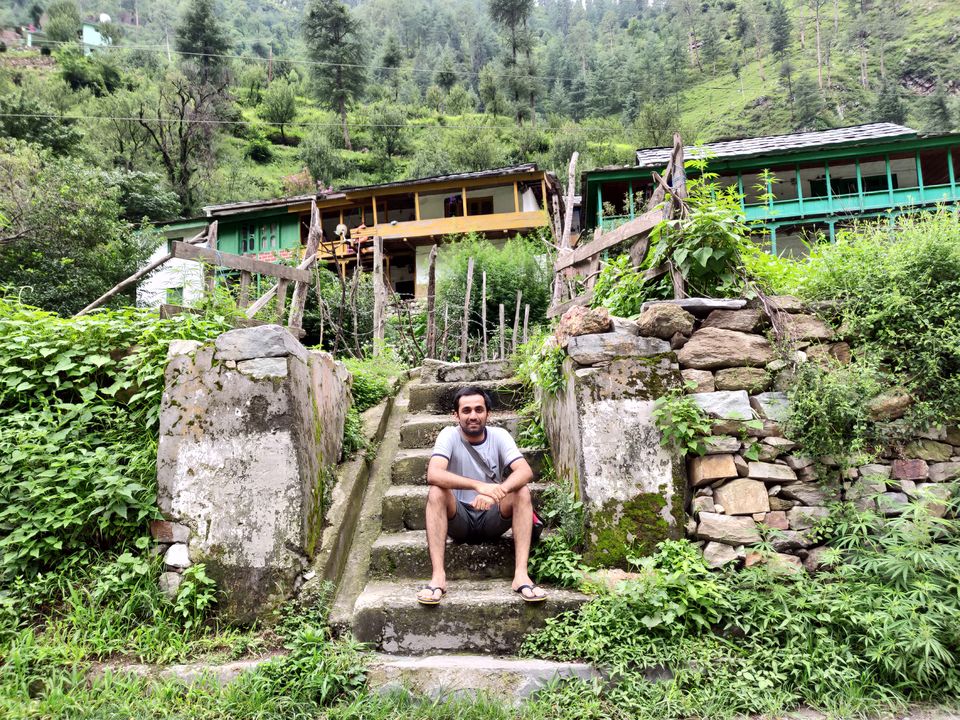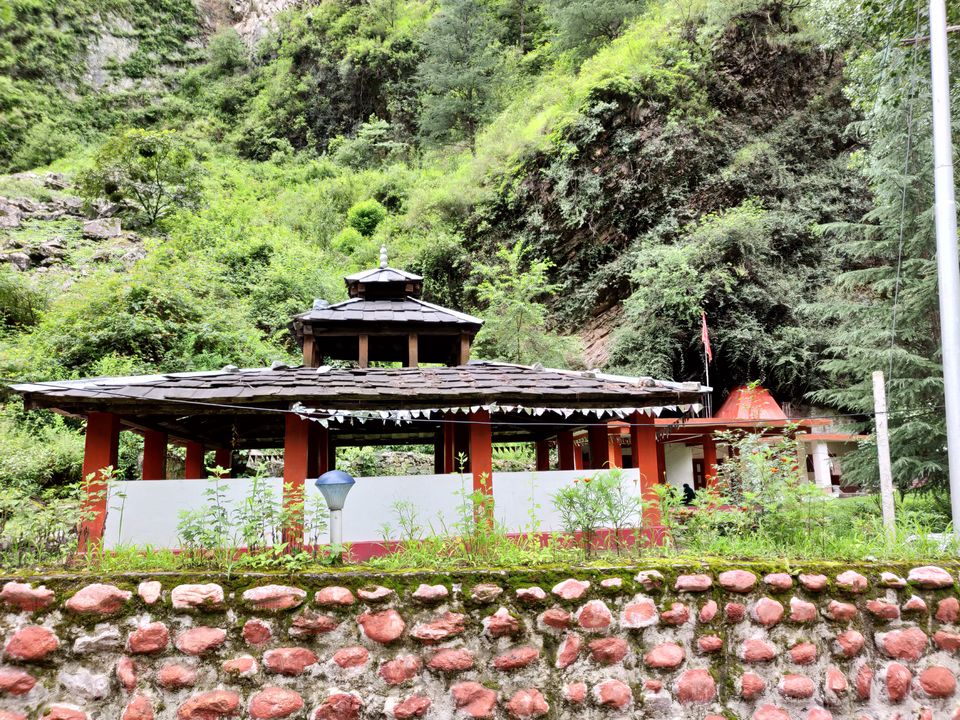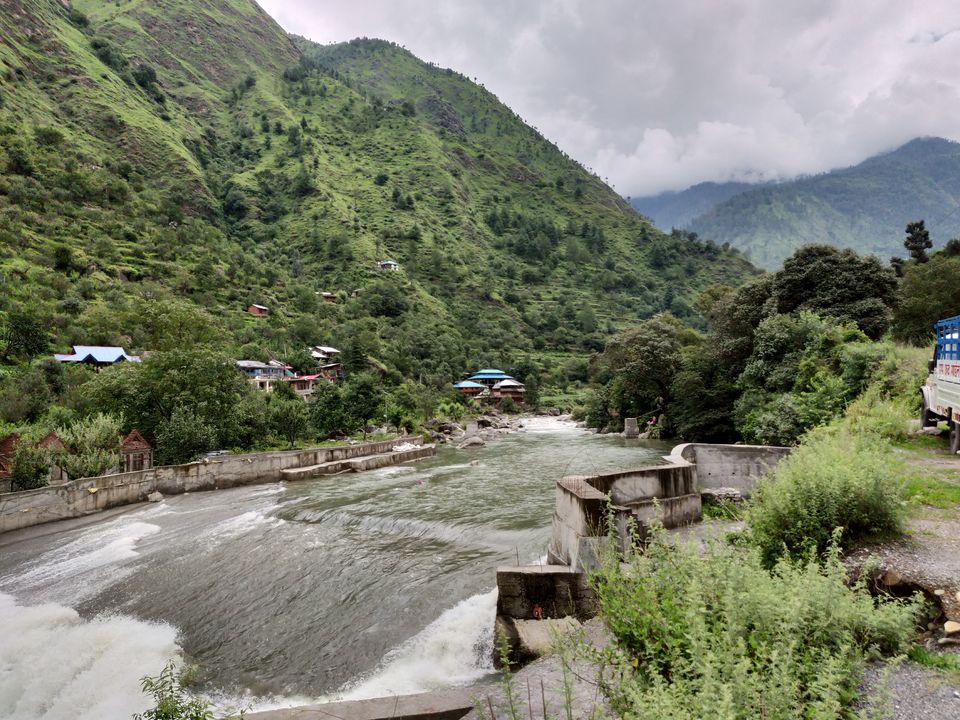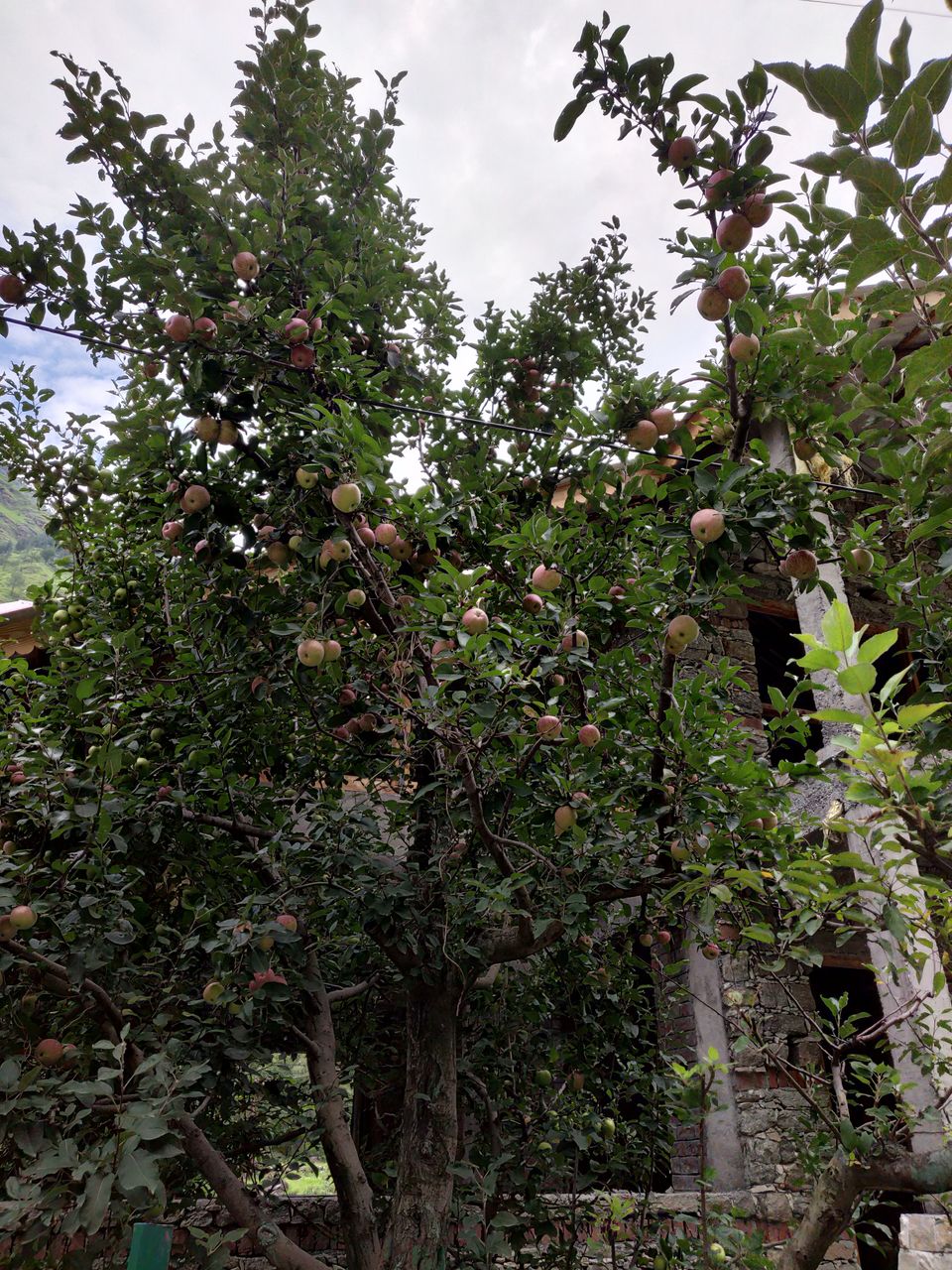 We kept walking and didn't realise we had reached Gushaini, which was 2 kms from where we had started. We managed to find a very small restaurant in Gushaini, and ordered some of the regular stuff along with a local dish called 'Himachali Siddu'. Since the restaurant was a bit shady inside, the owner himself suggested us to have a seat on their terrace, which was totally empty. While the wait was quite long, food was not worth it. We compromised on it by filling our bellies, enough to gain energy to get back to Tirthan. The only consolation price was cute kids playing on the roof, who we chatted for some time before getting ready to leave.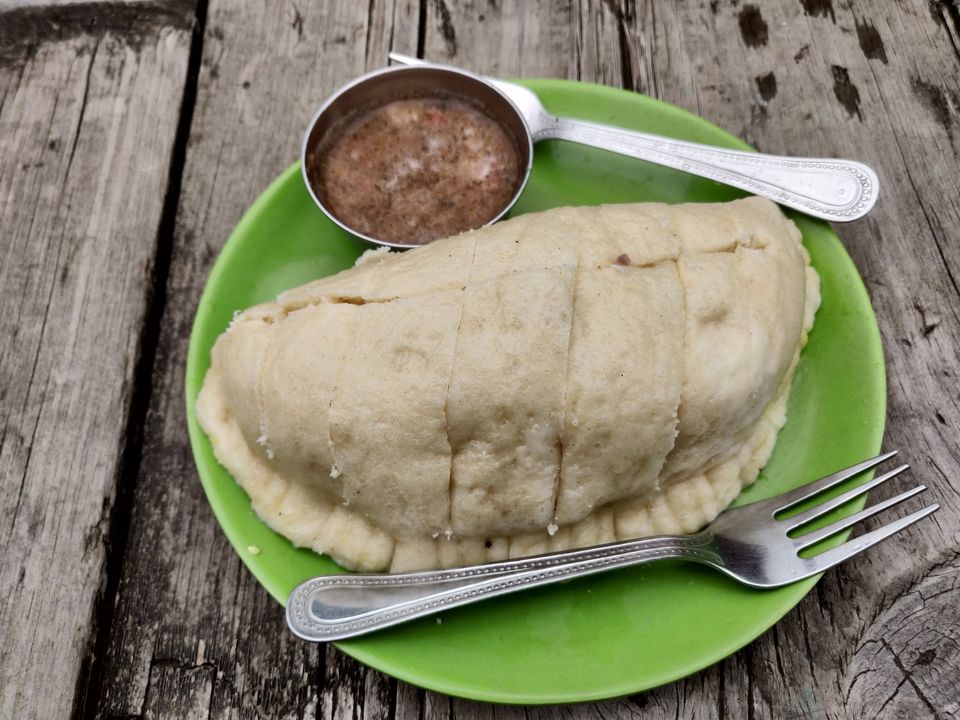 The walk back home was quicker, even though the view helped a lot. Surprisingly (even though not preferably), we had cell reception almost everywhere. We returned to our place before sunset, and had our late lunch in the dining area of the home stay. An interesting item in the food was the presentation of salad, which we believed was worth taking a picture of (as below).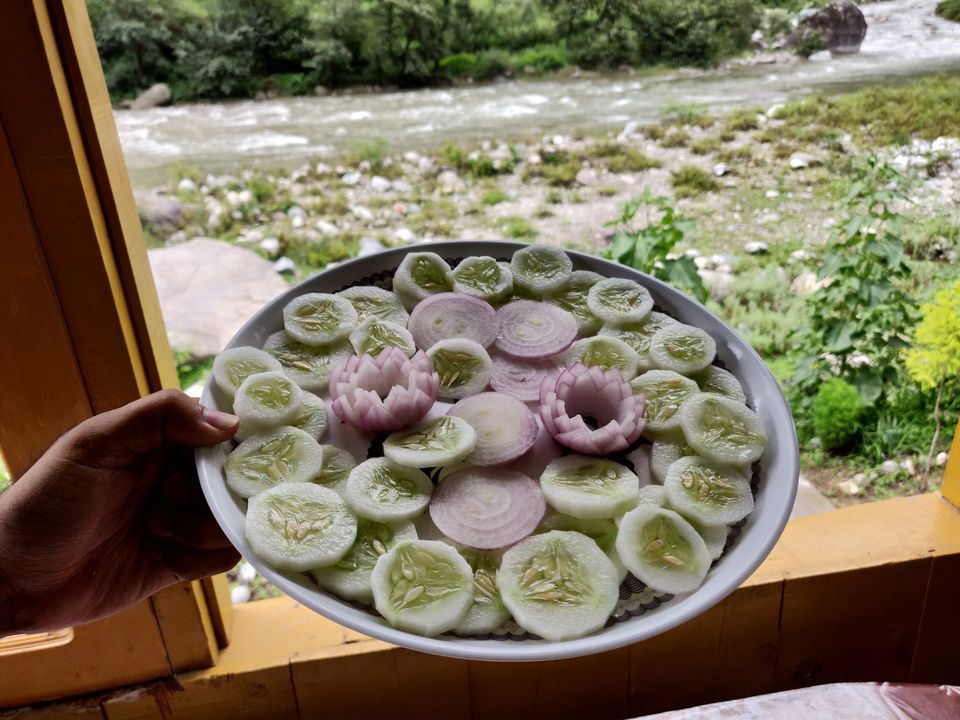 And then, there it was. One of the best sunsets any of us had ever seen. While everyone around me was busy clicking pictures, I tried soaking in the moment in as much as possible. The river stream was quite broad, with a hill on the opposite side. We had a small pebble throwing competition among ourselves, which lasted for around half an hour till we realised that one of us was a clear winner. Post this, I, along with one of my friends, decided to cross and stream and reach the hill on the other side. Since the water flow was very fast, we were recommended not to do so. Nevertheless, we tried hopping some stones and reached more than half the way, before realising there was one particular distance which might be dangerous and we should not go ahead with. Hence, we returned to our side and sat there for a while, before it became dark.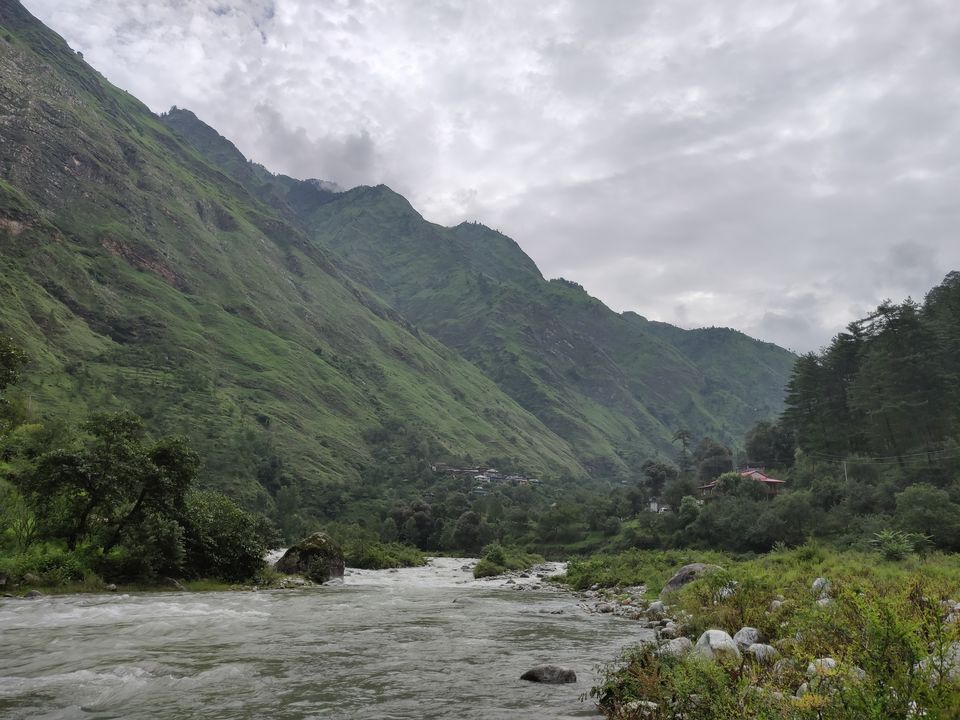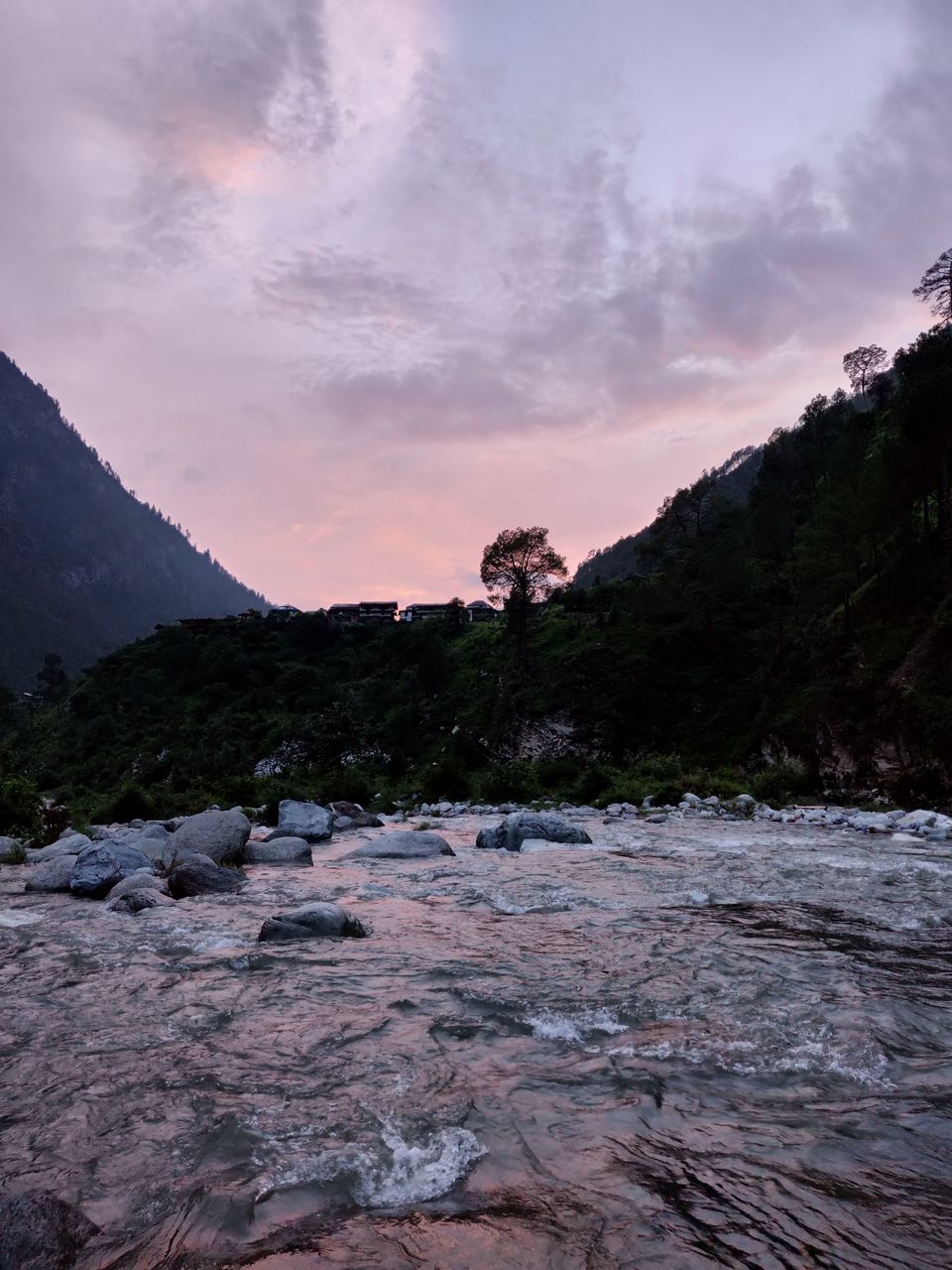 We then had our dinner, sat around and chatted for few hours and reluctantly went to sleep 2 hours post-midnight. It was hell of a day!
The next day was mostly spent in packing and signing off from the place, which none of us wanted to do. But we did check out, clicked some customary final photographs and sat in the car to return to Aut. We had a bus back to Delhi in the evening at 5, hence started a good 3 hours before in order to keep some buffer and not be late. That's recommended, since sometimes unforeseen delays may happen in hilly roads due to congestion at any point. We boarded the bus, all quite sleepy, and the journey came to an end when we reached Delhi the next morning.
Tirthan gave us some of the best memories- as a secluded, less-touched, calm and dreamy place which we had only came across in books or movies before visiting it. Hope to go back again someday, and find it equally amazing, if not more!