In the past couple of years, Himachal has become a popular weekend getaway for most people living in the north side. So, you will find the Himachal cities crowded during the weekends which has, frankly, reduced the charm of this place.
Every week, there are so many people visiting Shimla, Kasol, etc. that now it feels more like a normal town than an exotic hill station. But there are a few places where you can still enjoy the nature without worrying about crowds or commercialism. And one such place is Tirthan Valley.
The best part about Tirthan Valley is that they promote eco-tourism. In fact, all the locals here are quite aware or the tourism opportunity but opt for a better approach in order to save their valley being turned into another Kasol or Shimla.
So, if you are someone who would like a pristine and untouched place to visit and is a responsible traveler then you can head to Tirthan Valley. And one of the best places here for a completely amazing experience is the Sunshine Himalayan Cottage.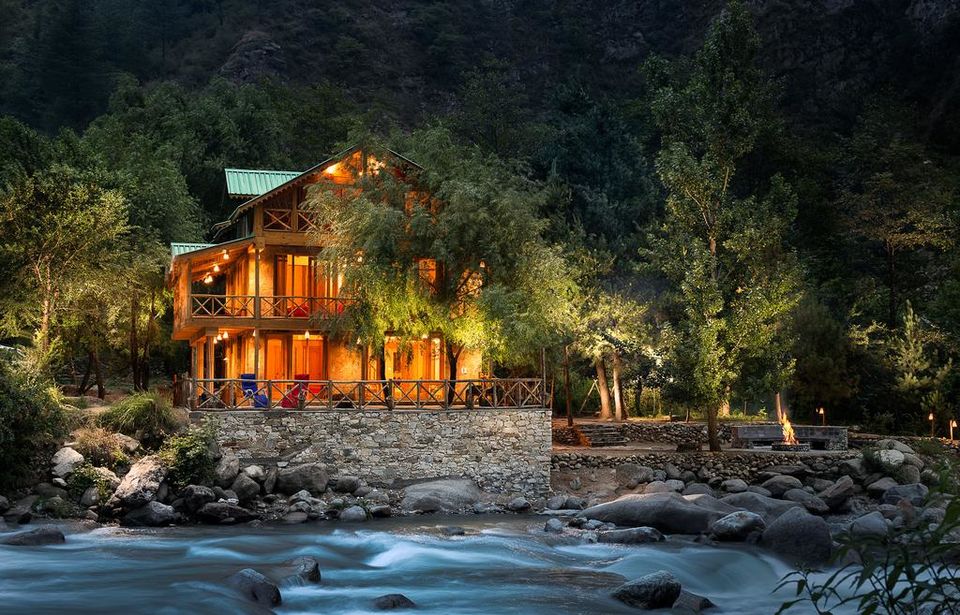 Sunshine Himalayan Cottage is a homestay located in Gushaini village, just beside the Tirthan River and is the best way to experience Himachali culture.
So, you can relax by dipping your legs in the river pools and admire the surrounding mountains. And if you are adventurous then you can go off on a short hike to a nearby waterfall or village and learn more about this beautiful valley.
About The Property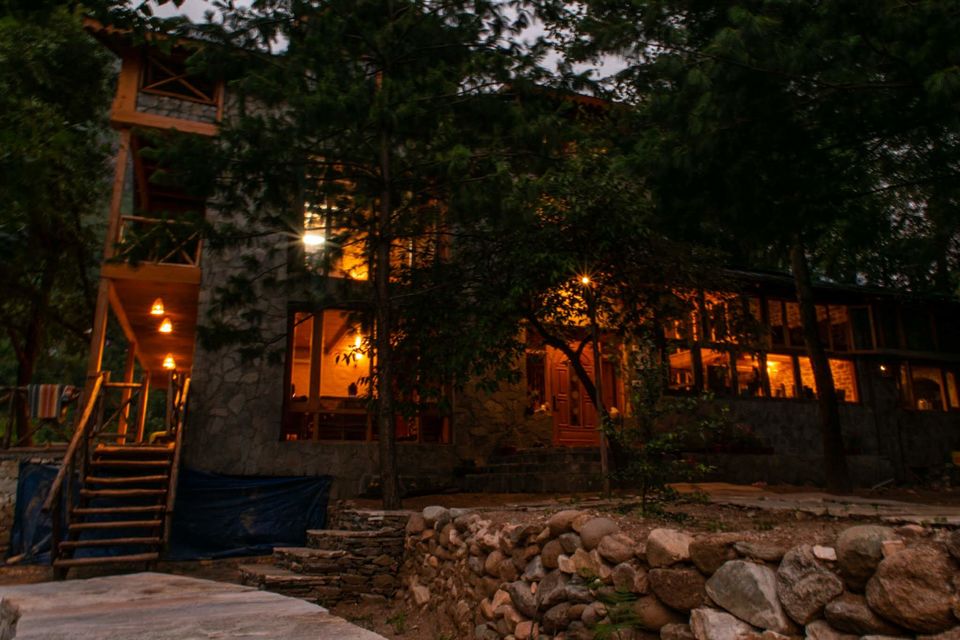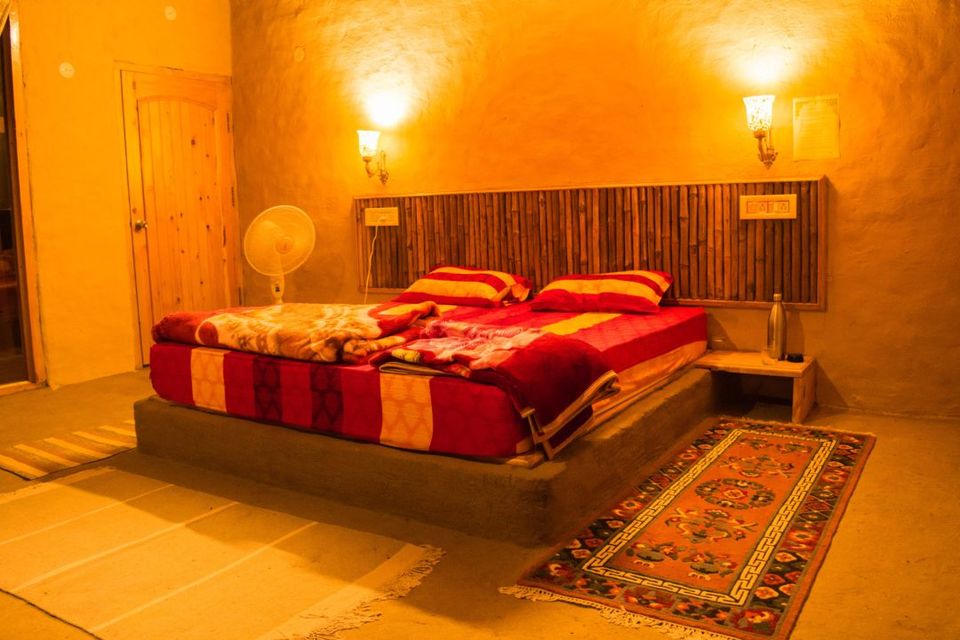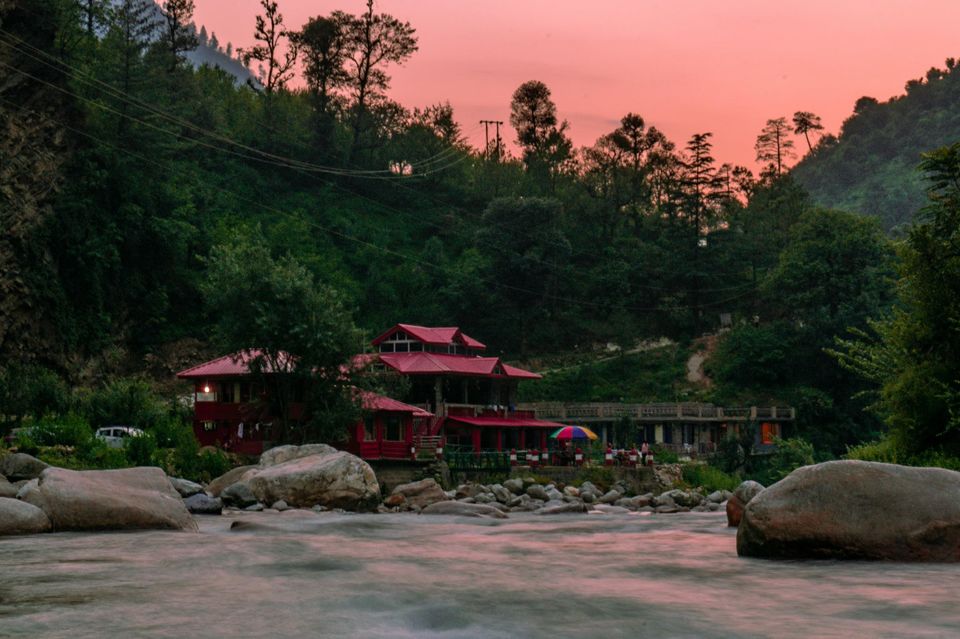 Started by the Sood brothers, Ankit and Pankaj, Sunshine Himalayan Cottage is a beautiful concept where you get to experience the Himachali culture in its full glory. Also, since they practice eco-tourism here, you can see its effects on the construction of this homestay and the living here as well.
This homestay consists of 5 rooms and 1 tree house, each with an amazing view and ambiance. All the rooms here are spacious and beautifully lit so you would love to relax here and the soothing river sound will lull you to sleep in just a couple of minutes.
Built using traditional Mud Architecture, Sood brothers ensured that the homestay was built using bamboo, stone, and mud. And they recycled a lot of unused wood and stones as well which is why this is such an eco-friendly cottage.
That's not all though, they also do rainwater harvesting, organic farming, etc. and teach other locals to follow the same process as well. In fact, one of their rooms also has an actual tree integrated in the architecture as they didn't want to be reckless towards the environment. So, truly, this is one of the most eco-friendly homestays that I have ever stayed in.
And they always make sure that their guests also follow eco-tourism and don't throw plastics while sightseeing or trekking. In all, if you are looking for a place to stay to relax while being surrounded by nature then Sunshine Himalayan Cottage is the best place to visit. You can also learn their eco-friendly ways and implement them in your home to be more environment friendly.
Cost
Each of their rooms comes with a balcony, river view, 1 king-sized bed, sofa bed, and a lot of basic ammenities and services. The rooms have a hardwood floor which makes it warm and comfortable to walk on and the rooms are nicely lit and cozy.
The price for all their rooms is fixed at 6,500 INR for a room which can sleep 2 people.
If you want free breakfast with your room then you have to pay 7,000 INR per room.
Food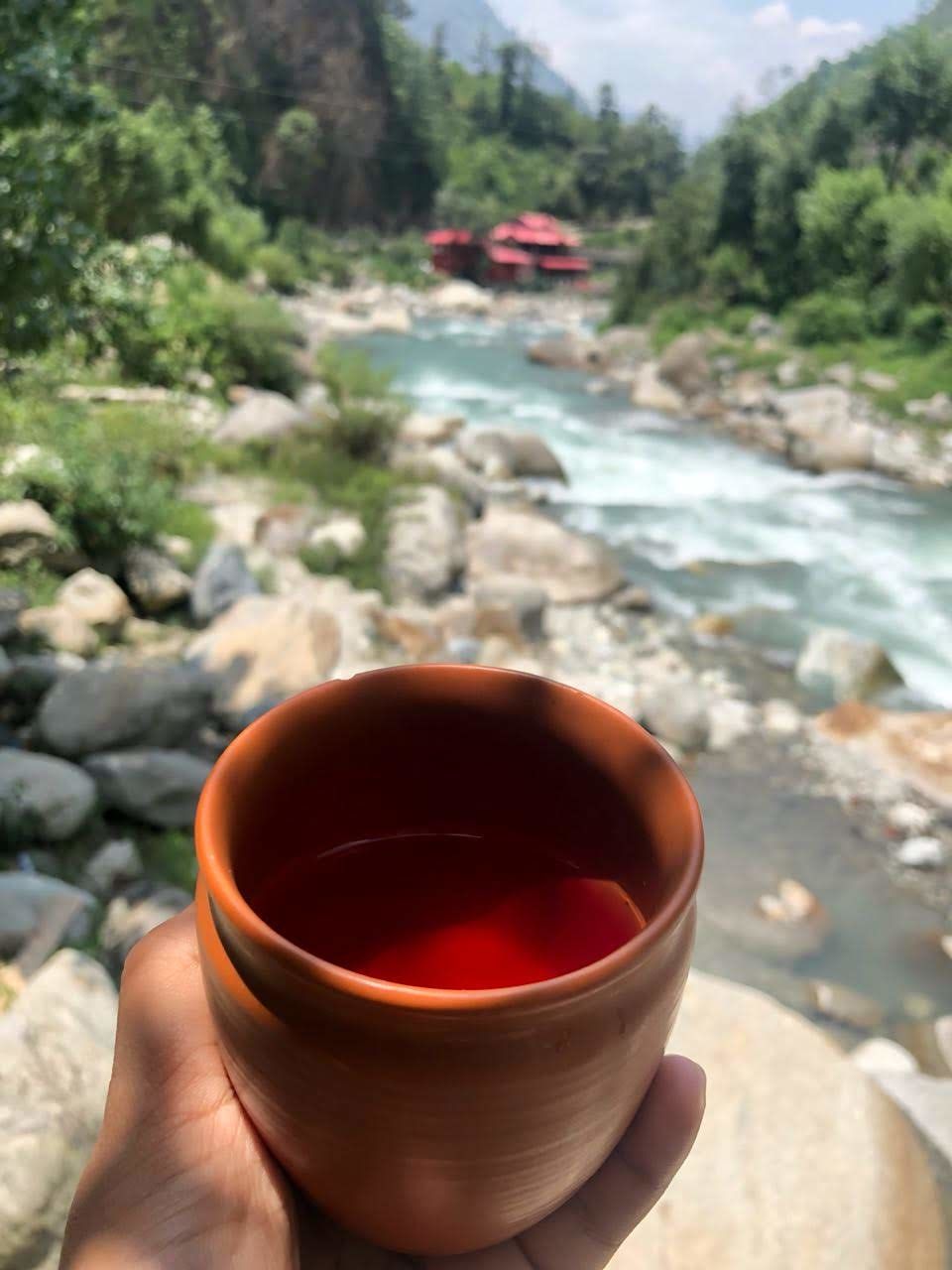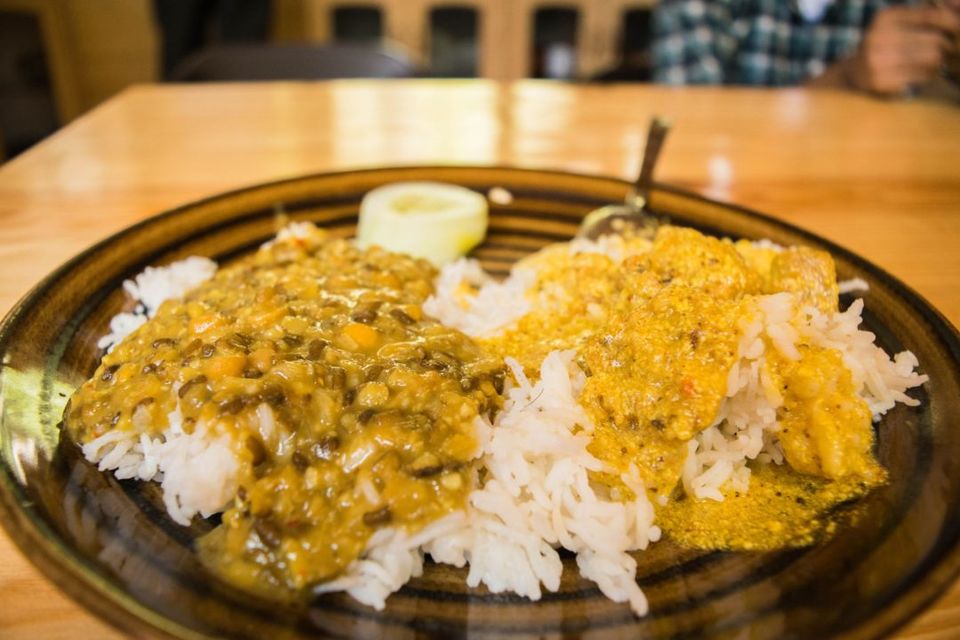 One of the best things about this homestay is that they serve you authentic Himachali cuisine which are delicious and completely amazing.
They get the vegetables from their organic farms and catch their own fishes from the river to prepare fresh and delectable meal every time. So, here you will get a chance to taste a few Himachali delicacies like Siddus, Meetha Chawal, Khatta Sabzi, etc.
And each of this dish is prepared with so much care and precision that you would fall in love with their food. Also, the Rhododendron sharbat is another highlight as they prepare it from the local rhododendron flowers that are found here.
In the evening, you can also ask for some snacks and they will serve you with a delicious cup of tea along with some hot popcorns.
Best Time to Visit
Frankly, there is no single best time to visit this place as you get to experience something new in every season. However, it would be good to avoid the monsoon season as there are chances of landslides and the river flow increases.
But apart from that, you can come here during winter, summer, and spring season to enjoy the mountain views. In the winter months, it will get really cold here so pack properly and if you are lucky then you might be able to experience snow around here as well.
How to Get Here
It is quite easy to reach this place if you know the route well. And there are a couple of modes that you can try to reach this homestay.
By Air: The nearest airport to Tirthan Valley is the Kullu Manali Airport. So, you can get a flight here and then take a cab to this place as it is just 60 km from the airport.
By Bus: You will get several buses till Aut from Chandigarh, Delhi, etc. which will cost anywhere between 450 - 1500 INR. After getting down at the Aut tunnel, you can take a taxi to the homestay which will cost about 400-500 per person.
Another option would be to go to the Aut bus stand and then take a bus to Banjar and get down at Gushaini on the way. Then you can take a taxi to the homestay or walk till it. Ideally, it will take you 2 hours to reach from Aut to Gushaini in a bus.
By Car: If you have your own car then it is the best because it will be easier and more convenient for you to reach the homestay. You will first need to reach Aut tunnel and then take the right from here.
After that you will reach the Larji T-point, take a right from here. You will reach Sai Ropa from where you need to take a U-turn towards Gushaini village. It should take you about 1 hour to reach from Aut to Gushaini in the car.
What to Do Here and Around Tirthan Valley
Go For a Village Walk
There are a couple of villages near the homestay which are built using traditional Himachali architecture. So, you can take a walk to these villages and learn more about how the local Himachali people live here.
Trek to the Great Himalayan National Park
A famous UNESCO Heritage Site, Great Himalayan National Park is known for its diverse flora and fauna. So, you can either plan for a multi-day trek to this park with an experienced guide.
Or you can simply go for a short hike till the gate of GHNP and observe the gorgeous scenery on the way. You will also get a couple of waterfalls on the way which will make this trek really exciting and refreshing for you.
Take a Trip to the Chhoie Waterfall
Another popular waterfall in Tirthan Valley which you cannot miss out on is the Chhoii Waterfall. This waterfall is located near the homestay and is just a 1-hour hike to the waterfall. Since this waterfall is slightly hidden from the view, not many people know about it and it is often secluded.
So, you can plan a picnic here and spend a couple of hours getting drenched in the cold yet clear water here.
Camp Beside the River at Night
Another exciting thing to do in Tirthan Valley would be to camp beside the Tirthan River. There are a few campsites near the homestay so if you ask the owner, they will arrange it for you, at an additional cost.
So, you can enjoy a bonfire and some late night talks near the river and enjoy a riverside camping experience.
Enjoy a Few Exciting Activities Here
Apart from the hikes and walks, you also have some nice activities like river crossing, trout fishing, etc. which you can indulge in. Tirthan River is quite famous for trouts so you will certainly have a lot of fun fishing for the first time.
You can also relax in the river pools here and take a bath in the cold water which can be quite rejuvenating for your body.
Go to the Serolsar Lake/Jalori Pass
Finally, you can also head to the Jalori Pass here which is just 30 km from here and can trek to the Serolsar Lake from here. Trust me, you are going to love this lake and can also enact the scenese from Yeh Jawani Hai Diwani whose scenes were shot here.