The place I stay at on a trip matters to me as much as the destination. There, I said it. But before you brand me a snob, or a "leisure traveller", let me clarify. I don't pick the accommodation based on how luxurious it is or whether it offers high-end toiletries. An intriguing character, enchanting surroundings and intimate corners that allow peaceful solitude are what make me hit the 'book' button.
And this description completely fit the accommodation I finally chose in Tirthan Valley.
Ideal for
Couples, small families who enjoy being close to nature, aren't scared of cats and dogs, and don't mind climbing a bit to reach their rooms.
About the property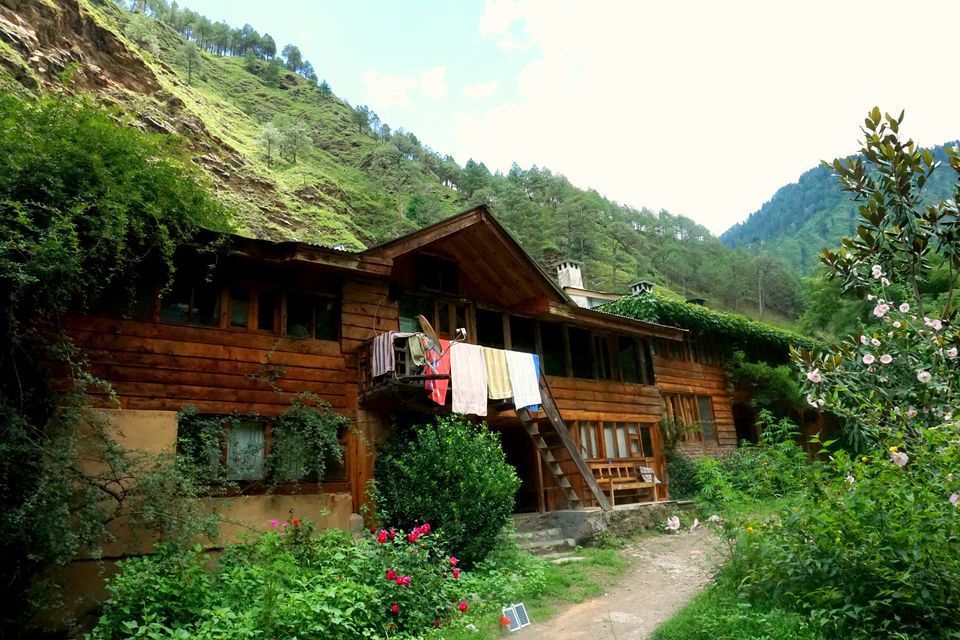 The traveller friends who recommended Raju Bharti's Guest House to me, also told me that it is always booked out. Raju's son, Karan, confirmed this to me on the phone, but I was determined to see Tirthan Valley from his house in Gurshaini. Fortunately, a single room was available for two days in the beginning of July. Even though this would mean braving the rain and missing out on the long weekend holiday, I took it!
Two weeks later, the local bus dropped me near the guest house, some two minutes away from the tiny town of Gurshaini. As I walked closer to it, watching it almost hidden by the dense trees that surrounded it, I knew I was in for an adventure.
The guest house is located on the opposite side of the Tirthan River, and the only way you can get to it is on a pulley bridge. It's a short 10-second ride over the gushing river, but you take it again and again as you leave and come back to the house. I jumped off the pulley to climb a flight of moss-covered steps, and the sight that opened in front was incredible. The cottage was surrounded by an orchard full of apple, cherry, apricot, almond and plum trees. And most trees were laden with fruit!
I was in love even before Varun, Raju's other son, handed me a glass of sparkling red rhododendron juice. The guest house was surrounded by greenery of all kinds. Creepers were making their way on to the cottage's wooden walls. There were flowers of every hue and variety in the garden around. As I sat drinking my juice and admiring this little paradise in the midst of the valley, a furry black dog came out of nowhere and put his chin on my lap. Three other dogs, all of different breeds, followed after him. Along with the four dogs, the guesthouse is also home to four charming cats.
With fruits, trees, cats and dogs around, I was at ease and happy.
Rooms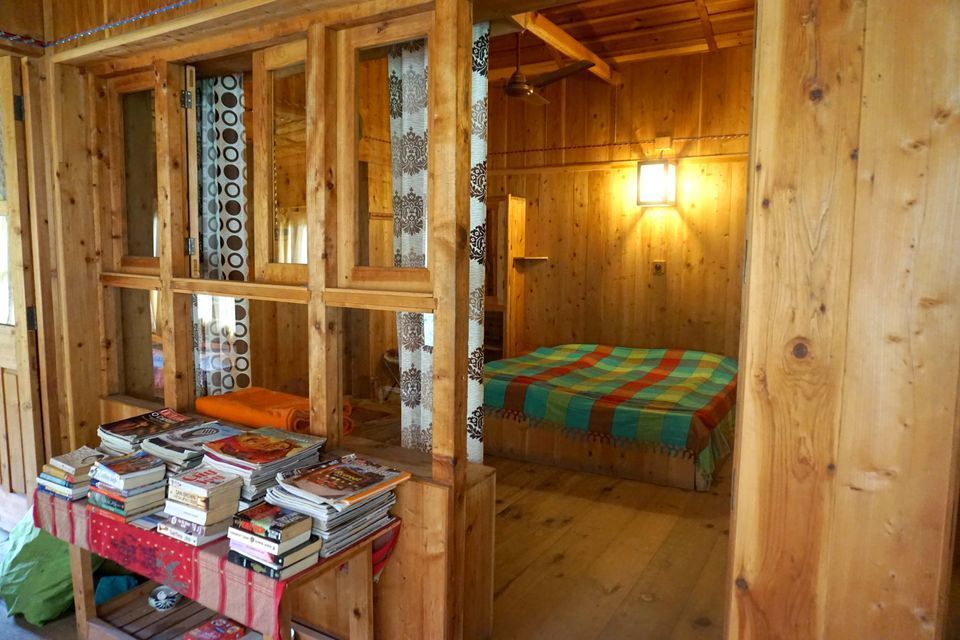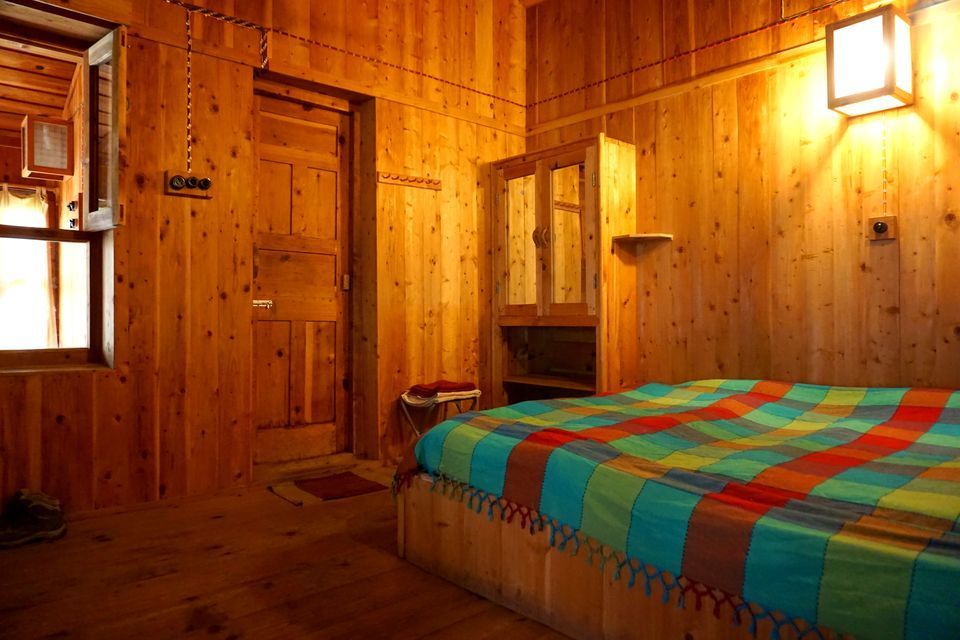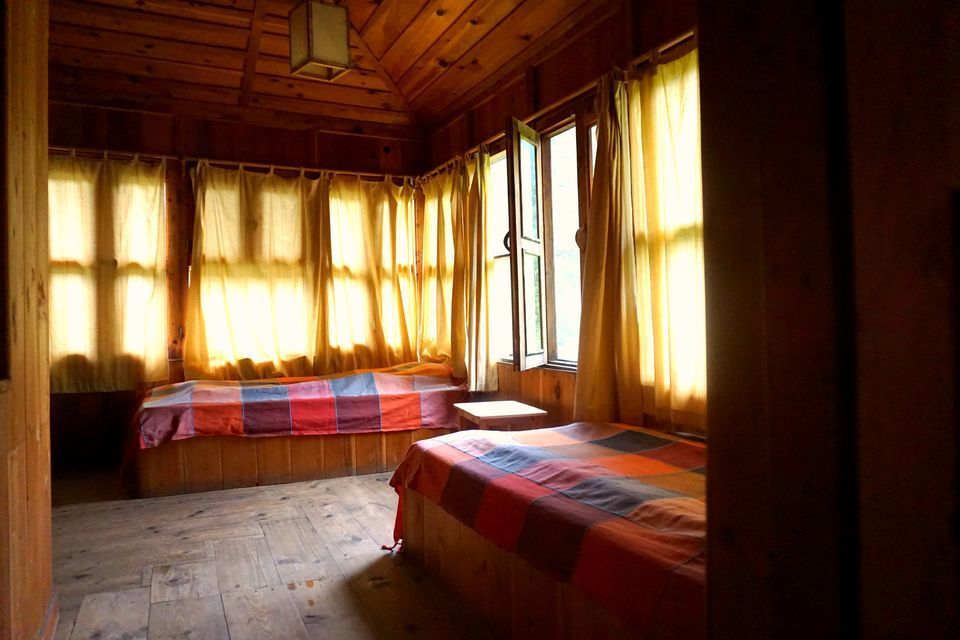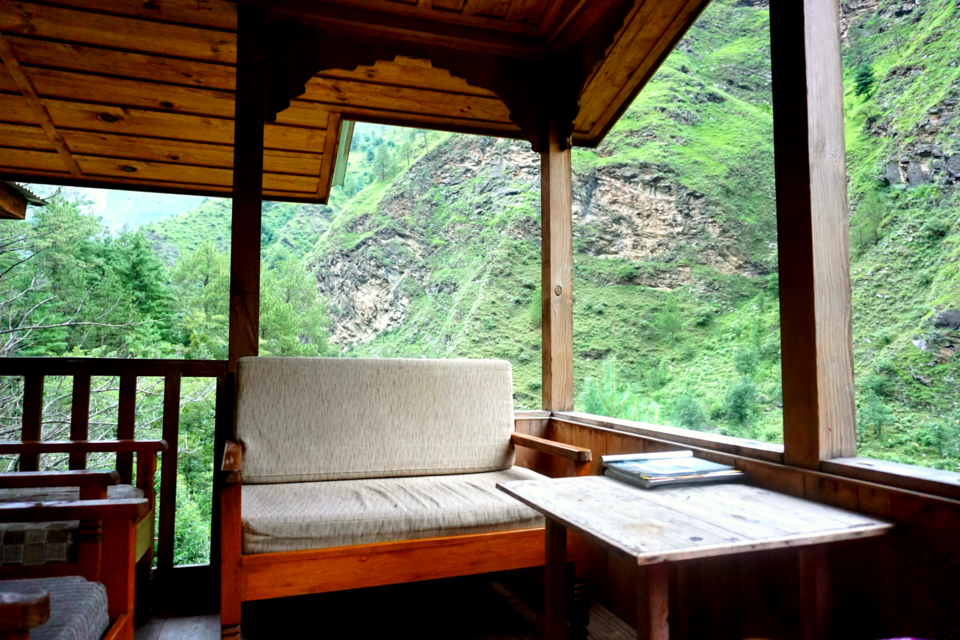 Raju Bharti's Guesthouse has eight very spacious rooms. Four are located in the main cottage, while four others are in another cottage situated at an elevation, around a two-minute walk away. My room was in this cottage, and between the two of us (my husband and I), we had two single beds and one double bed. Our cottage overlooked the Tirthan River and the main house next to it, and the open balcony outside was an incredible place to smoke, read and just feel the wind in my hair.
Food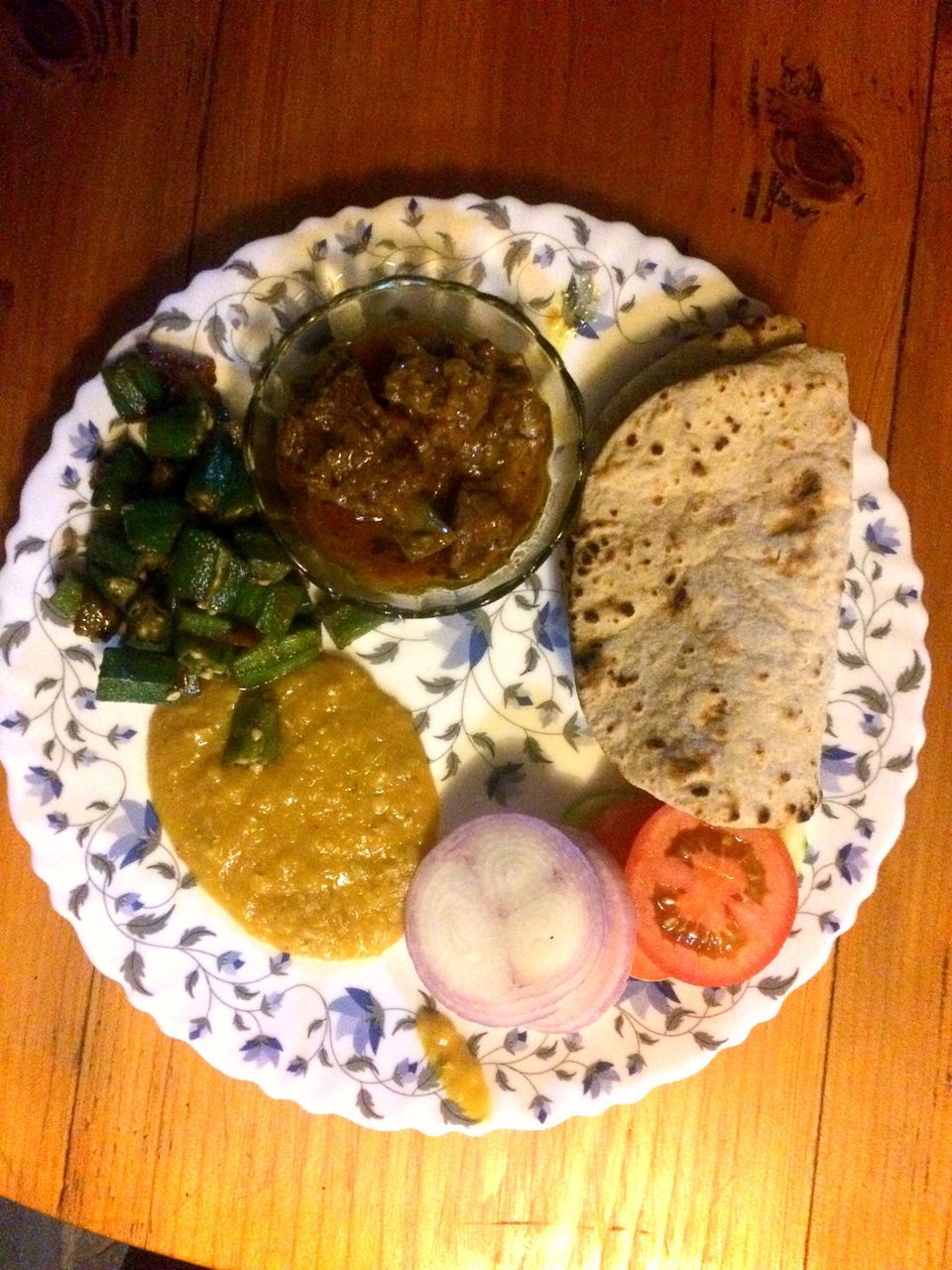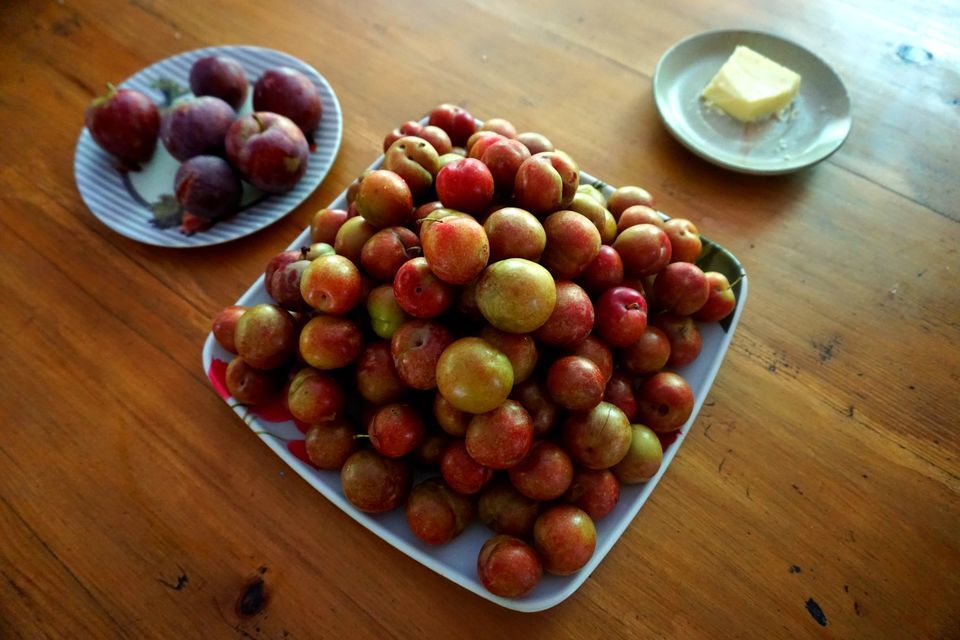 I had heard a lot about the food at Raju's. And I liked it, I really did. But I didn't get blown away by it, maybe because Indian isn't my favourite cuisine and that is what the Bharti's serve. Having said that, there was a lot of variety in the meals.
Breakfast was paranthas, a choice of eggs, toast, homemade jam, fresh apricot, apple or rhododendron juice and tea or coffee.
Lunch was a vegetable, a paneer dish, a chicken or mutton dish, salad, pickle, papad, rice and roti.
Evenings were reserved for freshly-brewed tea and coffee. We would also go around to pluck and eat fruit from the trees.
Dinner had a similar spread as lunch, along with fried trout fish and a sweet dish. We got meethi seviyan and fruit custard the two nights we were there.
Cost
The charges at the guesthouse range from Rs 1400 to Rs 1700 per person, depending on whether you opt for the vegetarian or non-vegetarian plan. This includes the stay, and breakfast, lunch and dinner.
To book
The guesthouse does not have an online presence anywhere, so to book you have to call them up. Here are the numbers: 9459833124, 9625211848
Best time to go
Tirthan Valley sees good weather from April to October. But visits to the valley should be avoided in the monsoon months of June to mid-August, when landslides and flash floods are common in the area.
What to do around the guesthouse
There is a lot to do in Gurshaini and nearby. Find a list of them below:
Hikes and treks
The road running along Tirthan River takes you to Gahidhar Village, situated around 3km from Gurshaini. Starting with a series of cemented steps, and an ascending trail on broken boulders, a 45-minute trail through the village opens up to the most magical waterfall. Hidden in the forested valley, very few know of this 120-feet-high Chhoi Fall, so you may well be the only ones there. Remember to take your swimming gear along, so you can take a dip in the crystal clear water.
If you're in the mood for a longer hike, the 8-km walk to the gate of the Great Himalayan National Park is breathtakingly beautiful. The winding trail goes through the outskirts of the forest and is canopied by tall trees, incredibly green leaves and colourful butterflies of all sizes. As you hike towards the gate, you will be greeted by tiny waterfalls and the smiling faces of locals who live in two villages on the way. The best spot on the trail, however, is a gigantic step waterfall, just 100 metres away from the gate.
Mountain biking
Get your heart pumping and legs working, as you explore Tirthan Valley on a bike. Depending on your interest and fitness level, you can go on half day or full day trails. Raju's Guest House offers bikes on rent, starting at Rs 300. You can even take a guide or local along on your adventure for a charge of Rs 300 onwards.
Angling
If you are in Tirthan Valley between March and October, then be sure to try angling. The Tirthan River is full of trout fish, and if you manage to catch one or two, dinner can be a feast for you. Raju's offers fishing poles on rent at Rs 800, an amount which also includes a fishing license and some basic lessons.
Getting there
Delhi is the closest metro city to the guesthouse and is around 495km away.
By bus: Take a Himachal Road Transport Corporation (HRTC) or private bus till Aut. From there you can either take a direct taxi to the guesthouse for around Rs 1,000, or a local bus till Banjar for Rs 35, and another bus till Gurshaini for Rs 15. The total time for the complete journey from Delhi is around 14 to 15 hours.
By flight: Fly from Delhi to Bhuntar Airport. From there, get a taxi to Gurshaini.
Have you been to Tirthan Valley yet? If not, this is the time to book specially curated Tirthan Valley tour packages.
Frequent Searches Leading To This Page:-
raju bharti guest house, raju bharti guest house contact, how to reach raju bharti guest house