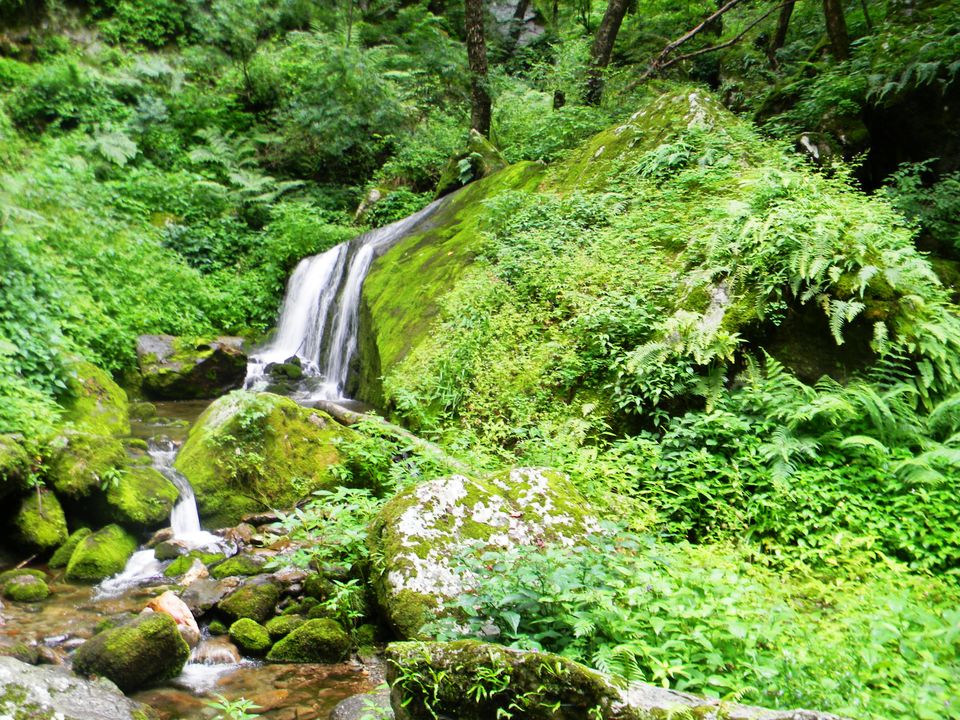 A train journey 15 hours long followed by a 14 hours long sleepless night journey through the long winding roads in the hills to a remote valley in the Himalayas .... to finally put yourself through experiences that stretch you physically, have tired feet at the end of the day that so badly wish for a foot spa and spend sleepless cold nights in a sleeping bag when you dream to be in a cosy warm bed...............and in less than three months going through the same ordeal all over again...........well, then either you are out of your mind or have discovered paradise on earth!
Would totally vouch for the latter, as have been there.....done that!!
A visit to Tirthan Valley and the Great Himalayan National Park (A Unesco World Heritage Site) comes close to being in paradise............ The sense of calmness and peace that engulfs your mind in Tirthan and to top that the overwhelming feeling of being surrounded by the goodness of people rarely experienced , would make anyone feel like coming back again....and again....and again.
Have visited quite a few places, and a lot of them if not more, have been as beautiful as Tirthan....but there hasn't been even one I have revisited in less than three months. Well that says it all!!
My first visit to Tirthan in March 2016 took me on a short trek to Rangthar followed by a second one in July 2016 which took me to Rolla in GHNP. Two incredible experiences ....yet worlds apart.
The valley and the mountains wear a completely different look across seasons.
Beautiful Cherry blossoms, Rhododendrons, lilies in full bloom in March the season of colours .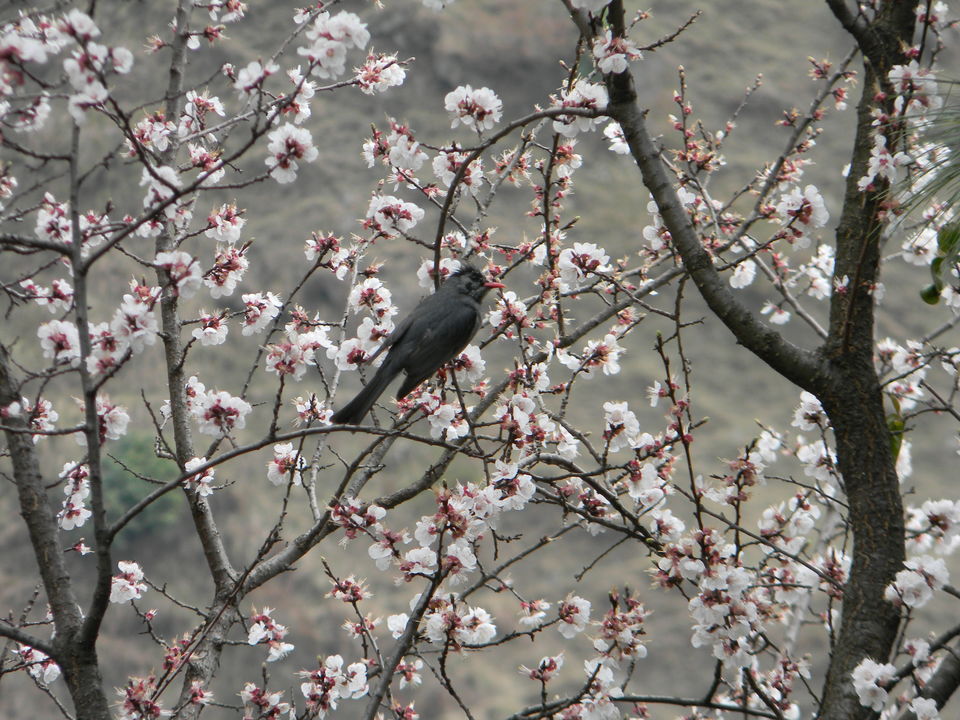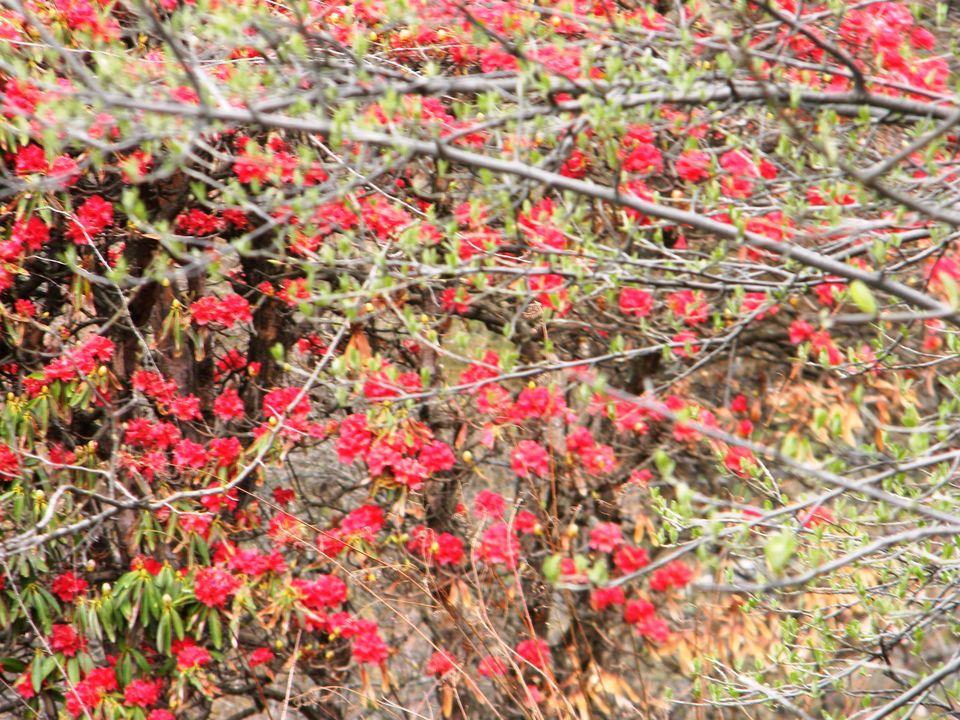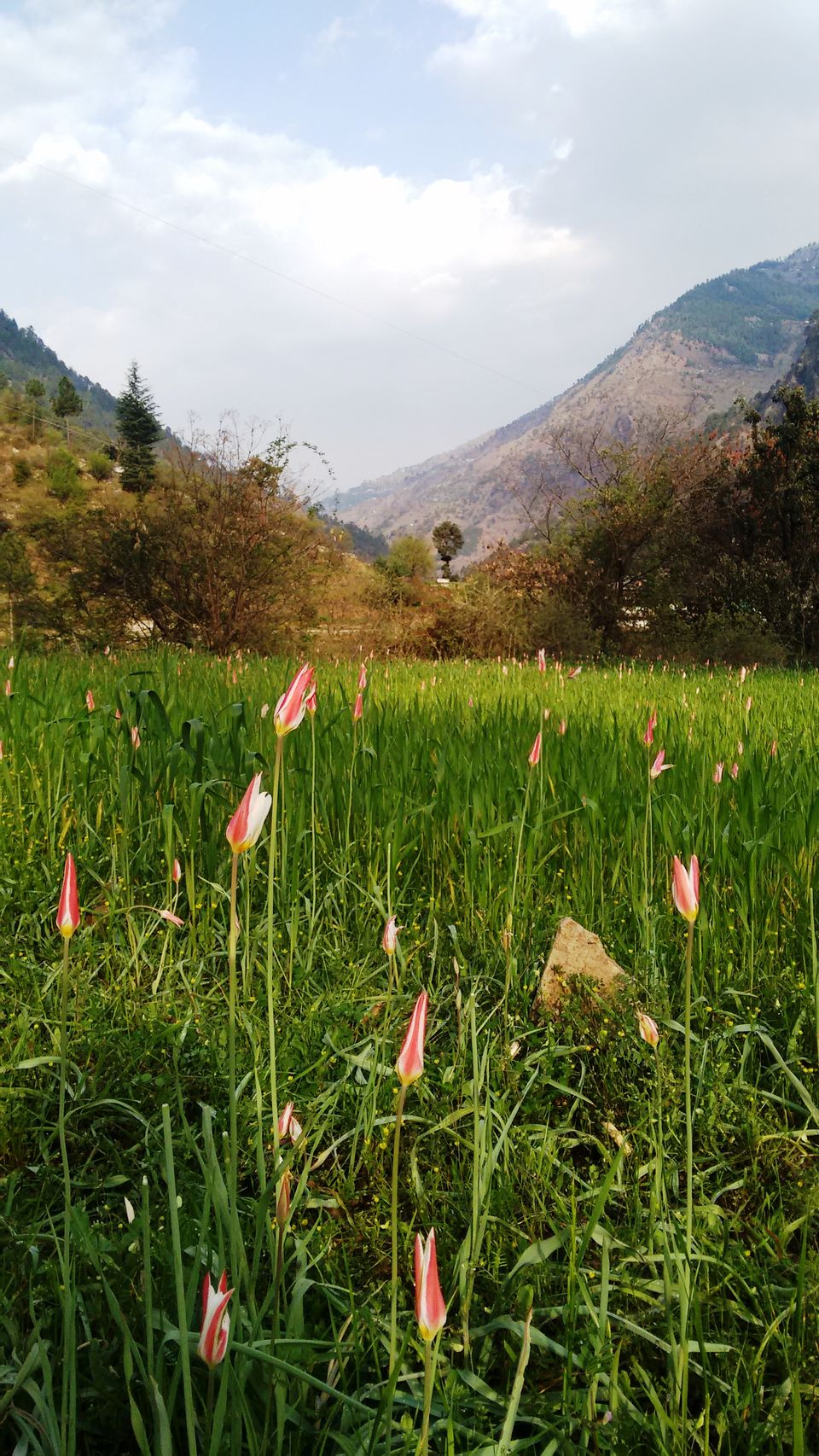 But if you prefer to take a walk through the clouds, be surrounded by astonishing shades of green , and enjoy getting wet in the rains.....June end is THE season for you as monsoon is just setting in.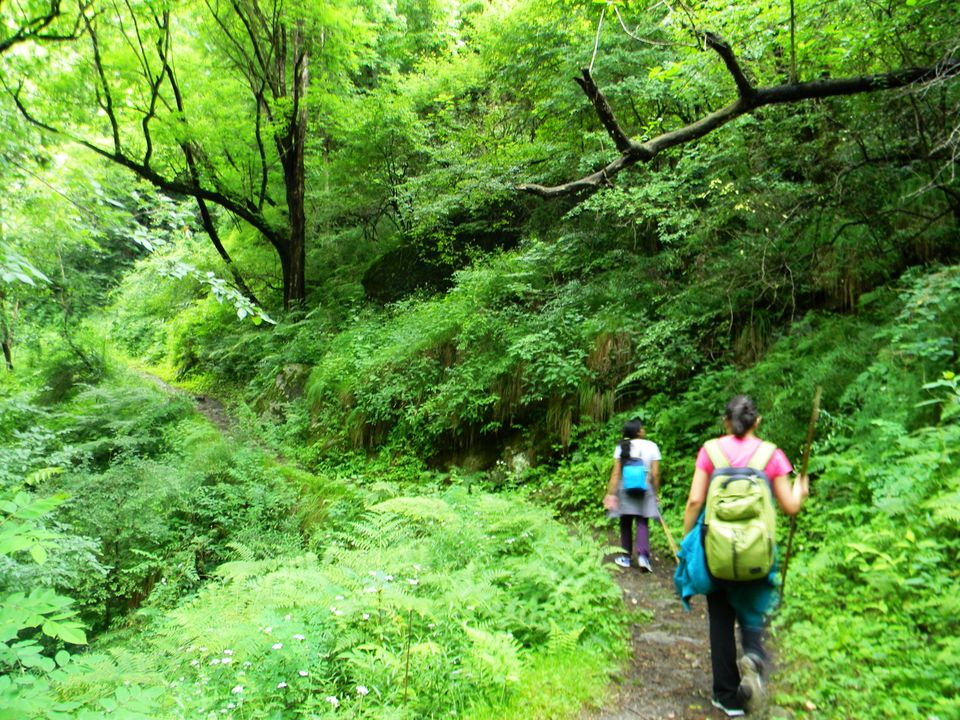 A rain poncho does become an essential in your things to carry list though.
Let me warn you...this blog is "Epic" sized but promises to take you through both the experiences right from the the travel options and which one works well, picking the season & the trek route for the kind of experience you prefer.... to the unforgettable experiences with the beautiful people of the hills....which I am sure would inspire you to pack your bags to experience Tirthan yourself! :-)
Day 01
Reaching Tirthan
We booked our adventure with Mr. Panki Sood who is one of the co-owners of Sunshine Himalayan Adventures (SHA). He and his amazing team ensure they leave no stone unturned to make your visit a memorable one.
Its about 545 kms from Delhi and you could hire a cab or travel by bus. You could also travel from Chandigarh which is just 265 kms away, but were recommended to travel from Delhi and so we did.
Travel by Cab
If 6 people are travelling together then taxi actually turns out to be a more reasonable option (In non peak season though) as then you don't have to worry about the internal conveyance once you reach Kullu/ Tirthan. But getting an 8 seater Innova is quite difficult. Most of the cabs are 7 seaters and that makes the night journey of 13 hours not so comfortable. Yes, it certainly gives you the freedom to stop wherever and whenever you please. If you ok with spending the day time in travel, the journey should be quite comfortable and more fun too. But you spend a day in travel.
Quick Tip : If you are travelling by taxi and you leave by 5PM, you should be able to reach this eating place called "Haveli" near Chandigarh for a late dinner. Great place to stop by with an added advantage of super clean washrooms!!!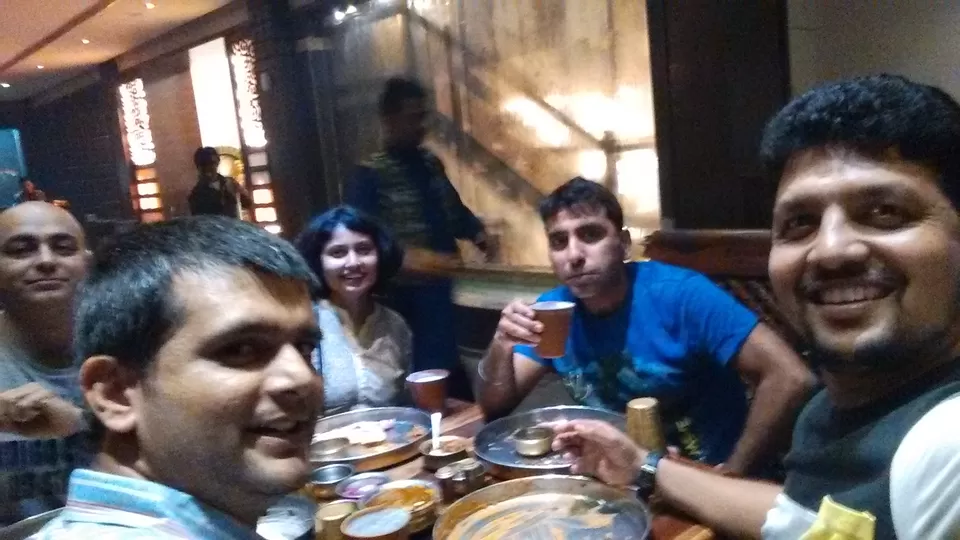 Travel by Bus
HPTDC and HRTC are good options. We travelled by HPTDC in July. The Volvo semi sleeper bus ensures you have quite a comfortable journey.
Quick Tip : Make sure you book online at hptdc.nic.in well in advance to ensure you get the front seats which makes the journey more comfortable, especially for those who are prone to motion sickness.
The unforgettables....
- Super traffic jams as you exit delhi ( Experienced one BIG one in July)
- Super fancy dhabas en route...
- Dinner @ Haveli.....good food, great ambience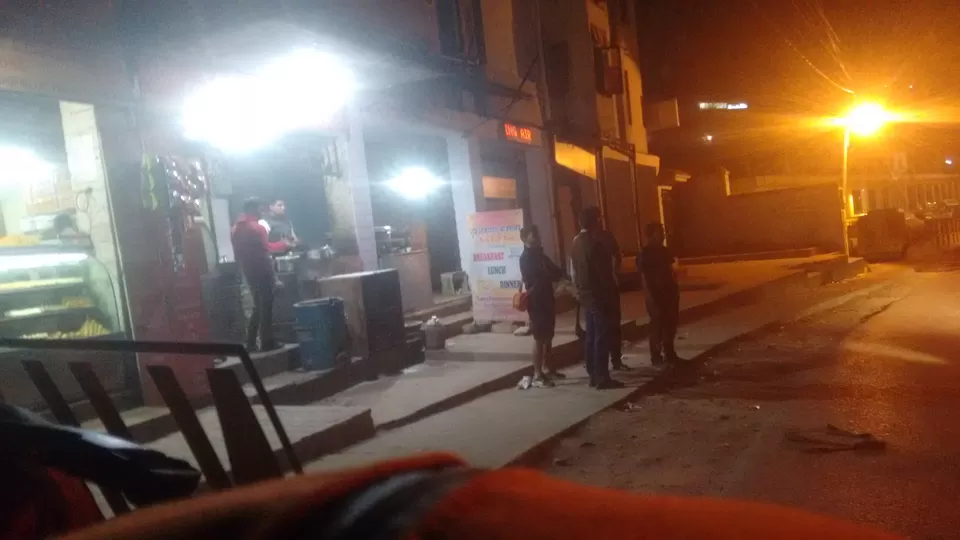 - And how could I forget our filmy adventurous departure from Delhi in July
Our all girls adventure in July began much before we reached the mountains......right in the middle of Delhi city!
1st July turned out to be a rainy day in Delhi with 6 of us trying to get a Cab or Auto to drop us at our bus stop 3 kms away but in vain....and finally when an Auto walla agreed ......a kilometre into the traffic jam(Thanks to the rains) the Auto broke down.
With our bus departing in 10 mins and us stuck in the middle of a traffic jam in an Auto that woudn't budge....all hell broke loose....and there I was running in the middle of the streets of Delhi like a scene out of a typical Hindi movie.....getting wet in the rains pleading other Autowallahs to agree to drop us.... to finally convince one who zig zagged his way through the traffic jam and got us to reach just in time. As we finally dropped into our seats we sighed in relief which unfortunately turned out to be short lived as 20 minutes into the journey and the AC of the Volvo Bus konked off..............and there we were in the middle of nowhere for the next 2 hours till the replacement bus arrived and finally after a 2 hours delay we began our journey to Kullu. So must say....that was an apt beginning for an adventure trip!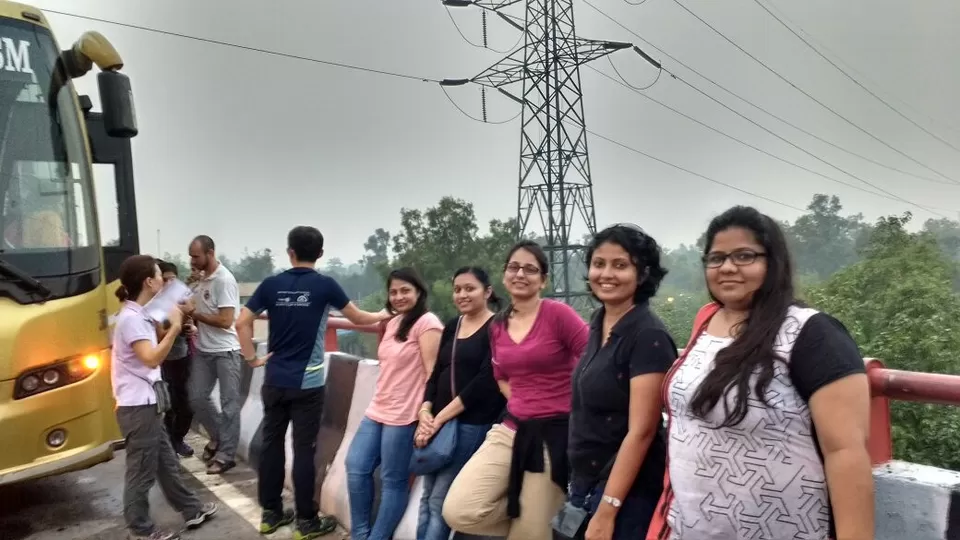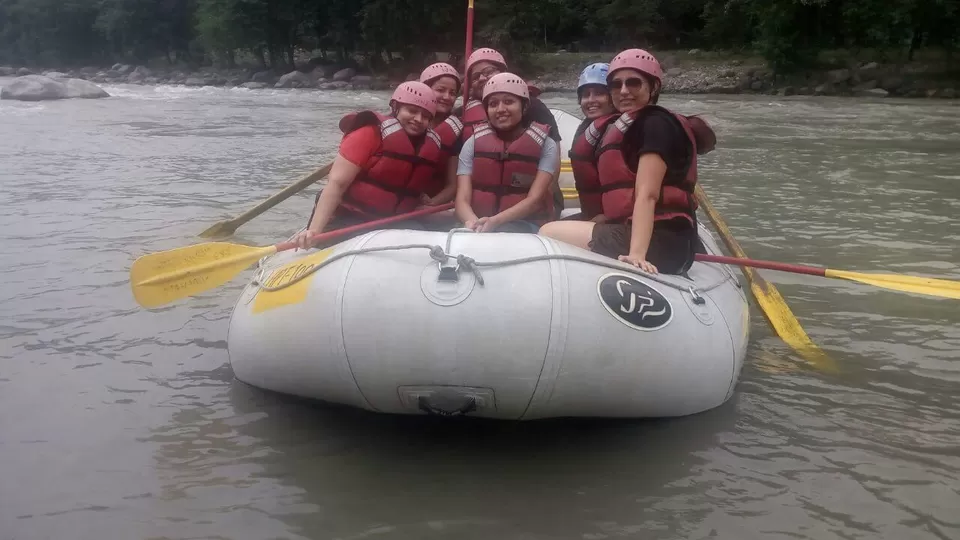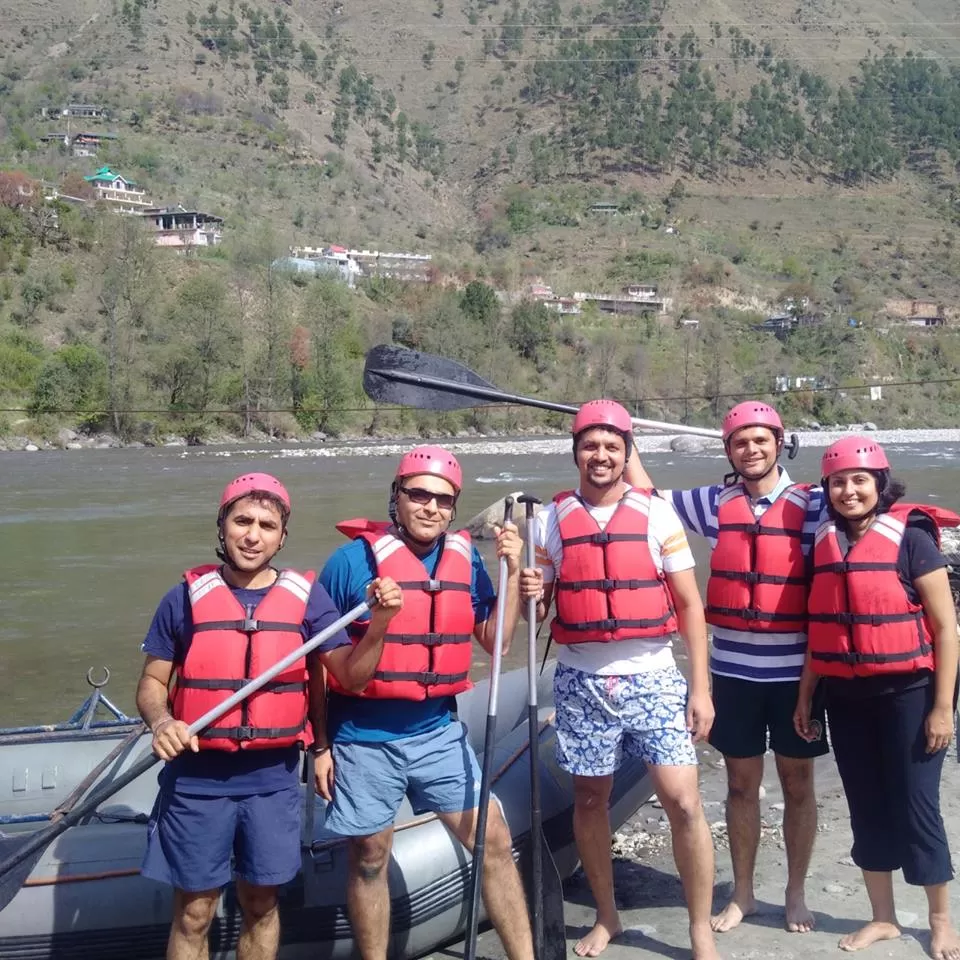 Before you soak yourself in nature away from the sprawling crowds at Tirthan..........Its worth going in for a rafting experience in the river Beas at Kullu. Pick the 14 km one. The rapids are exciting enough to make you go through an experience of a life time......have not done rafting anywhere else myself, but my friend who has done it in Zanskar, Ladakh enjoyed this one better! It takes almost an hour but shouldn't be missed...........I personally prefer to do it before the trek as I feel it peps up the energy & enthusiasm levels of the group as a whole.
You also have the option of paragliding at Kullu. We couldn't do the same though due to wind issues.
Our host did share a lot of options of things to do................ from visiting a beautiful monastery to going to the Bhuttico Shawls market , but we personally preferred to spend more time with nature and thus skipped these options.
Unforgettable memories
March 2016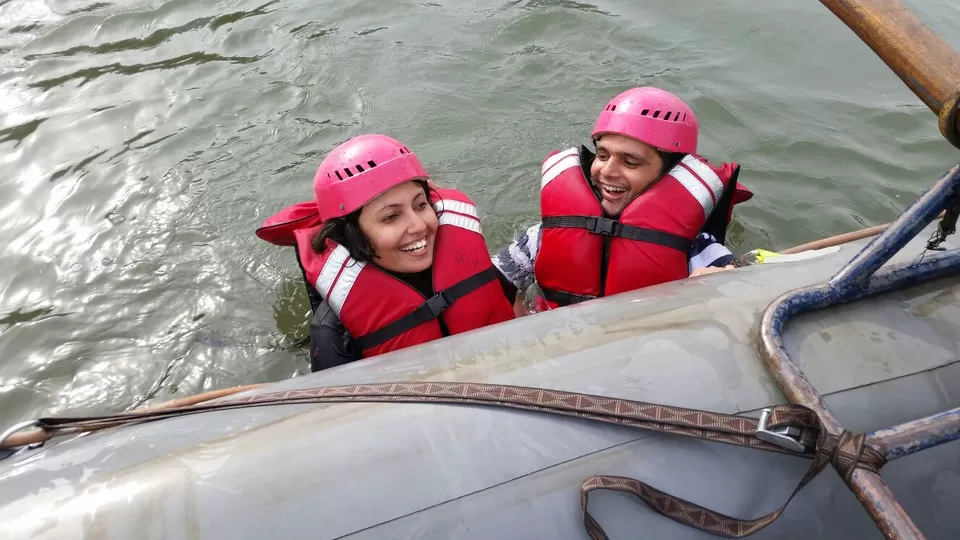 The indescribable happy feeling when you move out of your comfort zone and achieve the otherwise believed to be unachievable by yourself - jumping into the ice cold river Beas.
July 2016
Mr. Panki Sood certainly impressed us with his hospitality during our visit in March, but I must say, his wife Sonu certainly raised the benchmark!!
We reached Aut at around 8 and were picked up by the cab which took us straight to our host Mr. Sood's house where we received a SUPER warm welcome from his lovely wife Sonu who had invited us over for breakfast before we left for rafting. But the six of us took our own sweet time to get ready and by the time we reached her home it was almost 11....and thats when she bowled us all over with her thoughtfulness......An elaborate meal had been prepared for us as we had arrived way past breakfast time. Felt a little guilty initially for getting late and putting her through all the trouble.....but the aroma of delicious paneer ki subzi and methi poori, made us forget it all as we got busy helping ourselves :-) !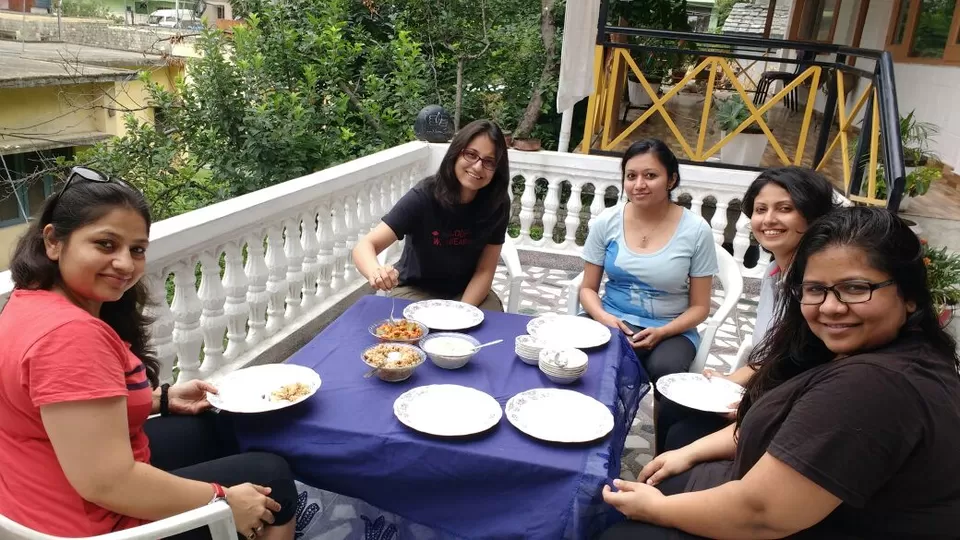 Spent some lovely time with the Sood family and made a lovely new friend!
As always our trip began with a handsome helping of goodness from the amazing people of the hills!!
Arriving @ Tirthan Valley
Takes around an hour and a half to reach Tirthan from Kullu, but a lovely drive.
The first time I visited had reached pretty late in the evening after dark and thus couldn't experience the beauty of the valley.
This time around in July we did make it earlier at around 5 in the evening ( Would have liked to reach even earlier around lunch time and visit the beautiful waterfall in the valley on day 1 itself.)
Where we stayed...
March 2016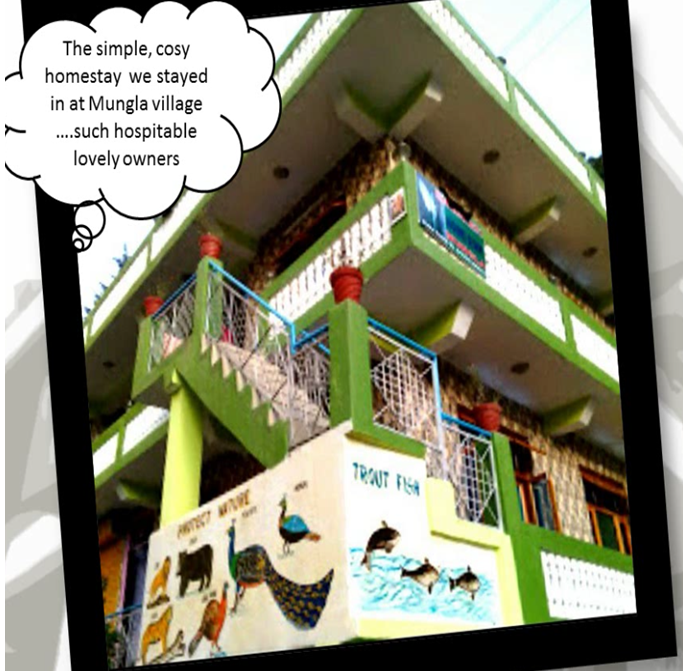 A simple home stay but nothing beats the warmth & hospitality of the family that owns the home.....not even the luxuries of a 5 star resort can match it!
After a lovely home cooked meal retired for the day with a promise from Mr. Sood to take us on an early morning short trek to a beautiful waterfall in the valley.
July 2016:
Trishala Guesthouse...........amazing location, spacious & clean rooms, super spacious bathrooms (in fact very unexpectedly with bath tubs) open air riverside sitouts and our room window opening up to the crystal clear waters of the river Tirthan flowing by.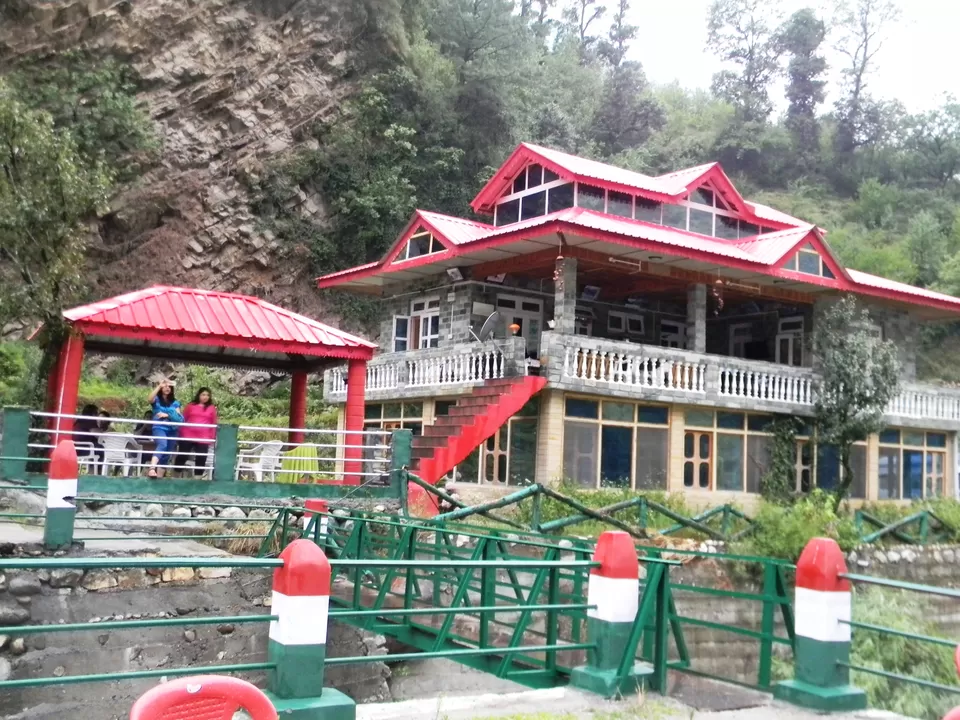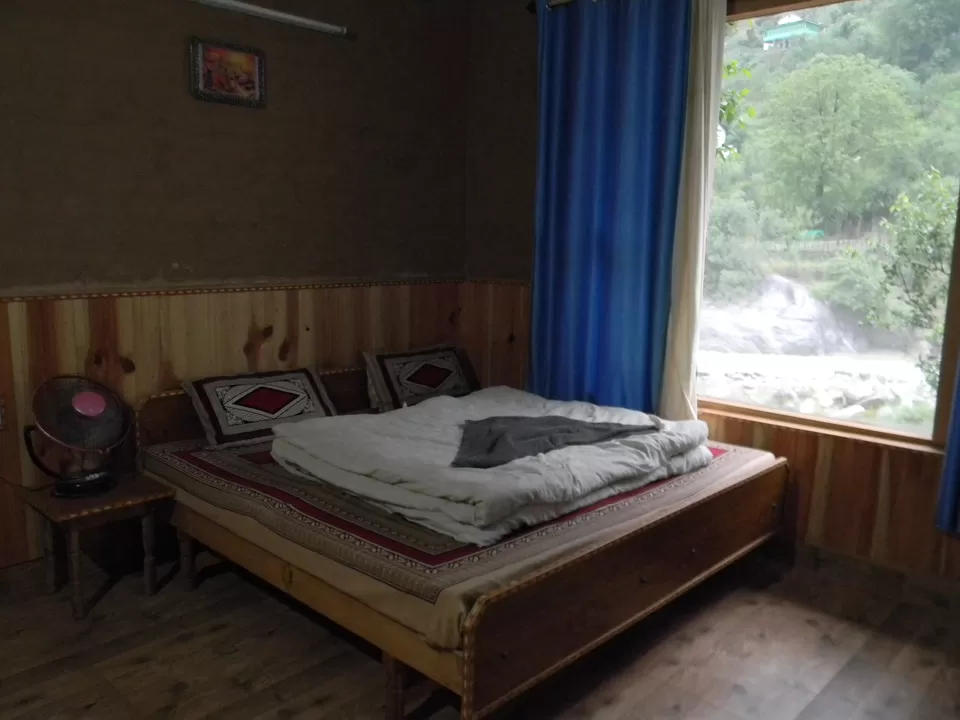 With the monsoon just setting in, the valley wore a heavenly look with clouds floating over the river Tirthan as it merrily danced its way over and around the rocks, the mountains beaming in lovely shades of green with fairy tale like homes perched atop.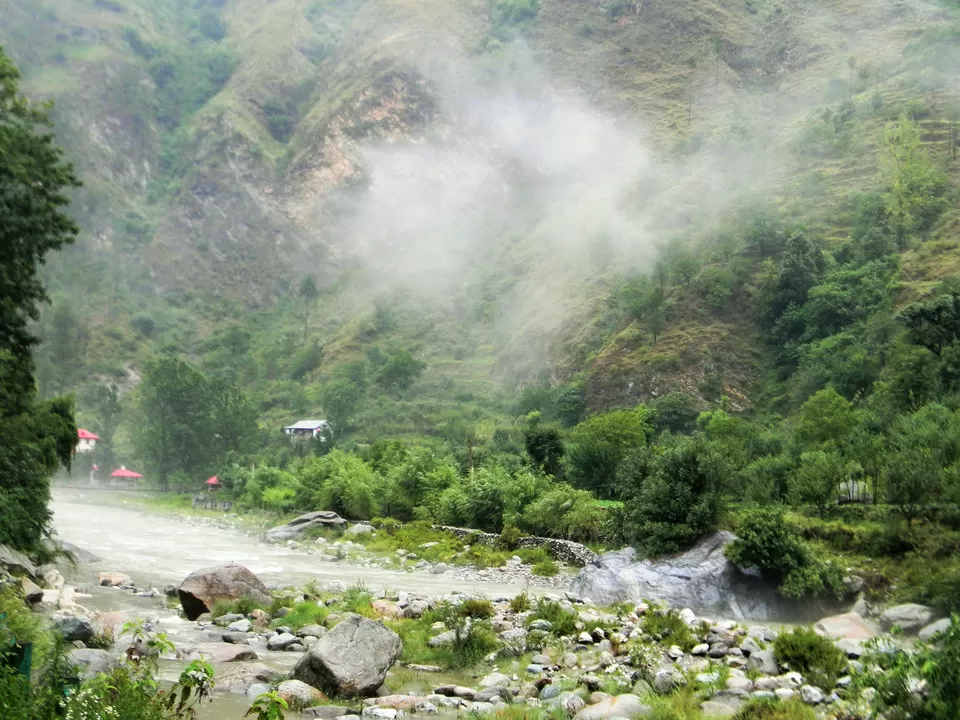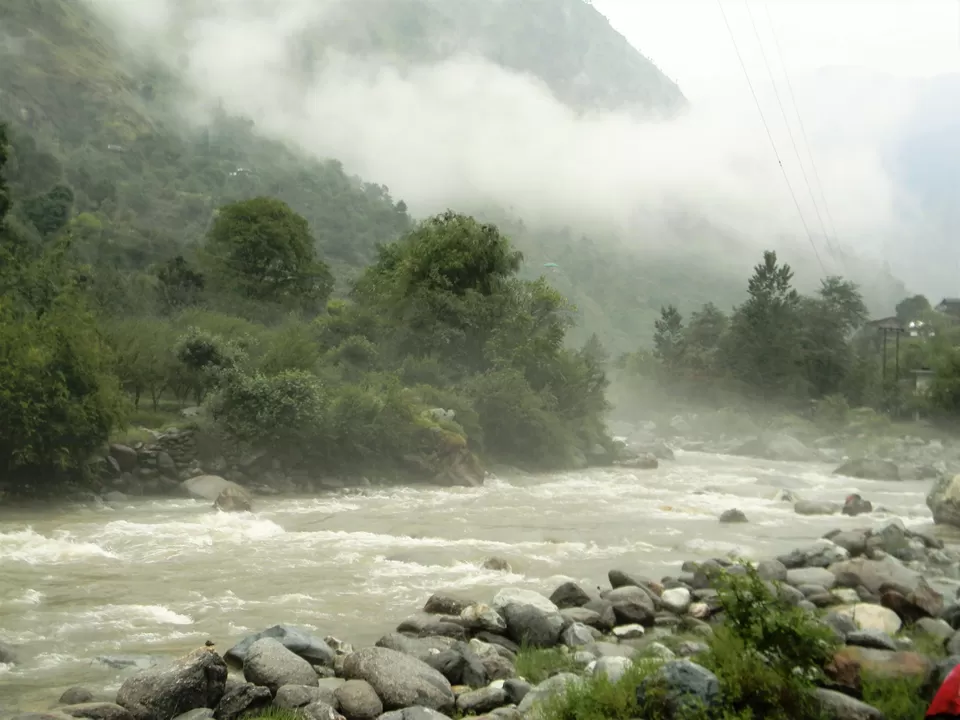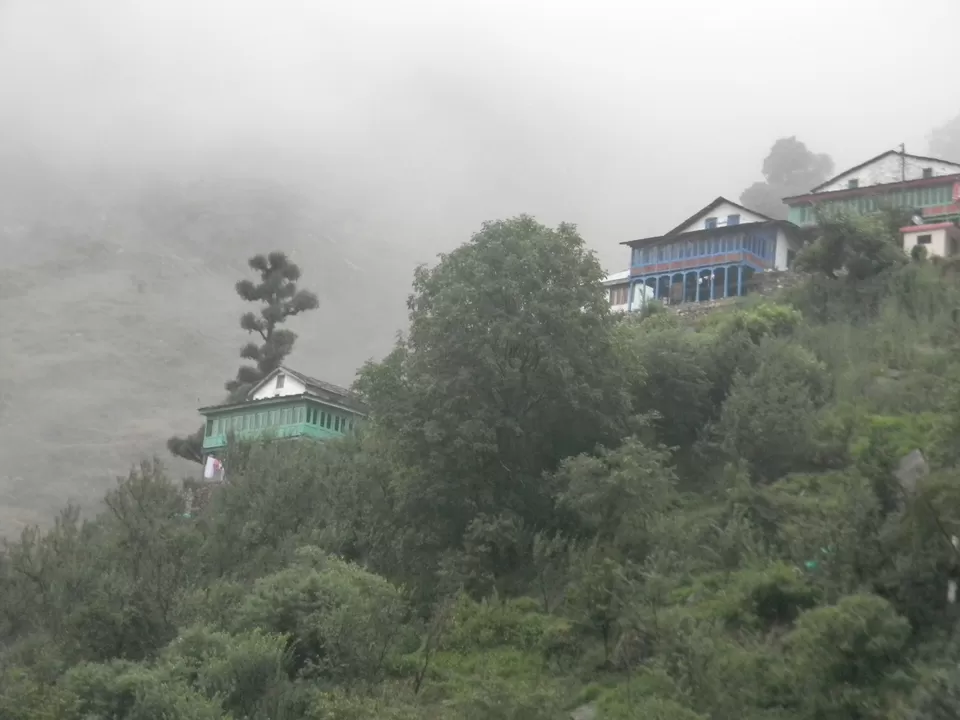 Day 03
March 2016
Went for an early morning short trek to a breathtaking waterfall....its a steep climb...begins with 187 steep rocky steps (Counted them when I revisited in July :-) ), followed by a moderate climb. Takes around 30 minutes to reach.
Walked through lush green fields through narrow winding paths with a couple of "Out of a story book" kind of little cottages on the way to finally reach the waterfall..........a tall beauty tucked away in the mountains like a secret. One could spend hours here doing nothing....enjoying the light spray of water droplets along with the cool breeze. Didn't spend enough time there, and I guess that's when somewhere my heart decided...."I have to come back here.".....and so I did :-)!!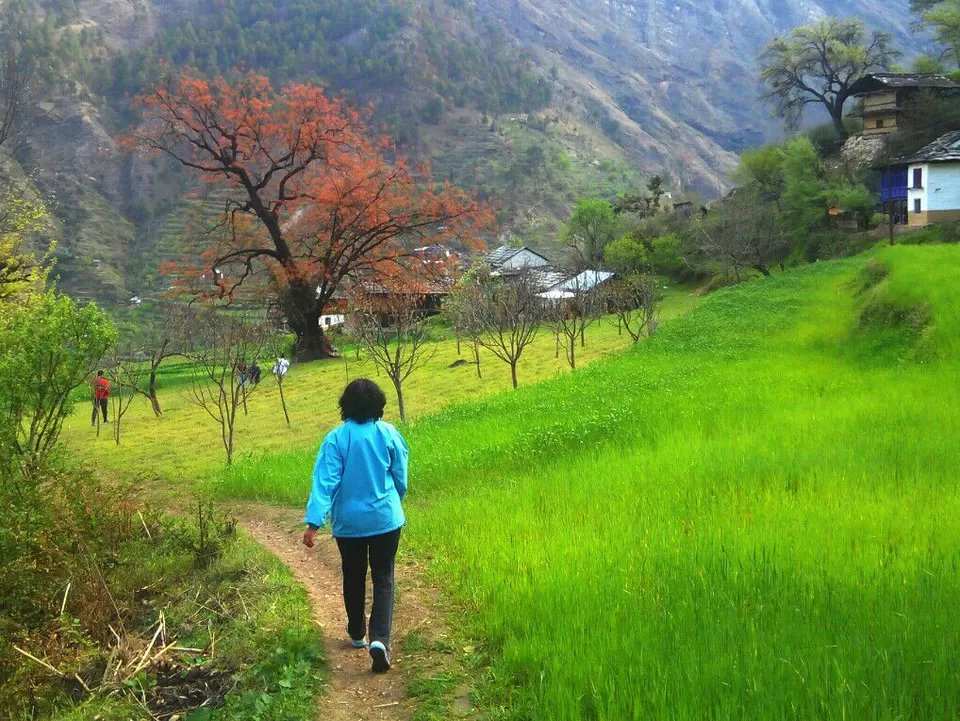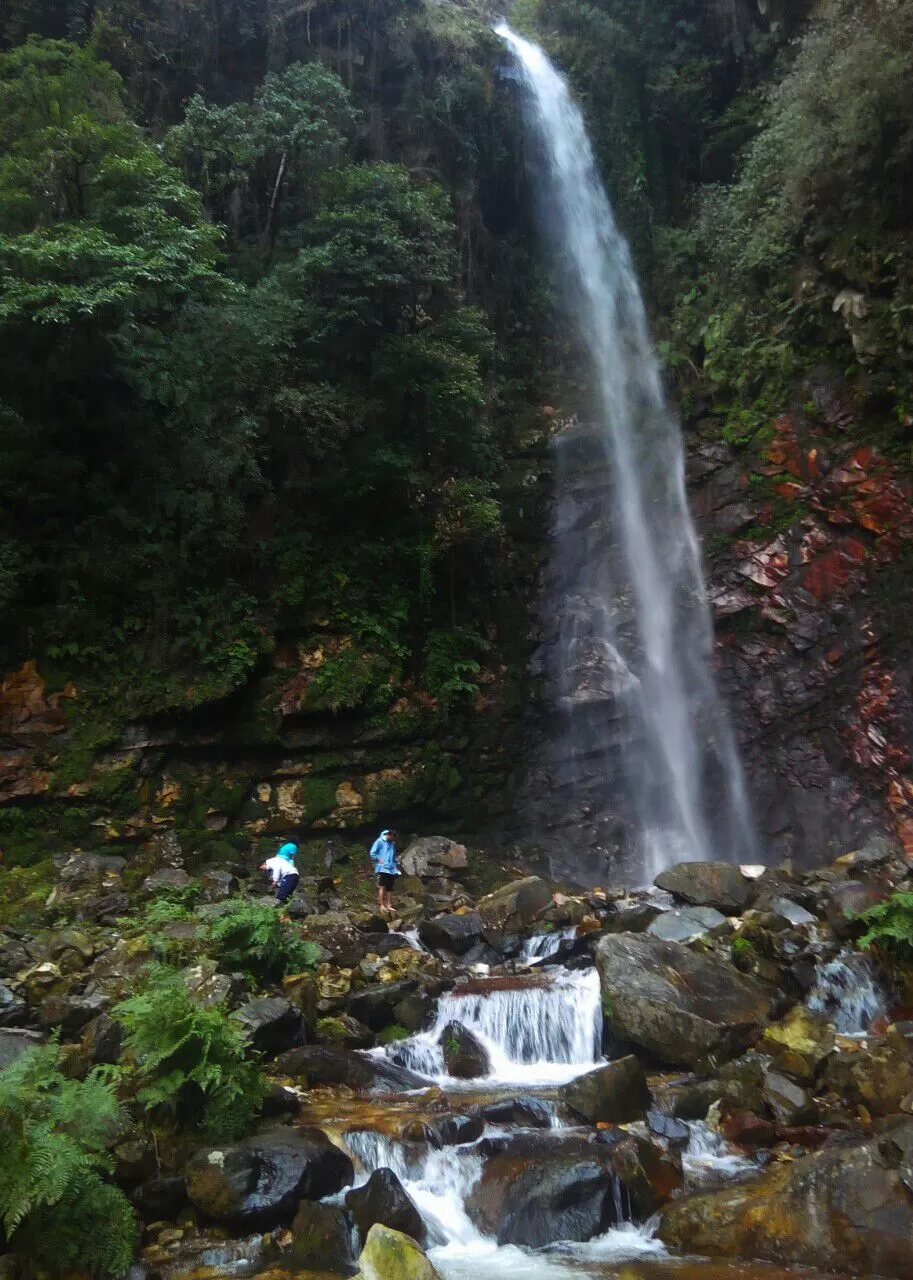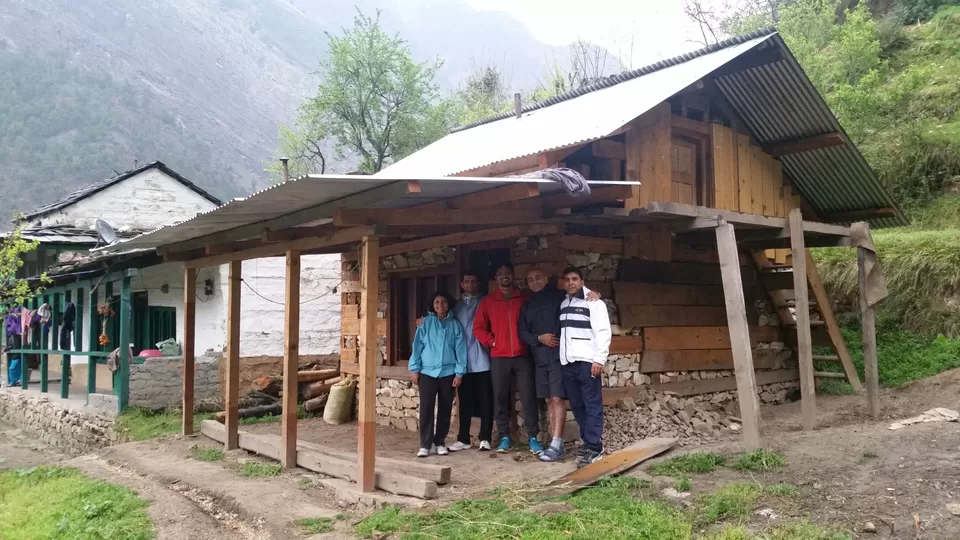 Must admit that the tall beauty looked much more beautiful in March, as in July it had lesser water, but perhaps that's the reason we could dare to step under it................an experience nothing less than extraordinary as we screamed and laughed our hearts out at the same time as the water hit us like 1000 whips all at once.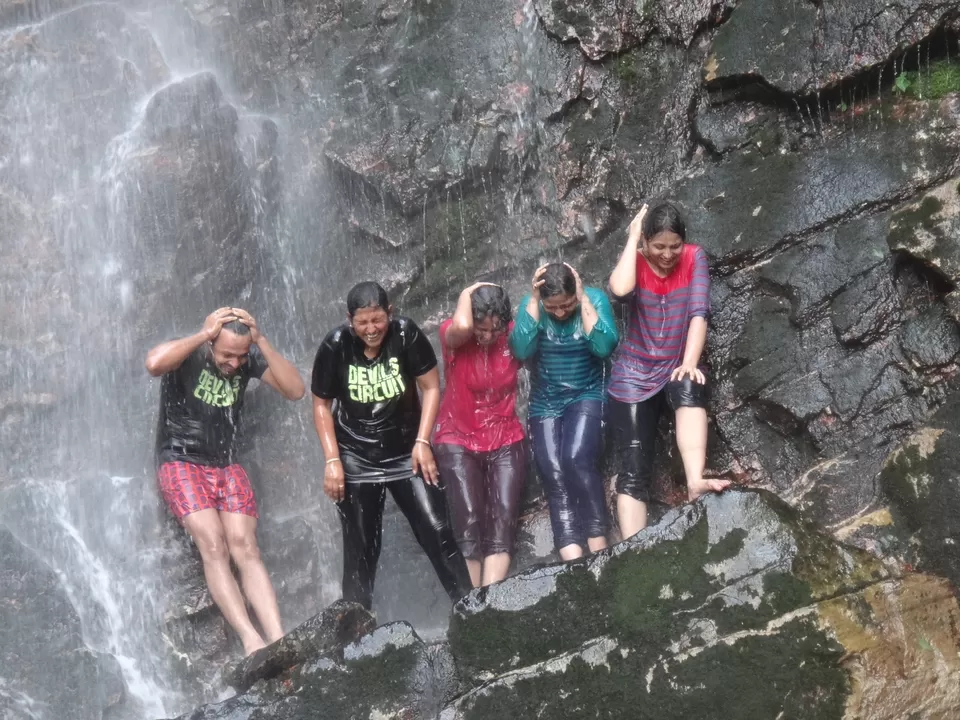 Quick tip : Would any day prefer an early morning trek to the waterfall to experience the beauty of morning colours as against our afternoon trek in July.
Day 04:
The trek begins : Rangthar (March 2016) vs Rolla (July 2016)
Rangthar
You reach the village Pekhri in a jeep....quite an interesting bumpy ride. From Pekhri the climb begins....its around 4.5 kms upto Rangthar as compared to 8kms in case of Rolla, but the ascent is 760m against a 500m in case of Rolla. Thus the Rangthar trek is certainly more steep and more strenuous too, yet was manageable for beginners like me although huffing and puffing all the way:-). Took us close to 4.5 hours to reach with intermittent breaks. This trek is quite rocky with most of the climb in the sun.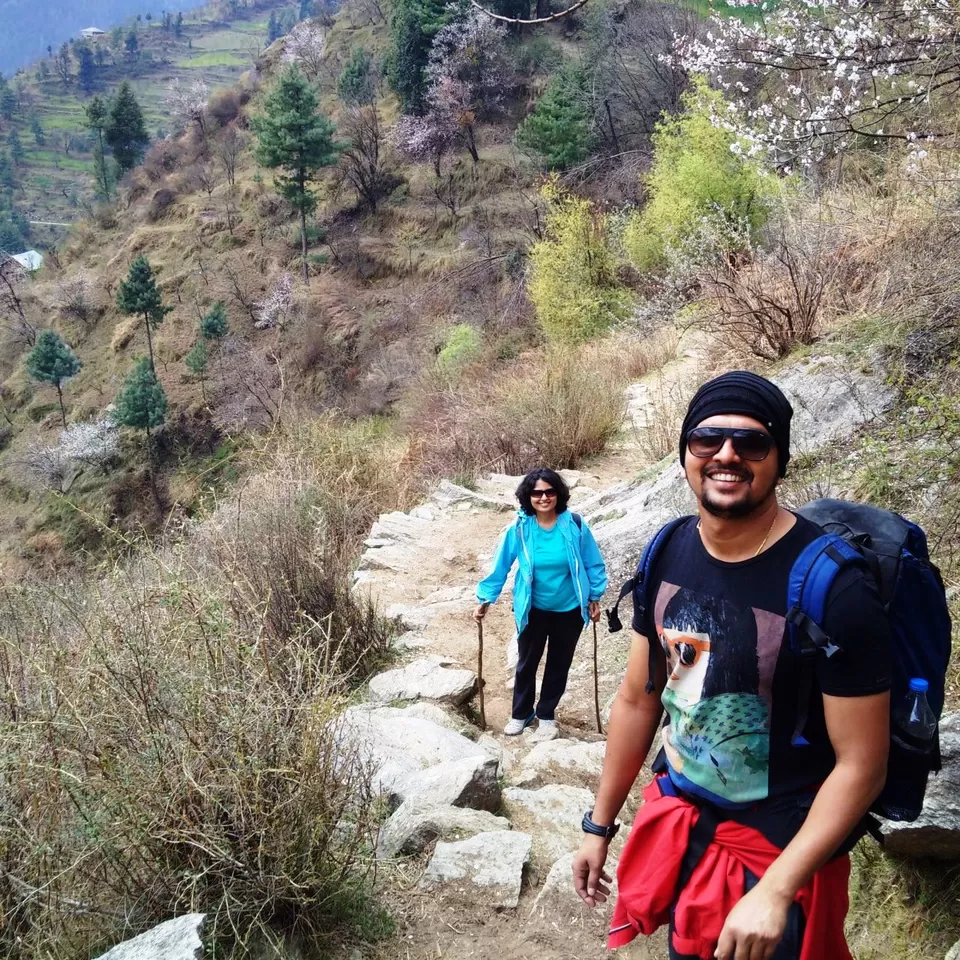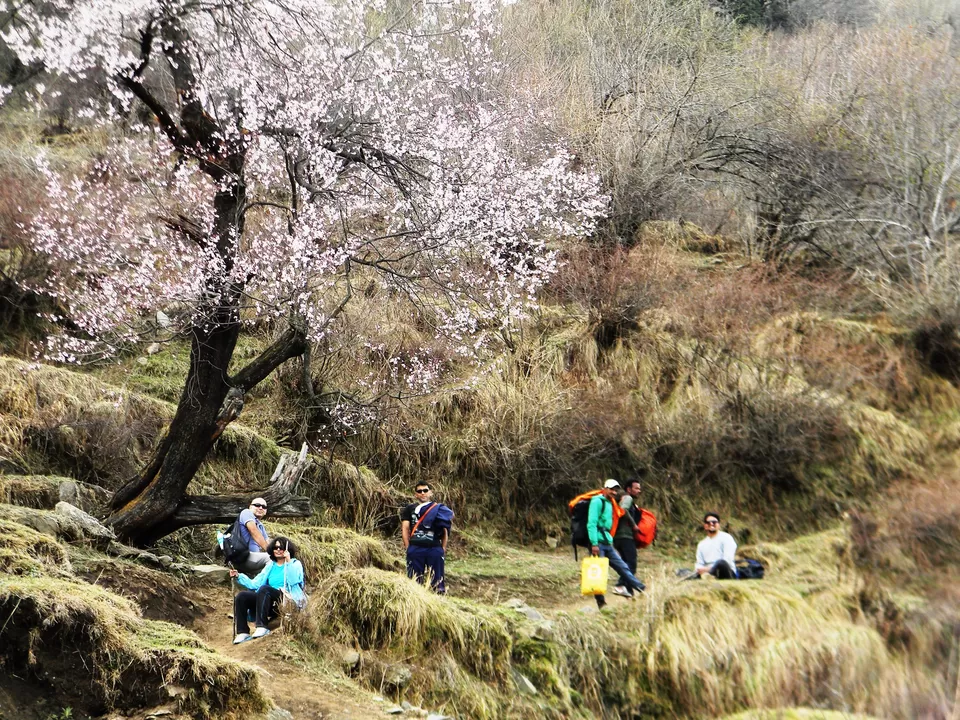 Although this route has no river, streams, waterfalls.... it has absolutely stunning views of the Himalayan snow peaks all along the way and the cherry on top is the breathtaking campsite at 2860m...... presenting panoramic views of the Himalayan snow peaks. The view that it has to offer more than makes up for all the effort taken to reach there!
The Rangthar campsite is a large plateau with space large enough to host a cricket tournament, which we actually did with the lovely local people and SHA's team.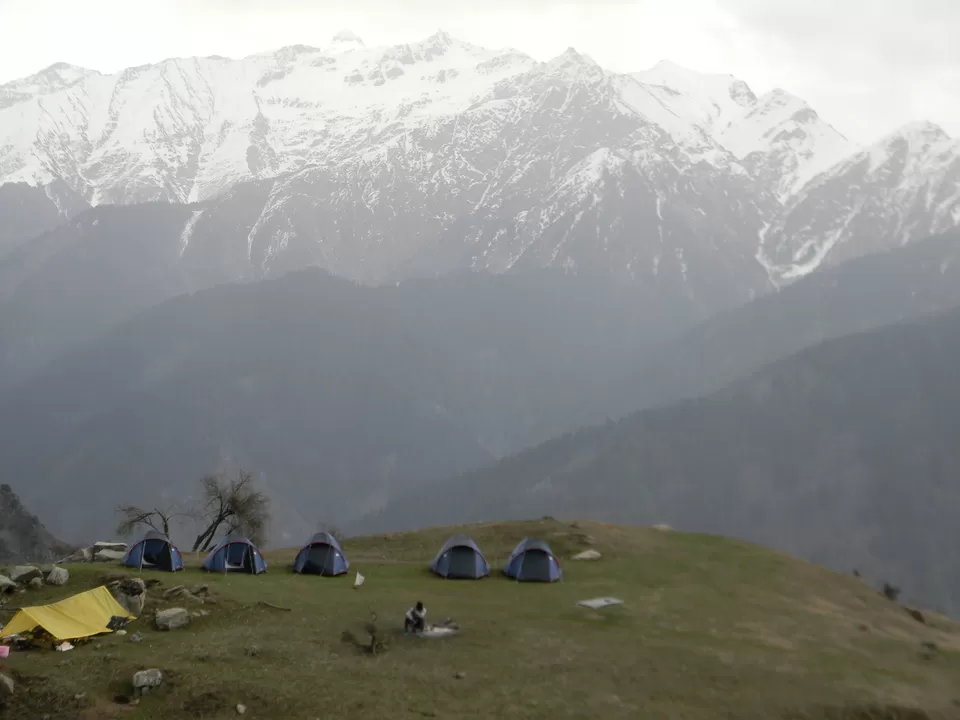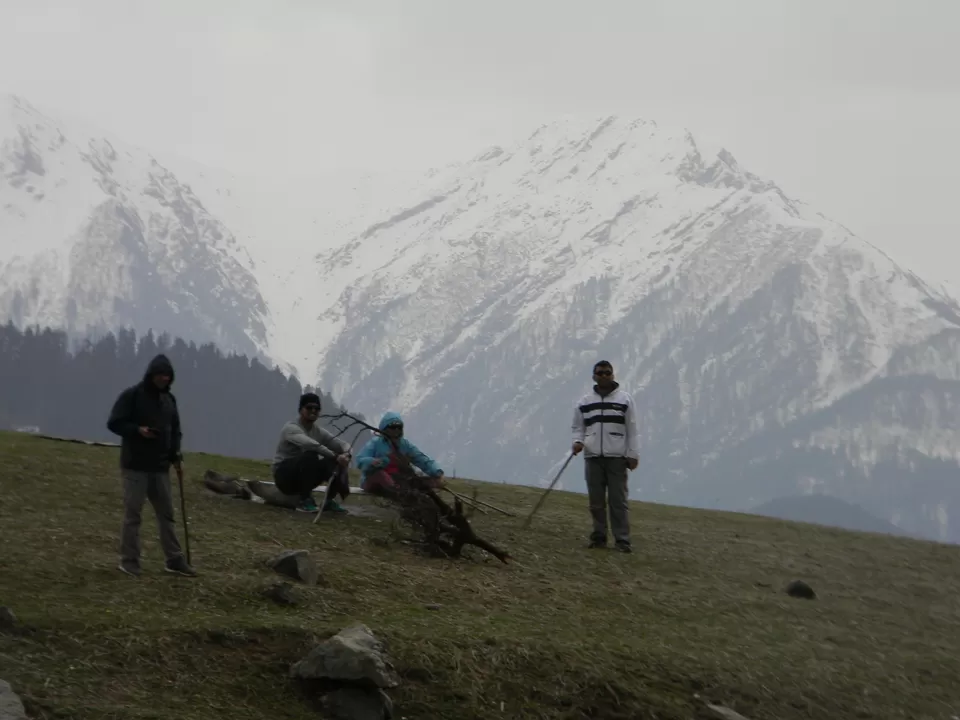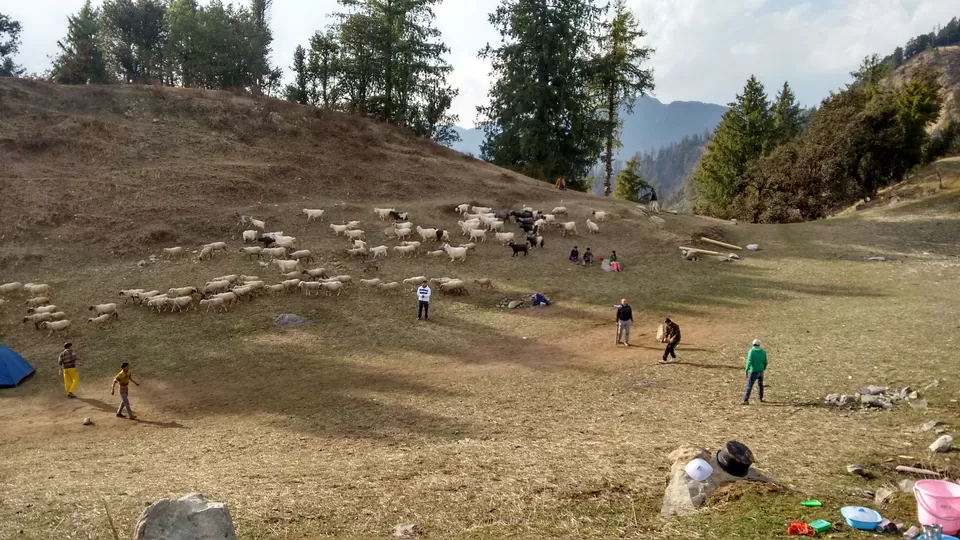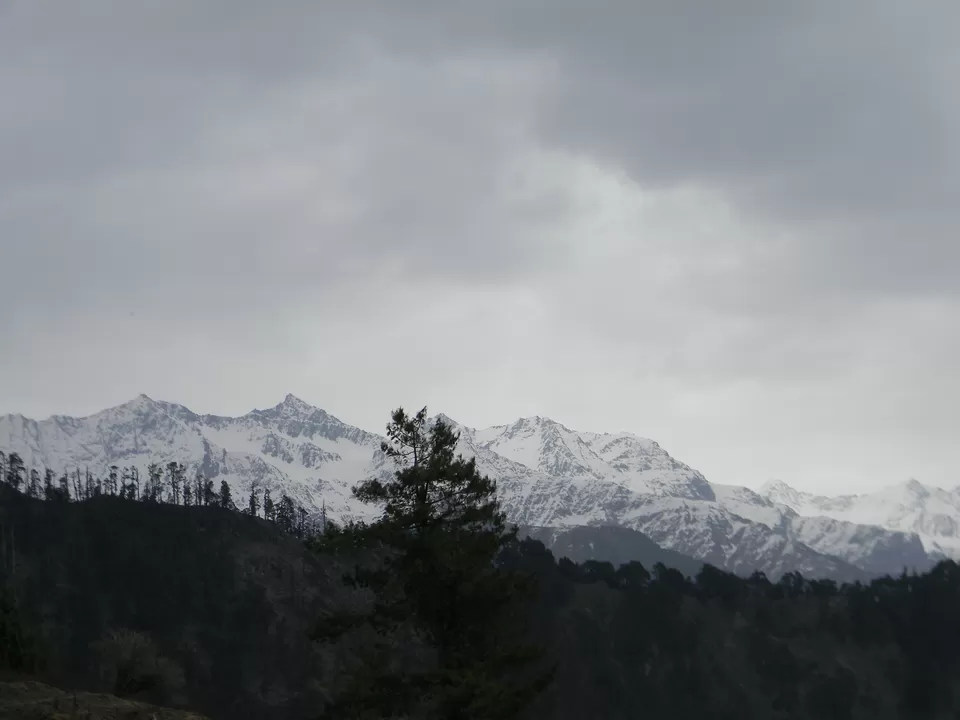 The weather :
Really, really cold around that time of the year i.e. March....Thermals and warm woollens should be strictly in the list of essentials.........In three days experienced all weathers..........from a clear sunny day, to numbing cold nights, from gusty winds to downpour to hailstorm.
Unforgettable experiences
-When you open your lunch pack during your climb and exclaim with delight to see a bar of snickers in there
-When after 4 hours of strenuous climb ....you reach the campsite and are speechless on seeing the view!
-When you spend an entire night tossing and turning in your sleeping bag clueless about how to keep yourself warmer.....really felt like "Is raat ki subah nahi"...I guess we underestimated how cold it could get and thus were underprepared with woollens.
-When after overhearing us talking about how cold it was the previous night one of the SHA team members goes all the way down to get warmer sleeping bags for us.
-When you are served pancakes and honey for breakfast and and the team taking care of you overwhelms you with "chai" and "pakode" served in your tent as it pours outside.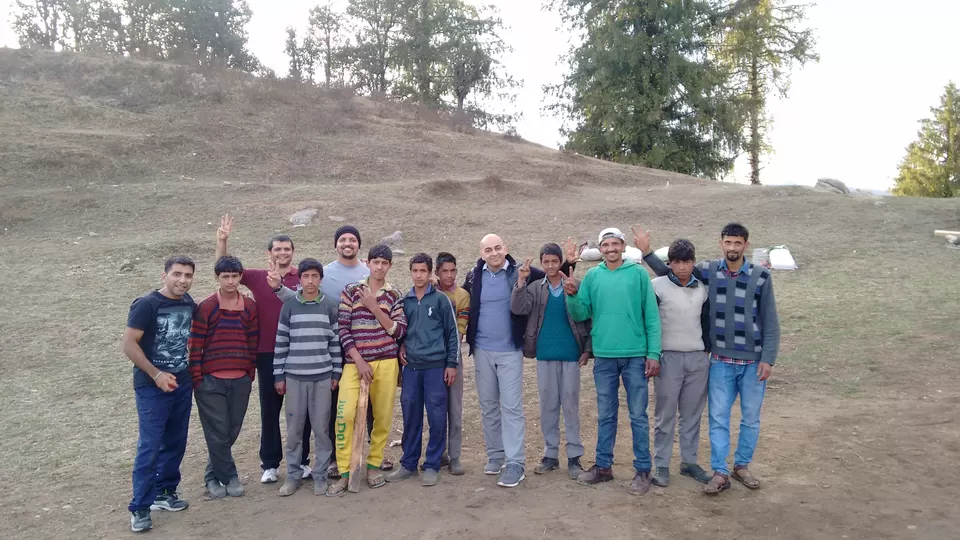 -When the local team carves a bat out of forest wood to play cricket at 3000m above sea level.
Going to Rolla
The trek to Rolla in GHNP is a beautiful gradual climb taking you through dense woods with the river Tirthan continuously running alongside. Its perfect for beginners who don't want to strain themselves much. The rains had added more magic to the woods with beautiful green shades all around and mini streams flowing over rocks covered with parrot green moss. There are quite a few interesting wooden bridges on the way too.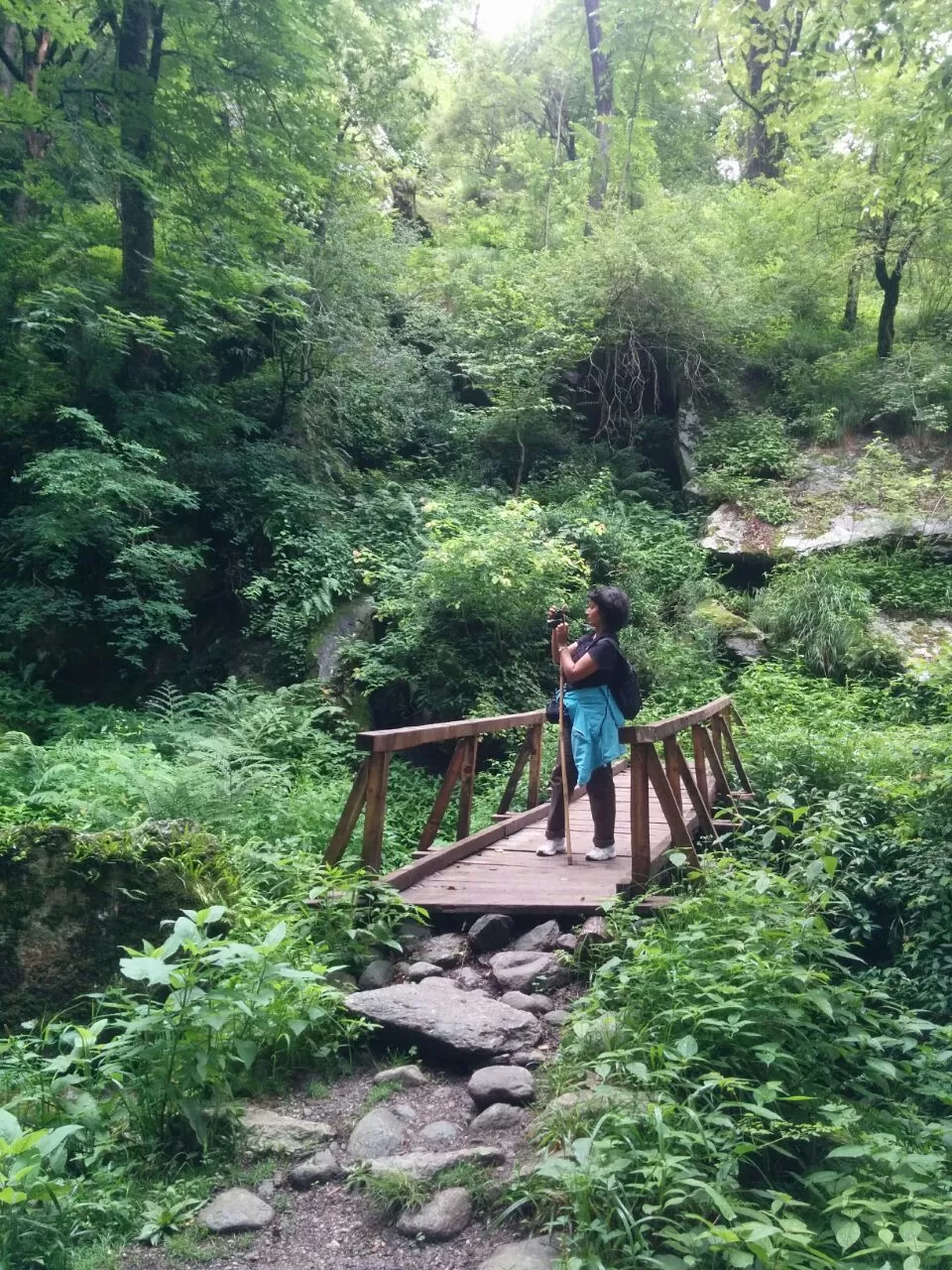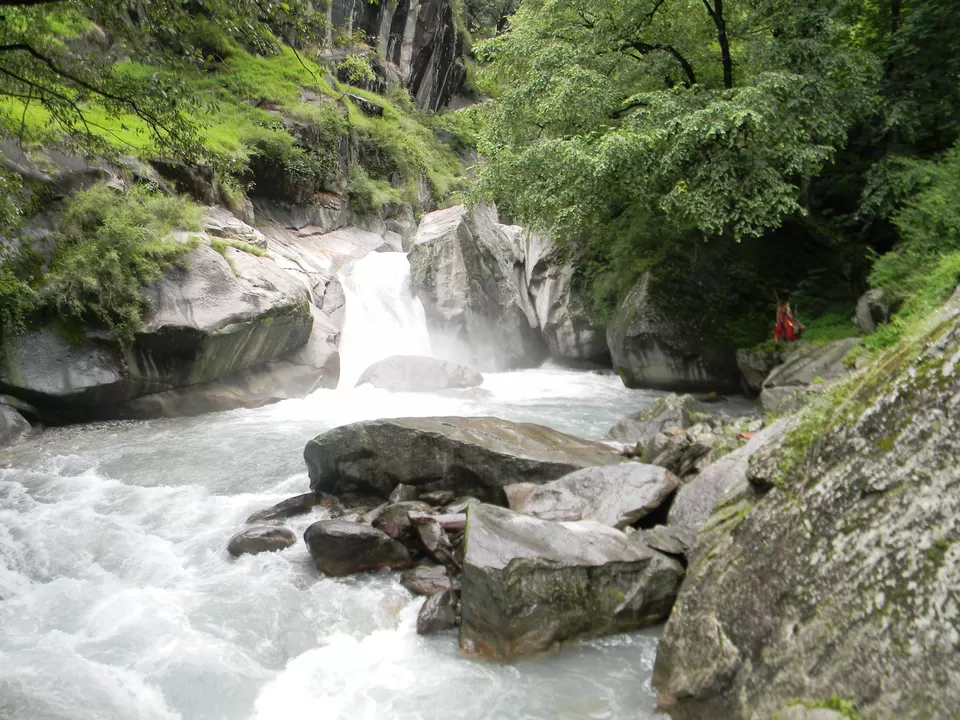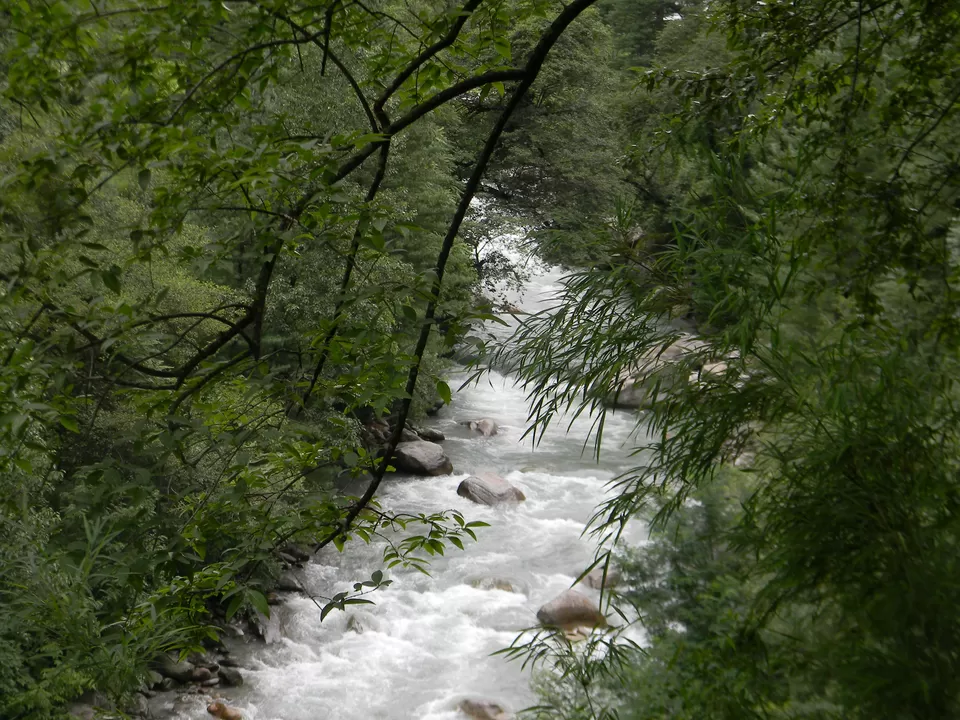 Just before you reach the gates of The Great Himalayan National Park ( thats a 6 – 7 kms walk) you come upon a breathtaking water wall – Hippo Falls............The swirling & foaming water making its way down hill is a sight not to be missed. We camped 2 kms before Rolla, and I somehow found the site where we camped quite comfortable as it had a nice wooden covered sitout where we could have a campfire irrespective of rains. The campsite is amidst forest, not a large one though like Rangthar. So don't expect to be awestruck when you reach it. But the highlight is you are 2 minutes away from the river where you can soak your tired feet in the icy cold waters of Tirthan.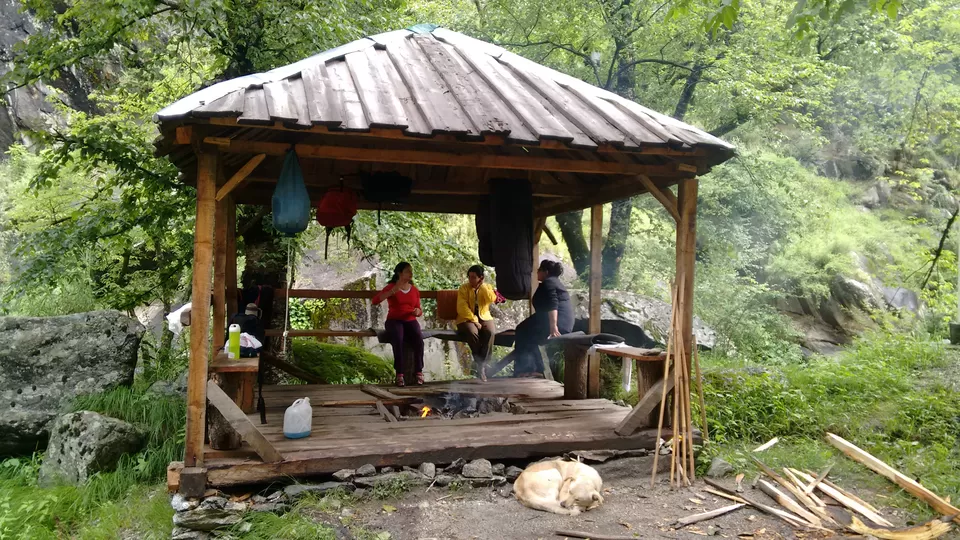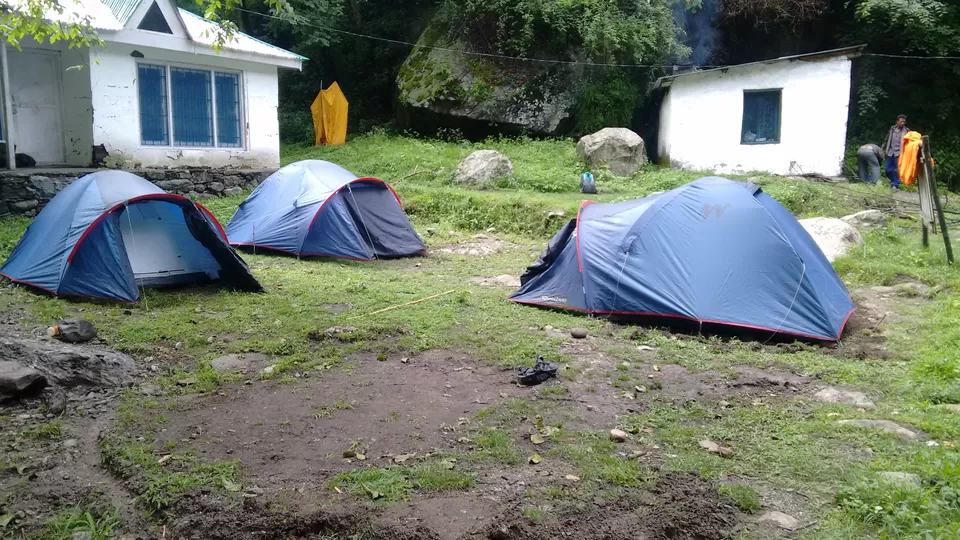 The SHA team taking care of us as always ensured that we were pampered enough and served us maggi and tea by the river side followed by a soup to dessert meal for dinner.
The weather
Pleasantly cool in July....in fact a light sweater was enough. Intermittent rains, but luckily didn't get in our way during the day while we trekked.
Unforgettable experiences
•Early morning surprise visitor in our room at Trishala Guest house ....Gabbar ( Panki Sood's pet dog). Had a good equation with Gabbar during my last visit too and had some pics clicked together then..........so was a pleasant surprise to meet him again.......but it took quite an amount of pleading and finally a packet of good day cookies to make him agree to move out of the room!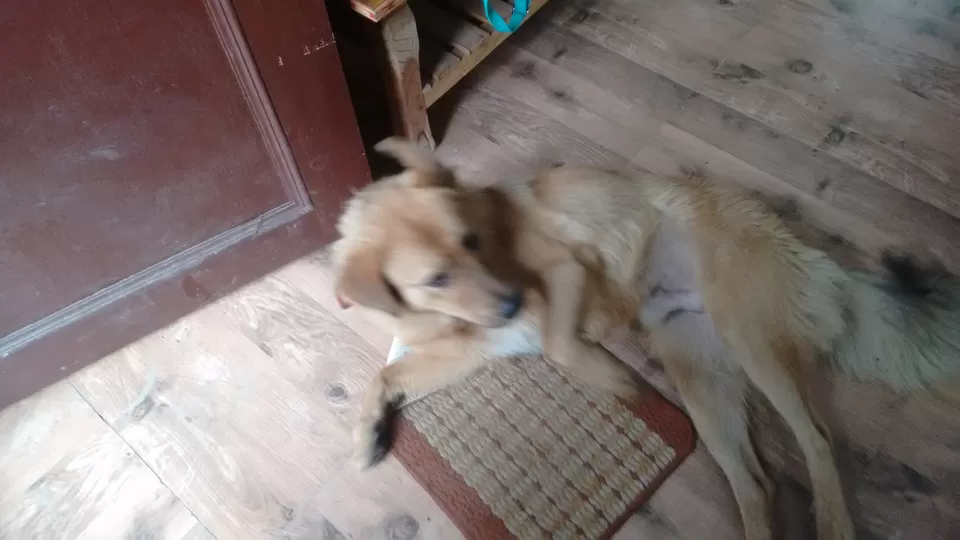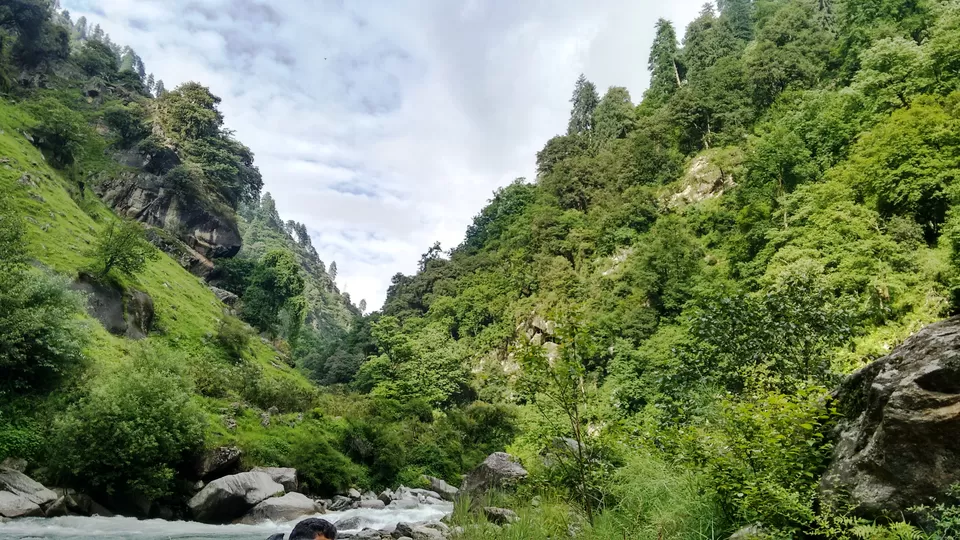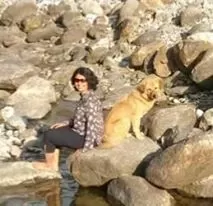 •Sitting on a boulder with a bowl of hot maggi with your feet soaking in the clear, icy cold flowing waters of River Tirthan.
•Fun filled evening by the camp fire playing "Dumb Charades"
•The continuous gushing sound of the river Tirthan that surrounds you....for all the time you spend in Tirthan....to Rolla and back.
Day 05
Rangthar vs Rolla
Rangthar to Barchi Top
We woke up to a beautiful sunny morning and along with our trek lead Pratap, went for a short, beautiful trek to Barchi Top (3100m).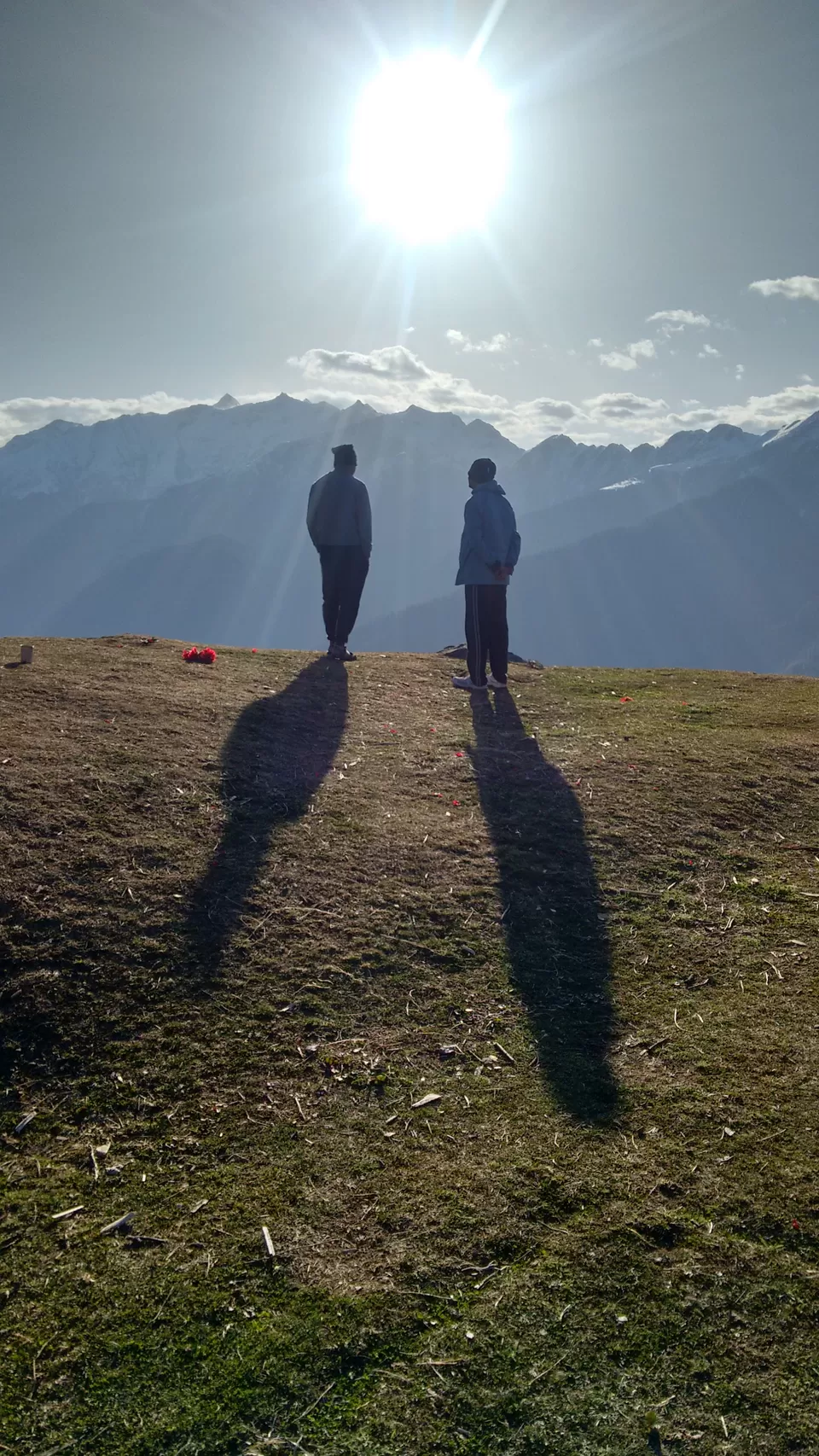 The walk is beautiful through a forest. The locals also worship Tree Gods here.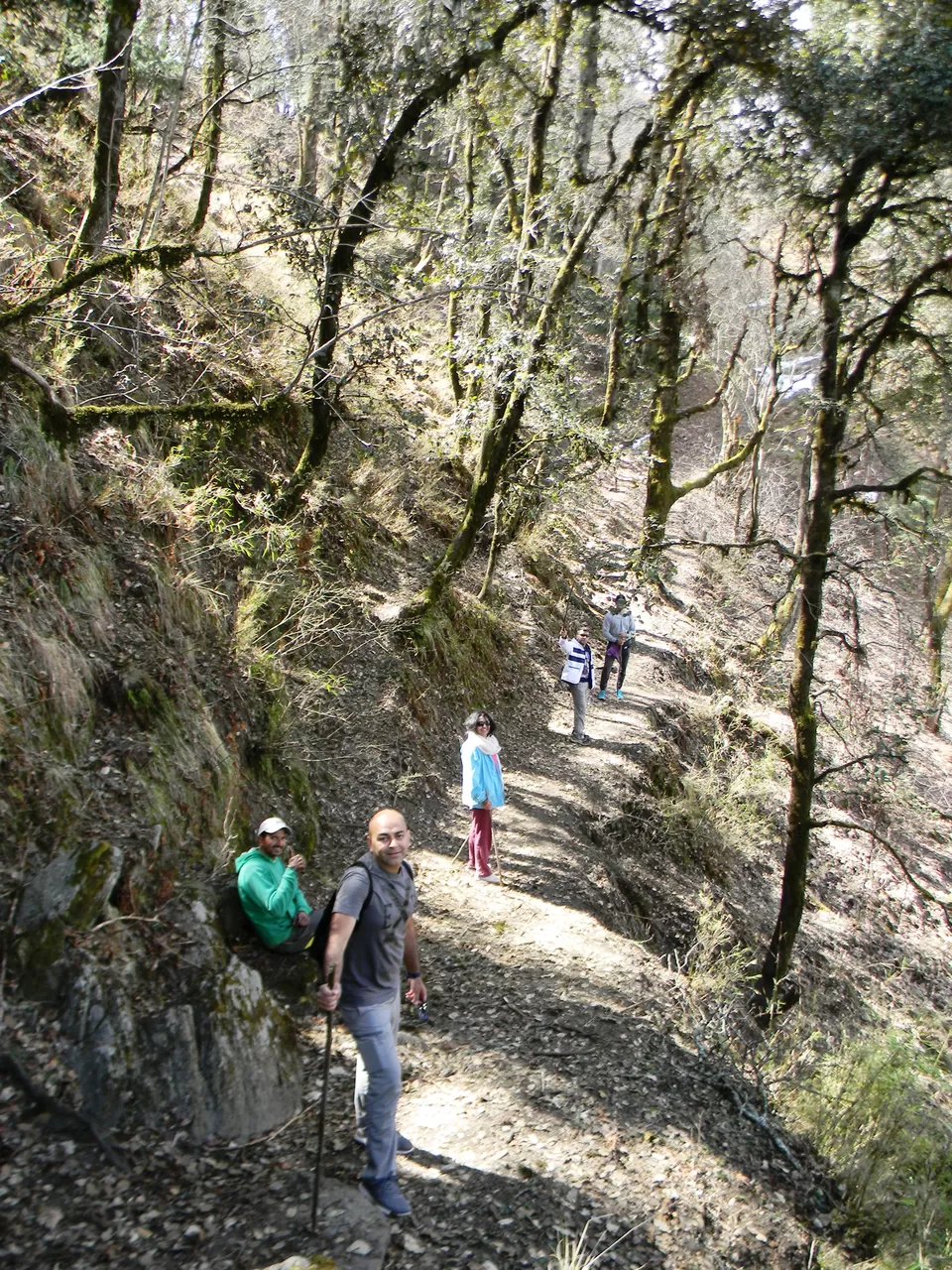 As it had snowed a week back, there still were small islands of snow here....and we took the opportunity to build a snowman :-)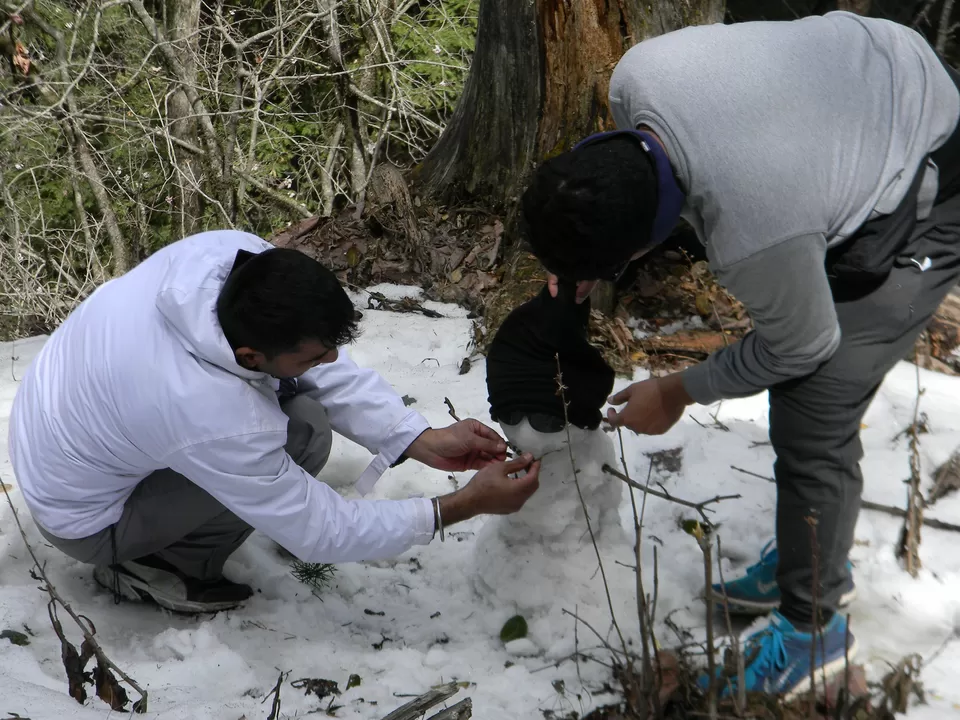 Barchi Top again has great views just like Rangthar. As we relaxed here for some time gusty winds started blowing and Pratap could sense that the weather was going to turn bad. So we started moving back. By the time we reached our campsite , it had already started raining followed by a hail storm. We huddled up in our tents for the next three hours as rains accompanied with thunder and lightning entertained us.
Finally around 7 PM the rains stopped and we moved out of our tents. Had dinner around the campfire followed by a live radio live commentary of India Australia match, thanks to one of our friends who is a cricket fanatic, who walked up a hill in the dark to get the radio signal.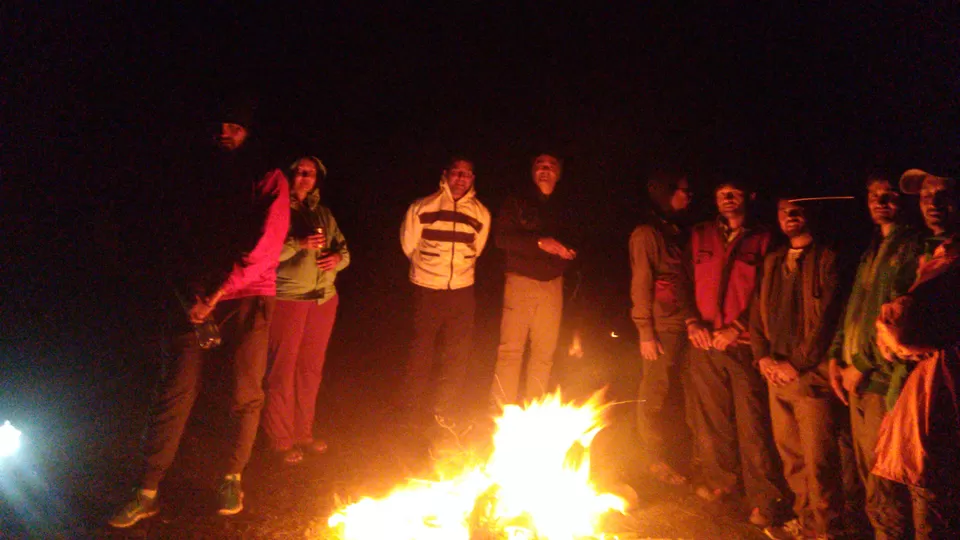 Unforgettables
-When you peep out of your tent to witness lightning like never seen before.
-After living in the era of visual entertainment when you experience flashback moments as you enjoy live cricket commentary on radio.
Rolla to Chalocha
The original plan was to go to Shilt Hut which is supposed to have amazing views of snow peaks, but is also supposed to be a difficult climb, especially if it has rained.....and so it did the previous night. Thus instead of Shilt we went to Chalocha. On the way you come across the sole resident of GHNP a woman in her 60s. She is the sole resident still living inside this park. Her son was there around the time we reached her house. We bought some juicy apricots from him.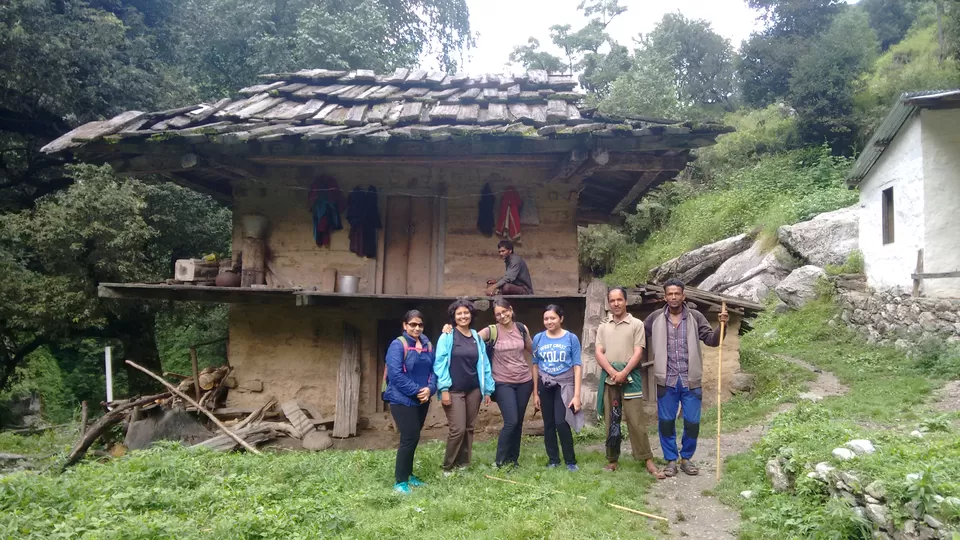 We had expected the trek to Chalocha similar to the one to Rolla, and thus weren't overly excited about it... as weren't expecting anything different....but it turned out to be a hell of an interesting, exciting and adventurous trek walking through super dense forest, at times walking through grass as tall as me, making our way across crevasses over logs of woods holding our breath till we reached the other end & crossing strangely inclined wooden bridges. This was one super exciting trek......and if THIS made me skip a heartbeat.....I don't know what would Shilt be like, but would love to do it someday. Again due to rains had to turn back before we reached Chalocha.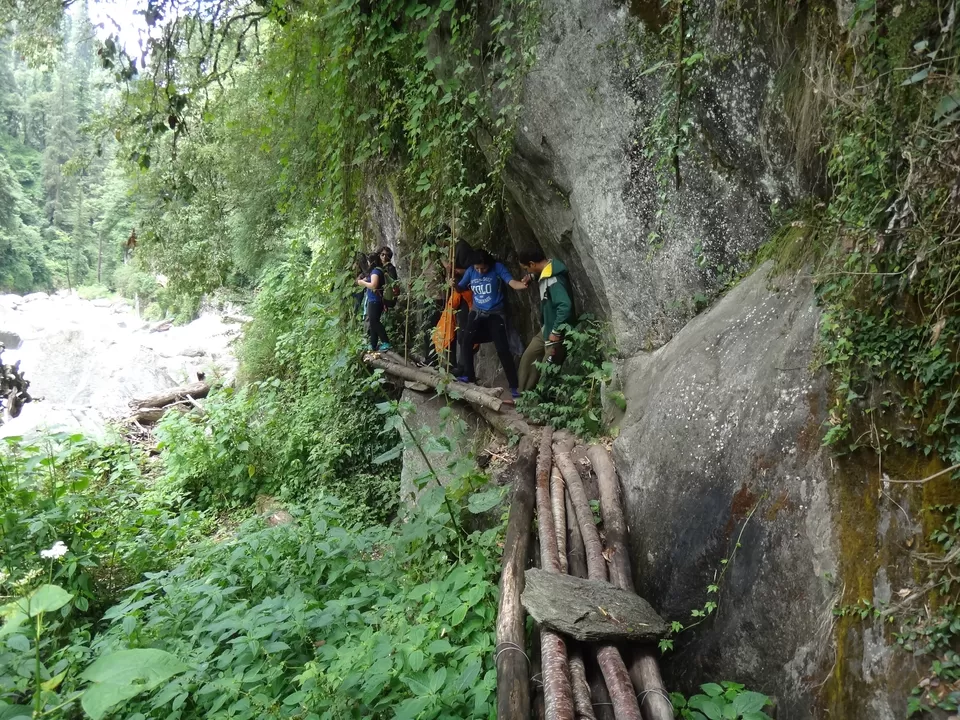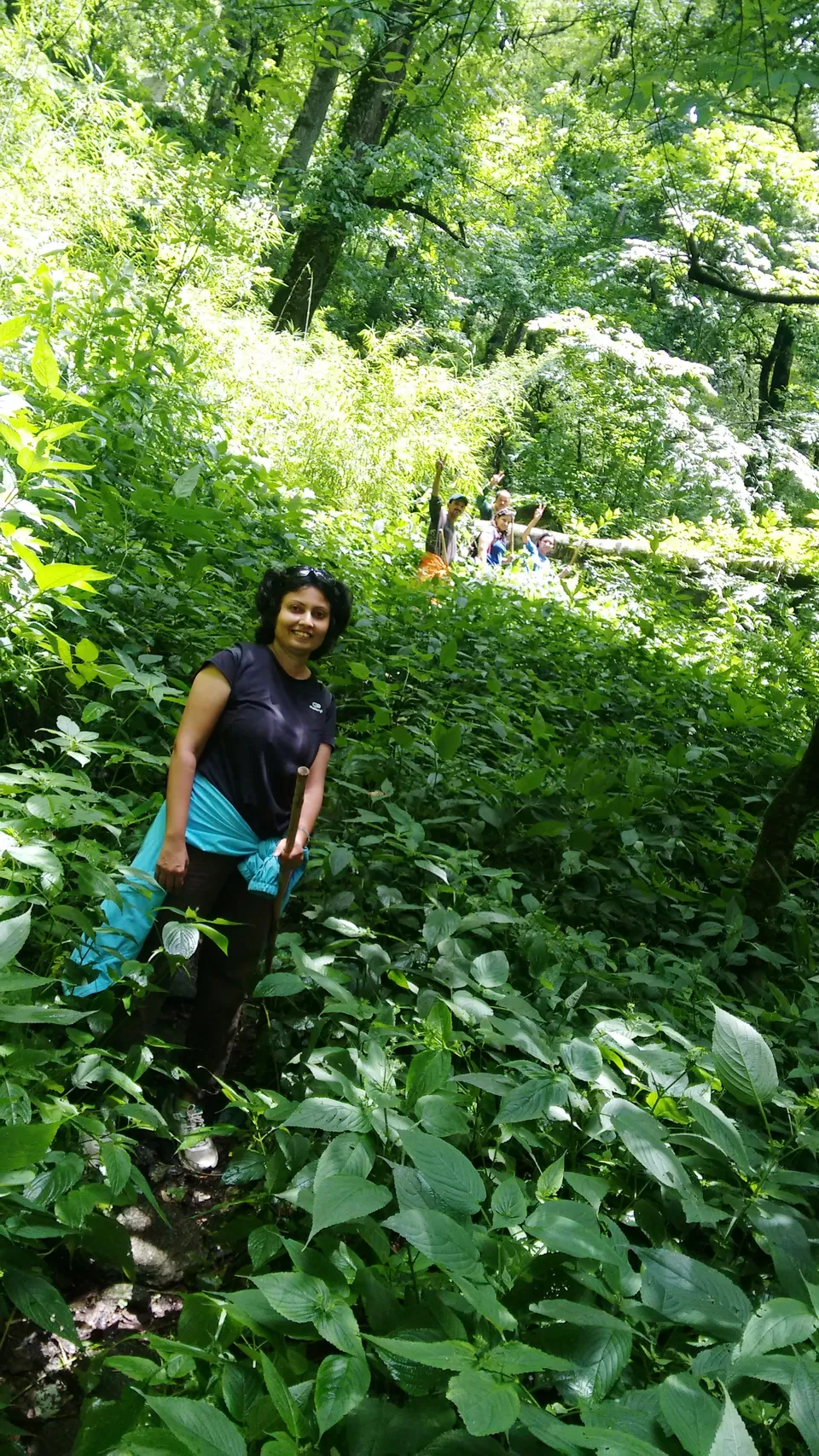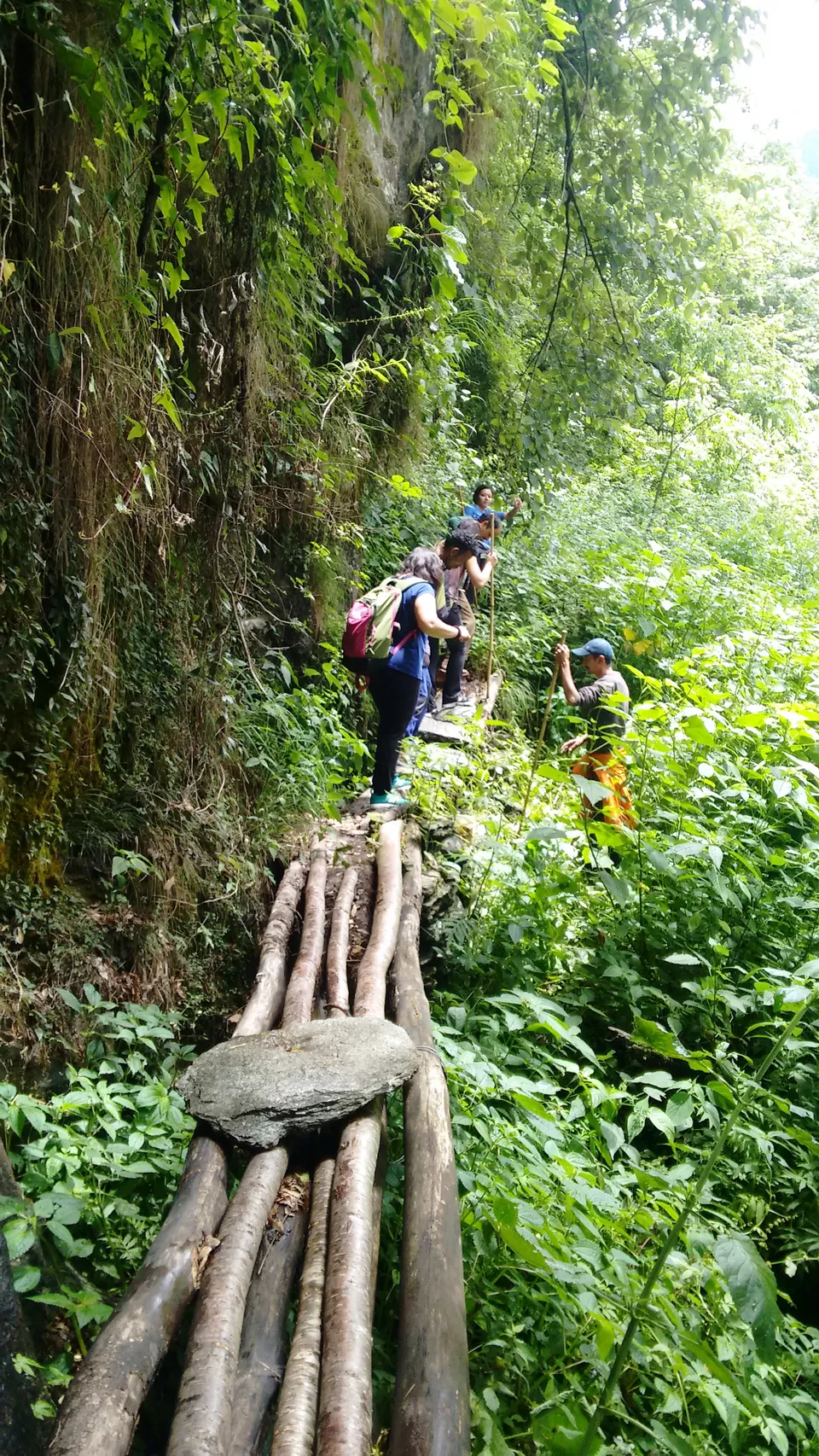 Unforgettable experiences
- When our super agile SHA team members who would jump around like Spidermen to hold us when they sensed we could slip and ensure that we had a safe passage in those slippery and difficult patches on our way to Chalocha.
- When the team including our trek lead, cooking staff and porters put up a lovely show after dinner that night with song and dance performances starting with bhajans....followed with local folk music and finally dancing to the tunes of bollywood hits from the 90s...and we joined them as well!! For me time spent with these lovely locals..........so innocent, clear hearted, simple and caring....would count as the most memorable moments!
Day 06
During the Rangthar trek, as we had a taxi with us we were in no hurry to leave. Thus we walked down to the valley, freshened up, rested and then spent some good time at the river side fishing, river crossing and simply soaking in the beauty before we left to go back to our busy urban lives.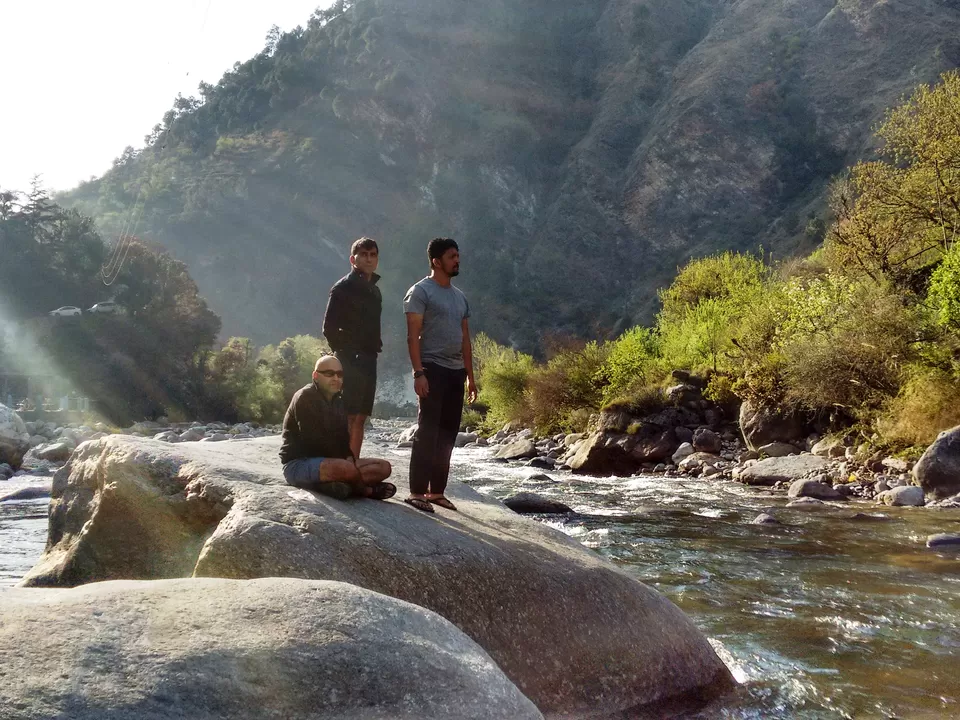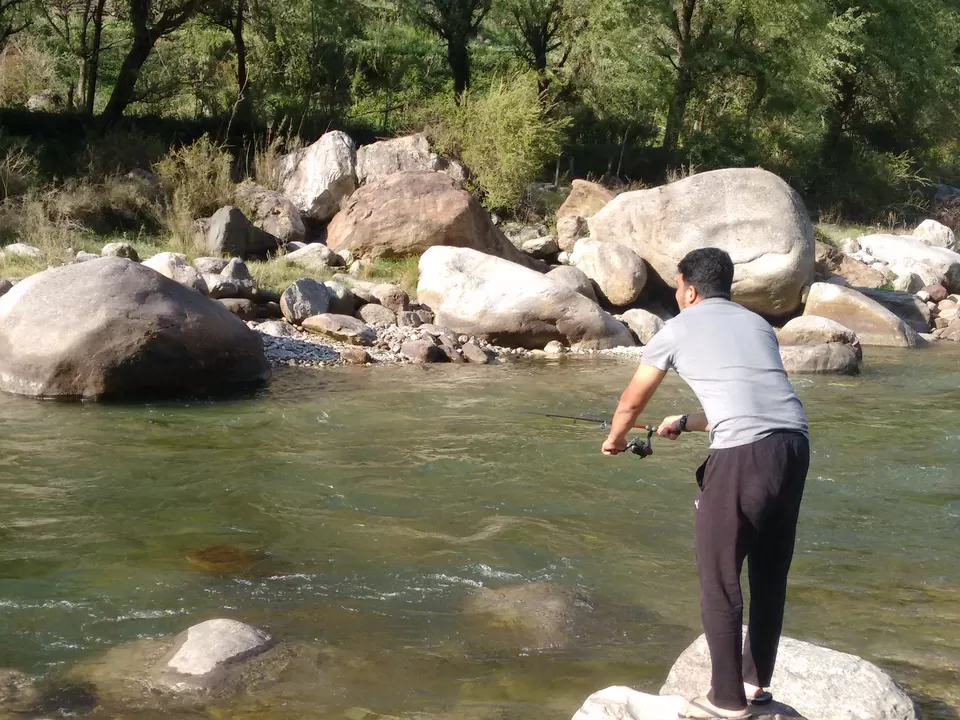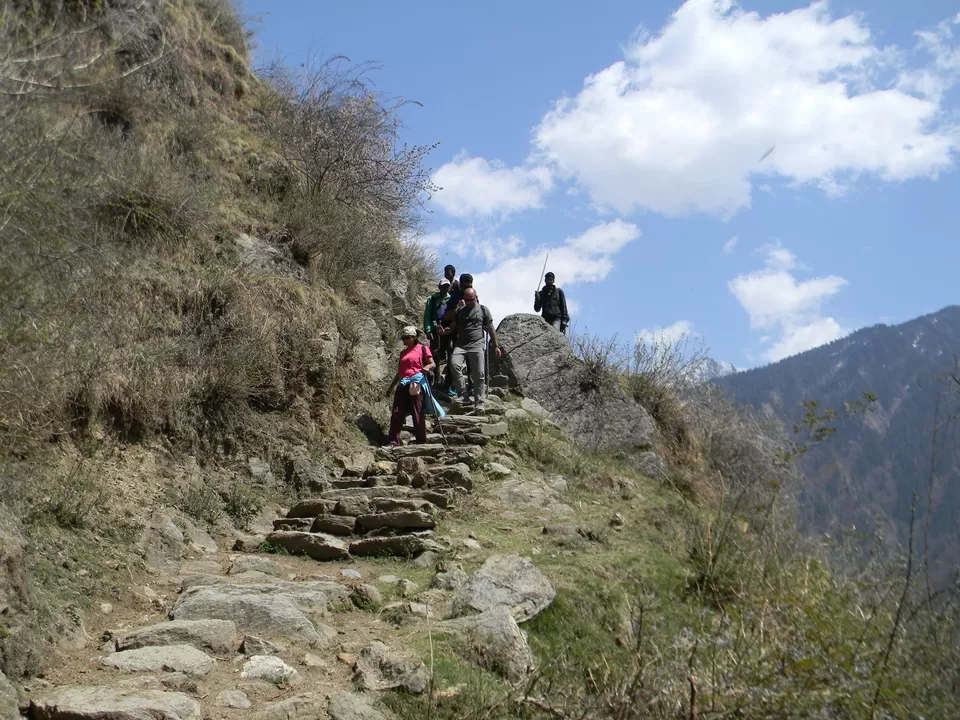 We left around 6.30PM then to reach Delhi at around 7.30AM. On the way back as recommended by Mr. Sood we stopped at Bahadur Dhaba. I remember his words....."Agar thoda man maarne ko taiyaar ho aur dinner der se karne ki taiyyari ho to aap is dhabe pe dinner karna"....and yes we reached quite late at around 11 and had awesome dal makhani and roti.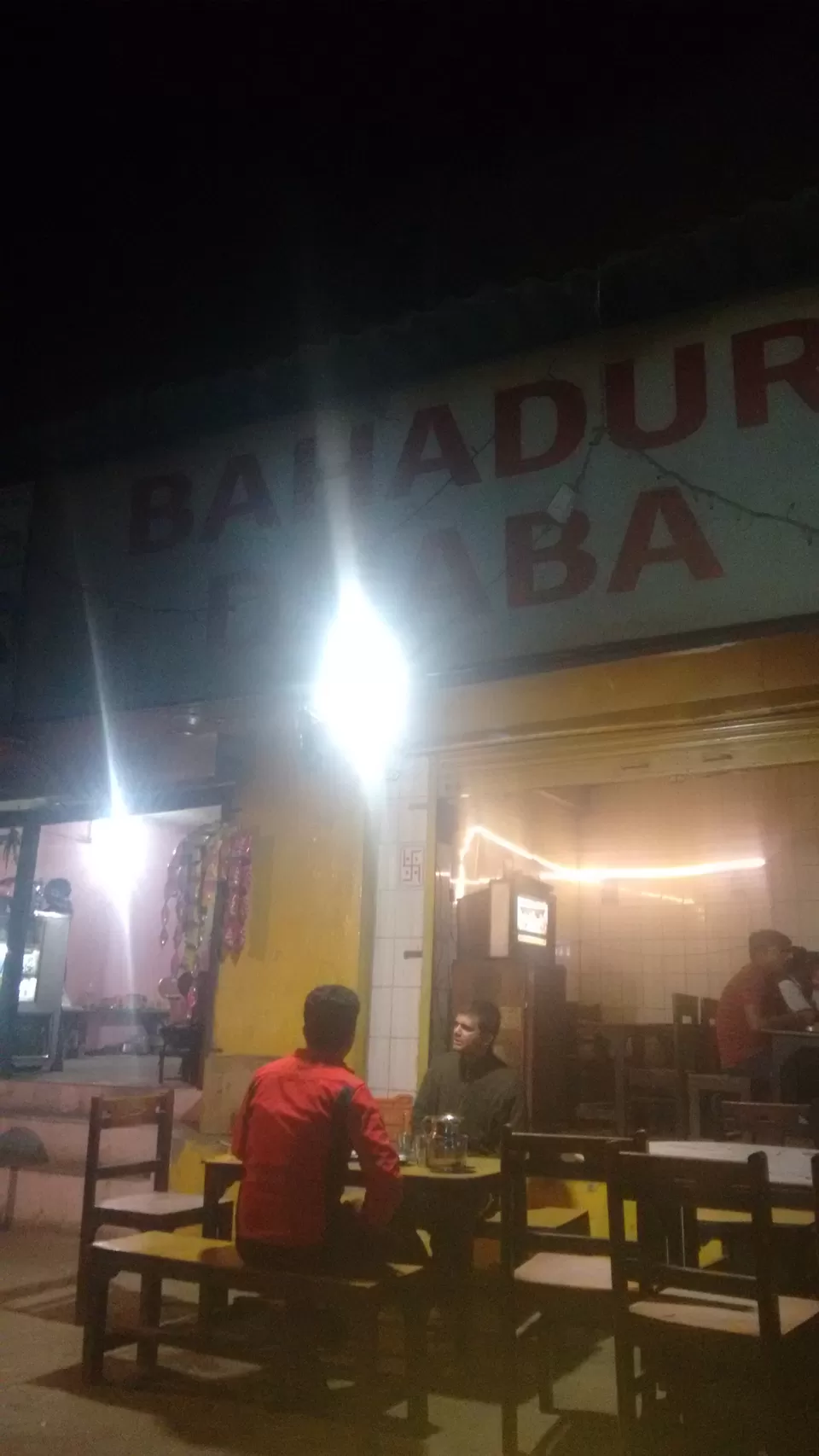 In July we had to catch a bus....so had to hurry things up, but still managed to go to the waterfall in the valley in the afternoon.
We left the beautiful Tirthan Valley around 4.15PM . As we left we bid our adieus to the wonderful team – Would like to name each one of them as would like to appreciate each of them individually - Pratapbhai, Tekubhai, Jhabubhai, Jeevanbhai, Gayatribhai, Pyarelal bhai, Harbansbhai who gathered to say good bye. Don't know whether I would ever meet them again, but being the beautiful souls they are......would never ever forget them!
And as we travelled back to Delhi.....one line kept coming back to me....Jobs fill our wallets, travel fills our souls...and it so truly does !
Have been on two very short treks @ Tirthan but with more time on hand I am sure one could explore much more as you go ahead on the same routes or explore new ones....
And would certainly say.... whether you are a dare devil adventure seeker or an enthusiastic first time trekker;
An avid photographer or a patient bird watcher;
A peaceful solitude seeker or even a "let me just laze around" vacationer.......
Tirthan does have special treats for all!!
Now that my rendezvous with Tirthan has ended ........ I ponder over the daily grind we go through in our urban competitive lives; If only we could take occasional diversions to refuel our souls with renewed energy through sojourns in unexplored lands....what a world of difference that would make!
Closing with a few beautiful lines which sums up all.....
"To move, to breathe, to fly, to float,
To gain all while you give,
To roam the roads of lands remote,
To travel.......Is to live."
-Hans Christian Anderson
#TripotoTakeMeToHampta #Tirthan #greathimalayannationalpark #ghnp #himachalpradesh #trek #rafting #fishing #rivercrossing #banjar