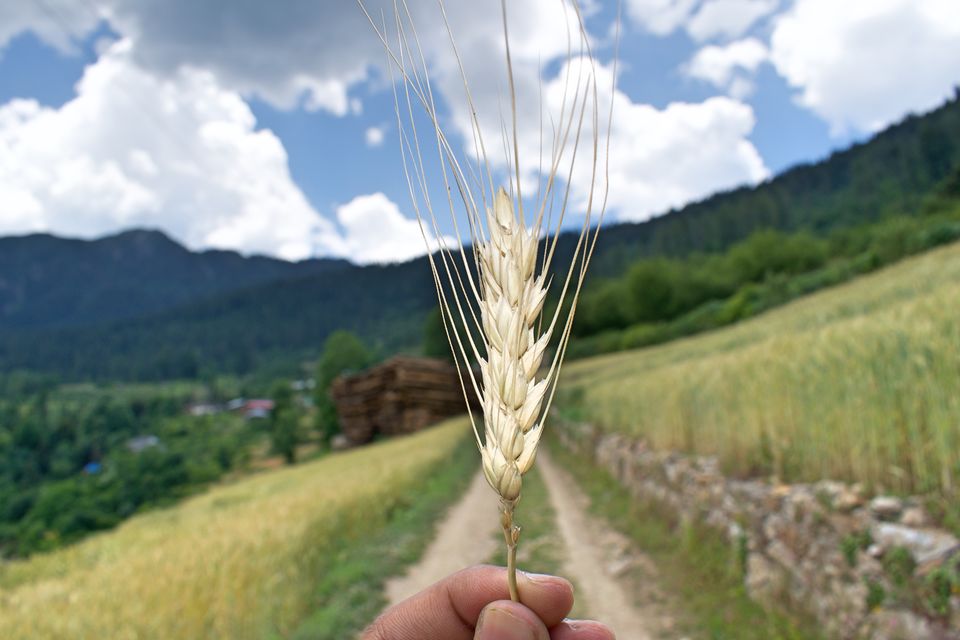 Sometimes I just wonder why do we travel? Why do we spend all our savings to go on a trip? We travel for several miles before we reach our destination. Is that even worth the efforts? Why not just lay down in our cosy beds and just forget that the world exists? Well, then you won't be reading this blog.
Himachal Pradesh, people call it "Devbhoomi" (or Land of Gods) for a reason!
So it was 17th June 2019, me and two of my friends had a refreshing weekend in Shimla. And now we were heading to our next destination, Banjar in Tirthan Valley. We took a HRTC bus which was going from Shimla to Manali - Keylong, our ticket was till a place called Aut which was approximately 180 kms from Shimla. It took us around 6 hours to reach Aut.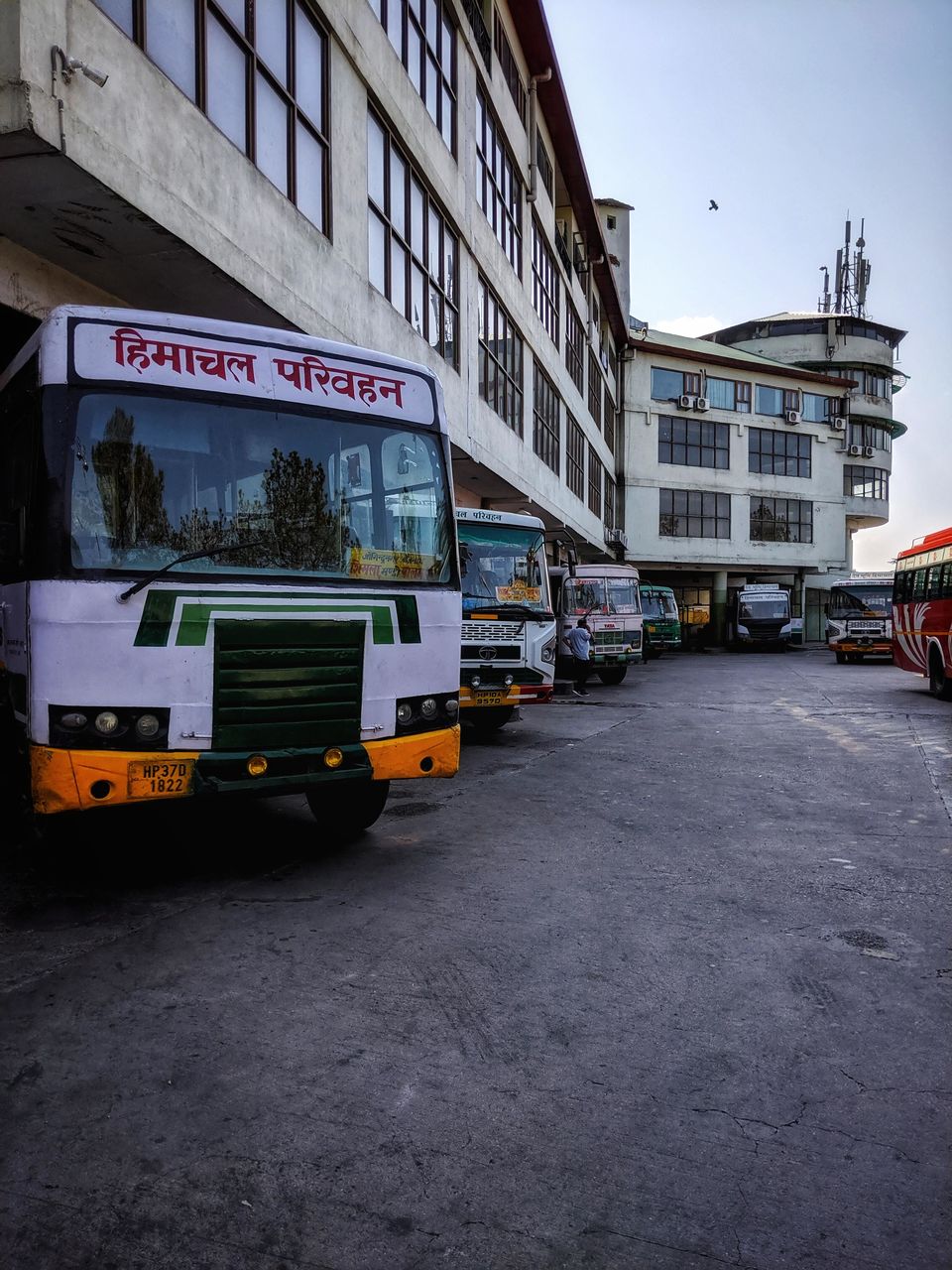 The roads were good except for a patch between Mandi to Aut, there were lot of construction work going on. This was my first time in Himachal and the views took my breath away. Looking out of the window and admiring at those tall and mighty mountains. The road cuts through the valley and runs parallel with River Beas, offering stunning views. We got down at Aut and took another bus to Banjar (our destination) which took us around an hour to reach.
Banjar is one of the tehsil in Kullu district. Its located in Tirthan Valley. This sleepy town is slowly gaining its popularity. The valley is famous for trout fishing, orchards, and hiking. The Great Himalayan National Park (or GHNP) is in Tirthan Valley.
So we had booked dorm beds in a homestay in Banjar. It was just a few meters away from Tirthan river. The house was run by a family and of course, Momo & Thenthuk (cutest dogs) and Xena (the beautiful kitty). You would instantly fall in love with the cosy indoors and the beautiful garden they have. The garden was full of flowers and trees of apricot, peach, pear and plums. The joy of walking around in the garden, plucking those fruits and eating them, you don't get to do this often!
Relaxing in the garden with this view of the valley, sipping through my Rhododendron juice and basically doing nothing! I can spend days doing just that. Also the constant burbling of the river, the sound of wind whispering through those trees and some melodious music playing from the indoors. The sounds reverberate in my mind.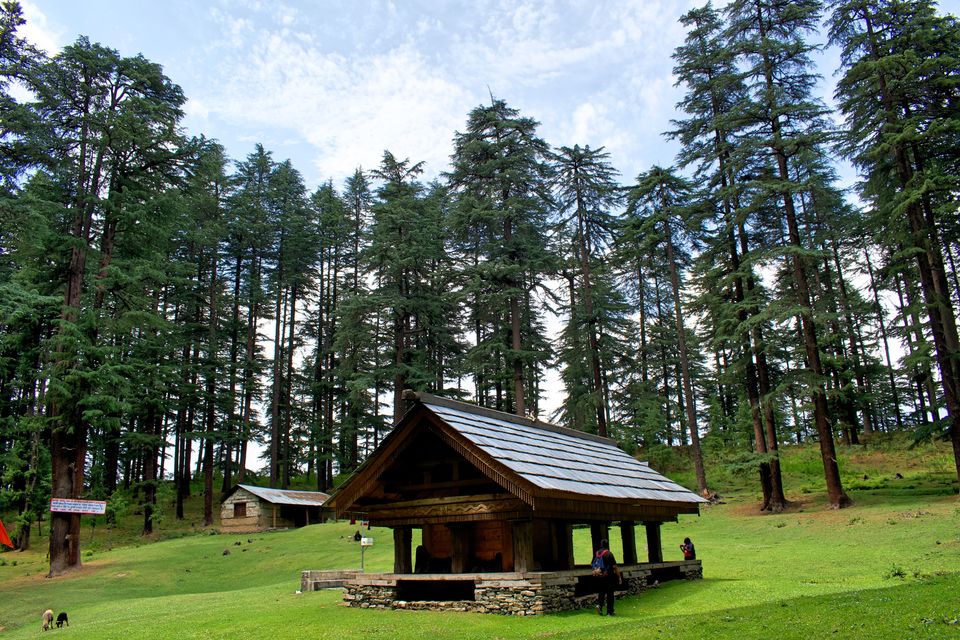 Next day we took a bus from Banjar to a nearby village called Bahu. The village is on a mountain top and the weather even in summers is chilly. Once you get down at Bahu, there is a trail besides the school which leads to Balo temple. The trail was for about 3 km, surrounded by tall Deodhar trees on both the sides. We walked capturing the views of the valley towards the South and the Himalayan peaks towards the North. I saw snow capped mountains for the very first time, though it was from a far distance.
At the end of the trail you come across this meadow with the temple right in the middle of it. There were hardly anyone around. Except for some sheep grazing around the field and their shepherdesses who were sitting and having an animated conversation, maybe about their day-to-day struggles. It's a temple of Balo Naag which was built way back in the 15th century. This place is totally worth exploring!
If you are visiting here then it would be handy to carry some snacks and water bottles as there are no shops or settlements near to this temple.
I wanna live here forever!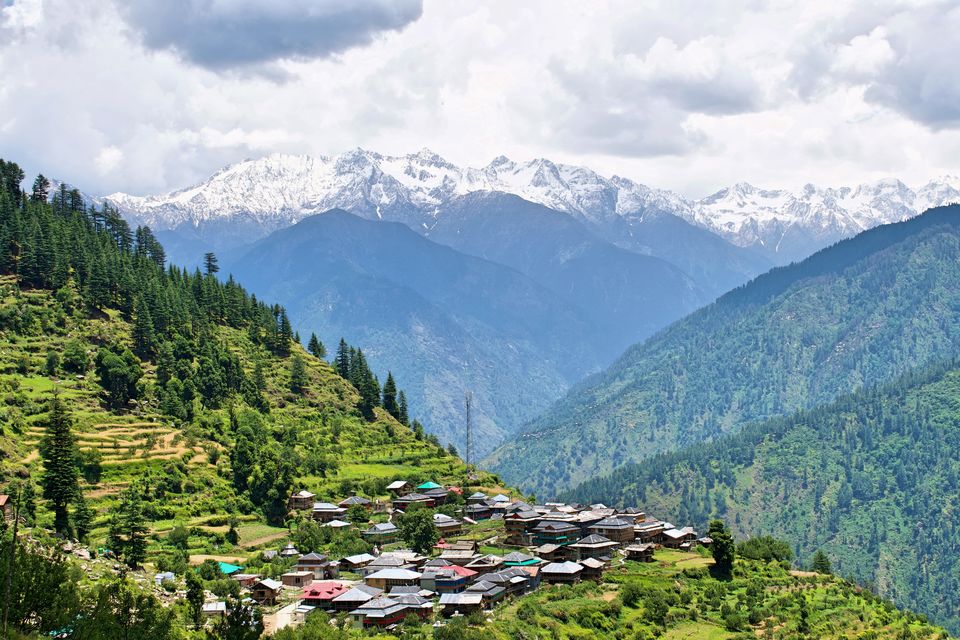 It was Day 3 and we decided to visit this old Himalayan village, Sharchi. About 15 km from Banjar, it takes about an hour and a half to reach here. We had to hire a local taxi as there was only one bus that leaves for Sharchi from Banjar, that too in the evening. This village with an altitude of about 2800 meters, delivers stunning panoramic views of the Great Himalayas, as you can see in the photo above. We trekked till the top passing through old wooden houses, wheat farms and wild weed plants in abundance! I sometimes wonder why wasn't I born here!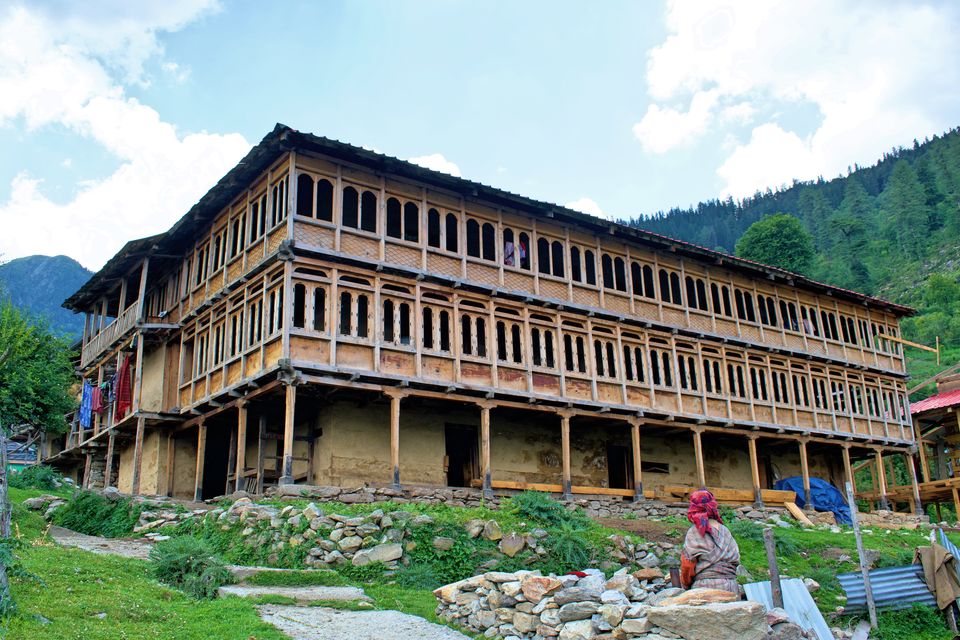 The weather was perfect in the morning with clear skies but as the day went by dark clouds started to gather. We were greeted with some rain once we had reached the top. Ideally it should take you about 30 mins to reach the top from Sharchi village. But it took us lot more than that. We stopped like a hundred times on the way to click photos. Blame it on the views, as they were just breathtaking. There was a small dhaba on the top which was recently opened. The guy had just started his new venture. We were really hungry after the trek so we had our lunch (Maggi).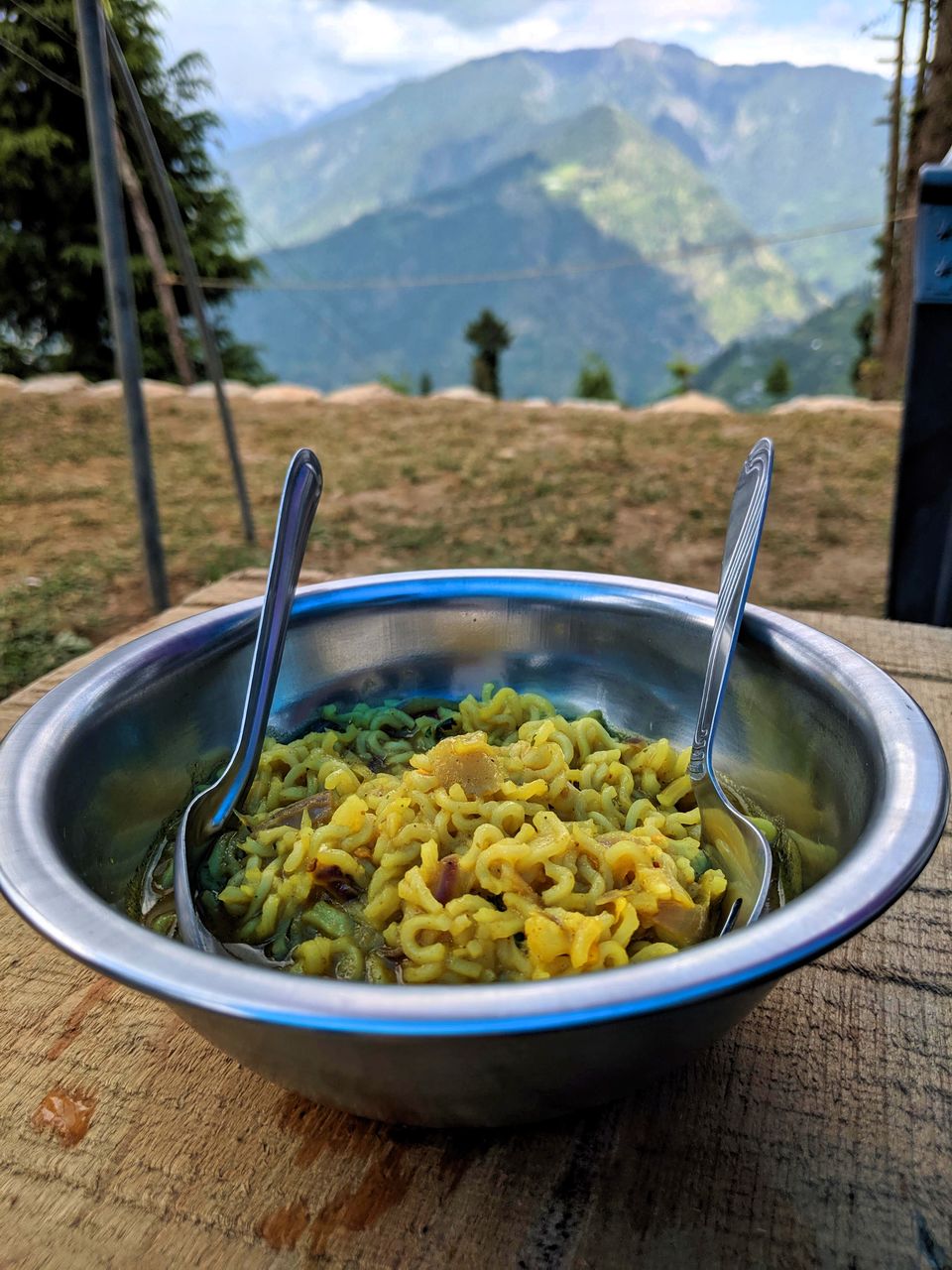 The Hidden Rivers of Tirthan Valley
You will encounter lots of hidden rivers or streams which join Tirthan river. Even Google Maps may not be able to locate them. We came across one such in Banjar village. It was about 5 minutes walk from our homestay. There was a trail along the river which leads to a place where the river current ceases, creating a pond. I felt like sitting here for hours, read a book or just meditate or rather take a dip in the water. Its hard to describe how serene and beautiful this place is. It's definitely worth exploring.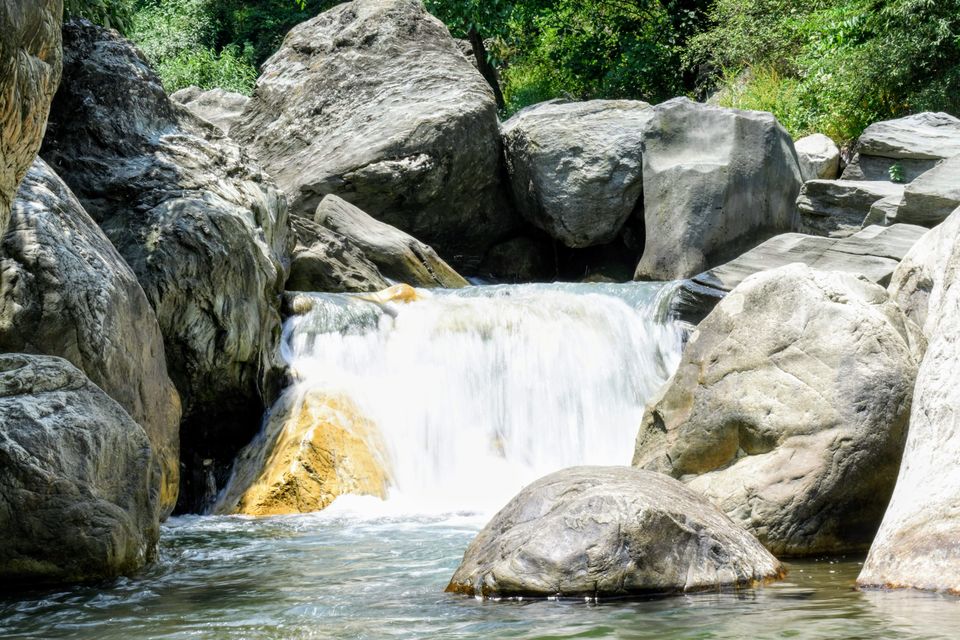 Our week thus ended peacefully but with dissapointment of leaving from this place. I would suggest you to explore the less explored parts of Himachal Pradesh to get the best from its local culture and raw nature. Also I urge you to keep the surroundings clean and not throw plastic wherever you go. Let's maintain the sanctity and purity of Devbhoomi Himachal!