As new year is approaching, Himachal once again will be filled with corporate people from Delhi NCR, Chandigarh and Punjab. Well some people prefer places that's lively and crowded and some people prefer the solitude which mountains has to offer. I obviously come in the latter group of people and in this blog I'll tell you about a place that can be done on weekends or with just a one day holiday and still is not as full and commercial as other places have become in Himachal. So, let's begin.
I am talking about a place called Tirthan Valley located in the Kullu district of Himachal Pradesh. The valley derives its name from the Tirthan river, which winds its way through it. The pristine river originates from the icy cold glacial springs of Hanskund, a snow-capped peak in the verdant Great Himalayan National Park (GHNP). You can find various home stays in Banjar village or Jibhi village and you can find river camps to stay as well.
Ways to reach Tirthan Valley
Best way to travel to Tirthan Valley if you are a group of 4-6 people and have some budget is by pre-booked cabs. This way you'll able to travel on your own ways and will not be dependent on anybody else.
Second way to take a bus till Aut, Mandi from Delhi and take a private taxi till Jibhi.
The nearest railway stations to the location are Ambala and Kiratpur, both well connected with various other cities through the means of a rail network. You can board a bus or take a taxi from these railway stations to reach the valley.
The nearest airport to Tirthan Valley is Bhuntar, located at a distance of around 48 km from the location.
I had booked a cab from some reference and we were 5 people so we had to book an Innova. Bonus tip for saving money - take either 4 or 6 people on a trip. This way you can book either a small sedan or an Innnova which costs almost same as to and fro volvo buses to places in Tirthan and Kullu Valley. But to our surprise, the driver backed out last moment and we thought that our trip was cancelled. But somehow we managed another cab at last moment and started our journey.
We reached Jibhi around 4 pm in the evening as there was too much fog when we started from Delhi and also we started late. Otherwise you may reach Jibhi in about 12-13 hours easily.
We checked in Crystal Mountain Homestay where we had booked 2 rooms and which was pretty affordable. Properties in Jibhi on new year occasion increase their price 4-5 times as this is the opportunity to make some good bucks. Our homestay had simple rooms and I always look out for a cheap and nice place to stay because I spend most of my time outside only.
So we decide to have some rest and chill in Hope cafe, Jibhi. We played some guitar and had an awesome hot dinner. There were lot of cafes and homestays which had organised new year parties and live music for the next day. But the good thing is that Jibhi being in the GHNP region, music was not to be played after 10 in the night. We took a stroll around Jibhi and a local advised us against it because of the presence of bears in the night. So we returned to our homestay, had a chat and then dozed off.
We woke up in the morning and had delicious Aloo Paranthas with a great view of the valley.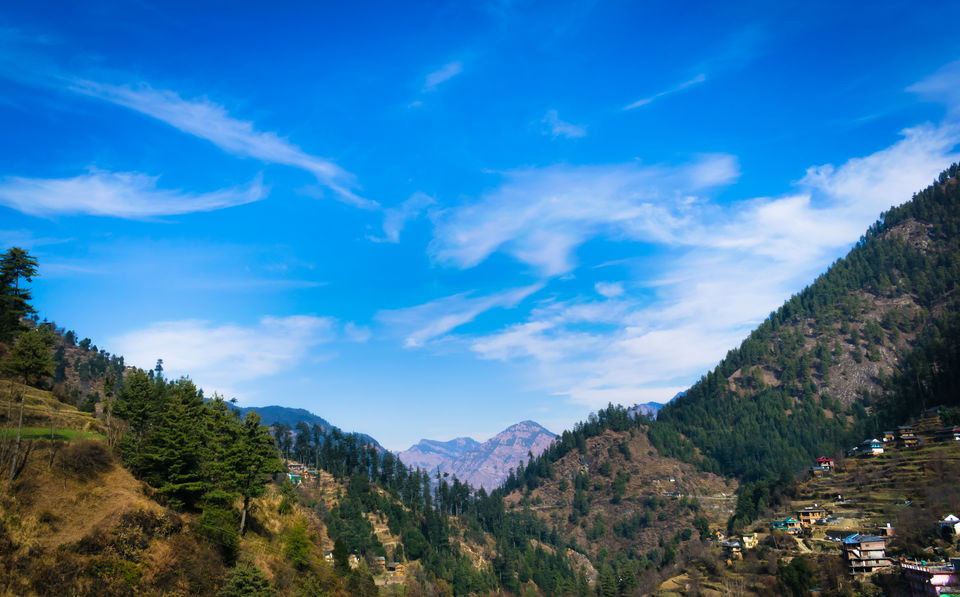 We started our journey to Jalori pass which has a gem like Serolsar lake which is totally frozen on December 31st. I and my friends had never seen snow before this and we were pretty exited to see snow on the roads. We stopped midway and decided to play in snow for a while. Little did we know that we were gonna freeze our hands(Ha ha...)
We reached the Jalori pass and were mesmerised to see the beauty in front of us. This pass is also known as Old Britisher's Route. You can reach Jalori Pass from Shimla also.
The mistake we did was that before this we had trekked Triund which had a small shop after almost every 20 min or so, we did not buy water or snacks before hand. Take your water with you and also some snacks because there are only 3 shops by counting which come very later in the trek route and also they have shortage of food and also they do not sell water or have water.
The trek had a good sheet of ice on the route and it was fun to see the fellow travellers slip and then again stand up and continue to the lake. The trek is must to do if you are visiting Tirthan Valley as the route is very scenic.
You'll even get to see old caves and ruins on the way to the lake as well as 180 degree view of the peaks of Kullu District.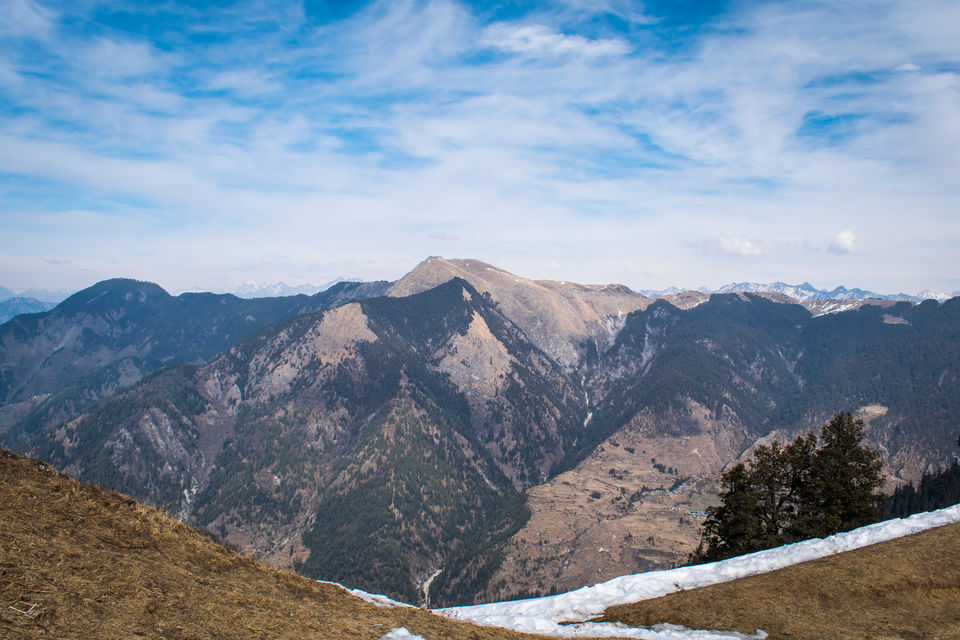 There's few food joints just before the lake. Make sure you have lunch and then go to visit the lake because they get sold up quite quickly.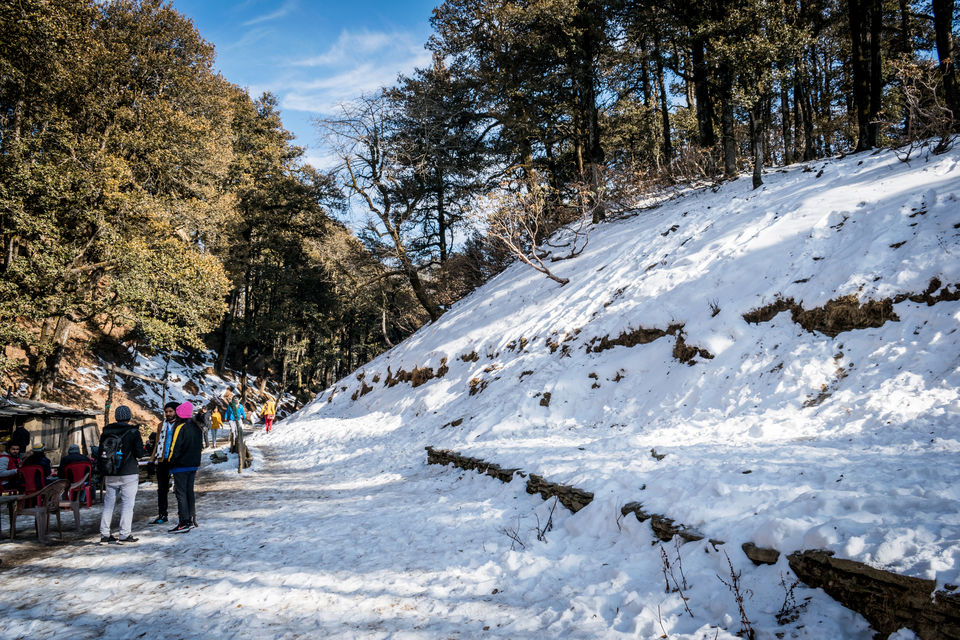 Last leg to the lake is quite slippery and one must take small steps to avoid slipping.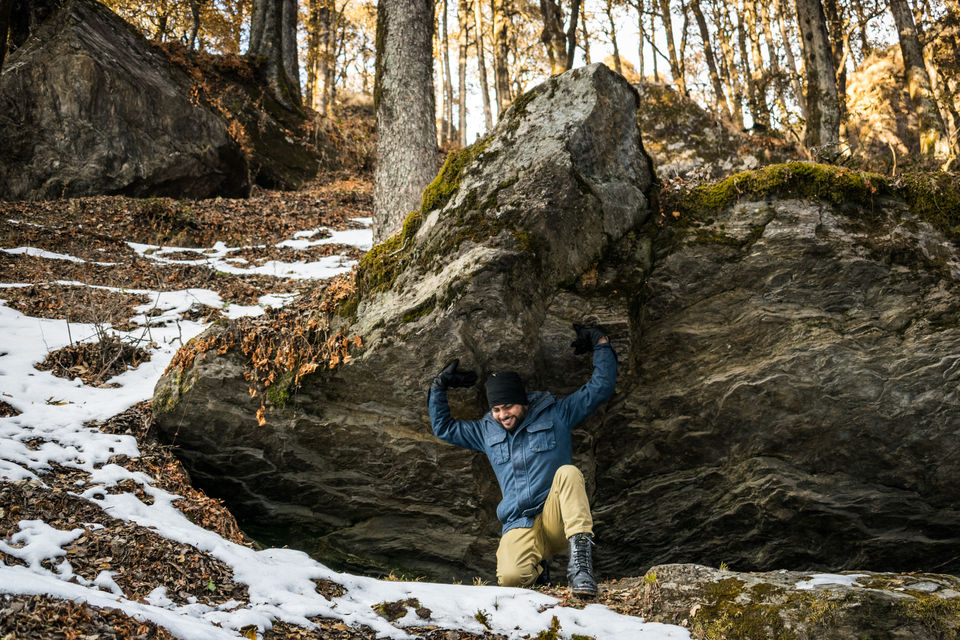 There's also a Mata Budhi Nagin Temple above the lake. As usual, the temple of made of wood with beautiful carvings on board.
Now you'll get to see the wonderful frozen lake with fresh snow on the side where you can enjoy with your friends. We went crazy and had a good snow fight among us. It was a dream come true experience for all of us. Do tell me in comments what was your first snow experience like.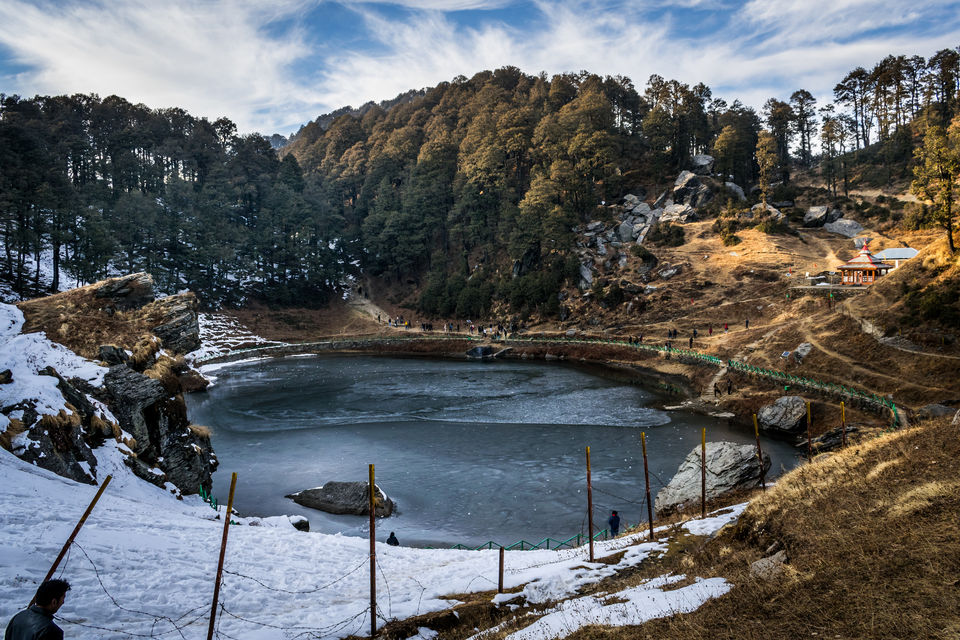 On return, we had to do a steep ascend and also it was dark by the time we reached back to Jalori pass. On the way we took some rest where we met a group of travellers and a singer who sang "Mai ni meriye" in a beautiful voice. What more can you ask for.
We made it to our homestay where our host Rohit bhai had cooked a good dinner for all of us and had arranged a good bonfire for us. Music also stopped at 10 pm. It was -2 but didn't feel like that. That was the most serene new year night I had in my life.
Jibhi has too many hidden waterfalls which you need time to find. We had to go back on this day. So we decide to hike up to the Jibhi waterfall and if possible take a dip in it. We did make our way to the fall and it was beautiful. Also the hike was beautiful.
Now it was time for us to leave for Delhi with our hearts back in Tirthan. So friends, Tirthan Valley still remains the most favourite new year destination for me just for it's quaintness.
P.S. - I keep travelling Himachal Pradesh and other regions as well and I have a lot of more interesting picture on my Instagram profile. Do follow me here as well as on Instagram with handle - "techie_with_lens" . That would encourage me to write more of my stories.