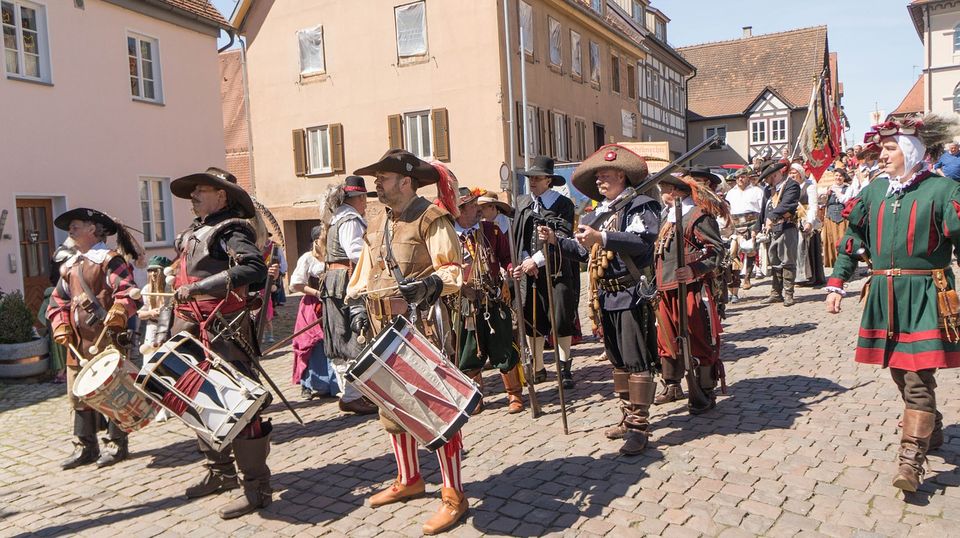 The summer sun is out, temperatures are pleasant and days are bright and long. No wonder the Europeans celebrate summer, unlike any other season. A whole host of festivals light up eccentric towns, bucolic villages and charming cities. It is almost criminal to ignore these fiestas of colour, culture and heritage. Unfortunately, it's a crime us Indians have been committing since long. So, let's change it and enamour these traditional European festivals. Vamos!
You may have heard of Mexican festival, El Dia de Los Muertos (The Day of the Dead), that celebrates and commemorates dead ancestors. The tiny town of Nieves in Spain takes it to another level. Why wait for death when you can experience post-death rituals while still alive. Every year on July 29th, locals who had near-death experiences in the past year are paraded in coffins through the streets. It is an enactment of Spanish funeral processions where friends and family dressed in black follow the coffin. The 900-year-old festival is actually a celebration of life and it is not dull at all. The coffins are backed by local music and the route is filled with villagers selling Galician beer, pomace brandy, wines and local delicacies. One of a kind for sure.
When: 29th July
How to reach: Nieves is easier to reach from Porto (Portugal) than any Spanish airport. It is two hours from Porto. Round-trip flights from Mumbai to Porto cost ₹39,000.
Where to stay: Hostal Fornos (₹2,763 double), Casa Rural Aguamiel (₹4,343 suite).
Italy has a long history, diverse culture and rich heritage. Some say it takes one more than one life to fully understand Italian culture and heritage. But, you can catch a few glimpses of it at the three-day long Valfino al Canto folk music festival. Folk artists from all around Italy congregate in Abruzzo for dance, music and theatre focused on rural Italy. Puglian pizzica, Neapolitan tammurriata, Genoese trallalero and Tuscan ottava rima are some of the folk styles you will find here along with slow-cooked local dishes, fine wines, herbal liqueurs and homemade brandies.
When: 9th to 11th August
How to reach: Round-trip flights from Delhi to Rome cost ₹27,885. Abruzzo is about three hours bus ride from Rome.
Where to stay: I Calanchi (₹2,763 triple), Il Gruccione (₹3,553 double).
Weddings celebrate the union of two lives. Wedding ceremonies and celebrations vary throughout the world. Yet, no wedding ceremony comes close to the pomp and pleasures of Indian weddings. But, would you deny a wedding invitation during your travels? I wouldn't because weddings are an opportunity to indulge in local culture, food and beverages.
Feast of the Assumption is an open invitation to all to witness a traditional Greek wedding. The festival is a reenactment of a traditional Alonissos wedding and takes place in Sporades Island. It starts with a morning church service followed by the best man's visit to the groom's house. The groom's walk towards the bride is accompanied by traditional music and street performances. Tables are filled with local wedding dishes, sweetmeats and pomace brandy. And, the celebrations go on until the sun comes up. It is one wedding I am not going to miss.
When: 15th August
How to reach: Round-trip flights from Delhi to Athens cost ₹30,000. Alonissos is about six hours from Athens and can be reached by train and ferry.
Where to stay: Alexandra Rooms (₹3,553 double), Liadromia Hotel (₹4,737 double).
Armata Festival
Each Dussehra the effigy of Ravan is set on fire throughout India sparking jubilant celebrations. The Greek island of Spetses celebrates an important historic event in a similar fashion. Spetses Island rose up in rebellion against Ottoman rule under the command of the brave female admiral Laskarina Bouboulina.
Each September, the islanders come together to celebrate the decisive 1822 naval battle in which the Turkish fleet was defeated. Hundreds of fishing boats light up the dark sea with candles. The specks of red dots floating atop the dark sea is a true treat for the eyes. These boats eventually slowly surround the effigy of an 1822 Turkish boat and BOOM!
Fireworks light up the dark night. The islanders hit absolute pandemonium joyfully dancing, singing and drinking wine and rakia. You too can dance and drink the night away as bars don't close on this jovial night.
When: 1st to 8th September
How to reach: Round-trip flights from Delhi to Athens cost ₹30,000. Spetses Island is about five hours from Athens and can be reached by train and ferry.
Where to stay: Hotel Villa Plaza (₹3,000 double), 7 Islands (₹5,685 double). For more options, check here.
From the song of fire to the dance of the river, Fête de la Saint-Louis is a 352-year-old festival that takes place in the port town of Sète. Popularly known as Venice of Languedoc, the town hosts water jousting tournaments on its canals during this festival. Lancers stand on the stern of a boat and fight each other until one of them falls into the water. It is a fun and laughter-filled event prone to belly-tickling bloopers. Different category jousting finals take place on the last day. The finals are a true spectacle. The festival is not just about jousting. There are over 70 street shows, open bodegas, concerts and other events. The festival has a bit of everything and is a must-not-miss.
When: 23rd to 28th August
How to reach: Round-trip flights from Mumbai to Marseille costs ₹38,137. Sète is a two-hour train ride from Marseille.
Where to stay: Hotel Les Tritons (₹3,750 double), Hotel Au Valéry (₹4,816 double).
Have you attended any of these festivals or any other traditional festivals? Write your own travelogue and share it with millions of other travellers. And subscribe to Tripoto Youtube Channel for stunning videos.
Frequent searches leading to this page:-
How much does it cost for a Europe trip from India?, Which is the cheapest country to visit from India?, Which is the cheapest foreign tour from India?, Which is the cheapest destination in Europe from India?