Day 6 - 9: Jungles of Masinagudi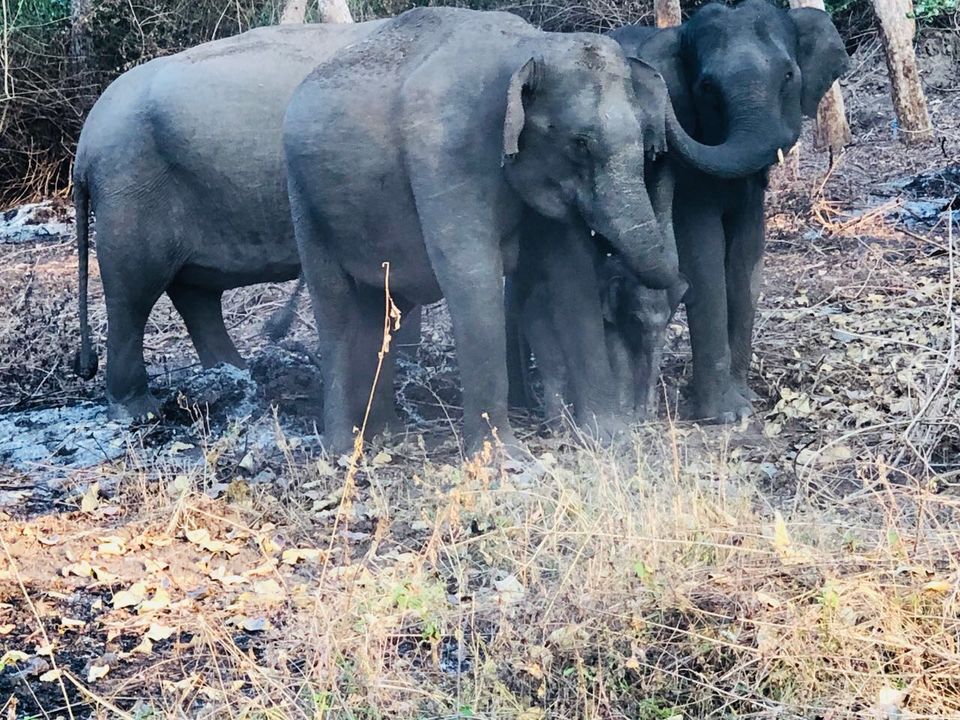 Getting from Chikmagalur to Masinagudi is a bit of a trek. While the distance is a mere 330Kms, it's mostly over state highways, which means you take a good 7 hours to traverse the distance.
We chose the route that took us Southeast along SH 73 to Hassan, from where we switched onto SH 75, heading South to Mysore. Though there was a fair bit of tractor, 2 - wheeler and 4 legged traffic on the roads, we managed to make good time. Having left Villa Urvinkhan around 0900Hrs, we hit Mysore 1300Hrs. From thereon, after a quick halt for lunch we got to the Bandipur gates in an hour. Despite it being winter, the afternoon was surprisingly warm (I can well imagine how hot and dusty it would get during the winters!) getting to Bandipur from Mysore.
It felt great to be driving through Bandipur and Madumalai once again. We couldn't help but notice the stark difference between the 2 - Bandipur being sparse, dry and spread out, whereas the jungle suddenly takes on a greener hue and gets denser the minute you get into Tamil Nadu and Madumalai (or the renamed MGR forest sanctuary!). By 1500Hrs we got to Masinagudi town / village, and after missing a couple of turn offs, finally found the right path on our right that led us to the Jungle Hut resort in Bokkapuram, Masinagudi. After having left Villa Urvinkhan, I had serious doubts if the rest of the trip could top the experience - however, The Jungle Hut overcame the challenge with aplomb! Nestled in the buffer area of the forest, adjacent to a beautiful temple, the property boasts of 3 ponds, acreage of trees and meadows and beautiful luxury tents. We were joined by our friends Pooja and Debarjyo with their son Ved for this leg of the trip, and took adjacent tents mounted on a stilt platform. Anushri Mathias, the lady who owns & runs Jungle Hut with her husband Vikram Mathias, met us on arrival, and after briefing us on the place (with the ominous warning to not step out after dark unless attended by a staff member for fear of wild animals that may be wandering through the grounds - something that just made the place all the more exciting!), she had us escorted to our tents.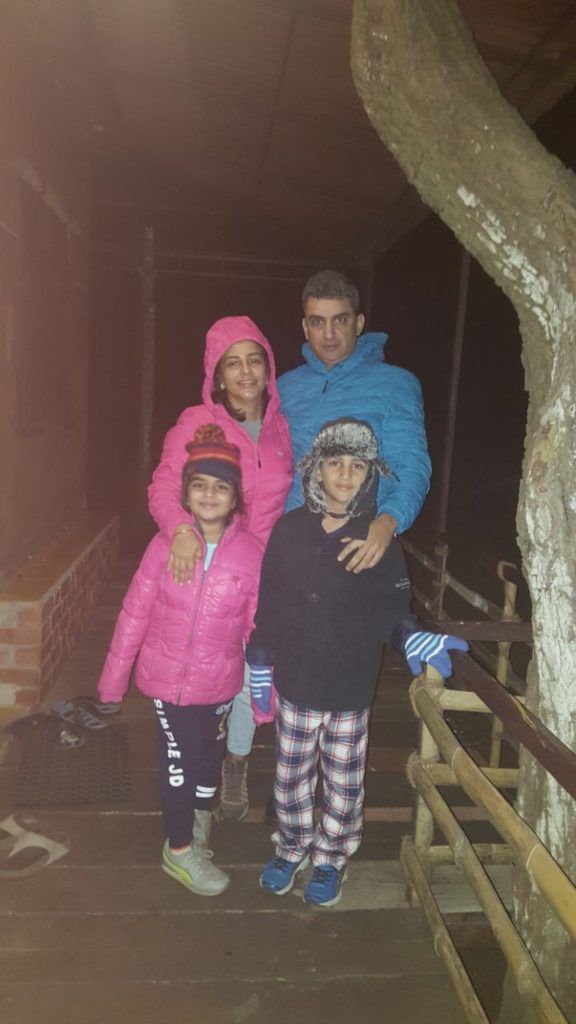 Our tent was superb in every aspect. Spread over a sprawling 500 odd Sq.Ft., it sported a comfortable kingsize bed, and an open 'camp' format layout. So, adjacent to the main bedroom area is an enclosure with 2 massive pearl coloured washbasins, each flanked by a toilet and shower area. The layout gave it a quaint camp - like feel, with the quality of amenities, fixtures and furnishings retaining the sheen of luxury and comfort. While everyone decided to take off to explore the property, I settled in for a quick nap.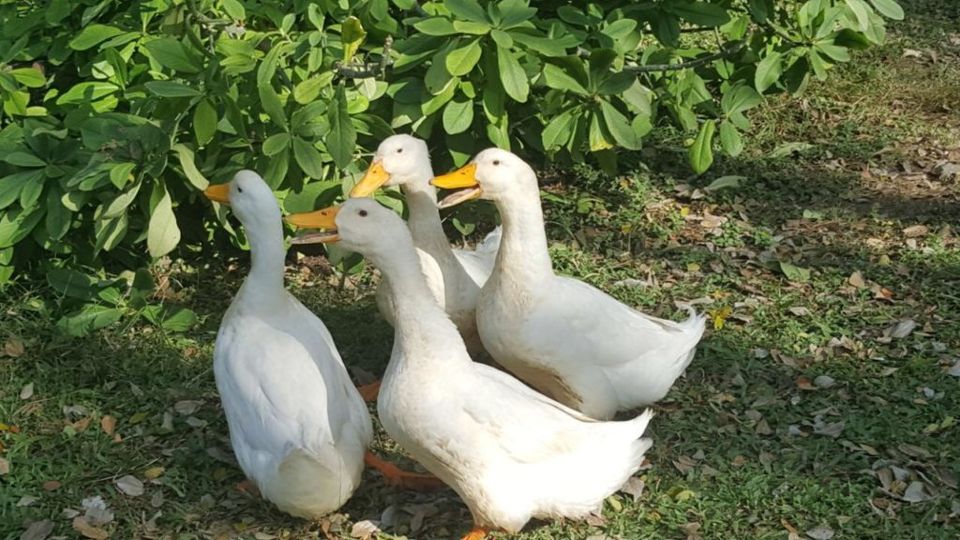 I stepped out onto the verandah of the tent around 1700Hrs with a much needed cup of coffee and was greeted with a sight straight out of storybooks! It was cold, with the setting sun glancing off the waters of the pond just outside our tent, and settling on a herd of deer, at least 50 of them if not more, grazing with nary a care in the world! They were so close, that I could make out the intricate patterns on their coats, and the shudder of their muscles underneath just before they took a tentative step ahead in search of more delectable foliage. I think when someone tried to describe heaven, they probably used this as a starting point! I spent a blissful 5 minutes lost gazing at this sight before the rest of our group returned from a stroll, startling the deer to move away. Yet, rather than make a dash for it, they simply ambled away without a care in the world!

We spent the evening sipping a malt in the main gazebo. While all meals are served on a buffet, there is also an a la carte menu for snacks and finger foods which we put to good use, sampling around 30% of what was on offer. That seemed par for the course, given that we were here for 3 nights, and could run through the entire menu in that duration. It was way colder here than at Urvinkhan, and the malt proved more medicinal than anything else. Dinner was served in the open - air restaurant, and was quite a decent spread. It seemed like the entire family with assorted friends had pitched in to serve the meal, which was quite good, adding to the feeling of homeliness. We checked on the safari timings and availability, and were informed that our best bet was to get to Bandipur booking office around 0630Hrs and see what was available.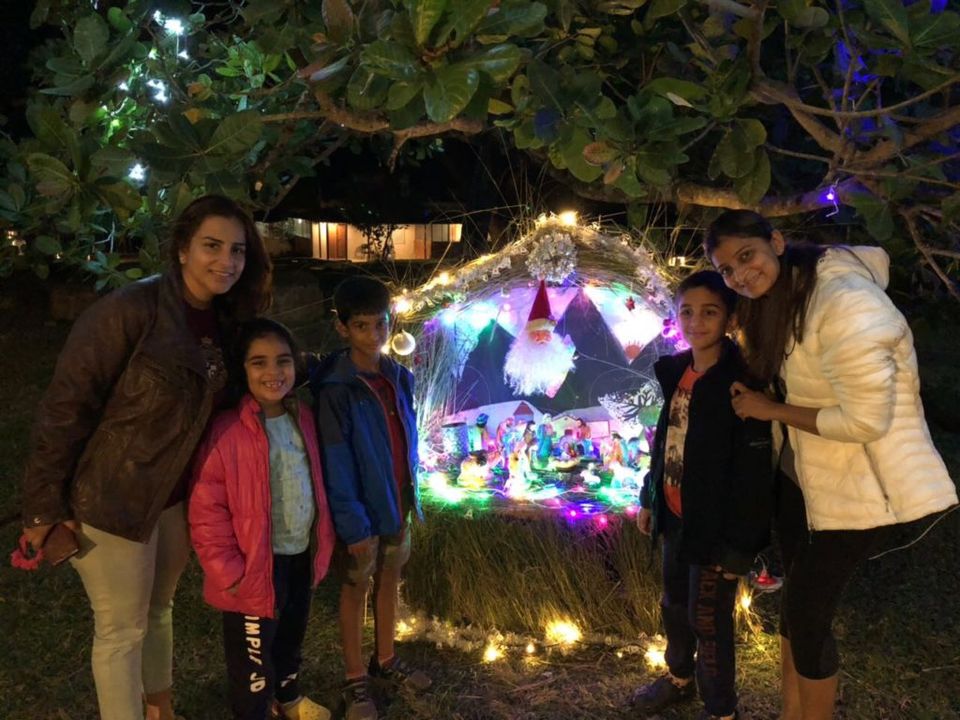 So off we were next morning at 0600Hrs, all loaded into the Pajero, for the 20 Km / 30 minute drive to Bandipur. The booking office was crowded as expected, and all we managed was tickets for a 60 minute drive on a 'canter'. The drive was pathetic, to say the least. The vehicle itself made such a racket (besides belching smoke like it had O.D'd at a cheap roadside barbecue the previous night), that all the animals in a 5 Km radius were probably clutching their ears and hiding in the underbrush. To top that, the driver seemed in a hurry to get somewhere, which was exciting in it's own way until we realised he was simply going around in circles (we passed the same clutch of trees twice in 20 minutes). I suppose he was just trying to better his own track time, at our expense. Thankfully, the ordeal was soon over and we were back in the parking lot. Finally we had our animal sighting! A bunch of monkeys (they're apparently called a 'troop') were hanging around ON the Pajero. While this seemed flattering at first, we soon realised they were only there to extract their 'toll' for us infiltrating into their territory - it took a couple of biscuits and half a dozen bananas (which a helpful vendor just happened to be selling in the booking office parking lot. coincidence?), before they moved away from the car, allowing us to get in.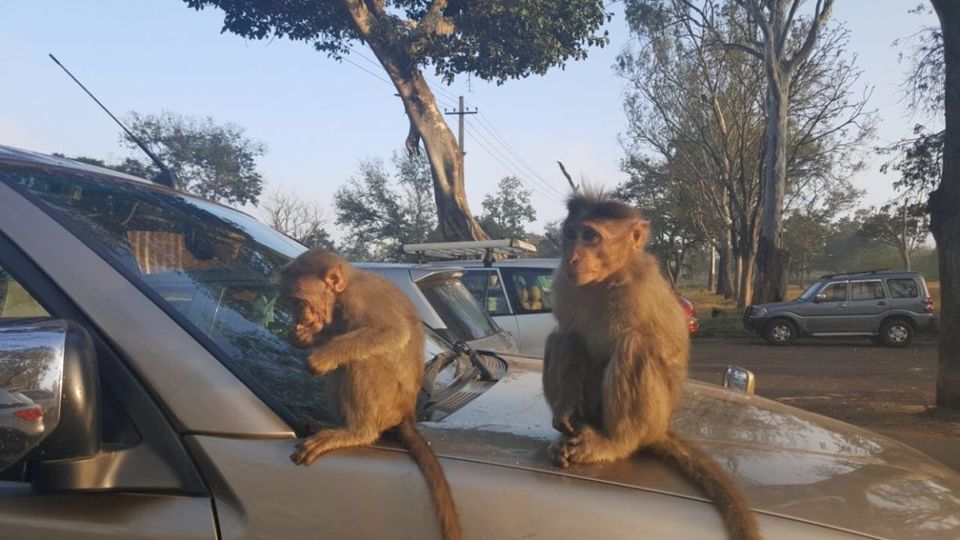 We got back for a leisurely brunch and spent the rest of the day lazing around the beautiful property. Later that afternoon we stepped out into the buffer area on foot, and came across deer & wild buffalo. So long as you didn't venture too close, they were ok with you being there. The next morning we woke early and trekked to a temple atop a hill in on the other side of Masinagudi village. The climb up is rather steep, and a good 3 Kms, but the view is definitely worth it!. Perched pretty much on the peak, the temple affords a 360 degree view of the surrounding forests, dotted with villages in the distance, and seems like a world apart. As we got back the staff informed us that there were 8 seats available on a safari the next afternoon at Bandipur, at a princely sum of RS. 1800 per seat if we wanted them. Apparently, this was in a jeep of sorts (not the bus we'd taken the previous day), and could venture where the bus couldn't, dramatically increasing the chances of sighting something. Throwing caution to the winds we decided to take the plunge!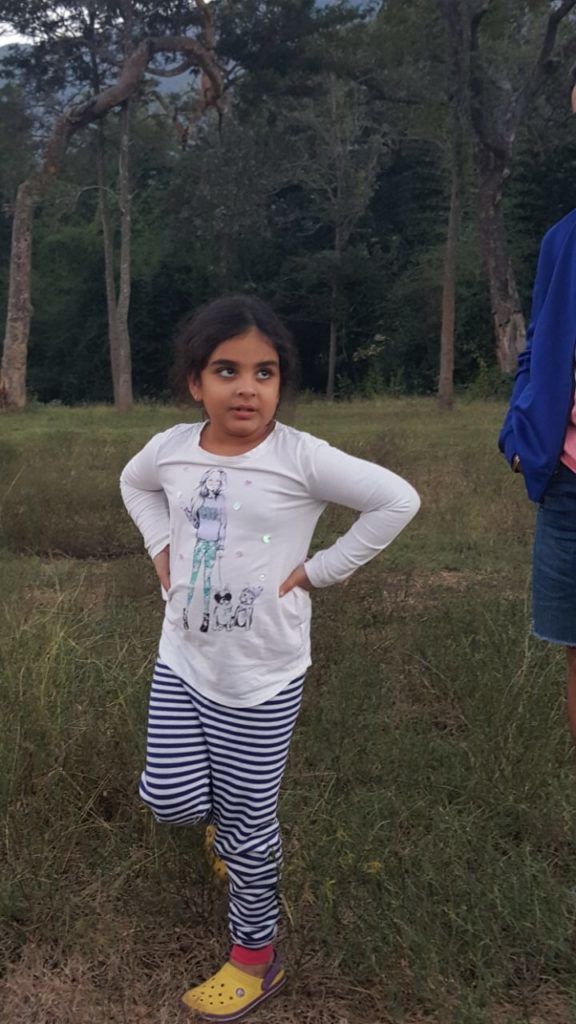 After an early lunch we drove back to Bandipur (no monkeys this time - apparently its a morning - only phenomenon), only to be told that the jeep boarding point is from the Bandipur KTDC resort, which is a couple of 100 yards away. The jeep turned out to be a well fitted vehicle, with 3 benches fitted in stadia - style, so no matter which row you were in, you'd always get a clear view of your surroundings. We were accompanied by a driver who knew his business (no, he wasn't into trying to better his own track time. Thankfully the only tracks he was interested in were those left by the tiger). We quickly entered the sanctuary, drove around for a few minutes. The engine purred in well - tuned smoothness, with hardly anything coming out of the exhaust pipe (thank God for little mercies!), and once again, even though we'd seen nothing, the sheer experience of being in the jungle was mesmerising in itself.

Suddenly, Siddaramaiah, the driver, halted the jeep on a little crest astride the path we were on and peered hard to his left. Naturally, all of us followed suit, but other than a rather dense clump of trees adjoining the crest followed by a meadow and then dense forest, we could see nothing. "What?" we began to ask before he impatiently shushed us, whispering 'Aanay' which is elephant in Kannada. Before we realised, elephants and a MASSIVE cow ambled out of the thicket and moved to the meadow - which was a great sight, but what took the cake was the most adorable calf ambling along on it's little legs alongside the mother (well, they weren't so little, except when you saw them in perspective to the cow!). As it turned out, the meadow was actually a dust bowl, and they spent the next few minutes blowing dry mud over themselves. Apparently, this acts as a sunscreen, protecting them from the harsh rays! A quick check revealed we all were covered in a thin layer of mud. Don't know about the others, but I certainly felt more protected. I mean if it works for elephants, why not us!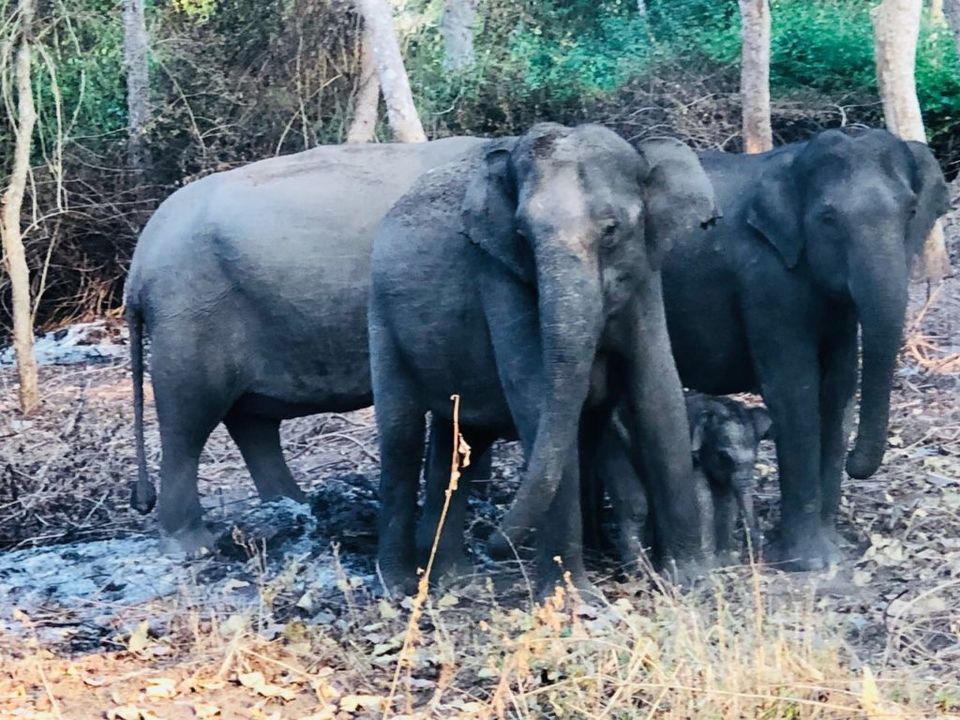 While we were enjoying this sight, chattering away amongst ourselves like the ogling tourists we were, good ole Sid shushed us once again. Evidently, the elephants had sighted something, and were on an alert (I have no clue what they did to make Sid think so, but I guess we shall take his word for it). Now, the only thing that would put an elephant on alert, especially if there is a calf around, is a tiger. And sure, enough, in a few moments a tiger skulked out of the trees on the far side, walking diagonally towards the elephants. The tactic seemed rather cute - he wasn't walking straight at them so they wouldn't get alarmed, and they in turn just stared back at him to see when he'd change direction. About 50 meters or so away from them he plonked himself, licking his chops and flicking his tail, looking away in the other direction, as if he hadn't seen them and wasn't interested either. That however didn't fool the fiercely protective elephants and this impasse continued for about 10 minutes - a pretty long period of time, during which the elephants hardly moved. Soon, the tiger got up, stretched, and continued walking towards the elephants, which meant, towards us. As it came closer, I could appreciate the sheer size of the beast - he was easily 9, possibly 10 feet long, rippling in the setting sun, with an athletic body finishing in a massively magnificent head!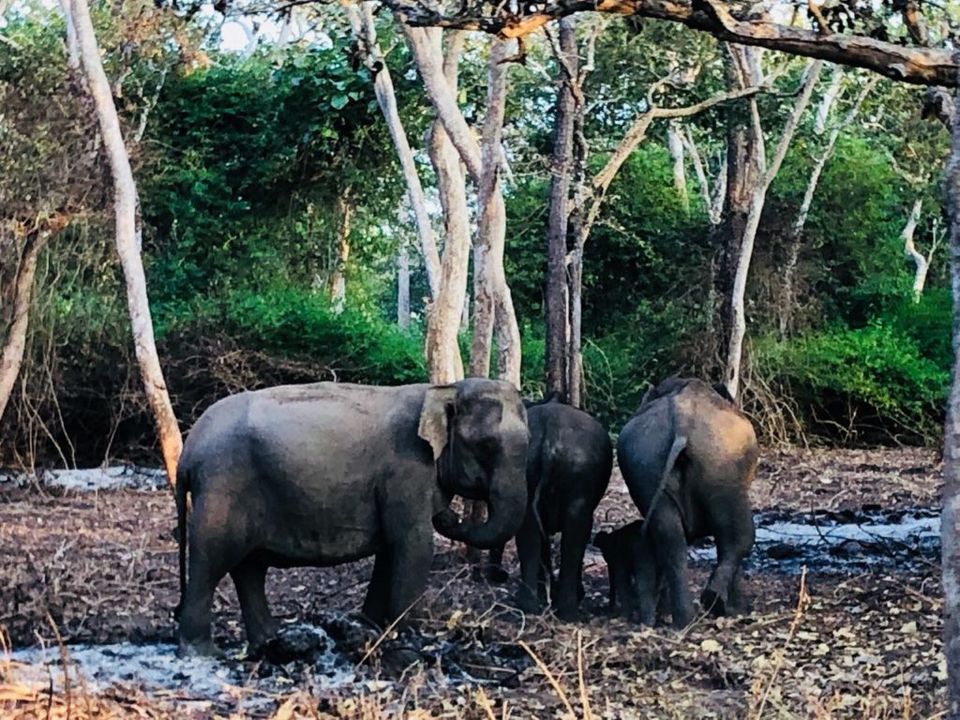 The elephants moving away for some 'sunscreening' with mud
The tiger had walked just a few steps, before the big cow trumpeted loudly and charged at it! It was so sudden that Avantika shrieked in the jeep startling us all (the trumpet was REALLY loud and scary). I've never seen an elephant run, and only read about how they can reach speeds of up to 45 Kms and hour and maintain that for 12 to 14 hours on end. Seeing one actually move so fast was stunning. The tiger did the smart thing, and turned around quickly, trotting away back into the thicket, as the elephant skidded to a halt and started ambling back to her herd. Sid asked us to sit down (we were all standing and hanging out of the jeep to get as close to the action as possible) quickly, and moved the vehicle ahead by a few meters. Before we could ask him why he'd moved, he preemptively gestured for us to be quiet. I guess by now were really into the annoying ogling tourist act and he could tell when we'd do the next stupid thing. Sure enough, in about 5 minutes the elephants crossed the path EXACTLY where our jeep was parked, to get to the other side of the forest and further away from the tiger. They passed barely a couple of meters from where we were parked, and if the cow looked imposing from afar, up close she was stupendous. Graceful despite (or because of) her sheer bulk, peaceful eyes, ambling along in a measured, slow but sure and supremely confident gait, as the cute little calf stumbled along somewhere in between her trunk and forelegs. We hung around till they disappeared, before returning back to the KTDC resort.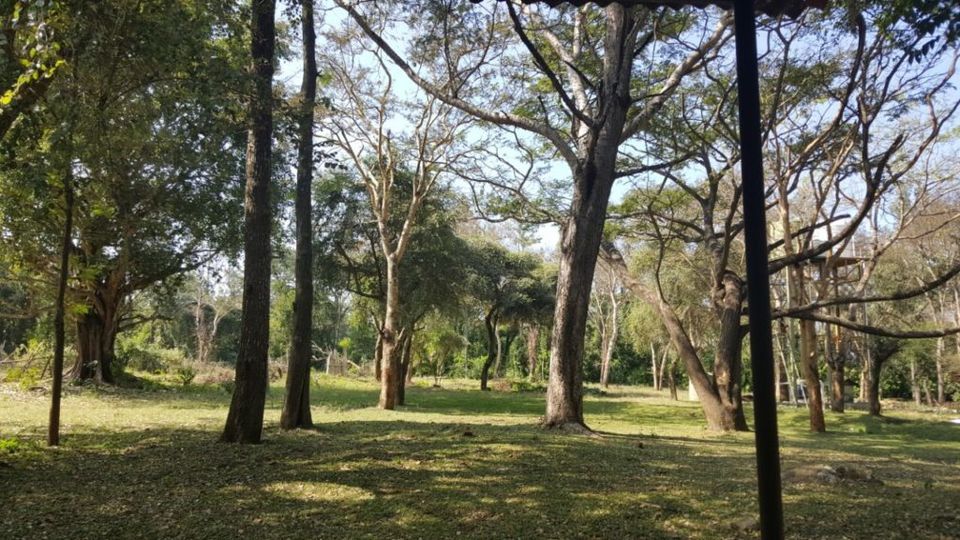 For once, the drive back was mostly in silence, as everyone contemplated what we were blessed to have just witnessed. An elephant cow charging a tiger to protect her calf - Does it even come close to getting better that this! By the time we returned, showered and gathered in the gazebo for the mandatory malt - sipping sessions, everyone was exuberant. The resort guys'd already heard about our sighting, and our names had gone on the board where they write the names of guests who manage to see tigers. Today, however, I believe the honour should've gone to the elephants! We'd come to the end of our 3 night trip to Masinagudi, and what a way to end it. Satisfied in spirit, mind and body, we retired for the day, looking forward to what the rest of the trip held in store for us.