Being an advent explorer, I was planning to visit places in South Asia. But my Mom suggested why don't we go to Saudi Arabia, since it was a family trip I thought why not. And then she said why don't we go for Umrah . 'Umrah' in Islamic terminology, means paying a visit to Ka'bah. We all agreed. That's how our travel plans for Saudi started. P.S : Saudi Arabia government has taken initiatives to boost their tourism by opening their doors for leisure tourism. So if you are not a Muslim and have already explored Europe or Asia. Middle Eastern countries like Saudi Arabia, Oman, Jordan, Egypt are the places to explore for tourism.
Note : On September 27, 2019, Saudi Arabia introduced an e-visa program, allowing people from 49 countries to visit, by applying for a visa ahead of their trip or on arrival.
Travellers are flocking to Middle East for tourism. Because why not? There are plenty of things to see. One can learn about the Culture and Food . Also Witness how exactly things are when compared to what is shown by the Media and US media in specific.
Back to my experience | Saudi Arabia Tourism
As soon as I landed on the Jeddah Airport, I saw people from all over the globe dressed up . Some donned the Pilgrim attire while others wore Moderate dresses. The one thing that was similar was the Airport officials. Back in Mumbai, the airport authorities were strict , same was the case in Jeddah. Since it was a Pilgrim cum Leisure Travel, I ensured to give good and equal time for both. And thus visited places like Historically significant, Tourist focussed Malls and markets, Gold Souks and Date Market and of course the very beautiful Mosques.
My Top Historical Places to Visit in Saudi Arabia | Mecca and Madinah
On my trip, I learnt that Mecca which is the most visited religious place in the world. It is in the Hejazi region of Saudi Arabia. Around more than 2,000,000 persons perform the Hajj each year, and the pilgrimage serves as a unifying force in Islam by bringing together followers from diverse countries and language groups.
the Zamzam well is a famous destination for pilgrims who visit it to drink from the holy water. It is the oldest well on earth. The water here has been flowing there for 5000 years. It is located around 20m from Kaaba.Muslims get this water to their Home country and distribute it to their loved ones. Jabal Al Nour, Mecca : Jabal means Mountain and Nour means light. This places hold utmost importance as on this place. Prophet Muhammad(PBUH) received the first of his many revelations. If you are on a Umrah visit make sure to visit to this Mountain. The Hejaz Railway Museum , Medinah : It is on the grounds of the restored historic Ottoman railway station. This place showcases antique train cars & relics from Medina's heritage.
Uhud Mountain
Uhud Mountain
I instantly fell in love with this Mountain. I am a mountain person be it the Mountains of Ladakh or Uttarakhand or Kashmir. And this particular Mountain Uhud have a special place in my heart. It stands tall but not with pride, Instead it acts as a guard and welcomes you. There is a market near this Mountain. You will get good quality things at affordable prices.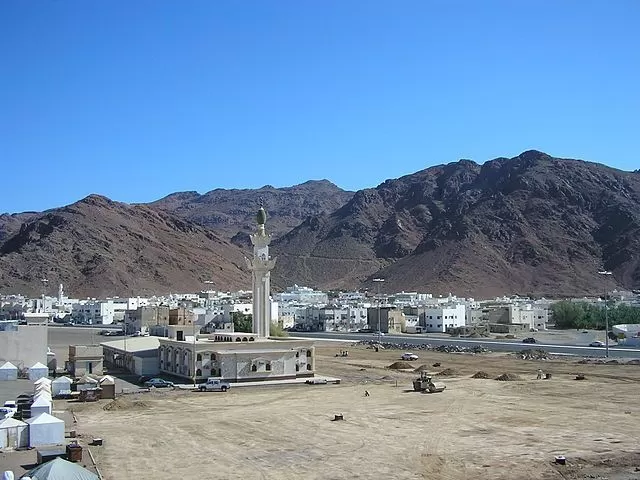 Wadi E Jinn
Wadi means a valley. Wadi E Jinn is a mysterious valley where cars move without drivers touching them. My curiosity made me explore the valley. It is a beautiful place, with green trees surrounded by mountains. There are no houses or signs of any city or village. We parked the car in neutral gear and, to my astonishment the car started moving slowly even though the engine was switched off. First we thought the road must be sloped, but it wasn't. In fact the car was moving upward on its own. After a while, the speed of the car increased. We learned later that the mountains in the surrounding area have magnetic qualities, which attract cars. Any iron object with wheels will move on its own. Similar experiences can be observed in Magnetic Hill in Ladakh.
Malls and Markets in Saudi Arabia | Mecca and Medinah
If you are some one who loves shopping then you must visit these local markets. The malls here are literally huge . Some of the malls are affordable while others are tagged as for "VIPS" said my taxi driver. Saudi Arabia is the land of Kingdoms and the government is taking initiatives to make shopping user friendly to increase tourism . It will not disappoint you.
Al Noor Mall - A Vip tagged mall.
You need to hire a Taxi and I didn't get time to check out this mall.Since I had already visited Al Rasheed mall, I opted to save my Transportation money from this Al Qaraat - You will find ample of choices for literally everything. Shoes, Jackets, Gowns, Home Decorations ,etc. Taxis take you to these malls for free and drop you to the hotels at free of cost Al Rashid - You need a Taxi which can charge you anything from 20- 40 SAR one way. There are many unheard brands and if you go on Season Sale then you can get things as well
Bengali Market
This Market is near Madinah Haram Gate number 6-7. You will get Bags, Tazbeehs, Hijabs , Scarfs, Toys, Olive oil , chocolates , Dry fruits , Spices . The quality is not that great but there are few things like a Hijab or Chocolates that you can get from this market
Date and Gold Souks in Saudi Arabia
Gold Souks : Al Balad Souk in Jeddah is the most prominent souks in Jeddah. This dazzling little market in Jeddah is a gem so precious not to visit. You can shop your heart out for oud, perfumes, beautiful abayas.
What to wear while in Saudi Arabia ?
Dressing moderately is important. One might feel that this is religious restriction, However it is not just a religious things but a Cultural Tradition as well.
The reports that we see in Media, about Muslim women being forced to wear Hijab. But the US media fails to show or deliberately not show that even Men wear a White Kurta and a Turban. This dress code is not to enforce anything on anyone but is suitable as per the Climatic conditions.
If you are from a Western country, you might take it otherwise. Because it could be a cultural shock to you in the same way as coming to Countries like India or China might come as a cultural shock to any other Traveller. Do not intrude their culture and eventually you will fall in love with the place. I did the same , I too got in the culture and bought a Hijab or a Abaya and donned the same for the whole time.
You can buy various ranges of Abaya from local shops in Saudi. These are not the best quality but the designs and colors are to fall in love with
Food culture and Cuisines in Saudi Arabia
I believe in eating the Traditional food while your stay in the country. I consumed not only the traditional food but also some of the famous Food Chains as well . Saudi Arabia is made of people from different races , culture and regions. This reflects in the cuisine as well. But the Saudi Arabia or KSA ensures to keep intact their traditional food alive to get popular in food tourism.
Falafel
You can thank the Egyptians for this tasty vegetarian treat . Falafel consists of Boiled Minced Chickpea into Balls. Then it is put in a Flat bread with sauces and eaten like Rolls or sandwiches
Shawarma
It originated from Levantine cuisine. You will get it in any part of the world. I am sure you know what it is !
Kapsa : Rice made with Chicken and Kapsa Spices
Muttabaq
It is similar to Baida Roti (in India). But stuffed with minced Chicken or Lamb
Harees or Jareesh
Arab dish of boiled, cracked, or coarsely-ground wheat, mixed with meat. Its consistency varies between a porridge and a dumpling
Maqluba
Maqluba is a traditional Arab dish which consists of of chicken or meat (mostly lamb). Fried vegetables are added, then cooked in layers with rice. I found it similar to Biryani.
Al Baik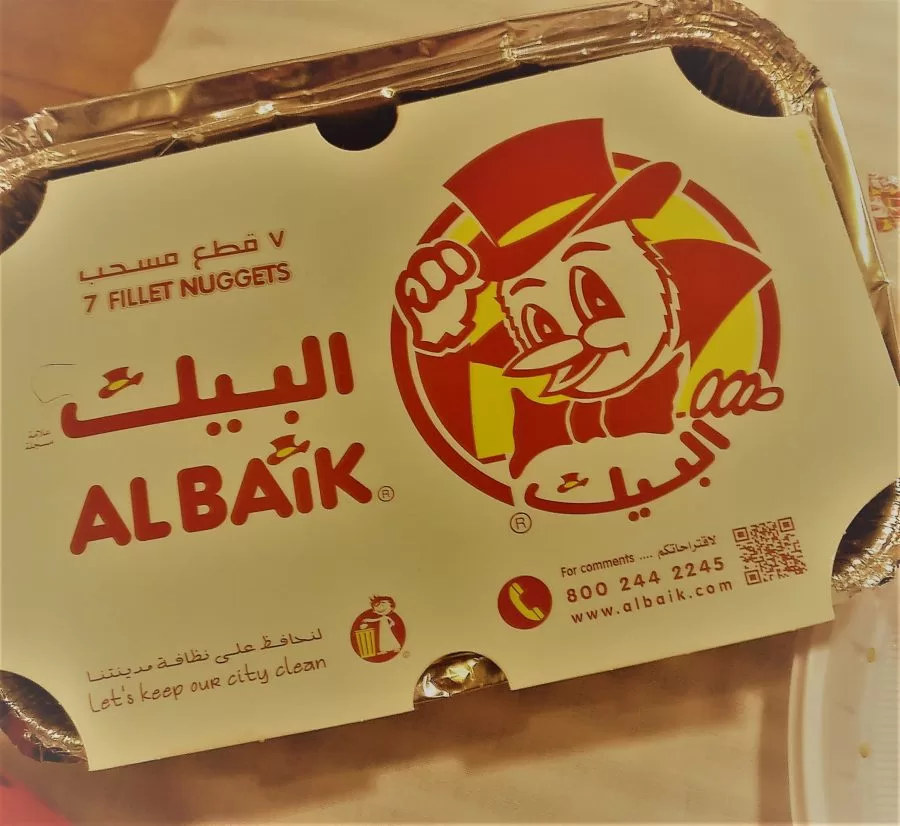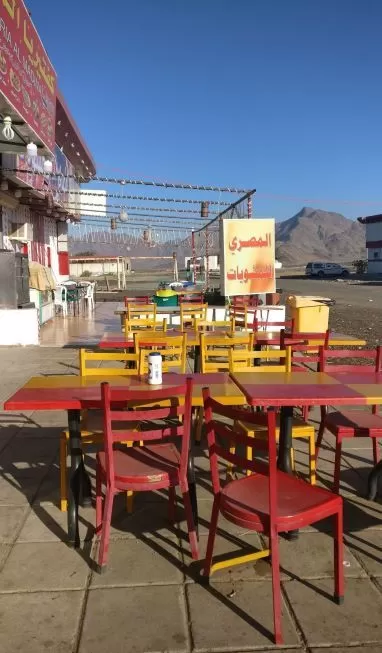 Join my adventures around the world on FACEBOOK, PINTEREST AND QUORA THATHUMBLEPOST.COM