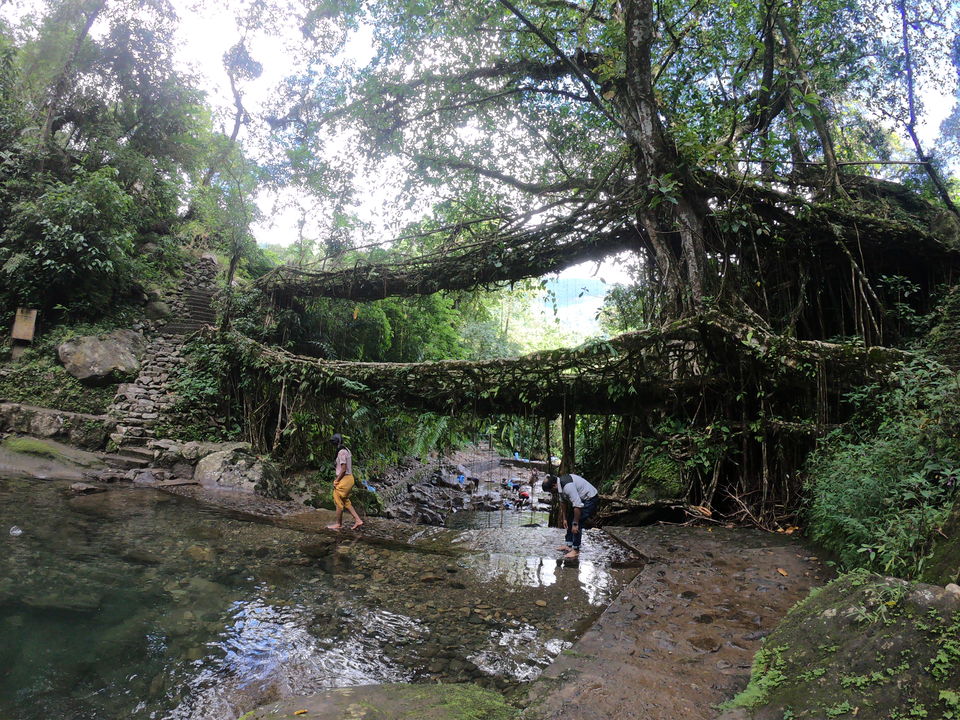 A bike ride through the winding roads of Meghalaya led us to the famous Cherrapunjee - sorry it's not Cherrapunjee but Sohra. Cherrapunjee used to be popular as the wettest place on earth, but it is known for its living root bridges. In Sohra, we decided to keep our bikes away for a day and hit the trekking path from Tyrna village to the serene Nongriat.
We hired a taxi from our homestay and reached Tyrna village in 40 to 45 minutes. From Tyrna village it's a trek of 2.5 hours to 3 hours (that was what I read about the Nongriat Double Root Bridge Trek). If you need a trek guide, you can hire one from Tyrna, but it is not required and we did not hire one. However, we bought a bamboo stick each for us at a price of Rs. 20.00 per stick.
Tyrna to Nongriat we took almost 4 hours to trek. We were a bit slow, but we didn't wish to hurry and just complete the task. We had plans to stay overnight at Nongriat.
On our way we experienced several living root bridges and a few hanging iron bridges. The path was so lovely with bushes, trees, and streams almost everywhere. As our trek progressed, we crossed a couple of small villages too.
As we reached Nongriant village that is best known for its double root bridge, we were tired and weak, but the pool besides the living root bridge was so tempting. After checking in to our guest house (Nongriat Challey Guest House), we hurried to the pool.
However, the pool besides the Double-Decker living root bridge was refreshing. Water was soothing and the natural fish spa was real. You will get a feel of it (most probably) from my living root bridge video that is embedded in the beginning of this article.
We were worn out by the trek, but within us we knew that the nature did the healing. The spa and the bath was so reviving. We slept for more than 9 hours that night and headed towards the rainbow waterfalls next day morning.
Frequent Searches Leading To This Page:-
meghalaya trek package, Adventure Packages meghalaya, Meghalaya adventure trip, meghalaya trekking, meghalaya trekking packages
Somewhere around 3000 odd concrete steps - that's what I read about the trek to Nongriat. I tried counting them, but lost the count as inviting nature overpowered my concentration. The giggling streams, whispering trees, and the screaming crickets gave us a feel of real forest.
You will get better accommodation in Nongriat, but if nothing then Challey Guest House. I don't recommend this place due to its hygiene issues.