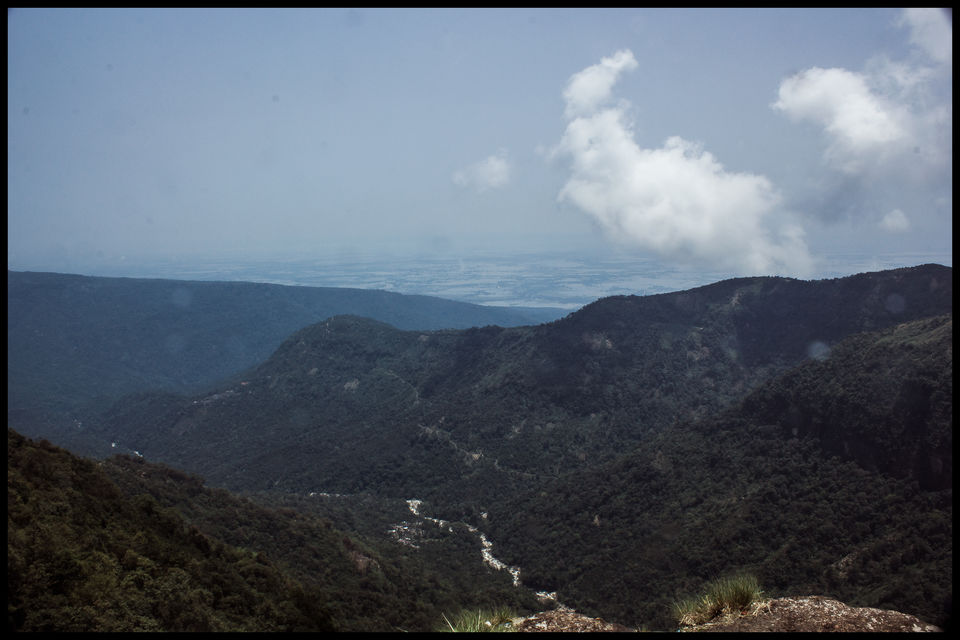 Recently I got a chance to visit the wettest place on earth Cherrapunji (Also known as Sohra in native language), and I will say that it was an experience of my lifetime as you are really away from technology in a land untouched much by our human counterparts. This is my brief experience of my one day Cherrapunjee trip.
We started our journey from Shillong and after a 2 hours drive we reached the outskirts of cherrapunji from where our trip starts. You really feel like you are a part of the nature when you travel around Cherrapunji. It is a high-altitude town in the northeast Indian state of Meghalaya. The area is known for its living root bridges, made from rubber trees, Mawkdok Dympep Valley View Point overlooks verdant gorges and In the surrounding hills, the Noh-Kalikai, Dain-Thlen and Kynrem waterfalls plunge from forested clifftops. To the South of town, Mawsmai Cave is illuminated to show its stalagmites.
In my travel blog post I am going to give you 6 reasons why you should plan a Cherrapunjee trip for your next vacation.
1) Mawdok Dympep Valley the First in your cherrapunjee trip :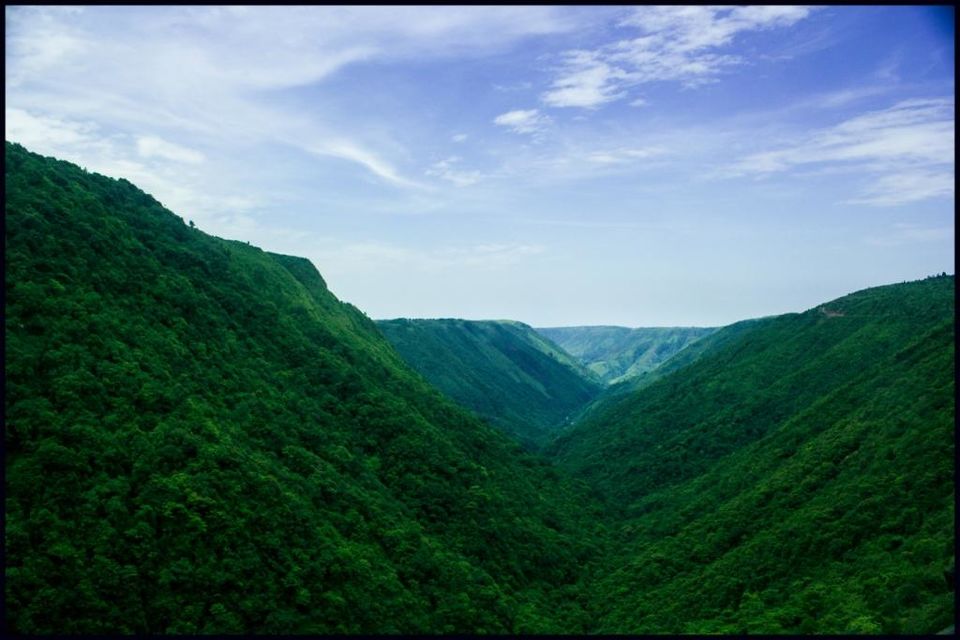 This Valley view point is just a point from where you can see the beautiful and exorbitant gorges of Mawdok Dympep. It is a heaven for photographers and an Eye catcher for the Tourists visiting this place, it is on the way to cherrapunjee so you are most likely to be visiting this place as your first attraction in your cherrapunjee trip.
Another reason I loved this place was the food, they have a canteen just by the view point and it houses three separate shops inside the canteen, it is a perfect place to have your breakfast and then continue your journey towards other cherrapunjee sightseeing points.
2) Wahkaba Falls The Canyon waterfall of India :
After having a hearty breakfast at the valley view point you will move towards Wakaba Falls a gem of a fall in the mountains. Once you reach there you will just see a valley and staircase leading down the hill.
I have seen many tourists just watching the valley and going back or just going down these first flight of stairs and turning back, but I must say do go all the way down it is a bit dangerous as the stairs are slippery and broken so be careful while going down or climbing back up as you will not regret the perfect view and calm environment of the water flowing from the falls.
the waterfall in itself is a very soothing place they have built a bridge here where you can stop for a while and listen to the nature with calm sound of the waterfall just behind you. This is a must visit place for all those nature lovers like myself where you can unwind your thoughts and be in the lap of true and amazing mother nature.
3) NohkaliKai Falls a must in your cherrapunjee trip list:
A must visit place in your cherrapunjee trip and a great part of Sohra Tourism. It is not just another falls, located a bit inside from cherrapunjee (Sohra) the waterfall boasts to be the tallest plunge waterfall in India with a height of 1115 feet. The fall got its name from a tragic story which you can read from the wikepedia .
The Fall and its surrounding have a picturesque view with the fall seen far off from the view point the place has quiet a few local sellers selling Garam masala's specially cinnamon sticks as large as 3-4 feet in length, great fresh pineapples and souvenirs to remember this place by.
Do buy the Cinnamon sticks we only got one packet but they are worth more as they are really fresh and have amazing and authentic flavors. Buy them from local hawkers rather then big shops you will get a more pure product.
4) Eco Park:
The Eco park is built and maintained by Govt. of Meghalaya and holds a unique spot in Sohra Tourism. It is one of the popular cherrapunji sightseeing attraction and a must visit in your Cherrapunjee trip.
It is a place where one can enjoy the view of green canyons, falls and plains of Bangladesh all in one place.
When you walk past the crossover bridge and arrive at its ends you will get the beautiful view of the green canyons the view in itself is really breathtaking.
When you walk to the other side of the park you can enjoy the amazing view of the Sylhet plains of Bangladesh.
Apart from the Amazing views and calm atmosphere the park also holds a vast variety of orchids given by the Shillong Agri-horticulture society, they are placed inside a greenhouse of the park. This unique park is a newly developed one, placed atop a plateau and is the originating point of the famous Nohsngithiang Falls. The park also hosts a clear water streams inside its boundaries.
5) Nohsngithiang Falls or The Seven Sisters Falls :
Located one km from Mawsmai Village, Nohsngithiang Falls (also known as the Seven Sisters Waterfalls ) is a seven-segmented waterfall in East Khasi hill district. The height of the waterfall is 1033 ft (315 m) and has an average width of 230 ft(70 m) making it one of the tallest waterfalls in India.
The waterfalls mainly symbolises the seven states in the Northeast namely Assam, Arunachal Pradesh, Manipur, Nagaland, Tripura, Mizoram and Meghalaya, that is why the place is also known as the Seven Sisters falls.
The beauty of this falls comes to light mainly during the Rainy seasons so one must visit this place during monsoons to get the flow of it. The falls plunges over the top of the Limestone cliffs and at its full spate the falls segment covers almost whole of the cliff.
The falls get illuminated by the Vibrant colors of the rising as well as setting sun making it a very beautiful sight. So, one must plan a visit to this place while planning a cherrapunjee trip and I will also recommend it according to my cherrapunjee travel guide.
6) Mawswami Caves:
The last spot out of the main stops they take on the Sightseeing tours are the Mawswami caves. There are lots of caves some undiscovered and Mawswami Caves is one of them and should be in your to do list during your visit to Sohra(Cherrapunjee).
Just make sure you are not claustrophobic as it can get pretty tight inside. At first you have to buy and entry ticket which costs around Rs.20. Then after a small hike on the staircase your are led to the cave entrance.(sorry about the pictures my DSLR battery died out and there was literary a line to go inside the cave so was not able to stop and click much)
The Mawsami caves are a network of underground beautiful stalactites and stalagmites caves. Once inside the fist look suggest its a wide open cave and you will be out in a second but as you move forward the caves become more smaller and you literary had to sit at some points to pass through.
Normally I thought this attraction might be deserted as I saw lots of people turning back from the utterance of the cave but as the path became narrow there was actually a line there wanting to go inside the cave which made matters worse because of the small space, foul smell and agitated tourists. It took some time to get the line started but what came next made us amazed as well as startled as there were some points literally inside the cave where I though I will definitely get stuck.
But after some climbing, grinding on the stones and stealth walking we were finally able to complete the whole cave expedition without much of the problem (if you are not Claustrophobic). But I do like to point out that there is zero safety and because of the negligence someone can get seriously hurt. There are no exit point, no safety measures, it is well lit but since the main power source is electricity, things can get ugly if just one of the wires get short circuited or worse as the cave is always damp with water running from almost everywhere.
I am not suggesting that you should not visit but just making you aware of some of the situations that might occur also, it is better to roam around the cave when less people are around. I would also suggest the authorities that they should have a protocol in place when there are a lots of tourists visiting these caves if they want to avoid a serious mishap.
Overall, It is a must visit place and if you like a small adventure then these caves are full of it. Do visit this place during your cherrapunjee trip.
The whole day sightseeing was quiet eventful in cherrapunjee, we enjoyed ourselves a lot, got to see those beautiful places and after a whole day were tired as hell but it was worth it. If you are visiting Meghalaya do visit cherrapunjee for its calm, peaceful and wonderful existence.
We went back to Shillong after having lunch at orange roots (Which was not that good that's why not reviewing it) and a whole adventurous day with lots of amazing memories and strong content to do the whole day tour of Shillong the next day. which you will be able to read in my next travel article so do subscribe.