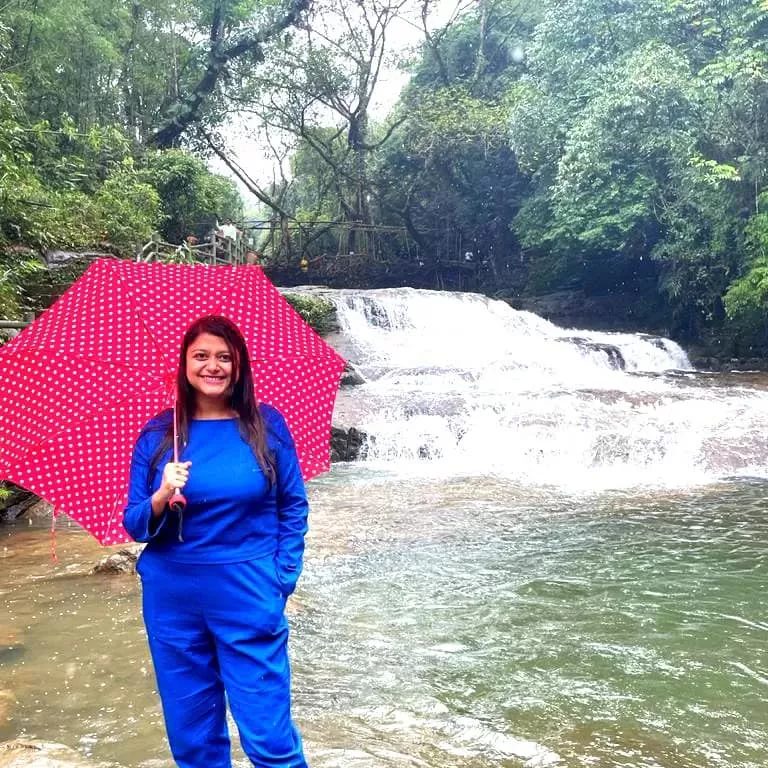 The month of May is no less than a punishment for people living in Delhi-NCR area. Being baked at 40+ degree centigrade, there are only two things one can find solace in; first is mountain and second one is rain. While seeking these two pleasures together, my mind sopped chattering when the idea of visiting Meghalaya gently knocked the door. Without much procrastination and planning, I embarked on an impromptu trip towards the wettest place on the earth.
Before going detail into the itinerary let's discuss the points to take note on before planning a trip to Meghalaya
When to Go: The trip should be scheduled as per your interest. I would always recommend to visit Meghalaya in October and November. The rainfall would be quite low and weather remains pleasantly cold and dry. But the best thing about these two months is the stunning cherry blossom in Shillong. From last few years the cherry blossom festival became quite popular and had attracted tourists from all over India.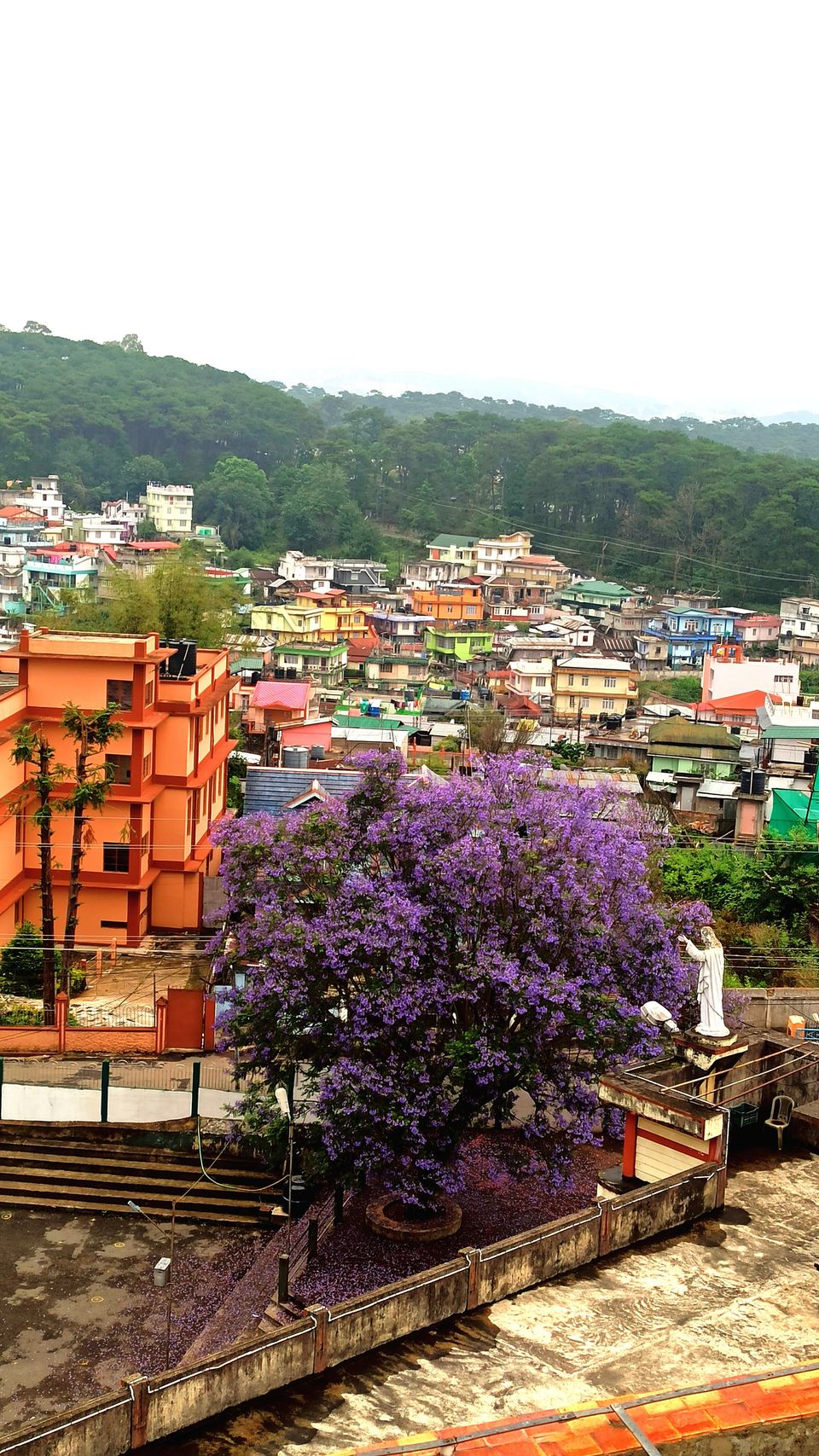 The second best season would be March-Mid May. The days are warm but nights are cold. Be prepared for short drizzles throughout the day. The purple splash of Jacaranda blossom in Shillong would mesmerise you in this season.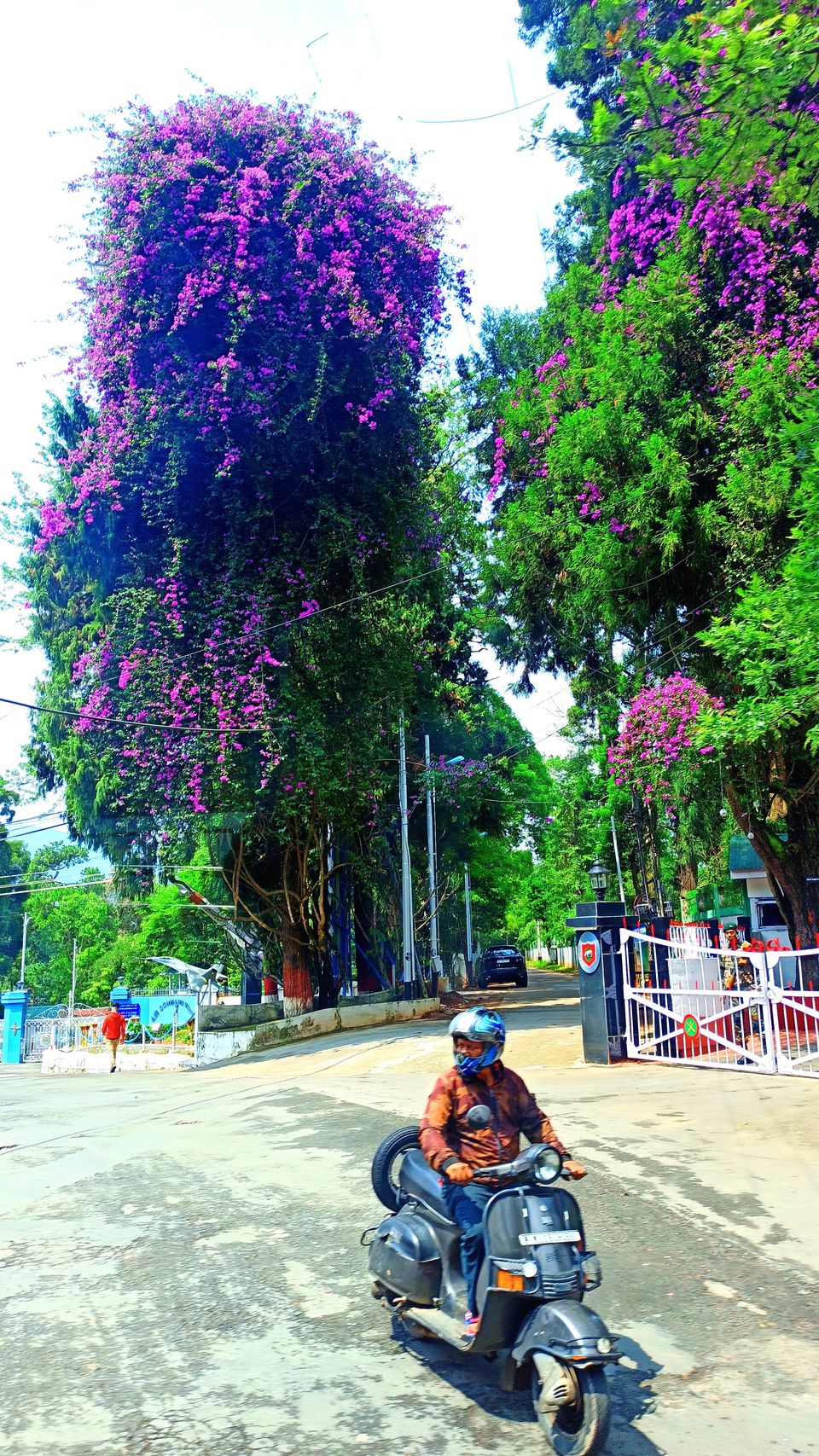 Though it's not preferable but the peak monsoon (June-August) season can offer you to enjoy the real essence of Meghalaya and you can witness the beautiful landscape enveloped with rich green all around and waterfalls flowing in glory.
How to Go: Nearest airport and railway station is at Guwahati. From there you can hire shared or private cab for Shillong that may cost from INR 1500/- to INR 4000/-.
What to Carry: Always carry umbrella, rain jacket, water proof shoes and spare set of cloths while travelling. Rainfall is quite unpredictable and it may greet you at anytime. Suddenly, you might stumble upon a hidden waterfall along your path and temptation of jumping into water can be too strong to resist. Also don't expect fancy, lavish accommodation in the remote places. Local people usually open their door to welcome you in their homestay with high standard hygiene. There might be power cut for long hours. So it's always advisable to carry power bank, flash light, mosquito repellant, medicines and other essentials.
Places to Cover:
What to see in Shillong:
Day 1:
Umium Lake: While driving from Guwahati to Shillong, stop at Umium lake after lunch break. This lake is peacefully snuggled in the arms of mountain on both sides and 15 Kms away from Shillong town.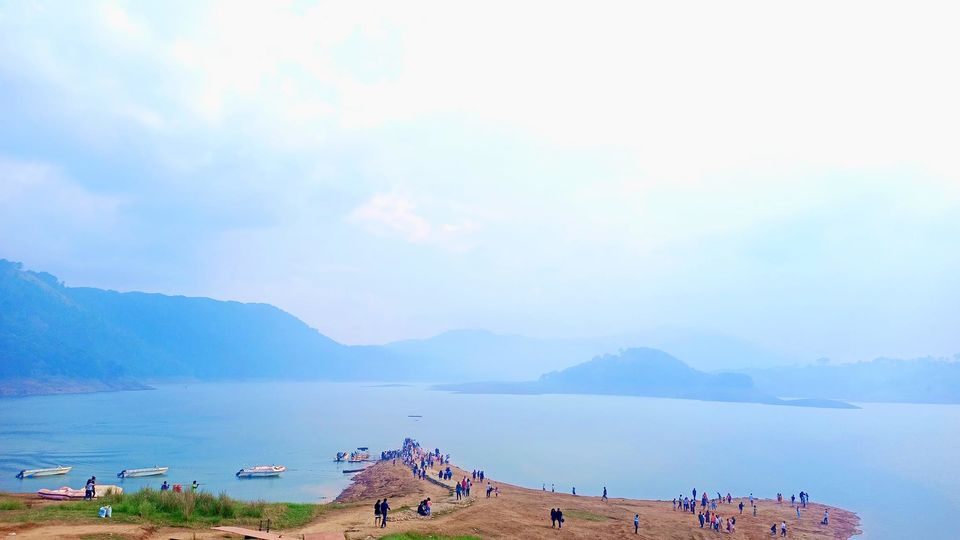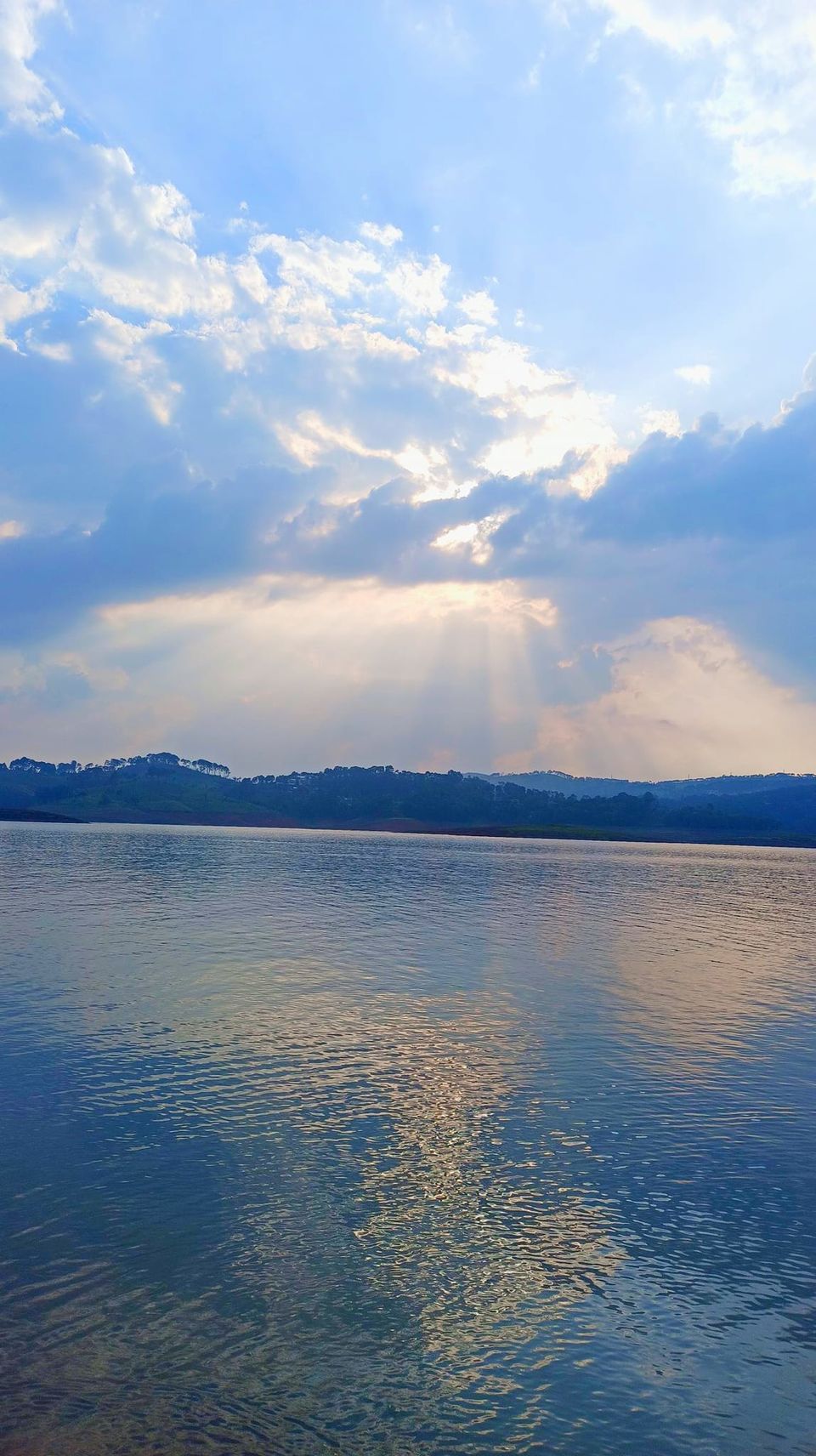 You can witness a golden sunset through the floating masses of cloud and the dusk hue reflecting upon the wavelets in the lake. Tourists can also enjoy waterspouts like water scooter, paddle boat and speed boat.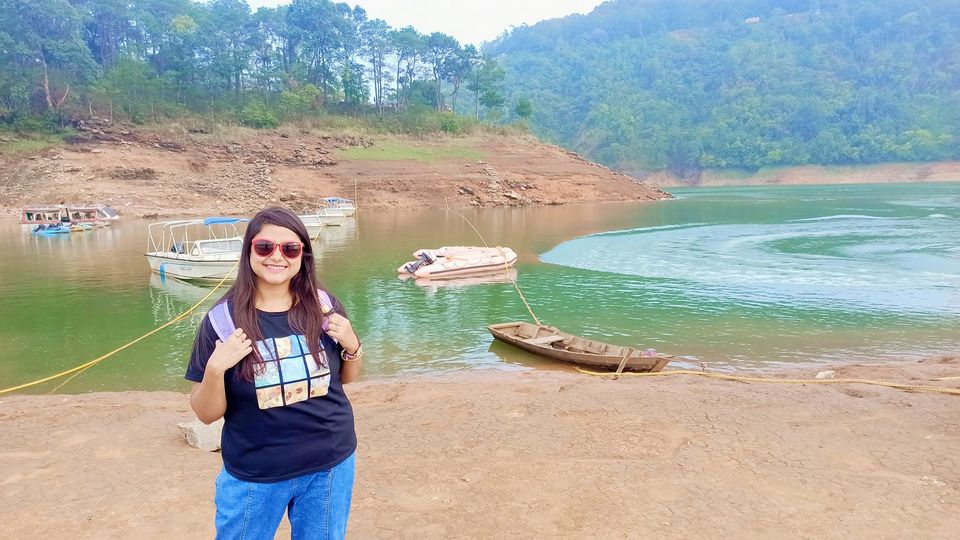 Day 2:
Mawphlang Sacred Forest: This sacred forest of 192 acres is perched on the east Khasi hill of Shillong. However, there is one rule everyone must follow in this forest and if not followed the result can be lethal. You can not take anything from the forest; a fallen leave, stone, broken pieces of branches or anything. It is known that people who tried to carry something out of this forest, fated with unfortunate events like disease, accidents, loss of near and dear ones and even deaths. There is a small water stream inside the forest and one is allowed to drink water from it. But if you are filling your bottle, you have to discard the remaining water after drinking.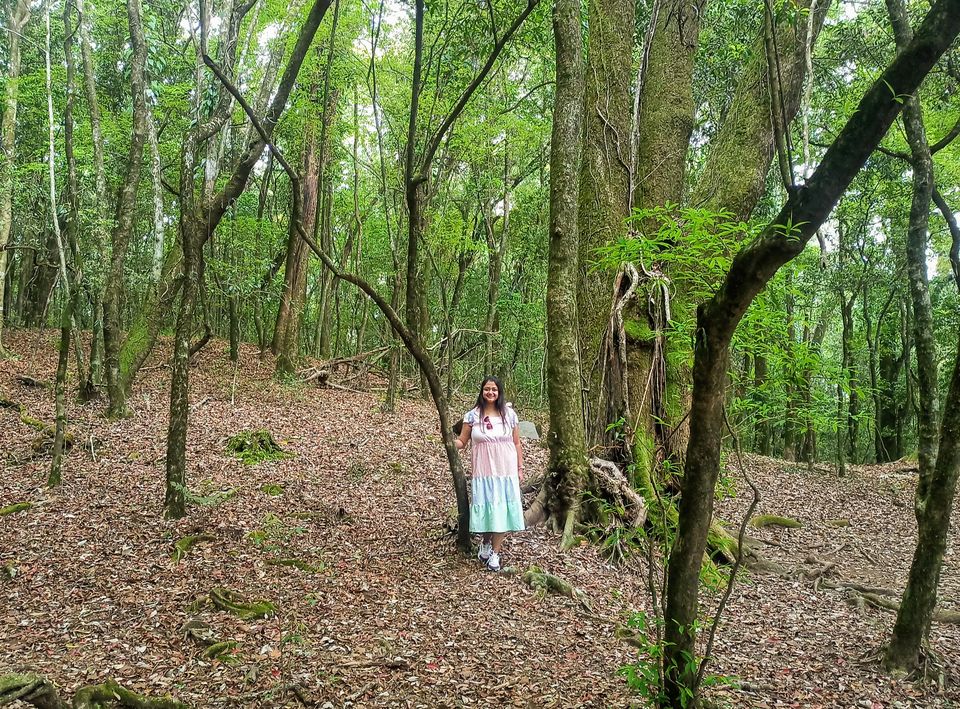 The local tribal people believe this forest is protected by deity and guardian angels. They perform their special rituals in this forest for the well being of their community, animals, mountains, rivers. The entrance of the dense forest looks like a green tunnel.
As you continue to move inside, you can see monoliths where they sacrifice cocks, lambs, goats etc as part of ritual. In ancient time whenever some disease like cholera, typhoid used to break out the wise people from the tribe used to perform ritual and prayer in the forest. Two years back they performed prayers when Corona attacked the whole world.
Don Bosco Museum: This museum is considered as Asia's largest museum of tribal and indigenous Culture. This is a seven storey museum and each floor represents seven sisters of north east India. Once you are done with museum visit, don't miss to visit the amazing sky walk at the top of the museum from where you can get a beautiful bird eye view of Shillong town.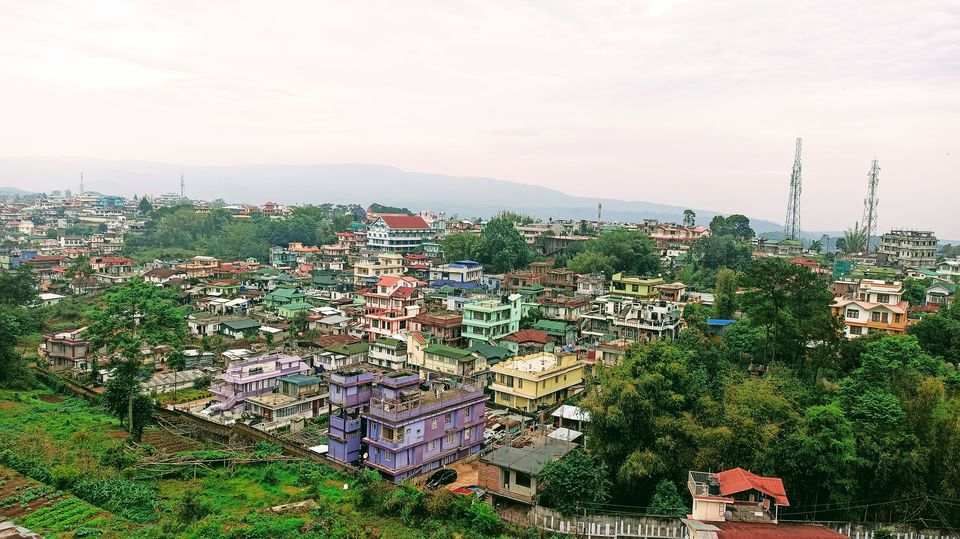 Day 3:
Single Root Bridge: Start early morning from Shillong and drive to Riwai Village which is around 85 kms away from Shillong Town. From this village go for an easy trek through dense rainforest and reach single root bridge.
The unique idea of Living Root Bridges in Meghalaya evolved around two centuries ago. Before that the local tribal community used to depend on ordinary wooden bridges to cross river streams and water falls. But in this wettest place on earth, the bridges used to decay over a very short span of time, impacting their day to day commute.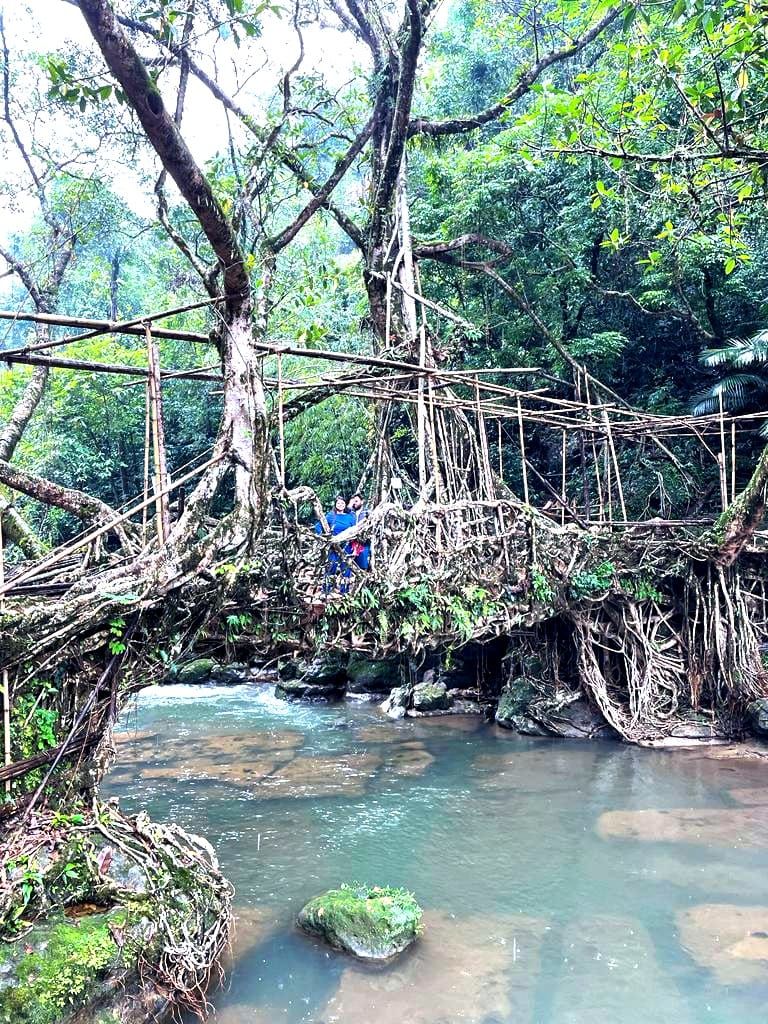 To resolve this issue the ancient people from Khasi tribe from Meghalaya came up with this bio-engineering Marvel. They put the roots of rubber tree in hollow canes so they meet halfway accross the streams. The roots were nurtured and shaped property so with time they grow enough to reach the opposite bank, get entwined with each other and can carry enough loads. Most of the living root bridges in Meghalaya took almost 15-20 years to fully grow and can survive almost for 500 years. But few have decayed a bit sooner due to being continuously in contact with water.
Mawlynnong-Asia's Cleanest Village: This village has also received huge attention recently and is famed as the cleanest village in Asia. Once I reached this village, the first thing I realised, calling it as a village is an absolute misnomer. It's like a town with spooky clean pitched roads, piped water, solar power functioned street lights and a number of cozy homestay all around.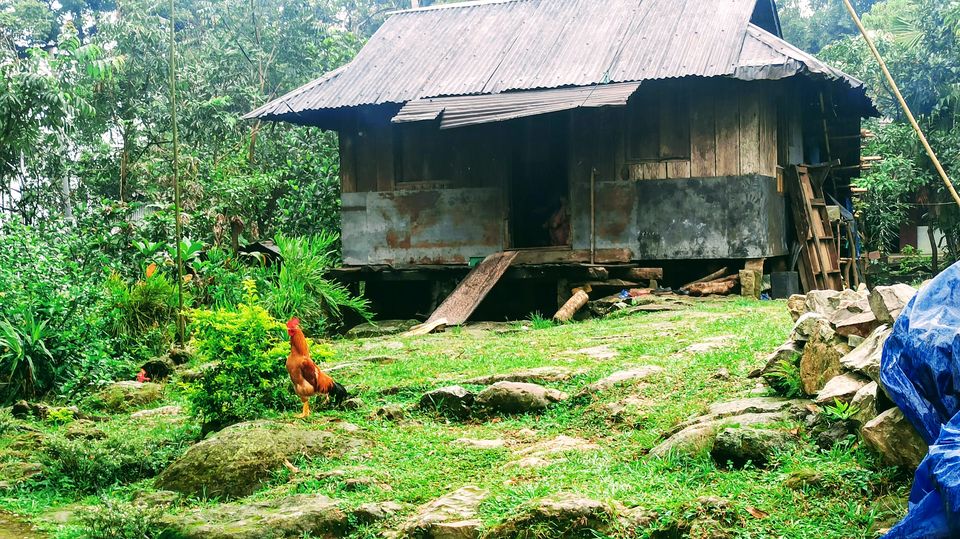 Amidst feather like monsoon clouds circling around, soft rain shower and thin layer of mist floating in the air, this place looked like a well built film set. The bamboo trash bins at every corner of village was worth noticing.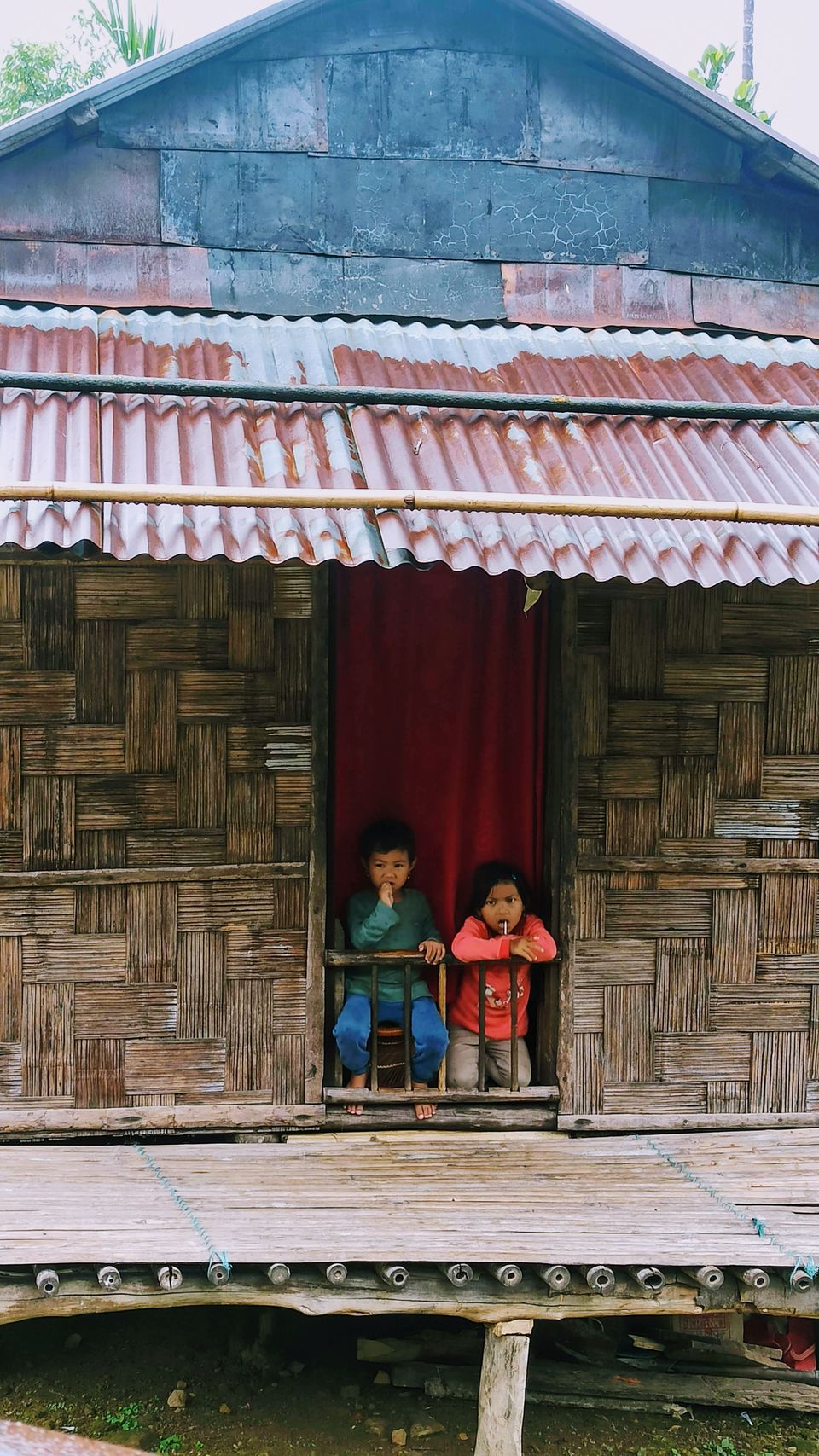 Though it felt a bit artificial, but walking through narrow alleys of the village can absolutely give you an experience of serenity and sense of bliss. Don't forget to interact with the local villagers to get the essence of local life.
Dawki Village & Umngot River: Dawki village which is the last village between India and Bangladesh border. This village is home to Jayantia tribe. The most attractive piece of this place is undoubtedly the crystal clear turquoise water of Umngot river. This river silently cuts through the Khasi hills and Jayantia hills and serves as important trade route between India and Bangladesh.
A couple of years back Meghalaya ministry published a top view picture of a boat floating on the crystal clear water and after that this place has gone viral all over the country and has attracted huge tourist crowd. The water is so clear that the underwater river bed is clearly visible and it appears the boat is floating in air.
Unfortunately, the day I visited Dawki, it rained the previous night and the water was not as clear as I saw on internet. But I had endless fun on a lovely boat ride, jumping and playing in water with my co-travellers. The best season to visit Dawki is October to March, when there is minimum rainfall and water is most transparent.
Day 4:
Laitlum Grand Canyon: This mystical place wrapped with majestic mountain ranges and dense sheet of mist is very much less explored and just 45 minutes drive away from Shillong. In local language Laitlum translates into 'End of mountain edge.' This tranquil place sits quietly in the lap of Khasi hills and can offer otherworldly panoramic view of entire Meghalaya adored with green mountains, silent valleys and river flowing like shiny silver ribbon through open wide pasture. Sunrise and Sunset time is ideal to visit this place. There's a high chance you will find a lady at this place selling varieties of tea here. If you find her don't miss the masala lemon tea by her.
After visiting Laitlum Grand Canyon, head towards Cherrapunji for the second section of your Meghalaya trip. I would also suggest not to keep this day full packed with sightseeing plan. Reach Cherrapunji early and take ample amount of rest and sleep too refuel yourself for the challenging double decker living root bridge trek the next day.
What to Do in Cherrapunji
Day 5:
Double Decker Living Root Bridge - Nongrihat Trek:
It was a depressing, gloomy rainy morning at Cherrapunji. The previous night I woke up every now and then from loud sound of rainfall on the asbestos roof. The cyclone that hit West Bengal and Orissa that week, passed its impact on North eastern region and that too quite injudiciously. Early morning our trek lead pinged in our WhatsApp group that it won't be a wise decision to go for this trek as its pouring cats and dogs outside. The visibility was abnormally low and driving even upto the base point of the trek seemed quite impossible. The first thought that came into my mind, ' Nothing can be worse than this in my entire travel experience. Returning from Meghalaya without visiting the most famous Double Decker Living Root Bridge.'
After a while, one by one, people started expressing their intense disappointment for this cancelled plan. Finally I took the courage to tell ' Please let us go. We'd be going at our own risk and we completely understand the risk involved.' I think this statement worked as catalyst. Our lead approved our request, though few decided to stay back.
In my entire life I will never forget the experience. It's an extremely difficult trek. One has to descend almost 4000 steps to reach the bridge and then ascending all the way up. For a person with good fitness level usually takes 7-7.5 hours to complete this. The stairs were slippery. On few sections the stairs were not at all visible as they were submerged under the water stream flowing over. The rented rain jackets turned out to be useless. The socks and shoes got completely wet which in turn made my step heavier and our journey much slower . Each of us was drenched and this is what made the entire experience so scary yet unique.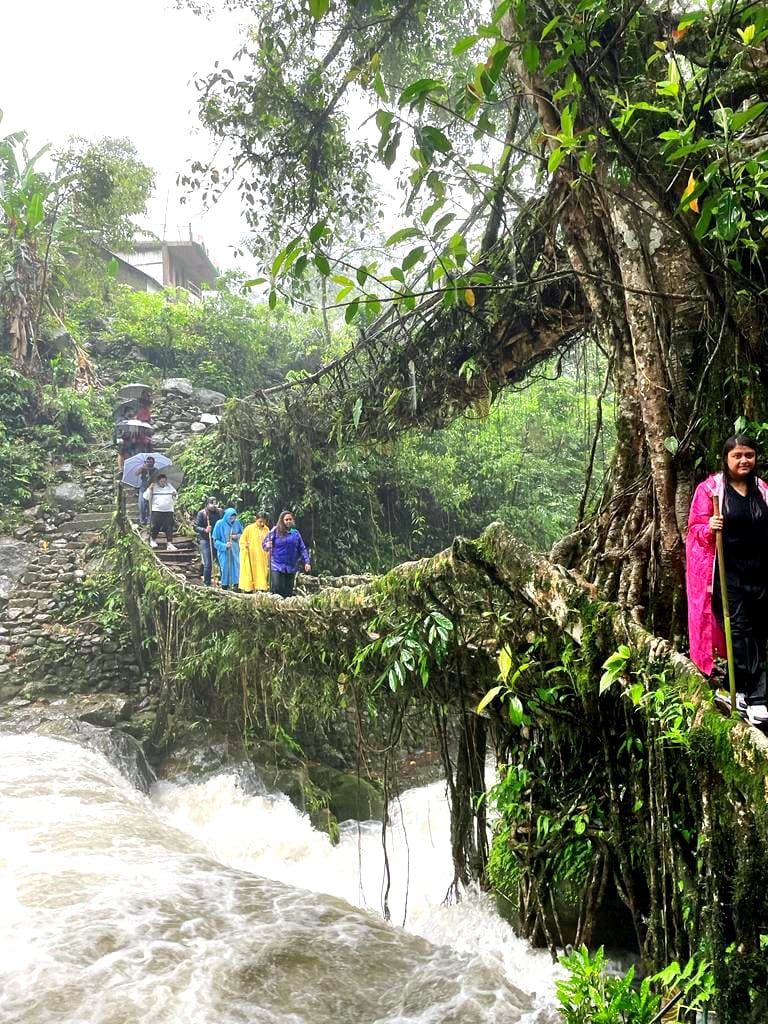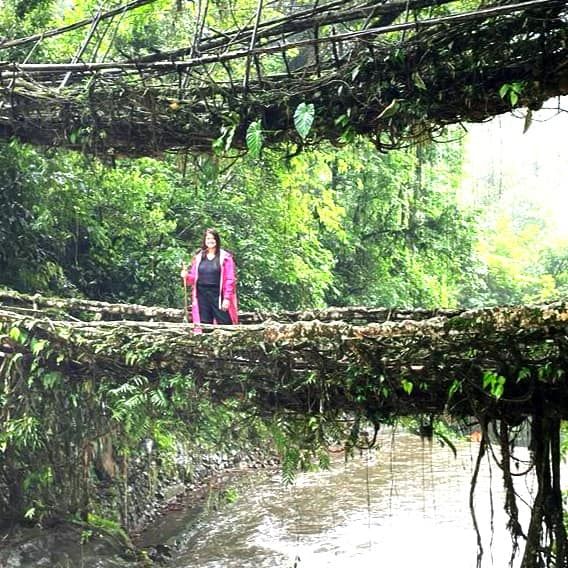 While walking through the dense green forest, I asked our local guide, 'Why double Decker specifically?' He told 'Initially it was a single bridge only but during monsoon the water stream used to rise quite high and the bridge used to go partially below the water level. That's why the local villagers decided to make one more level above that.' I just casually asked: 'Can you please describe me the process of making the root bridge in little more detail?' With a witty smile he answered 'Sister, first you live with us in our Village for 50 years then I'll teach you. This knowledge is limited only to handful of wise Khasi people and has not been disclosed even to the modern, young people of Meghalaya.'
At the end we all were surprised to realise that we finished the trek in just 6.5 hours which is quite fast. When we returned to the base at Tyrna Village, a feeble ray of sunshine touched our body, reminding me, 'True life starts where the comfort zone ends.'
Day 6:
On day 6 we drove towards Guwahati and visited few places on the way.
Noh Ka Likai Falls : This falls is one of the most famous waterfall of North east India. It's not only popular for the breathtaking view of water plunging from 1000 feet high through green dense forest and making a natural blue pool at the bottom but also for a tragic story of a local woman. Visit the following post for the reading the entire story.
Seven Sister Falls: This falls is combination of amicably arranged seven waterfalls cutting the rugged edges of mountain and the view is extremely captivating. Though the name signifies only seven waterfalls but as it rained a lot from last few days, I could spot more than seven falls.
The places I missed on my Meghalaya trip but you should not
Rainbow falls, Wei Sawdong, Krang Suri waterfalls were closed due to heavy rainfall
Kongthong village: A unexplored small village nestled in Jayantia Hills and 60 km away from Shillong. This village is known as singing village. The unique tradition of this village a mother doesn't give name to her new born baby but gives a tune. Every villagers has two names, a regular name and a tune given by their mother. Villagers call each other by whistling the tune.
Finally on the seventh day it was time to return home from Guwahati. The 'Oh so rainy moments' of chasing waterfalls, trekking in heavy rain, the boat ride and fun time in river, wandering with clouds, fog and mist got permanently etched in mind. Truly, what a beautiful escape it was from bustling life and summer heat of Delhi!