Meghalaya- "The abode of clouds".. also known as the scotland of east..it is also the wettest state in India
And I would name it as the "Green Paradise" of india.
It offers breathtaking landscapes and Lush green vegetation which will capture your every blink of eye., The climate, altitude, water bodies, flora and fauna of Meghalaya makes it a picturesque state.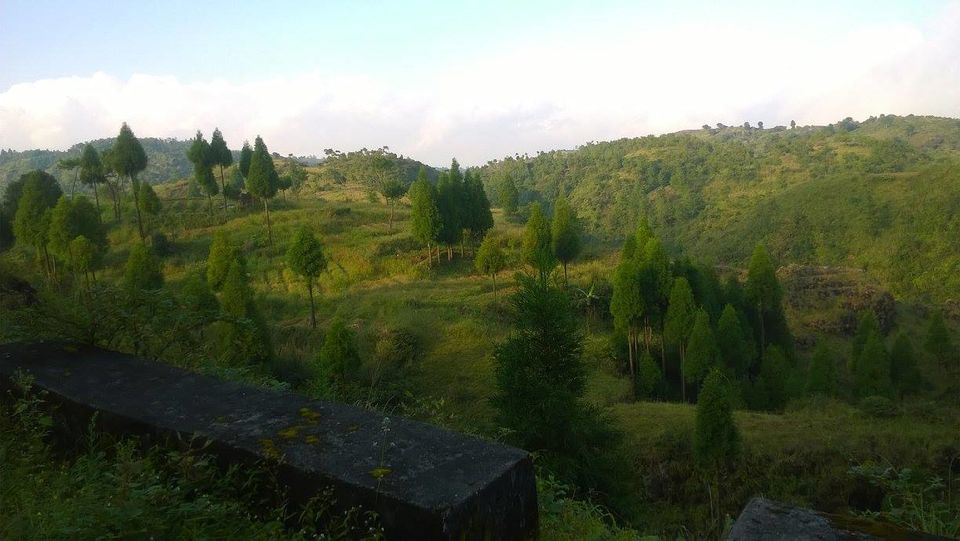 As soon as I entered Meghalaya , I felt fresh air clearing my lungs . you see huge mountains all covered with green vegetation which brings you closer and closer to the nature.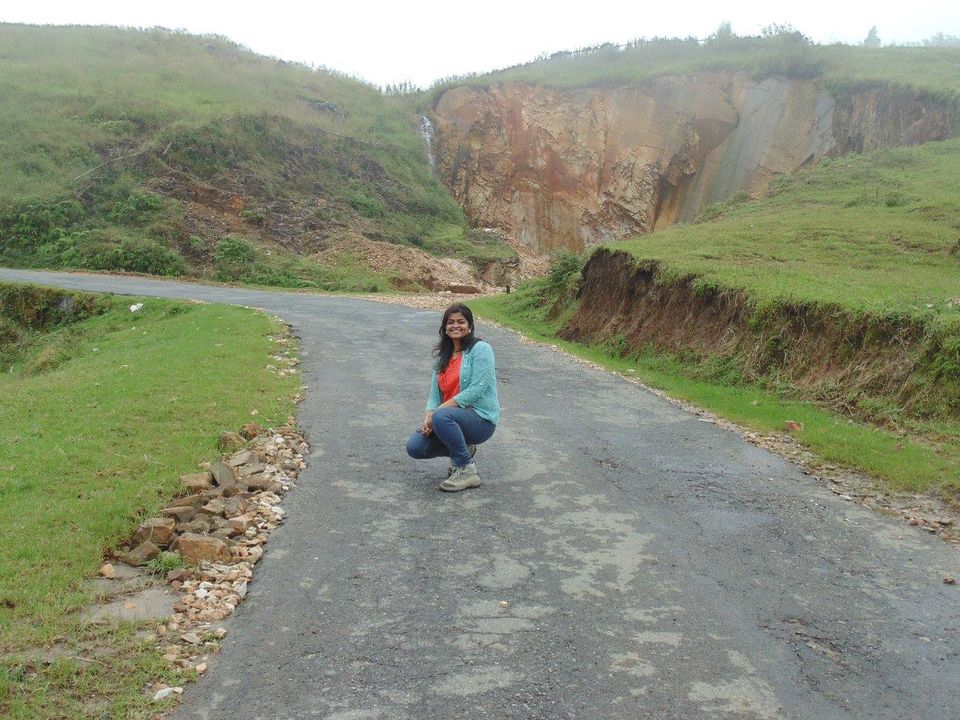 The 5 days spent in Meghalaya were all filled with tranquility and beauty of nature.
I explored mawlynnong, mawphlong, laitlum ( smit ) , cherrapunji and shillong during my stay in meghalaya.
Below is a brief description for the destinations and spots i covered for your reference, if anytime you plan to go there
Mawlynnong :
Known as " God's own Garden ".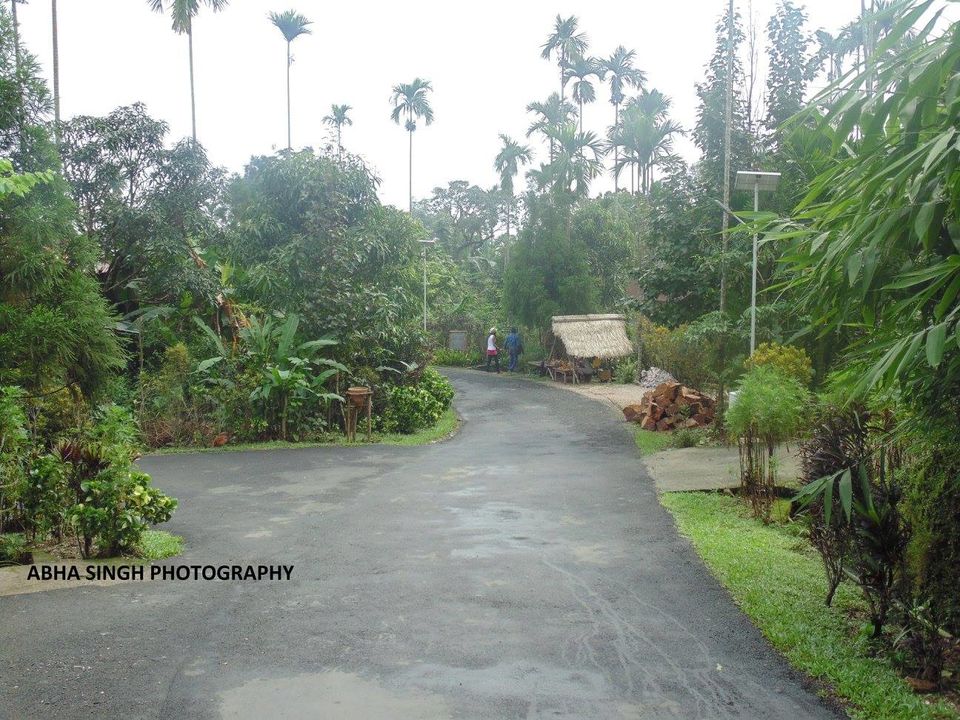 Mawlynnong, which means "a cluster of stones" in the local Khasi dialect is about 90 kilometres from Shillong . it is voted as asia's cleanest village.
you can see cute dustbins places everywhere to throw the trash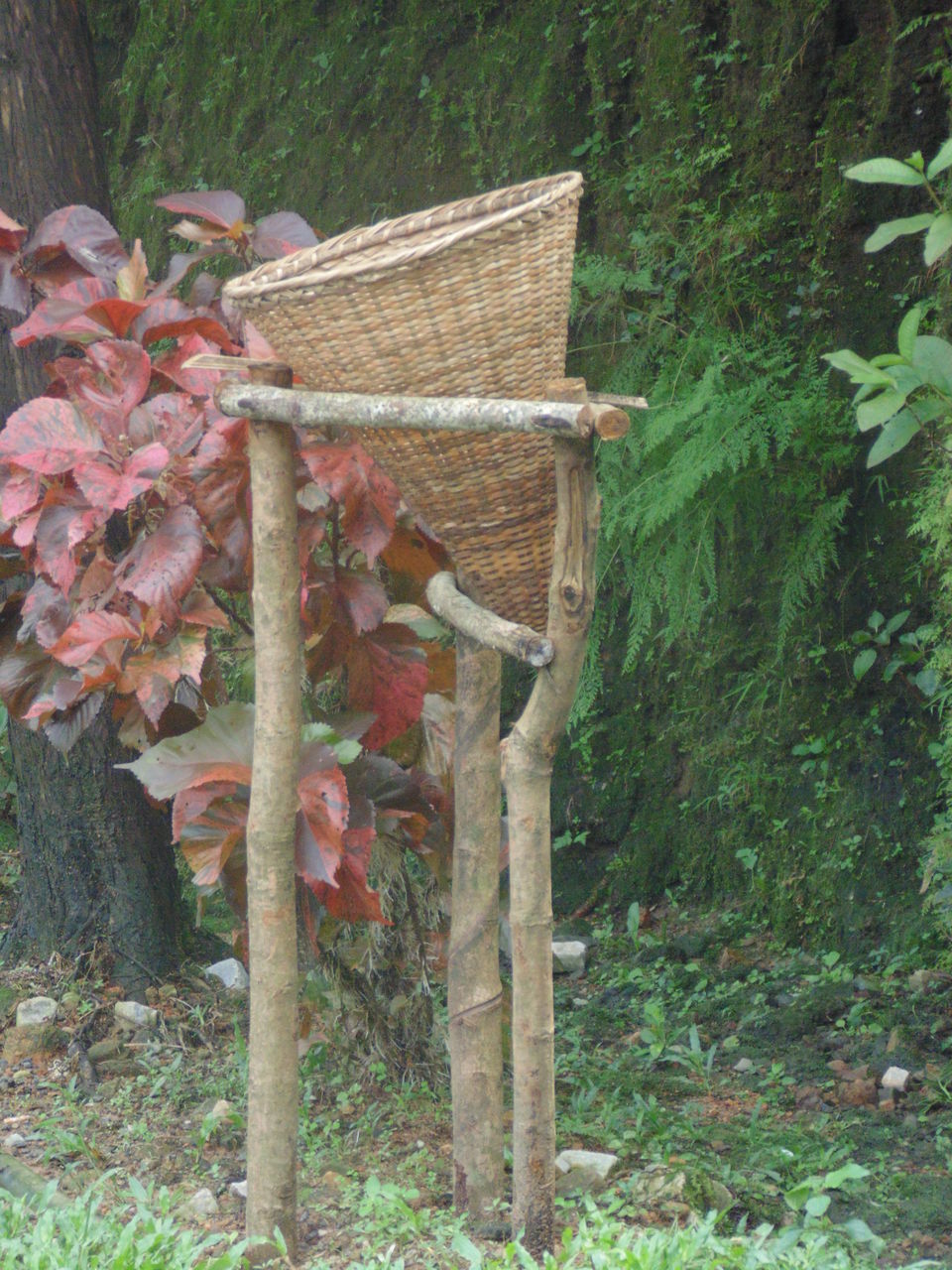 You will see butterflies flying everywhere and playing with the flowers.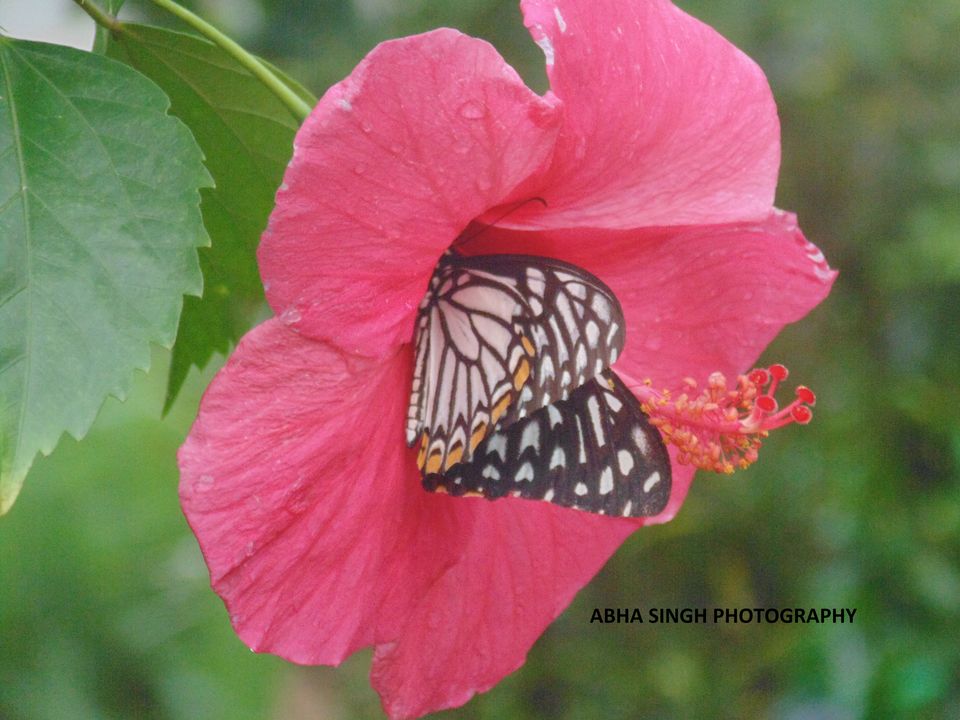 I have seen that only in the movies and here you get to see it in real. A cute and small village which you can explore on foot and all you experience is beauty and peace. Not to be missed . worth a visit for sure
How to reach : private car/taxi is the best option as you do not get public transport readily available for this place.
Living Root Bridge:
If you are travelling to Mawlynnong, please visit living root bridge on the way which is another miracle of nature.you need to trek downside to reach the living bridge for around 20 min, and it is worth the effort. You need to be careful as the path is very slippery and there are high chances you will get lost in the beauty around yourself :-)
Elephant falls is also worth a stop on the way ...
Mawphlang is a village about 25 kilometres from Shillong. It is known for its sacred forest area .. a destination for a nature lover…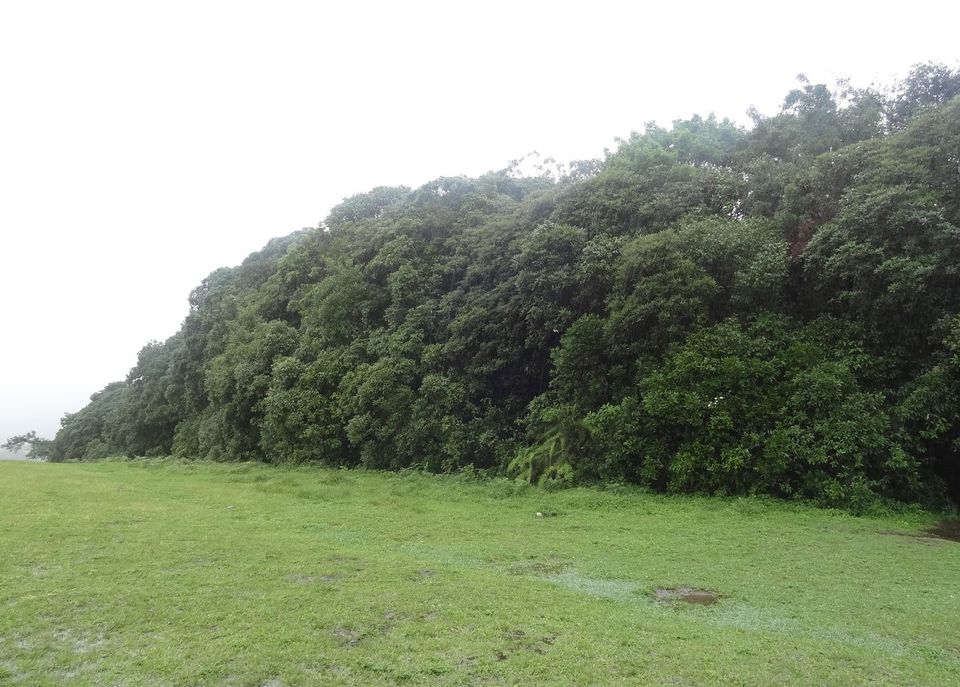 How to reach : private taxi/car is the best and convenient option.
Laitlum canyon :
located in the East Khasi Hills of Shillong, Laitlum Canyons is a less-explored, still enthralling tourist place known for its su natural beauty. This hilltop is carpeted with lush greenery and covered with dense mist, which makes it a hidden paradise in the hilly state of Meghalaya.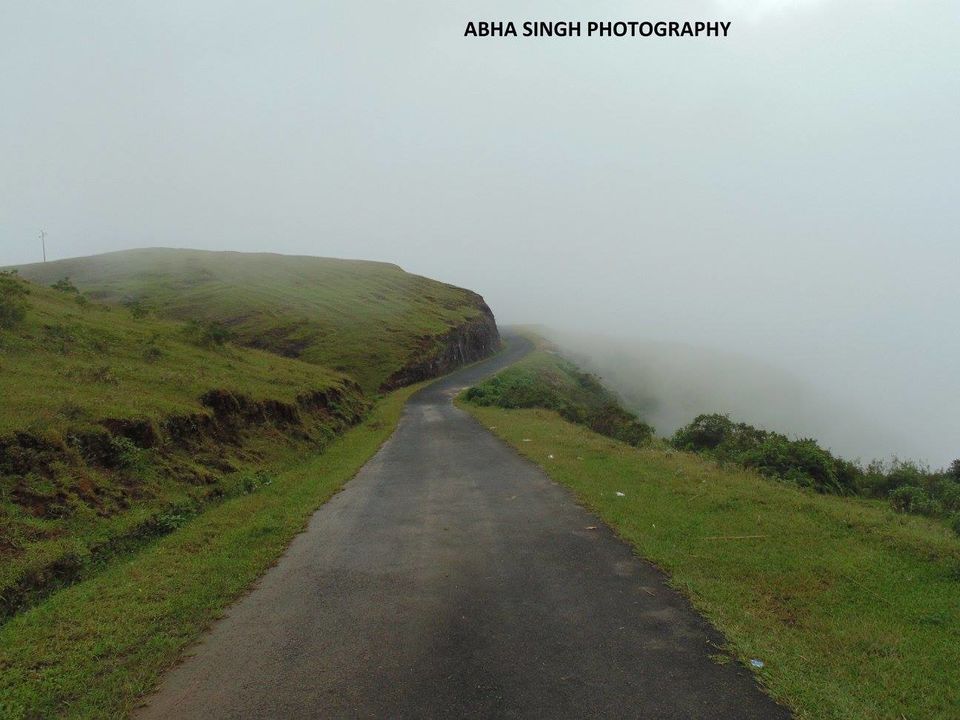 The hilltop overlooks breathtaking landscapes, which include undulating verdant hills and sprawling bamboo plantations .You can reach this scenic site iby a long uphill trek that passes through rocky terrains ..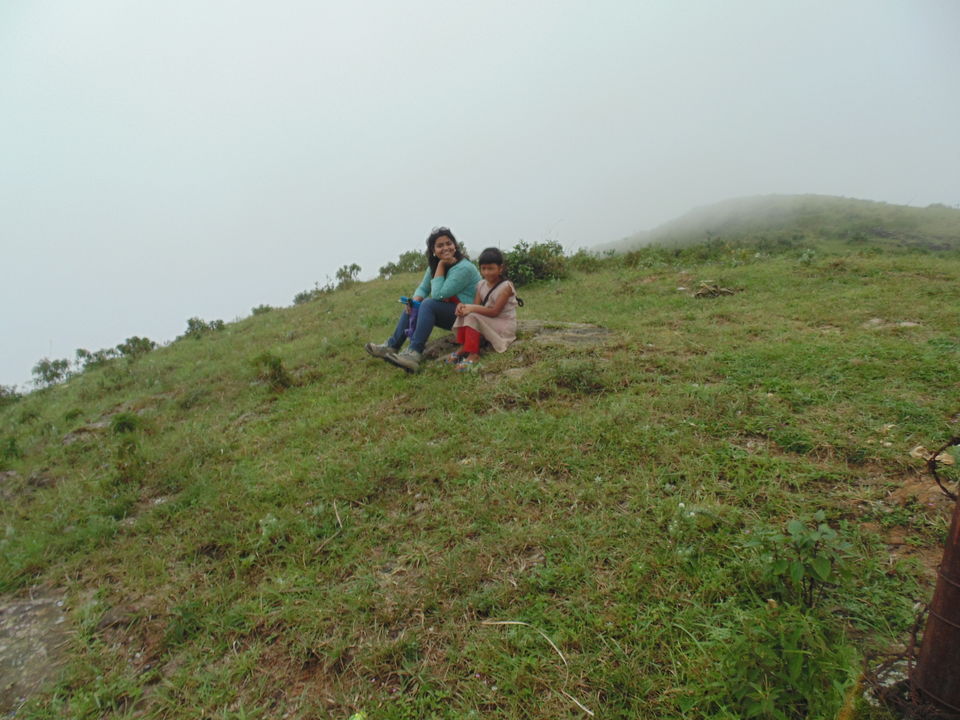 My memories with above picture - while i was capturing the beauty of the hills, this little khasi girl was anxiously watching me and my camera..so i asked her if she want to learn how to click the picture... and we made friends with each other :) Best part was she didnt understand hindi or english and i didnt understand her language -Khasi, still she was with me for 2 hours expressing her interest in clicking pics.. and finally, she clicked the below pic for me :-) and i loved it...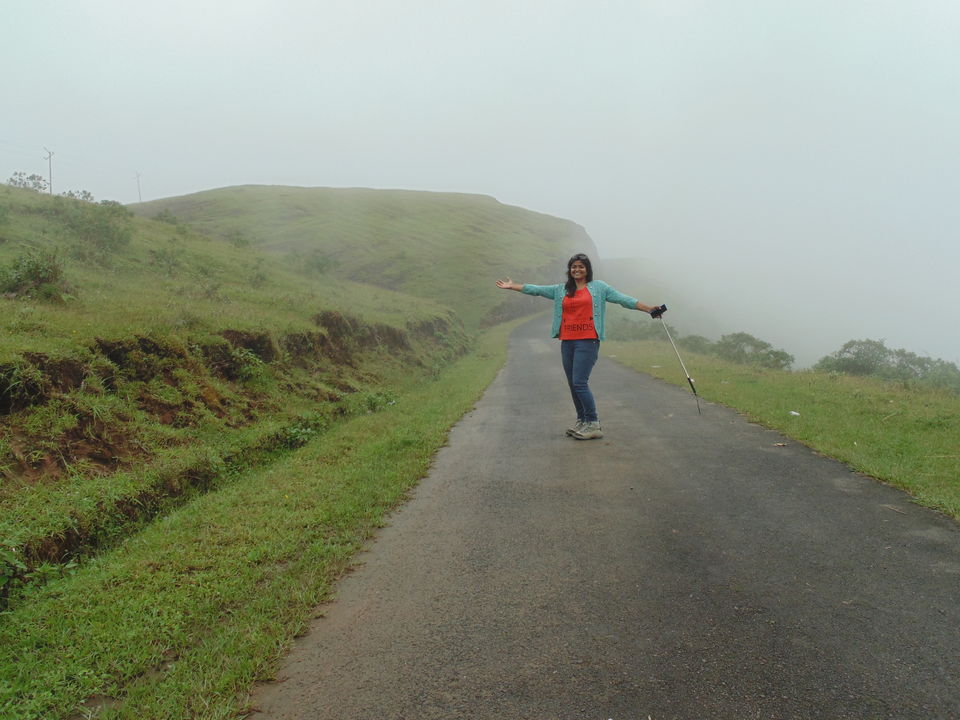 I also clicked a pic for her in return :)...but her click was far better than mine :(
How to reach : take a local taxi till smit-village and from here it is around 7-8 KM drive and a small uphill trek.
Cherrapunji :
Rain's own country- My childhood fantasy finally came true when I reached here .. lol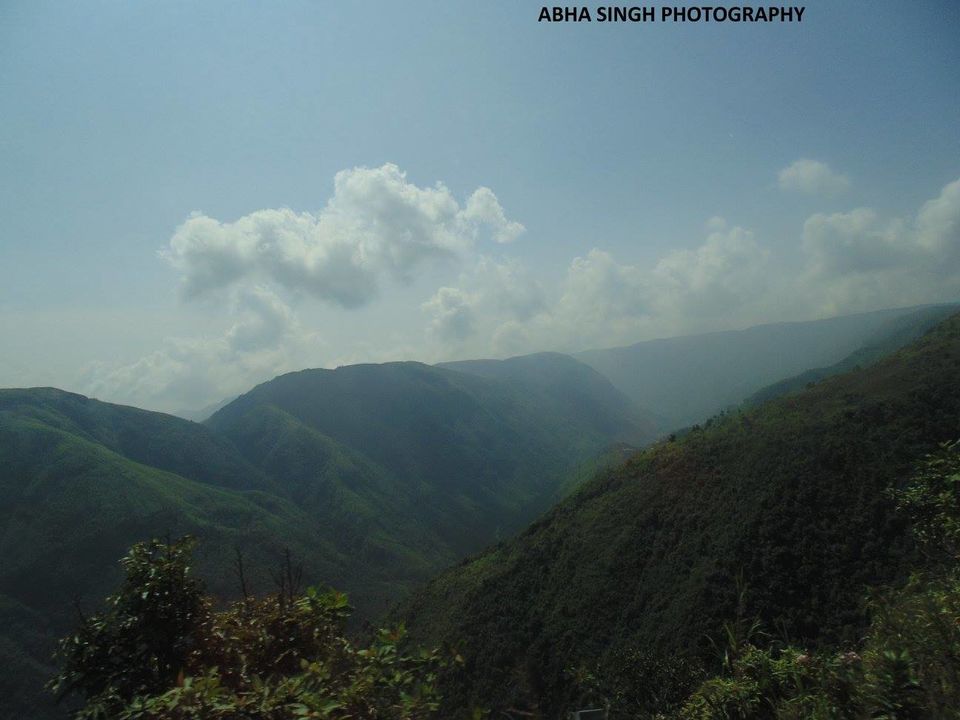 Now known as Sohra. It is credited as being the wettest place on Earth, although nearby mawsynrm currently holds that record.
The mountains are awesomely green and beautiful and huge, you will feel a different landscape around you.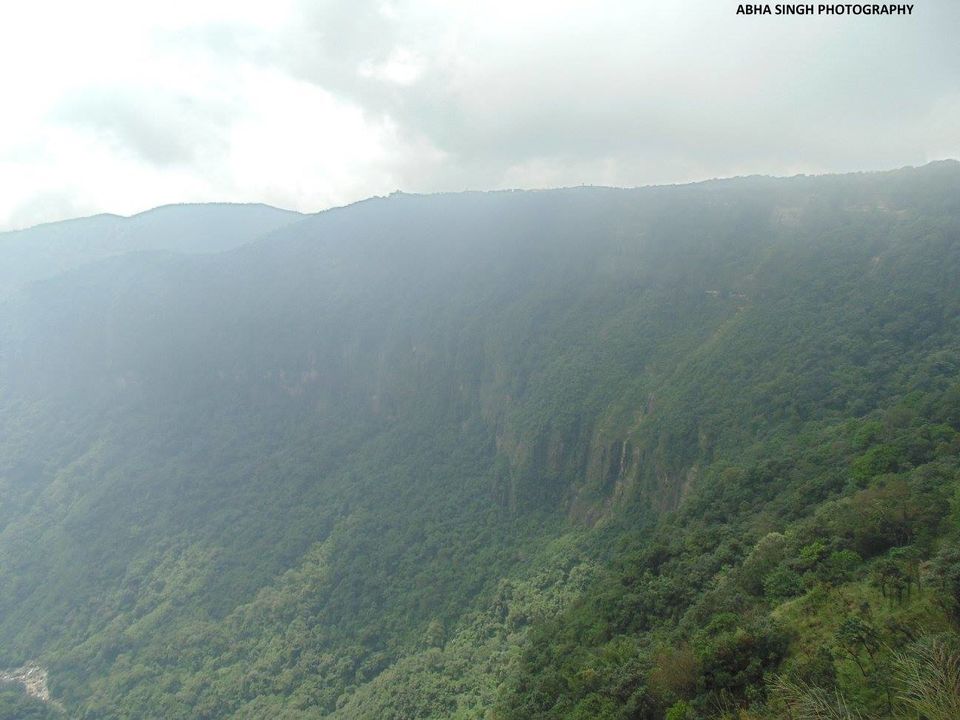 It is in the southern part of the khasi hills facing the plains of bangladesh . it is around 60 km from shillong.
It is a home to many huge water falls like nohkalikai falls which you can view from a distance but very huge and beautiful.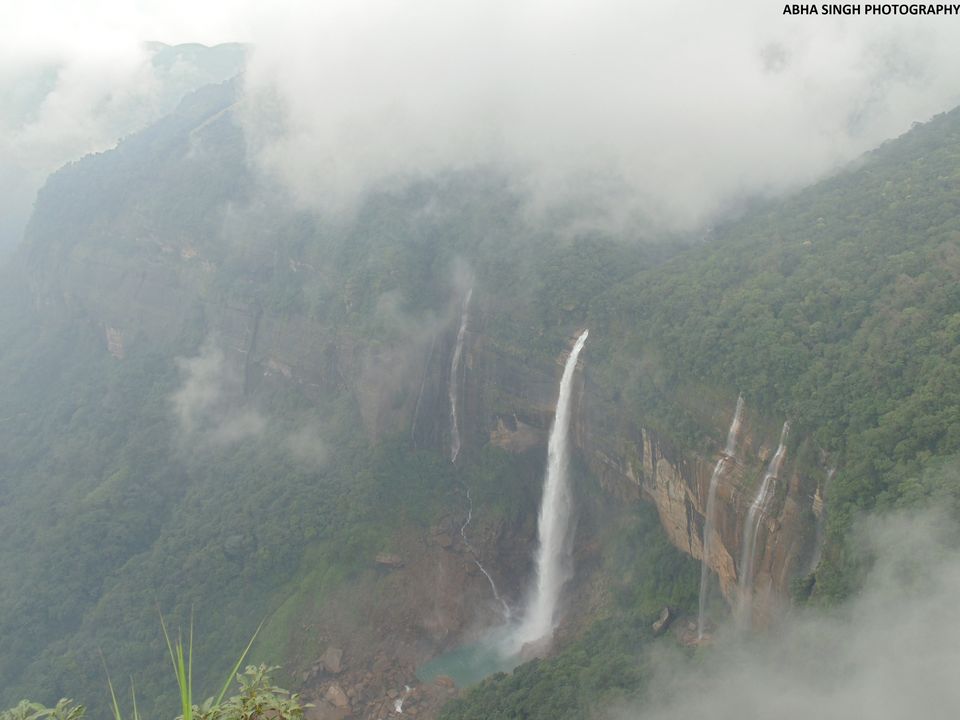 refer https://en.wikipedia.org/wiki/Nohkalikai_Falls for history of nohkalikai falls.
Mawsmai caves
Mawsmai caves are another nature's wonder to explore. It is the longest caves in the north eastern part of India.. these are naturally formed limestone constructions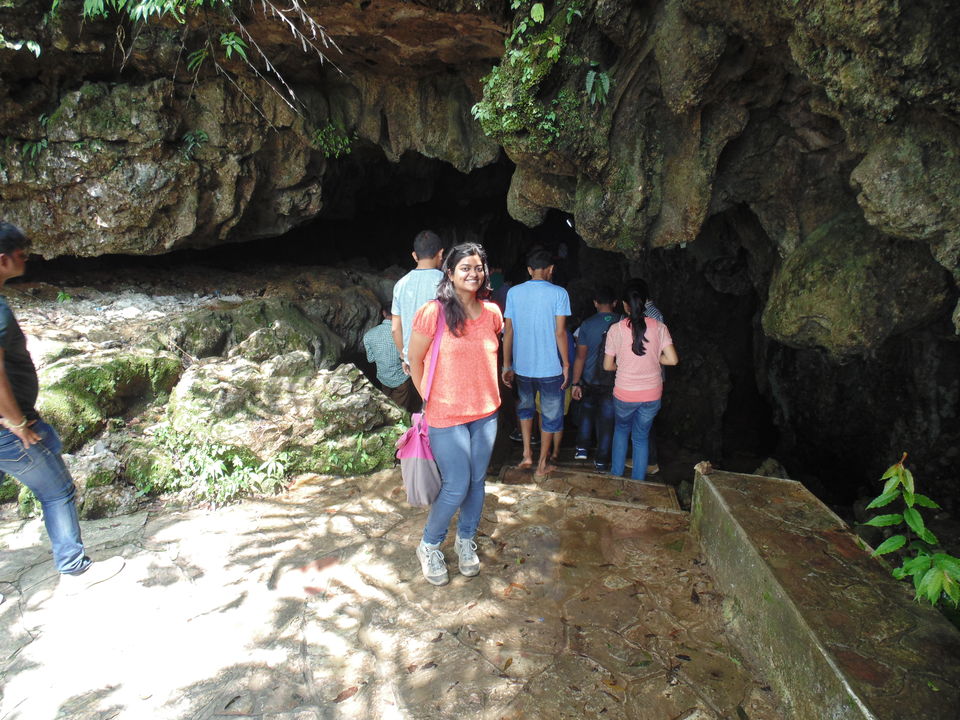 while i was exploring around,I Somehow reached near the Bangladesh plains and I got the message on my phone – " Welcome to bangadesh.. lol.. my phone was catching bangladesh grameenphone network. I just giggled :D
How to reach : Reaching here from shillong is very easy. You can opt for city tour busses also for here. There are few tourist spots in cherrapunji but the most eye catching views are on the way from shillong to sohra.. Just make sure you take the window seat for the amazing view...
Shillong :
Capital of Meghalaya. Beautiful and peace loving city. You will see people getting dressed up in the morning 6 AM and going to church for prayers. You will sense an English feel when in shilling.It is home to beautiful churches and lovely Umium lake- also known as Barapani.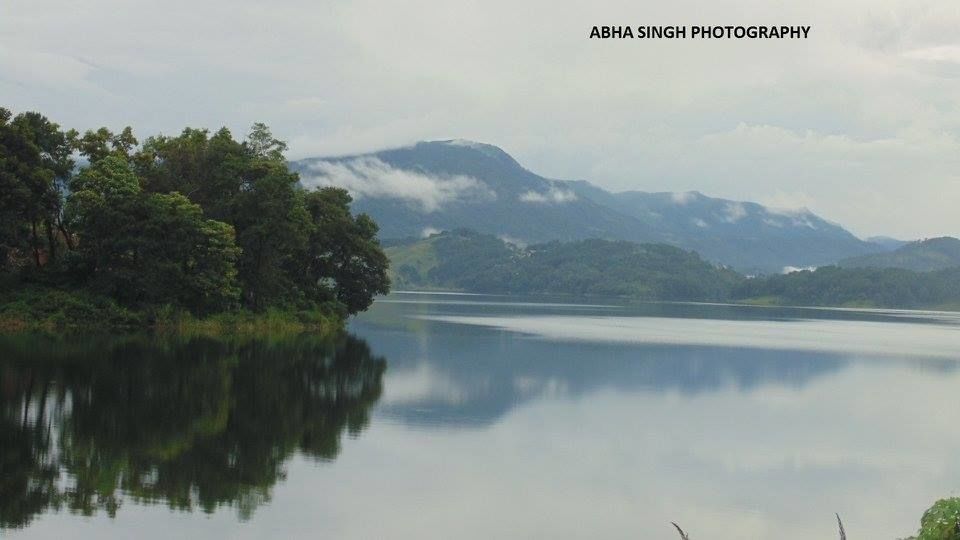 Ward's lake : this is a must visit while in shillong. you will see beautiful colorful flowers here including lotus buds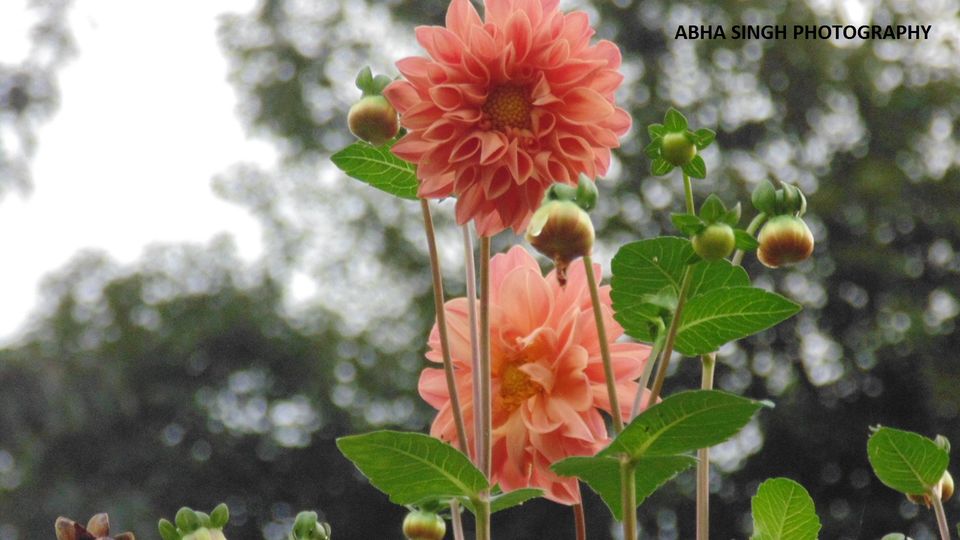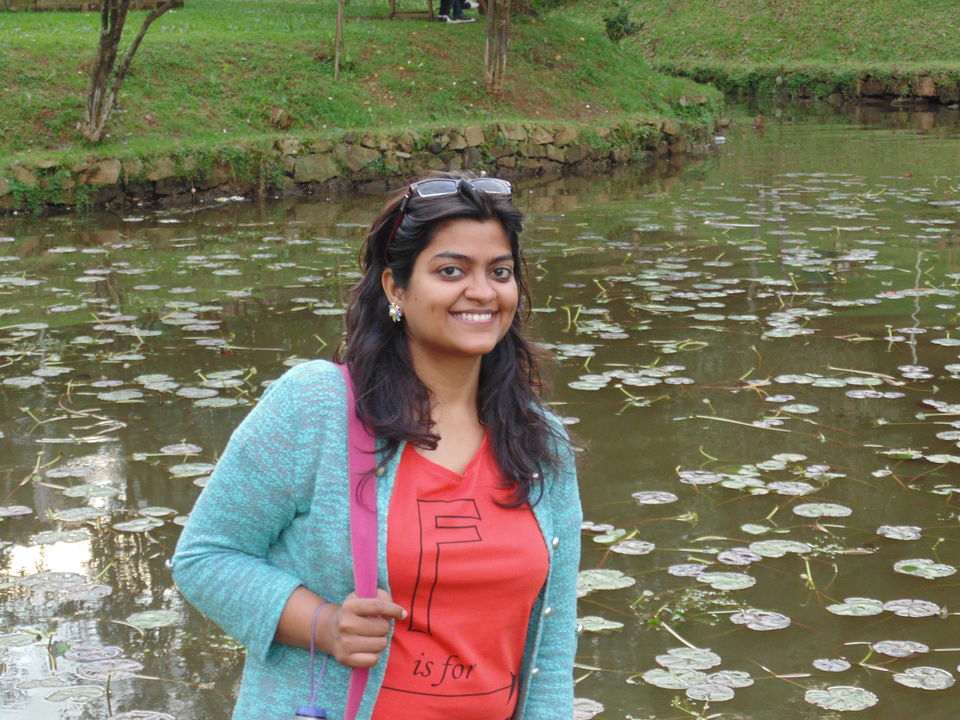 There is also a church near the park where i spent my 2 evenings.. although the prayers were in khasi, the thought of not belonging to the conversation helped me stay there for longer :)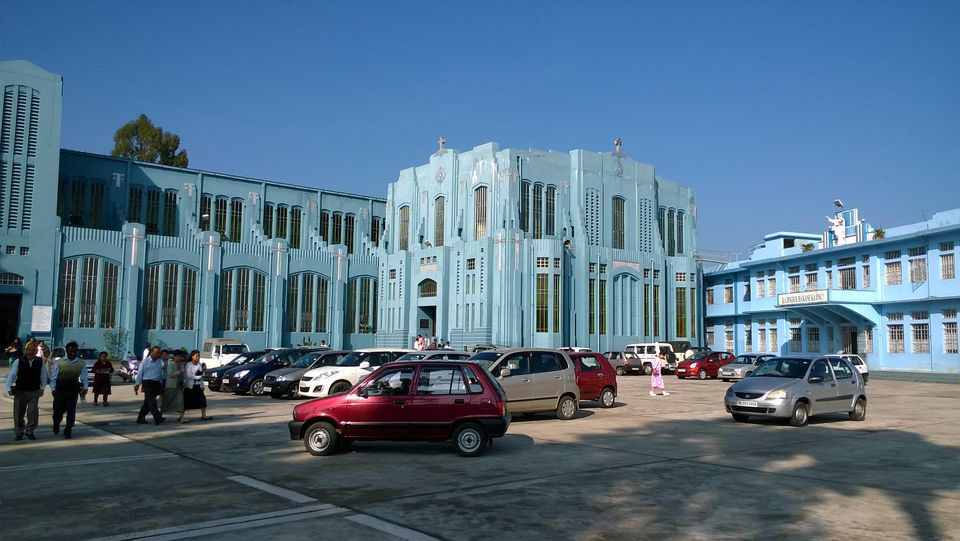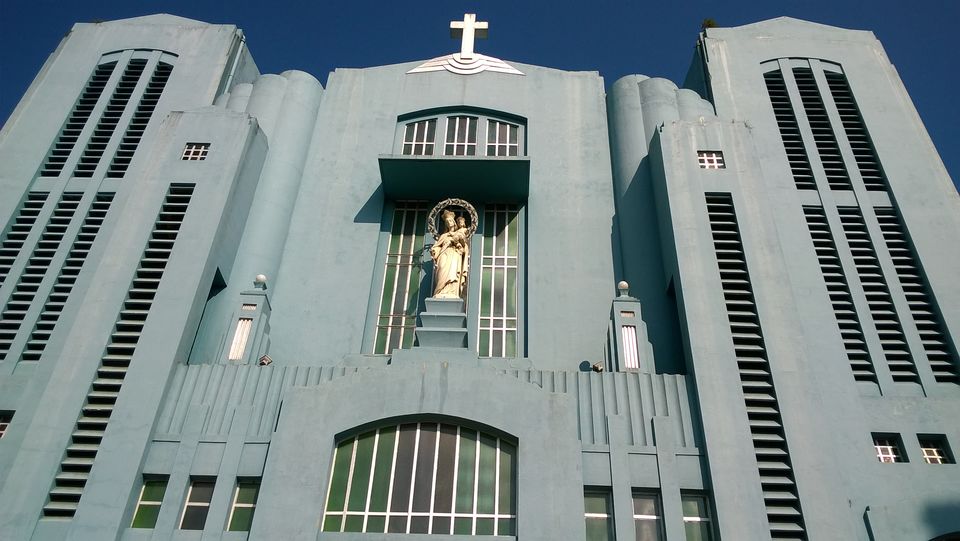 Info for travelers :
How to reach : Conveniently, you may want to make your base in shillong, the capital of Meghalaya and then explore other destinations. It is 3-3.5 hours drive from guwahati airport. Busses plea from airport .
Other places to see : apart from the above mentioned nearby places, shilliong has beautiful churches, don bosco museum and a shopping street. Worth spending a day or two at ease.
Language- Official language of the state is Khasi. English is widely spoken . You might face problems with hindi at local shops and autos etc.
Exploring Meghalaya - Public transport is not very well equipped for the remote places like laitlum, mawlynnong so you might want to consider private taxi. Fortunately i got a driver named sultan who was very helpful, although his car was very old but if you are not looking for luxury , he can be contacted ( you can write to me for more details )
while in the capital of Meghalaya, you can explore it on foot.
Accomodation - i stayed at Aesthetics Home stay (http://megtourism.gov.in/guesthouses/aesthetics.pdf)
The owner Mrs and Mr Hazarika is an amazing couple. they made me feel like family.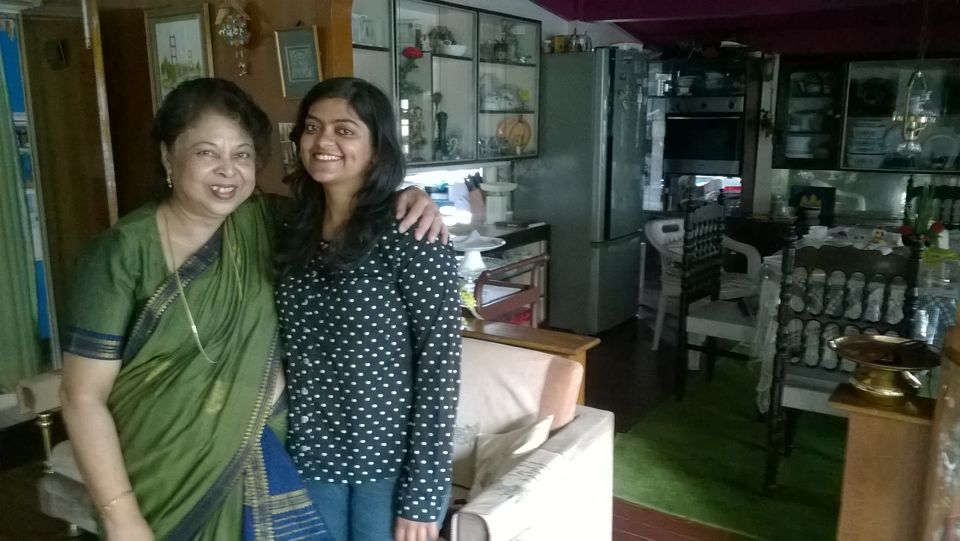 Aunty prepares so amazing cakes and breads that you cannot resist gulping more and more ( so if you are on diet, better be careful ).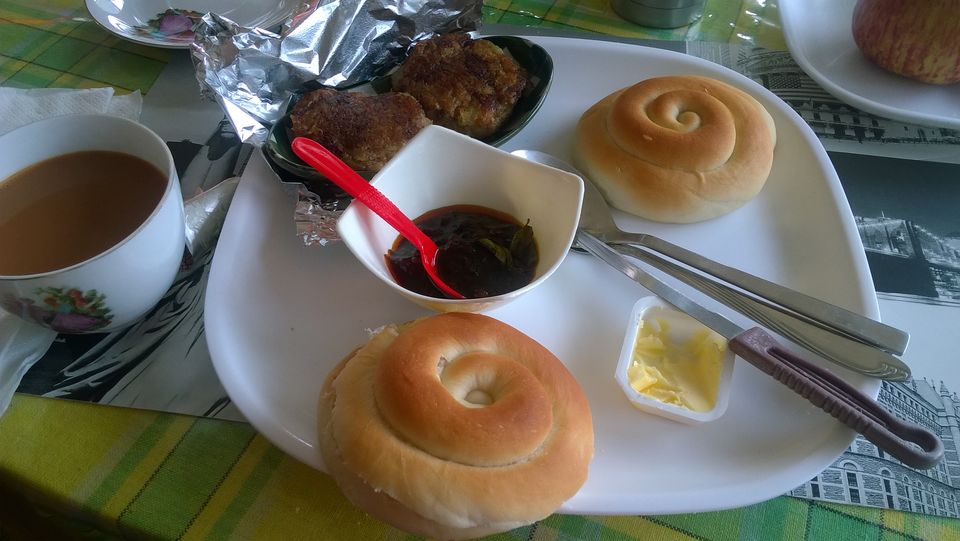 An amazing property and delicious home food.
Food - Ahhh !! I suggest, eat at the hotel and get some stuff packed while you move out as food options avaialable are not relay great.
Cost- Its as normal as any other hill station.
People- Helpful and Calm with a smile.
Safety - Its safe. general caution to be followed everywhere you go.
Best season to explore - I suggest monsoons to enjoy the rains and freshness of the place ( carry an umbrella or rain wear ).. If you want to witness cherry blossoms then march is the best season.
I did solo backpacking in Meghalaya and i must say, i had an amazing time.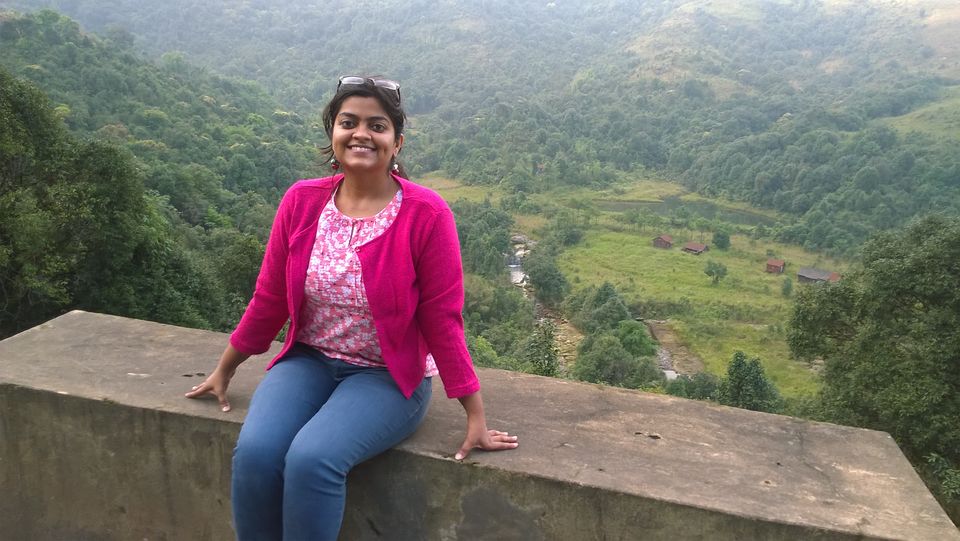 There are few places left to be covered in meghalaya by me including Double decker bridge which i hope to cover soon.
Please please visit Meghalaya and experience the green tranquility and The Incredible India !
Please feel free to connect with me on abhaisback@gmail.com for any information you may need on your travel plan to Meghalaya !
Happy Exploring !
#solotriptomeghalaya #meghalaya #5daysinmeghalaya #meghalayaitinerary #solotraveltomeghalaya #lovetotravel #livetotravel #traveldiariesofabha #shillongtrip #shillong #incredibleindia #scotlandofeast
Frequent searches leading to this page:-
4 Days Tour of Mystic Meghalaya, Escapade to Shillong and Cherrapunji, Hiking Tour in Meghalaya, Exotic Shillong Tour Package